Degenerate Press
Welcome to Degenerate Press' feature article. If this isn't enough you can always subscribe to Electric Degeneration, our semi-weekly and semi-weakly ezine, or surf the Electric Degeneration archive.
---
Tease-O-Rama
Hollywood, California, October 9-12, 2003
& a side trip to San Diego
Table of Contents:
More from Day 2
More from Tease-O-Rama, Day 2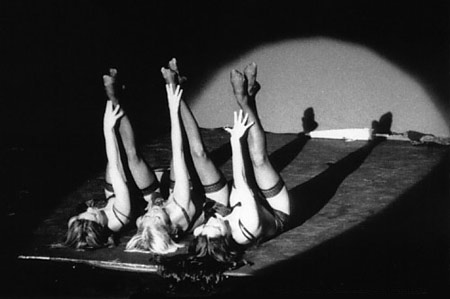 The Sugarbabies of the The Lavender Cabaret.
Left to right - Leila Rouge, Suzi Sparkles and Kiki Dumar.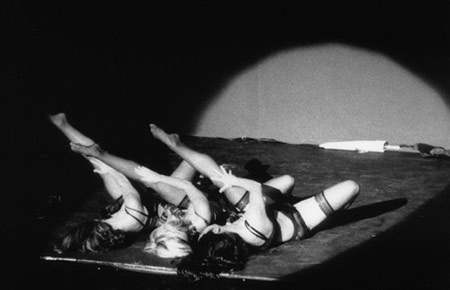 Kitten deVille did an appropriately Halloween-themed number, coming out in a cute witch costume.

Some of the few color shots that came out ok.
| | |
| --- | --- |
| | Kaplan's Burlesque featured a number of performers, including a strange dance number in big pink heart costumes. |
| | Perhaps the highlight of Kaplan's Burlesque is their MC, Kappy Kaplan III, who came wrapped up their set with his own striptease. His on-stage banter is fuckin' hilarious. |
The Wau Wau Sisters repeated their trapeze act from the night before (donít know why) and returned later for a couple of country music tunes in skin-tight short shorts. As cute as the outfits were, the songs were the real kicker, getting more laughs than the whole weekend of Baggy Pants Comedy skits all put together.
At some point, one of the Wau Wau's did a solo bit, a transvestite trapeze act that kicked ass.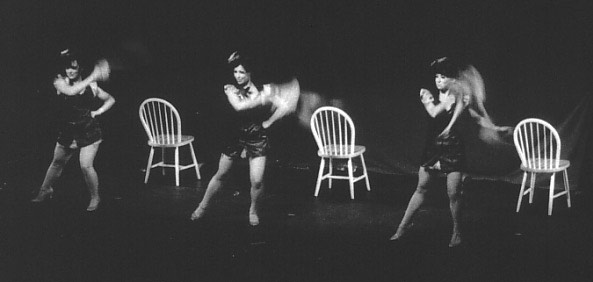 The World Famous Pontani Sisters in full motion!
Table of Contents:
More from Day 2
---