Degenerate Press
Welcome to Degenerate Press' feature article. If this isn't enough you can always subscribe to Electric Degeneration, our semi-weekly and semi-weakly ezine, or surf the Electric Degeneration archive.
---
Tiger! Tiger! CD release show
The Clutters
My Siamese Self
The Earl
July 2005
We arrived early and sat out front of the Earl sipping drinks and chatting with Starlight Drive In owner Terri about the upcoming Labor Day weekend festival Drive Invasion. She showed me the current planned lineup of movies and bands and it looks much like those of previous years - which is perfect.
We headed into the back room for the night's live entertainment to find the joint done up like a birthday party - balloons, streamers, and 45's hanging from the ceiling, part of the celebration of the Tiger! Tiger! CD release.
| | |
| --- | --- |
| The opening act was My Siamese Self, lead by Deb Davis who's also in Hope for a Golden Summer. Unfortunately I didn't get a decent photo during their short set so you'll have to make due with these excessively motion blurred but imagine three rather boyish girls having a good time on stage. | |
| | |
| --- | --- |
| Musically, it's sort of a modern rock sound with one foot stuck back in rockabilly roots. Good stuff but unfortunately I didn't take notes and didn't write this review until several days later so my memories are as vague as these photos. | |
I had reviewed The Clutters CD, T&C, in a recent episode of our ezine, Electric Degeneration: "The album kicks off with crunchy guitar backed up with organ, followed by some nasal, sneering vocals much like The Subsonics (or Jello Biafra from Dead Kennedy's.) It has sort of a 60's garage go-go sound, sort of like Atlanta's Woggles. Lots of energy in a simple, straight up retro rock package. Once upon a time there was an Atlanta band called Dragline that sounded a LOT like this, and they rocked."
Live, however, they sound less like Dragline and more like another former favorite local act, The Rock*A*Teens. There's still a vaguely retro 60's garage sound, in part due to the organ, but there's a lot more variation and modernization in their live performance.

They're led by a guy who looks like he's trying to pull off a Napoleon Dynamite so-nerdy-its-cool look. I don't know if it's intentional, or if that's just his natural self.
| | |
| --- | --- |
| | Cute girl on keyboards, another one on drums, and an almost invisible bass player who barely moves round out the act. But the lead guy is clearly enjoying what he does and he does it well with some good melodies and plenty of gusto, which is about all I ask from my rock and roll. |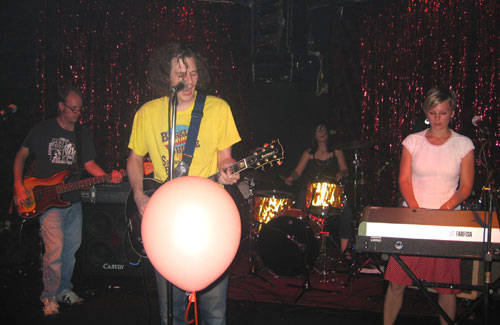 This is why I rarely use a flash or full flash. The pictures are clear and crisp,
but lack all the emotion and motion of my usual, poorly lit photos.
Seriously, what tells the tale better? Clarity, or...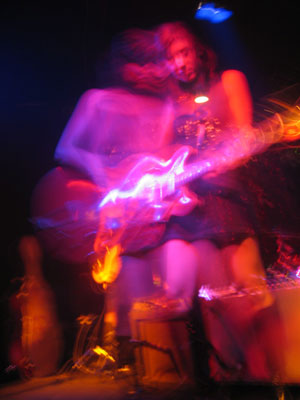 Buffy lead Tiger! Tiger! to the stage to celebrate the release of their new CD, Collisions.

My previously published CD review applies, mostly, to their live show: "She takes the lead in Tiger! Tiger!, adding jangly, sometimes fuzzy guitar to her quirky, sultry voice. An organ makes up another large chunk of the wall of sound, one that sounds like something from a circus. But it's not just the organ that gives it a circus sound - there's something about this that's fun, yet dark, like listening to the music coming from the big top while walking through the scary sideshow. It's still firmly rooted in basic rock and roll but there's enough new sound here to catch your attention and Buffy's vocals and lyrics hold it."
| | |
| --- | --- |
| Live they're a little more guitar-heavy, which is a good thing. | |
| | |
| --- | --- |
| The guitarist's look reminded me of Bullock from HBO's Deadwood, a good look on the right man. He plays fine guitar, switching to slide in a few numbers. | |
| | |
| --- | --- |
| And sax in other numbers. | |
| | |
| --- | --- |
| The bassist switched to a cello of some sort for a couple of numbers as well. I like the subtle variations in sound the change in instruments provided, though Buffy's voice and guitar and the organ behind it give the whole show a unified sound. | |
| | |
| --- | --- |
| For the last couple of numbers they brought out Susanne from local band Lust to fatten up the sound even more. Then suddenly it was over. I think a lot of folks, myself included, were hoping for and even expecting an encore, but we didn't get it so we wandered out the door into the night, content with another fine evening of Atlanta's excellent live music scene. | |
---