Degenerate Press
Welcome to Degenerate Press' feature article. If this isn't enough you can always subscribe to Electric Degeneration, our semi-weekly and semi-weakly ezine, or surf the Electric Degeneration archive.
---
Tongo Hiti Night at Trader Vic's
September 2004
After a couple of hours at the East Atlanta Strut, we headed into the bowels of the downtown Hilton for a night of tiki madness at Trader Vic's for the Hukilau Preview Party. We arrived and the joint was half empty, though Italian import I Belli di Waikiki were already cranking out a fabulous mix of Hawaiian and rockabilly music, an interesting combo one regular dubbed "Poly-billy."

Pretty soon the place got packed to capacity and as the drinks flowed things got a little nutty.
| | |
| --- | --- |
| | Hollis Gillespie, of Creative Loafing and other outlets, showed up with her friend Grant and a couple of lovely ladies who were complete lunatics. The girl in white was officially nominated Degenerate of the Month. She was utterly manic and didn't slow down until late in the night after many, many drinks. A whole crowd of people gathered around the edge of the dance floor, shaking their heads in amazement. "She's about one drink away from Girls Gone Wild," I noted to a bystander. |
| | |
| --- | --- |
| | But eventually too many $4.50 Mai Tai's turned it into Girls Gone Mild. She donned a pair of men's underwear and adorned them with a strategically placed half empty beer bottle. Cute! |
| | |
| --- | --- |
| | Hollis herself got pretty wild and crazy. |
Then there was a guy who changed outfits about every half hour, "Chico" or something like that. He was a favorite with the ladies.

Speaking of, the girl on the right was one of Hollis' crew and was a close second for nomination of Degenerate of the Month. She has a great butt and really knows how to shake it, but didn't have the manic energy of her friend who took the title.
| | |
| --- | --- |
| | Her whole crew was having more fun than should be allowed in public during a Republican administration. |
| | |
| --- | --- |
| Meanwhile, a couple of dancers came out and showed off native routines from all over the Pacific. Damn sexy stuff. | |
| | |
| --- | --- |
| They did a number from Tahiti, I think it was, with these straw fans. | |
| | |
| --- | --- |
| Then pulled random idiots from the crowd and made them do the routine as well. | |
| | |
| --- | --- |
| Damn, we made complete fools of ourselves... | |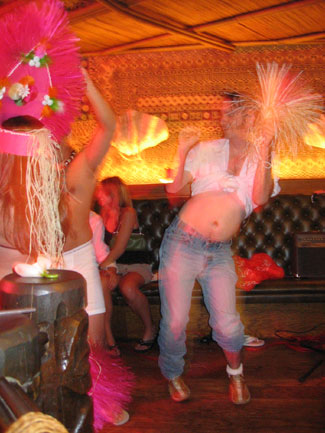 | | |
| --- | --- |
| Star Bar regular Jen showed up after her wedding with new husband Brad and the wedding party in tow. They, too, were pulled onto the dance floor to show off their Tahitian skills. | |
Tongo Hiti and the Dames Aflame put on a couple of floor shows as well with fabulous costumes and even a choreographed dance number with Chico.

As if that weren't enough, they held a raffle between acts, giving away CD's, books, Trader Vic's merch, etc.
| | |
| --- | --- |
| This absolutely luscious lady danced up a storm. The final raffle was for a "Temptation Potion" to be given by this dancer. | |
| | |
| --- | --- |
| | Degenerate CD won. He wasn't impressed with the drink but I would've gladly taken his place for the ceremony alone... |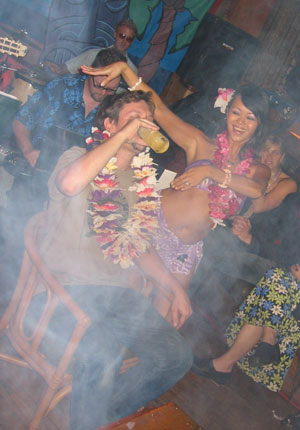 | | |
| --- | --- |
| Tongo Hiti played a few more numbers to close out the night, including a hilarious Hawaiian version of Journey's Wheel in the Sky. And just when you think things can't get any weirder... | |
| | |
| --- | --- |
| Monkey Zuma makes and appearance, dancing with her favorite partner and providing a last bit of surrealism in the midst of the Mai Tai haze. | |
---