Degenerate Press
Welcome to Degenerate Press' feature article. If this isn't enough you can always subscribe to Electric Degeneration, our semi-weekly and semi-weakly ezine, or surf the vaults.
---
Wanda Jackson, Art Farm Fund Raiser
May 2004
We went on a rare expedition to the Highlands and Blind Willie's for Wanda Jackson. We arrived early, expecting a packed house, only to find the joint empty. People trickled in as we sipped our slightly overpriced drinks (no draft beer either) and by the time the house band, The Shadows, went on most seats were filled.
The Shadows do standard Chicago electric blues, everything familiar but done with talent. After a while Wanda's husband stepped on stage to announce her and help her on stage.
| | |
| --- | --- |
| She's still got the voice that made her the Queen of Rockabilly some 50 years ago, and does some fine country tunes to boot. | |
She took breaks between songs to tell tales of other big name acts she had toured with (Elvis, Jerry Lee Lewis, and others), as well as a brief moment to tell us about Jesus before she belted out a fine cover of I Saw The Light.
| | |
| --- | --- |
| | She played acoustic for a few numbers on a guitar she had made especially for her. |
| | |
| --- | --- |
| | For a lady around 70, she still had plenty of pep in her step and the voice could've come straight off one of her records from the 50's. |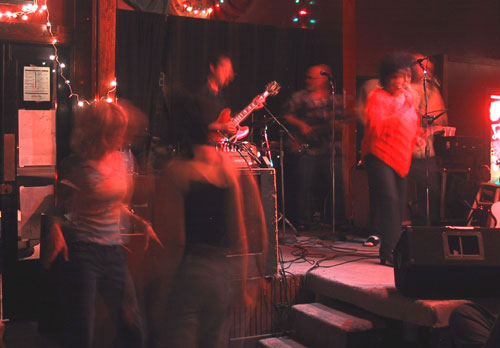 She hung around afterward to sell and autograph CD's and photos. I picked up an 8x10 from her younger days - she was a hottie back in the day!
The show had started comparatively early and was fairly short so we found ourselves all crunk up with nowhere to go at midnight. A couple of degenerates had told us about a big fund raiser/party at Art Farm in Cabbagetown.
| | |
| --- | --- |
| So we cruised across town and walked through the gates to find the place packed with pretty people. The parking lot hosted a good size crowd of people just out enjoying the night air. | |
| | |
| --- | --- |
| The loading dock served as a nice deck, complete with odd art and lawn chairs. | |
| | |
| --- | --- |
| One room featured a gallery and a DJ playing an ecclectic mix to a mostly empty room, but it was a bit early for the dance crowd. | |
| | |
| --- | --- |
| In the next room Buffy, the absolute sexiest woman in the local music scene, lead Tiger Tiger in some cool rock with a vaguely garage sound while odd films flickered on the wall behind them. | |
| | |
| --- | --- |
| At one point Clay, a bandmate from The Subsonics, slipped quietly into the back and cranked up some noisy guitar while the regular guitarist switched to sax. But it may be Buffy's grin and the way she shakes when she plays that kept my attention. | |
| | |
| --- | --- |
| As if that weren't enough eye candy, a cute girl in a miniskirt took up the hula-hoop mid-set and kept it going off and on all night. | |
| | |
| --- | --- |
| | They had cheap beer and wine for small donations inside, as well as another bar set up outside with a big movie screen showing the Altamont documentary. |
We walked over just in time for the Hell's Angels to beat some kid to death, a moment only barely missed on camera. Instead, the camera man focused on one of the Angels going nuts from too many drugs and too much beer.

A few people lingered at the back of the makeshift theater to watch the movie, but most folks were more interested in socializing.
| | |
| --- | --- |
| Inside another band, who's name I never discovered, cranked out another set of odd rock, encouraging a fellow Thunderbird enthusiast, Jessica, to shake her T-bird tattoo. | |
Around 3 AM the organizers shut the garage doors leading outside to try to keep things a little quiet. Yet again I'd like to say "Fuck you, Atlanta City Council" regarding the whole 2:30 AM last call issue.

But Art Farm kept the party going with A Fir Ju Well, and the return of hula-hoop girl.

We stumbled out around 4 AM and the last band hadn't even gone on yet. Gotta love a kick ass after hours party. Hmmm, maybe this early closing time ain't such a bad thing after all...
---