Degenerate Press
Welcome to Degenerate Press' feature article. If this isn't enough you can always subscribe to Electric Degeneration, our semi-weekly and semi-weakly ezine, or surf the Electric Degeneration archive.
---
Muppet All Star Cover Band, Hill Valley Preservation Society, Wezzer
Star Bar
June 2004
| | |
| --- | --- |
| Friday we hit the Star Bar early and had a drink or three waiting for the opening act. It wasn't enough to stave off the pain of hearing The Muppet All-star Cover Band. No amount of alcohol could have helped. It was like listening to Santa Clause beat the Easter Bunny to death with the corpse of the Tooth Fairy. All my favorite childhood musical memories slowly tortured to death. I put up with three songs before I fled to the basement to find others lamenting, "Thanks for killing my childhood." God awful. Almost as amazing was the crowd of 20-30 somethings swinging to the broken beat with manic grins on their faces. If you were amongst that crowd, here's a special message just for you – just because they play the music you loved doesn't mean you should love them when they do it badly. | |
| | |
| --- | --- |
| | Next up, The Hill Valley Preservation Society, a group that started off with a disclaimer about how they didn't really exist as a band, they were just a group trying to preserve everything 80's. Funny stuff, especially for a fundraiser for the Michael J. Fox Foundation for research into Parkinson's disease. |
| | |
| --- | --- |
| | Then they charged into music of the youth of every 20-something who ever watched television. |
I snagged their set list off the stage afterward because I couldn't possibly write down even a representative sampling of the tunes they cover:
Cartoon Medley (holy cow, if you watched anything animated in the 80's they covered it)
Diff'rent Strokes
Perfect Strangers
3-2-1 Contact
G.I. Joe Public Service Announcement
Magic Dance (Bowie's tune from Labyrinth.)
Star Wars
Reading Rainbow
Muppet Babies
Action Medley (you know, Knight Rider, A-Team and such)
Michael J. Fox set with Family Ties and Silver Spoons
WKRP
Charles in Charge
Inspector Gadget
8-Bit Trilogy (I can't remember exactly what video games they covered 'cause they were after my time)
Hey Dude
You Can't Do That On Television
Ghostbusters mixed up with Michael Jackson's Bad
Dukes of Hazzard
Price is Right
The Jeffersons
They came back for an encore as well.
| | |
| --- | --- |
| | And it's not just the breadth and depth of the songs they cover that impressed me, but the degree of skill they showed doing it. Every song replicated the cheesy, synth-heavy studio sound that was the wasteland of 80's theme music. |
They even brought out an Applause-O-Meter with a couple of Coreys, Anthony Michael Hall, and in the top spot Michael J. Fox himself.

Most of the shows and video games who's tunes they covered were not important to me – they all brought to mind a hungover haze or sitting on the couch looking for something to watch and thinking, "No, hate that. Hate that. That sucks. Hate that. That's crap." But if you need a dose of 80's nostalgia that you won't hear on the countless retro radio shows, check out Hill Valley Preservation Society. They even have a cute site online at http://www.hvps.org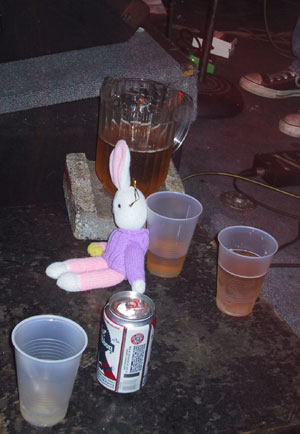 Muppet remnants remained around the stage, even through Wezzer's set.
| | |
| --- | --- |
| Last up, Wezzer, "Atlanta's own Weezer tribute band featuring members of Gargantua, Greasepaint, Boss, and the Young Antiques." | |
| | |
| --- | --- |
| Like HVPS, the technical skill in reproducing the familiar tunes was impressive. Like HVPS, you might doubt the value of reproducing the music at all, but I have to say I'm sold. I didn't own any Weezer before the show, though I always enjoyed it when it came on the radio. But now I'm definitely going to pick some up. | |
| | |
| --- | --- |
| They even had occasional guests, like Jim Stacy on harmonica. | |
| | |
| --- | --- |
| And a keyboard player who spent most of the set sitting in the corner, not doing much since Weezer's music is mostly guitar-driven. | |
| | |
| --- | --- |
| But then he'd get up once in a while, hit a note or three, then sit back down. It was actually kind of funny. | |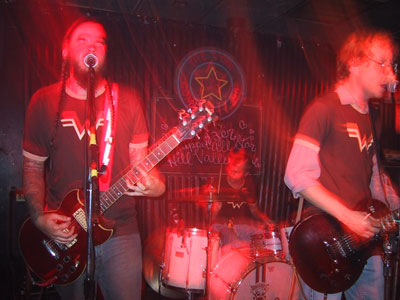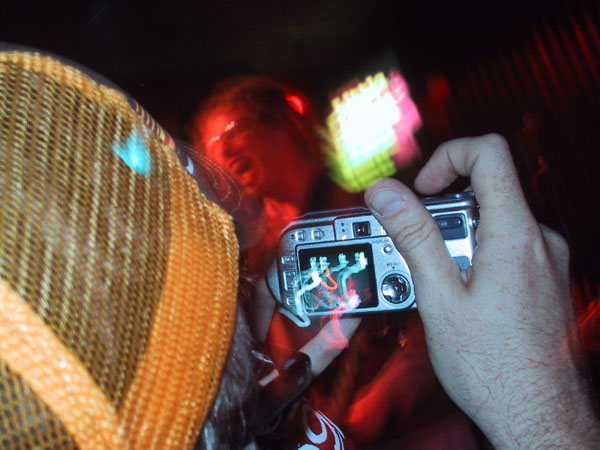 Squint real hard and you migth think you're actually at a Weezer show!
---