Degenerate Press
Welcome to Degenerate Press' feature article. If this isn't enough you can always subscribe to Electric Degeneration, our semi-weekly and semi-weakly ezine, or surf the Electric Degeneration archive.
---
The Coathangers, The Carbonas, The Selmanaires, Deerhunter
Whirlyball
June 2007
I don't often venture OTP, unless it's to head for the hills for camping, so when degenerate EM asked if I was planning on going to a show at Whirlyball later in the month I had no idea what she was talking about.
"You know, Whirlyball, that place out in Roswell..."
"Ha! Why the heck would I go way out there?"
But she was going and it was something new, so what the heck.
It turns out Whirlyball is a bar in the basement of a strip mall in the suburbs. Sounds like hell, right? Well, it would be if "Whirlyball" weren't also the name of the sport you can play when the bands don't hold your attention.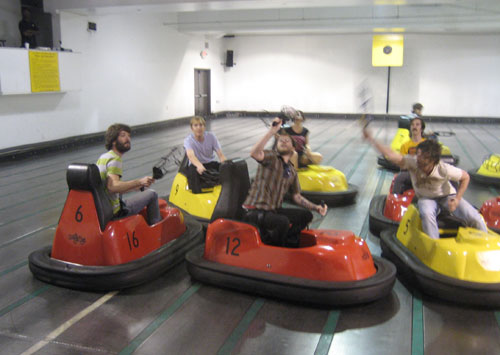 It's bumper-cars-meets-basketball-with-a-whiffleball! For $4 you get 15 minutes of (often drunken) bumper-car lunacy where you scoop up the ball in one of those lacrosse sort of basket thingies then try to whip it into the goal. It was hilarious watching Atlanta in-town hipsters turn into mall rats for a couple of hours.
| | |
| --- | --- |
| On stage, my new favorite act, The Coathangers, an all-girl 4-piece sloppy, noisy, punky act that reminded me vaguely of Melt Banana - a bit indecipherable but catchy nonetheless. | |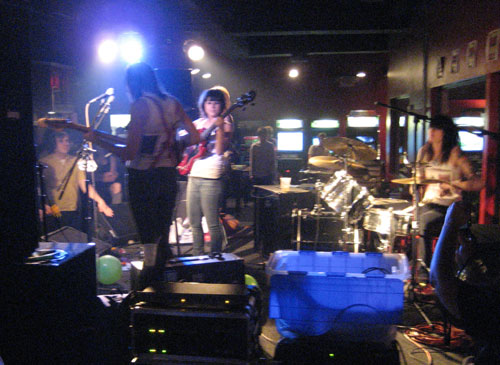 | | |
| --- | --- |
| The club has a lousy layout that makes it difficult to watch the bands, thus the lousy photos this episode. It is also difficult to get to the bathroom or the bar, but if it were closer to home it would be a regular haunt. | |
| | |
| --- | --- |
| I was as equally fascinated by the matches in the whirlyball rink as I was the acts on stage. Every 15 minutes a new batch of folks would charge into the rink to take over and battle it out. | |
| | |
| --- | --- |
| | Next on stage, The Carbonas, very 1979 punk rock, you know, the kind with lots of chanting along? Very spirited, but despite the energy and technical skill it felt like a tribute act. This sound has been done, to death, but if you love it you won't find a better local version - heck, you might not find a better sounding punk act of this flavor anywhere. |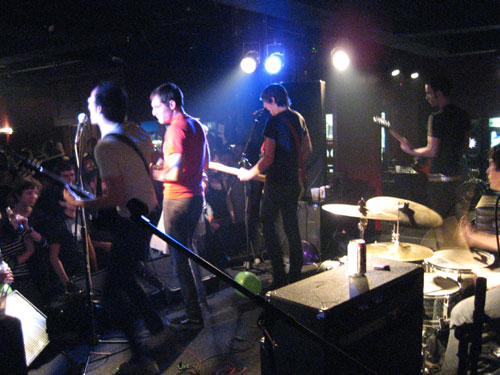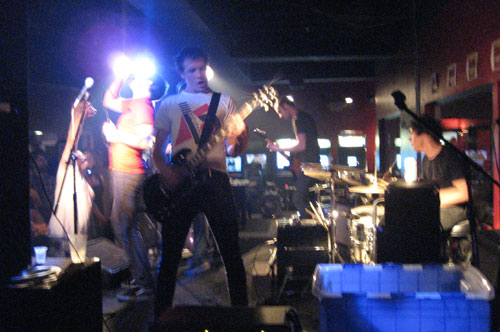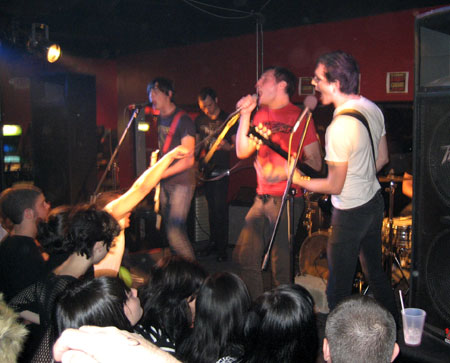 | | |
| --- | --- |
| The action in the rink never stopped. I particularly liked the painting on the wall depicting a buff athlete in full whirlyball action, as if this sport attracted such types... | |
| | |
| --- | --- |
| It had been a while since I'd seen The Selmanaires. I'd heard them a few times on 88.5 and enjoyed it, but couldn't remember the live act. They've added a fourth member, playing guitar, percussion and such, fattening up the sound. Now they remind me of Talking Heads - quirky, jerky pop. Good stuff. | |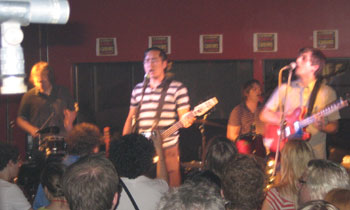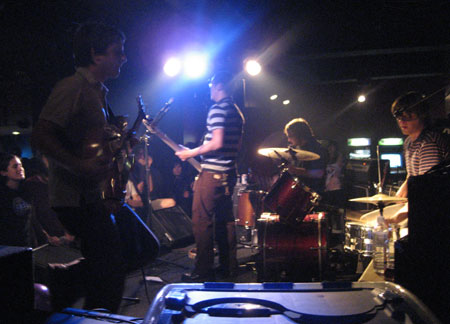 | | |
| --- | --- |
| I tried my hand at Whirlyball and found it incredibly difficult. The car is hard to drive, the ball doesn't fly straight, the goals are tiny and people are constantly bashing into you. It's fun, but were it me I'd make the goals larger so the scores would be higher. | |
| | |
| --- | --- |
| On stage, Deerhunter cranked out the racket that has made them a household name in certain circles. Most of those households aren't in the suburbs, however, so a lot of the local folk were baffled. I don't blame them, I share their confusion. I like the sound Deerhunter makes, for a a few minutes, but then I yearn to understand at least ONE lyric. EM swears she can sing along but bases her knowledge on their studio recordings. Live, it's all noise. Which is fun - for a while. But then I'm ready for something coherent. | |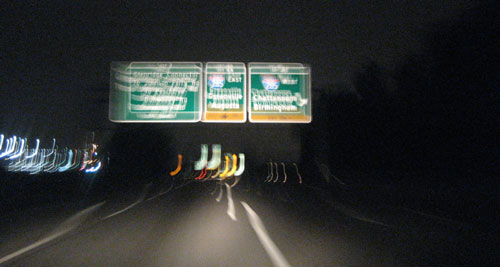 Fortunately, EM was coherent enough to get us back to civilization.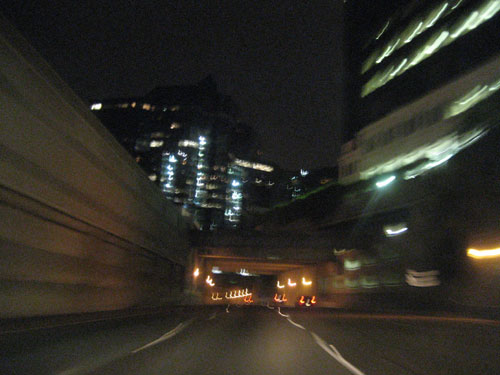 Christ, are we there yet?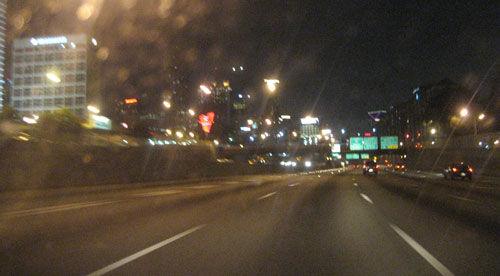 ---