Degenerate Press
Welcome to Degenerate Press' feature article. If this isn't enough you can always subscribe to Electric Degeneration, our semi-weekly and semi-weakly ezine, or surf the Electric Degeneration archive.
---
Winter Formal
The Earl
February 2005
Degenerate CD and I headed to the Earl early to get a bite, only to find the dining room full up. We headed across the street and had dinner at the Heaping Bowl where our retro vintage formalwear garnered a few compliments. Then we headed back to the Earl and found a few former coworkers done up in styles ranging from Tony Montana ruffled tux shirts to Ron Burgundy turtlenecks. We had a drink or two before heading into the music hall in back where the room slowly filled with others in retro costumes from the classy to the crazy and everything in between. I don't think I've seen a better looking crowd at any show in Atlanta. I wasn't expecting everyone to dress up. (A few years back a couple of local bands organized a Punk Rock Prom and SW where I were the only ones in the crowd that bothered to dress up.) If you're interested, check out the International Hits site for a slideshow of the prom-style photos they put together, as well as a few samples of the performances.
The Selmanaires opened, doing upbeat mechanical rock with moments of Devo, good, energetic stuff to get everyone's mood up.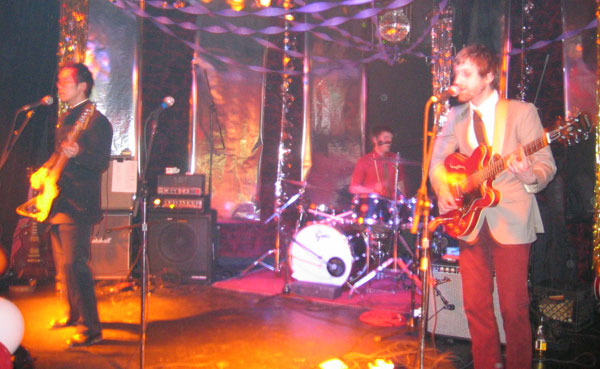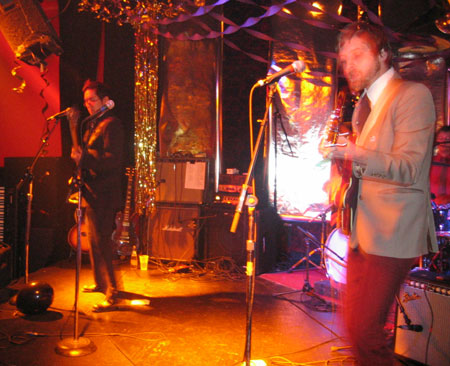 I hit the bar and asked them if they had any punch (wink wink.) The guy looked at me dumbfounded and I told him they really should'a come up with a hunchpunch for the night. Various degenerates gave their favorite recipes for the concoction but for me nothing would bring back bad memories like Hawaiian Punch out of a can spiked with Everclear. Thankfully, the bar didn't have such a concoction. I enjoyed it on occasion as a teen but as an adult I'd probably end up killing myself when the hangover came on in the morning.
| | |
| --- | --- |
| After a long break to set the stage for the "Prom Band™", a guy appeared and introduced himself as our principal and chatted for a bit before letting the band get going. | |
| | |
| --- | --- |
| | I wasn't sure what to expect musically. The show had been billed as selections from the top 100 from 1970-1980, which would be some real crap. But things kicked off with Nothing from Nothing, done so well I was immediately impressed. |
| | |
| --- | --- |
| | Every song or two a new singer would appear. There were a lot of familiar faces and a few new ones (to me), but the band handled the transition from singer to singer, song to song, and often style to style so smoothly you'd swear you were listening to a K-Tel collection of the original artists performing their top hits live on stage. There were several instrumentation changes and the addition of backup singers to match the sound and style of each tune. Sure, it was shticky, but you can catch a struggling local act doing their own material any night of the week in Atlanta. Once in a while I want something novel. And the complexity of getting the show together at all was impressive in itself. |
| | |
| --- | --- |
| Members of the band took the lead for several tunes, including a nearly dead on cover of Benny and the Jets. | |
| | |
| --- | --- |
| | Every few songs the principal would appear and lecture us, occasionally resorting to calling up the coach who reminded us to keep eight inches between us at all times. Yes, the obvious heckles were hurled back in response... |
| | |
| --- | --- |
| Some of the tunes made me shudder, despite the talent and dedication with which they were performed. Brett Busch doing A Little More Love was definitely one of them. | |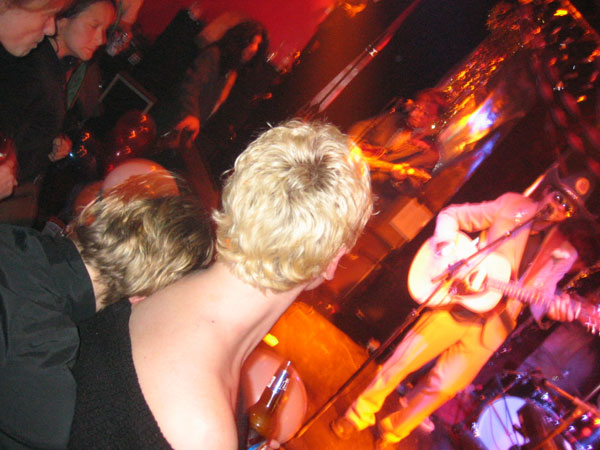 Other tunes were ripped straight out of my vinyl collection, like Dave Railey covering ELO's Can't Get It Out of My Head, a tune that got the slow dance going.
| | |
| --- | --- |
| | I'd already complimented this guy on his swell pants before he climbed on stage and did a balls-out version of Escape by Rupert Holmes, a tune you might now as "The Pińa colada Song." |
| | |
| --- | --- |
| | As if covering that tune wasn't brave enough, they broke it down in the middle and he belted out a rap that somehow worked with the tune. It was my favorite performance of the night and one of the many times I wish I were motivated enough to record these shows. |
| | |
| --- | --- |
| No seventies event would be complete without a streaker, right? | |
| | |
| --- | --- |
| | I probably have pictures of every performer, but unfortunately I don't know all the names, much less remember who sang what. I should'a snagged a set list as a handy reminder, but fortunately the International Hits site has a nice representative sample of the songs. |
| | |
| --- | --- |
| Another moment I really enjoyed was when this guy got up and said he was going to give us a look into the future, then belted out my personal favorite New Wave tune, Cars, by Gary Numan. | |
| | |
| --- | --- |
| | Ana Kramer did a couple of tunes, including Refugee by Tom Petty. |
| | |
| --- | --- |
| You also can't have a show about the seventies and avoid some reference to disco, which came in the form of a cover of Copa Cabana. The band handed out percussion instruments to the crowd and I have to say Star Bar regular Alan can play a hell of a cowbell! | |
| | |
| --- | --- |
| | It doesn't matter what the tune is, Mike Geier fuckin' owns it. |
| | |
| --- | --- |
| Blake Rainey of the Young Antiques did a couple of his faves, power pop stuff from our youth. | |
I got my prom picture done, stag since SW had a long day at work, and badgered one of the lovely Dames A'flame into posing with degenerate CD before calling it a night. I didn't attend a lot of dances at my high school, I even skipped the prom, but with events like this I don't really mind. It wouldn't have been this good anyhow.
---