Leading up to this year's beach party, a tropical depression formed off the coast of Mexico. During the week, the weather would be great but the weekend forecast had a category 1 hurricane landing exactly where we'd be camping. So I sped down a night early to catch at least a few days of sun, sea, rum, games and movies, arriving in Port St. Joe in time to catch the sunset behind the Piggly Wiggly. I'd wanted to make it to camp, but the park is another half hour or more from town, so I snapped this shot and then picked up supplies.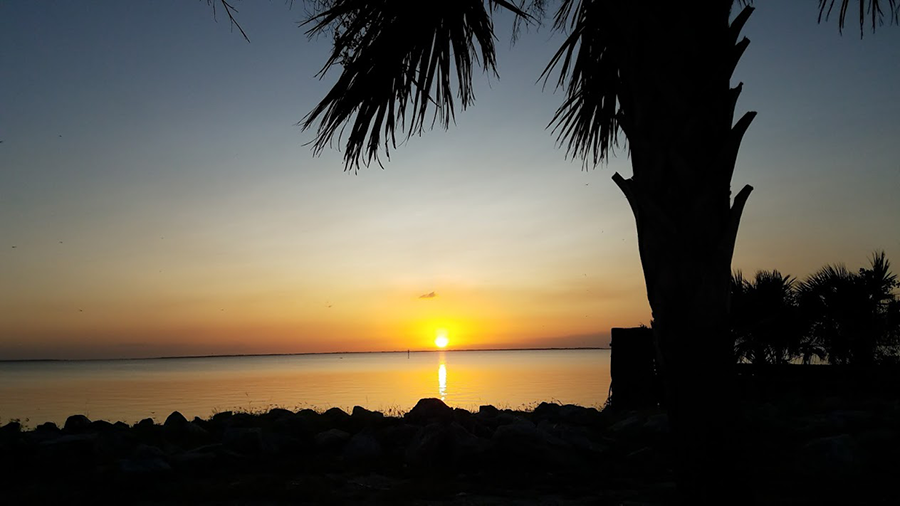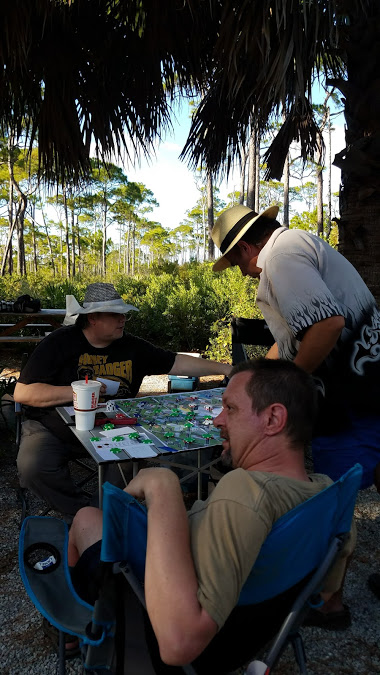 The other early birds and I set up, had drinks, hit the beach, and told tall tales around the fire, the usual festivities.
This year, we tried something new and set up a movie screen using a big, white tarp, helping make up for the lack of Drive Invasion in 2017.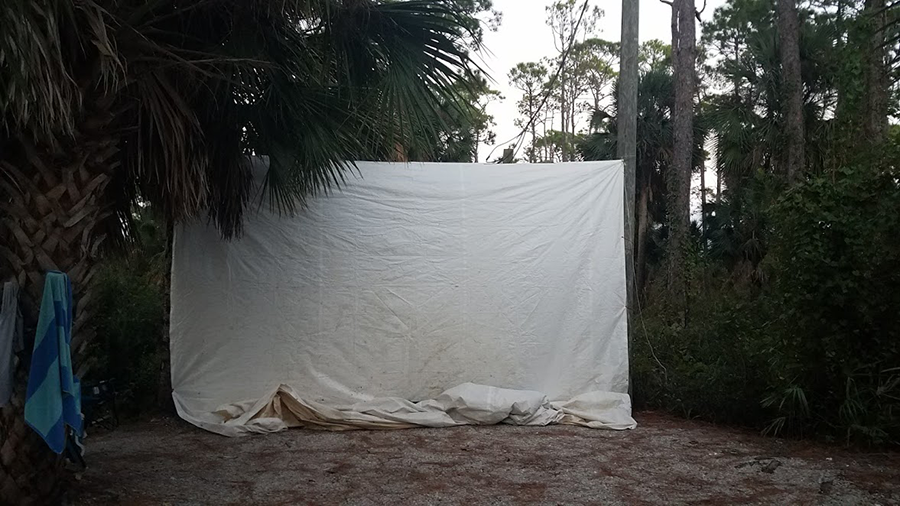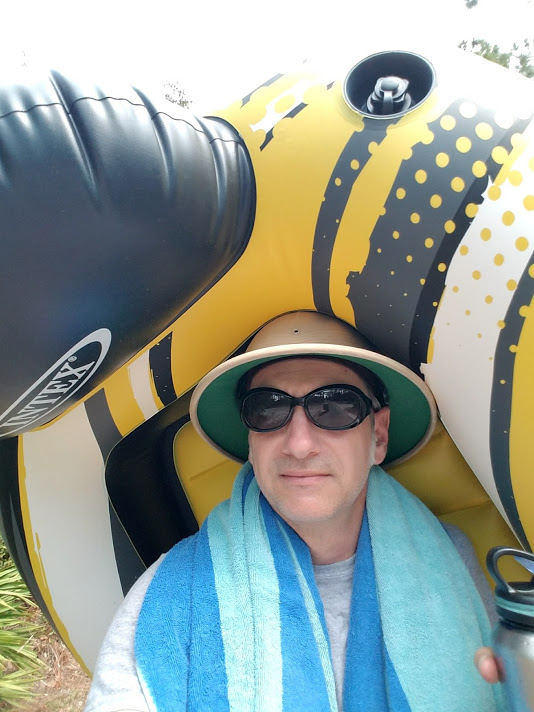 In the morning, I had to telework until lunch but eventually logged off to begin festivities proper. Bit by bit, fellow degenerates trickled in and set up their tents, greased up their children, mixed drinks and hit the beach. Soon, we had about 20 souls determined to have some fun, hoping the fun would last through some kind of hurricane-path-turning miracle before Saturday.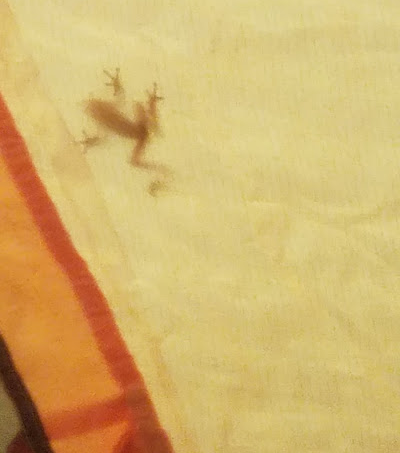 There is a ton of life around Cape San Blas. I've seen an eagle or two, a bobcat, more sea birds than I can name, a sea turtle, a few hundred deer, etc. Dolphins, pictured below, cruise past every day.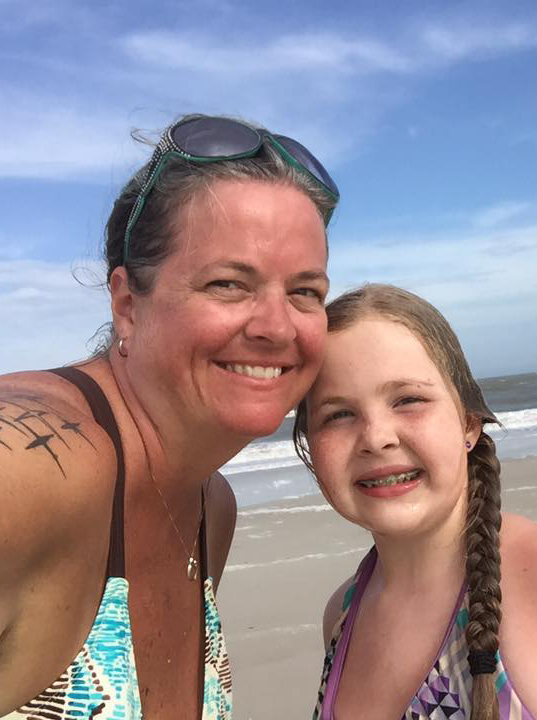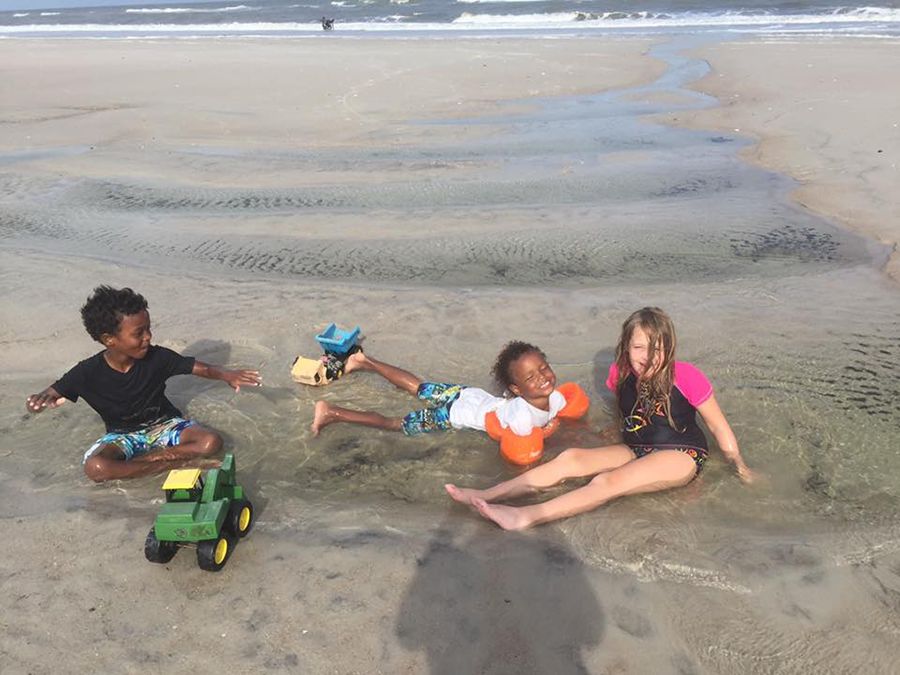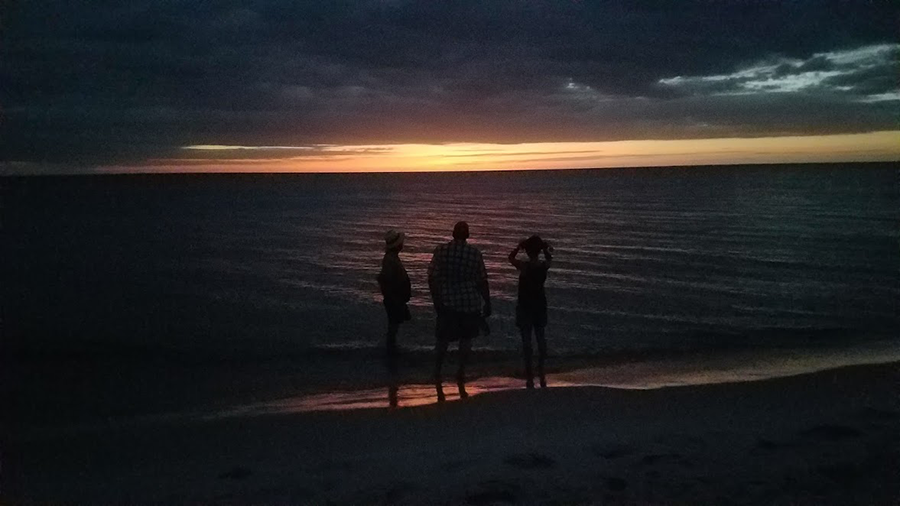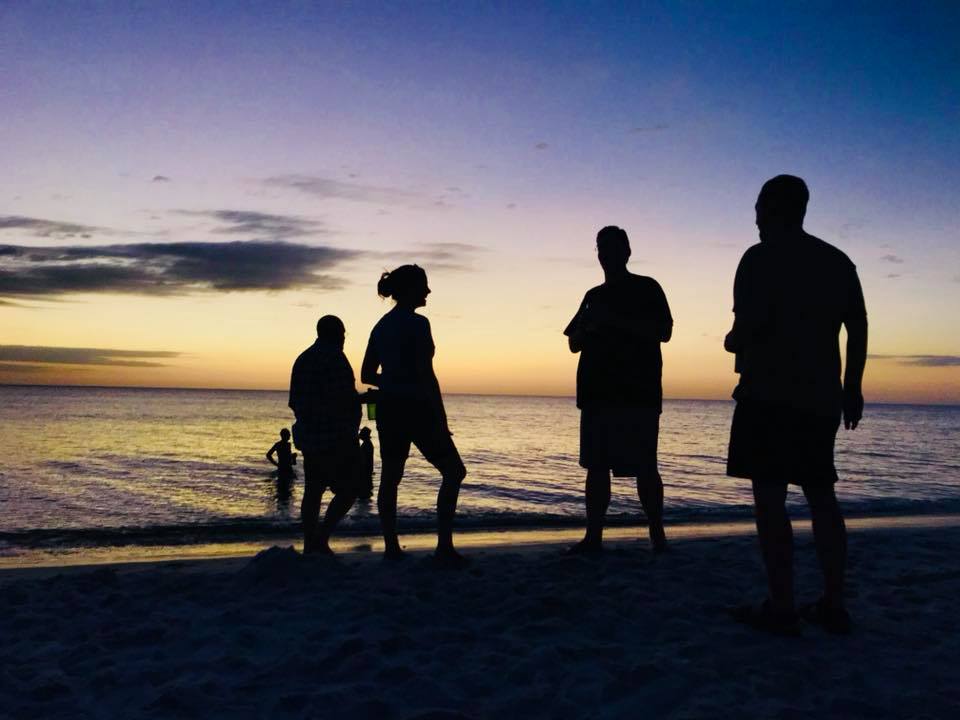 One of my favorite things about this park is that the peninsula curves around to face west so you get to watch the sun set over the sea. It's almost always warm enough in early October to float out onto the sea, awash in color. I have spent half an hour just giggling and repeating, "Look at THAT!" while tiny waves rocked me back and forth.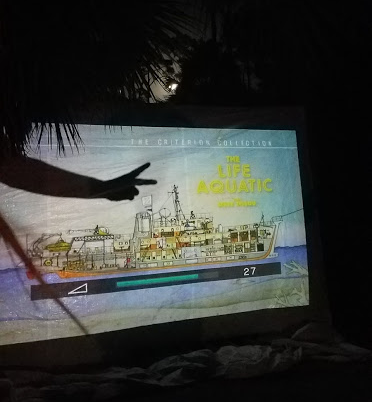 Time for dinner and a movie. I had a selection of beach-themed flicks to choose from, with the early selections being kid-appropriate, second or third features only slightly less so. We always rent an extra spot for the affair so that late nighters don't disturb the early risers.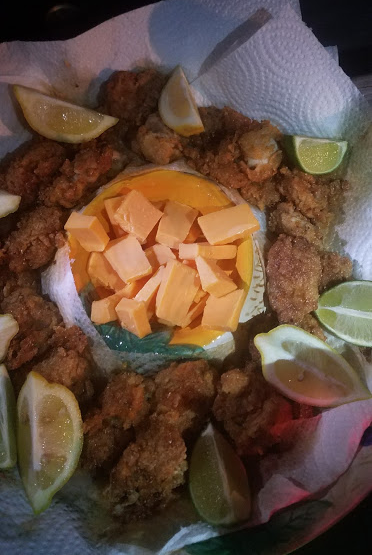 On this particular night, the full moon seduced us into skipping a second film and returning to the beach. Some folks skipped the movie entirely to play in the sea and/or socialize. With a large enough party, nobody feels guilty doing their own thing.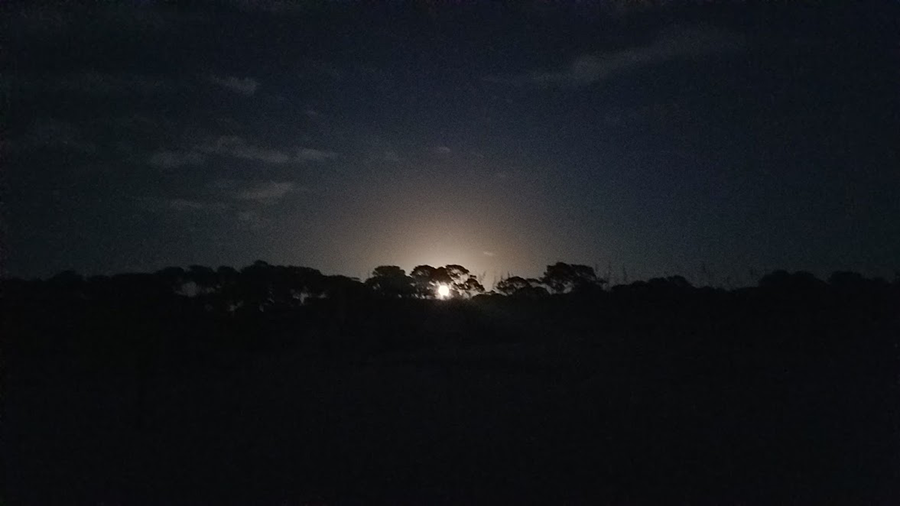 Alas, on Friday afternoon the miracle we'd hoped for hadn't happened. Hurricane Nate was turning westward, but not westward enough. After polling the gang and doing some research, we decided to caravan east to the Atlantic to extend the party a few more days. As I was on the phone making reservations elsewhere, the park rangers stopped by and handed me this.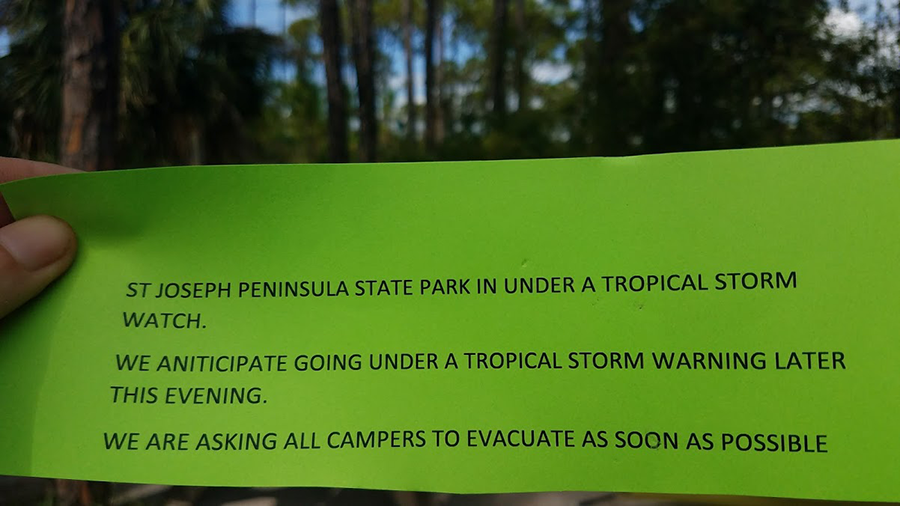 Fortunately, we'd had a little beach time in the morning. We packed and fled, speeding east on I-10 to Jacksonville's Hanna Park, the only place on the coast we could find enough empty spots for all of us.
Reset. Restart.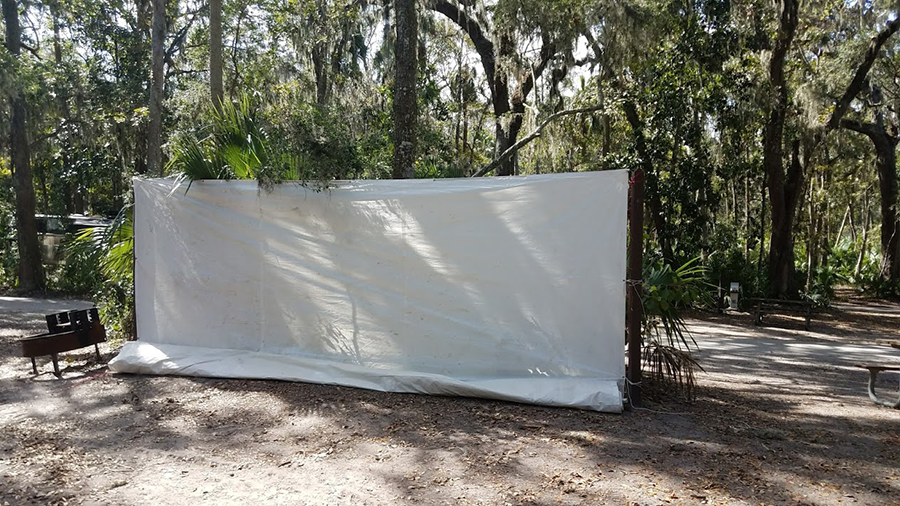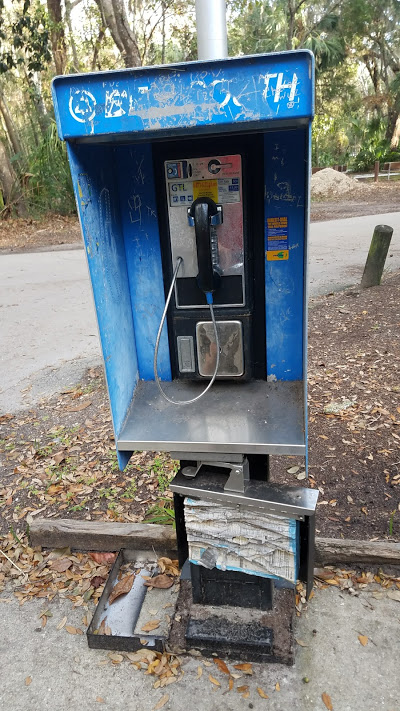 We soon learned why Hanna Park was the only place at less than half capacity. Their web site is a mess, particularly when you look at it on a phone. Calling them isn't much easier. They were very insistent that someone arrive before 9PM even though they had a gate with an electronic keypad lock and a night guard operating it. That guard was grumpy and randomly either unhelpful or too helpful. The signage in the park is almost impossible to read at night and the place is confusing even in daylight. The camping spots need undergrowth between them to separate them better. The RV spots could be grouped together, rather than opposite tent spots, so that the RV people could huddle and the tent people could do the same. The bathrooms probably hadn't been renovated since the last time someone needed the payphone still standing out front, and I wish someone would use that ragged, wet phone book to find a better janitorial service.
However, the wooded park is pretty, with huge oaks covered in Spanish moss. There are a couple of ponds where you might spot a gator or two (we didn't, but signs warn of them.) There is a huge playground and splash pad for kids, off road trails for bikes, a couple of gazebos for shelter should the weather or sun get to be too much, and the whole place is fenced in and, as mentioned, well guarded.
There was plenty of life here too, with thousands of toads, each smaller than a dime, hopping through camp. The leaves in the photo below are about 2″ long.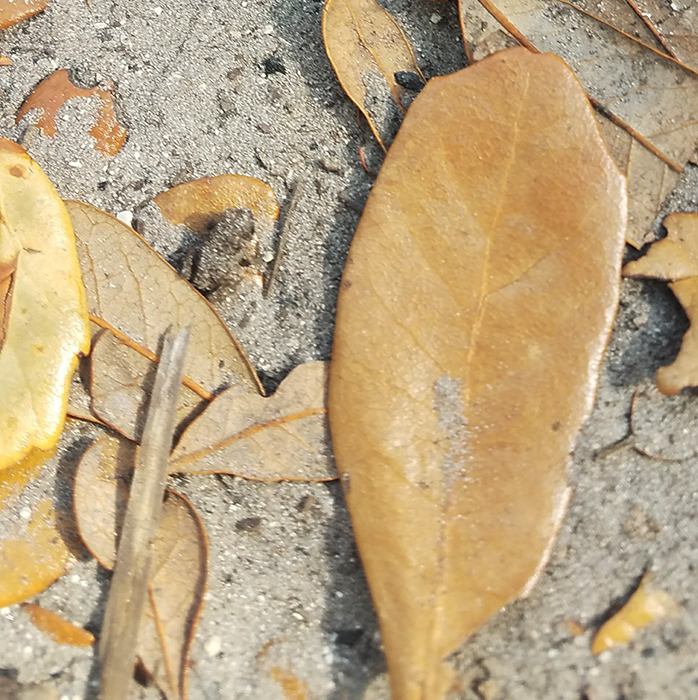 The beach itself wasn't great while we were there. The waves and undertow were fierce, making every adult keep one eye on the kids in the water at all times.
Complaints about the park and rough conditions aside, we were still at the beach. The entry to the port of Jacksonville is just north of the park so every couple of hours a cruise ship, naval vessel, or cargo ship would sail past.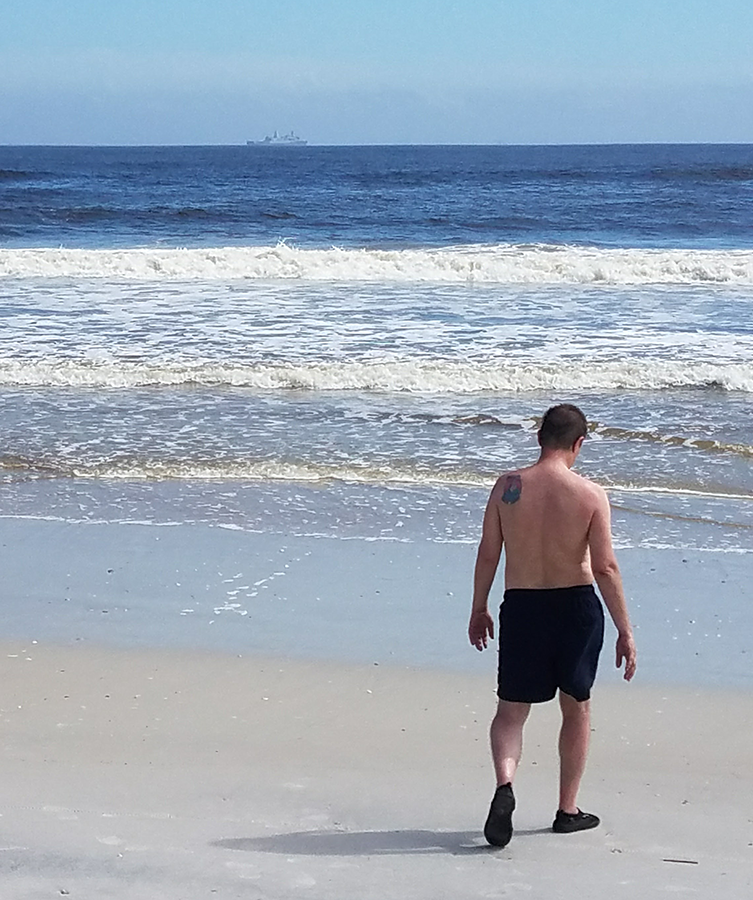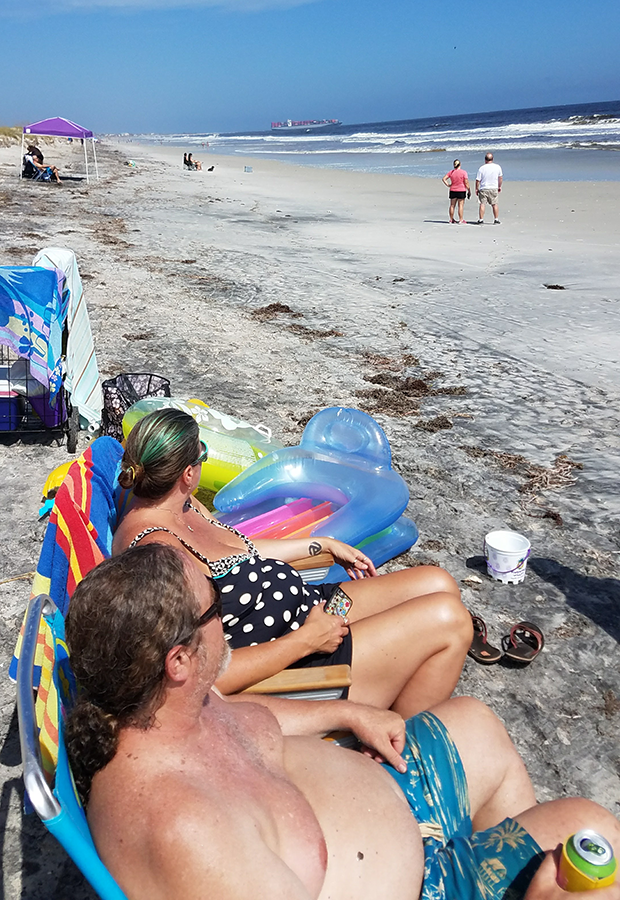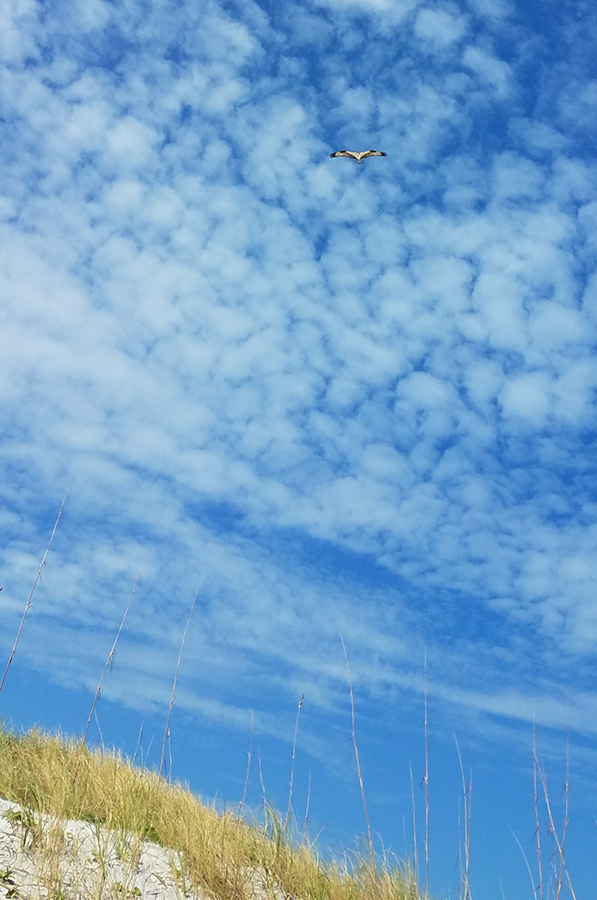 Ospreys snatched fish from the water only a dozen yards or so from us. Crabs scuttled everywhere on the beach, night at day.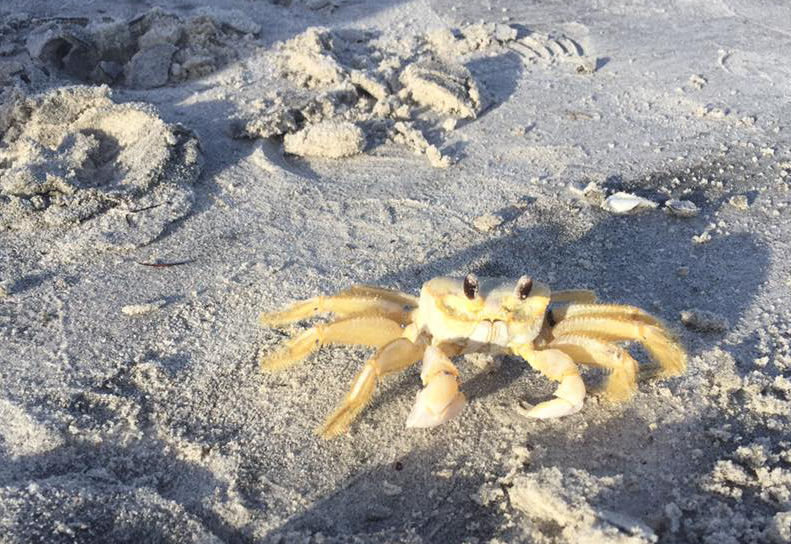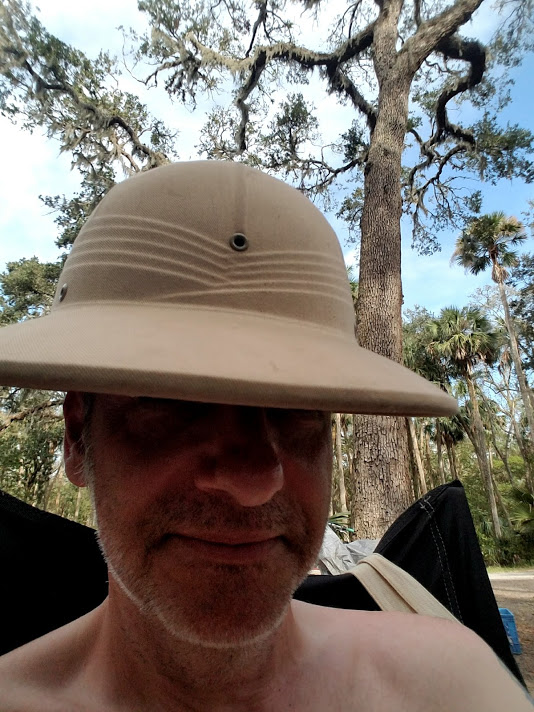 Even with the treacherous seas, both kids and adults had a fine time. I took my floatie out into the waves, struggling with all my might for 15 minutes, so that I could catch one ride back. Unlike with surfing, the floatie sits atop the wave so it's like riding a bubbling cauldron back to the sand. But to get there, you had to brave serious rip tides and 4′ waves breaking in 1′ deep water. Every one of us got knocked for a loop at least once. It was so much fun, I spent half a day pushing out into the sea for another try. Foolishly, I took my hat out with me to keep the sun at bay, assuming I could just hop onto my floatie and relax. Fortunately, someone recovered it half a mile down the beach and returned it to me. It has sentimental value, as it was my grandfather's (though no one can recall him actually wearing it), and has survived other water-related misadventures with only a few dents and cracks.
At night, time for another magnificent feast and series of films.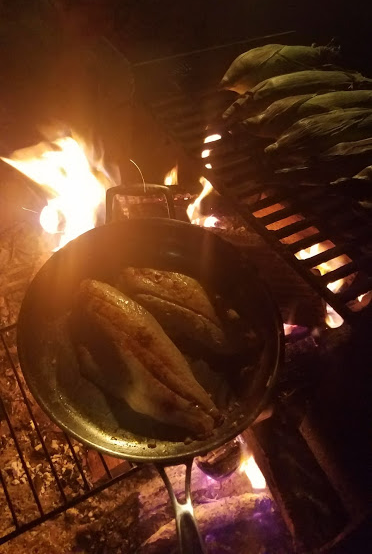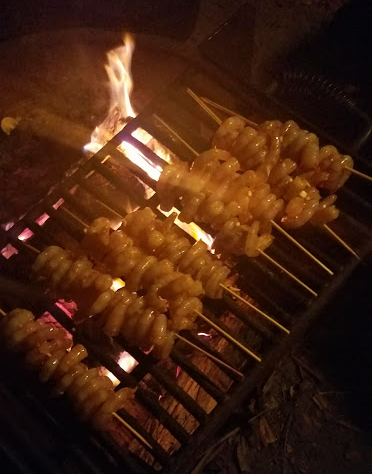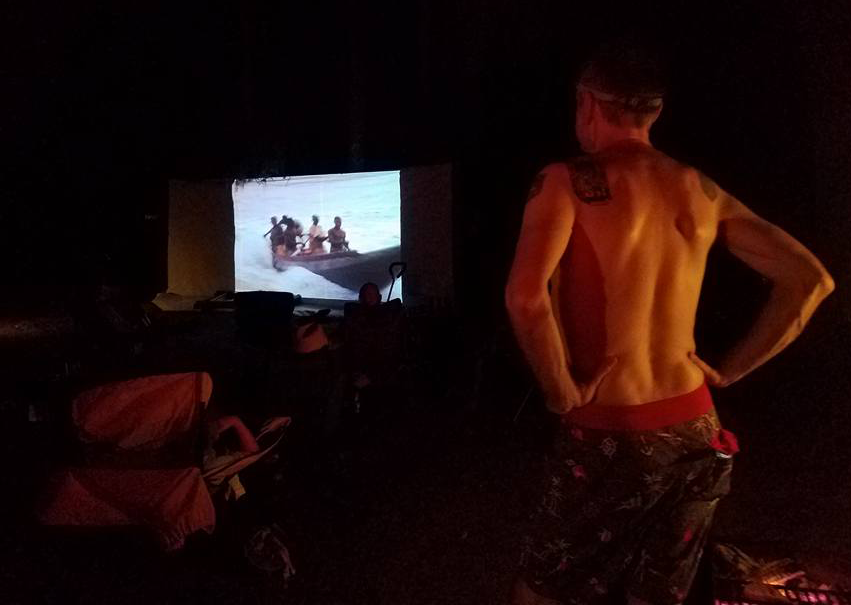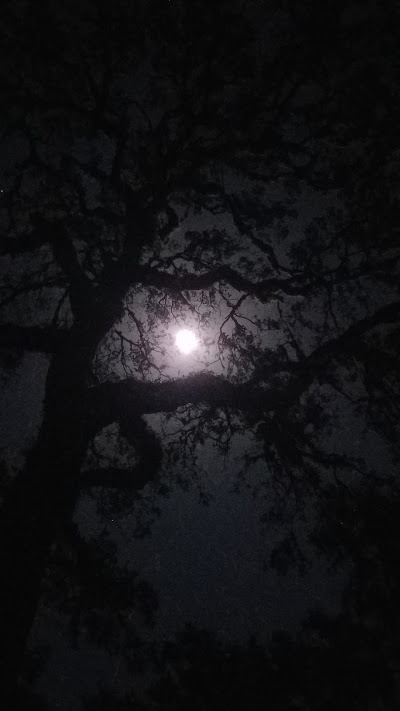 We enjoyed the fantastic visuals of The Endless Summer, a documentary following surfers around the world in 1966, The Pirates, a South Korean adventure from 2014 with a lot of swashbuckle fu, and wrapped the night up with Zaat, 1971′s cheap and hilarious answer to Creature from the Black Lagoon, shot in and around Jacksonville (once tackled by the MST3K gang.) The oaks above, palmettos around, and toads underfoot gave it a real sensurround effect, but failed to keep us from laughing until we could hardly breathe.
The next night, we opted for drunken cycle rides to the beach to watch the moon set over the pounding surf.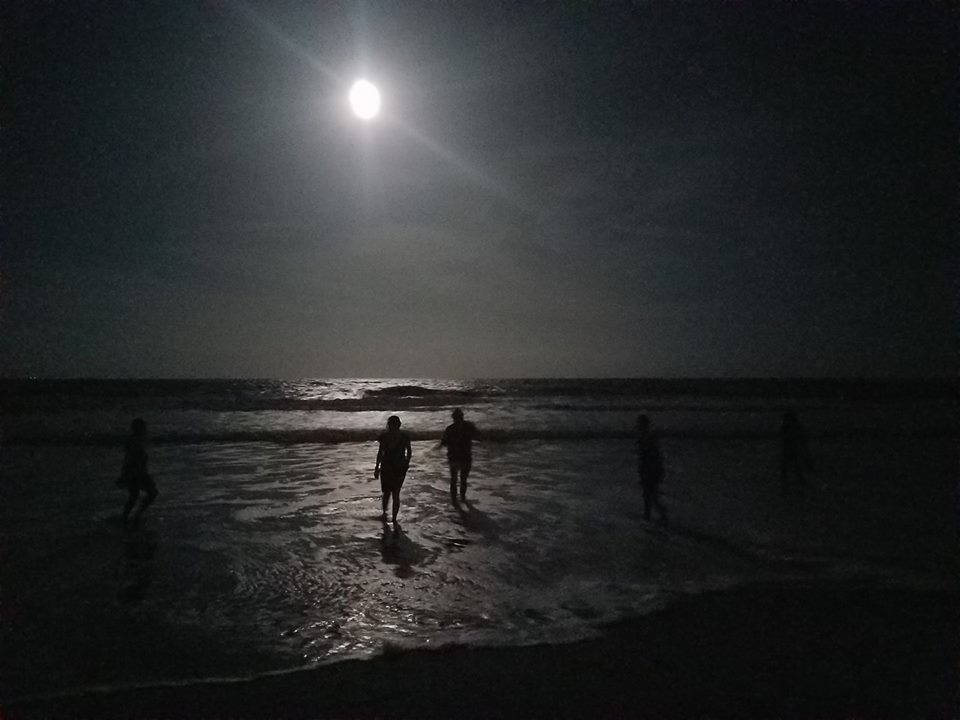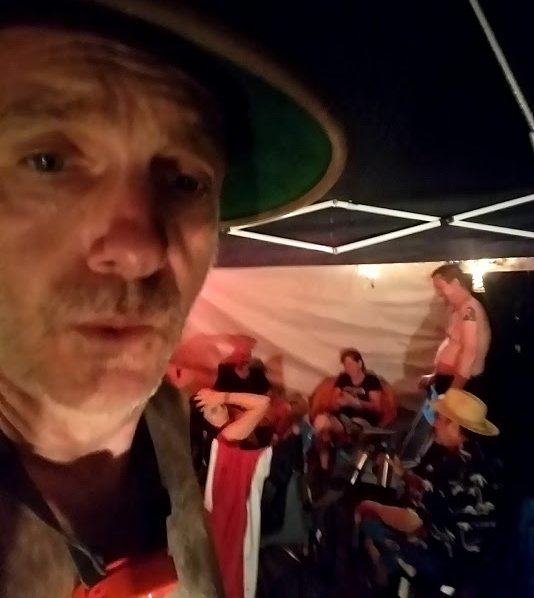 Alas, after six years of instigating this event, we finally hit a streak of bad weather. A row of thunderstorms crept across Florida, scaring some of our party off. Those that remained huddled under canopies to make dinner and tell tall tales late into the night. The camaraderie of surviving minor misadventures is a big part of the fun, so I'm glad about 10 of us stuck it out for the final night. It was wet and sandy packing out in the morning, and I still haven't cleaned off and repacked my gear, but I'm already looking forward to trying again in 2018. Reservations open up in November. Hit me up on facebook for an invite.