The first local band that I saw regularly was Something, a scrappy funk-metal band in the late 80′s and early 90′s featuring an amazing bass player by the name of Shane Morton. He also did the artwork for the band's flyers and casette cover, freaky stuff with tentacles and eyeballs that matched their tunes about monsters and the local authorities. Not a great band, but always a fun band.
After Something broke up Shane formed Super X-13. I didn't like them as much at first but they grew on me until I was heartbroken when they called it quits. Since then there's been Gargantua and Luchagors, not to mention the Silver Scream Spookshow, Monster Bash and appearances in countless other acts. Shane gets around.
But once in a while he'll bring back the old acts so that us old folks can put aside the hearing aids and risk breaking a hip for a night of sentimental mental illness. Halelujah!
First up, Transmaniacon MC, a Blue Oyster Cult tribute with roustabout Eric Lee on vocals.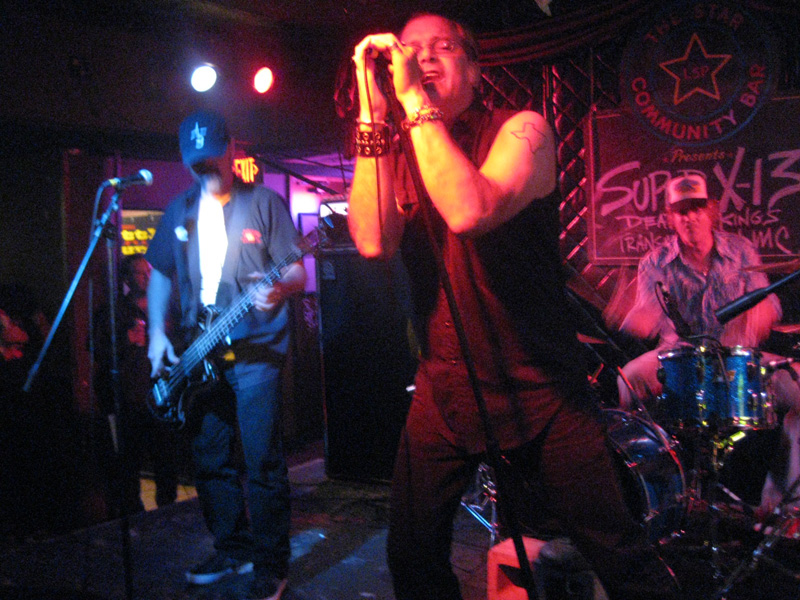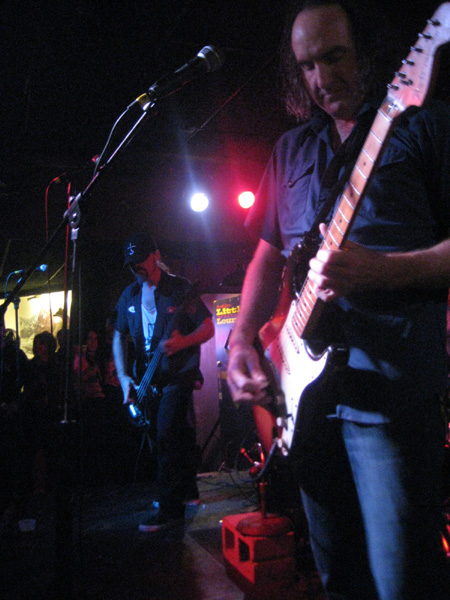 But BOC was never so much about the vocals as they were the bluesy hard rock guitar, a sound Paul McQuillan cranks out effortlessly. I don't listen to a lot of BOC but after enjoying a couple of sets of Transmaniacon MC lately I might have to dig out the vinyl and spin up some dinosaur rock at the DP HQ.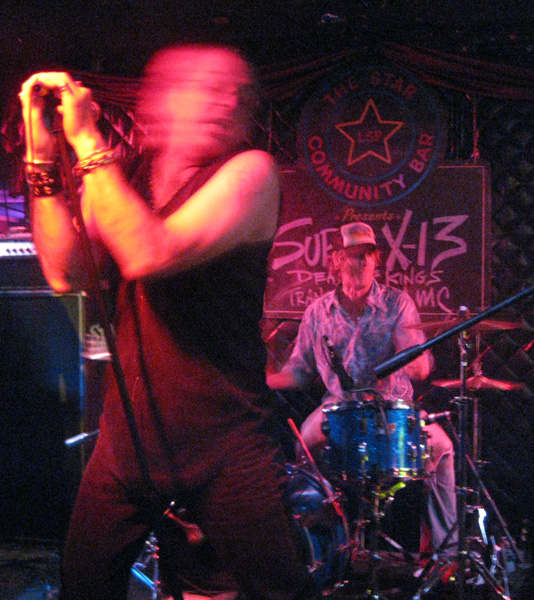 If I remember right, Eric or Paul posted on Facebook that this might be their last gig. I suggested the do one more, playing a set at The Plaza for a midnight showing of Heavy Metal, if only we could find a head shop to sponsor the event. Anyone?
Fellow degenerates and I couldn't help but giggle while watching the drummer in Death of Kings assemble his not-quite-Neal-Peart drumkit. Then when three guitarists stepped up and the lead singer let out a screachy, "WE ARE THE DEATH OF KINGS!" we knew what we were in for.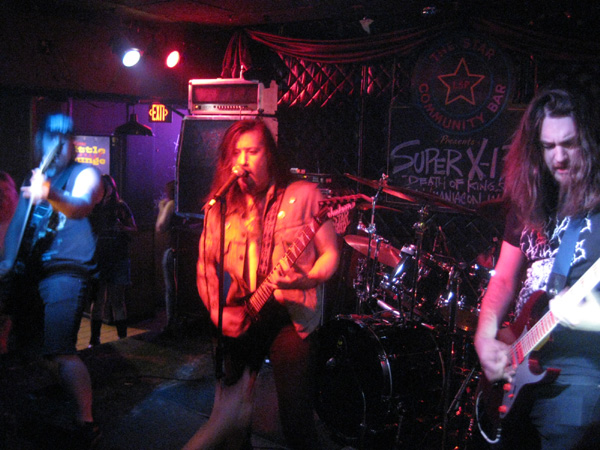 Several of us enjoyed The Star Bar's back patio while DoK rocked on.
I got a spot close to the stage, wondering what this particular Super X-13 show would bring in the form of costumes. Soon the guys appeared clad head to toe in spandex, claiming to be manga characters but looking more like a mash-up of Witchypoo, Marcel Marceau and Ultraman. Absurd, hilarious, and fantastic, much like the music they produce.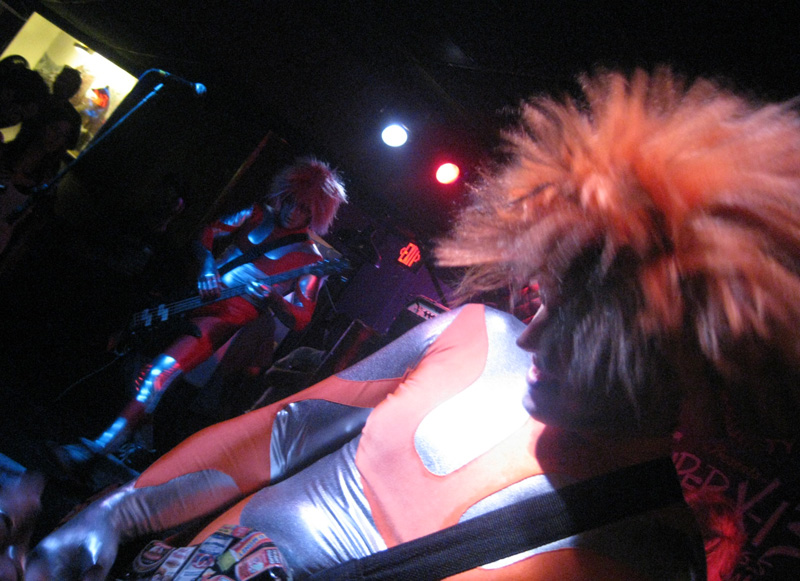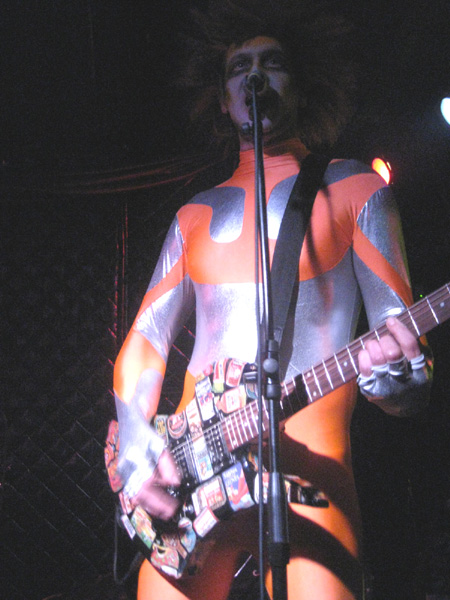 The thing I like most about Super X-13 (which applies to Gargantua as well) is how they have turned metal into dance music. Sure, there's the usual headbanging blugeon, but there's also a bouncy hook and the occasional rap reference, all tied together with a "we are the greatest band in the world" schtick. It shouldn't work, but holy hell it does. Perhaps because the individual members are absolutely amazing on their respective instruments.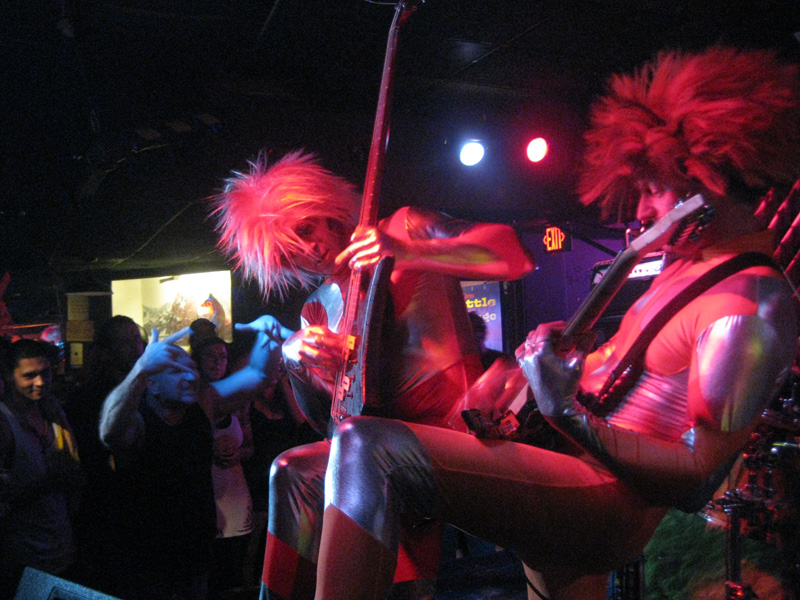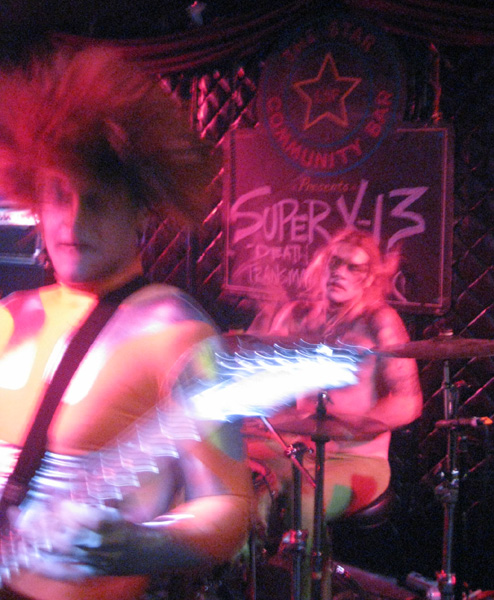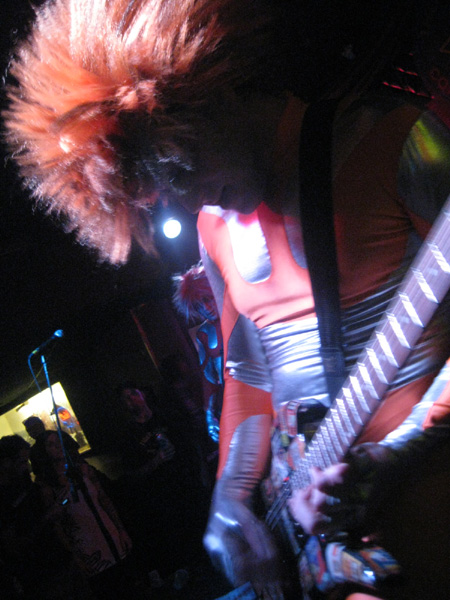 The show could've gone all night, as far as I was concerned. They performed almost every tune I've ever heard them do, even throwing in an old Something song for old times' sake. But 2:30 rolled around and the City of Atlanta dictates how late I'm allowed to enjoy art and alcohol at the same time, so the band wrapped it up with a big finish and called it a night.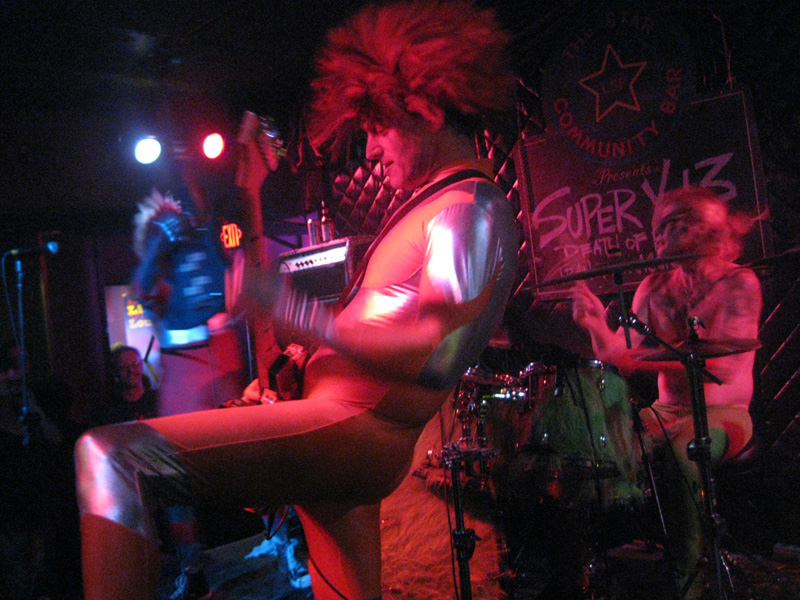 So when is the next reunion show again?