I have reviewed Las Vegas before and I'm writing a post-apocalyptic sci-fi book/blog about the city so rather than review that part of my recent visit, how about something different?
After a couple of days in Vegas the sensory overload gets to be overwhelming. Take a day trip in any direction and you'll get quite the opposite. Hoover Dam is impressive and worth the time, cost and effort for the tour. But I'd done it before and wanted a few photos of other areas for the aforementioned blog so I headed north and west out highway 95 into the wasteland.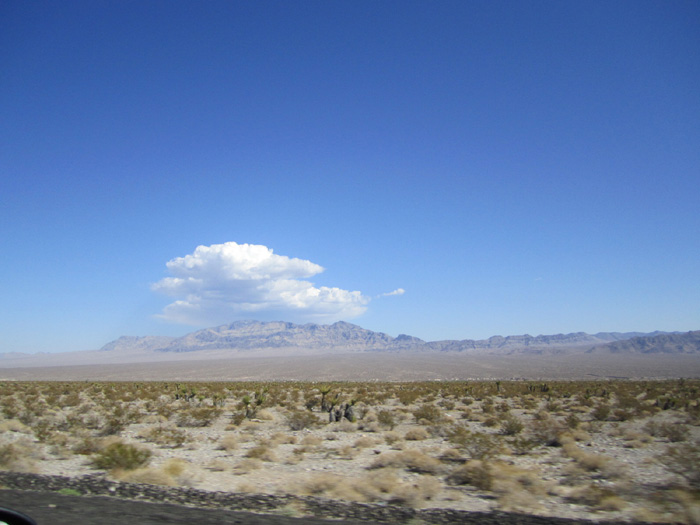 Within minutes my mind was as clear as the surroundings – only a few passing clouds and mile after mile of nothing but miles. The temperature hovered around 80 but with virtually no humidity I was actually chilly with the windows rolled down.
Four lanes, little or no traffic, a clear day – I cranked up the iPod and got the Nissan Sentra up to 80 or 90 mph, flying along through the nothing.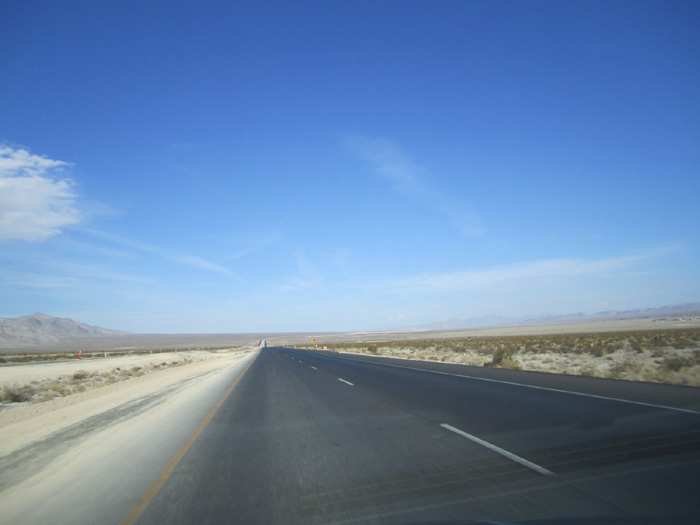 Vast plains of sand and scrub stretched out into the distance, ringed by rocky, barren hills. But there are splashes of color here and there, from khaki to tan to light brown, even the occasional taupe or beige!
I joke. There is color out there. Check out these purple mountains' majesty.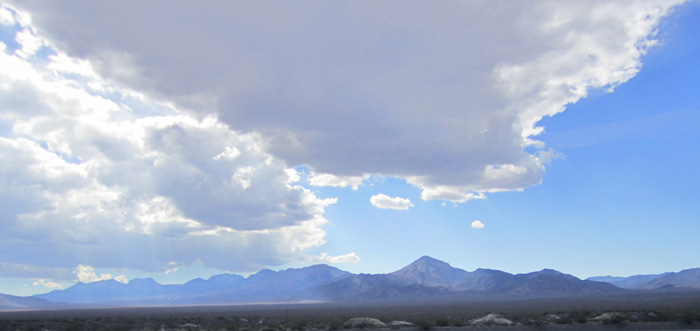 Once you get a little further out you'll notice a fence along the road.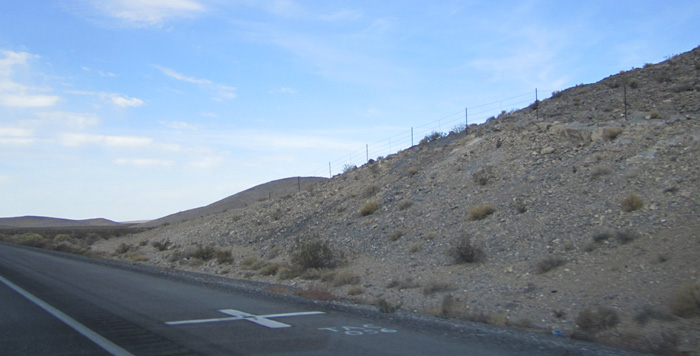 That's government property beyond, and not just any government property.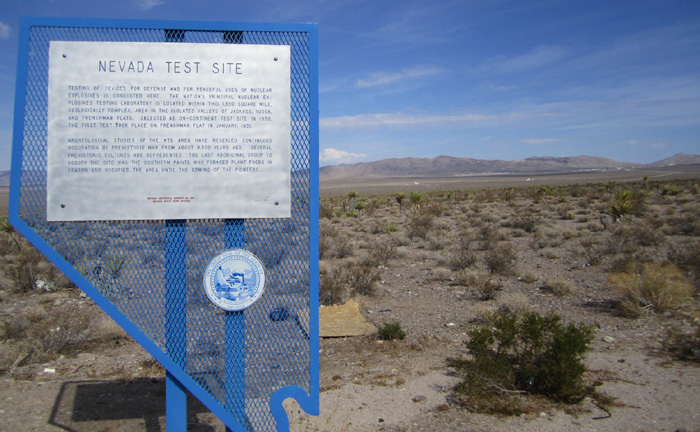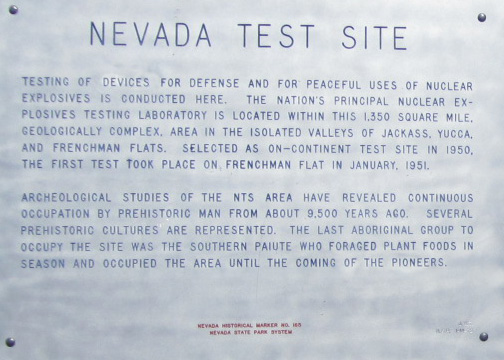 There are occasional gates along the way, some warning you not to enter, others that have faded signs asking you to shut the gate behind  you.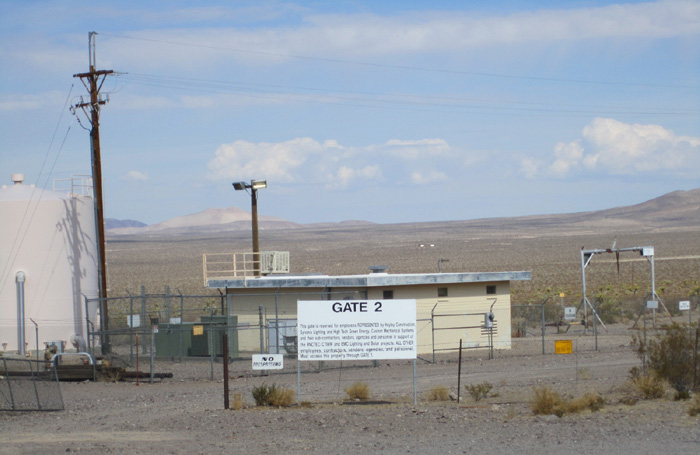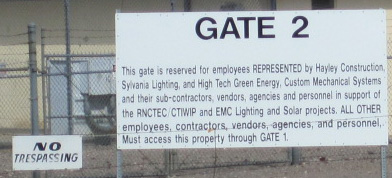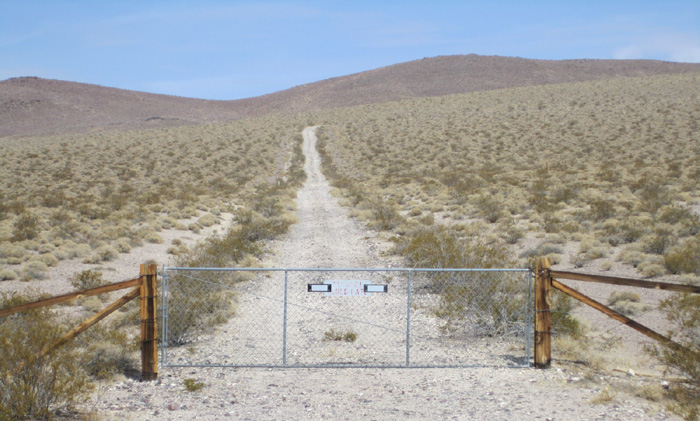 Rumor has it if you go deep enough into the area you'll find 20′ tall electrified fences, video cameras and men in white SUV's. But I wasn't risking getting off the road in a Nissan Sentra with less than half a tank of gas and no water – government surveilance aside.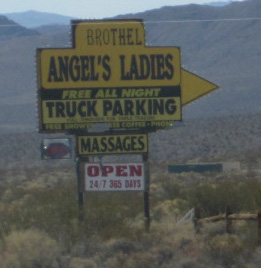 Instead, I drove on, through the small town of Beatty and past the occasional oasis, both of water and other attractions. Along the way there were dull green cliffs and an entire mountain of bright red. Check out Google's satellite image of the area.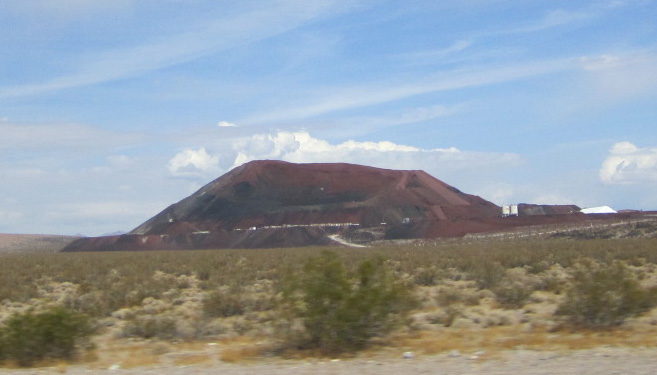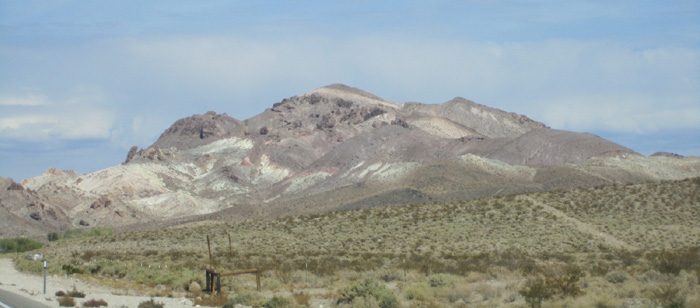 Layers of geological time are laid bare, making you feel a bit insignificant in the grand scheme of things.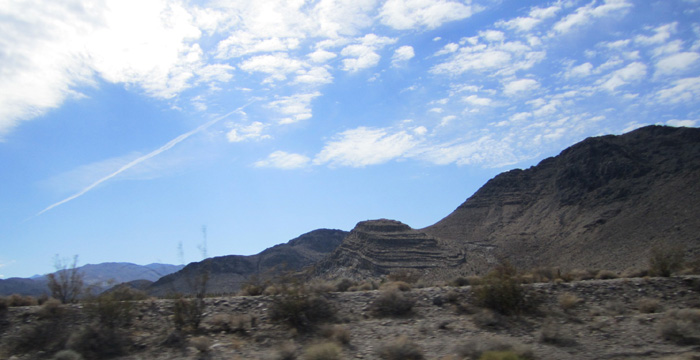 Even if the hostile environment doesn't kill you, time inevitably will.
Speaking of, Beatty is only a couple miles from Death Valley so on the way back I stopped for lunch in Beatty, then took a detour. I stopped by the ghost town of Rhyolite, right near the California border. There's not much left of it now – a few crumbling buildings, a nearly-intact train station and a house made of old bottles. I was more interested in getting to the valley, however, so I just took a quick drive through and sped on.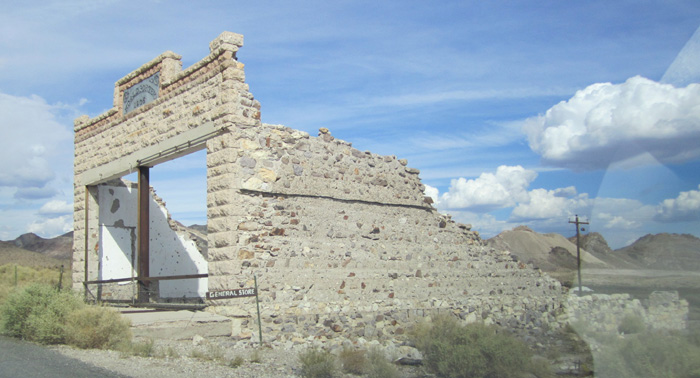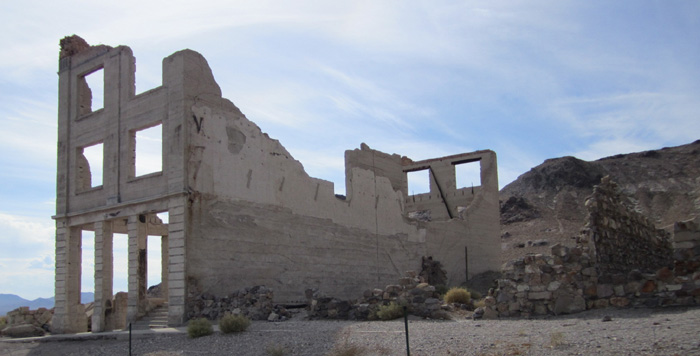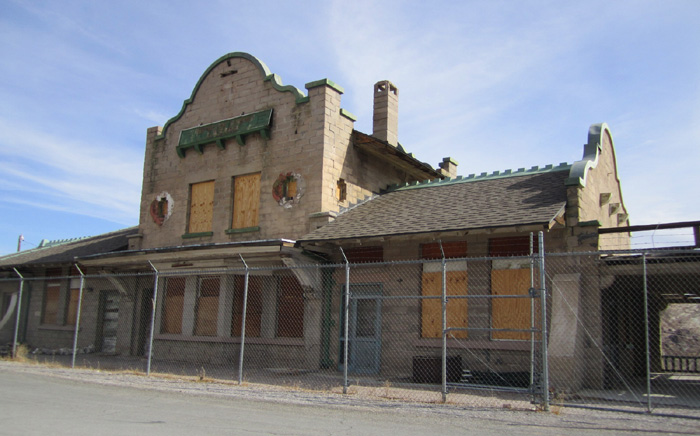 Then up over a ridge with a brief stop at the park's automated payment center (I think it was $18 for a visit, if you're not camping.)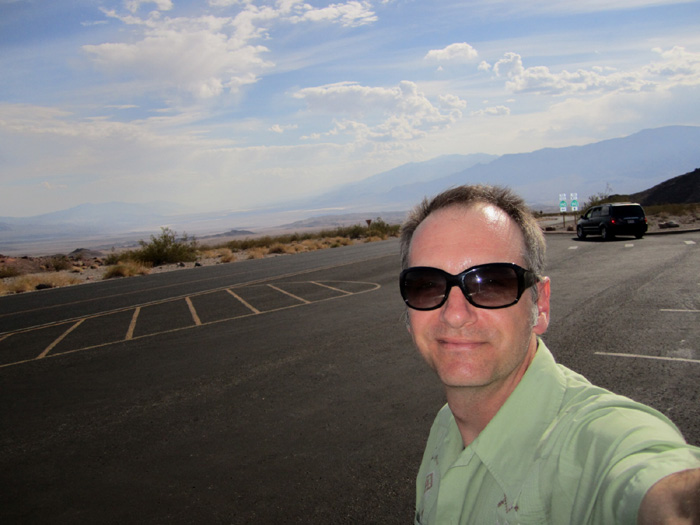 I had been thinking, "Shit, it's the damn Mojave, how much deader can it get?" A short glance around Death Valley answers that – a lot. Vistas that would've been dotted with shrubs of one sort or another on the other side of the ridge are little more sand, gravel and rock here.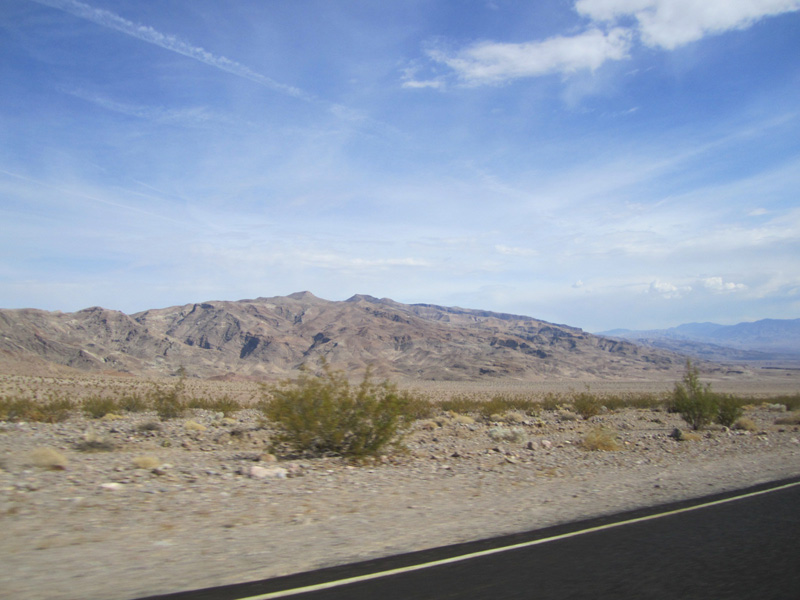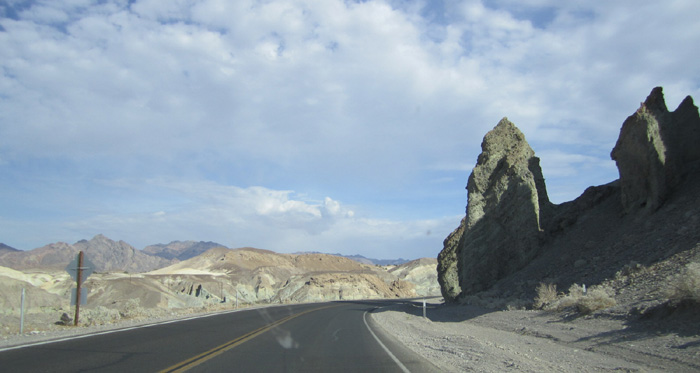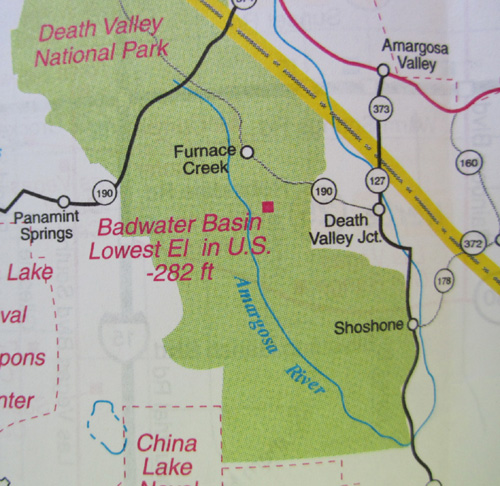 The had been a pleasant mid to upper 70′s in Beatty and the surrounding hills. However, when I reached the bottom of the valley, the lowest point in the United States…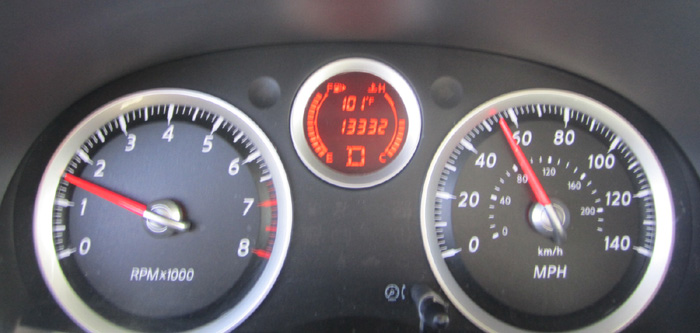 No wonder the campground is called Furnace Creek.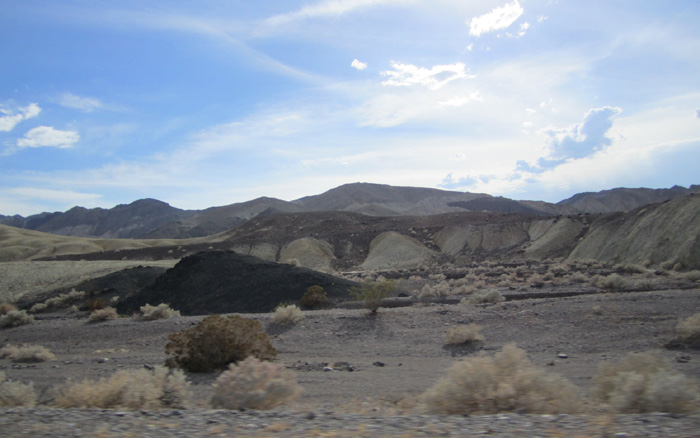 I followed the highway through the valley and out again, passing more dramatic reminders that we are soft, ephemeral creatures alive for only the blink of an eye.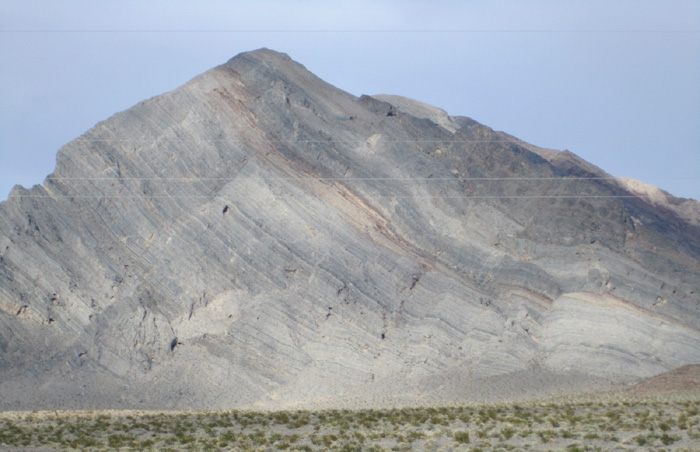 Then on through Pahrump and toward Vegas with a rainbow pointing the way. With the town in the distance and the edge of beautiful Red Rock Canyon off to the left, I wished I'd taken more time (and a better map, and a picnic lunch, and an off-road vehicle, and…)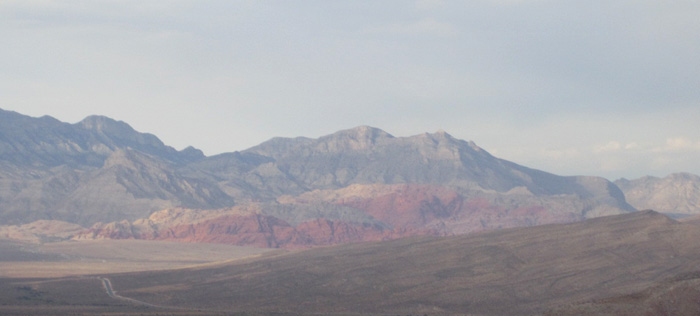 Sure, the rocks will still be there – but I'm already halfway done with this instant of life!
Back in Vegas, the lovely Frankie's Tiki Room was waiting, serving up refreshing rum concoctions that contrasted perfectly with the starkness of my day's drive. So if you're in Vegas and you've had enough flashing lights, chattering slot machines and hordes of tourists hop in a car and head – well, anywhere, really. There's a lot of nothing out there to give your senses a break!