Glasgow isn't that big a city (just under 600,000 people in the city proper, 1.75 million in the greater urban area), and the mass transit reflects that. There is an underground train that runs in a short loop around town, reaching almost everywhere we needed to go. The tunnels date back to 1896 (third oldest underground metro system in the world) and "has never been expanded" – I don't know if that includes vertically or not, but if you're taller than about 5'6″ you'd better watch your head. But between the ease of walking in Glasgow, the tube, the busses, and the occasional lift from our hosts, we never set foot in a cab even to get all the way over to the east side of town.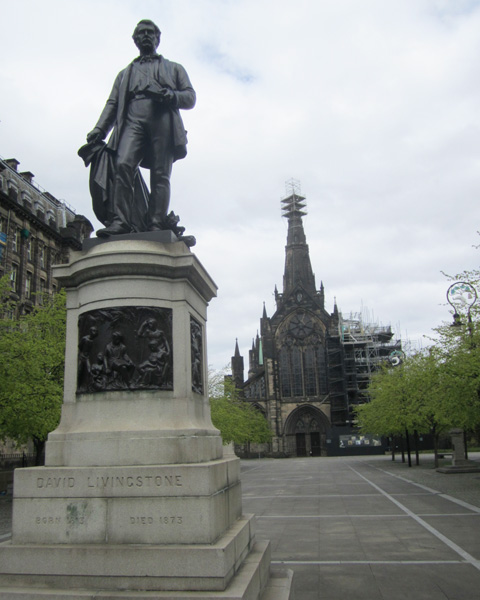 Glasgow's Cathedral, St. Mungo, advertises itself as one of the few in the UK to survive the Reformation intact. Unfortunately, time and the elements have been more corrosive than Protestants. The stone is dirty and eroded. The stained glass windows have been removed for repair. One of the outer walls leans outward at a mildly alarming angle. Scaffolding covers the steeple and half the building, indicating the current preservation efforts.
But it's definitely worth preserving. Lots of Gothic gingerbread, spooky faces looking down from the ceilings, dragons carved into eroding stone – everything you want in an Old World church.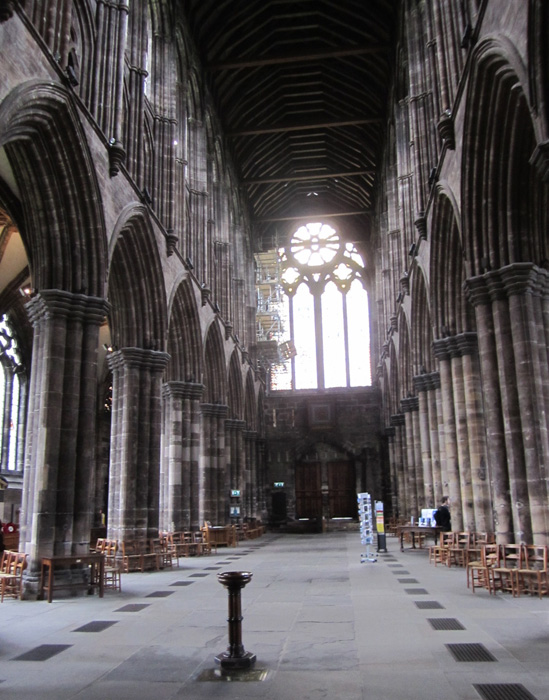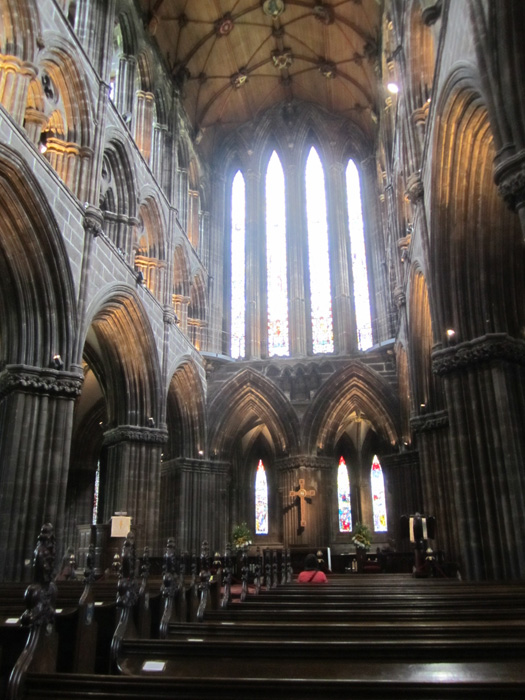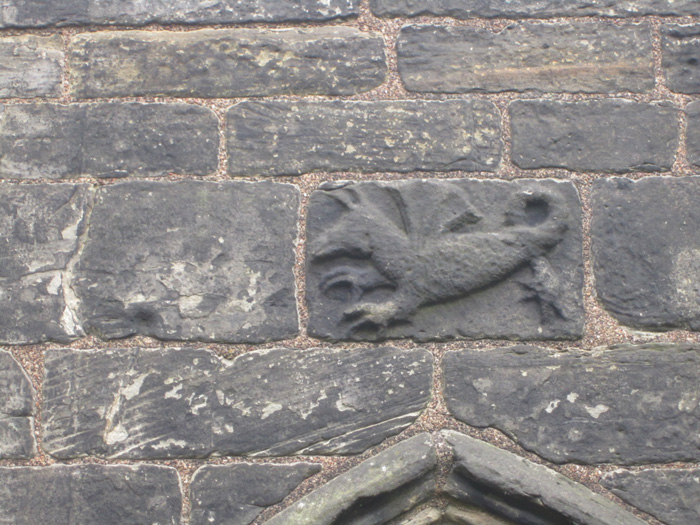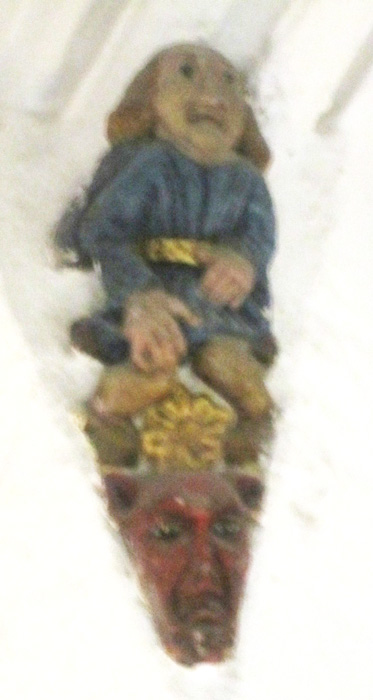 Oh my god, I have got to pee!
Well, Old World at least until you get to the basement where they keep St. Mungo under what looks like a quilt made by a very crafty, hippy grandmother.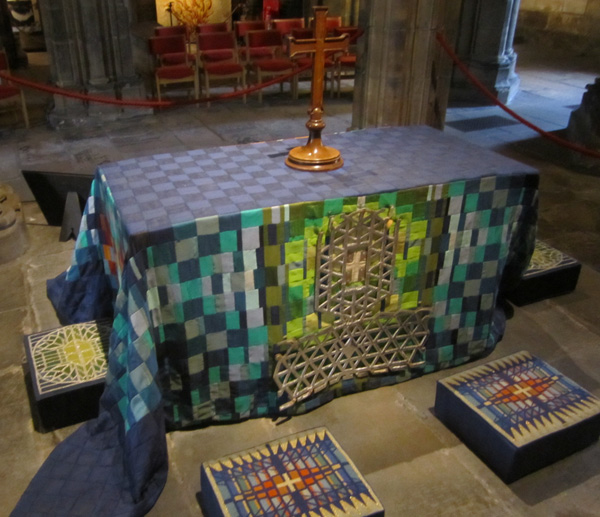 I kept noticing graveyards all over Scotland, in part because many of them surround ruined churches and have beautiful, moss-covered markers engraved with Celtic symbols and/or flourishing script. If you're a dead poet, inventor or successful businessman you might have an entire mausoleum and/or museum dedicated to you. "The Scots love their dead," I kept saying. It shows in Glasgow's Necropolis, a sprawling graveyard on a hill behind the Cathedral.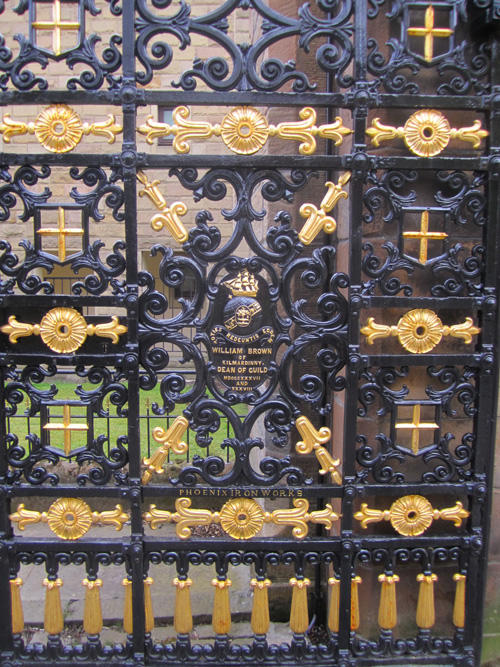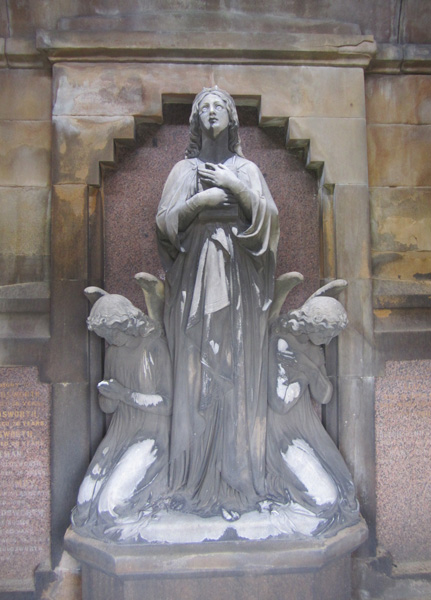 However, there are some Scots that don't respect the dead so highly. Many crypts had trash thrown into them. Lots of markers had been pushed over. Some statues are missing heads and/or hands.  It would take a major budget to repair and maintain the place beyond just cutting the grass.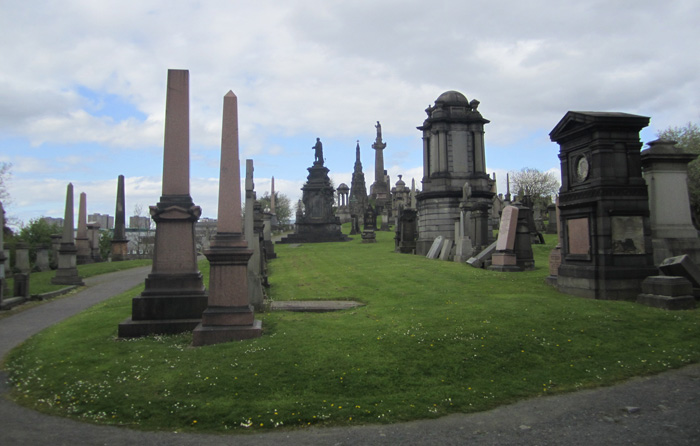 But Atlanta has done wonders with Oakland Cemetary, so, Glaswegians, take note. It can be done, and with the beautiful markers and location of the Necropolis, it should be done.
Since watching the British version of Antiques Road Show, my curiosity about something called a "car boot sale" had been piqued. Countless guests on the show had purchased some item for a pittance at such a sale, only to find it some rare work of art, ceramics or jewelry worth a small fortune. Our hosts drove us to what may be the largest in Glasgow, every Sunday at the Blochairn Market Complex. The entrance was less than welcoming, draped in barbed wire and sporting some squawking crows. Once inside, we found a row of open warehouses surrounded by a parking lot, both full of people selling things (as you might have guess) out of the trunks of cars.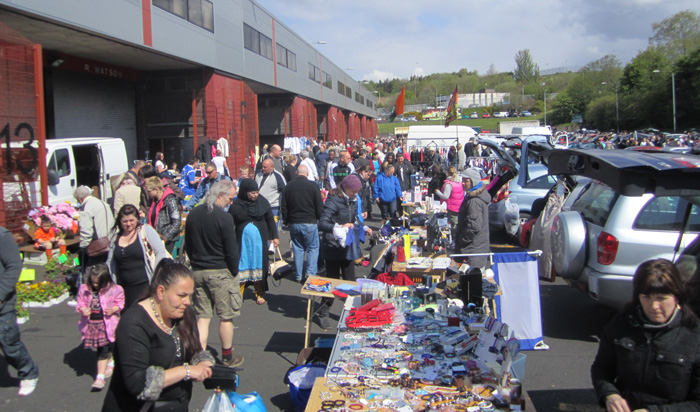 Alas, I did not find a bargain on a Matisse thought lost during WWII or a tarnished piece of Tiffany jewelry. These are the best of my finds: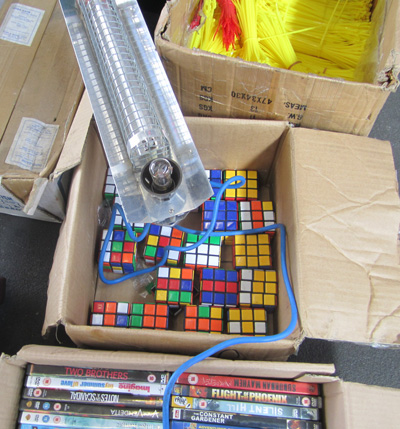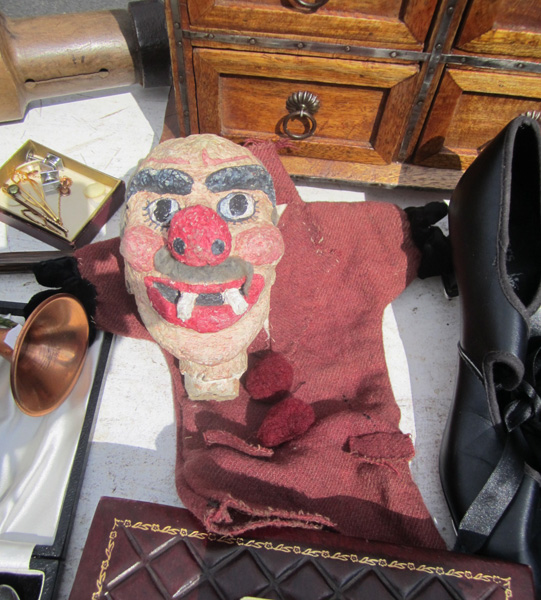 That's right – an entire box of Rubix Cubes, and a really creepy paper mache clown puppet who needed his head reattached. I'd need my head examined if I'd purchased either, particularly given the limited amount of room I had in my luggage. I came away educated, but empty handed. As if the car boot sale weren't enough, we trekked over to The Barras, an outdoor flea market with slightly less trashy merchandise but still found nothing to our liking.
Near The Barras is Glasgow Green, a city park some 550 years old. The current layout only goes back to the early 1800′s but despite the radical modernization people still flock to the park. There happened to be a city-wide art festival happening while we were in town, which included this very cool life-size, bouncy-castle-version of Stonehenge. Art? I don't know, but it definitely looked like fun!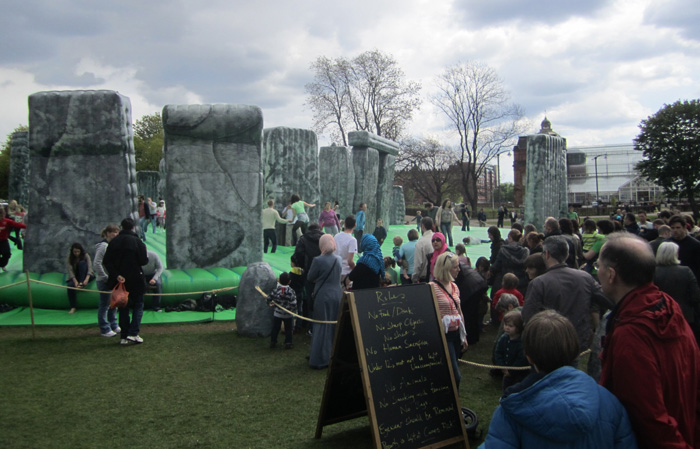 Unfortunately, the wait time to get on the thing was rather lengthy and it was threatening to rain. Instead, we retreated into the neighboring museum, The People's Palace and Winter Gardens.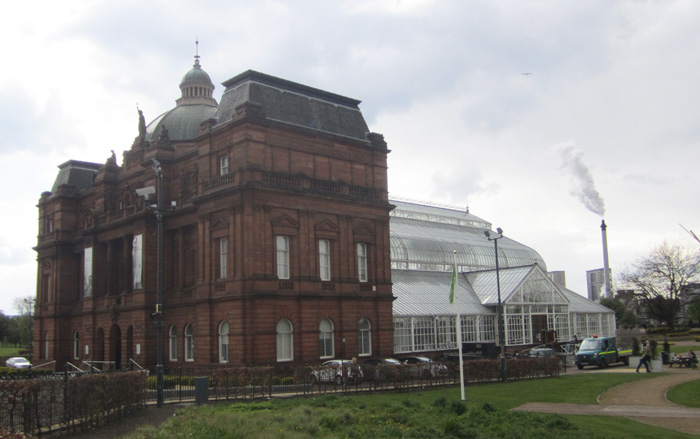 The smokestack in the background was from a nearby brewery but a younger member of our entourage asked, "Is that where they make clouds?"
Inside, The People's Palace has some interesting exhibits about life in Glasgow, such as a brief history of the city's Temperance Movement.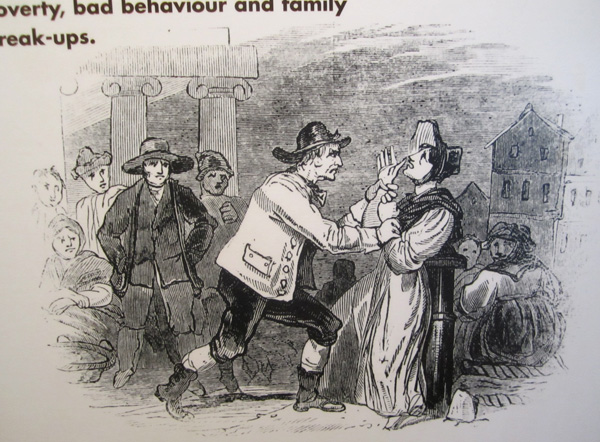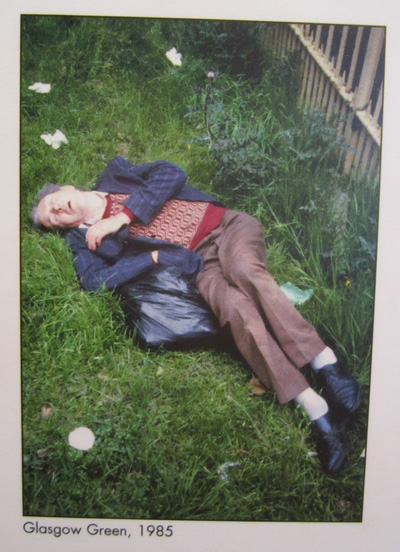 See? Glaswegians love the Green!
Of course, the Temperance Movement had some stiff competition.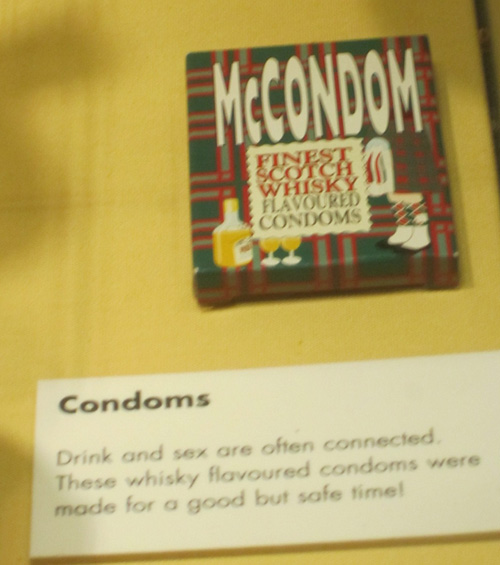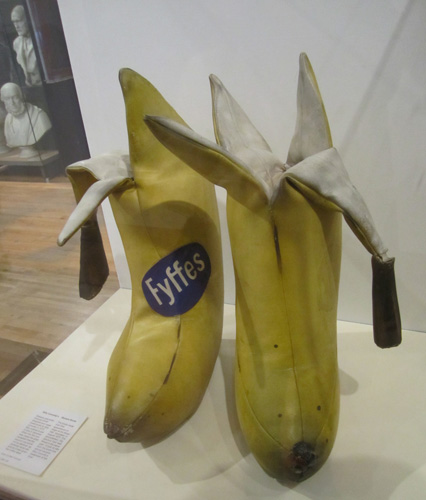 You know what else you can see at the People's Palace? "Comedian Billy Connolly's famous banana boots!"
No, I didn't know about them either. I had to struggle to remember who Billy Connolly is in the first place.
Adjoining People's Palace is Winter Gardens, another greenhouse similar to Botanic Gardens. This one comes with a food court, however.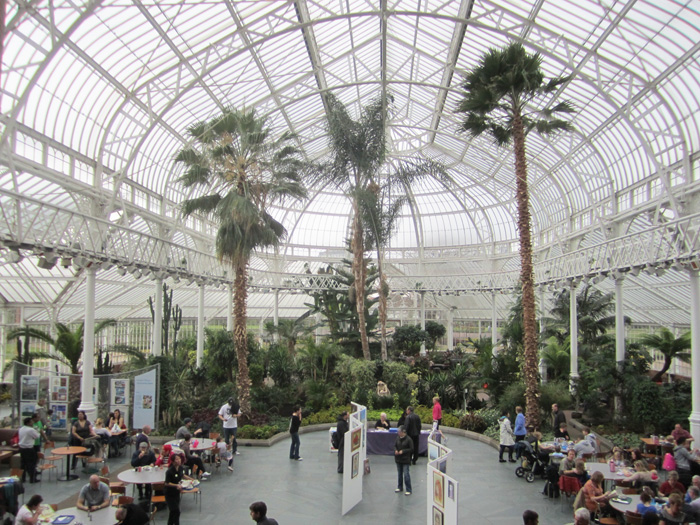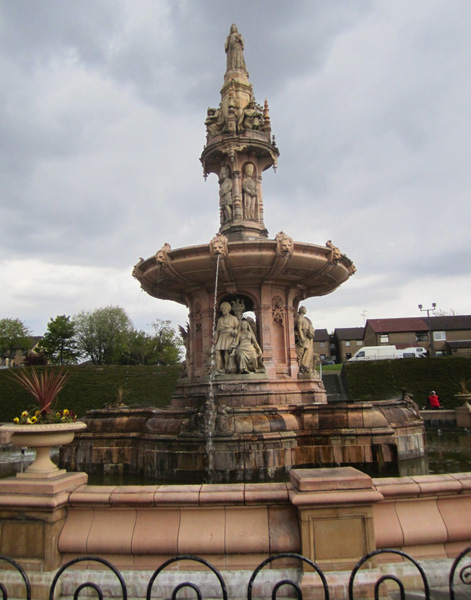 Out front is a massive terracotta fountain featuring Queen Victoria towering over figures representing various colonies of the UK – South Africa, India, Canada, and Australia. Um… hooray for Imperialism?
Political overtones aside, it is a nice fountain. The colonists stand with various plants, animals and objects native to their respective lands. An ostrich peeks over the head of a South African farmer, for example.
Next to both of these is this amazing structure.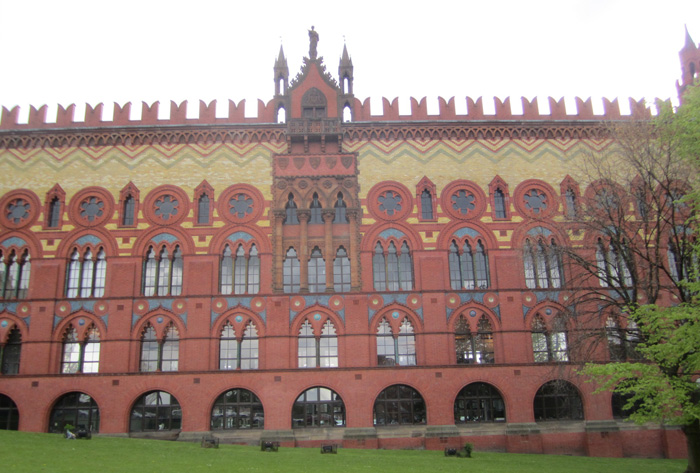 A palace? A mosque? A theatre? No, it's a former carpet factory from the late-1800′s. Now it's a brew pub, business center and apartment building. If you're interested, look up Templeton On The Green.
Glasgow Green runs along the river Clyde. The riverfront used to bustle with steamships loading and unloading. Bars, hotels and theatres competed for the patronage of sailors, passengers and workers from the neighborhood. These days, however, it is almost eerily quiet.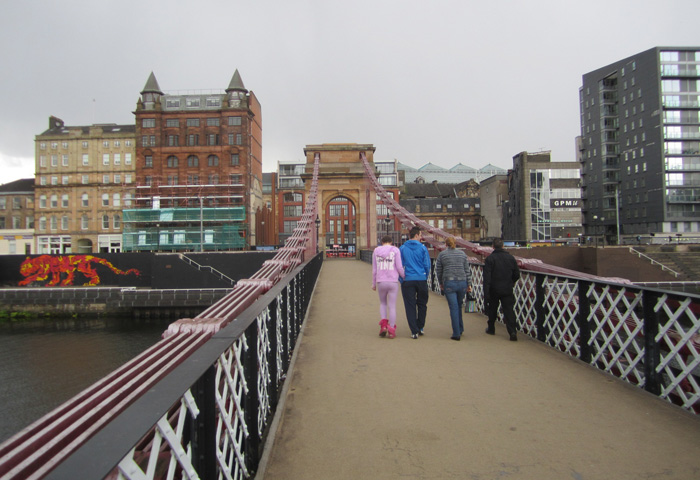 We trekked out onto this lovely iron suspension pedestrian bridge and watched the lack of traffic on the river. The riverfront walk was occupied by a handful of drunks. All the vehicular traffic seemed to be going elsewhere. However, there are a few new buildings going up in the neighborhood and they have kept a few very nice historic buildings.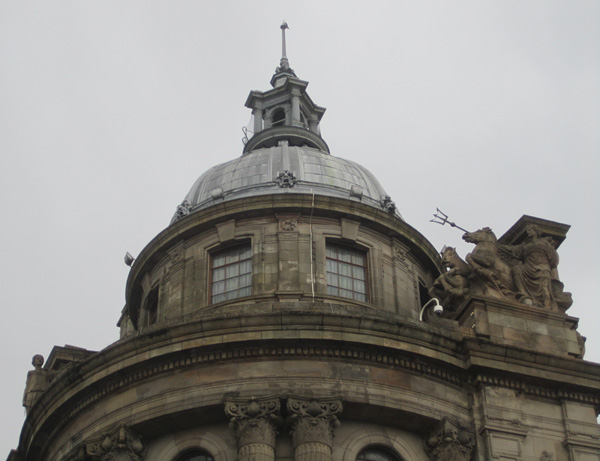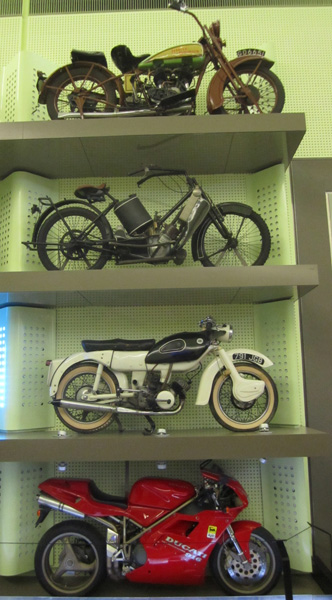 Downstream, on the west side of town, is the new, occasionally-maligned Museum of Transport.  They house an impressive collection of locomotives, cars, motorcycles, bicycles, model ships and more. Unfortunately, many of the displays are stacked so high as to be useless to anyone who cannot levitate.
Seriously, easily half the stuff I wanted to see was mounted to a shelf 15 feet or higher off the ground.
What you get to see up close can be fun, however, so if you run out of stuff to do in Glasgow or have a couple of hours to kill on the way to the train station, it might be worth stopping by the Museum of Transport.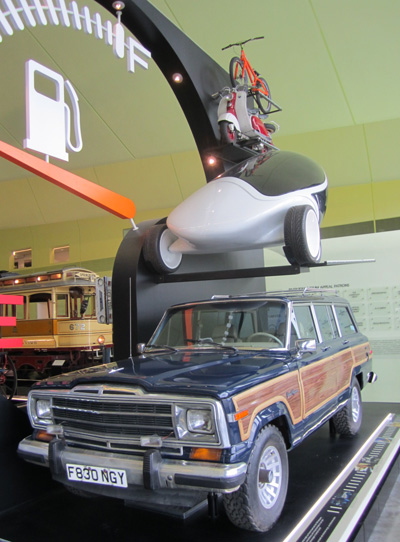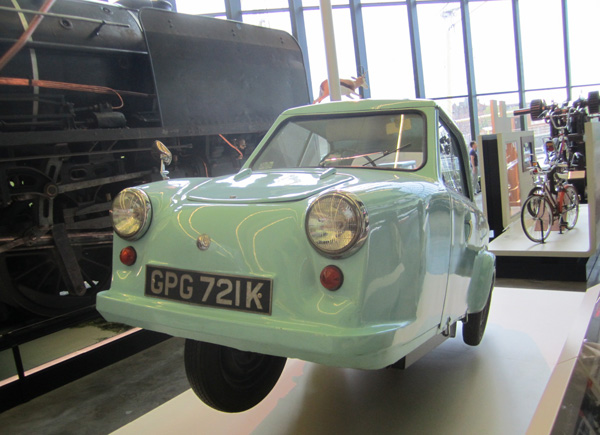 But honestly, there are lots of other things you should be doing. I didn't discover them all, much less cover them all, so get a better guide and/or guidebook and get to Glasgow!
Next stop – the only city that can make New York seem small: London.
More: