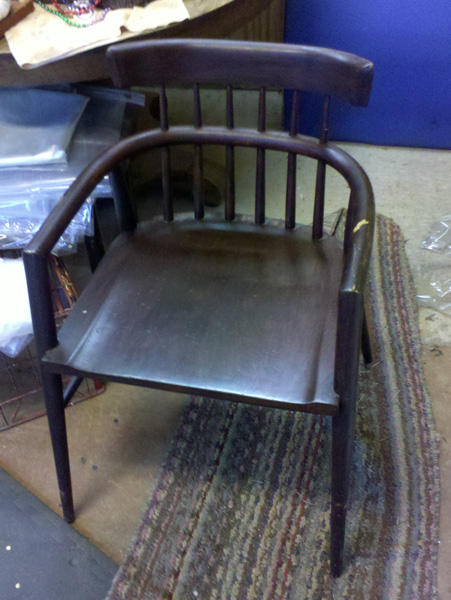 My mom asked me if we needed anything around the house. I said we'd been looking for a mid-century chair or two. Coincidentally, she had one in her shop. She had spotted a guy tossing this chair out. Nice lines, in good shape, but someone had painted a dark, faux woodgrain over the thing. She took it home with the intent of refinishing it, but gave it to me instead.
I'd never done a chemical stripping, but mom gave me a jug of Citristrip, a mild stripper that smells like oranges. I got to work.
I had to go through probably 5 rounds of the stuff. Apply, wait a bit, then scrape it off. The instructions said to use those green brillo pads and a plastic paint scraper. The scraper did great on the flat surfaces but the dowels and other round surfaces required other methods. The green scrubber pads didn't do a good job either. After my third round, I went to the hardware store and got a scrubbing brush with stiff, plastic bristles. That and a garden hose seemed to do a better job. Another couple of rounds and it was down to bare wood, with paint remaining in some of the deeper scratches.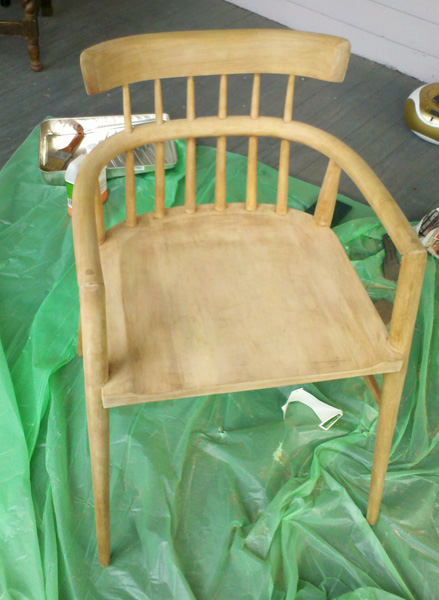 A few rounds with an orbital sander and some sanding sponges got most of the scratches and paint off. I couldn't do too much without screwing up the lines of the chair, and I couldn't do much on the round surfaces either, but it looked a lot better without the paint.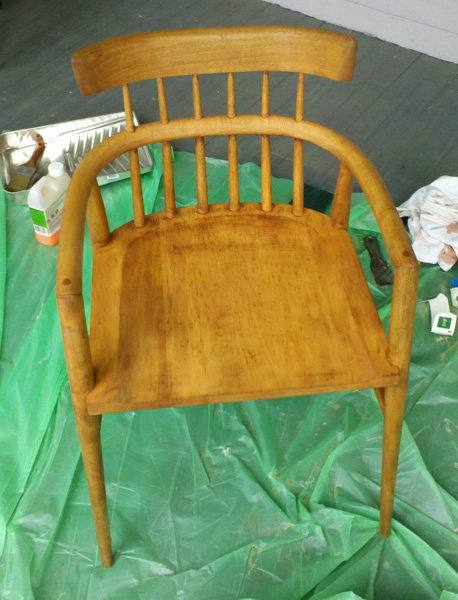 The results were so pale that I wasn't sure what stain would look good on the thing. My first attempt was Minwax Colonial Maple–hated it. A bit too orange on this particular wood (whatever it is), and not dark enough to cover the scratches and other imperfections in the thing. I didn't want to make it more orange, so I stopped at one coat and changed directions.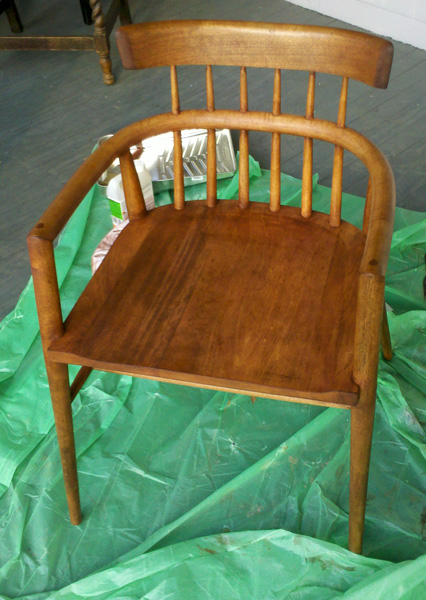 Next – Red Oak. Even the first coat looked better. I did a couple more coats, getting it dark enough to hide some of the flaws but not so dark that the grain got lost.
A coat of beeswax  polish and it looks great!