DP has been quiet lately because my spare time has been spent filling out tons of forms and faxing things. Who the hell uses paper and fax in this electronic age? Banks, that's who. I'm selling my rental house, as some people know. Few of you know what I've been planning to do with the money. However, many of you know a certain local music critic said certain critical things about certain local celebrities back at the start of the year. As a result, that critic's publication has suffered. Thus, to be frank, I was able to purchase the magazine on the cheap.
I'm happy to announce that Stomp & Stammer will be under new ownership as soon as the aforementioned faxes make their way into the dusty drawers of the bank!
As the publication has far more brand awareness, I'm retiring ye olde Degenerate Press moniker in favor of Stomp & Stammer.
There are other changes planned as well. I wasn't sure what I wanted to do with the rag, honestly, until I was taken to a show at Tabernacle last week. The experience answered my as-of-then-unasked questions about how the publication should change.
Atlanta's rock scene has long suffered from a bad case of incest and nepotism. I can't count the number of shows I've attended where the stage seemed to be nothing more than a carousel for 5-7 musicians, despite the flyers listing 3-5 different band names.
Aside from limited musicians, there has been a creative dearth as well. I'm retiring ye olde Degenerate Press in part because I don't want to cover what DP covered any more. How many times can I say some garage rock show "rocked"? A few years ago, Judi Chicago opened my eyes to dance music using a wider variety of instruments than ye olde drums and guitar. I'd say "the future is electronic" but let's face it, the future has been with us for some time. Faxing paperwork to the bank only made me gleeful that I could also announce the death of the paper version of S&S, just as DP when full electron almost two decades ago.
The new S&S will be web only. But don't fret! Freed from monthly reliance on dead trees, you get:
A better Facebook presence!
A youtube channel!
A streaming music channel!
A more blog-like site with more frequent updates and more photos!
And best of all – none of the former writers! (I'm not at liberty to comment on what they are going to do with their time and effort. Talk to them. I'm all about me.)
As a segue to the new direction of Stomp & Stammer, here's the grande finale of Degenerate Press.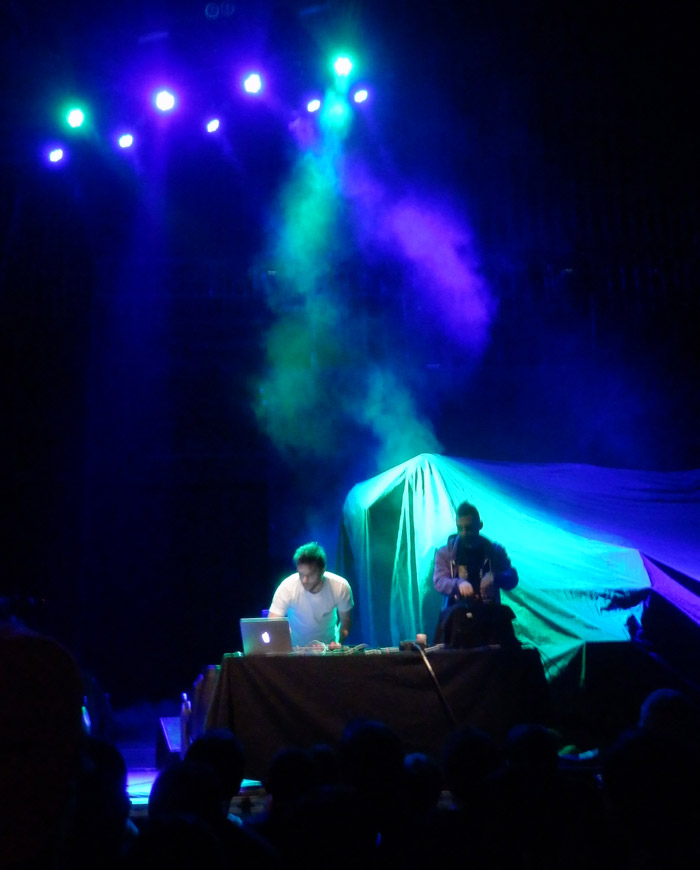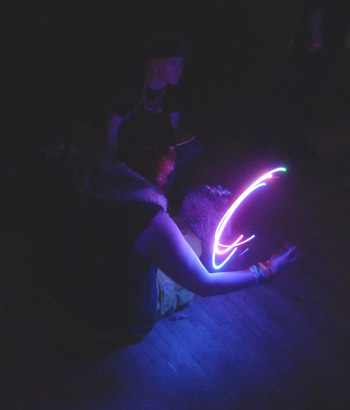 Maybe a former church is a little too spot-on a venue for vaguely-gothy electronic dance music. A warehouse would've been too perfect, however, for music with industrial leanings. The Tabernacle was a fine space for a night of EDM – just large enough to house a packed crowd of happy, bouncing people at the floor level, with those who needed a bit of personal space able to slink up to the balcony levels.  A pair of DJ's from LA kicked things off (I didn't write down the name and I'm having a hard time finding out who it was. Perfect for the last DP episode, right? I'll have more time in the next few days, now that I'm finished faxing paper.) They tried to get the crowd moving, but it was early, there weren't enough people through the door yet, and their sounds tilted more toward the trippy, atmospheric end of the spectrum.
But with little more than a Mac and a sound machine, they were able to set the mood. Glow sticks began to twirl. Gradually, so did the people holding them.
Hardly missing a beat, the show shifted to the other end of the stage where Ana Sia, hailing from the SF bay area, spun up music with a bit more intensity. Or maybe there were just more people in the room, and more of them with more intoxicants beginning to flow. Regardless of reason, things began to move in earnest.
But nothing compared to the headliners. Their equipment had been hidden under a sheet, creating a bus-shaped hulking mass on stage while the openers did their thing. The stage hands pulled back the veil, exposing a mass of electronics – screens, drums, and LCD panels, connected by enough wires and cables to network the Google headquarters.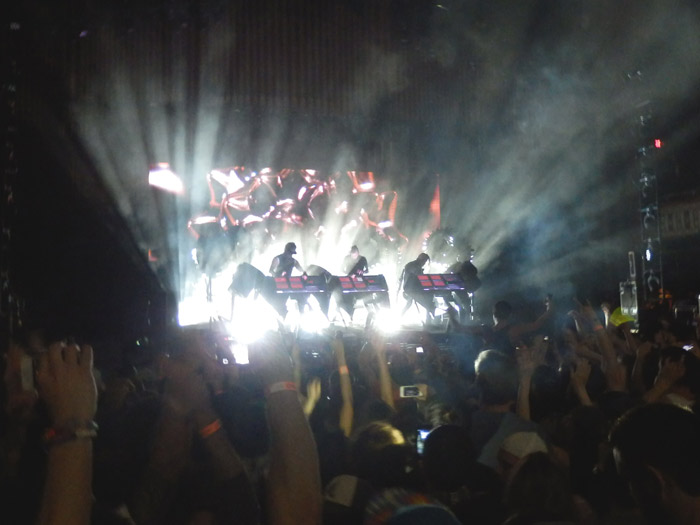 Though there were only three members, they brought enough gear, and tracks stored on that gear, to produce a seemingly infinite variety of sound, with each tune filled with hooks and rhythms.
As if the sound wasn't enough, Glitch Mob's equipment is an impressive spread of sculpture, creating an incredible light show. Flames rolled up the outside of the electronic drums and up the screens behind the band. Spaceships shot lasers into the crowd. Colors poured into the room. Combined with the beats, the band was able to manipulate the mood of the crowd with ease.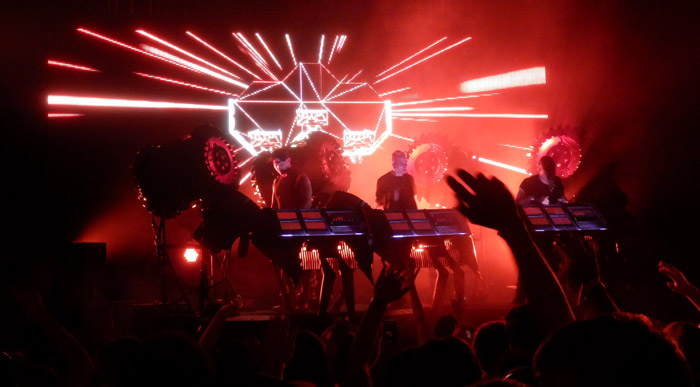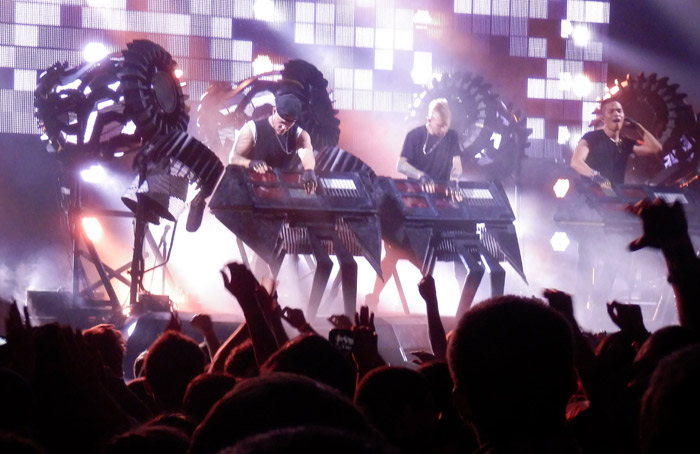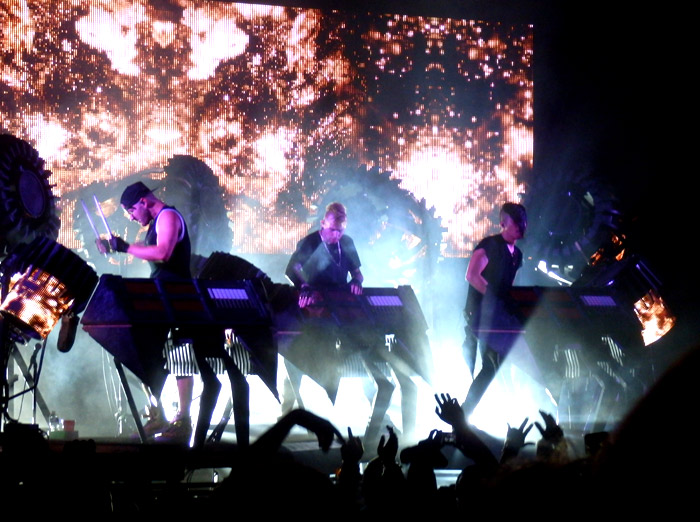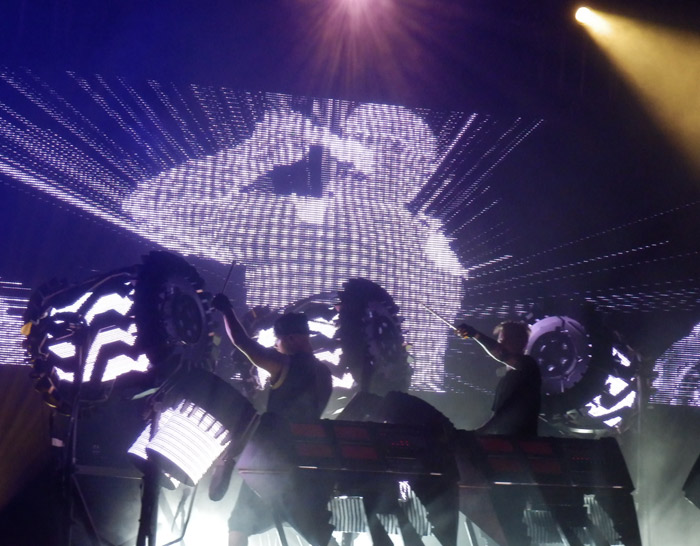 Pictures and words alone don't do it justice. Even if I'd gotten my act together and recorded the show, the audio wouldn't give you a fraction of the experience. These videos don't even really do the job:
By the end of the show, the sensory overload alone would've been enough to wear out even the kids in the crowd. I stumbled out past the darkened Ferris wheel looming over Centennial Park and pointed myself home. Though dawn was hours away, I'd already envisioned the dawning of the new Stomp & Stammer.
And realizing it spelled the death of Degenerate Press. I'd been tired of the same old scene for years, but too lazy to change. I'm not going to beat that dead horse any more. I wrapped up the archives of DP a couple of weeks back, so it will live on as the ghost in the machine (as long as I can afford the hosting bills.)
See you in the new brand!
Frederick