In the early 1980s, I was marooned in a small mountain town in North Georgia. Eventually, I bonded with other nerdy outcasts for late nights of skateboarding and Dungeons & Dragons. The eldest of the group introduced me to some music we couldn't hear on the one radio station we could receive, Fox97, then out of Gainesville and dedicated to repeatedly playing the same 27 oldies from the 1960s. Degenerate ML spun up Kraftwerk, Blue Oyster Cult, and Styx for our late night gaming sessions.
A couple of weeks ago, ML "passed," to use the polite euphemism for "blew his goddamn brains out with a shotgun." We hadn't been close for a while. Over the decades, various life events came between us and lately he'd taken an antisocial turn. I'm still good friends with his brother, one of my all-time favorite people, so I offered to help clean up the house. Either we have yet to find the records I fondly remembered, or ML had lost them along the way. Instead, he had a 300-slot CD changer he'd filled, and a few hundred more discs scattered around the house, mostly out of their cases in random piles. Worse, it looked as if he had burned a bunch of photos to CD and mixed them in with the music discs, so someone needed to go through and sort things out.
Four days later, I have reassembled as much of the collection as possible.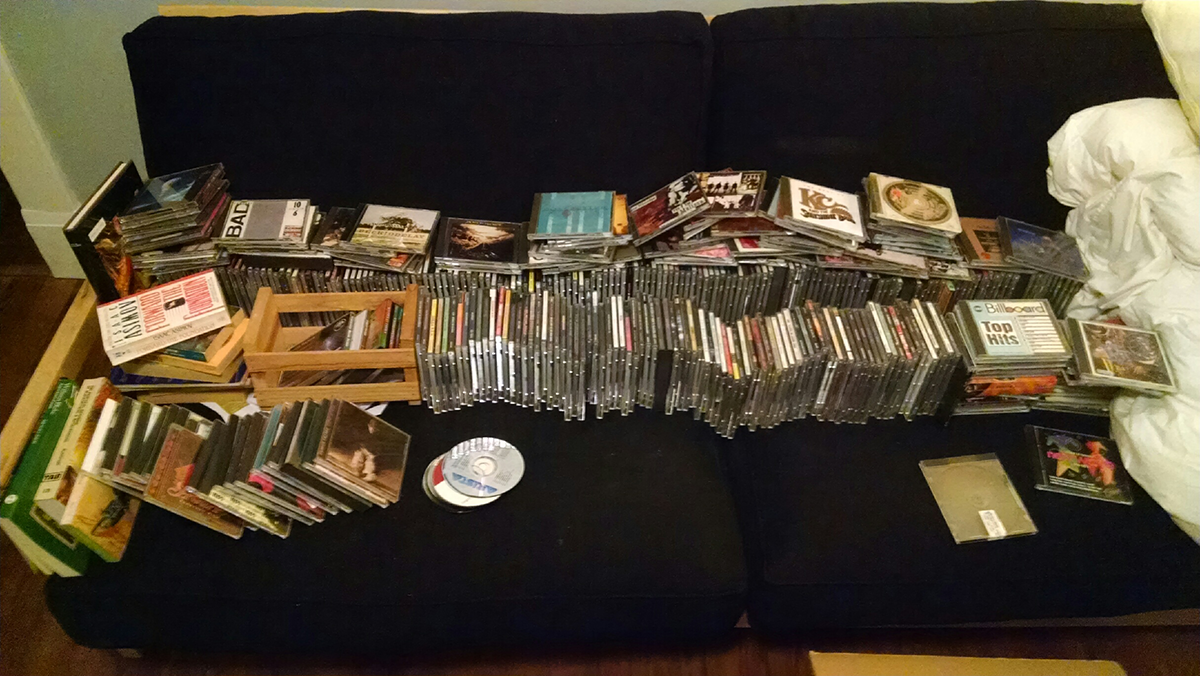 It is the whitest playlist imaginable. I have found three non-caucasion artists in the entire thing: Paula Abdul, B.B. King, and Kitaro. The breadth of his whiteness has occasionally impressed me, everything from John Tesh to Queen to Queensryche, but no man needs two copies of Steve Miller's Greatest Hits, nor the entire recordings of the Dave Matthews Band, much less every Alan Parson's Project record and the Best of volumes 1 and 2!
Not to speak ill of the dead, but seriously, man, would a little R&B have killed you? Not as quick as a lack of it, I'm guessing. I can forgive a man for checking out of life – sometimes the pain is unbearable – but I'm not sure I can forgive a man for having three Don Henley CDs. I don't know which came first, the symptoms or the cause, but I suspect there is a point at which the feedback loop is inescapable.
I'm going through this collection to see how much is worth keeping that I don't already have (my initial guestimate is about 1 in 10 discs.) The rest will be taken to any store that might give me a pittance in exchange, which I'll use to purchase alcohol for the next gathering of the old gang.  I suspect that the CD racks at Goodwill will soon be turning a whiter shade of pale after that.
Anyhow, if your music collection is not bringing you joy, or at least helping you cope with the hard times you're feeling, get help. There is more free music online than you could listen to in a lifetime. There is a band playing tonight in every major metropolitan area that needs your support. There is a record store clerk that will give you advice – perhaps not happily, but it is better than staying home and listening to either of your copies of Barenaked Ladies' Stunt.