A couple of years ago, I was in England, severely jetlagged and lounging on the couch of my significant other's family, when a show about English canal boats came on. The BBC show entranced my fogged mind. The next evening I was talking to a friend of the family about it and he said, "You can rent them, you know. You can do what they call 'the Avon loop' so that you don't even have to double back to return the boat."
Tooling along a canal until you spot a pub, hop out and have a pint and a pie, repeat until you've had enough (or too many) and just stumble back to the boat to sleep it off – sounded like heaven. So we started looking into it as a birthday venture. We've seen a fair bit of England and Scotland, and the weather there in fall isn't my favorite, so my amazing travel planning significant other pitched the idea of southern France, specifically the Canal du Midi. Substitute wine for beer, charcuterie for pies, French for English countryside – who would say no?
We flew into Barcelona for a too-brief overnight stay to recover from the time shift.  I'd visited almost 20 years ago but even in my short return I noticed some changes. There are far more upscale stores spreading up out of La Rambla. My favorite restaurant on my previous trip has morphed into a tourist trap where we had the only bad meal of the entire trip. And the Catalan independence movement has grown. However, I didn't get enough time in town to give it a proper review.  Early in the morning, we rode a train through the Pyrenees and along the coast, rolling by picturesque towns and sparkling bays, a perfect way to set the tone for the trip to come.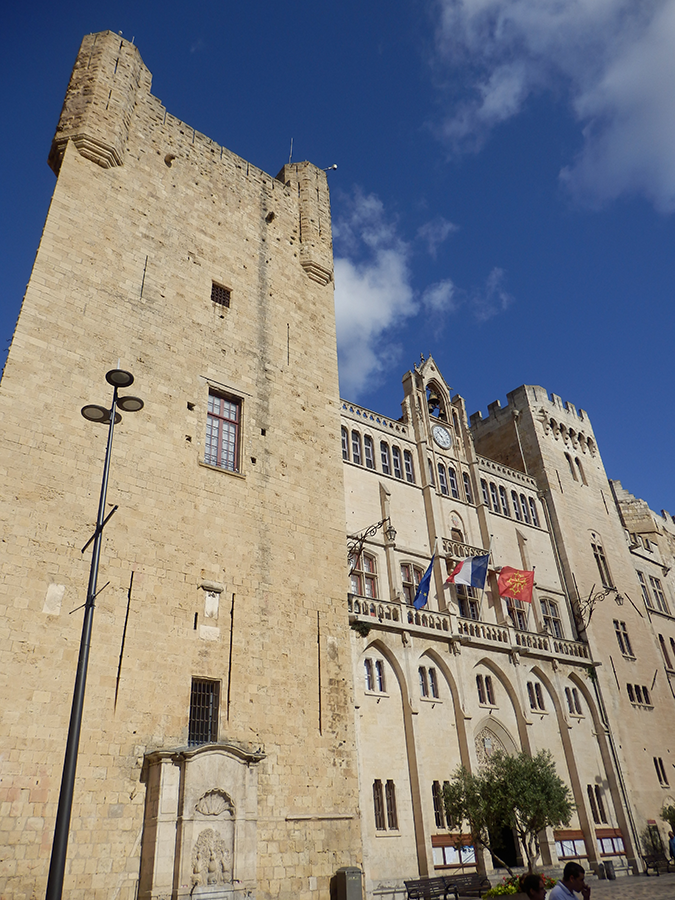 Narbonne is a gorgeous little city just off the Mediterranean, dating back to Roman times. It features all the glorious architectural details you expect in an old European town – gargoyles clinging to ancient churches, ornate iron work jutting from sherbet-colored stucco, and seemingly endless amounts of stone.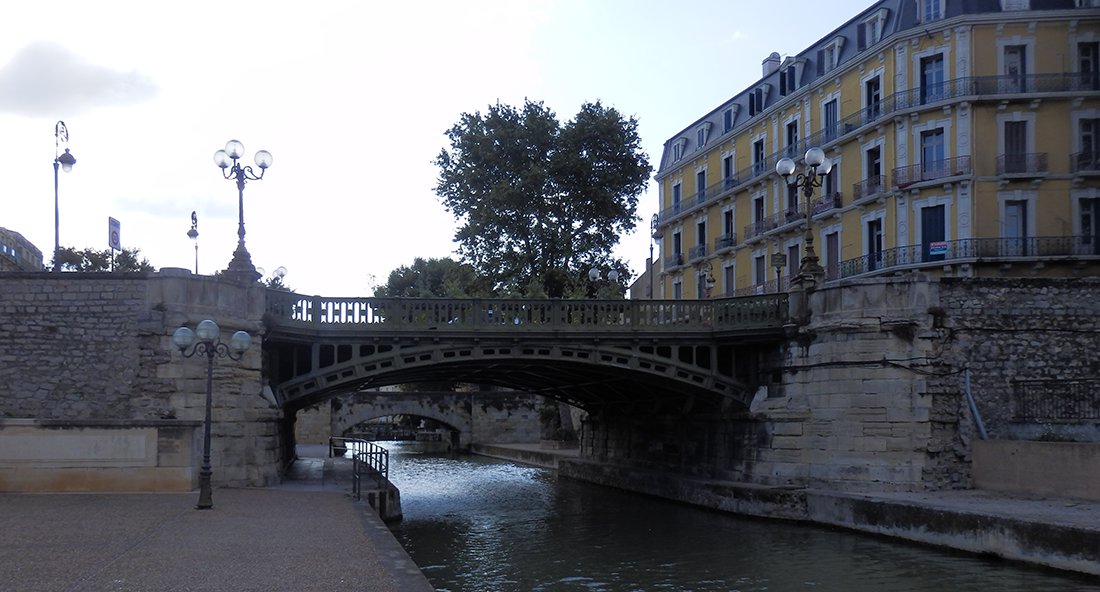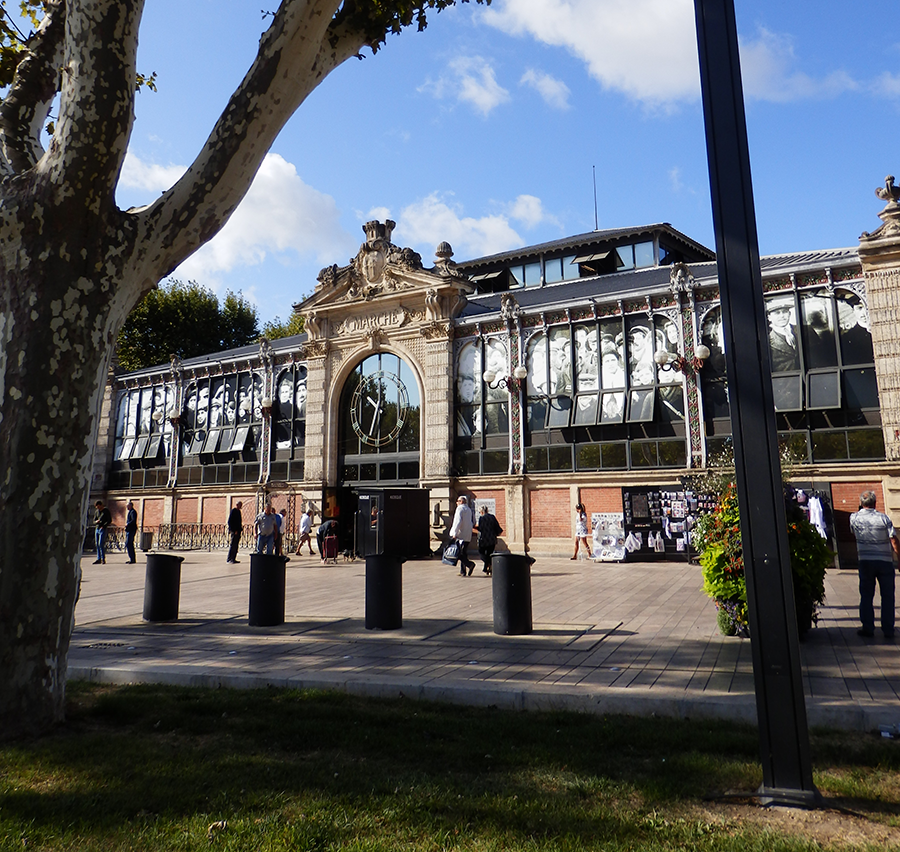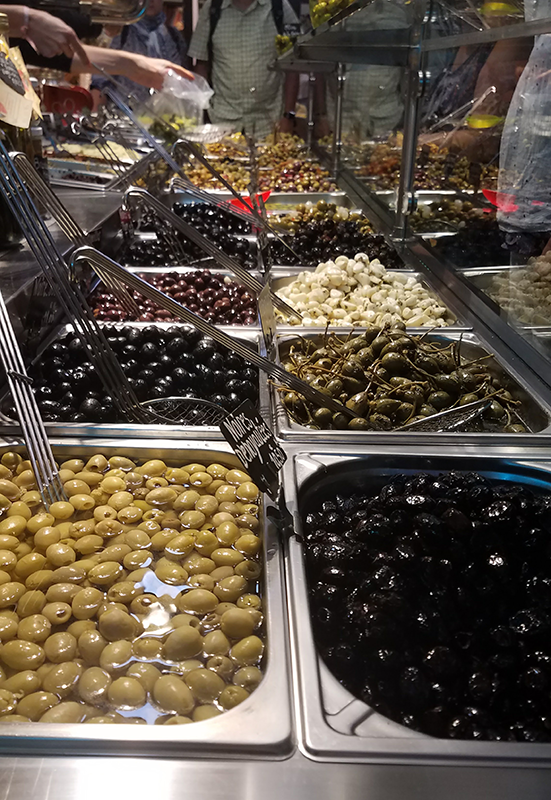 We shopped at an old market along the canal, a pretty wrought iron building but the outside wasn't the draw. Inside is booth after booth of delights – cheese, olives, meats (both fresh and cured), fruits, vegetables, and, of course, bread and pastry.
The market also has a few restaurants so we had lunch, ordering way too much food – a charcuterie plate alone could've served two of us, but then came the main courses in the form of huge steaks and kabobs, all washed down with delicious wine.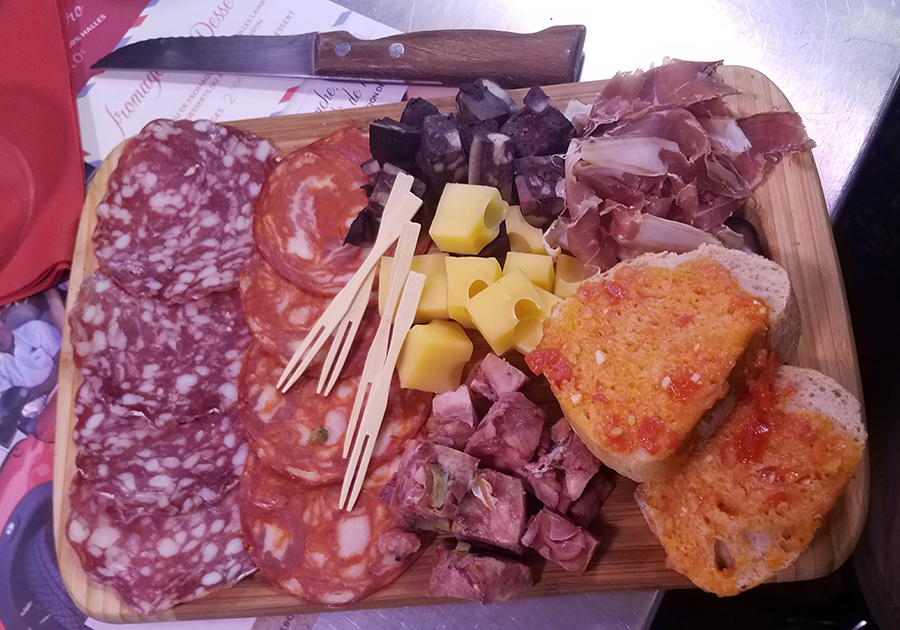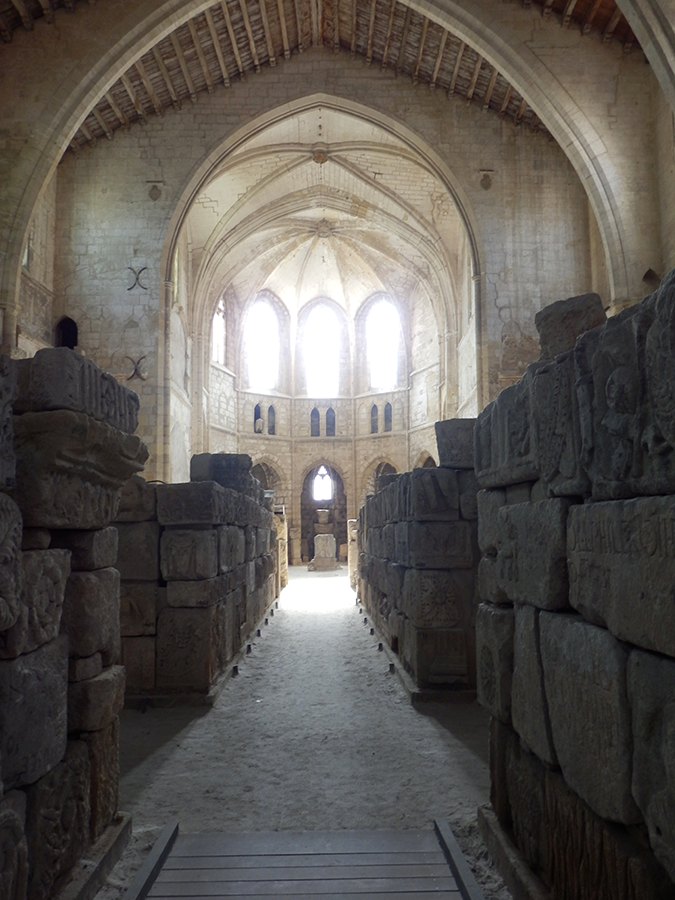 We wandered the neighborhood, finding an old church converted into a lapidarium (a place where stone monuments and fragments are displayed.) They had stuff going back to Roman times, though most of it was badly eroded. The building itself showed the effects of age, with wind blowing through cracks in the roof. But you could get a multi-museum pass and make it part of a whole day or two of cultural osmosis.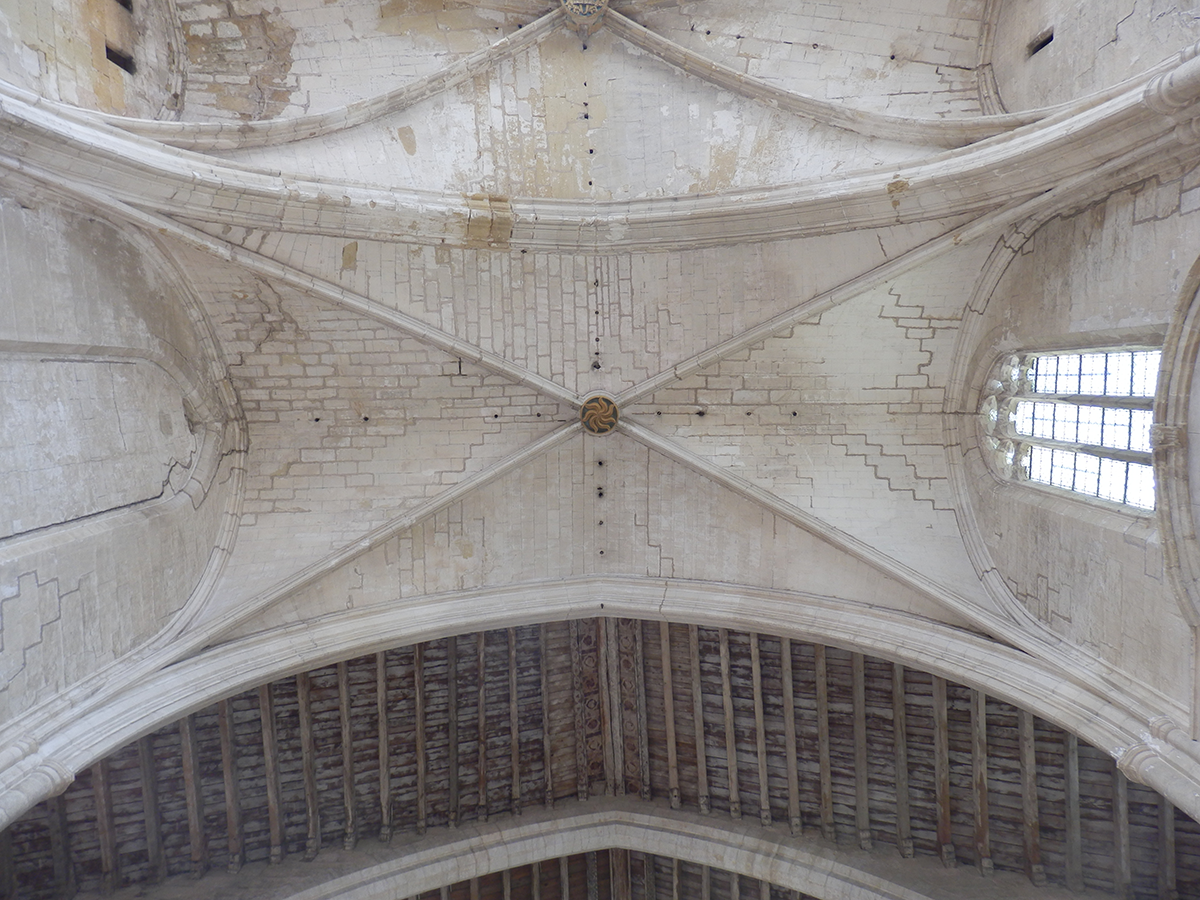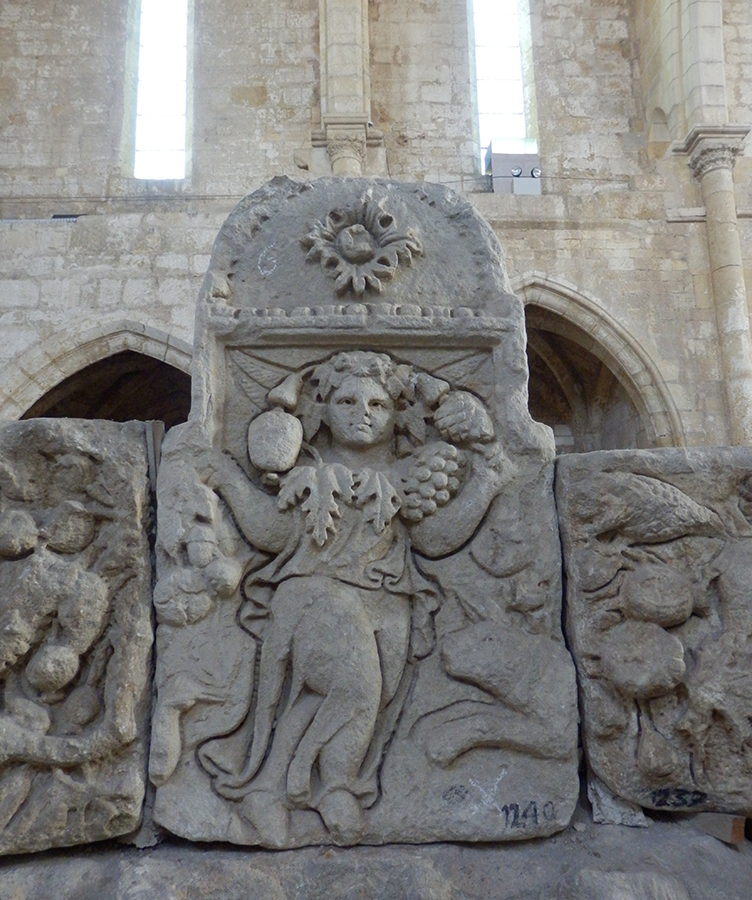 We hit another one of the museums on the pass. If I understood the label correctly, the painting below is from the 1700s but looked more like a photorealistic painting from the last half of the 1900s. They had some interesting modern work, and some very uninteresting abstract minimalist crap, all housed in a pretty, old building.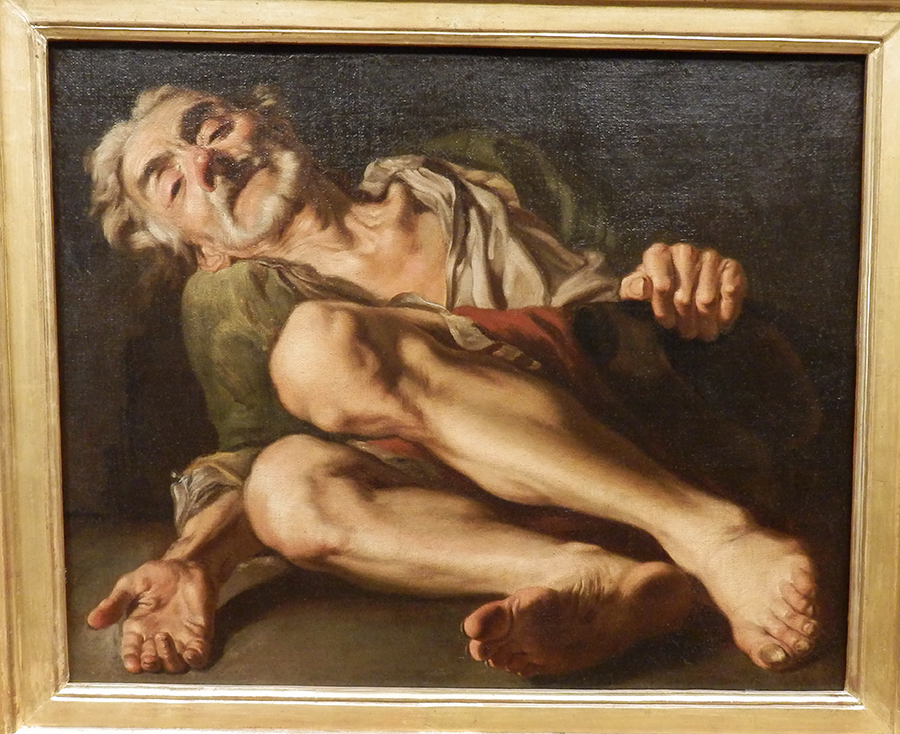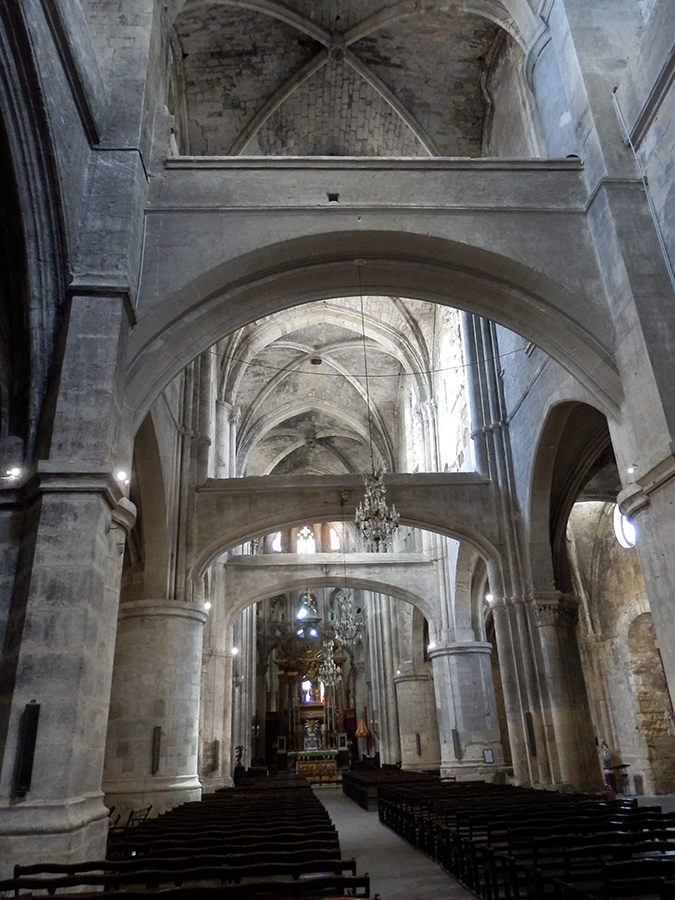 Also on the pass was the option to see the Bishop's Palace or something like that, attached to the old Cathedral, but we only managed to make it through the Cathedral itself where Jesus points out where the plasterers need to get to work.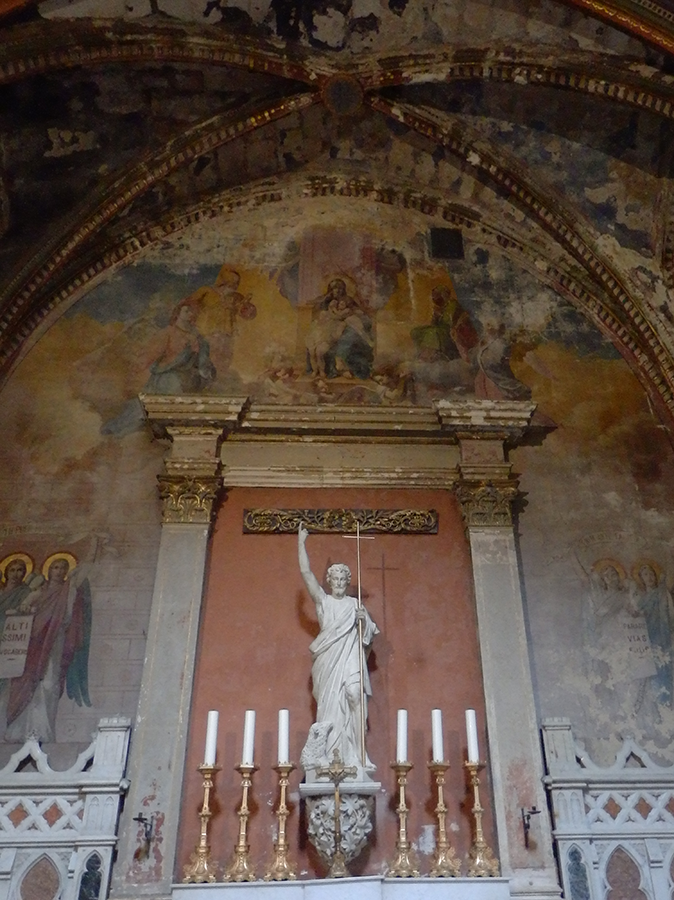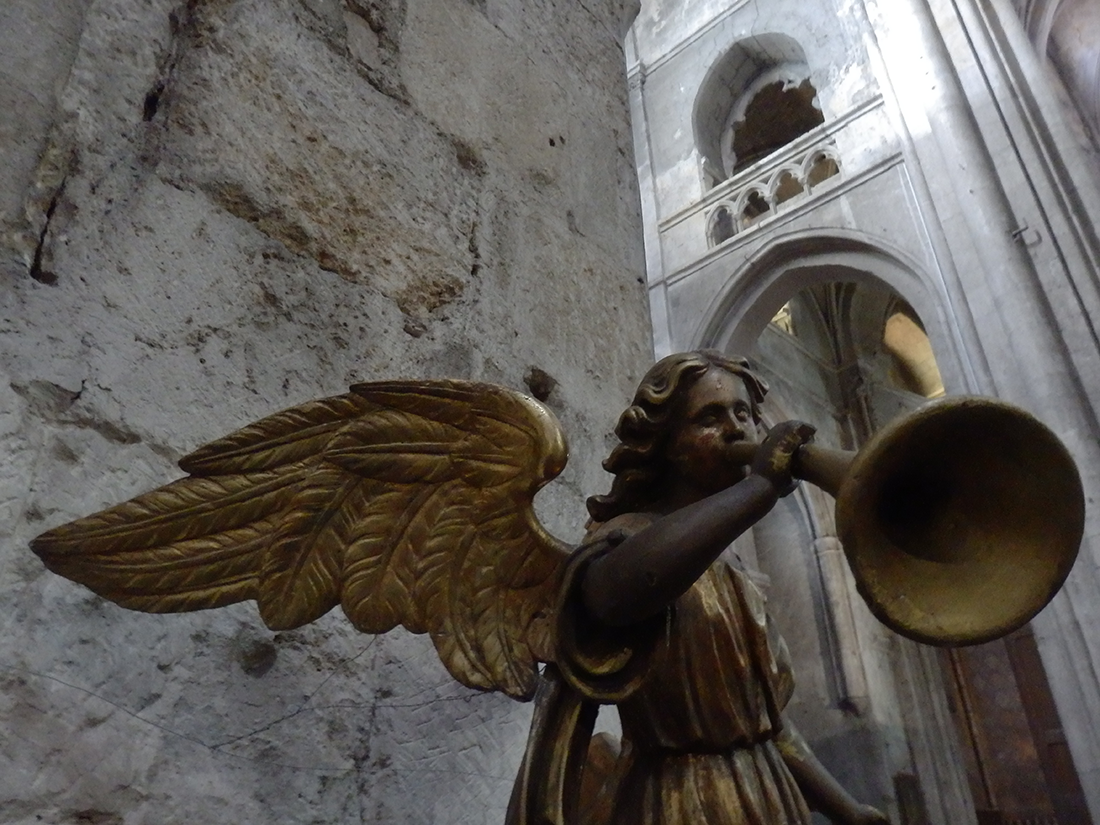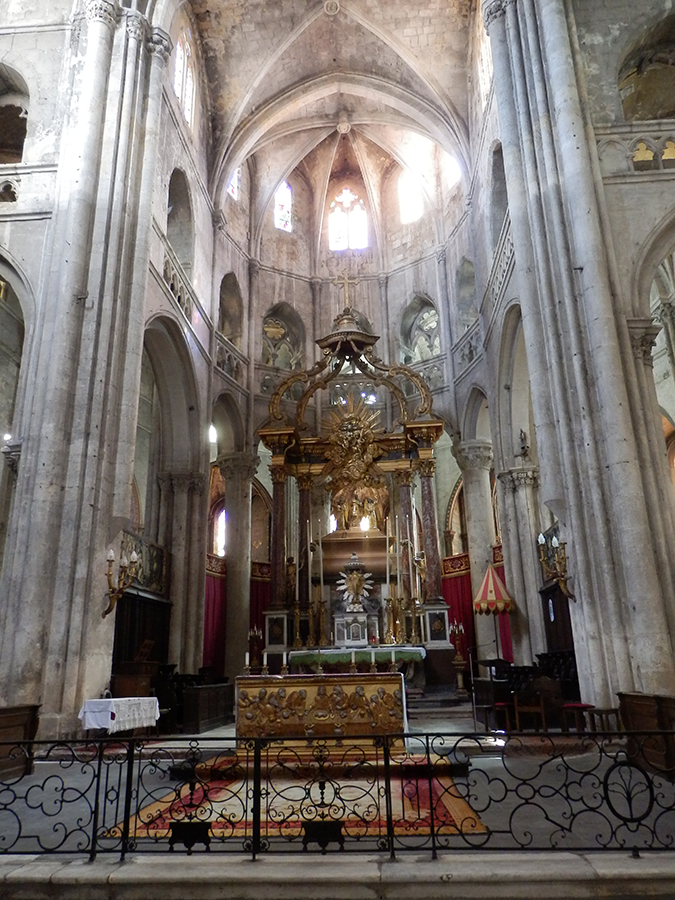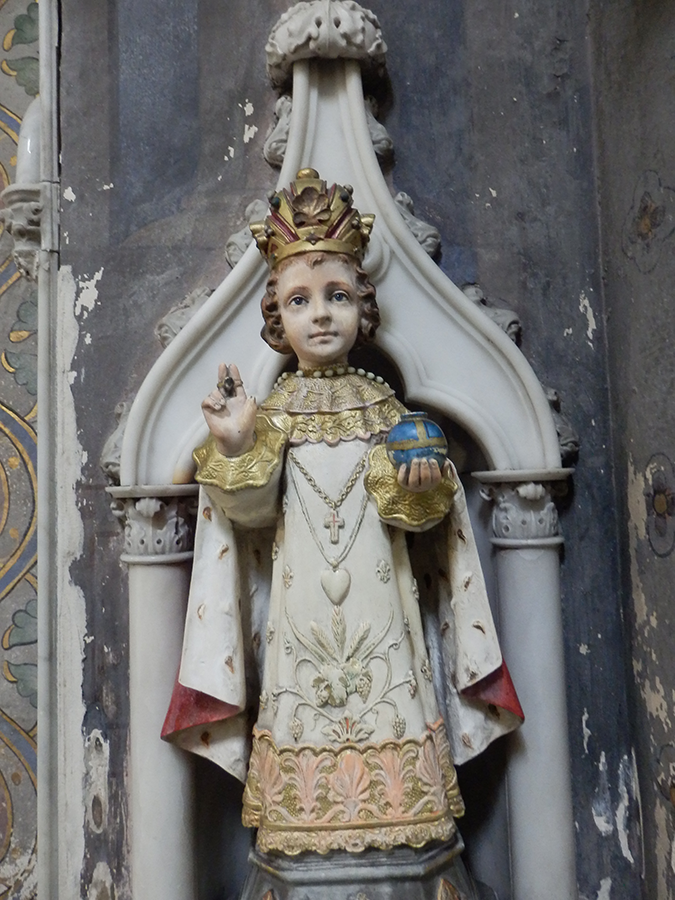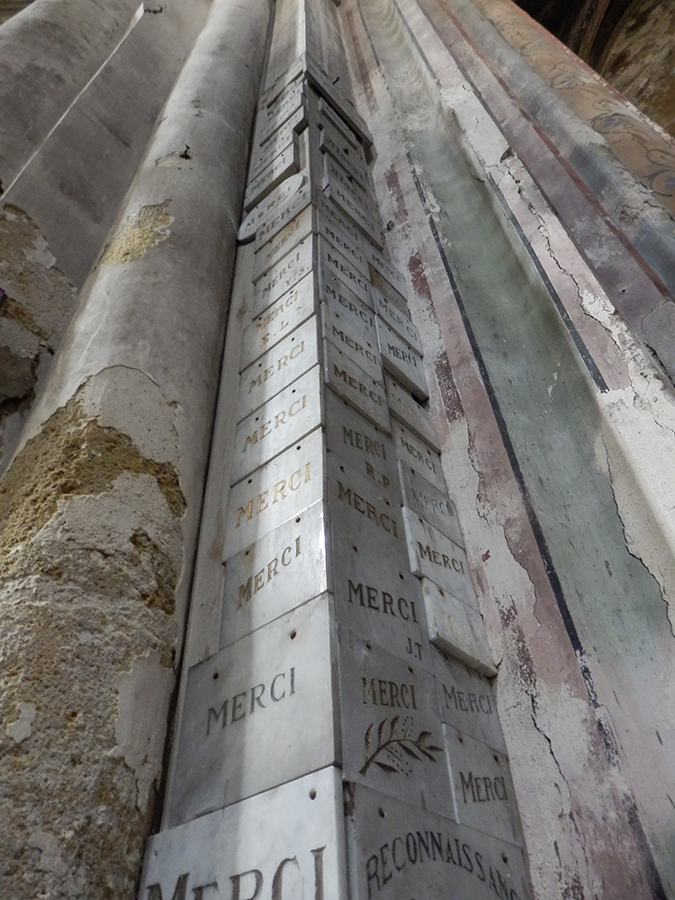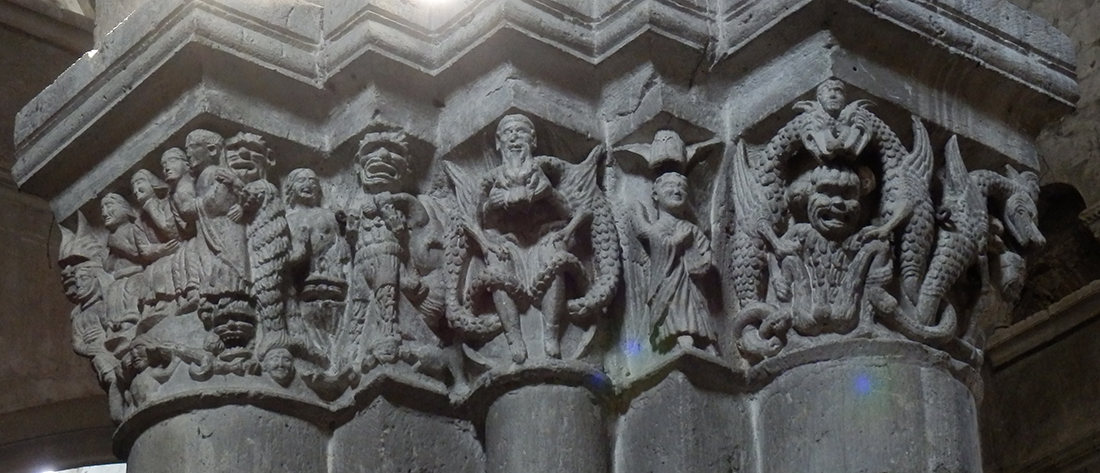 I'm not sure what's up with all the column heads in the place though.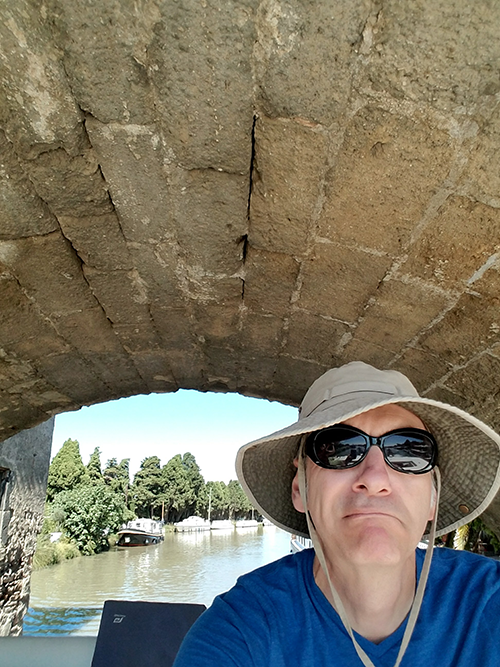 We got word that our boat was ready so we trekked over, loaded our supplies and got our instructional session. An Englishman showed us how to turn around and how to operate the locks in the portion of the canals where you have to do it yourself. (Yes, for this particular size boat you just drive it yourself. The canal is 40' wide, the boat is 14' wide, don't hit anything. No, you don't need a license of any sort. You can buy additional insurance, just like renting a car.) Since we'd cleared the first lock and were stocked up on food, we decided to just cruise on, assuming there would be other towns just as charming and populated along the way. We'd learn that was not the case, so if you book this trip I recommend sticking around a day in Narbonne.
We tooled along Canal de Robine, sipping wine, ogling French chateaus, and ducking under low bridges.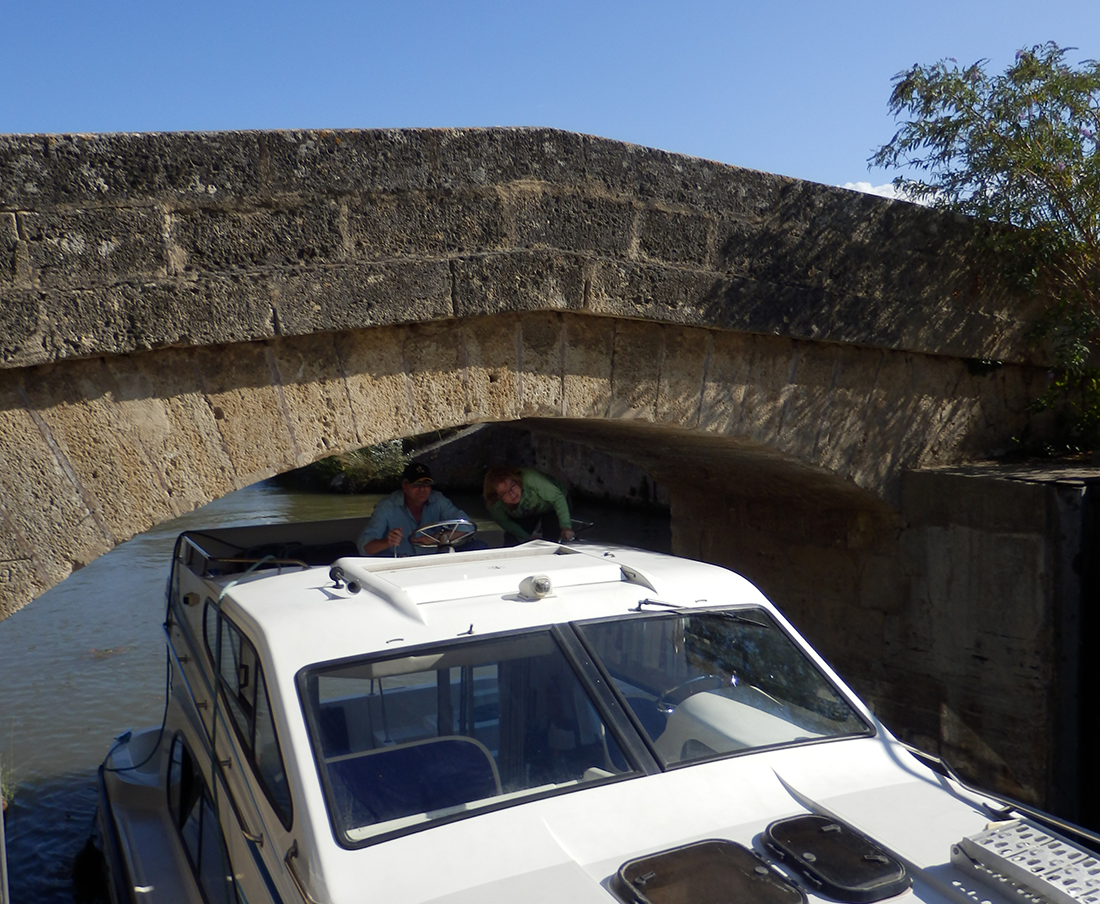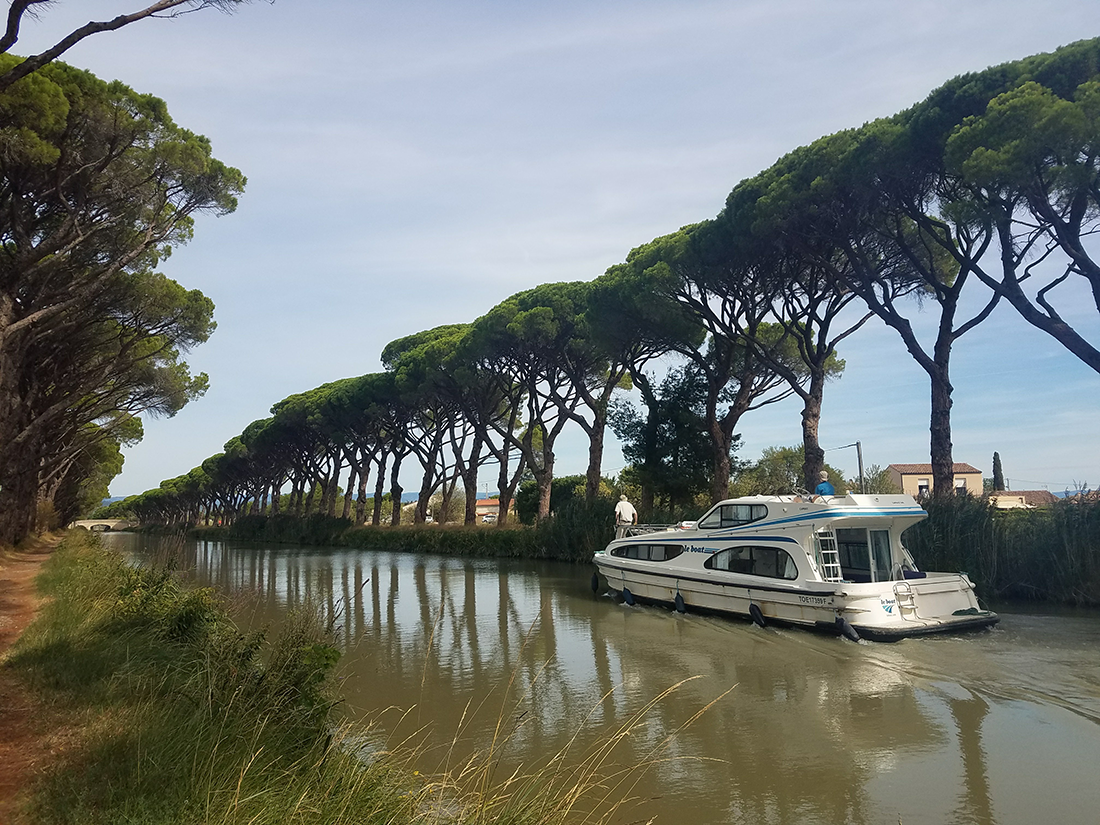 The locks on Canal de Robine are "manual" in that they don't have operators. You have to watch for oncoming traffic (there are signals) and then send someone to push the buttons. They're simple and easy for the most part, though our first one turned out to be the biggest challenge of the trip. The approach featured current coming from one direction and wind from the other. I ended up turning around and trying again three times before giving up and giving degenerate SL a try. A guy appeared on shore and yelled directions at us in French, which JJ translated as best she could. It turns out you occasionally have to smack into a wall to get through the tighter spots. Fortunately, our boat was far from spotless so a few new scuffs were unnoticeable. After this challenge, we didn't have many others of our own, though as we gained experience we were able to help other folks with their boats.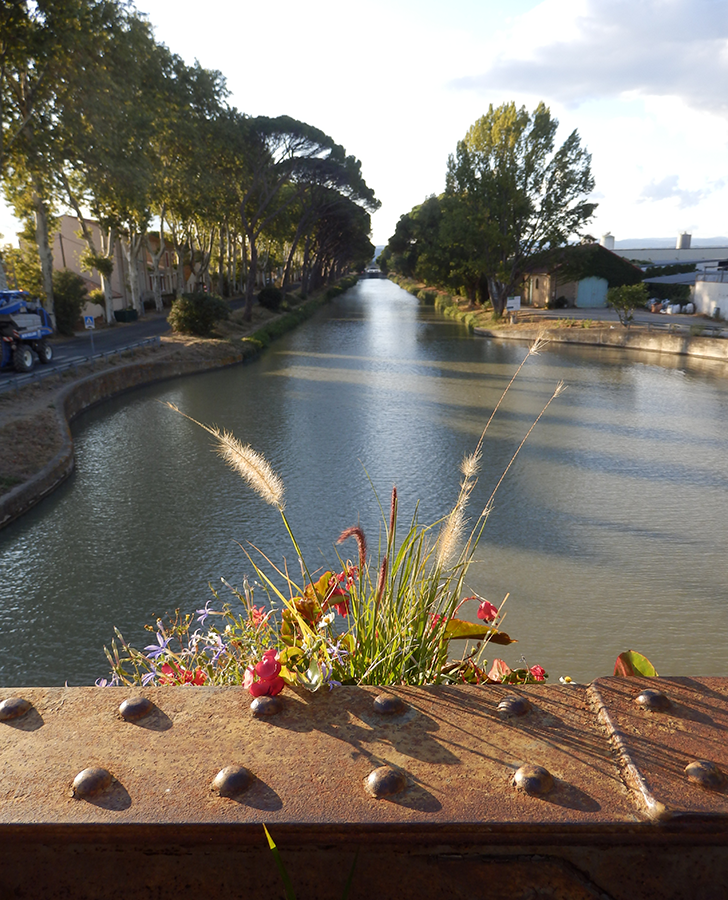 The canals are lined with plane trees that look a lot like a poplar with bark that peels off in leopard spots. They provide shade and frame the views beautifully, but some are suffering from a blight. We'd pass a stretch every few miles where dozens of them had been cut down and others, their leaves already falling off, were marked for death. France is replanting with other species but you'll hit some stretches where there are no trees at all. We talked to an old German man who'd done lots of canal trips over the years and raved about the trees in fall.
The first town of any size was Sallèles-d'Aude, a pretty place with flowers along the bridges, a sight so pretty we opted to park and wander around a bit. We found the place mostly closed up during whatever the French call siesta – or so we thought.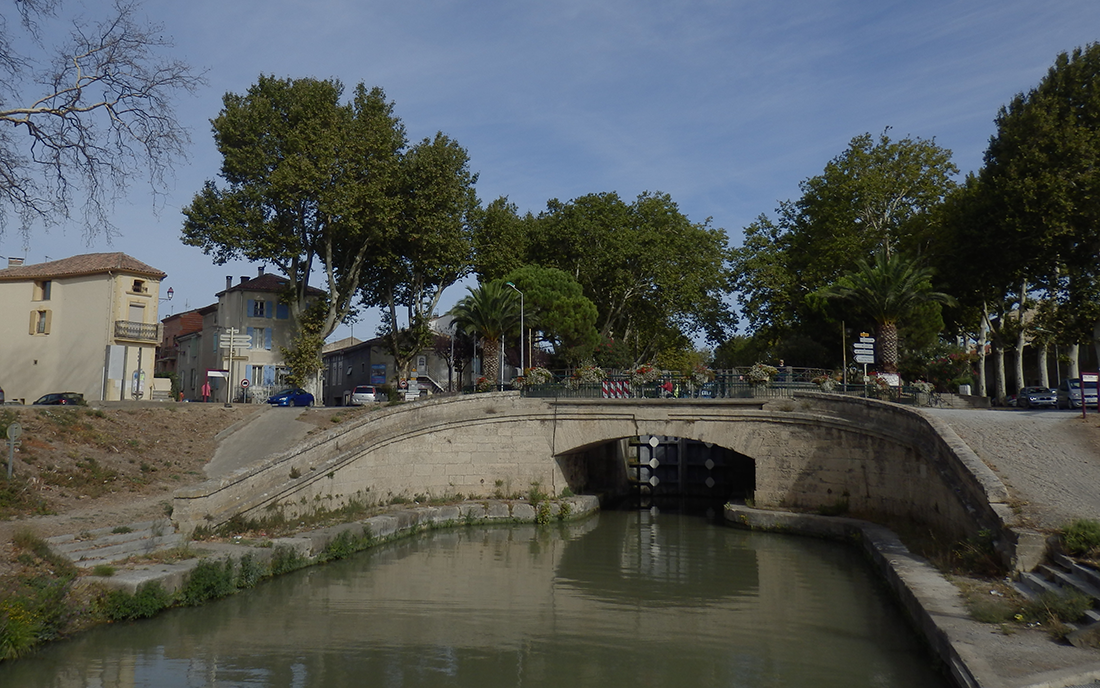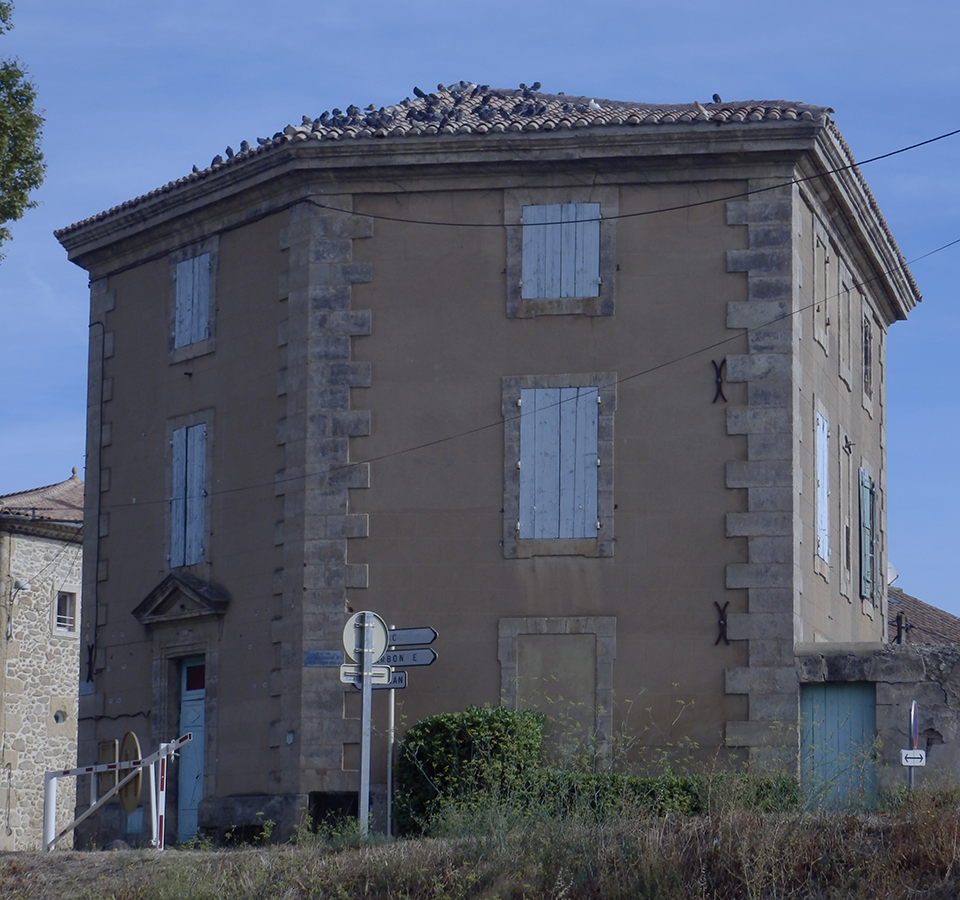 We reached Canal du Midi where there was a lovely café on the banks of the canals, but decided to eat what we had on the boat – cured meats, olive tapenade, some fresh vegetables and bread, and, of course, wine.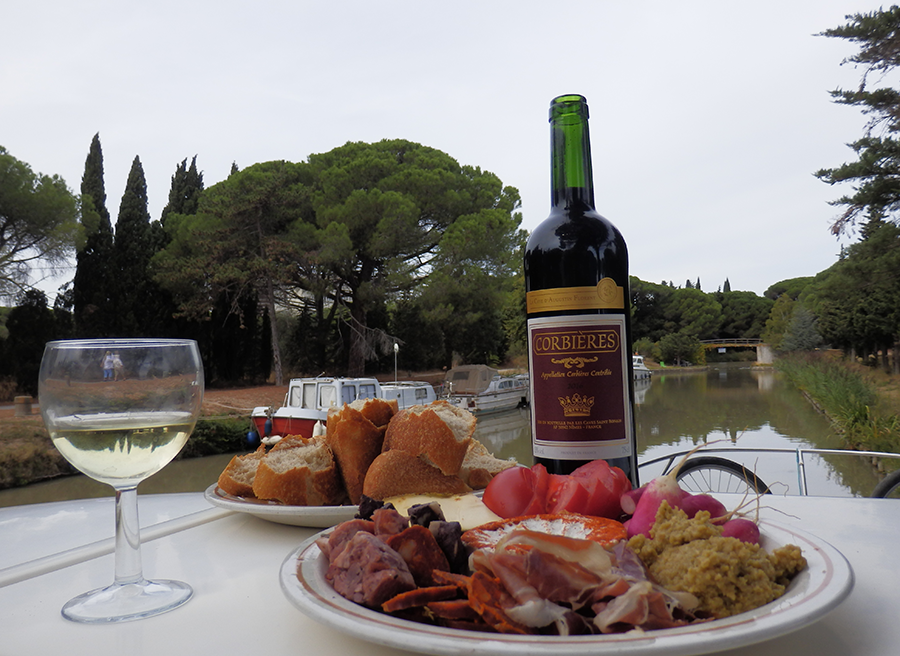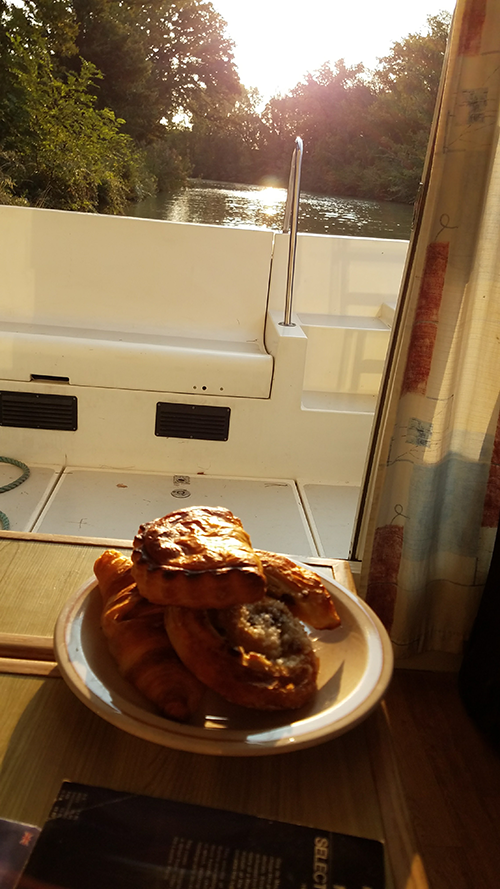 Breakfast was equally delightful with pastries from whatever boulangerie we could find.
We'd made good time, so in the morning we opted for a slight departure from our planned itinerary, sailing northwest to Argeliers, a small but charming village like many of the ones we'd encounter. Some posters around buildings in the center of town proudly detailed a wine producers' rebellion against the government, which began here in 1907. However, these days there isn't much action in the town. In fact, there are hardly any people at all. The wine industry, which is almost the only industry in the region, has mechanized most jobs out of existence. A tractor-like machine we called "the grape sucker" runs down the rows of grapes doing all the picking. It dumps the grapes into a trailer that is towed to the winery. The trailer is dumped into a hopper where the grapes are juiced immediately. In another town, I watched a single guy who may have been running the entire operation by himself.
In many of these villages, there are more pigeons than there are people. You can walk for kilometers in some of these towns and not spot a soul. The picturesque shutters are closed, the boulangerie signs faded, the churches as quiet as crypts.
In fact, Canal du Midi was completed just in time to be made obsolete by the railroad. The only wine transported along the tranquil waters of French canals these days is bottles on the boats rented by tourists like us.  They're busy in summer but we'd arrived just after school had started back so we didn't have to deal with too much traffic. On the down side, we didn't find a lot of shops open and often struggled to find a restaurant.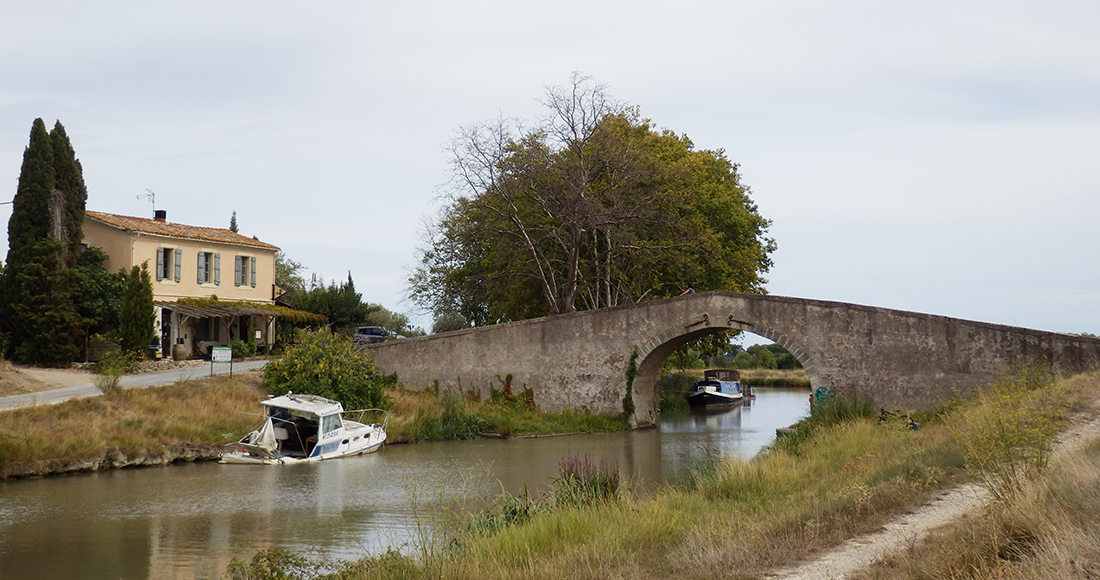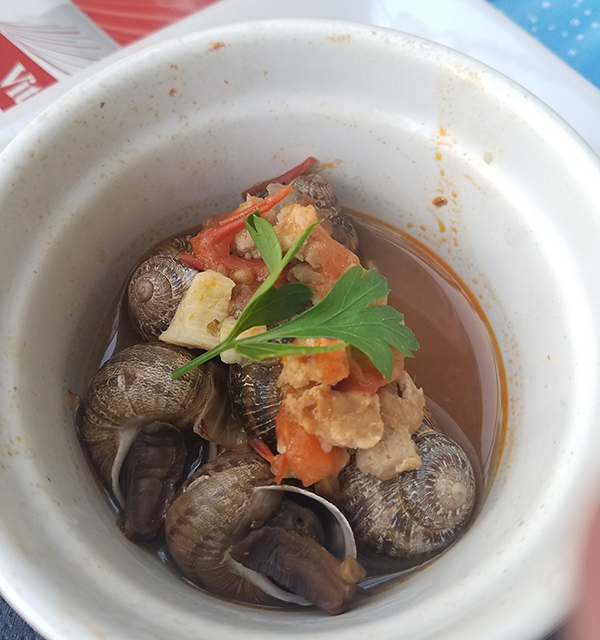 Speaking of, we had our first off the boat dinner at Le Chat Qui Peche in Argeliers, a quaint little place that strives to serve local, fresh, organic food. We had duck, some fish, snails, and some tasty deserts, all good, while looking out over the canal, an ancient stone bridge, and a half-sunken boat.
There was another sunken boat on the other side of the bridge as well. We'd pass a boat sitting on the bottom, or working its way down, every day or two. I have no idea who is responsible for tracking down the owners and getting the vessels out of the water, but if you're in the boat salvage business you might be missing an opportunity.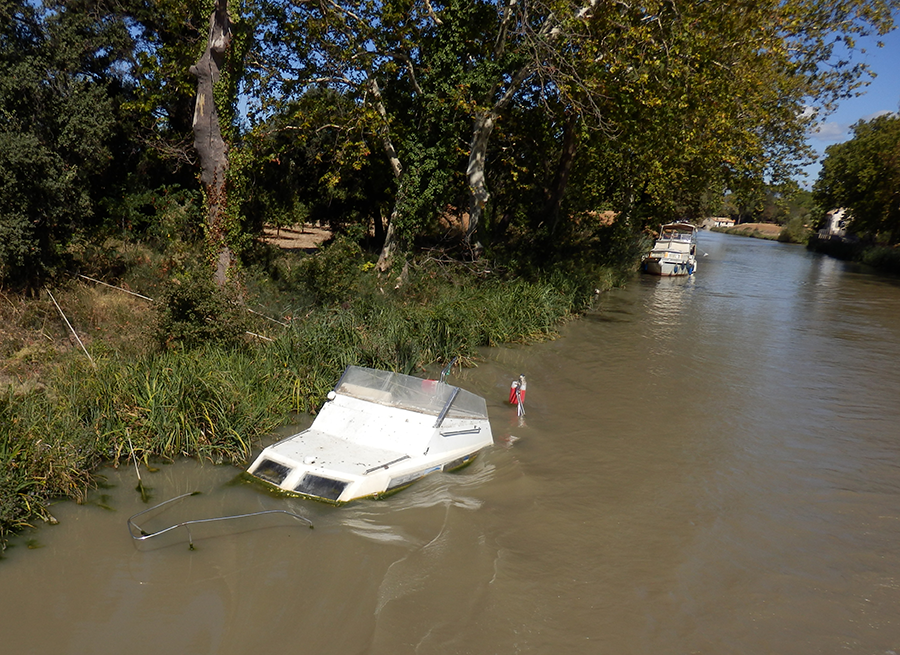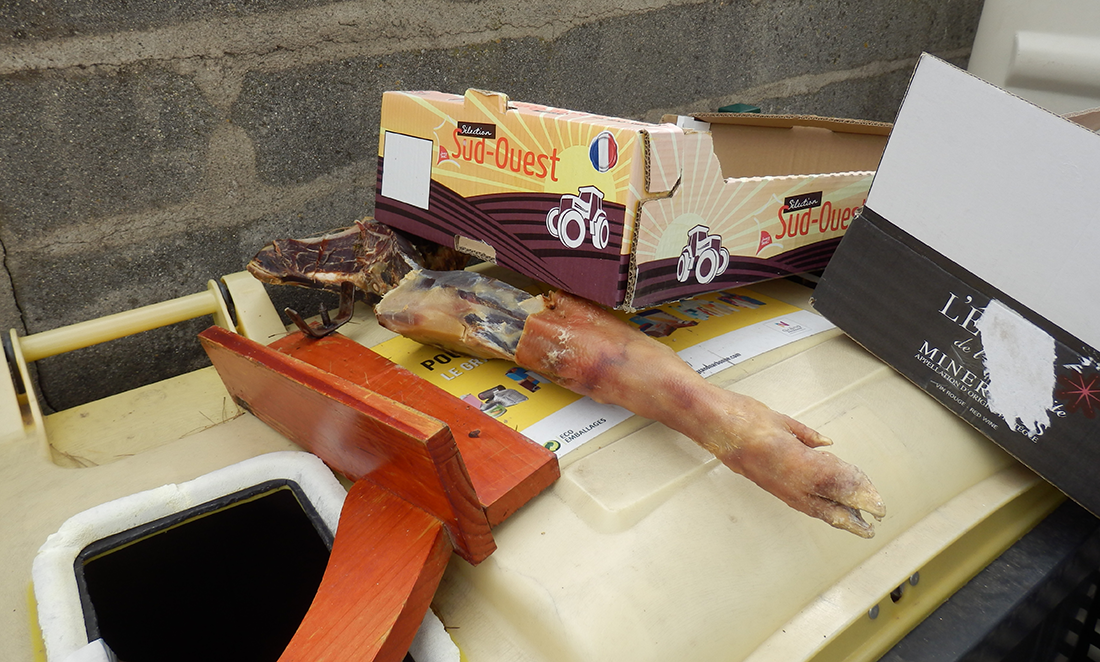 Even the garbage in France may be better than what you had for dinner.
We parked just outside of town for the night, taking a drunken bike ride through the empty streets. We spied the few teenagers in town, sitting on a stoop listening to music and smoking, but otherwise found no life. In one town (I can't remember which) we found two bars, but both were closed either for the day/night or the season or permanently (it was hard to tell.) In still another town, the lone place labelled "café" had been shuttered for years and the only restaurant I could find was closed for 4 weeks while the owners were on vacation. So if you have a business venture that needs lots of gorgeous, old, empty buildings I can recommend a few towns.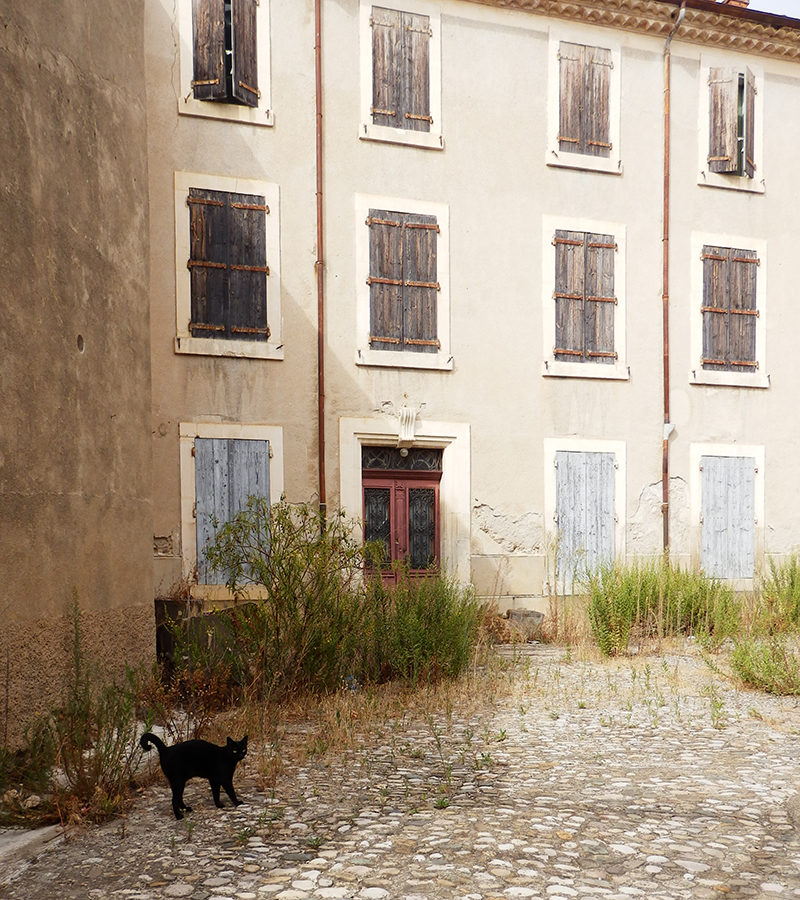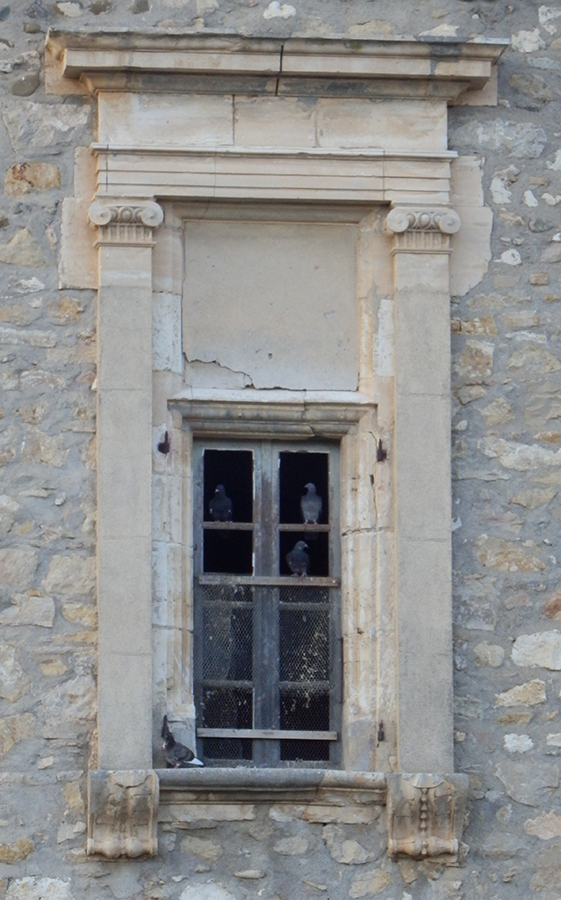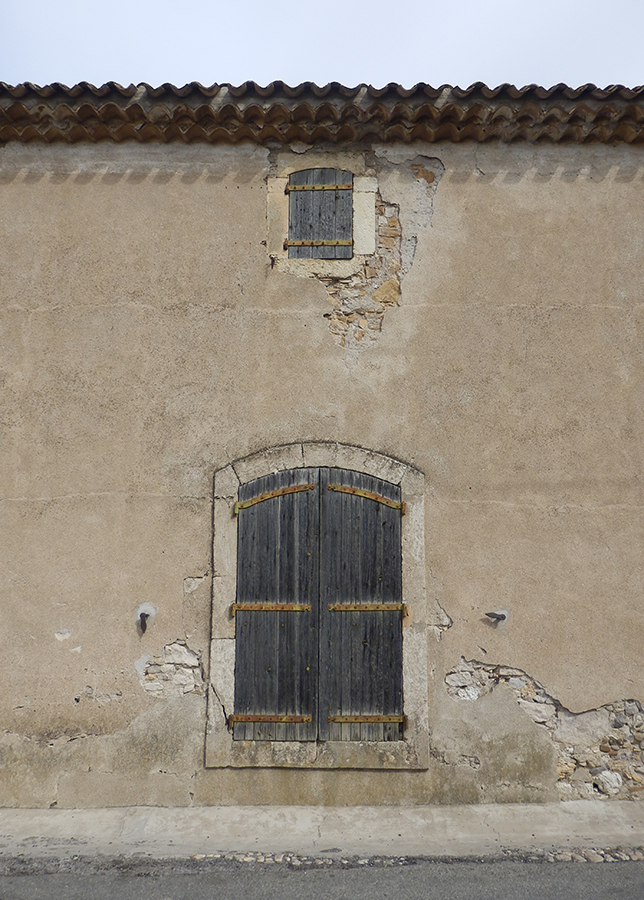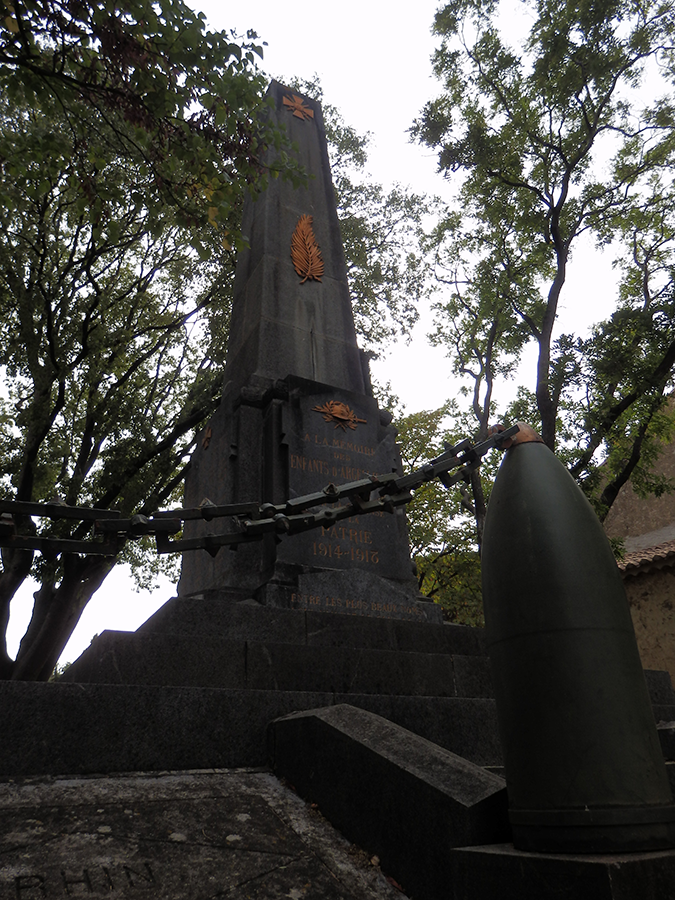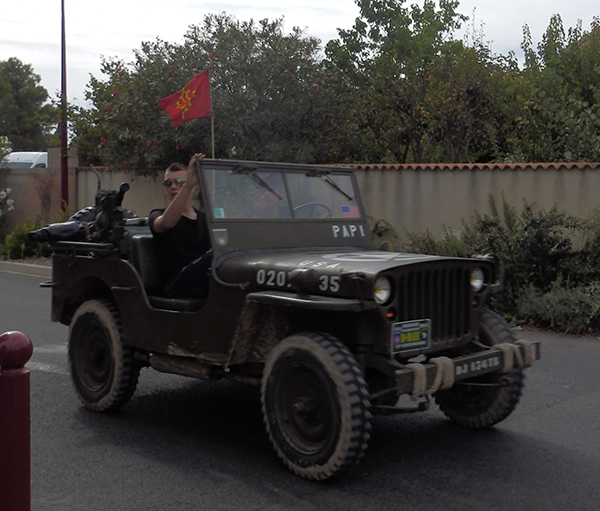 One thing you'll find in every town is a war memorial. Sometimes you get one for WW1 and 2, sometimes one memorial lists all the locals that died in both wars combined. Just after we looked at this one, a couple of kids buzzed by in a US Army jeep, honking the horn incessantly, perhaps in an effort to wake the napping locals mid-afternoon.
Fortunately, the one business you can find open is the wineries. We had breakfast on the boat, stalling until the winery in Argeliers opened so we could restock. We'd start the days with white, move to rosé by afternoon, then wrap up the night with red  – yet I was never hungover. If I have more than about two glasses in a night in the States the morning after is going to be miserable, but in France I drank bottles of the stuff and never suffered. At this particular winery you could bring in huge jugs and refill them from nozzles not unlike at a gas station, but far cheaper than gasoline. If I recall correctly, white was going for about 1.1 Euros a liter, red for about 1.5.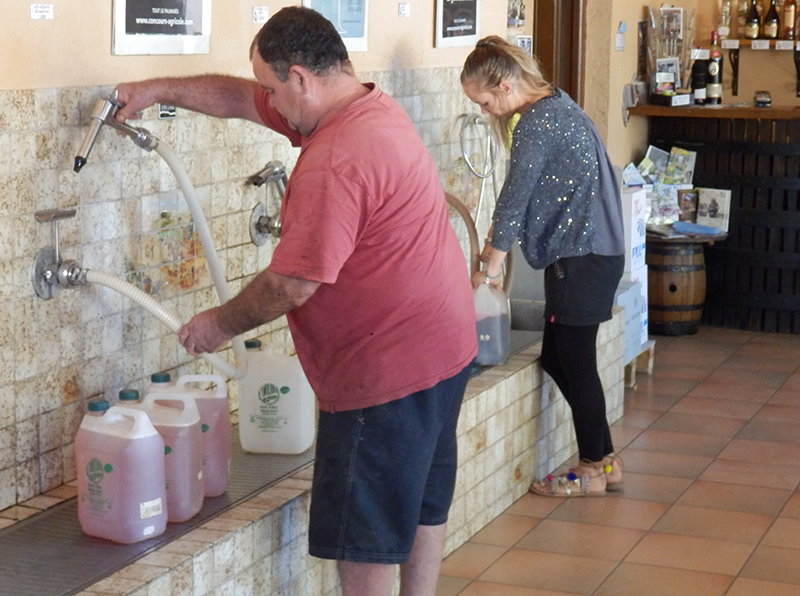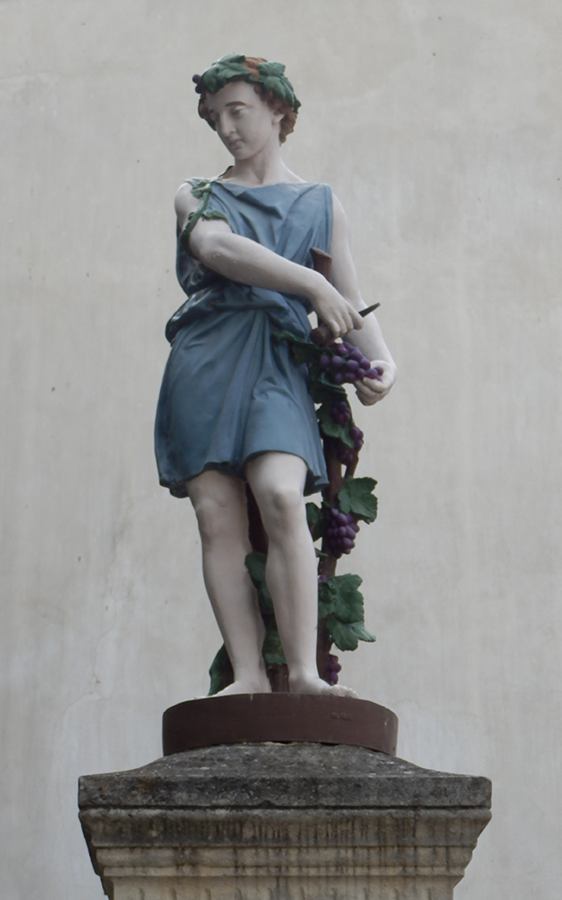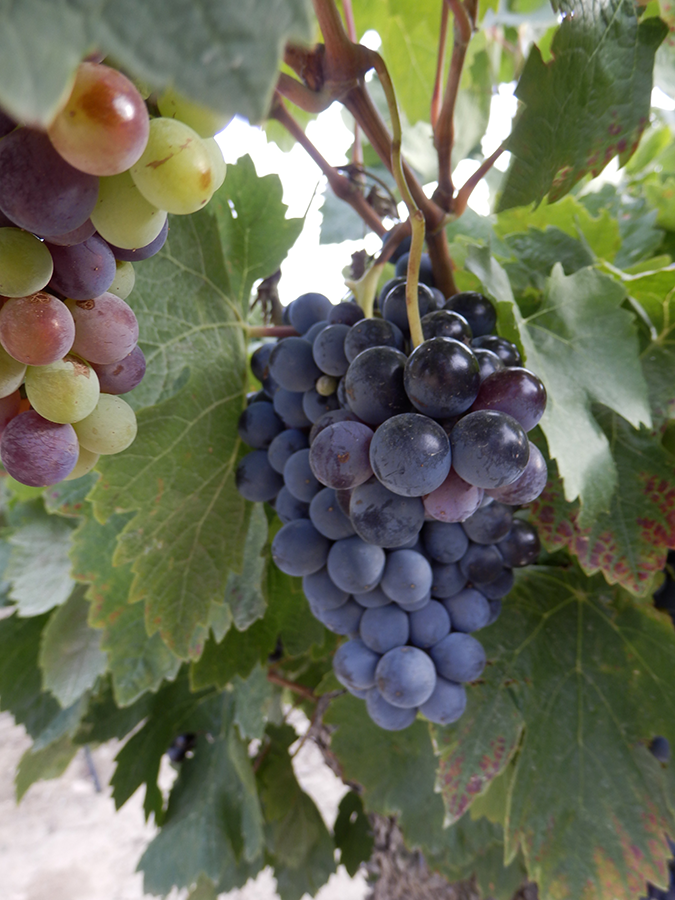 A lot of the villages on the canal are little more than wineries, from large, industrial operations to small, single building affairs. A few offer tastings, some have tours.  Some are in gorgeous, historic buildings resembling cathedrals, some in lavish chateaus surrounded by vineyards as far as the eye can see, others sitting fortress-like above hilltop tows, still others in modern, industrial facilities.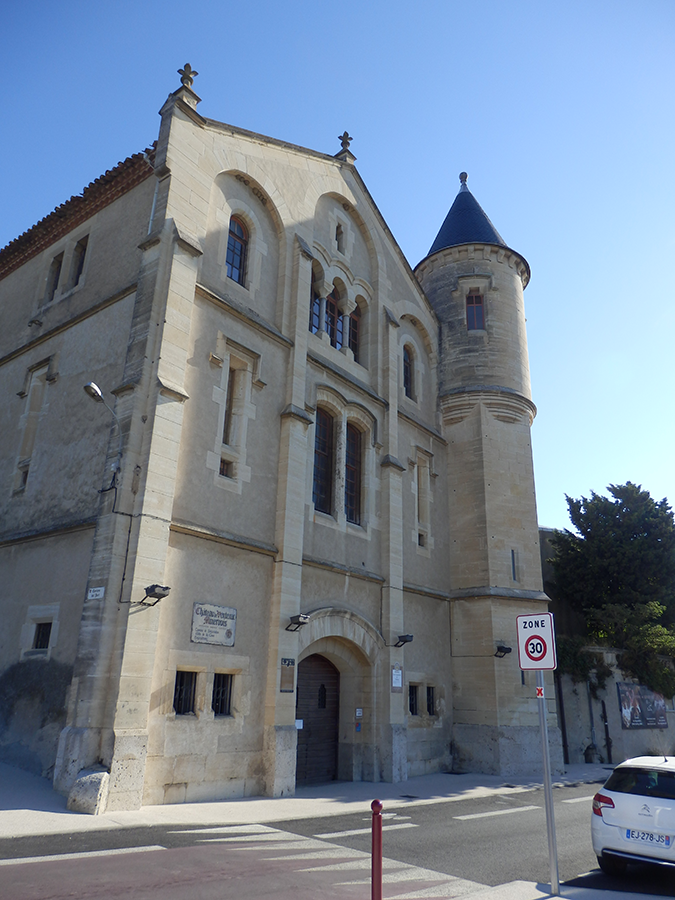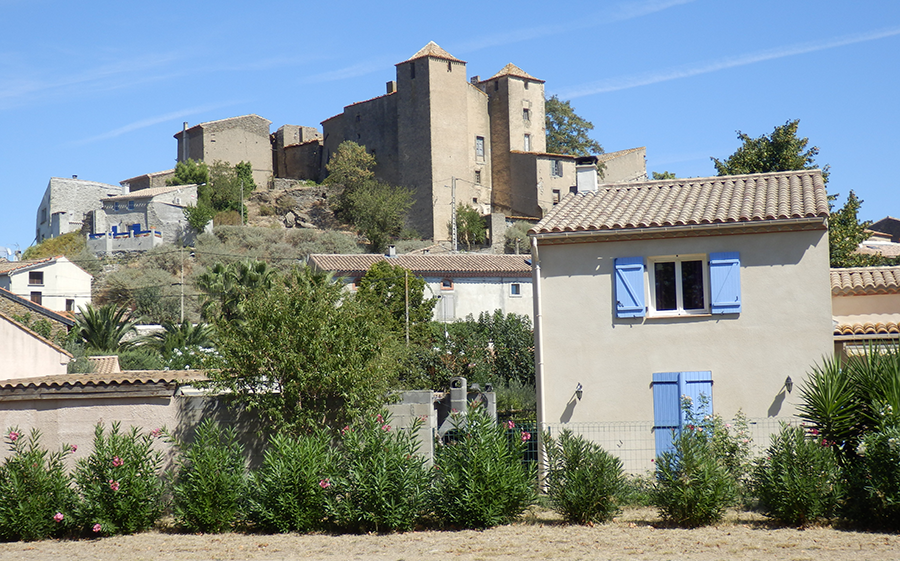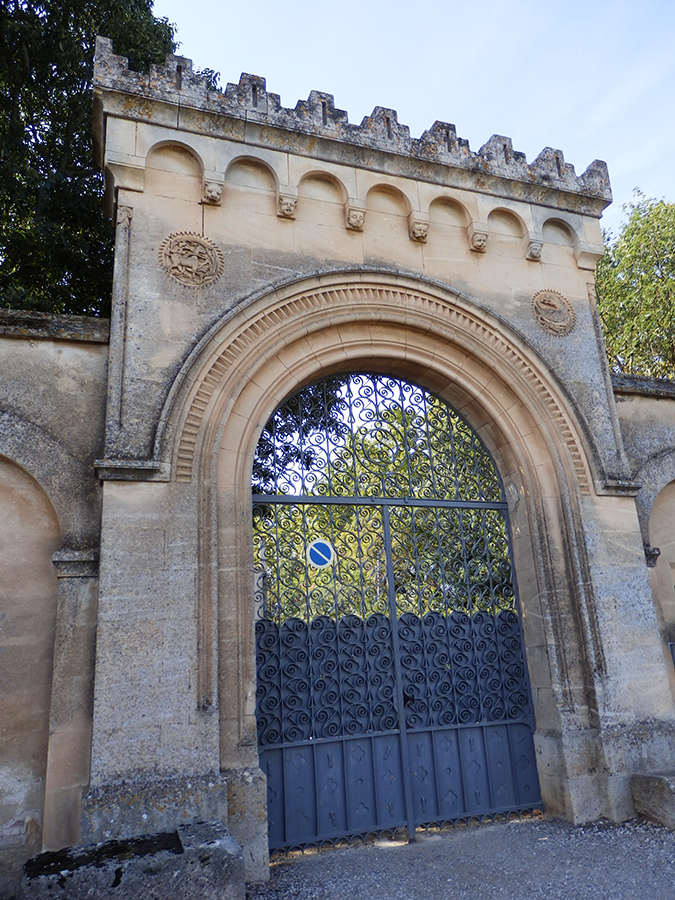 We doubled back along Canal du Midi, past the entrance to Canal Robin. Looking at the extensive maps provided by the boat company, we were still making good time so the first pretty spot we found away from a town became our next port for the night. Lounging in the shade of the plane trees, gazing across a vineyard at a pretty town in the distance with windmills atop the hill above turning in the pink rays of a beautiful sunset, sipping wine and eating cheese, then the moon rose and turned everything lavender – the only thing that could've made it better would've been to ignore the warnings and leap off the boat into the water. We had such a lovely evening we just called the location "The Spot" for the rest of the trip, as in, "Hey, remember two nights ago at The Spot? Yeahhh." Check out this panorama (you may need to zoom in and pan around.)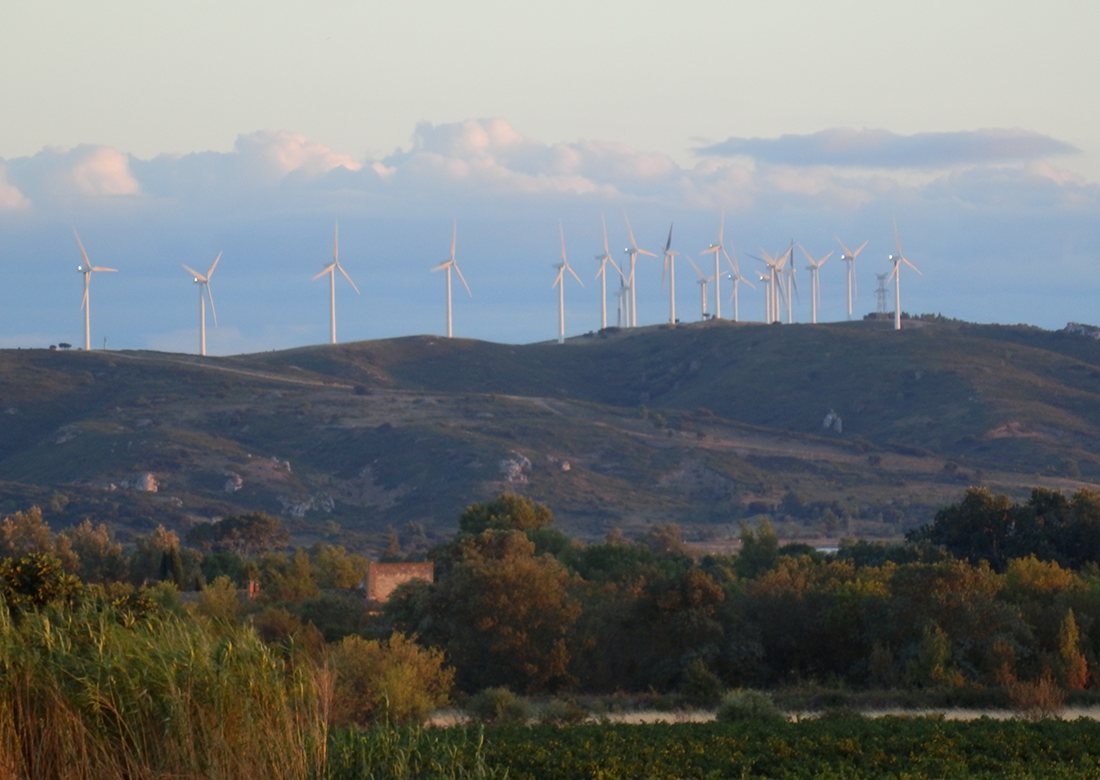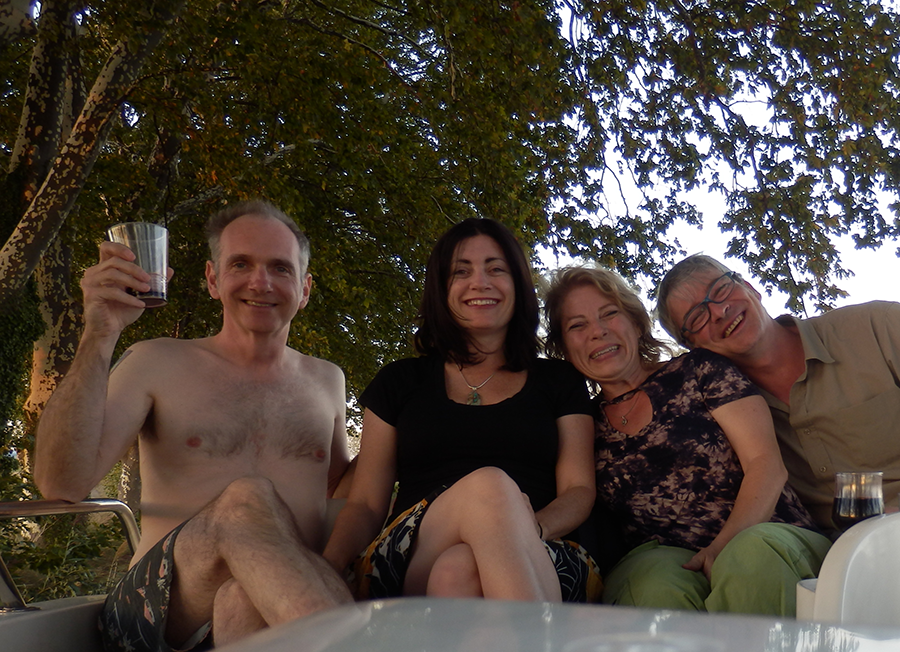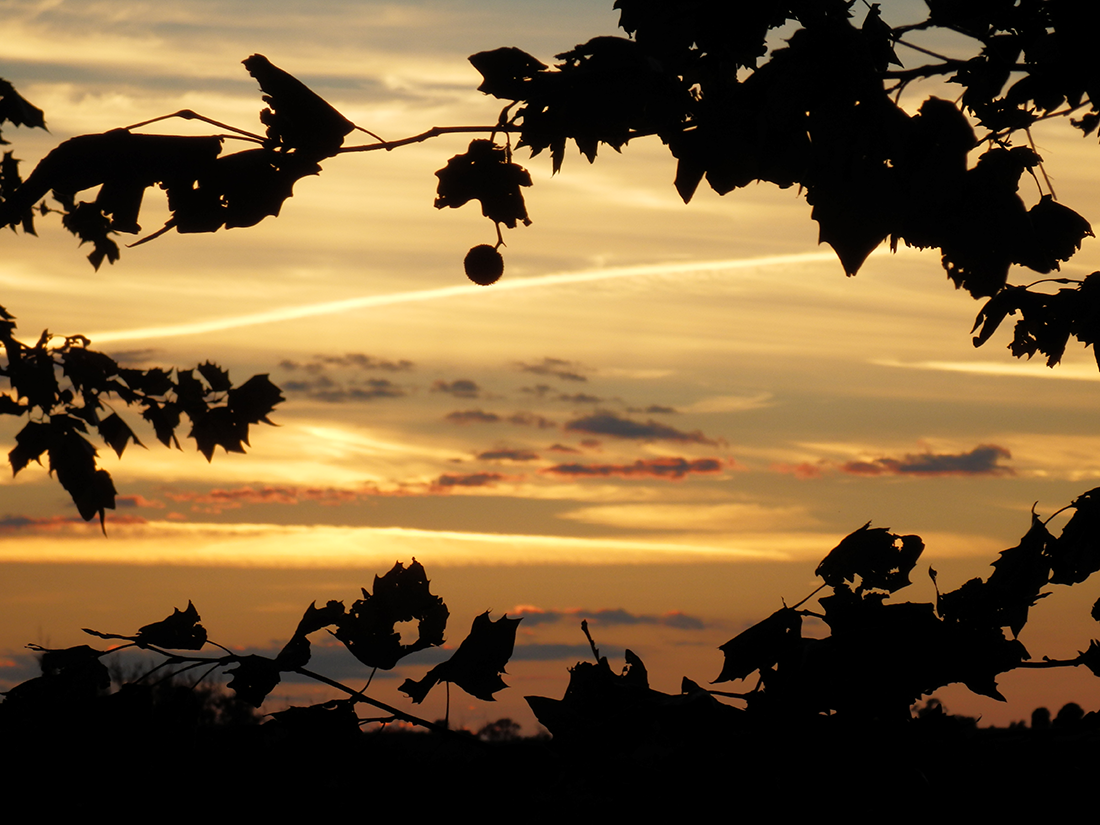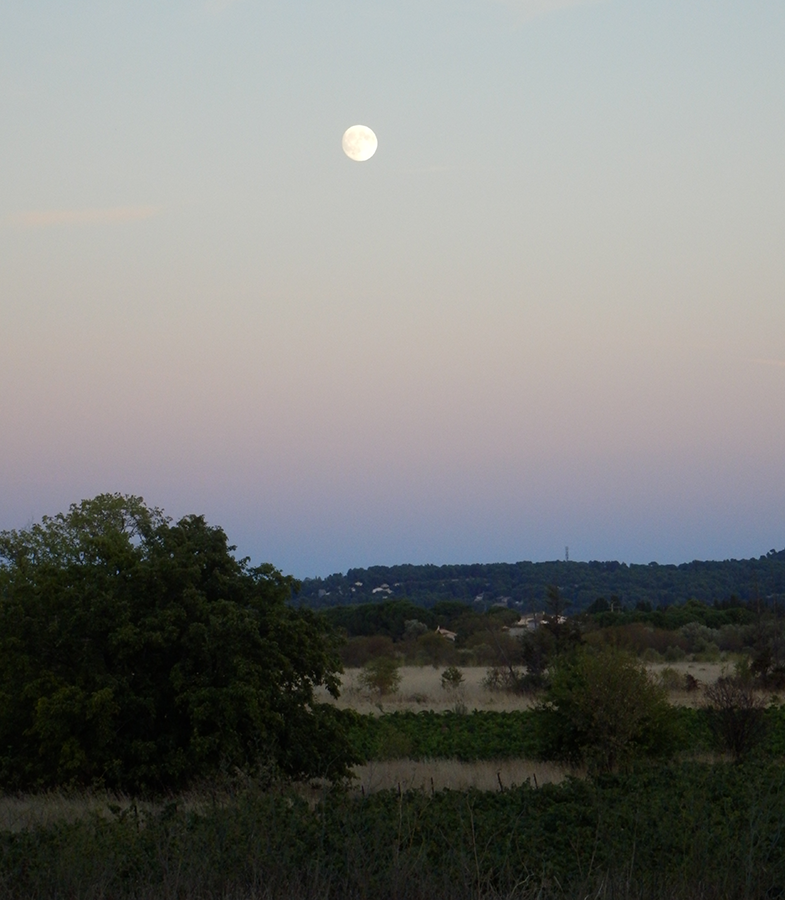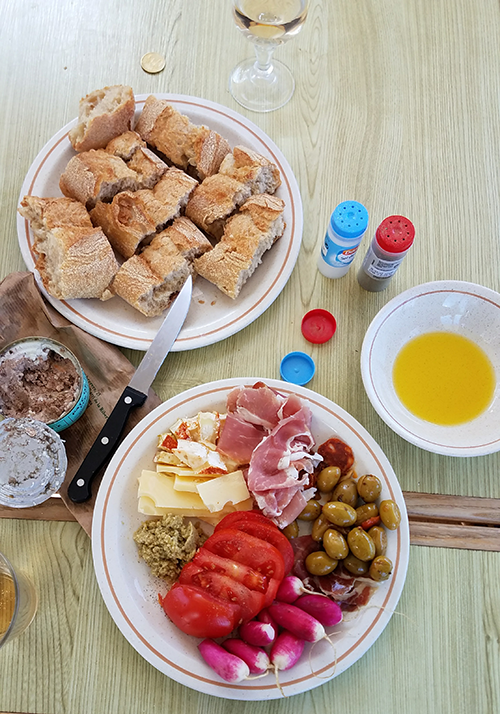 One of the many things we loved about this trip was the option to cycle. The canal has a speed limit of 8k/hour (the boat's maximum speed is close to that), which is about the same speed as a leisurely bike ride. There were trails or roads along the canal, usually on both sides, so one or more of us could opt for some exercise, scout ahead and pick up supplies, or just meander off and then catch up to the boat later.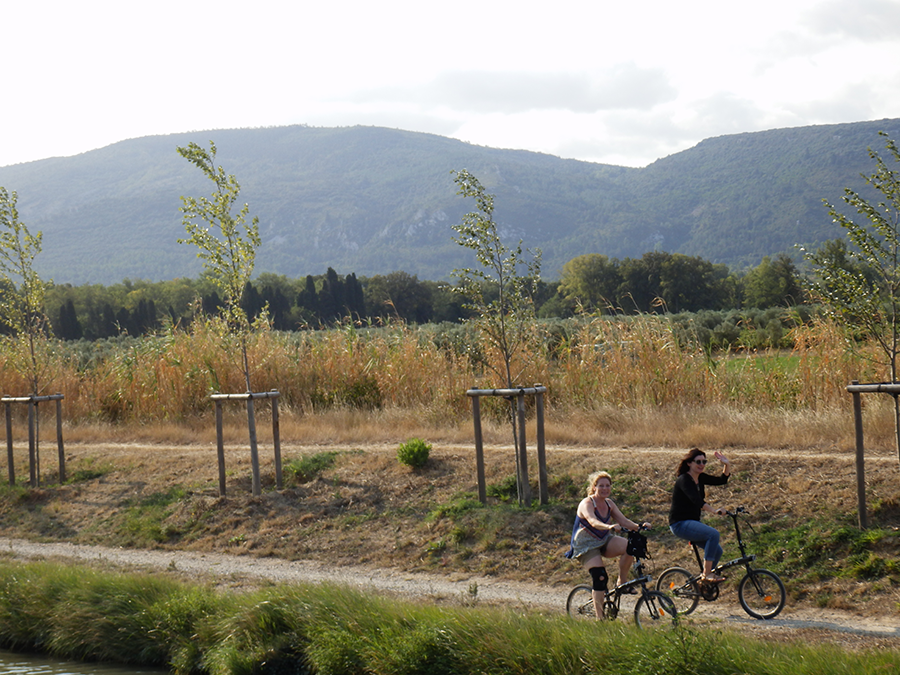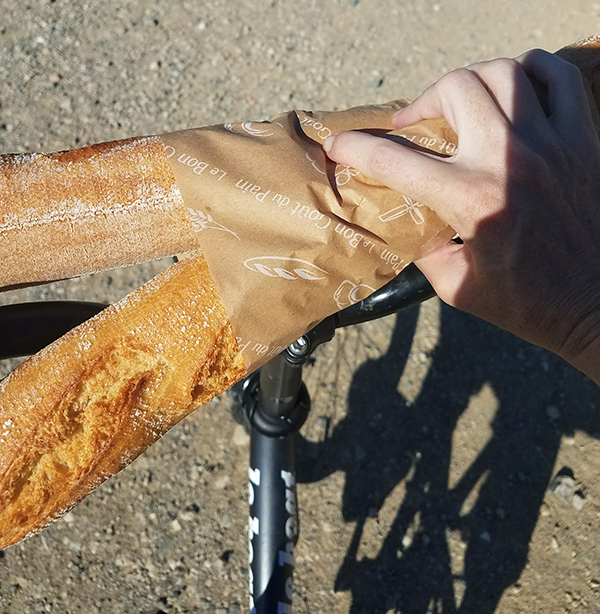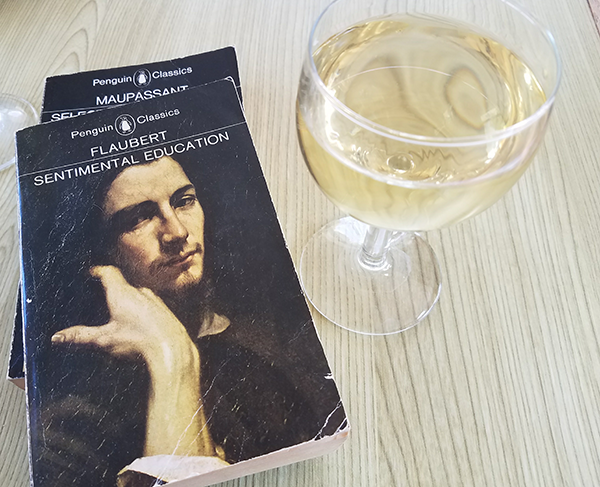 Or just stay on the boat and sip wine, watch the scenery roll by and/or read or nap or whatever.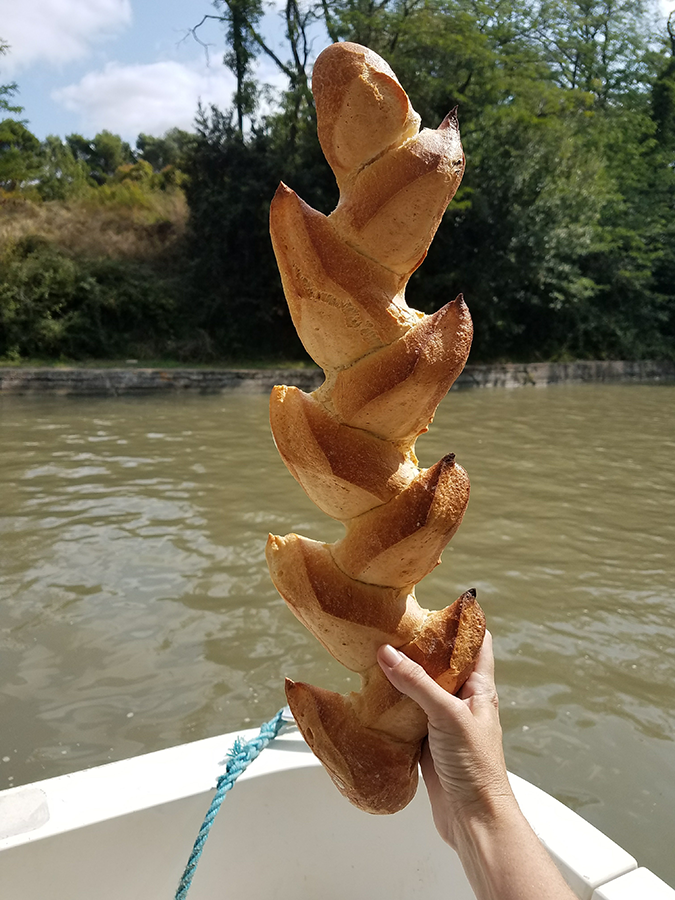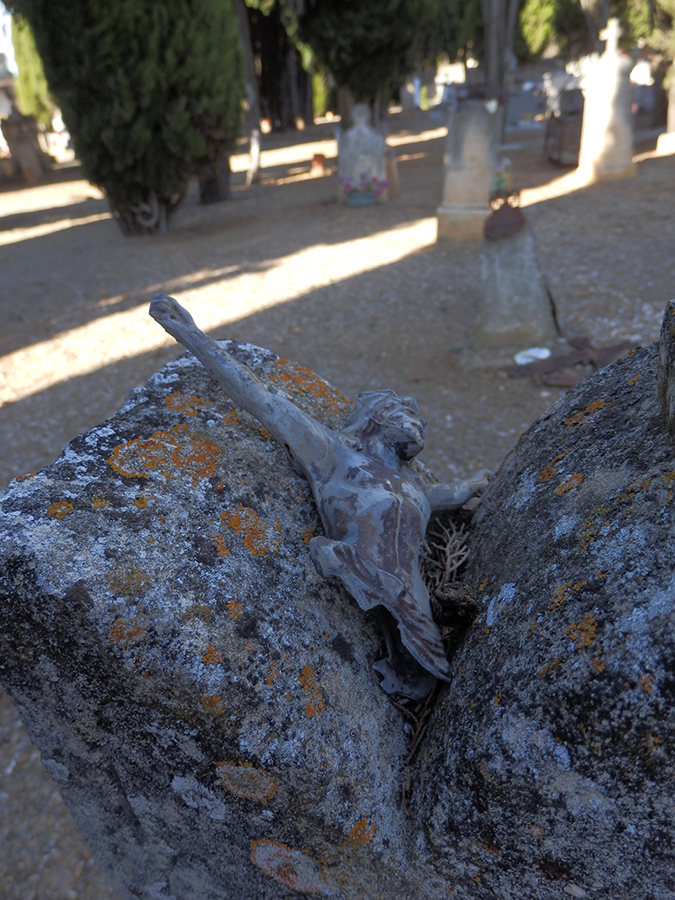 At The Spot, I biked the closest town to find it all but zombified. Appropriately enough, the most exciting things I saw were a pretty cemetery and an elegant chateau that had rooms for rent.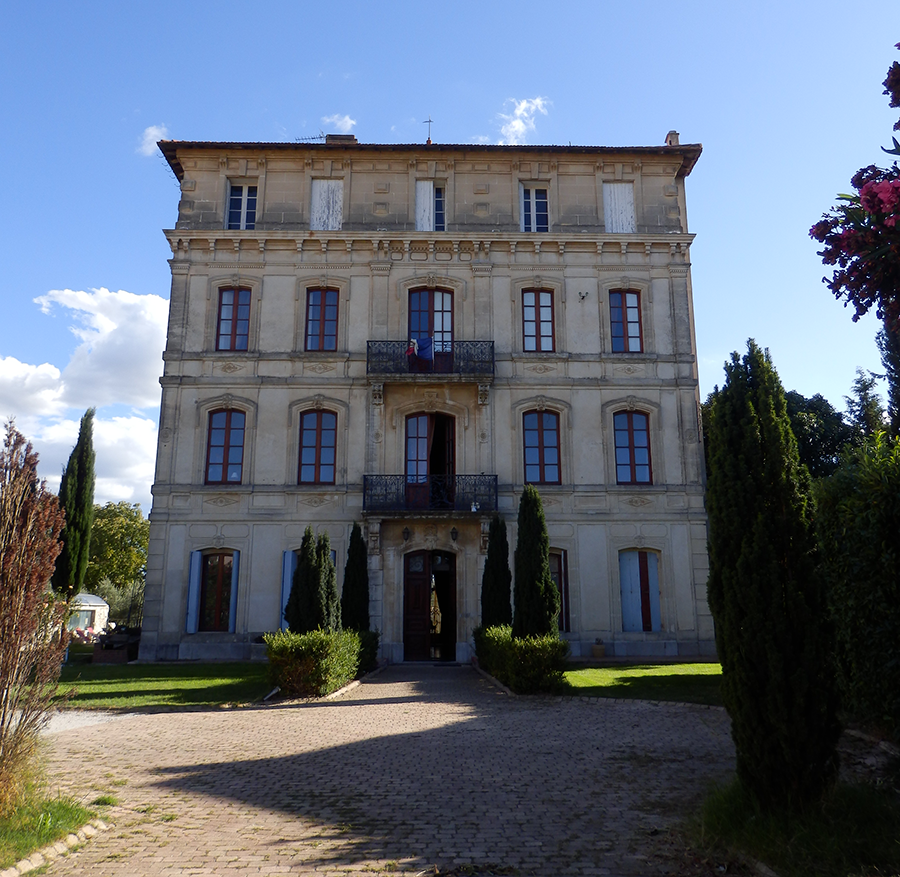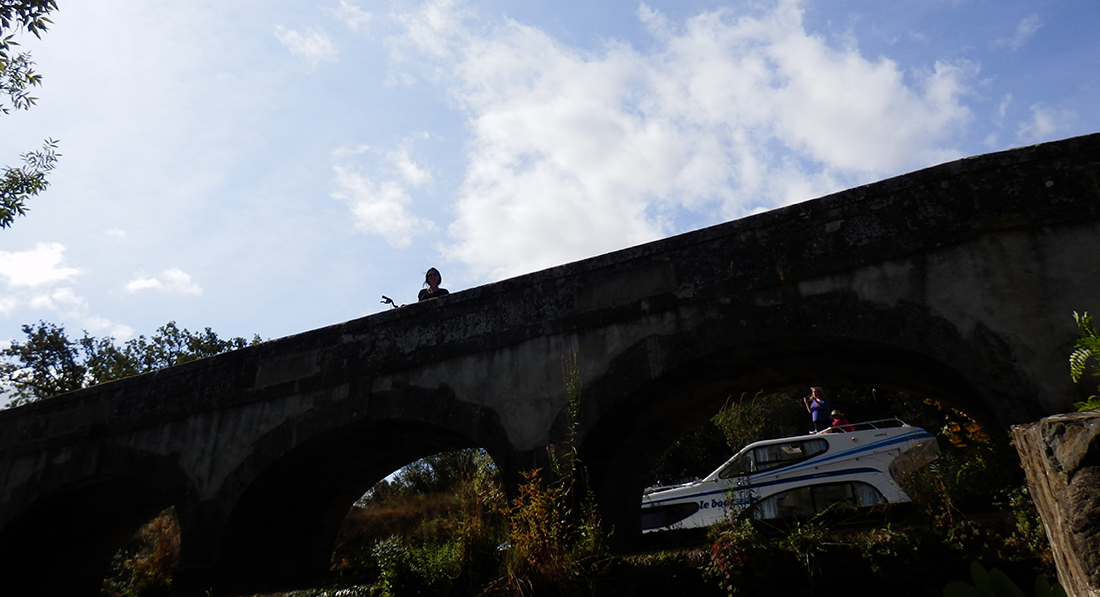 The canal crosses rivers at a few places, sometimes as an intersection but more often as a bridge, the canal passing over the river. It's a weird feeling piloting a boat on a bridge sailing ten yards or more over a river.
Since the route is simple and slow, you tend to run across the same boats, leap-frogging in locks or villages. We met a lot of Germans and Brits, a couple of Belgium guys on an epic 6 month trek across France, some Aussies and so on. Almost everyone was in a sort of quiet reverie, smiling and looking about as if thinking, "Can you believe this?" There is, no matter where you go, always some lout, some Foghorn Leghorn type that threatens to crack the state of euphoria you've carefully balanced, but the percentage of those types on the route was incredibly low. The only stress was around the locks when they need to cram three boats in at a time to get everyone through.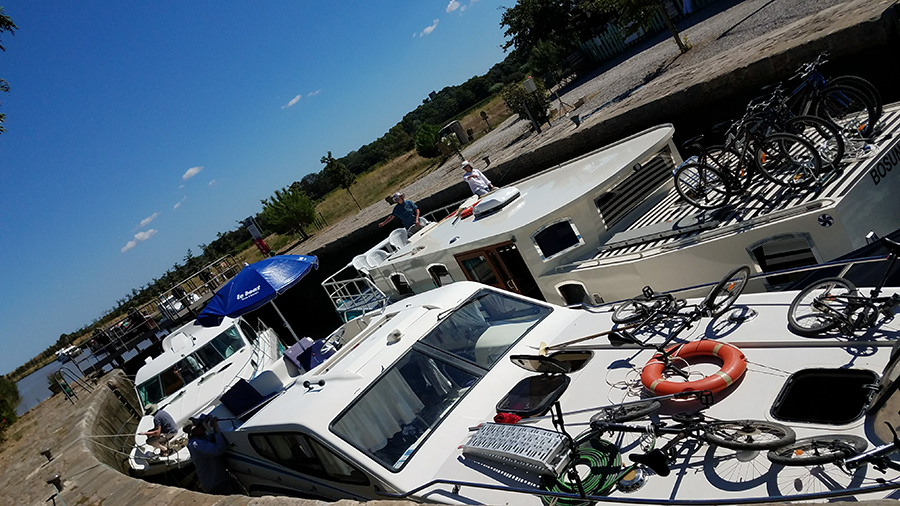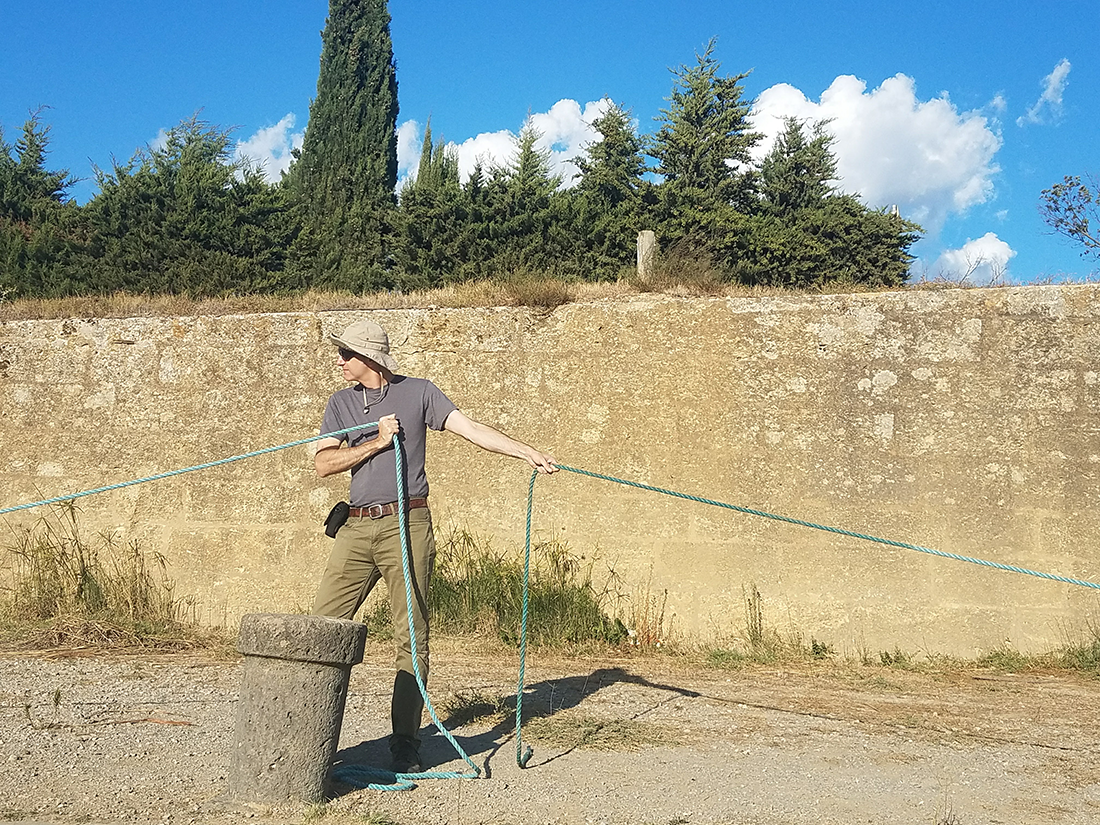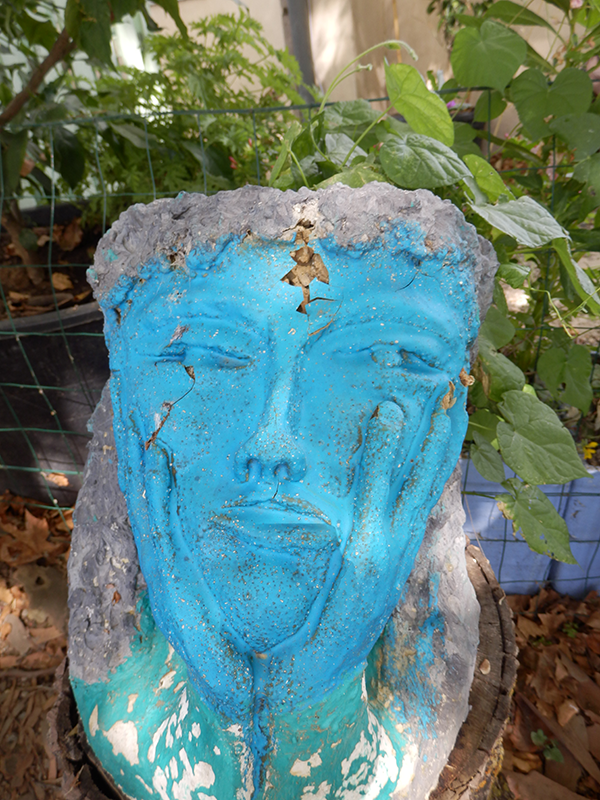 The lock operators take an hour lunch and then quit for the day at seven so it can get a bit crazy during operating hours. At one point we arrived at a lock a little after 10AM and joked that we might not make through before lunch. If there had been a sign saying, "Estimated wait at this point – 2 hours" we would've known to just dock and go ahead into town and shop, maybe have lunch, and then come back. But there's no good way for the lock operators to know how long it is going to take three different crews to get into the same lock (or, in that case, through a series of three conjoined locks) so it was slightly comical when it turned out not to be a joke and we had lunch on the boat, waiting for the operator to return from his own break.  As they have a captive audience, many of the operators have little side businesses selling snacks or art or trinkets.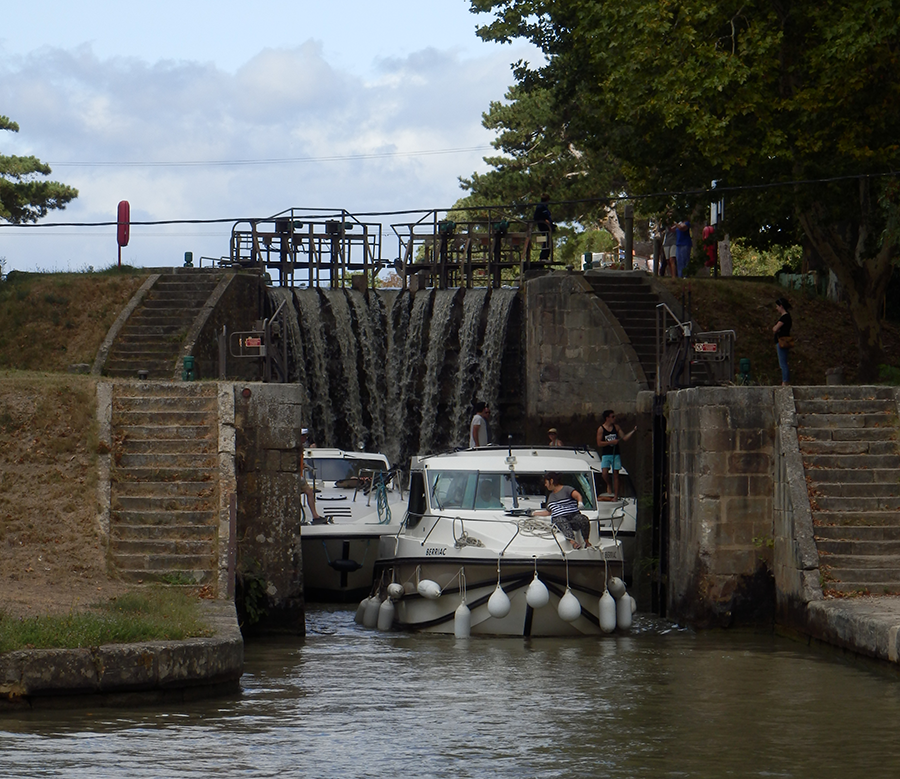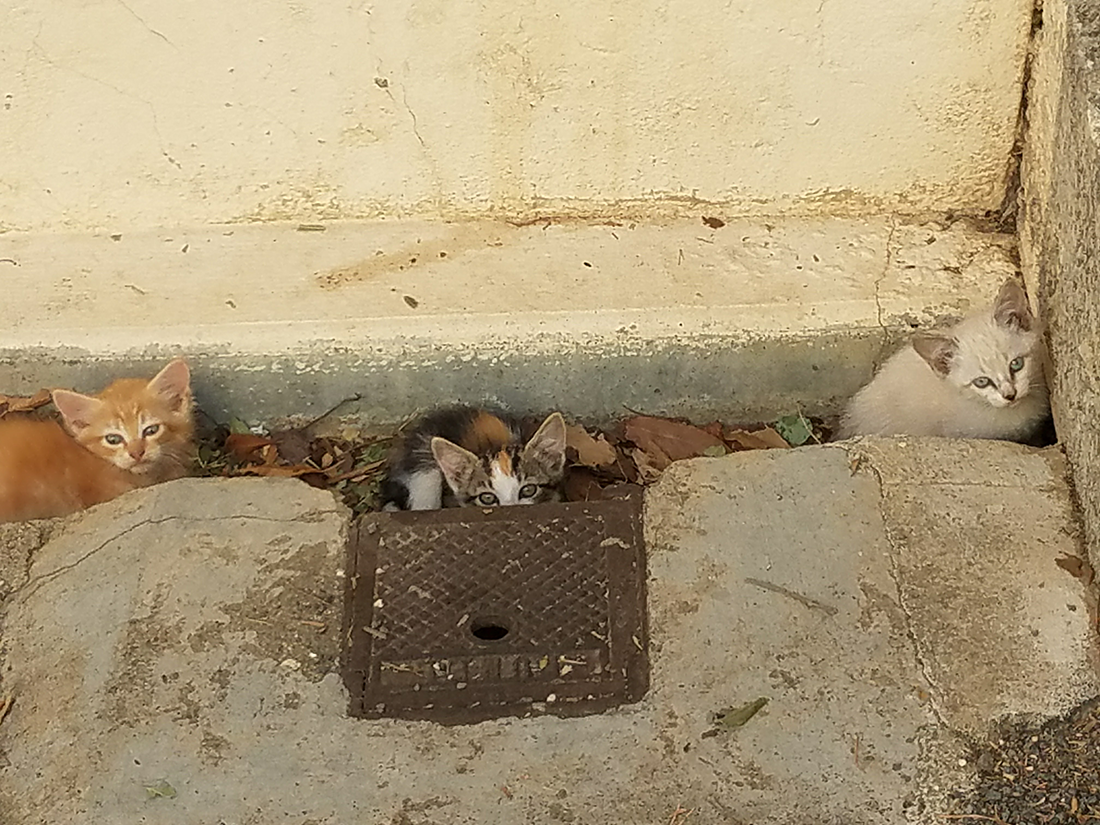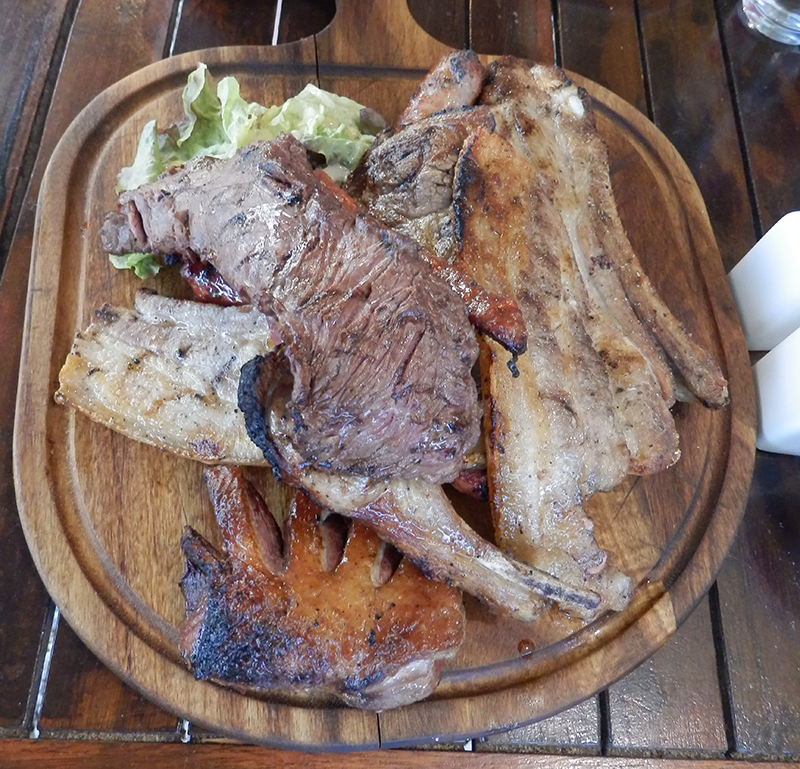 La Guinguette in Argens-Minervois grills up massive quantities of meat in a vertical grate in front of a large fire in a brick oven.  We also had a dish traditional to the area, cassoulet, a pot of beans with a hunk of meat in it. Again, we'd over-ordered, a weird phenomenon for me in Europe where portions are normally small by American standards. Maybe they're used to foreign tourists.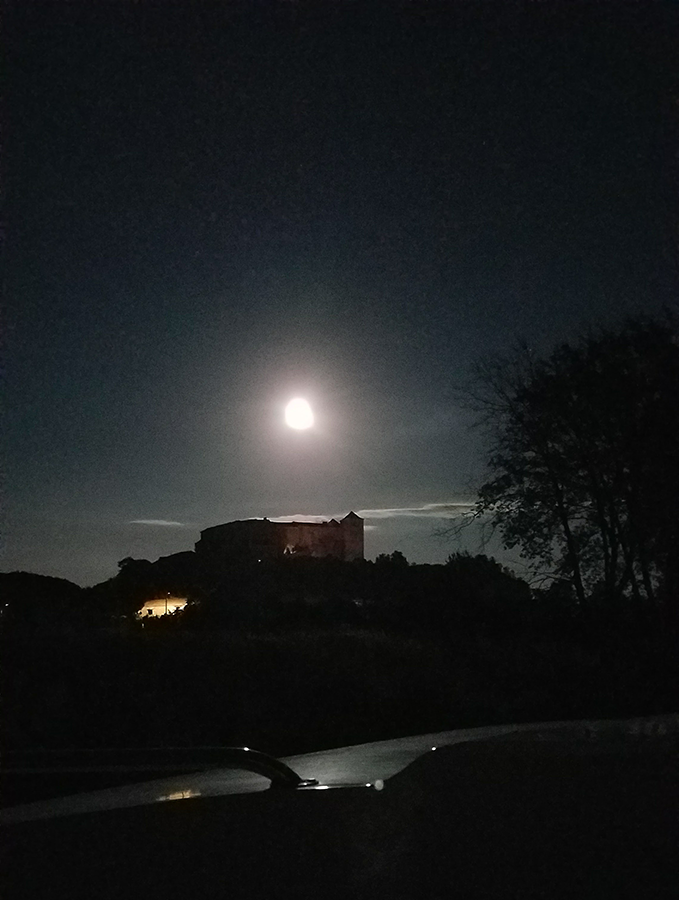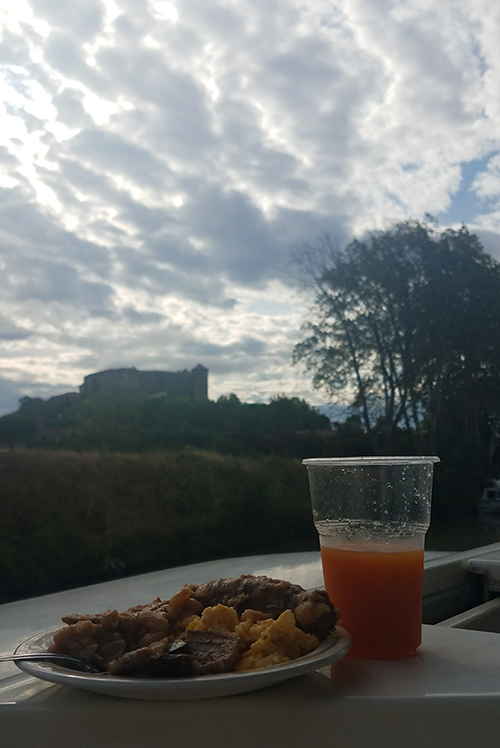 We had leftovers from the restaurant for days. The sausage was great with eggs in the morning.
Across the street from the restaurant is a small cemetery decorated in beautiful ceramic flowers.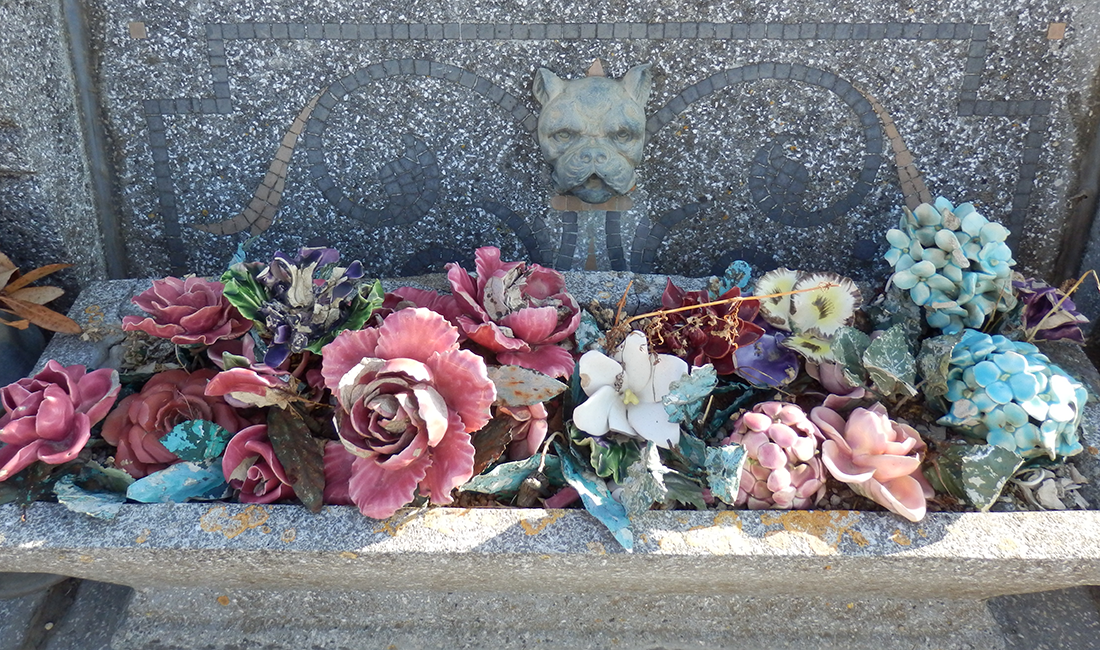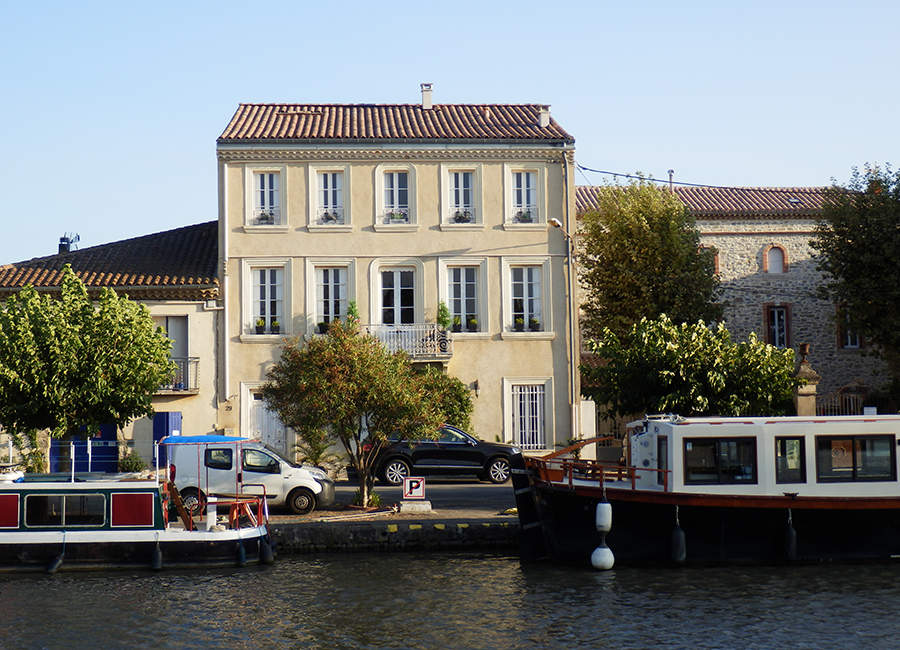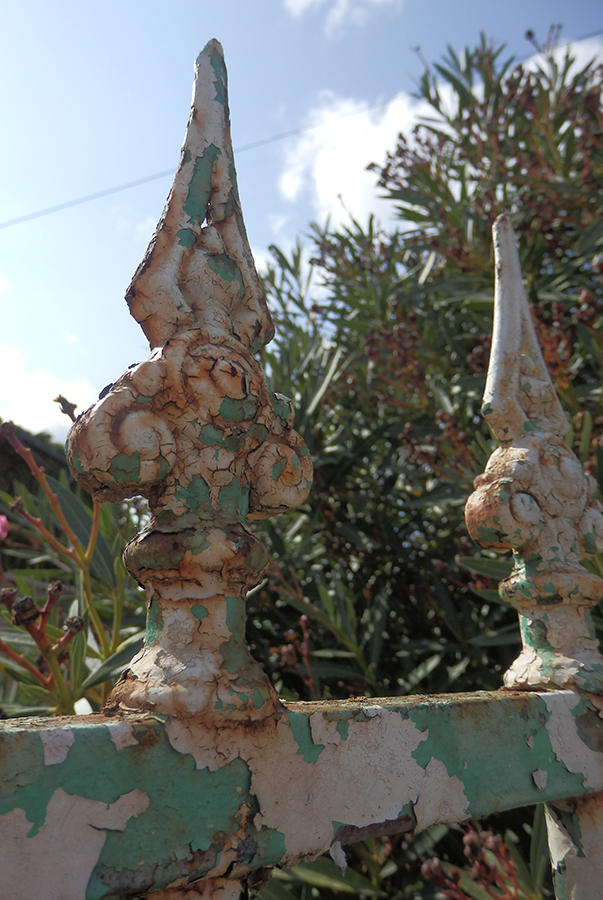 Homps is a slightly larger town along the way, featuring a mooring place for the boat company we'd opted for  so that we could refill the boat's water. In addition to the usual old churches, shutters covered in fading paint, flowers crawling up stone walls, etc., there is an interesting antique shop with finds such as Deco radios, or a cute, French lunchbox.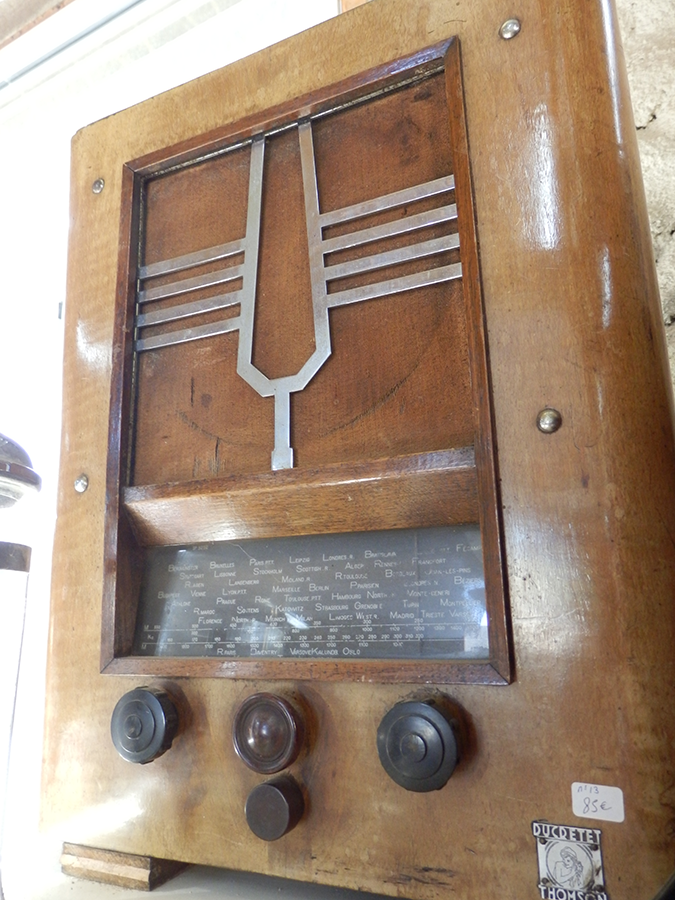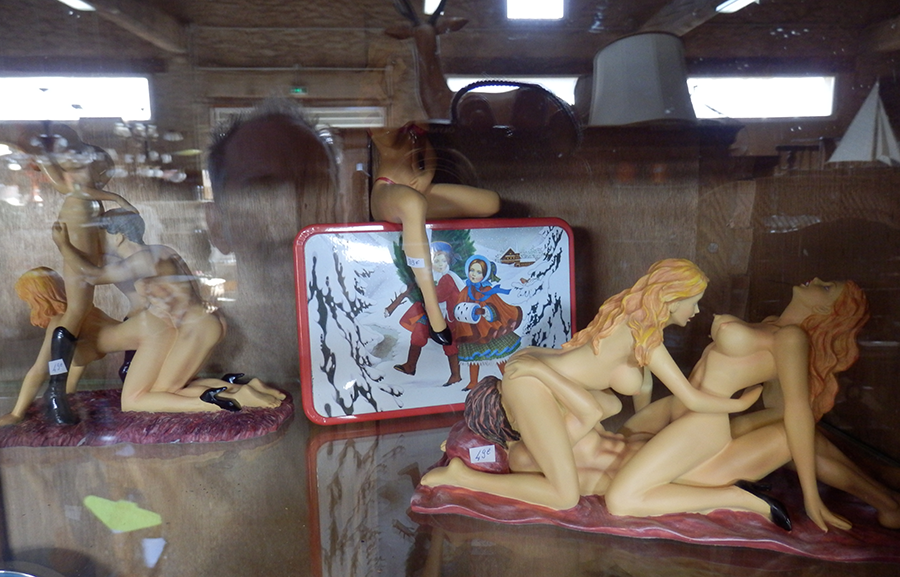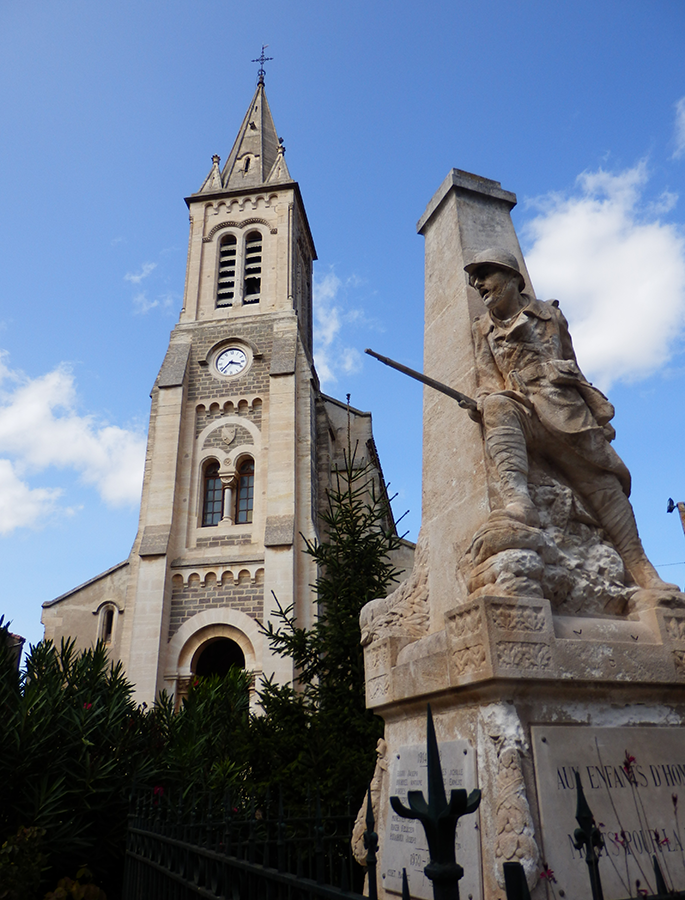 The town also features more open restaurants than several of the previous villages combined. As we wandered around, thick smoke rolled across the horizon. I took a bike ride out of town to get a look at the nearby lake (boring) and spied a forest fire roaring over the ridge nearby. Back in town, someone asked a local what was up. "We've had bad people starting fires lately, and with it being so dry it's a big problem." The blaze looked alarming, particularly with the wind blowing toward town and the flames nearing the power lines, but by evening it was out.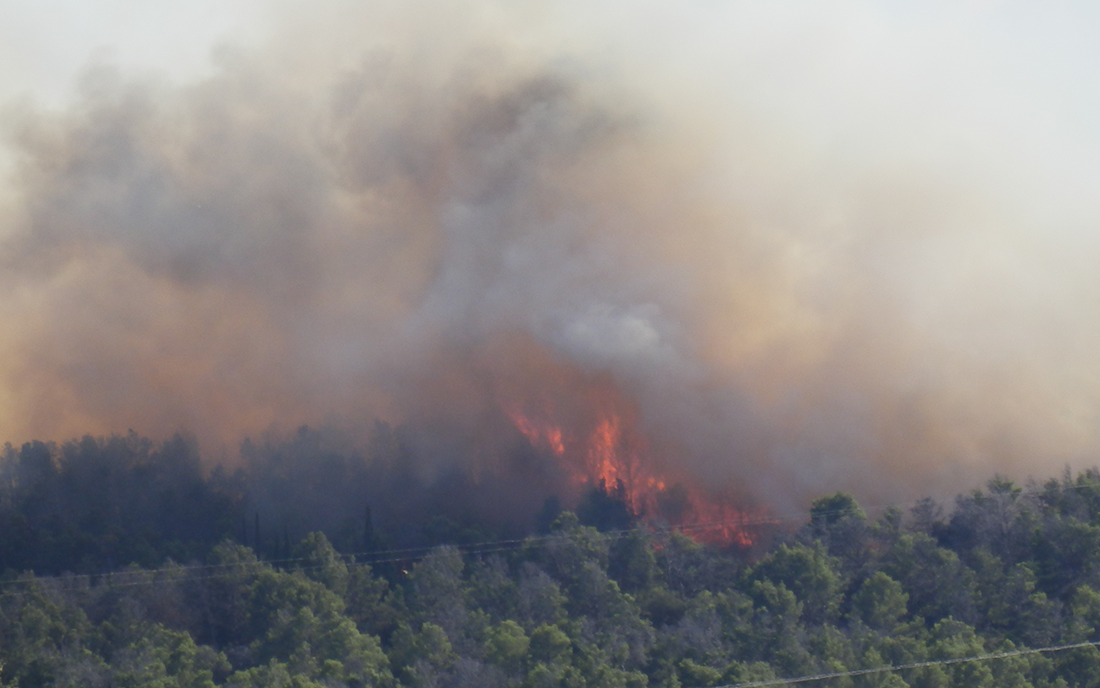 The aforementioned wind was constant. The guy who showed us how to operate the boat had commented on it, "It blows down from the Pyrenees. The world record for sailboarding was set just a few miles from here." Usually, the breeze was refreshing but on this particular night it was frigid. We were the sole occupants of a restaurant's patio, but I had to return to the boat to fetch us all jackets. The staff thought we were a bit daft, but brought us blankets. How's that for service?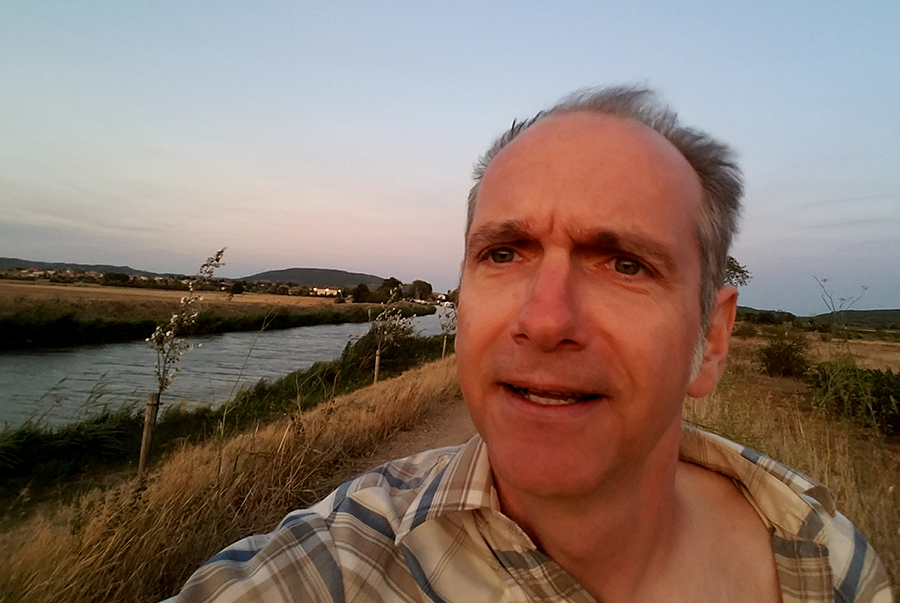 We had the best meal of the trip on that chilly patio of Le Bistrot Gourmand with a fantastic duck, salmon wrapped in paper-thin pastry, beef, and crème brulee and a salted caramel custard for desert, one of those meals you talk about for weeks afterward. My mouth is watering just writing about it.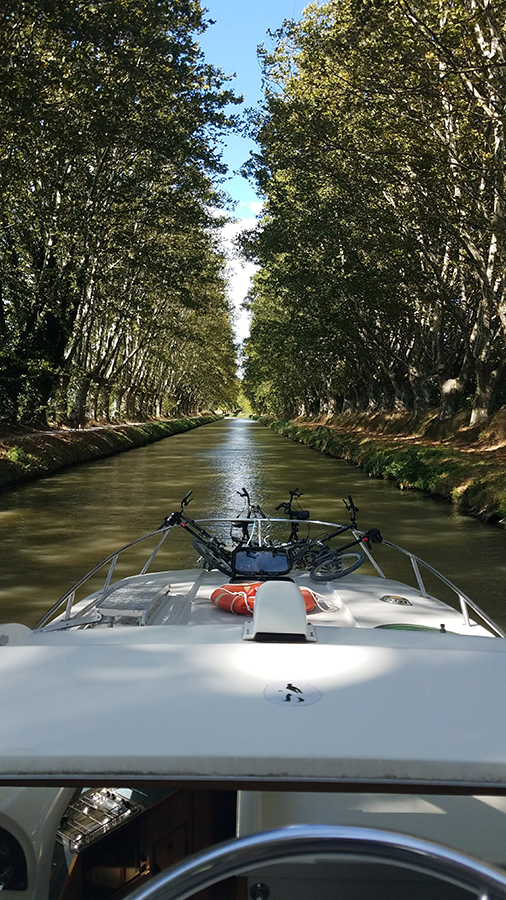 As pretty as Canal du Midi is, we were advised not to get in the water. It may soupier than Lanier. However, there are a couple of streams and lakes next to the canal along the route. On the hottest day of the week, we moored and trekked through a park to a small lake (check out this funny panorama – you may need to zoom and pan) for a quick dip, then hiked up the neighboring cliff for a sweeping view of the valley (another panorama shot.)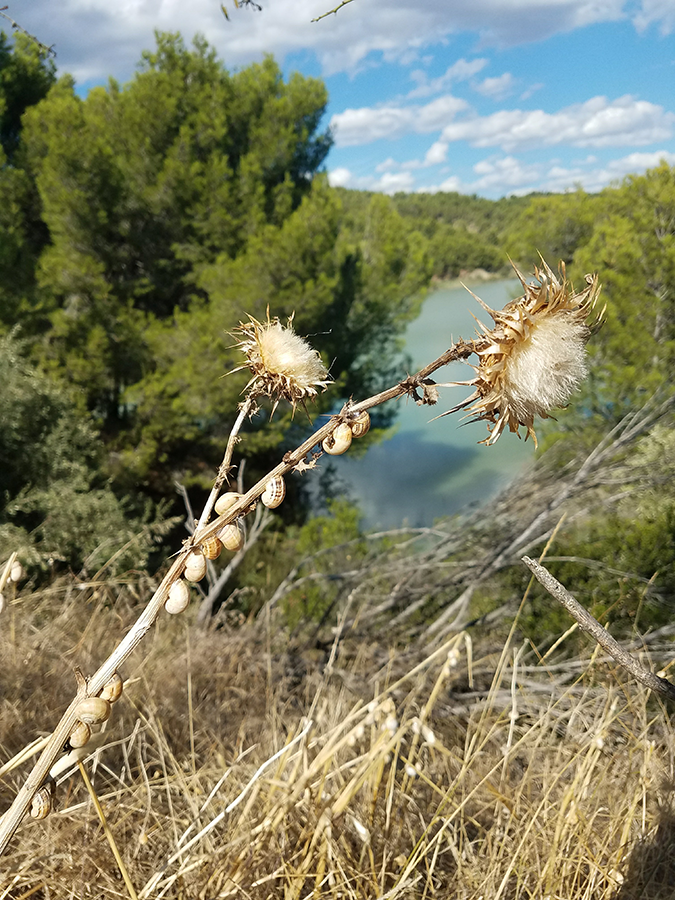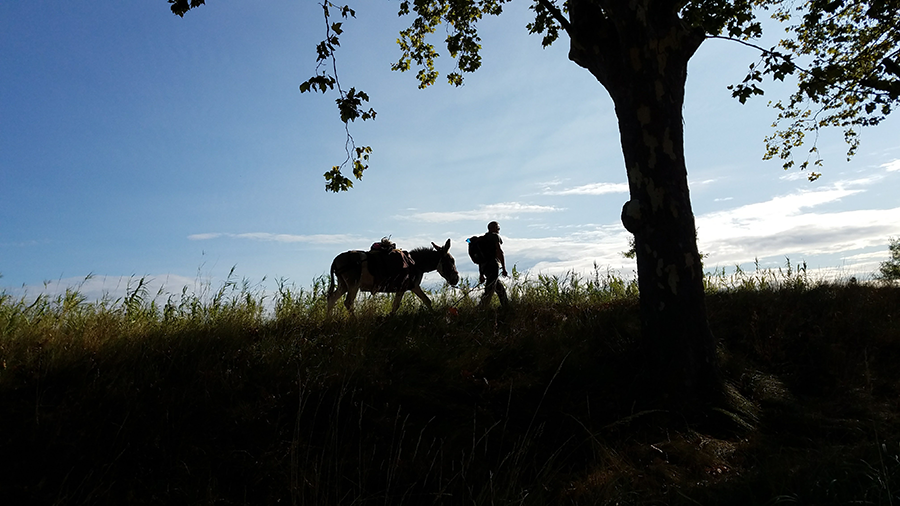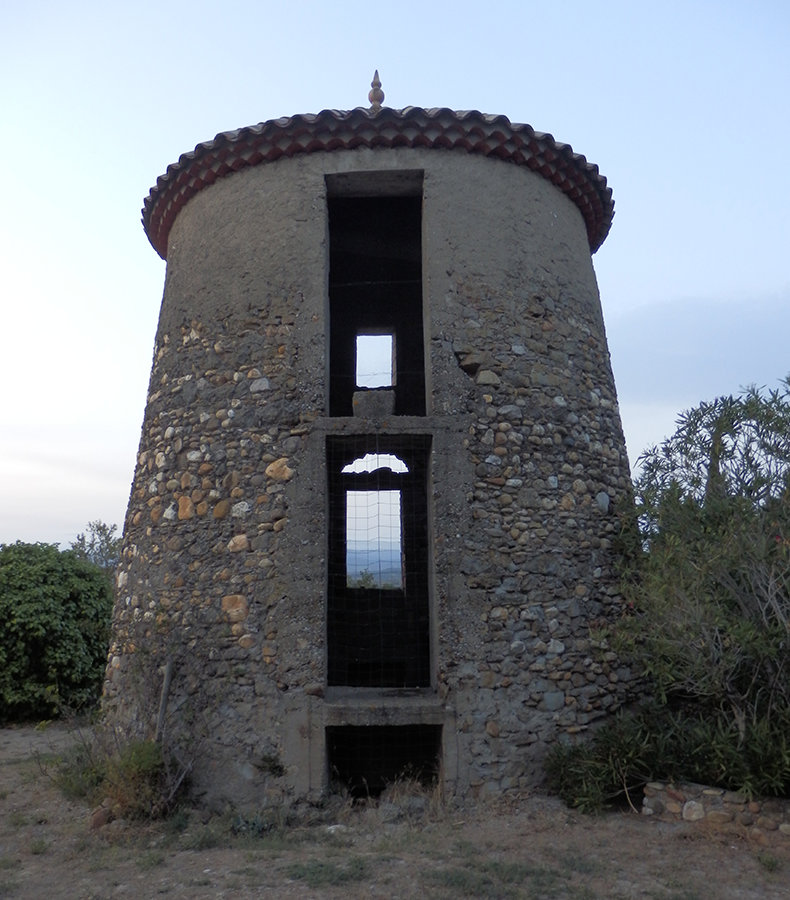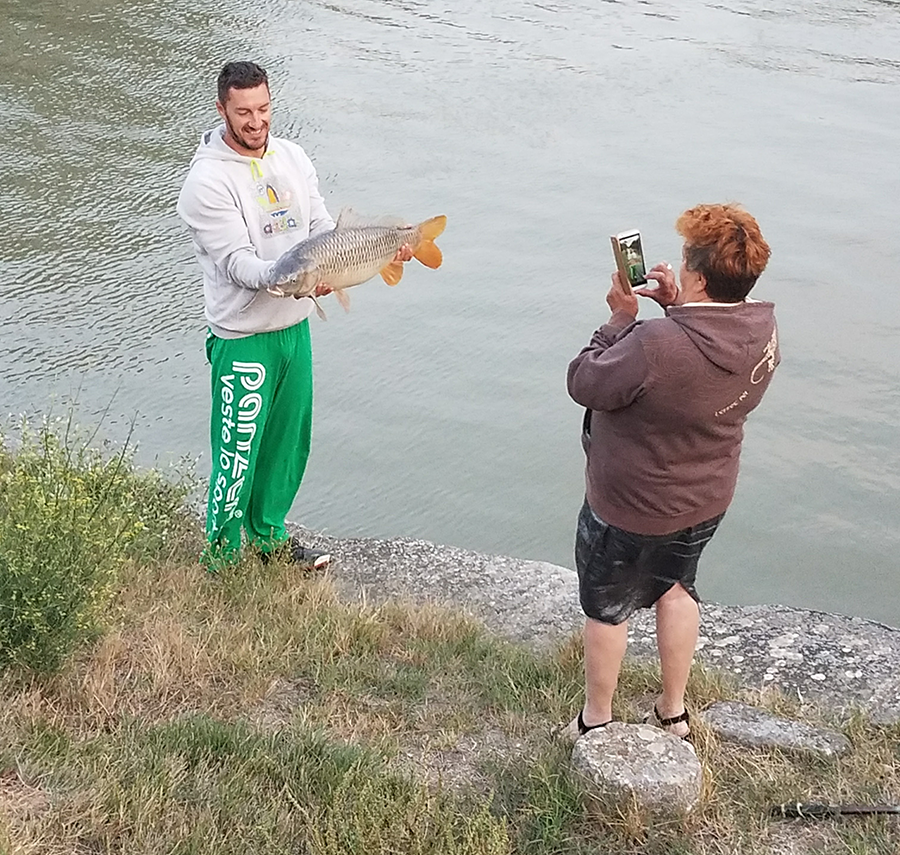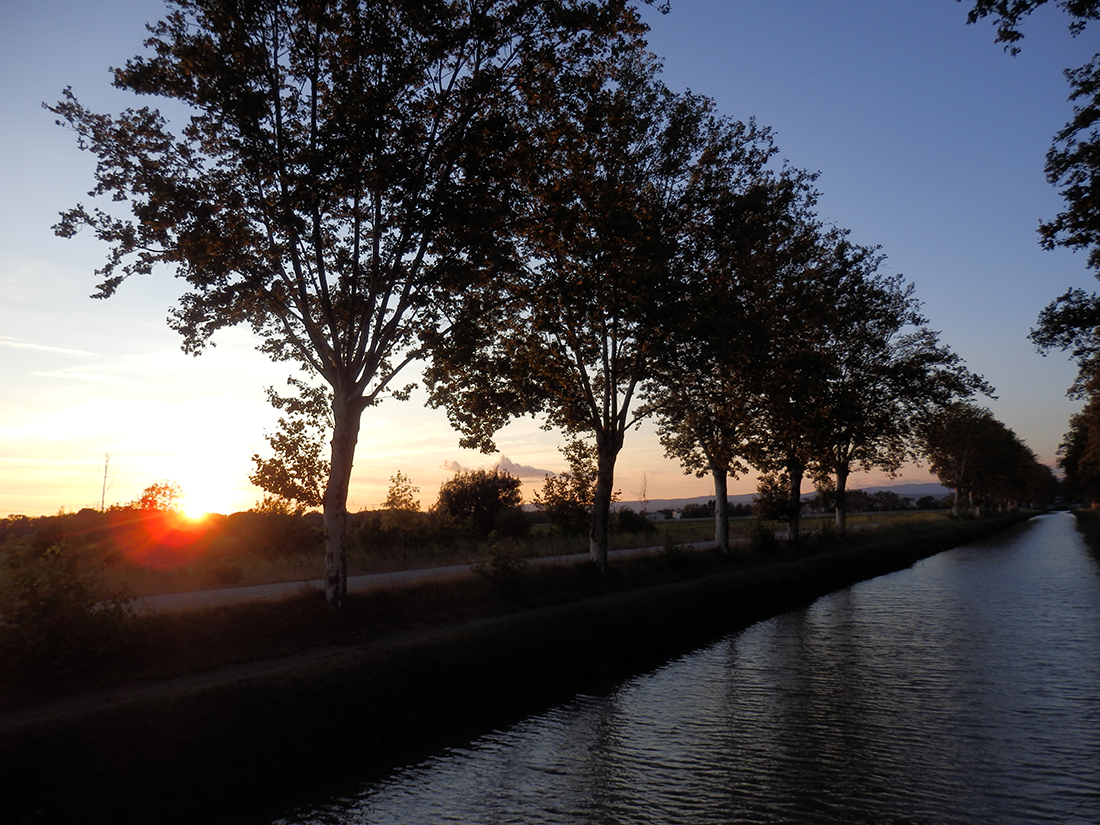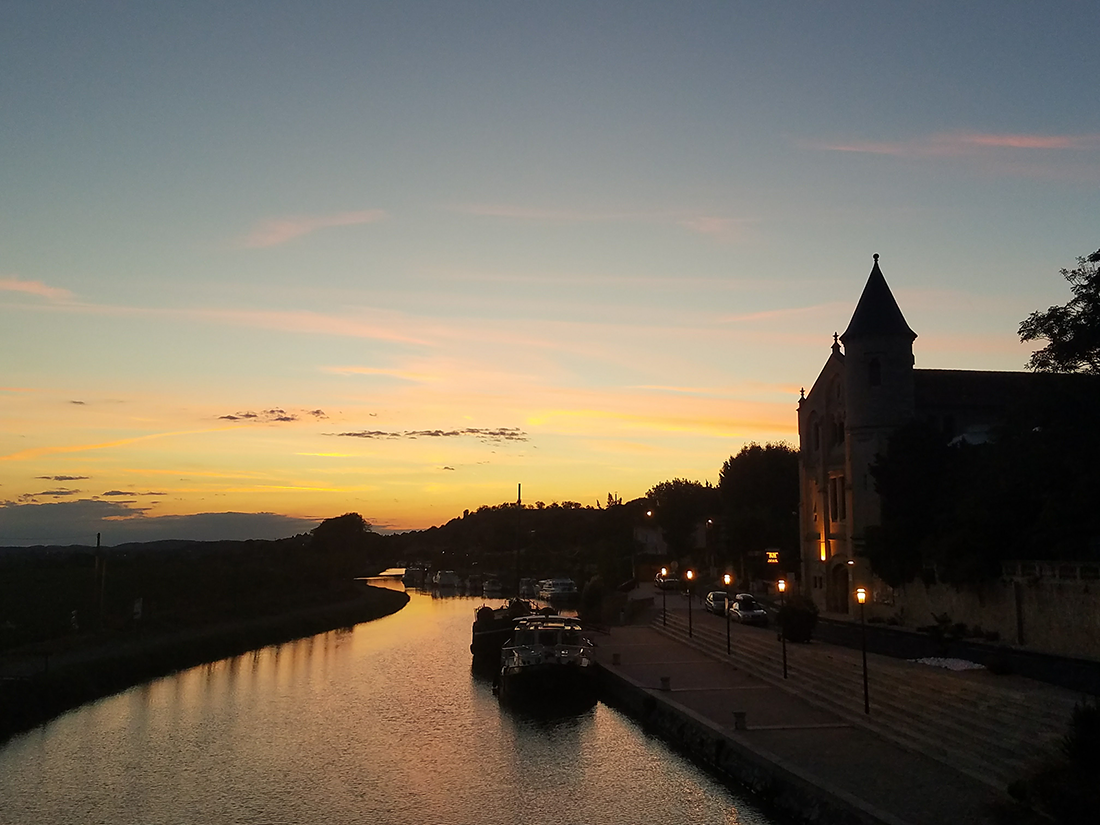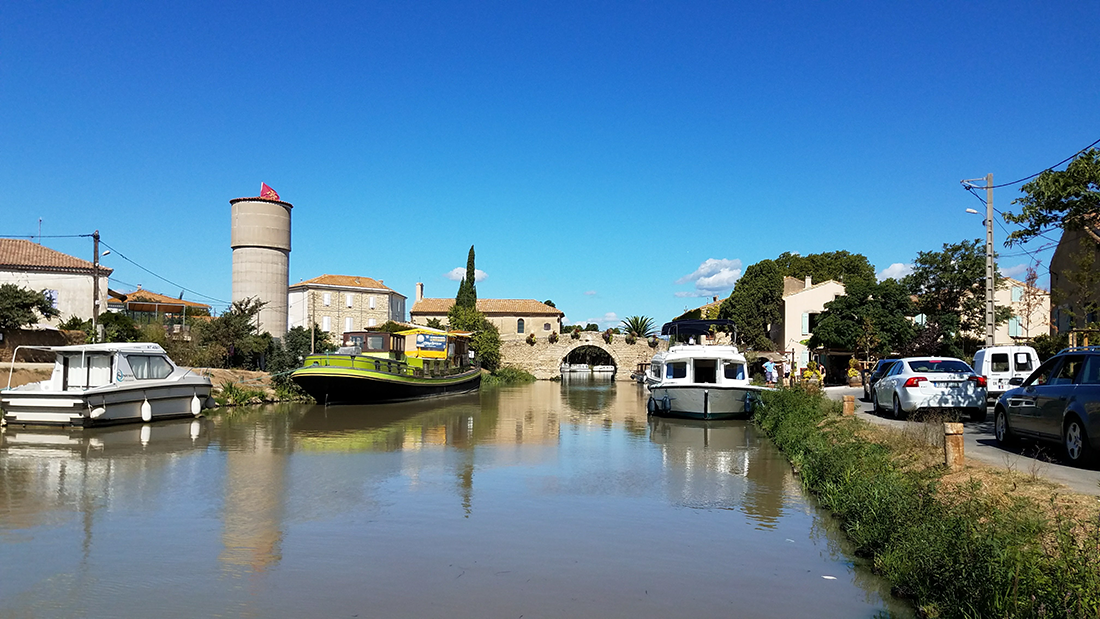 The town above may have been the prettiest little crossroads we passed through, though I don't know the name of the place. A restaurant patio offers a great view of the stone bridge and passing boats, as well as serving up desserts big enough for four.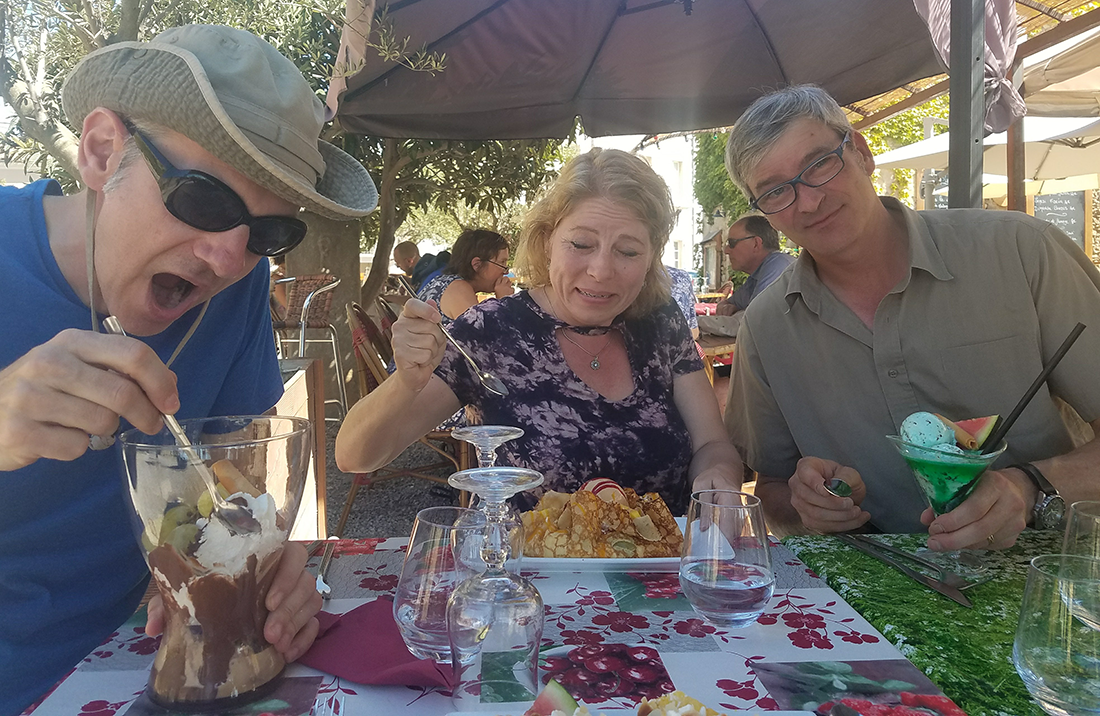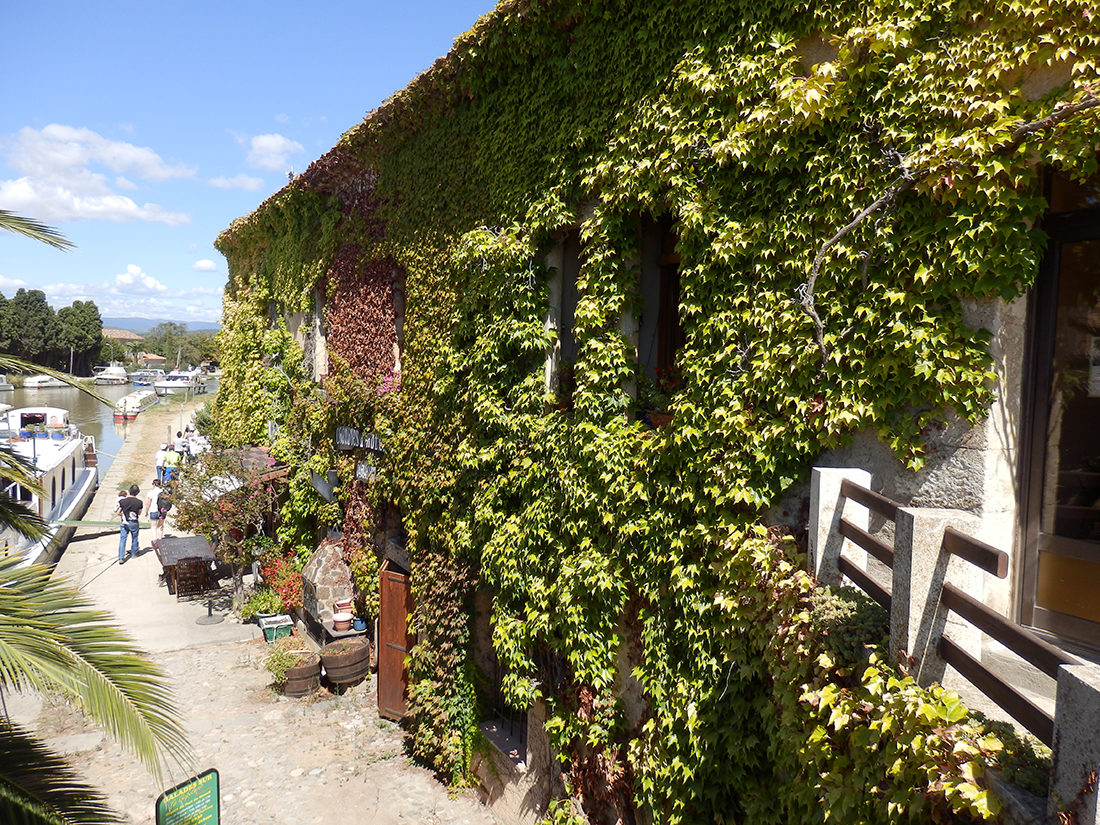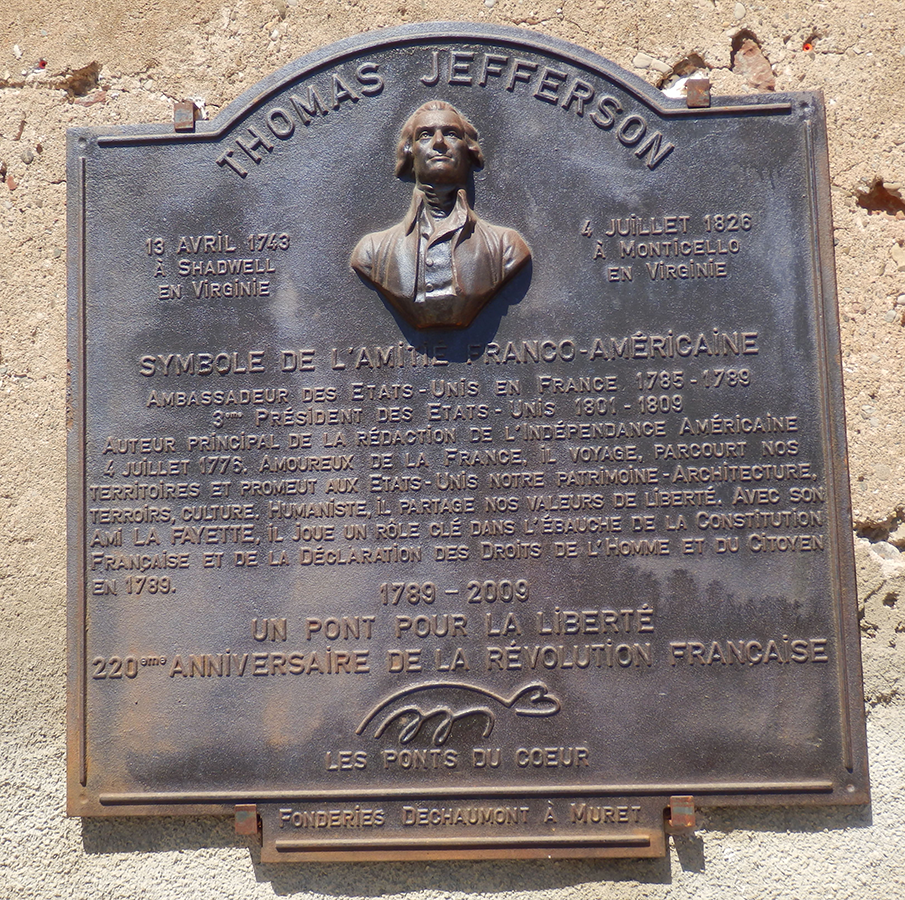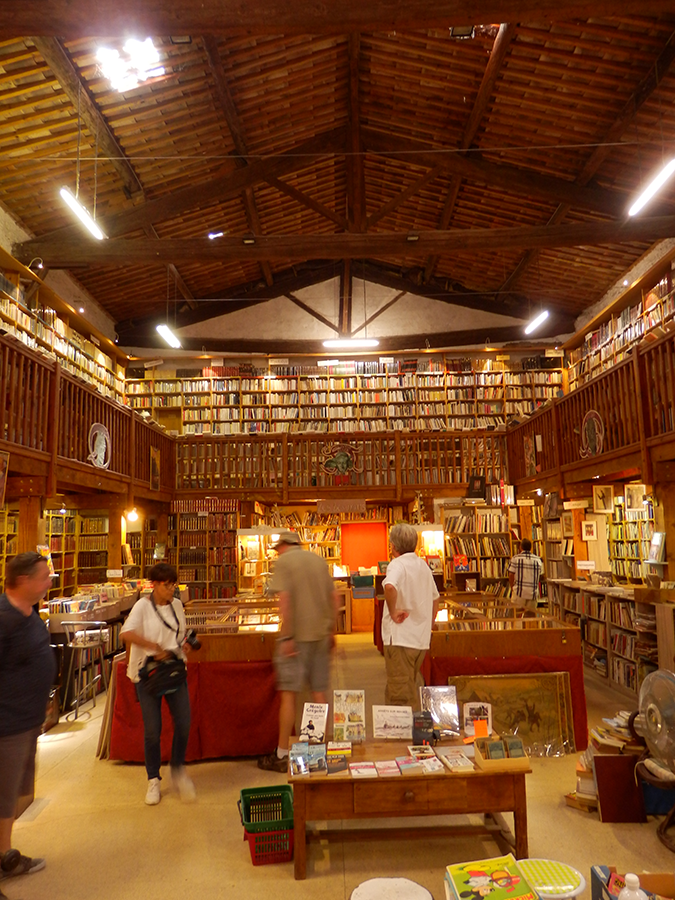 Across the bridge is an old bookstore full of books, almost entirely all French. The building itself is worth a look, but some of the book covers are magnifique.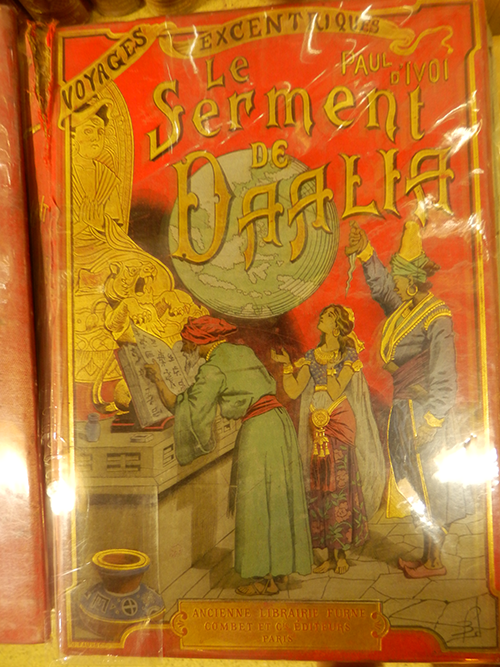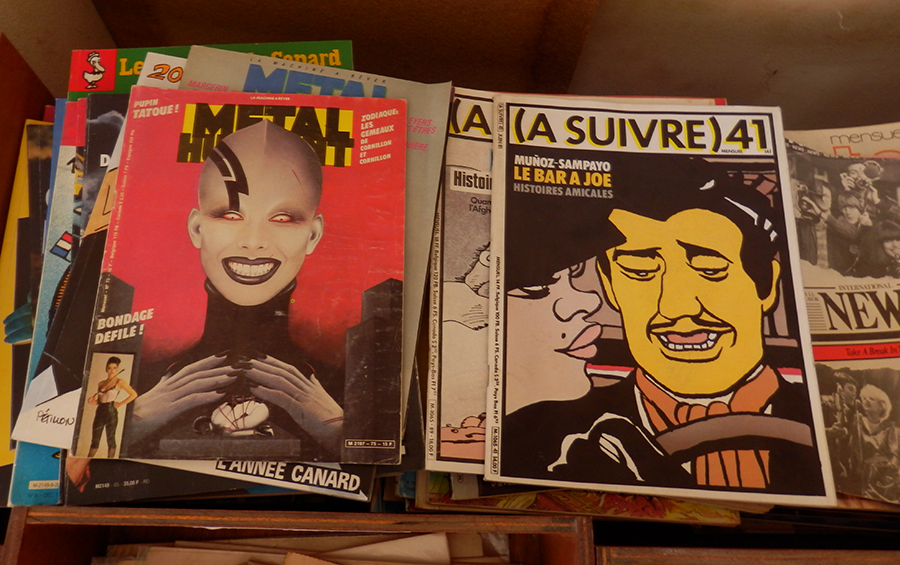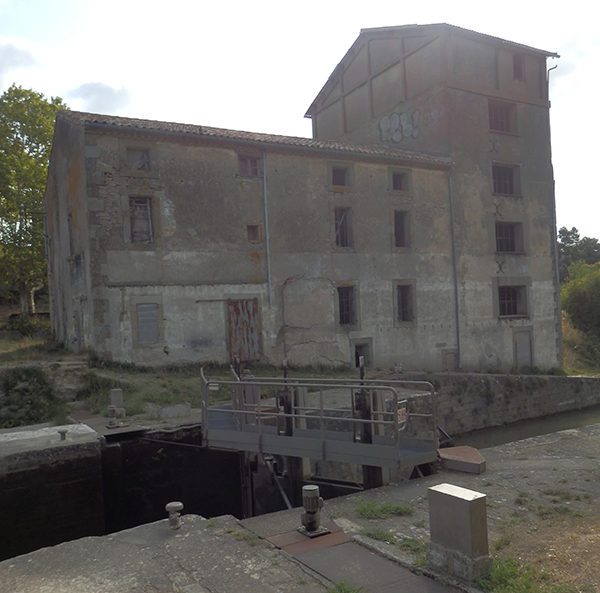 As we motored further west, we gradually rose up out of the valleys and into hills that featured the occasional non-grape-based crop, as well as a few larger towns. Even on the outskirts of cities there are empty buildings begging for some well-heeled foreigner to renovate. (I say foreigner because, like everywhere, the locals are moving to larger cities so sometimes it requires an outsider to see the novelty in an old building.) Some of these sit right on the canal, including some former lock-keepers' houses so that you could sit on your patio and wave at tourists as they struggle with their boats.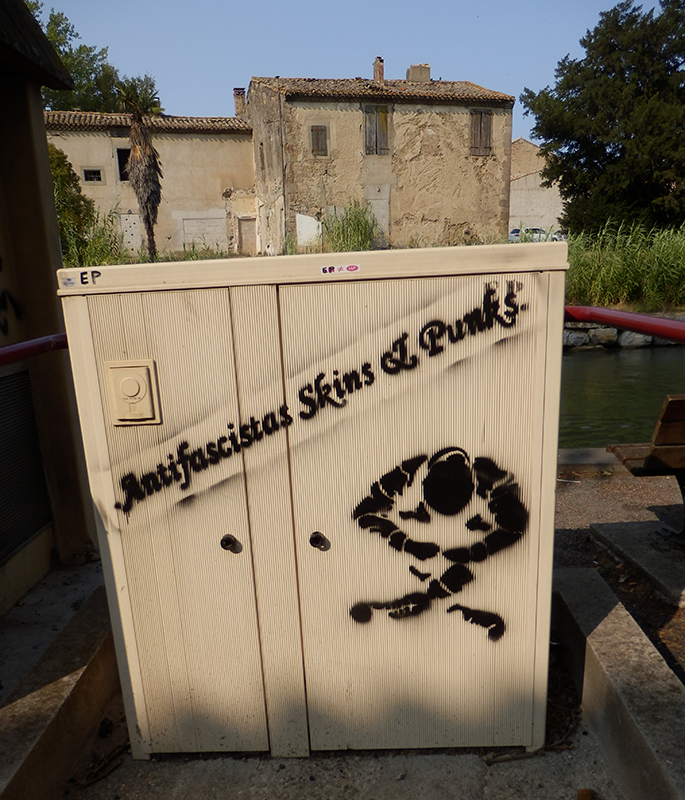 We reached the final port for our boat, Trèbes. While JJ went off to meet her folks, SL and HL went off in search of a wine tasting. I split off and did an epic cycle ride around the town, watching a game of boules (called bocce here and in Italy), checking out a one-woman fig and jam cannery, tooling through the old center of town (the church, recommended by various books and brochures, is only open on Sunday), before admitting I'd seen everything and going off in search of the wine tasting I'd skipped.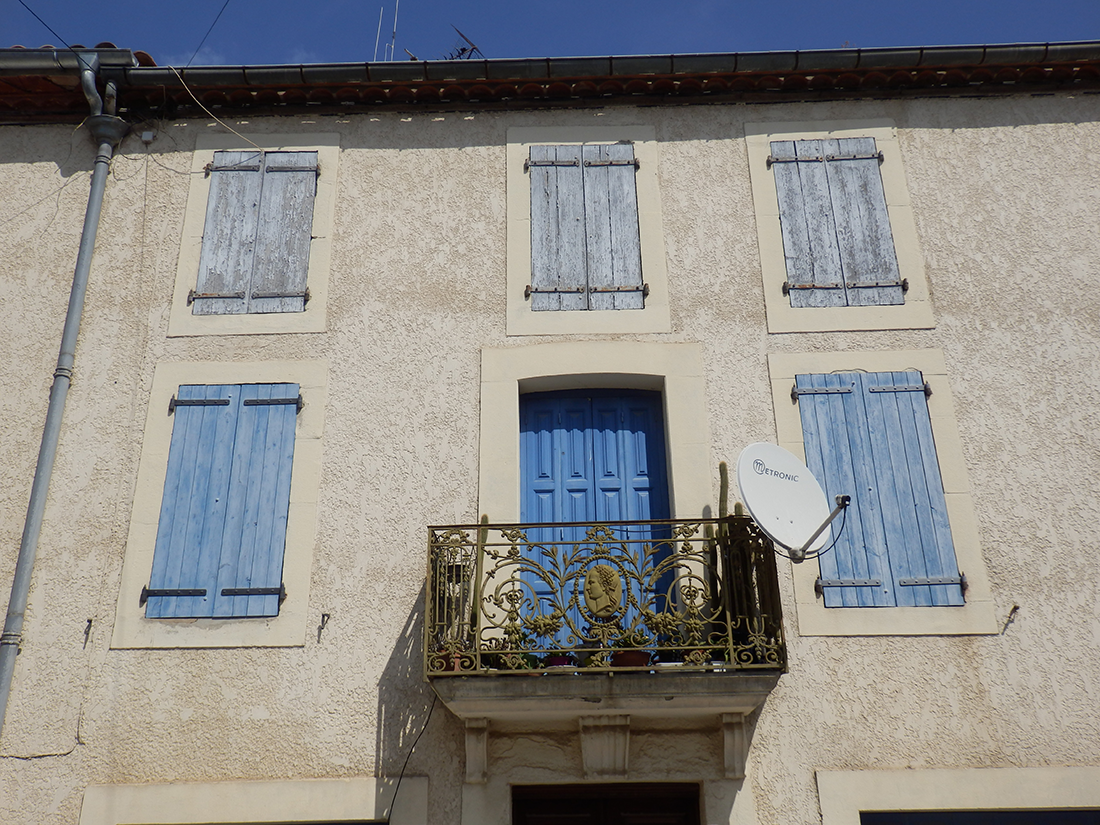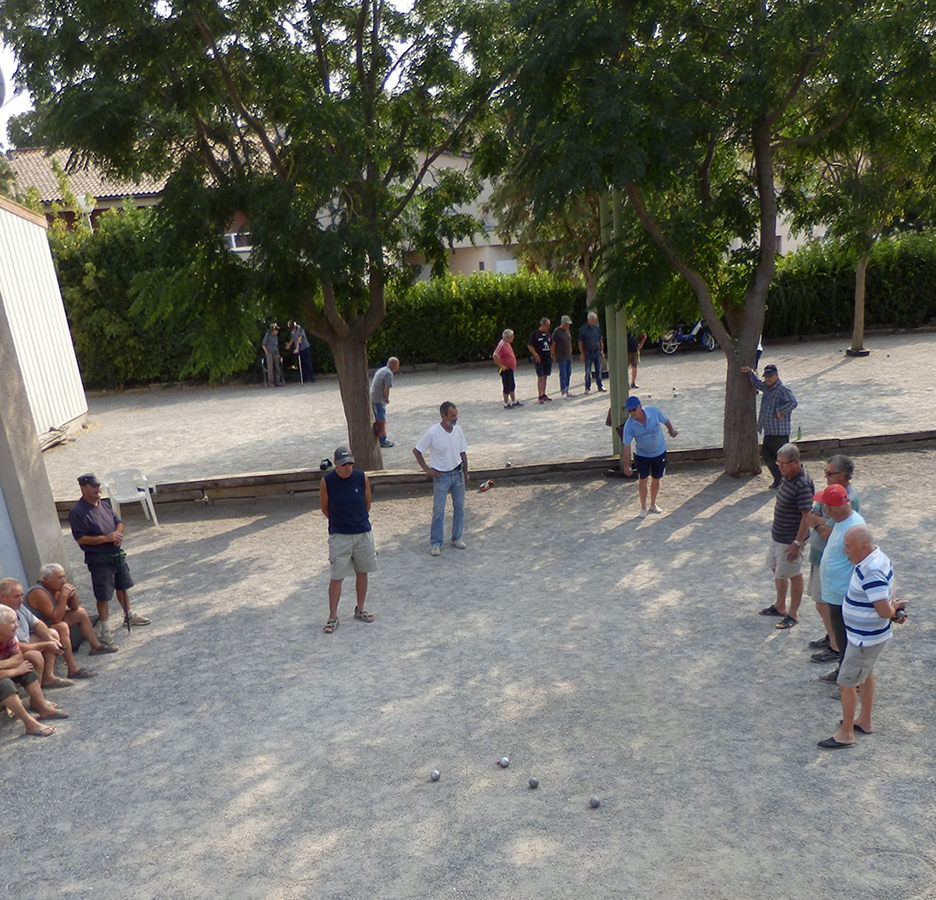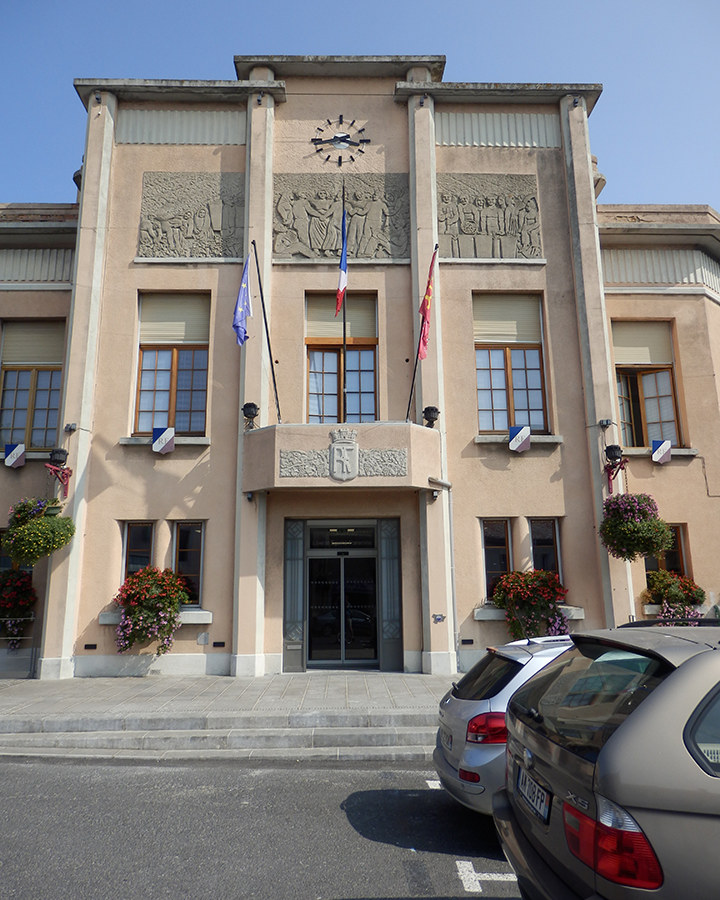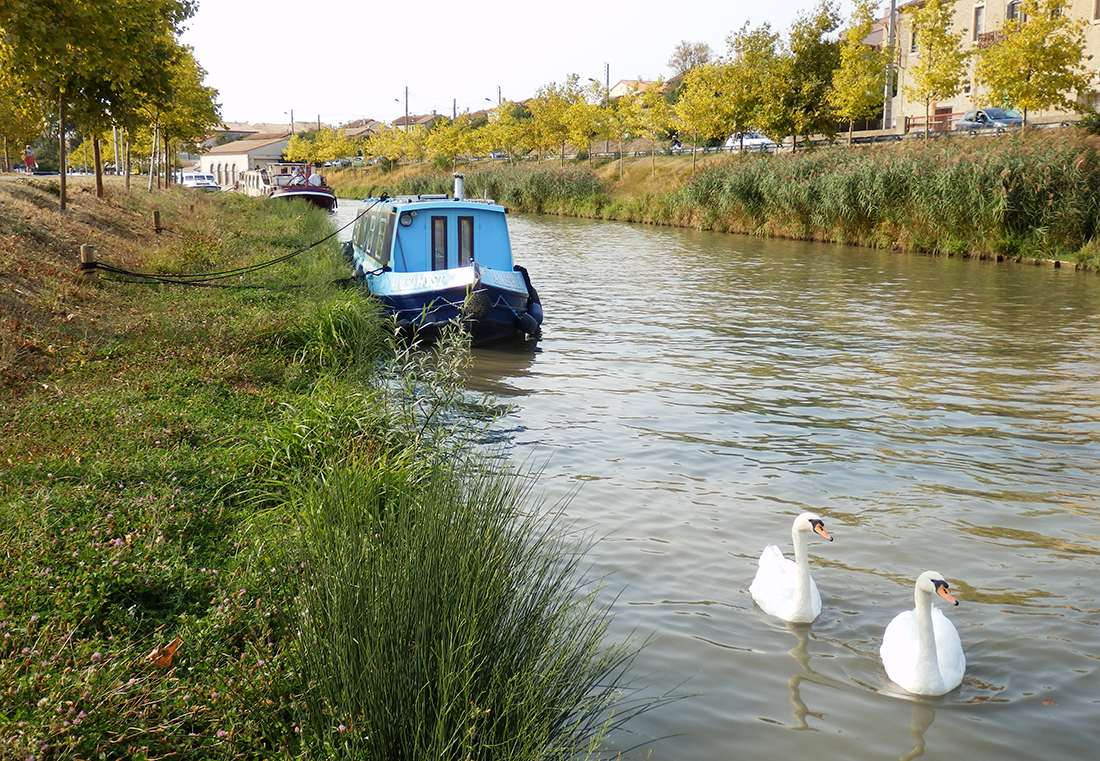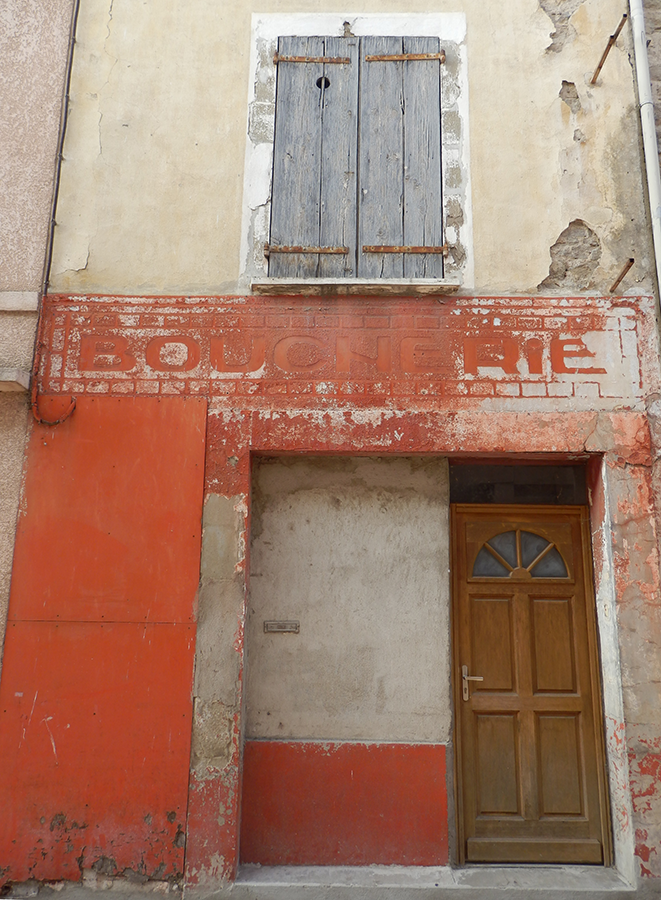 I landed in the next town, Rustiques, and cycled from (closed) historic site to site and (closed) winery to winery before admitting defeat again and speeding back to Trèbes.
We debated eating in one of the busy, touristy restaurants around the canal but decided to polish off the remnants of the supplies on the boat instead. People in the boats around us were celebrating birthdays and anniversaries and such. Some of them were at the end of the canal journey, like us. Others were just about to start, or were continuing on. Not only was it a little sad to be nearing the end of a vacation, it was even sad to leave the boat that had become our home, and the people we'd seen every day or two along the way.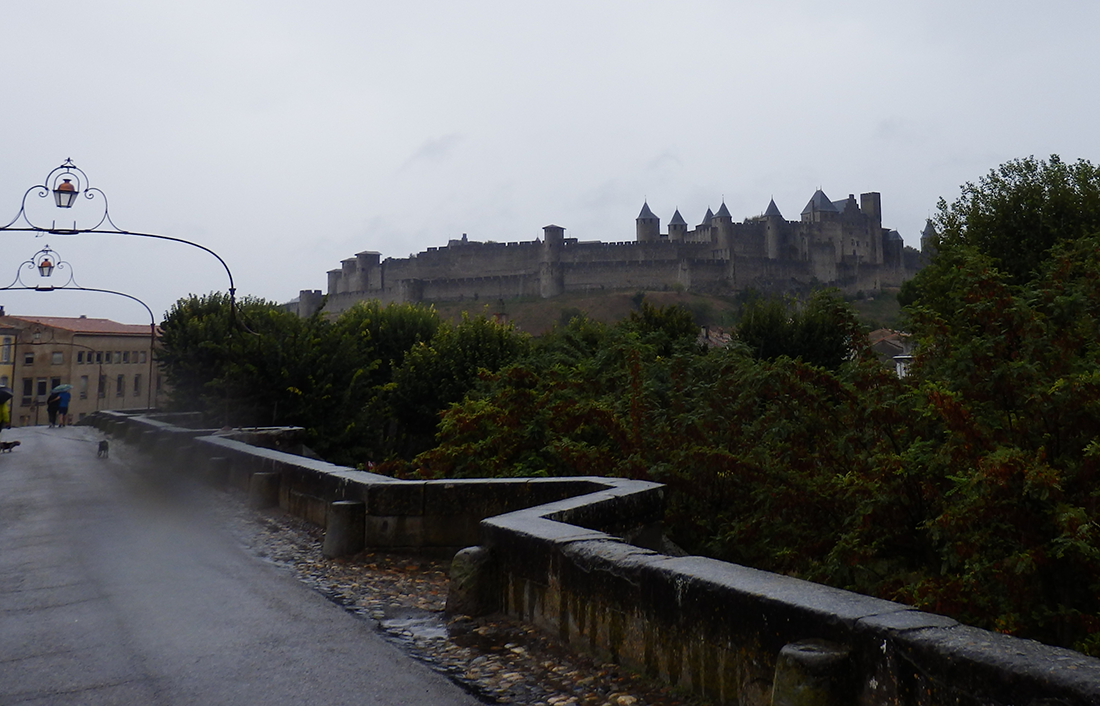 Only a short bus ride from Trèbes is Carcassonne, a town featuring a huge medieval castle in its center. We opted to stay in the modern part of the city, looking across the river at the caste, rather than pay the premium to stay within the protection of the castle walls. The modern (compared to the medieval portion of town, but very old compared to any American city) sections of Carcassonne are lovely, with museums, churches, restaurants, shops – all the hustle and bustle of a city.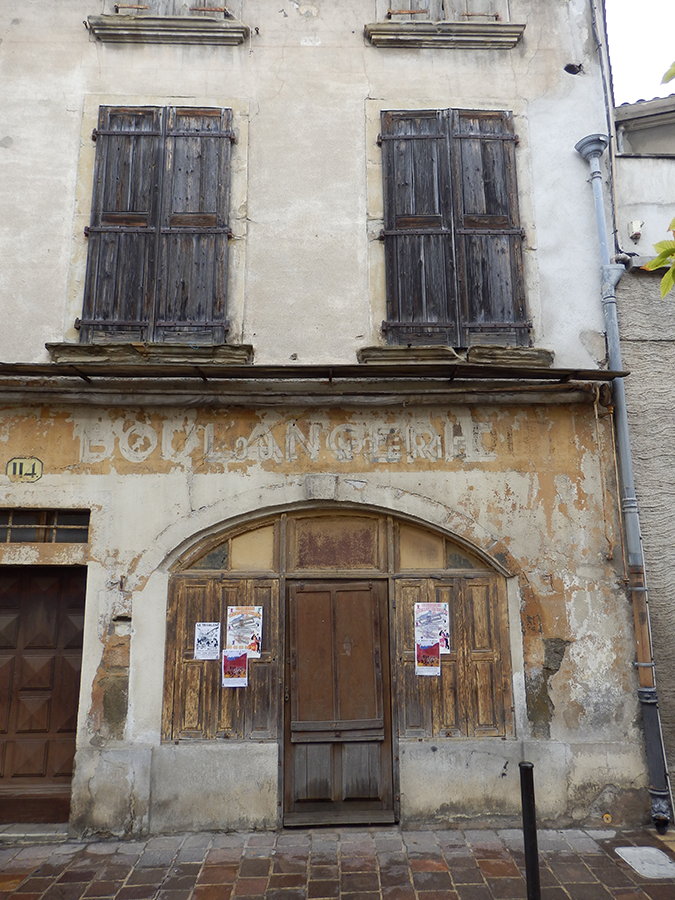 We trekked across the bridge into the older section of town for a bite, finding some unexpected call-backs to the quiet villages we'd been travelling through. The traditional boulangerie is dying a slow death in France, due in part to the convenience of the modern supermarket, and in part to anti-carb "health" trend.
It was raining when we arrived, so we opted to stall on a visit to the castle and wandered into the modern section of town, stopping at a museum.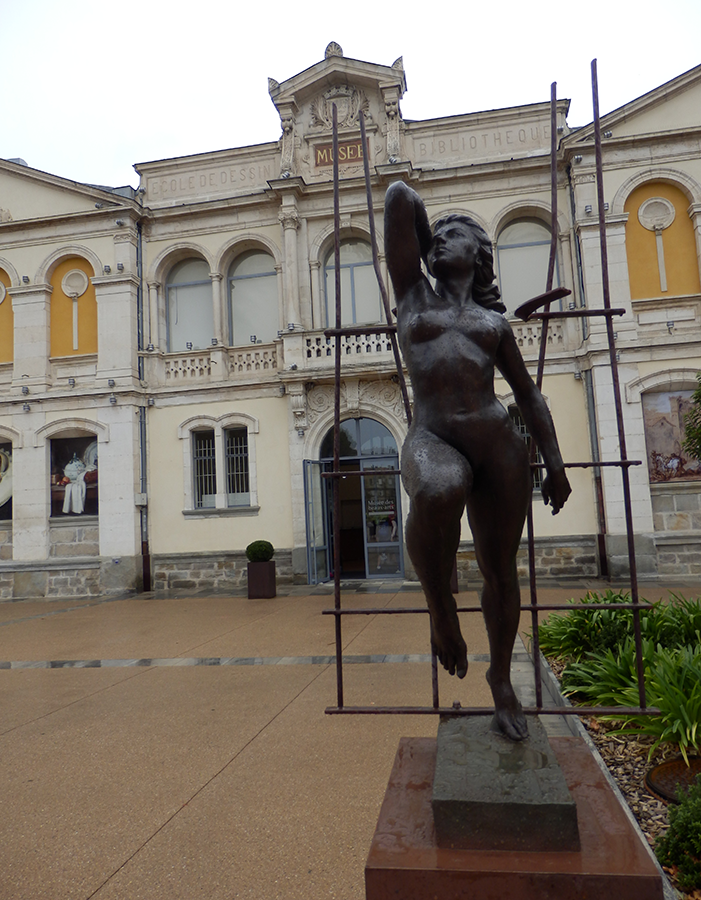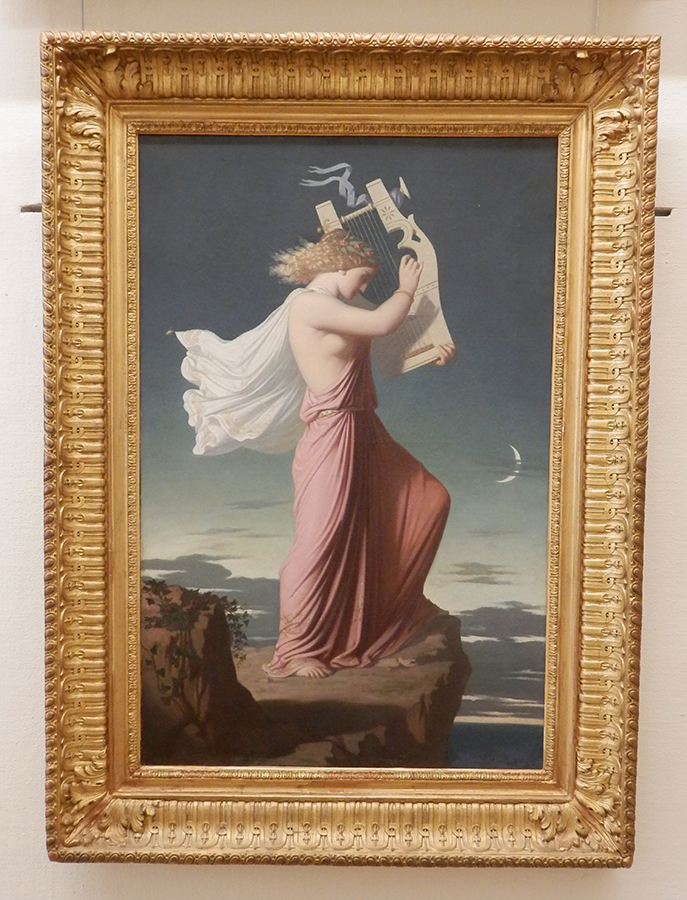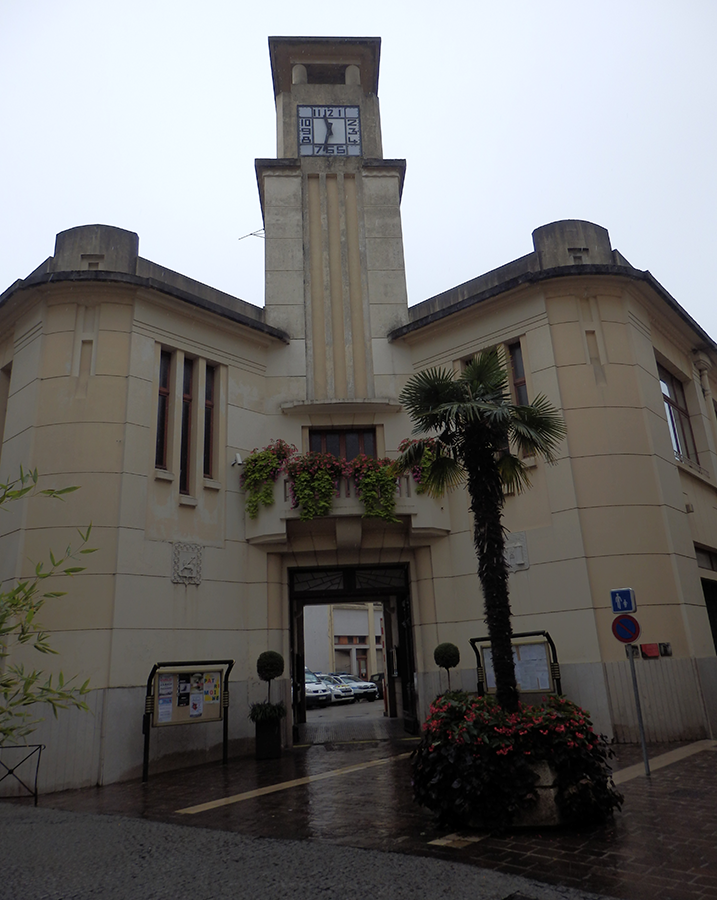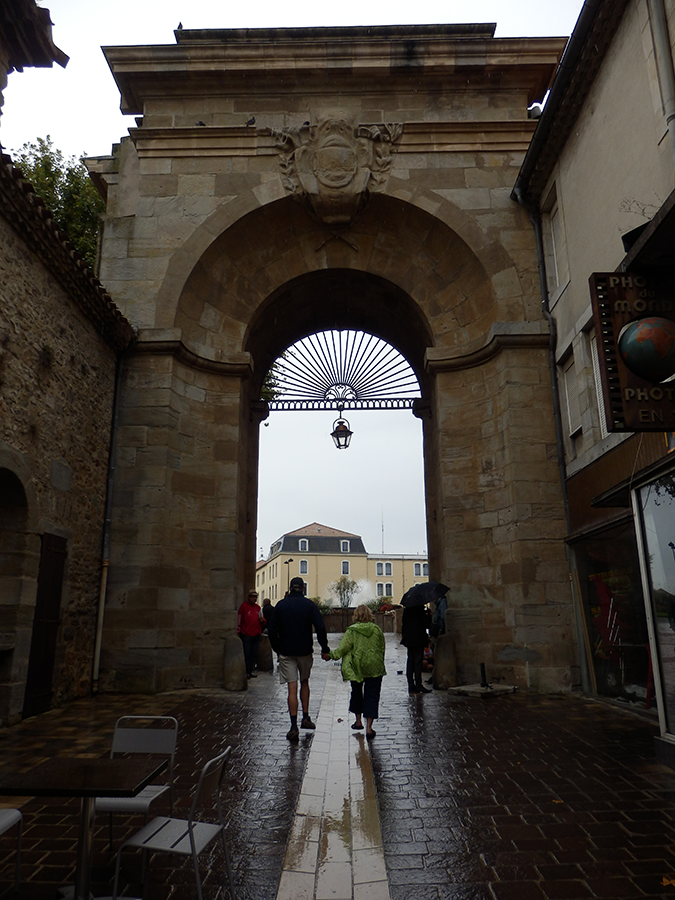 Further on, we stumbled across a large square occupied by a farmer's market, some other castle-like walls surrounding buildings we couldn't identify, and seemingly endless amounts of elegant European everything before making our way up the hill to the medieval castle.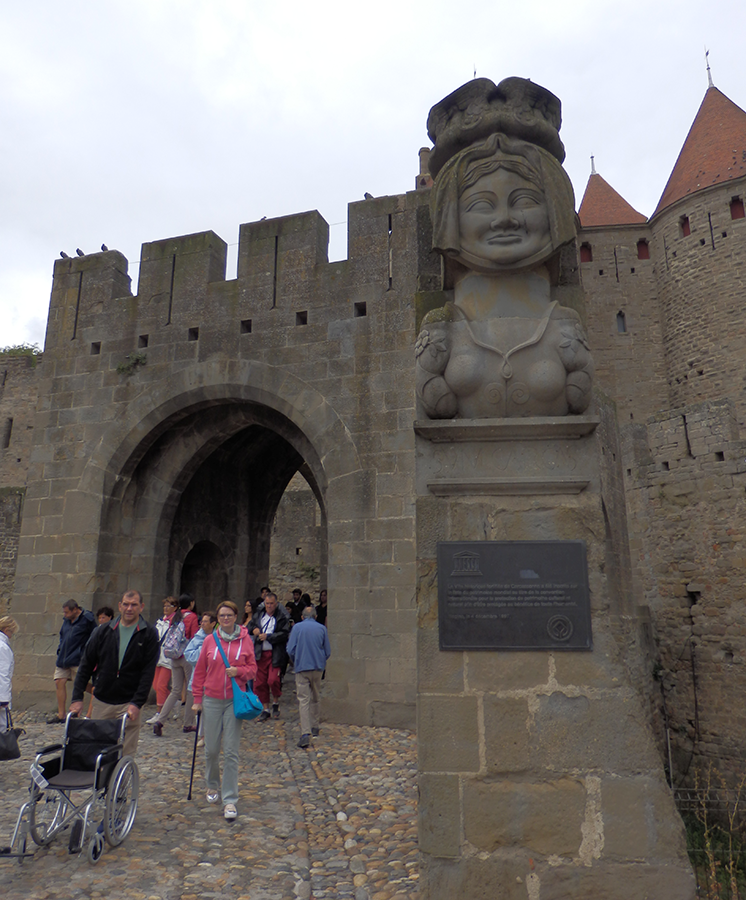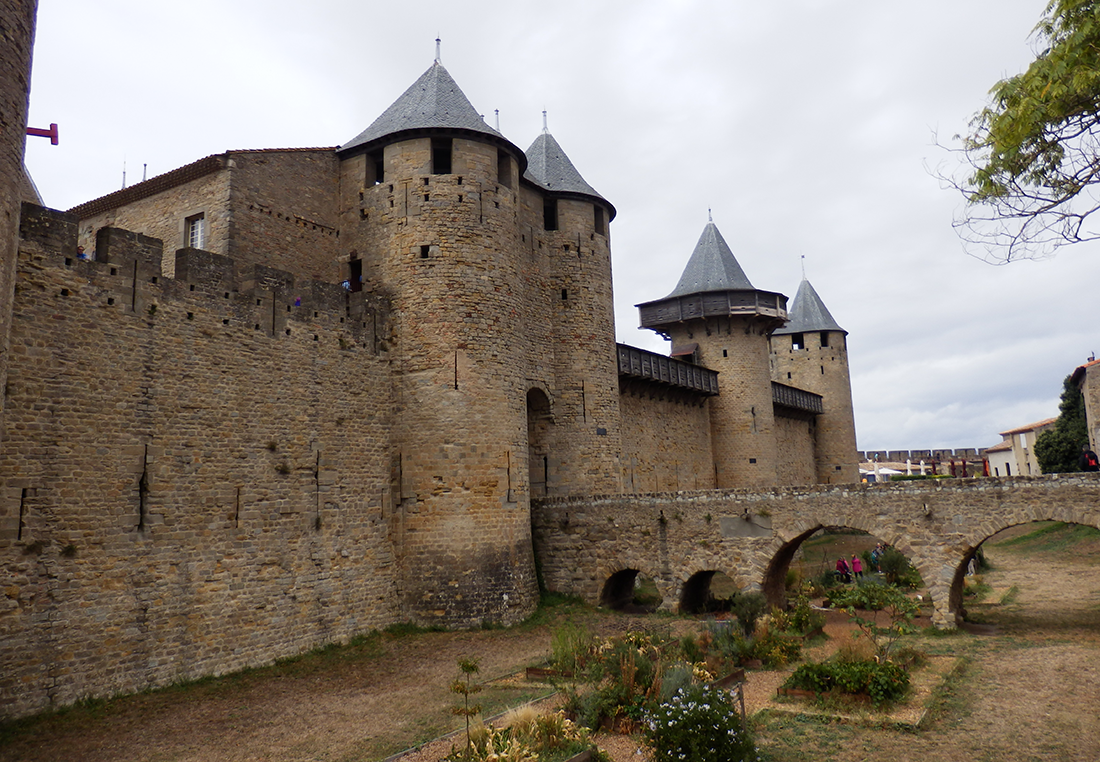 Should you visit, I recommend only a few hours for the castle. It's much like any tourist trap or shopping mall, packed with overpriced trinket shops and boutique galleries – fun for a bit, probably heaven for kids, but soon tiring. We didn't feel like waiting in line and paying for the palace tour, which might have edutained us, so if you have let me know if I missed the best part of the experience. I thought they could use some renfest sorts of entertainments – blacksmith, mock sword fights and so on. So if I'm elected King of France, look for those in Carcassonne soon after. There is also a tour of the outer battlements you can pay for, but you can get plenty of great views for free (like in this panorama shot.) The cathedral looked interesting, but it happened to be closed to the public for a wedding when we were there.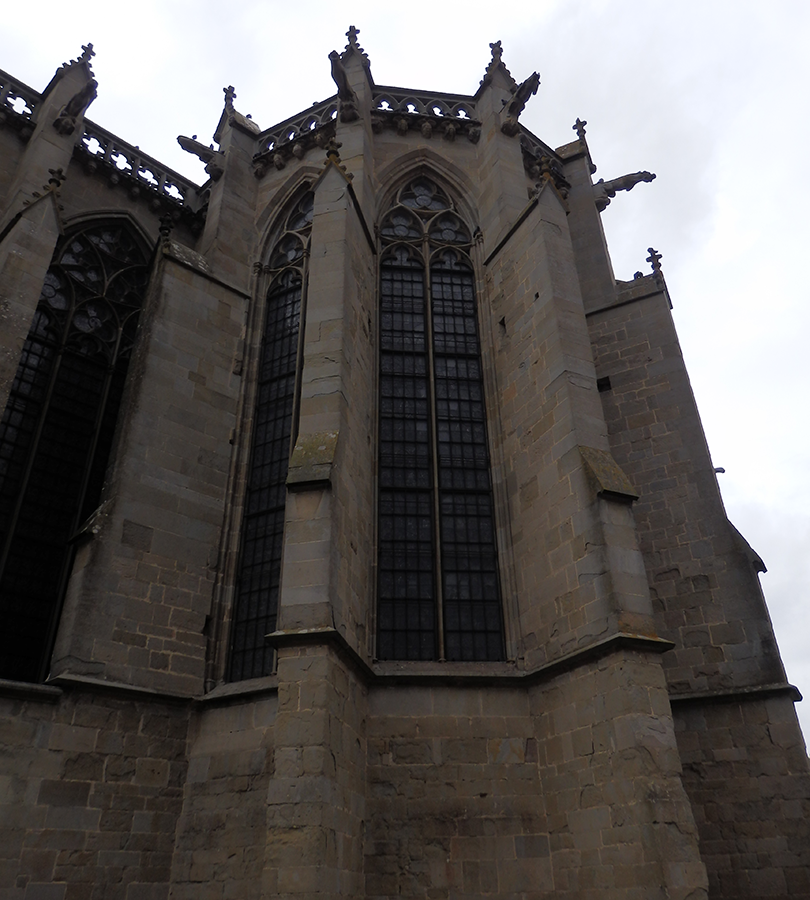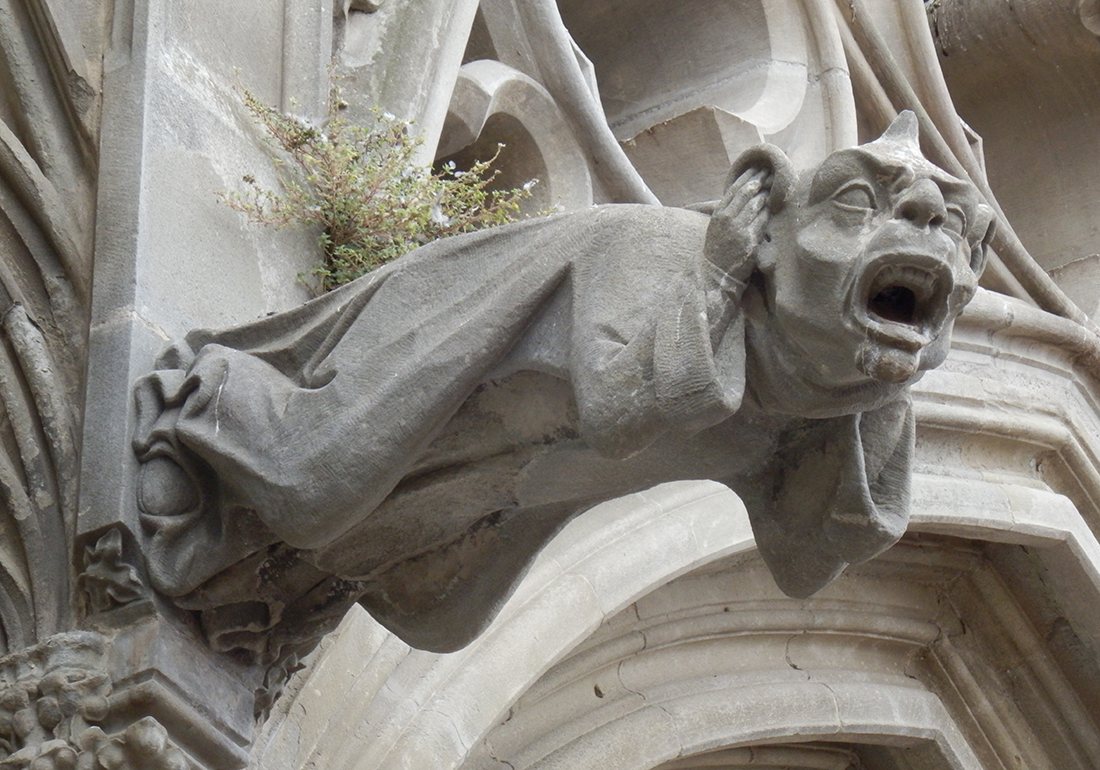 Coincidentally, the gargoyle above was directly across from a shop blaring modern pop out the storefront.
We returned to the modern city for the evening, dining at a Spanish tapas place and waiting for another wave of rain to let up. We had picked our hotel for it's amazing view of the castle across the river, all lit up at night with the sounds of booming disco emanating from within.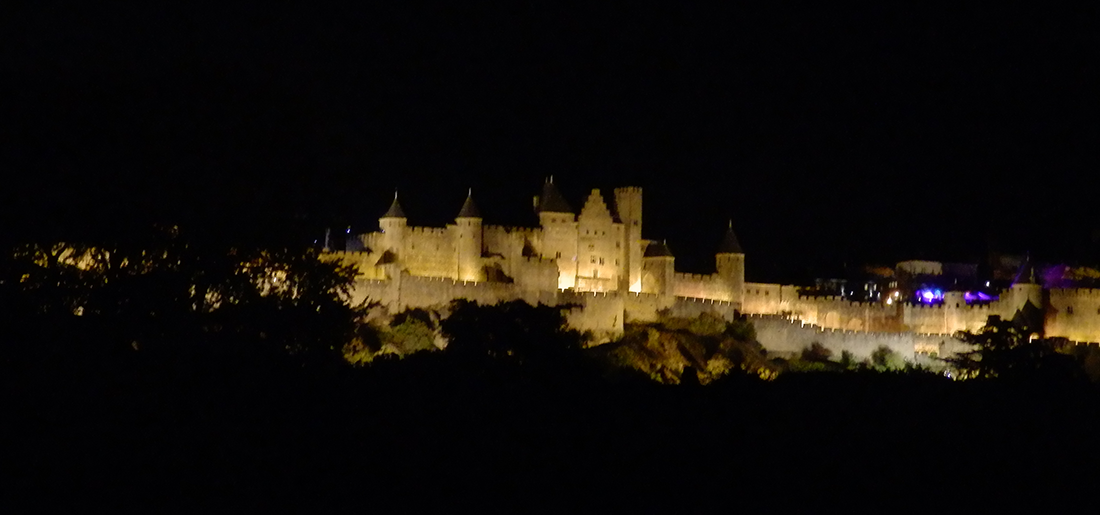 In the morning we boarded trains, with JJ and her folks headed for the beach while the rest of us returned to Barcelona for what was supposed to be our last night abroad. The town was setting up for their National Day of Catalonia, a day of concerts and more. Seemingly every square was blocked off as they set up stages and dozens of Catalan flags flew on every street. This year, the day likely took on more weight due to an upcoming referendum on Catalan independence coming October 1, and the recent attack on pedestrians on La Rambla. In fact, as I wrote this there was some kind of riot going on because Spanish authorities raided various Catalan government offices to try to stop the effort.
Unfortunately, we departed the day of the festivals, only to be delayed in London due to a hurricane back home. More unfortunate, by the time we arrived in London and got everything settled, it was late, cold and raining so we camped in an airport hotel and didn't make it into the city proper. Still more unfortunate, we were sent home the next day.
We're already researching where we can take another canal trip – Portugal? Holland? UK? Decisions decisions…