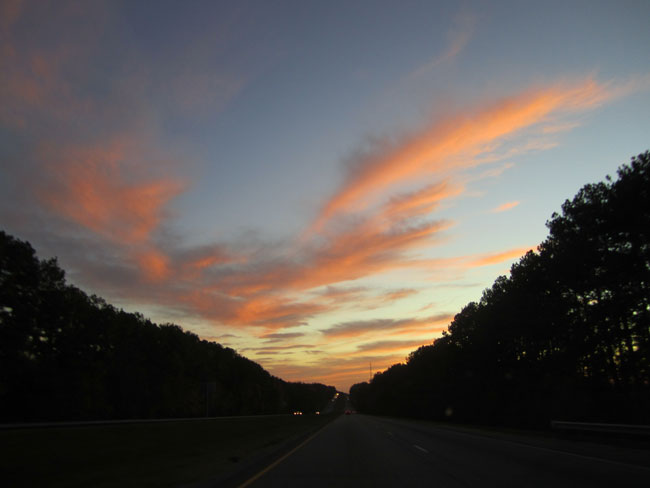 I drove this route almost exactly 2 years ago. Then, too, I chased the sun toward New Orleans. This time, however, it ditched me in nowhere, Alabama. So we stopped outside Montgomery for dinner, stumbling onto Varsity Barbecue – very highly recommended pulled pork and collards.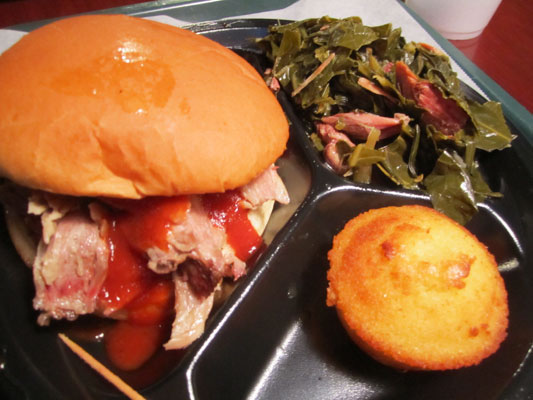 Both my passengers needed a nap. As they dozed, I looked at the clock and realized I could probably make it in time to catch The Woggles at a club in New Orleans if we didn't slow down for anything. The moon came out to race me there, slowly catching up. By the time we bounced across the bridge over Lake Pontchartrain, she and I were neck and neck.
I'd stayed at The St. Vincent's Guest House in 2009 and remembered it being somewhat dingy but affordable. The clerk told us the recent film Red had been shot in and around the hotel and that we'd be staying in the same room as Morgan Freeman. It looked as if they had decided they would never clean the room again after the famed guest. Soap chips and hair lingered in the shower.
But I wasn't in the mood to quibble with the ghost of Morgan Freeman. I asked my still-sleepy-eyed passengers if they wanted to join me for a cross-town cab to catch a show. After receiving a job offer just before we left Atlanta, I was ready for a few drinks and a lot of jumping around. My passengers, however, grumbled something about a nightcap and bed so I leapt into a taxi and arrived at Siberia (a bar, not the chilly region of northern Russia) as The Woggles set up their gear.
The Woggles did not disappoint. Amped up 60′s garage rock done right.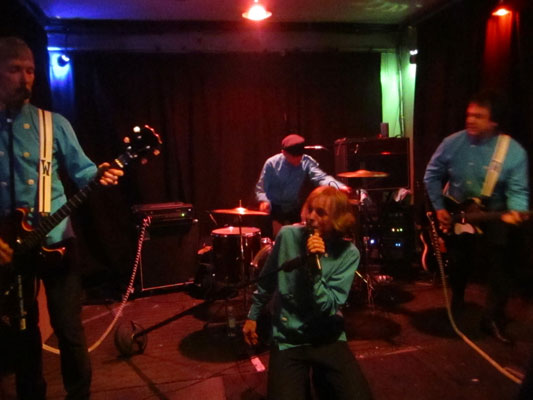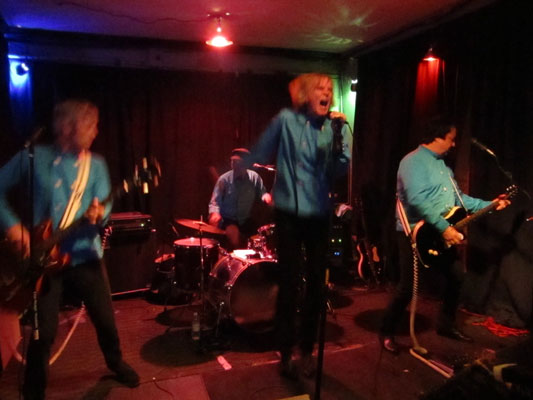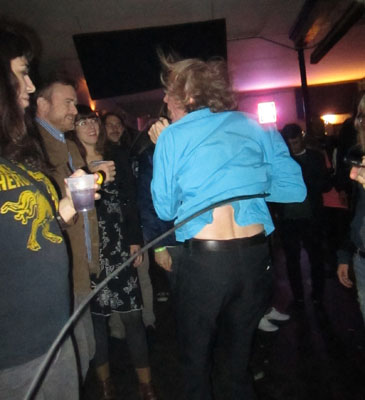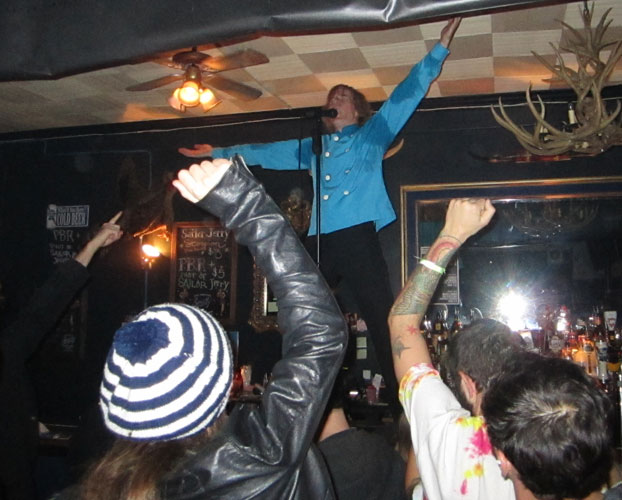 I'd missed the opening act and the guys after The Woggles didn't do it for me so I stood outside and chatted up some locals. The neighborhood, northeast of the French Quarter, had changed since Katrina. "It used to be no white people came up here," one guy said. Now there are galleries and restaurants and bars attracting hipsters on fixed gear bikes.
The club grew increasingly crowded before headline act Nobunny appeared, the lead singer in a pair of matted fur ears, a tattered leather jacked and little else. They charged into a set of punky garage rock that had the crowd hopping and thrashing.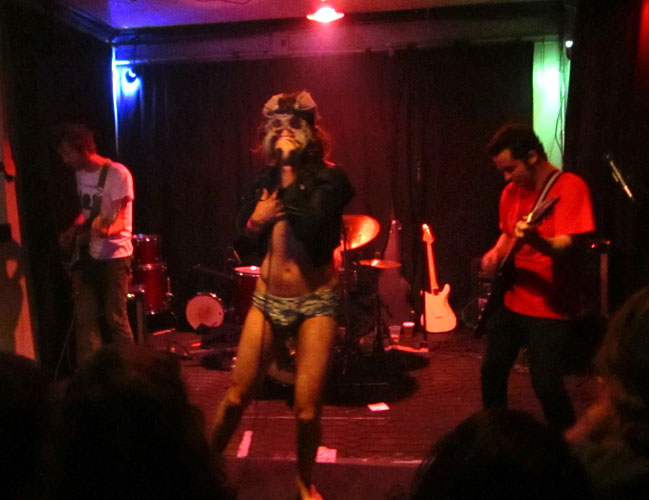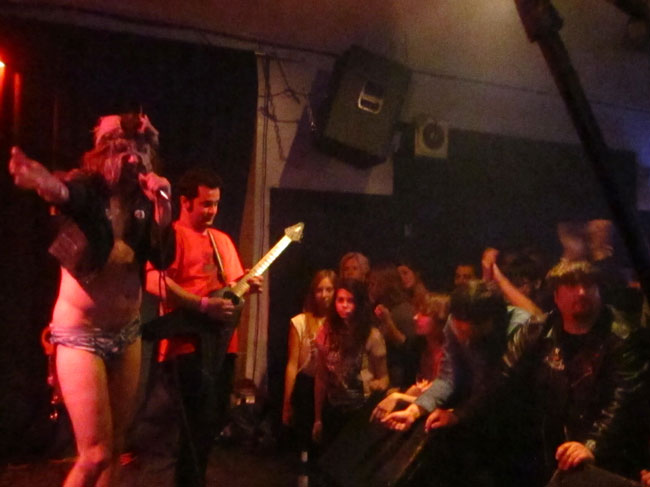 I enjoyed it, but the long drive had sapped my constitution and I slipped out halfway through the set.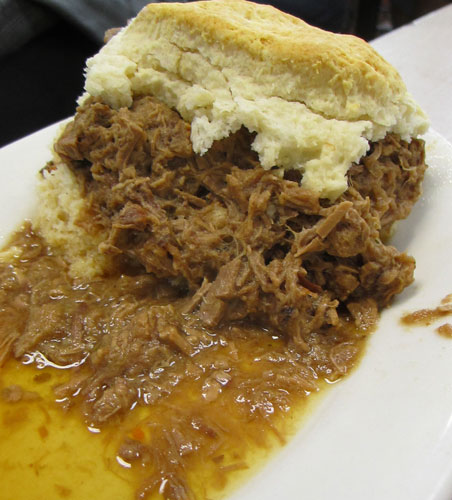 In the morning we head downtown to one of my favorite restaurants, Mother's. Sure, there's always a line and usually it's full of tourists, but there's a reason it attracts a crowd. They have some of the best biscuits in the land. We got one covered with debris, the stuff that fall off the roast beef as it is cooked, along with a shrimp omelet. Our out of country guest opted for a ham biscuit. Everything was devoured in a chorus of happy groans.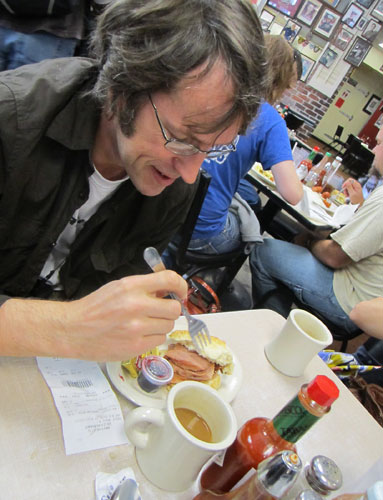 We did a quick jaunt through the French Quarter, then headed off in search of Saint Louis Cemetery. Unfortunately, the famed cemetary, resting place of Marie Laveau and backdrop for an acid freakout scene in the film Easy Rider, is easily confused with Saint Louis Cemetery #2 or #3.  We initially landed at the wrong one, finding a massive, clean, lovely cemetery whose above ground crypts are adorned with charming statuary.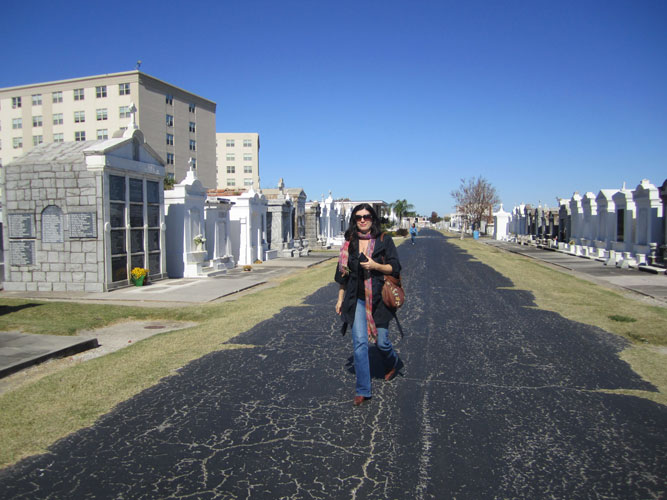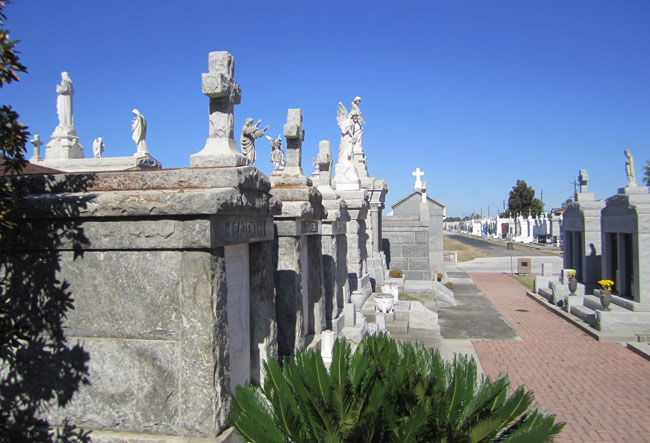 That ain't it. We re-googled
What we wanted is the one closer to the French Quarter, the small one with crumbling crypts encircled by public housing and people leave offerings to the dead in the form of all sorts of odd trinkets.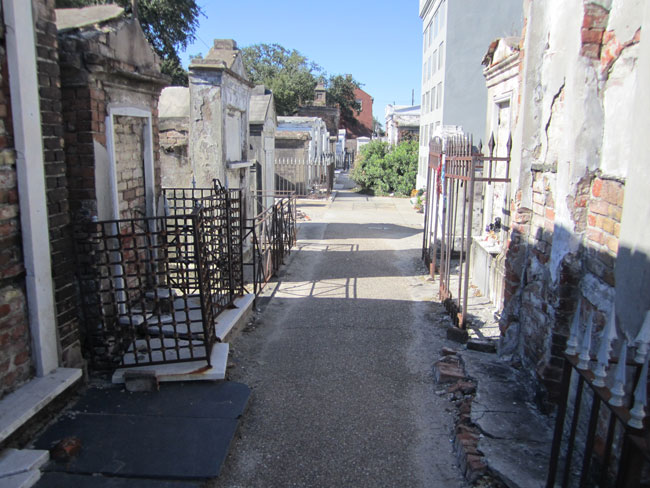 That's more like it.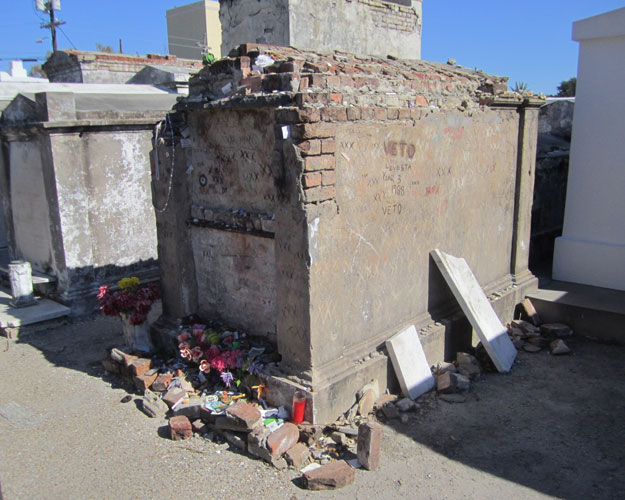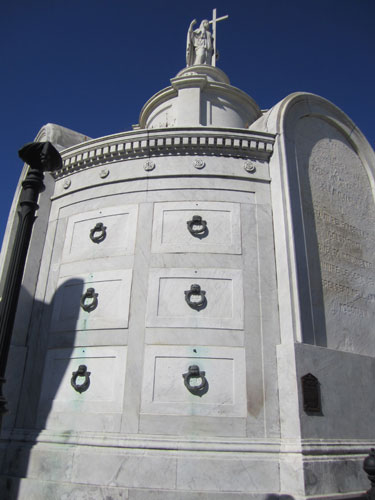 There are a few crypts in better condition, including the central one, resting place of the New Orleans artillery regiment.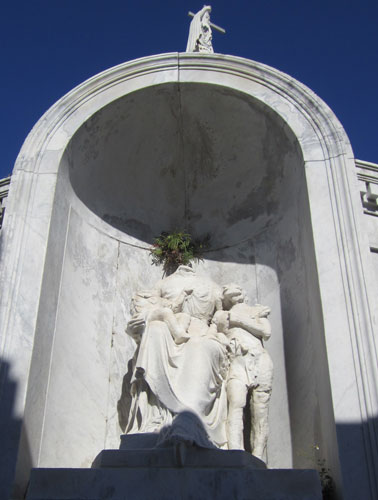 But even that one has statuary with missing heads.
The supposed grave of Marie Laveau sports lots of offerings from visitors, but then so do lots of tombs in the graveyard.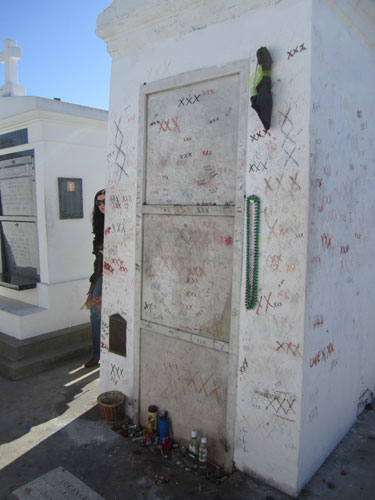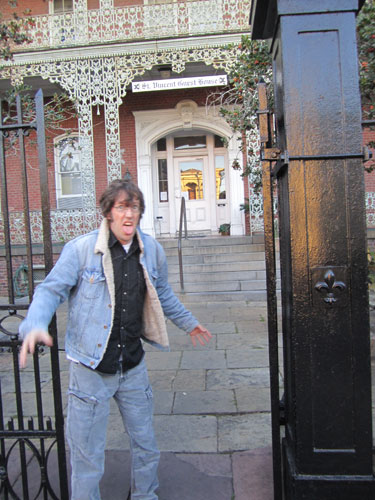 After another trek around town, we returned to the St. Vincent for a nap. The hotel was once an asylum which, coincidentally, housed the mother of a friend of She Who Shall Not Be Named. We found it easy to escape from.
We attempted to board a trolley to get back to the Quarter but every car was packed to the gills so we hiked the entire way across town, eventually landing at The Gumbo Shop in The French Quarter to show our guest some traditional local fare. The room is almost as charming as the food. We sampled a bit of most of the dishes you'd associate with New Orleans, coming away stuffed to the gills.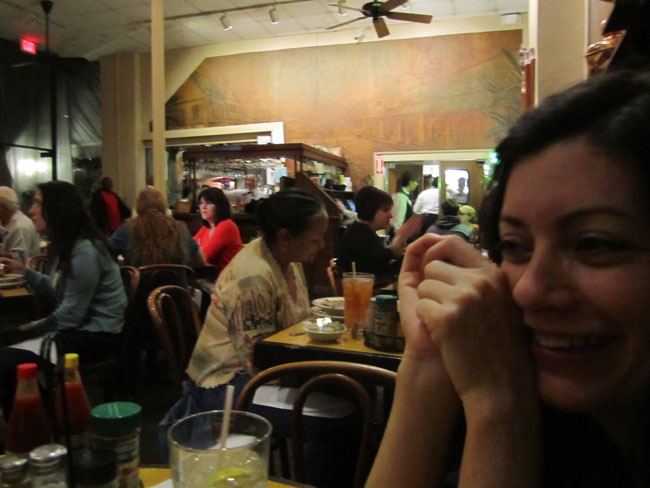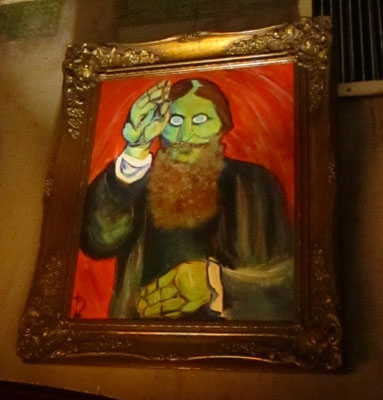 We took a jaunt down Bourbon Street, then down to the river and Jackson Square, around to The Abbey, my favorite dive bar in New Orleans, then on to Pravda, a bar specializing in vodka and absinthe. Their absinthe prices are absurd at $12 for their cheapest selection, but the decor is lovely and the service friendly.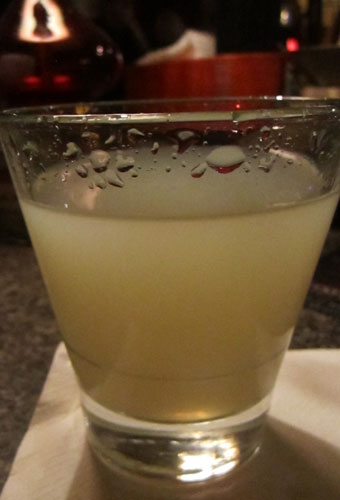 A wedding parade marched up to then through the bar to stage a reception in the back courtyard, complete with masks and a marching band.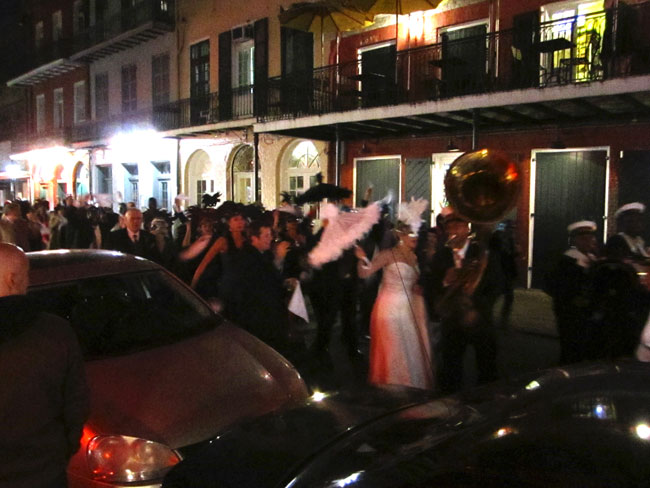 We trekked back to Jackson Square to grab a sack of beignets at Cafe Du Monde. We gobbled them down while watching the moonlight reflect off the Mississippi.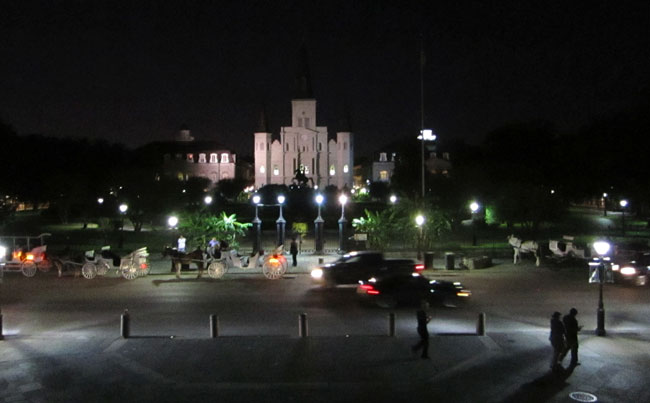 Back through the Quarter, we found Bourbon Street in full Friday night revelry conditions. We went a block off to find a dive bar that had just wrapped up an air guitar competition and had a nightcap.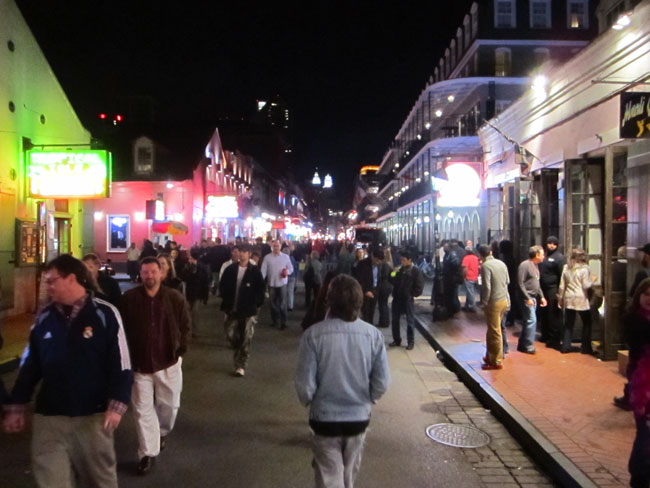 See Part 2: http://www.degeneratepress.com/wordpress/?p=1229