When a new band with some familiar faces is assembled, you'll often see it advertised thusly: "The Ultras S/C (formerly Black Faces (starring Jemina (formerly of Be Your Own Pet)))." I didn't know a thing about Be Your Own Pet, but another listing included "with Chet, former Immortal Lee County Killers, Quadrajets." Quadrajets were a fine band back in the day. ILCK were one of my favorites of all time. I was sold.
It has been a while since I've been to 529. It's perfect for small shows, particularly if the weather is nice and you can lounge on the patio between acts (or during acts you're not enjoying.)
First on the bill, Ghost Bikini.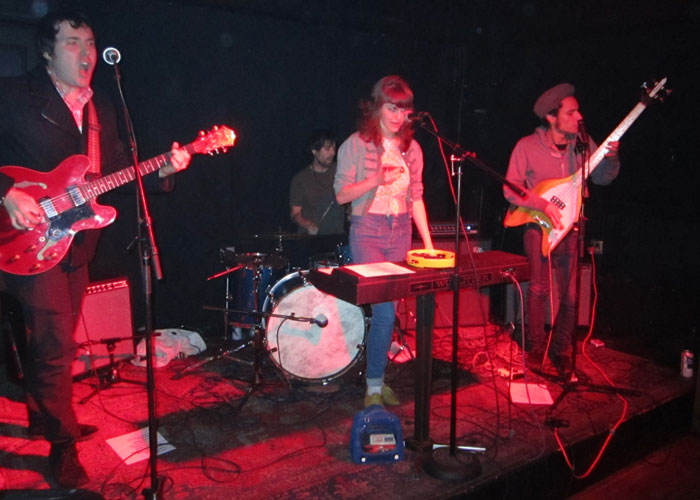 I'd seen them briefly once but I have very little memory of the band. Maybe it's because I saw them in the midst of a long bill, but maybe it's because this sound is getting entirely too familiar with Atlanta's retro/garage rock leanings. Regardless, it was a good set. According to degenerate SW, they have improved over the years thanks, in part, to the lead singer taking up the harmonica more often.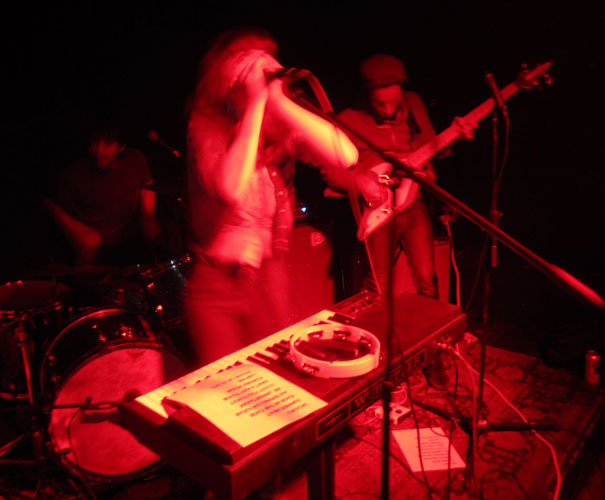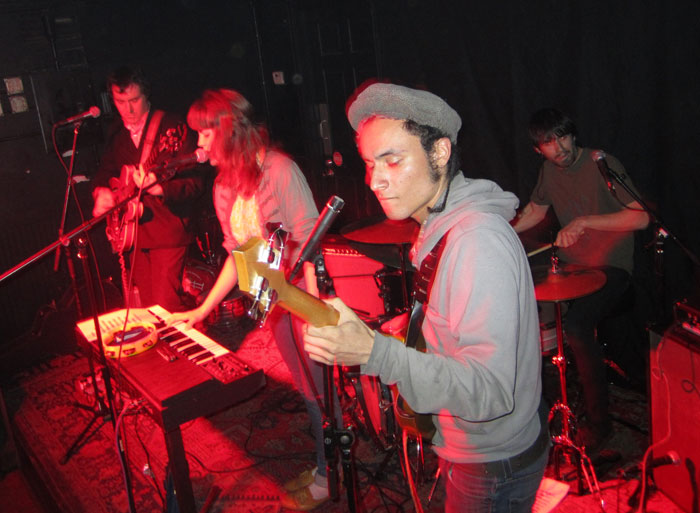 A row of zombies took up residence along the front of the audience, creating a dead zone some five feet from the stage. This inspired the lead singer to take to the floor and crash into them perhaps just to get them to react.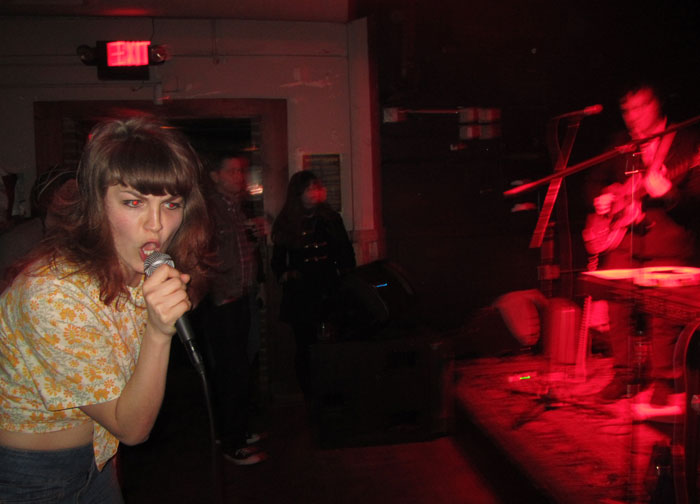 It worked, but only barely. The guys giggled a lot but still didn't seem to be into the show. Yet they still stood there in the form of a mute wall blocking off half the room. I pushed my way through them but most folks seemed content to hang back. Either the band wasn't inspiring enough or people weren't drunk enough yet, I suppose.
Next on the bill, the awkwardly named "The Ultras S/C" out of Nashville.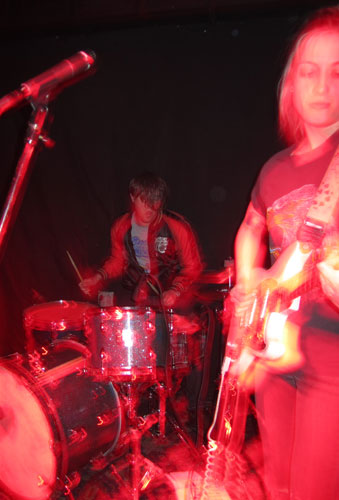 It shares some of the "Essential Fucked Up Blues" qualities of Immortal Lee County Killers, perhaps with more garage rock leanings. Kind of a White Stripes, Jon Spencer Blues Explosion racket that grips me firmly and shakes me inside. Chet and Jemina share or swap vocals, making for a nice mix of sounds. Both of them are dynamic performers, thrashing around and breaking strings. They swap duties on lead guitar as well, with only the drummer for rhythm.
(529′s LED lighting turned everything into a blur of blood red, particularly in my photos.)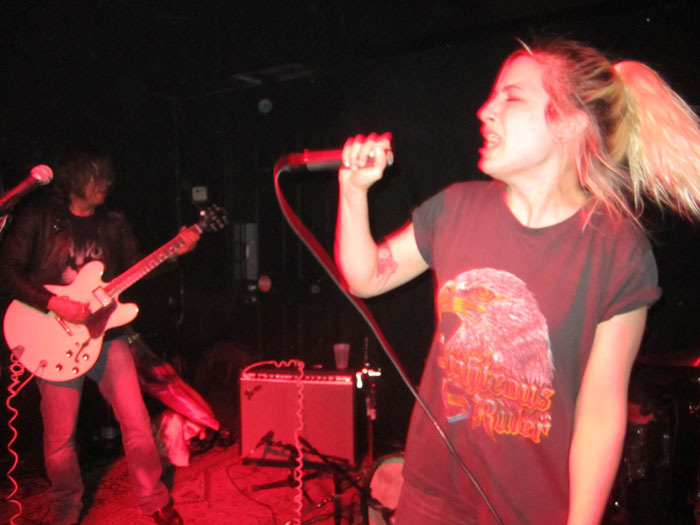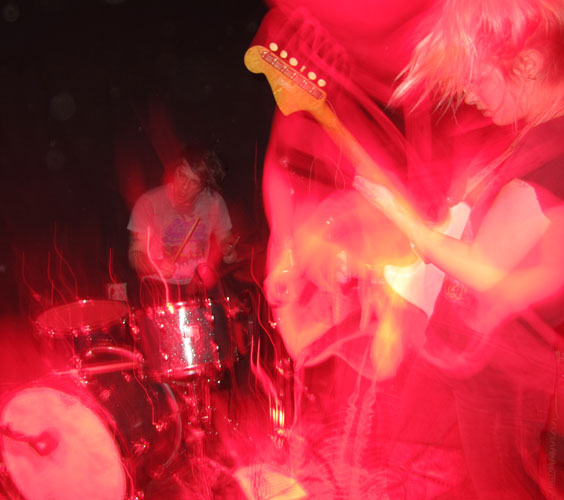 I'm a tall guy. It's rare that I'm at a show and can't see. When I like the band and I'm up front, I'll let the shorter folks get in front of me. Sometimes I have to pull the shy ones up, but I don't like blocking the view of everyone behind me. The frat-guy-looking group that came to see Bass Drum of Death does not share this feeling. It wouldn't have been an issue for me had they been average sized dudes. But they were all fucking 6'3″ or taller and stood as still as a forest, barely swaying to the music. My female companions saw nothing but dude backs. I had to hold my camera far above my head just to snap a few shots.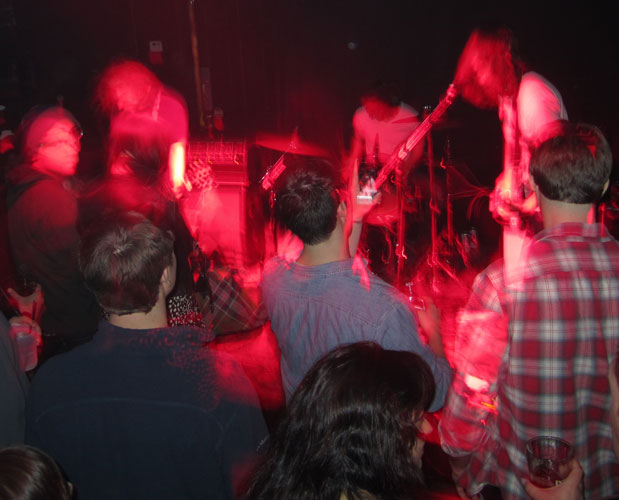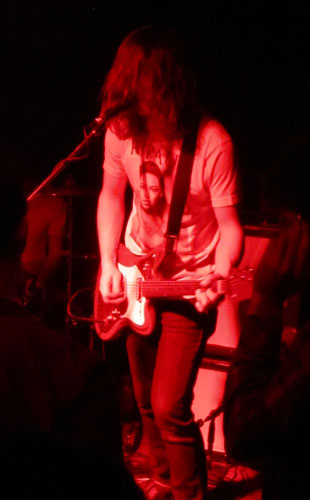 Bass Drum of Death's lead singer/guitarist John probably can't see either, but that's his own fault. They've added a new member, fattening up the sound from the previous two-piece ensemble by a fraction. Listening to their CD, it was tough to tell the difference. Which is fine because stripped-down, rapid-fire rock is good, especially in short doses. But it got a little samey-same after a while. This is something practically made for the iPod – awesome when it pops up in shuffle, but tiresome 30 minutes into it.
I enjoyed lead singer John's shout out to local culture in the form of a crisp, new Rupaul t-shirt.
But after a weekend of domestic duty (renovating the kitchen), I didn't have the gusto to last through the set. We trekked out into the chilly, end-of-winter night (fingers crossed) and headed home.