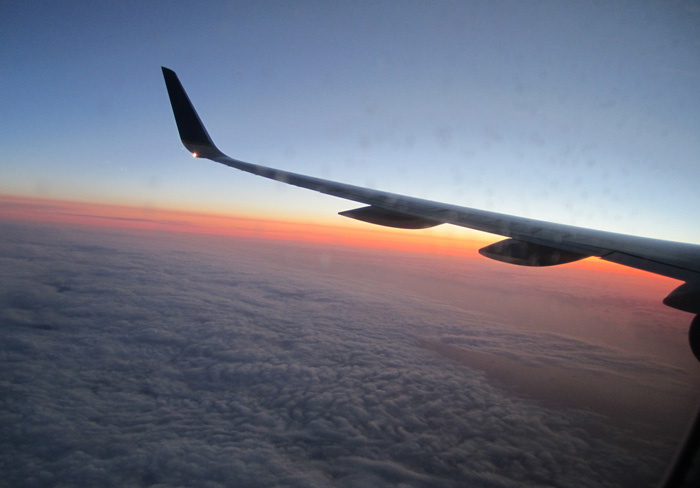 T. Rex blared out my iPod as the sun roseover Ireland and we began our descent into Scotland at 515 mph. Perfect.
My first glimpses from the air matched what I expected – green rolling hills, blue sea, windmills and sheep.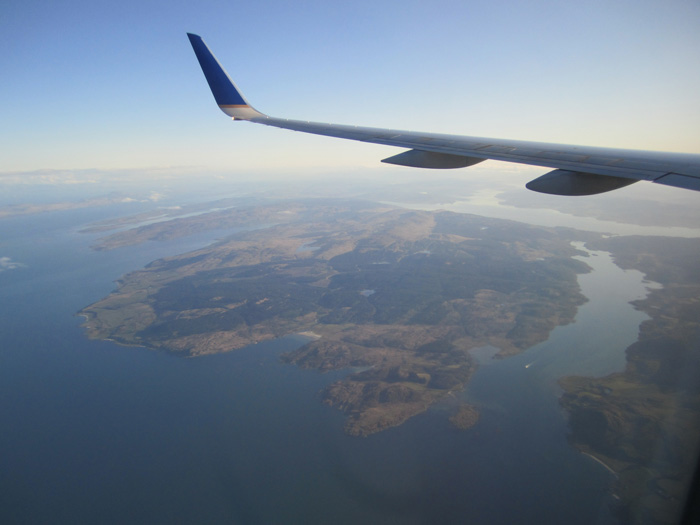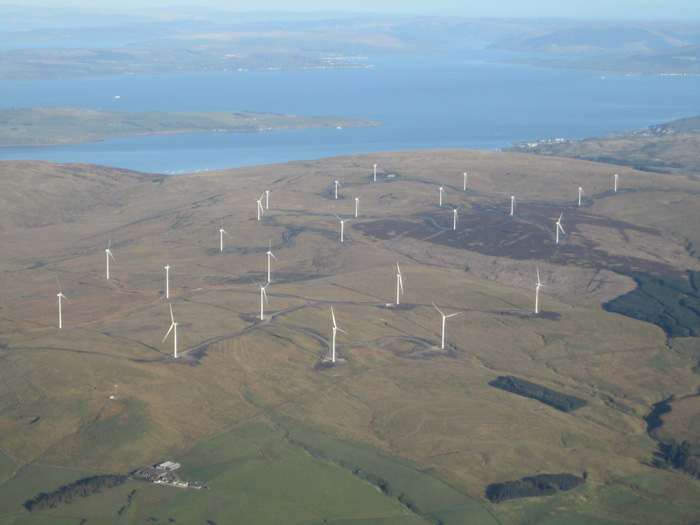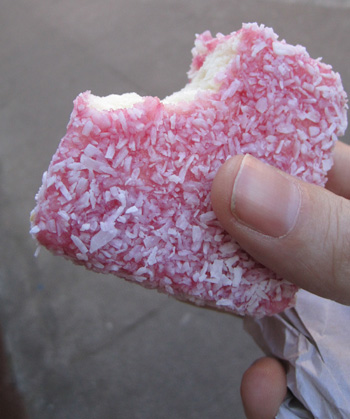 She Who Shall Not Be Named and her brother picked me up at the Glasgow airport. Due to the lack of decent signage and road construction, we got three tours of the outskirts of the airport before we found our way to Glasgow.  SWSNBN had researched the best breakfast in town so we began the hunt for the restaurant, Gusto and Relish. After some 18 hours of travel, including a long layover in Newark, NJ, I needed food immediately. We couldn't find the restaurant, so after the third time around the block I insisted on stopping at one of my favorite establishments – a European bakery. (Christ, why can't we get these in the South? I know, we lack the neighborhood density required to support such establishments. The closest I can find are a few places on Buford Highway and they're not convenient for my day-to-day use.)
We called the restaurant and discovered they didn't open until 9AM and were hidden behind a steel roll-up door, further camouflaged by a wall of scaffolding. Once we found them and they opened the door, we were let in. I was doubting SWSNBN's information. If they serve the best breakfast in town, why aren't they open early enough for workday people to get it?
However, they make their own sausage, cure their own bacon, and pile it all onto a massive plate for a traditional Scottish artery-clogger. As if that's not enough food, SWSNBN's brother added a side of haggis. The black pudding wasn't that great, and only cowboys and country singers should eat beans for breakfast. But the haggis, sausage and bacon were fantastic.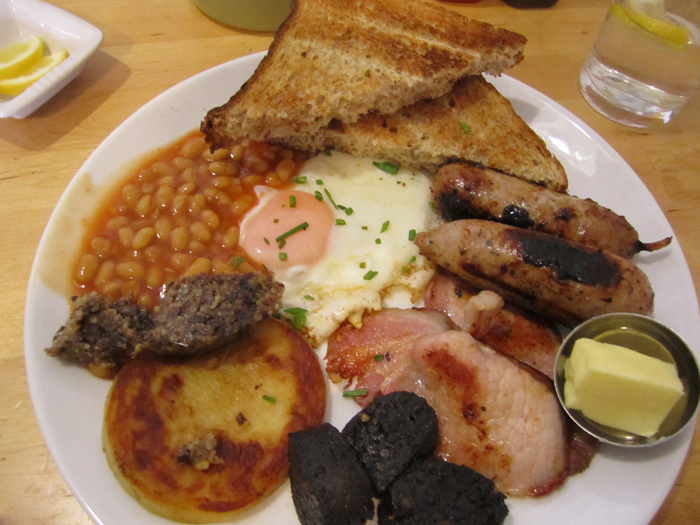 Then it's off to Ayr, a small coastal town in southwest Scotland, spread out along a bay looking out to the islands or Arran and Ailsa Craig. SWSNBN's family has a flat in a nice part of town a few blocks from the sea. The sun was out – which everyone commented on – so I dropped my bag and we went for a walk, admiring the fine architecture of the neighborhood.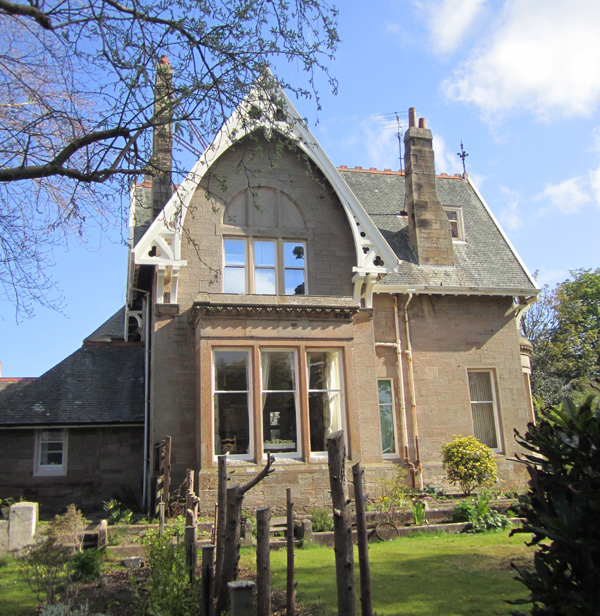 The waterfront has one of the deepest beaches I've ever seen. When the tide is out, it seems like half a mile of sand to the edge of the water. There are also grassy parks along the beach, so the houses that are "waterfront" aren't looming over you as they would in coastal towns in the US, which is nice. Nor would you see a ruined castle perched on a cliff overlooking a bay in the States. We hiked toward it, crossing a river where swans lurked in the mix of sea and fresh water.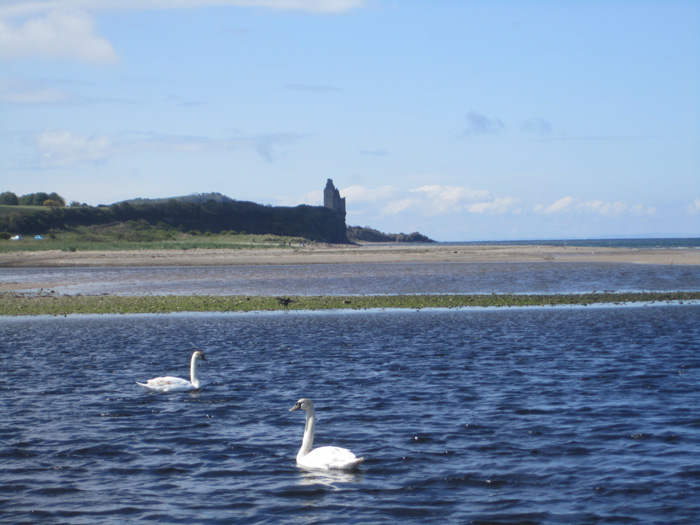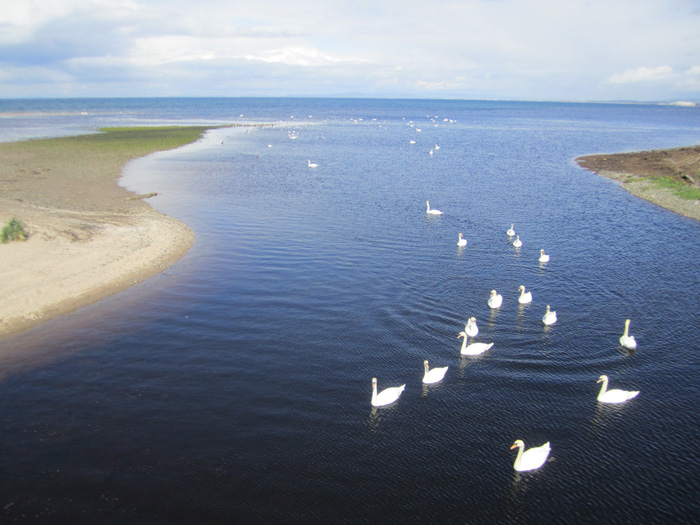 A bike path led up the hill. Beside it was a farmer's field, freshly plowed and dotted with brown rabbits. We trekked around the edge toward Greenan Castle for a poke around. It provides a lovely view of the islands, bay and town of Ayr.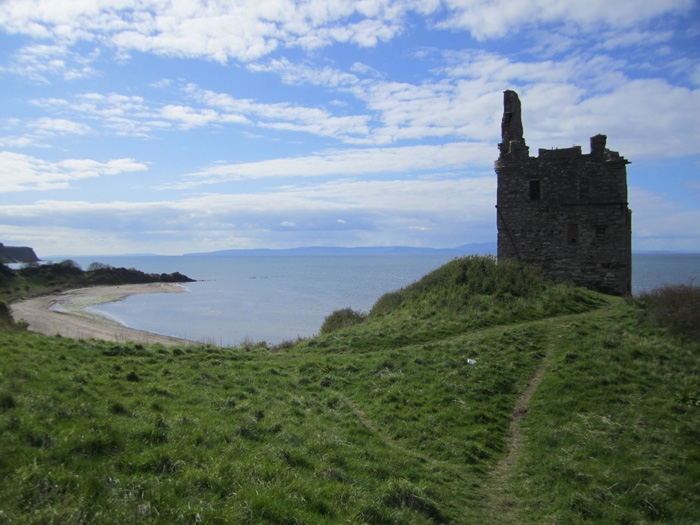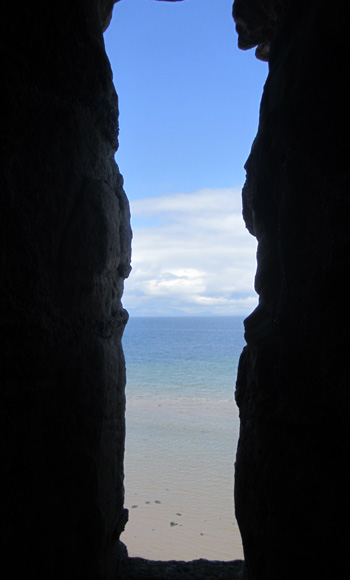 Later, we'd brave going inside. You can only access the lowest level and peer out of the windows at the sea below. Without a ladder, rope or some climbing skills, you can't quite reach the level above. But there's not much to see except trash and grafiti left by more determined visitors.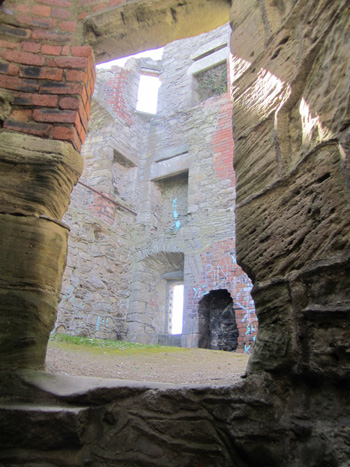 The hike and sun helped jar loose some of the jetlag, though I was still in something of a fugue state when we arrived at Loch Green House Hotel for dinner. It's one of those places with a vast array of silverware for each place setting and multiple courses with French names I've never heard of.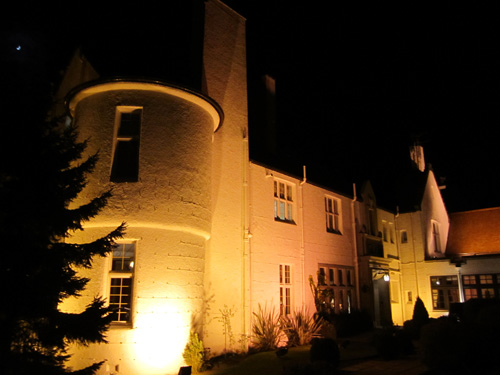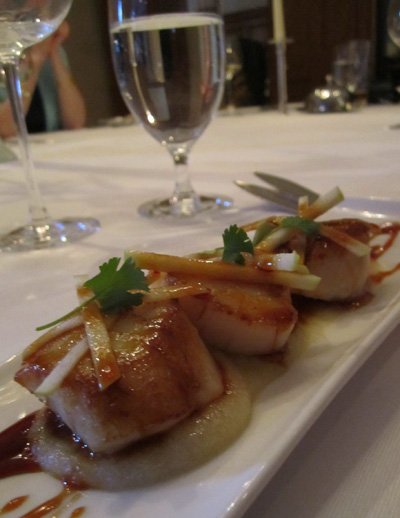 Some of the courses were merely good, while others were amazing. Biggest hits included scallops with apples, and a mango desert with meringue – which is a light, crispy kind of cookie in Scotland.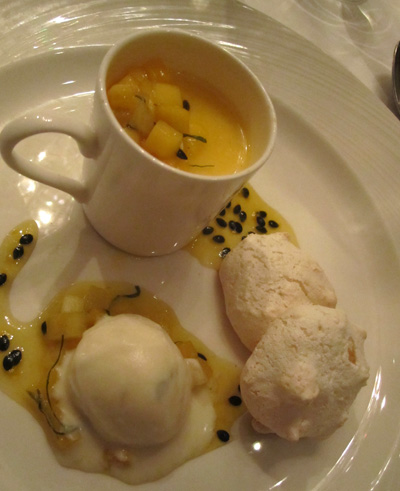 Also good – listening to a table full of charming Scots chattering away in a language we supposedly share but is separated by an ocean of accents and differing vocabulary.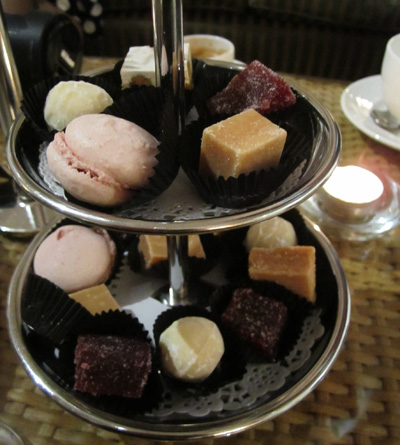 As if something like six courses weren't enough, we retired to the lounge and were treated to a round of "sweeties," i.e. candy and cookies. If you're in the neighborhood, make sure to check out their "malt room", i.e. walk in closet full of whisky.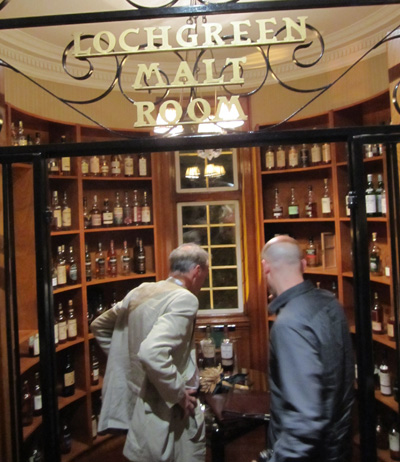 In the morning we saddled up our hosts' bikes for a ride around Ayrshire. The area is famous in some circles as being the birthplace of poet Robert Burns.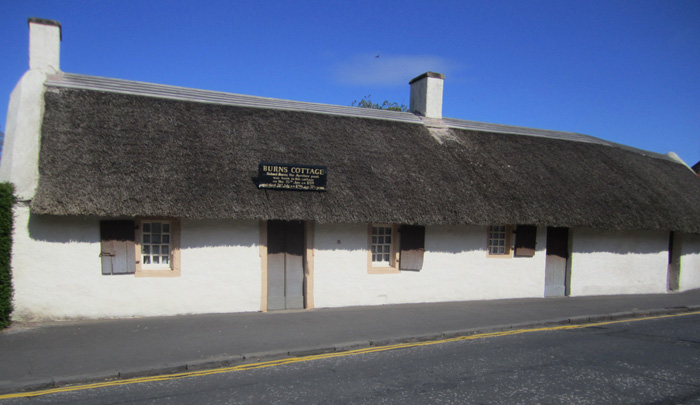 We rolled past the cottage where he was born to a nearby museum featuring paintings based on his poem Tam o' Shanter in which the title character has a bit too much to drink and has a nightmarish ride home.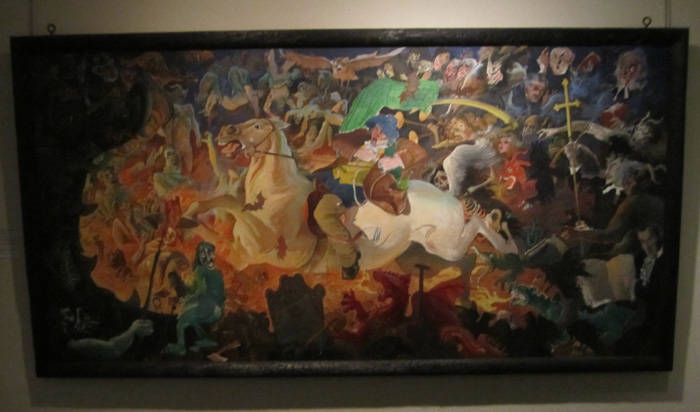 Our ride, however, was on the opposite end of dreamy. We rolled around a pretty pond where a seagull took the place of the swans, and on to a ruined church (or "kirk" in Scottish) where Robert Burns' father is buried. (The church is featured in the poet's work as well.)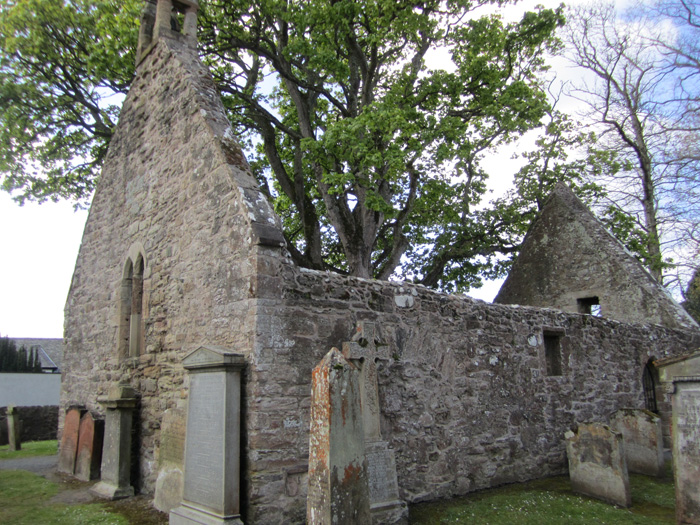 Then on to Brig o' Doon. Yes, it is an actual place, not just a dreaded musical stage play and/or film! A memorial to Burns is next door, though his body is actually in Dumfries, some 50 miles away. A bike and walking path took us out through farms and countryside in a long loop back to the ruined castle.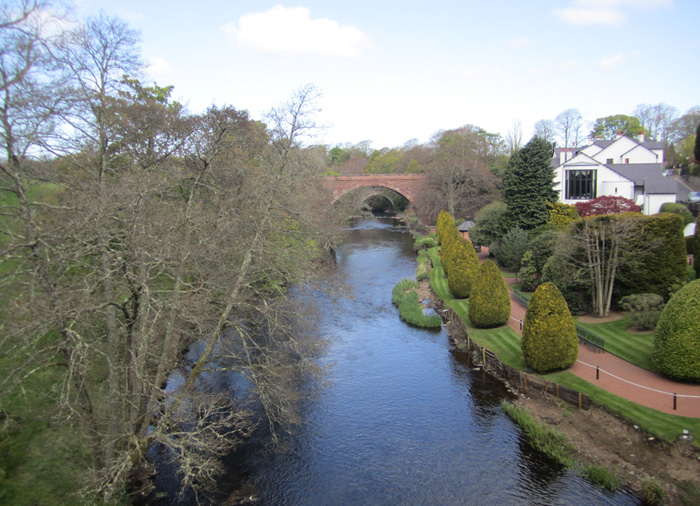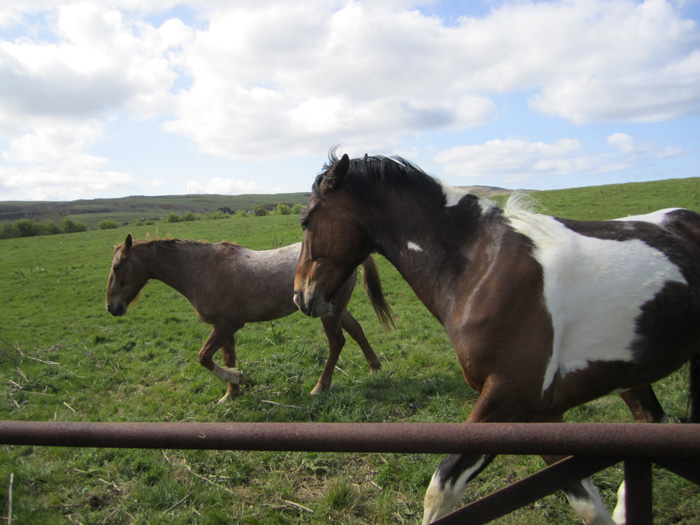 The town of Ayr was once a thriving agricultural and coal mining town but those industries took a down turn ages ago, as is indicated in parts of town full of pawn shops, payday lenders and boarded-up shops. However, the town center is bustling on weekends with local and out of town shoppers. The area is more famous these days for the seemingly infinite golf courses than any poetic leanings. (A few days later, we rode the train out of town past more golf courses than farms and countryside combined.)
Downtown is a maze of retail shops, stone towers, arched bridges, churches (often repurposed for secular use), and pubs. Overall, very charming.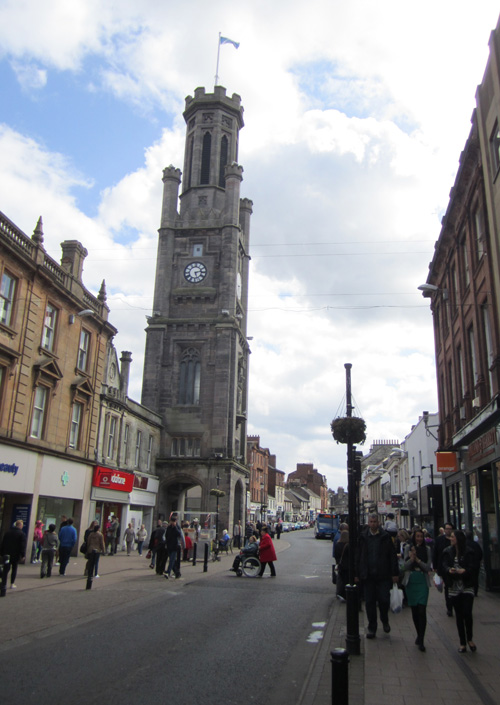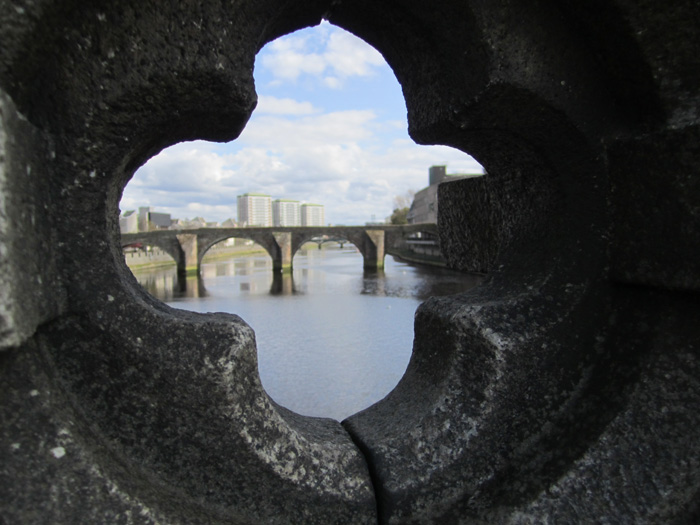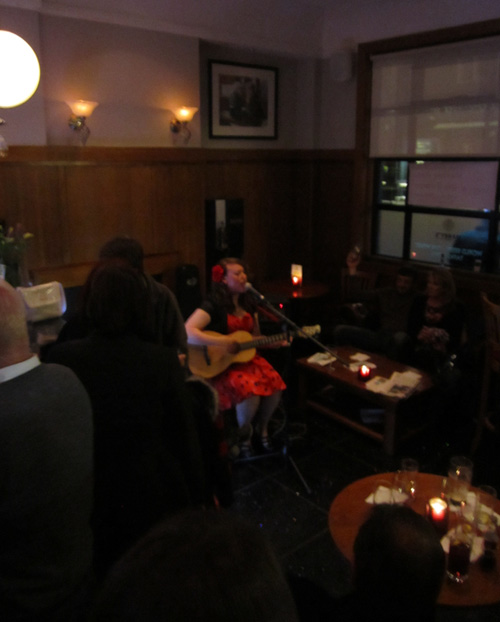 We had dinner at the flat (a delicious sausage stew), then headed out for a night on the town. We started off at Harry's, a wine bar where a singer strummed an acoustic guitar and belted out melancholy tunes. According to SWSNBN, this used to be a rowdy corner bar. However, a host of factors are working against the traditional pub. Allowing women, disallowing smoke, and cutting down on binge drinking have all  conspired to put countless pubs out of business (degenerate SY quoted on statistic of 6 closings per day.) I'll rant about the UK's healthy leanings more later.
We left the crowded, somewhat dull bar for a trek down to the Tam o' Shanter, the very pub from Burns' poem, renamed after the poem became famous. Another singer, sans songwriting of his own, belted out a variety of covers, reading the lyrics off his iPad while we attempted to catch a buzz.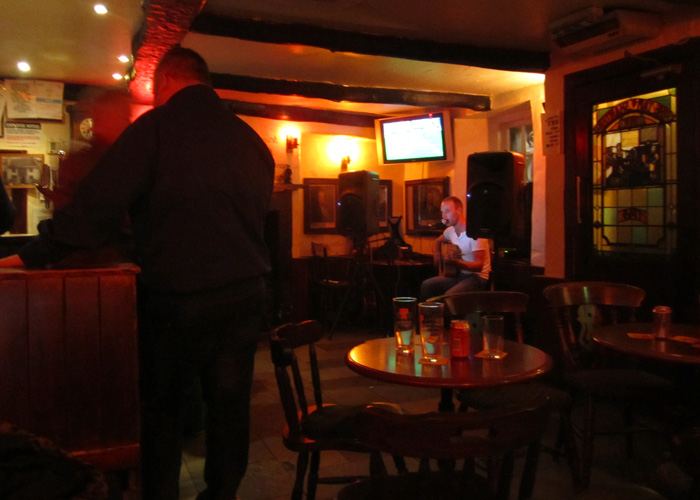 Getting drunk in the UK isn't easy or cheap. Liquor drinks, or "spirits" as they call 'em, are carefully measured. You get perhaps a tablespoon of liquor per large glass of mixer, resulting in an anemic drink with no taste – and get charged about twice what you'd pay in the States. Beer is a better option, though I have a hard time drinking enough to maintain a buzz. It's just too filling and heavy. SWSNBN opted for wine and found it slightly better than the average bar back home, but nothing like mainland European standards. But you can't go to Scotland and not sample the whisky! By the end of the trip, I felt I'd tried a bit of everything, from single malt Scotch to local brews to Spanish wines. There is a lot of good stuff, you just have to pay a lot for it.
We went on in search of another venue, finding a club at the end of an alley. Booming disco filled the room. The booths were lined with ladies in miniskirts drinking entire pitchers full of florescent-colored goo.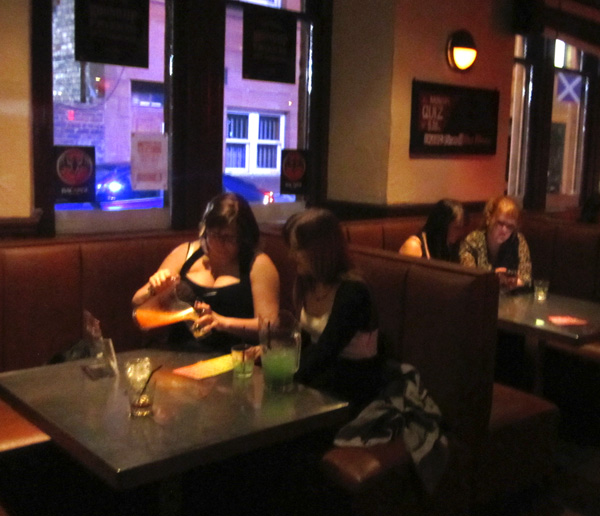 SWSNBN and I weren't interested in that kind of club so we lead the party onward, finding an entire row of such clubs around the corner, each with nearly identical disco racket blaring from their open doors, acting as a lure for lads and ladies.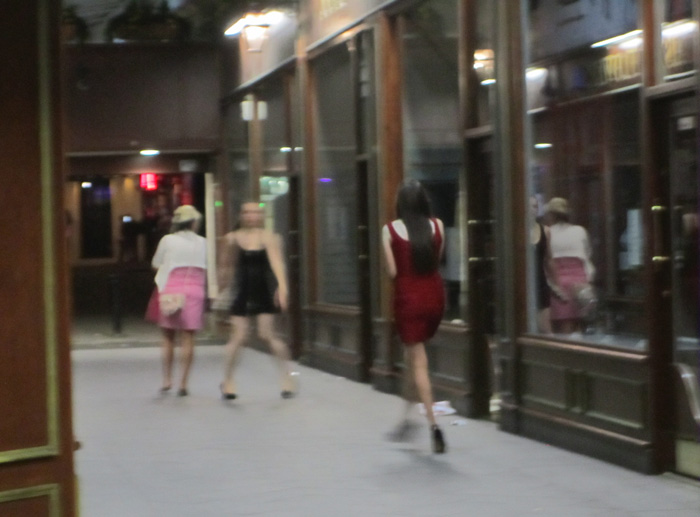 Instead, we hailed a cab and returned to the quiet side of town for a nightcap at a hotel bar, Chestnuts, where we could actually hear each other speak. It's not that I'm against loud music (obviously), but SWSNBN wanted some socializing time with her clan and thumping club music annoys both of us. So if you need a review of the nightclubs of Ayr you'll have to find it elsewhere. From what we saw, your choices in Ayr are either snooty wine bars, vapid nightclubs, or near-empty pubs. (The bartender at Chestnuts, however, recommends the clubs in the neighboring town of Prestwick.) However, SWSNBN insists that the hotel bars on the south side of town are nice (they are, from what I saw) and can get busy at certain times, with both locals and guests.
We took a train to Glasgow for a birthday party, then rented a car for a few days on the Isle of Skye – but we're breaking these reviews up by location, rather than the usual day-by-day method, so let's get back to Ayr.
After a day of family stuff, we went out at sunset for a brisk walk. Despite a very warm March, winter seemed to make a comeback for our late April visit. Temperatures hovered around freezing at night and the wind was harsh. But I'd rather be outside and chilly than stuck inside, hiding from the rain.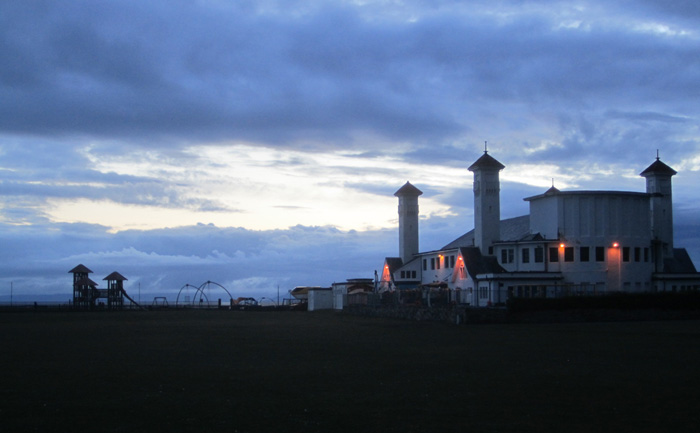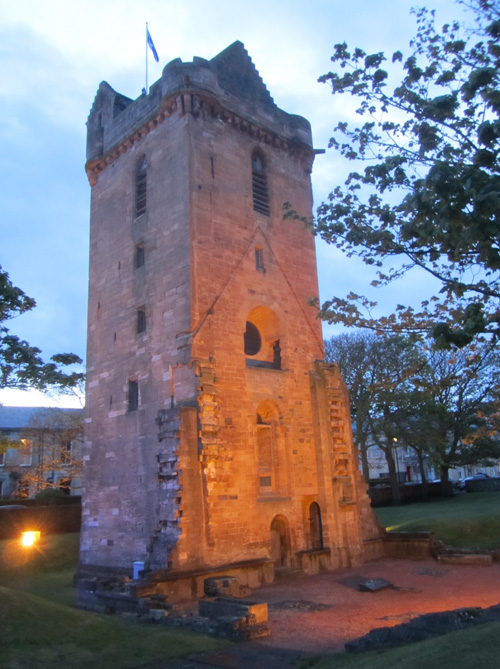 We passed a beachfront amusement center, through a charming but dead quiet neighborhood, on to a tower of some ruined church where Mary Queen of Scots had once stabled her horses, past the old city wall and home again.
In the morning, we returned to the bike path to see some of the Burns stuff we'd missed. There is a Poet's Path or something like that where they have weather vanes featuring scenes from his poems leading the way to the Burns Museum.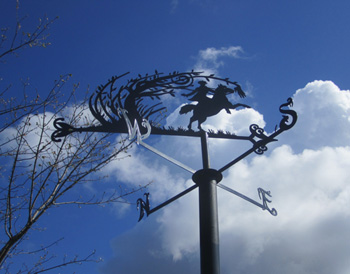 I wouldn't recommend the museum itself. It's not free, unlike many museums in the UK (yet has still run into funding problems, like every museum in the UK.) It's not a very large museum. Many displays are dull (recordings of some of Burns' less-than-exciting music), others are confusing (a plaster cast of the top half of Burns' skull), some are dumbed down so that children or the uneducated can get something out of the museum ("Write your own love note and tie it to this fake tree!".)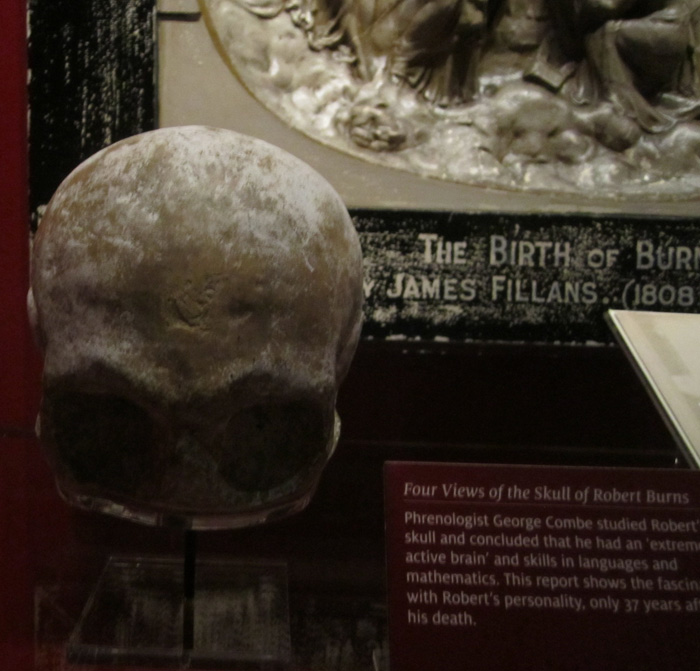 But it's not all bad. There are some amazing carvings based on Burns' poems, some very interesting and important artifacts from the time period, such as the pistol Burns carried when he was a tax collector.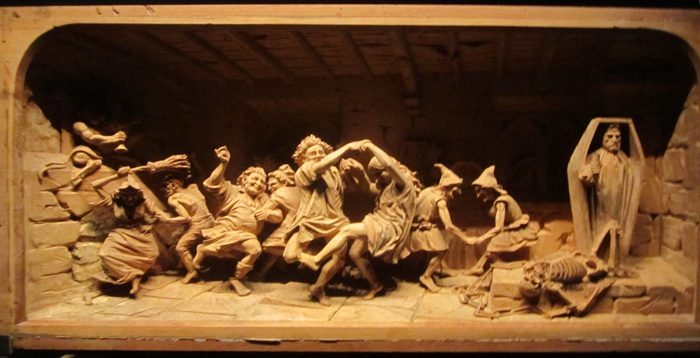 SWSNBN's folks drove us down the coast, past shepherds on quadrunners training collies to herd sheep.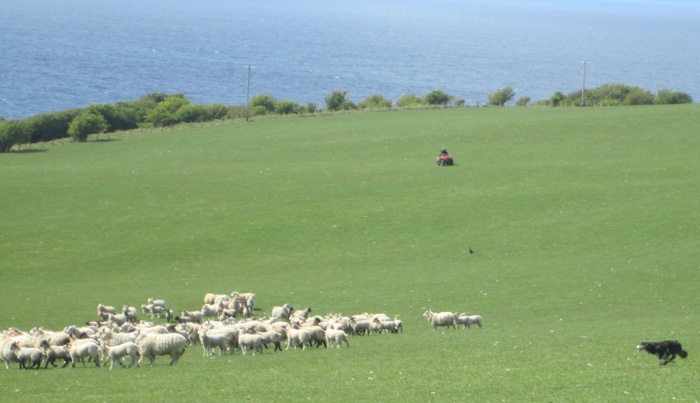 Ailsa Craig grew nearer, with Culzean Castle coming into view on the coast. Our guides took us to a nearby beachfront park where, with a short walk, we were able to sneak through the back gate of the castle and tour their extensive and amazing grounds without having to pay.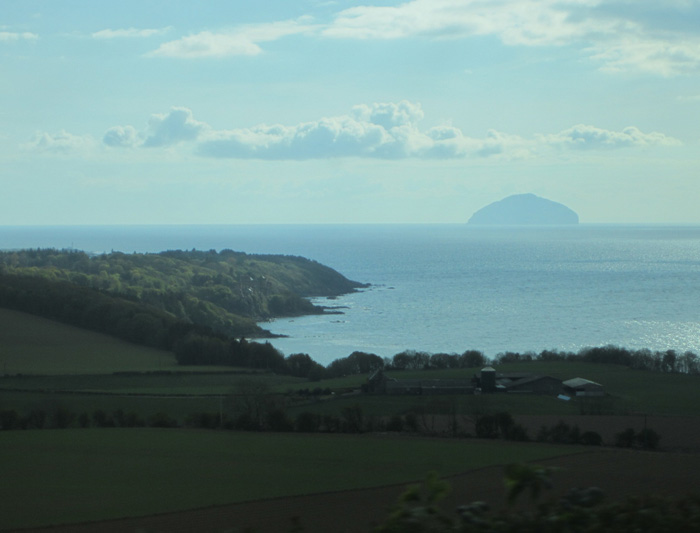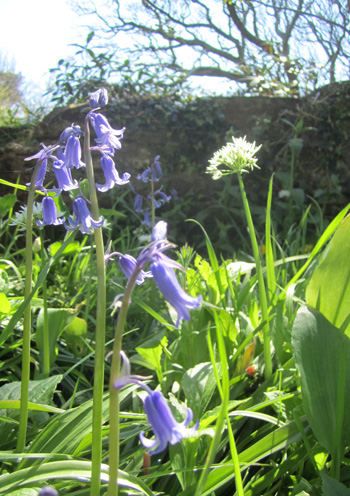 We opted against touring the castle interior, but enjoyed what we saw – flowers, a lovely pond, woods, cannons, stone walls and such.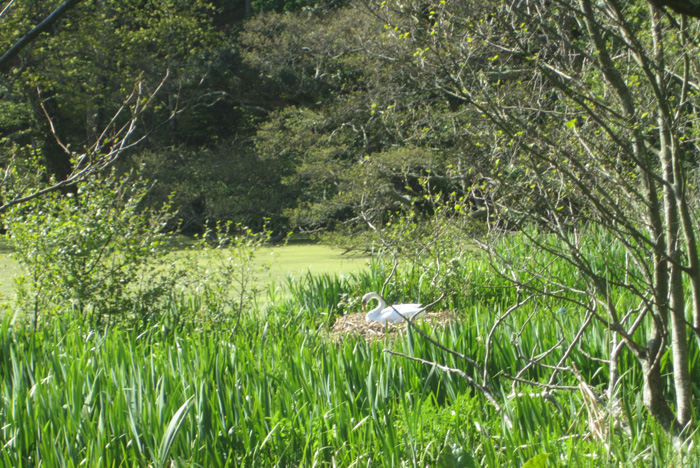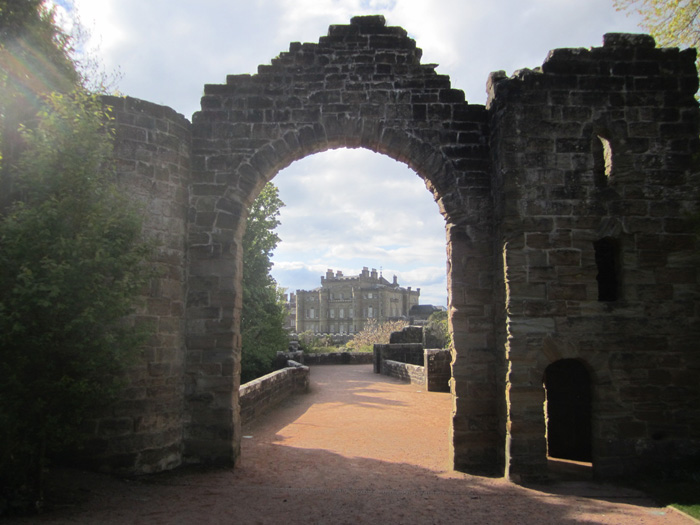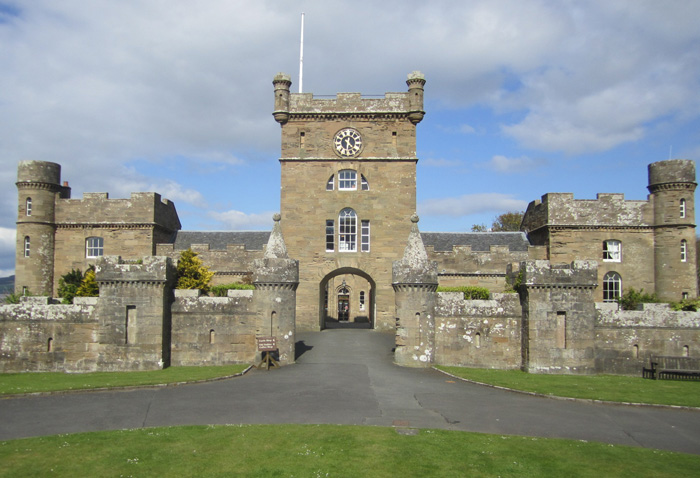 Back in Ayr, we sampled various bottles of whisky in an effort to warm us up enough for another night time walk. We made a short trip out to watch the swans paddle around in the sunset, but the winds soon forced us back toward the flat.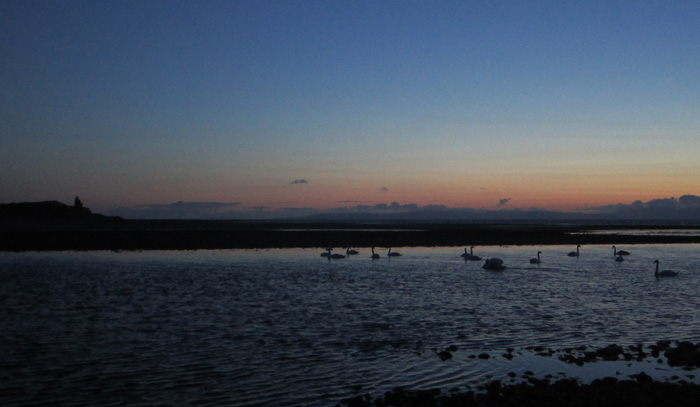 In the morning, we'd get a double-decker bus ride out of town, sailing through the second story of Ayr out to the highway and on to Glasgow – which we'll cover next!
More: