London wasn't high on my big To Do list. I don't have any interest in British Royalty, its trappings, palaces and/or history. Any time I hear the words "Parliament" or "Big Ben" I think of Chevy Chase in European Vacation, pointing to the buildings over and over as the family circles a roundabout, unable to escape. I didn't think of the town as a food mecca, nor is it known to be affordable.
But I wasn't going to visit the tiny island that came to dominate much of the world without getting a look its capitol. So we boarded a bug-and-mud-splattered, ironically-named Virgin train in Glasgow and sped south.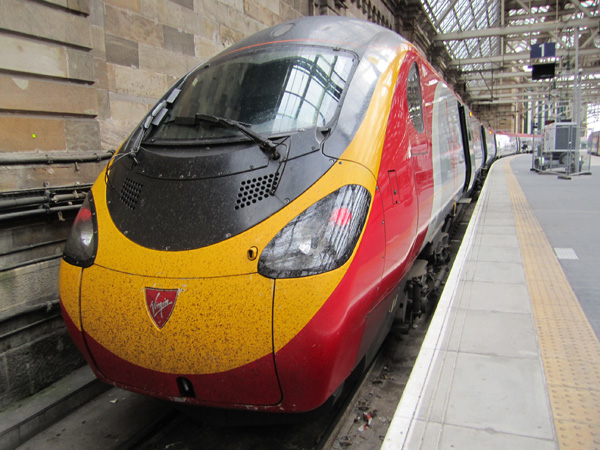 Through the grimy window, we saw rolling hills dotted with sheep, fields covered in yellow flowers, charming villages lined with canals – purty!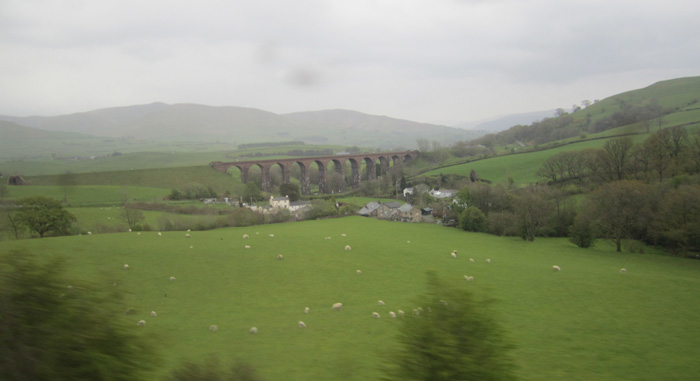 But often as not the towns are surrounded by mazes of identical brick houses like something out of a Pink Floyd movie.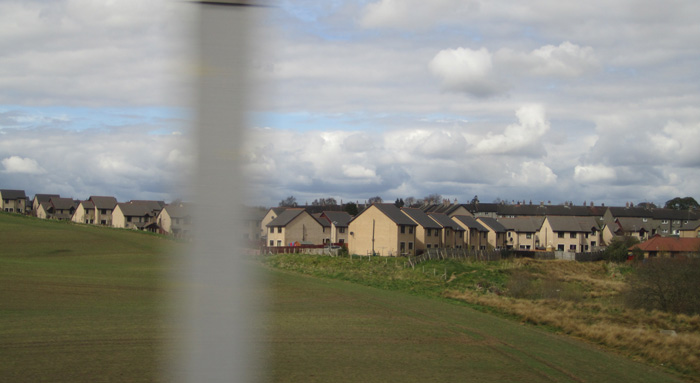 The further south, the less picturesque the view. Then it hardly mattered, as everything was blocked out entirely by gray mist and rain, the droplets swimming along the glass like sperm chasing an egg, merging together to create jagging lines like an EKG readout.
Maybe I've been reading too much William Gibson on the ride.
Then on into London proper – or at least under it. The last leg of our journed coursed through train canyons and tunnels with the city rarely in view. We switched from the train to the tube and emerged into the Finsbury Park neighborhood, an area packed with kebab shops and bakeries of various ethnicities. Every pub was draped in Arsenal football paraphenalia, though the team have recently relocated away from the local stadium. We dropped our bags at our hosts' flat, a place I called "tiny" but by London standards is palatial, and took them out to dinner.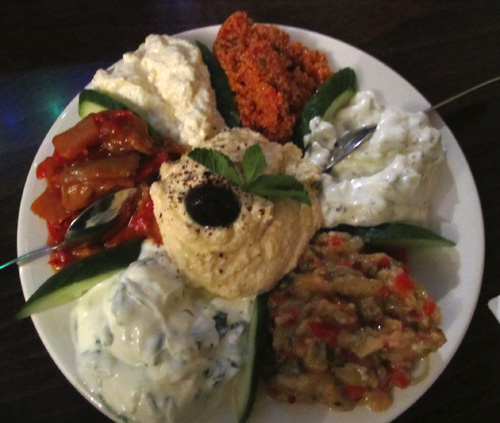 Yildiz, a Turkish barbeque restaurant specializing in meze and kebabs, was just around the corner so we feasted on a heaping plate of delicious, gooey appetisers before stuffing our already-full bellies with grilled meats. Wait, who said Londoners don't know how to eat?
For after dinner drinks, we trekked a few blocks to The Silver Bullet, a scrappy little bar struggling for an identity. Each night of the week it's something different. Tonight, it's open mike night with cute British boys pouring their hearts out.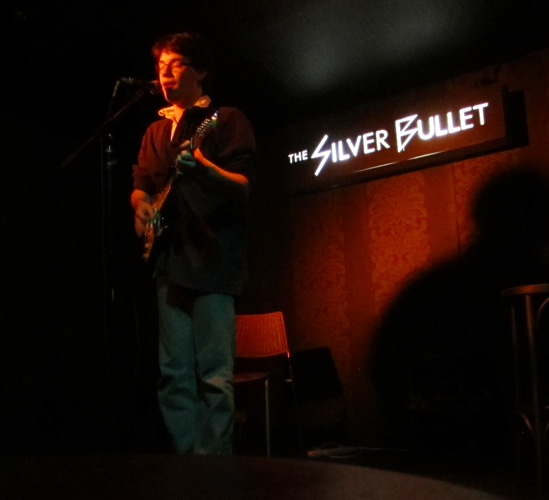 One of the singers got to the end of his alotted time. "I've got two more songs but I only have time for one. Do you want whiny or do you want powerful?" he asked, leaning forward in hope that we'd choose 'powerful.' There was an awkward moment during which I and other patrons snickered. Someone at the back yelled, "Whiny!" And the guy delivered.
If you're a regular reader, you know this is not my sort of thing. We moved to the back where we could socialize, by which point the sound guy and the bartender were getting their guitars ready for a go at the stage.  I think it was at this very bar where I gave up on liquor drinks in the UK. London is even more expensive than the rest of the island but the bartenders are no more heavy-handed when it comes to pouring their liquor.) We returned to our ameable hosts' flat and chatted late into the night.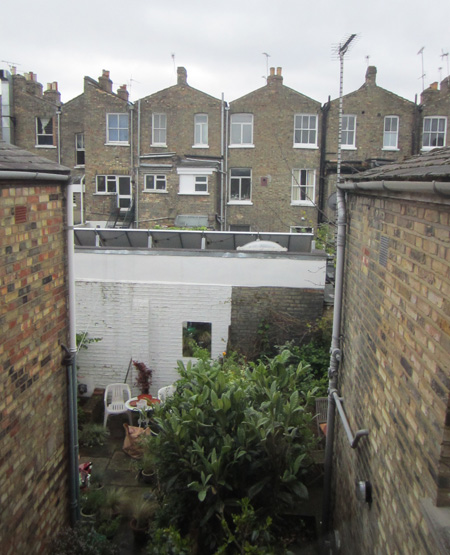 In the morning we looked out the window to find gray skies spitting a few drops of rain. Ah, England. That's more like it.
We rode through neighborhood after neighborhood of charming three-story flats with cute shops and pubs at the ground level until I was beginning to wonder if we'd driven into some Hanna Barbara cartoon with a backdrop that just loops infinitely after only a few frames. But no, London is just that damn big. The only city I've been in that has the same feeling is Chicago where a ride on the L feels like it could go on infitely.
Our ride was not the iconic red double-decker bus you think of when you think of London. Those are long gone. Thanks to the nanny state that England has become, you can no longer can you just hop onto the back of a moving vehicle, m'lords and ladies!
Evidence of the police state was everywhere. Cameras on building fronts, awnings, poles, busses - even police cars.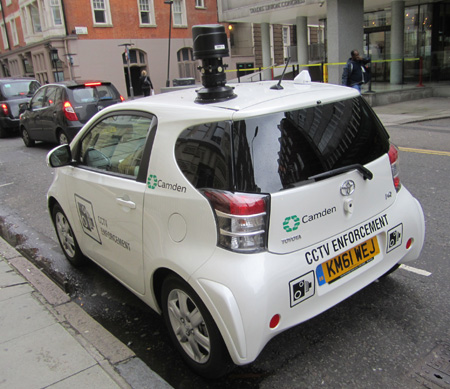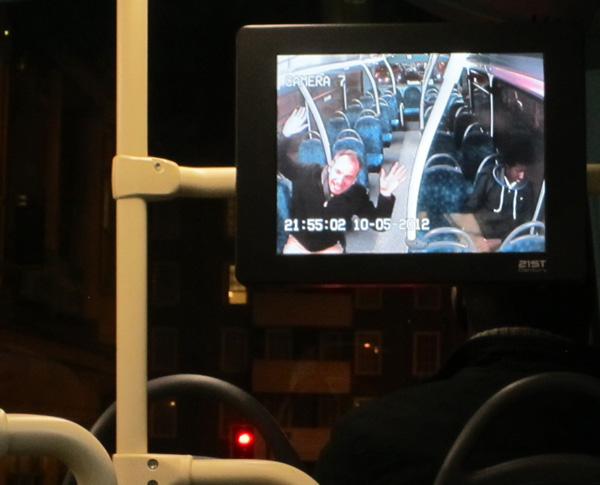 Yes, that's me watching myself on TV on a bus. And no, this is not only in preparation for the Olympics in London this summer. England pioneerd this CCTV crap and it is spreading rapidly. It's enough to make you want to re-read Orwell, Kafka, and all your Alan Moore comics.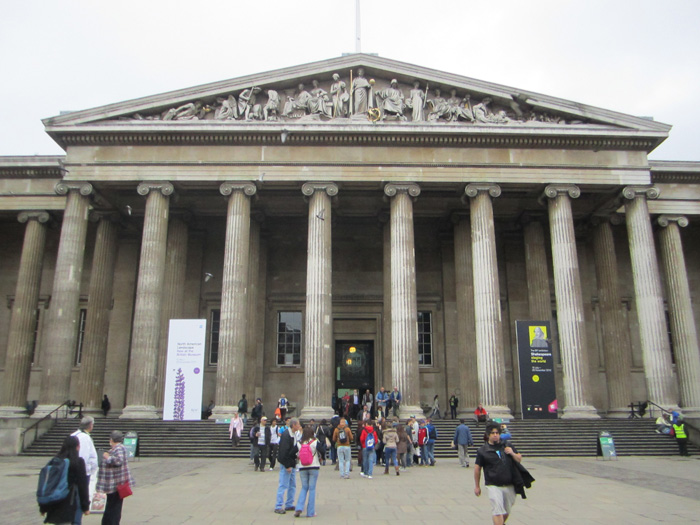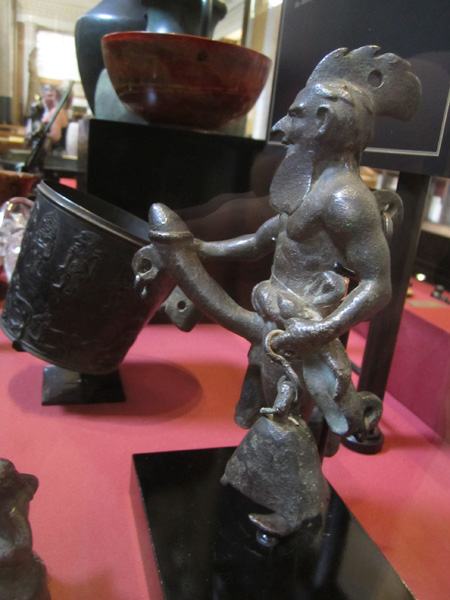 Back to near-infitite experiences, The British Museum actually was high on my big To Do list. The place is massive and covers lots of eras I'm interested in. Unfortunately, due to an "industrial action," AKA a strike, a lot of those eras were unavailable for viewing. Half the museum had been shut down due to the staff shortages. The strikers were protesting the cutting of retirement funds or some such. But the museum is free, so who could complain?
I'm not trying to be a dick about it, but if the museum charged for entry, even a small fee, the thousands of people that visit per day would help fund the place. Capitalism – it sucks, but it works!
As if one rooster-headed man with a large phallus turned into a Roman windchime weren't enough, the British Museum has a similar one in a different section.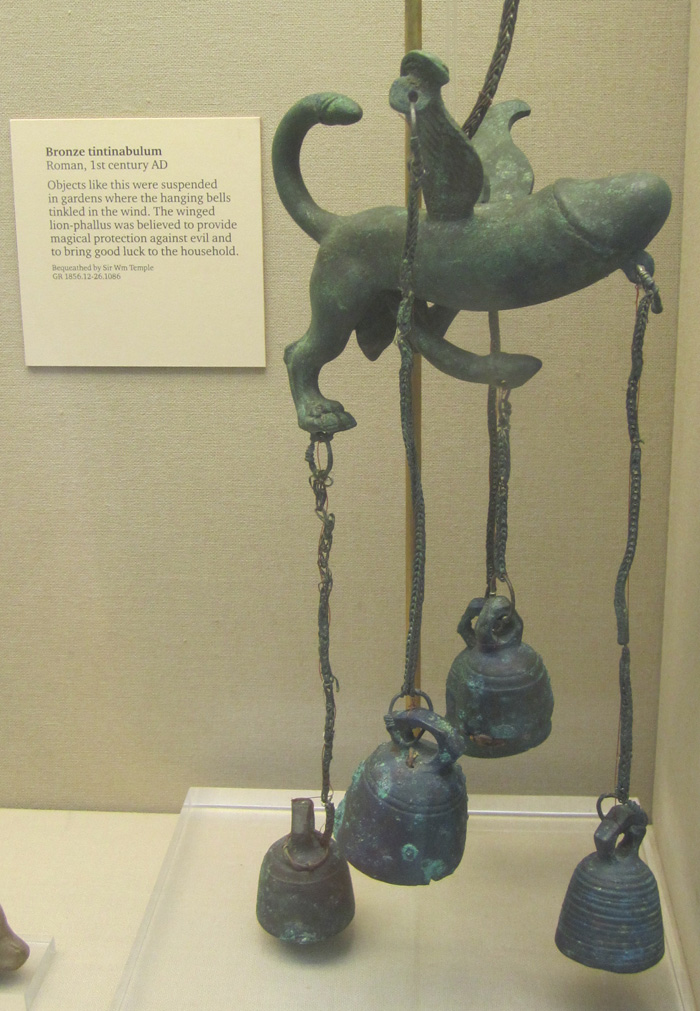 Their collection is massive and well exhibited, with objects going back literally as far as the history of humans. They have a rock on display, not much to look at, but it may be the oldest man-made object on display anywhere at 1.8 million years old. It was chipped to create a sharp edge for scraping and cutting. But I'm much more fascinated by small, decorative objects with little or no functional value.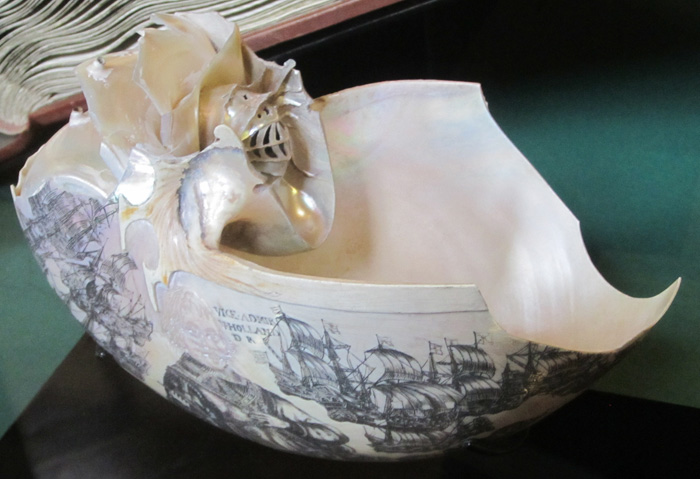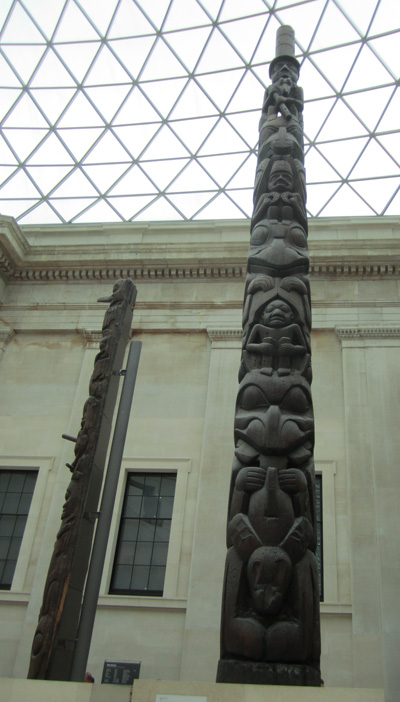 Or dozens upon dozens of Roman sculptures, Babylonian relief panels, Native American totem poles, Egyptian sarcophagi, Celtic jewelry – you name it, they probably have it.
We had to return a few days later to see some of the stuff I couldn't see, due to the strike. Even so, I didn't see everything. The place is just too big.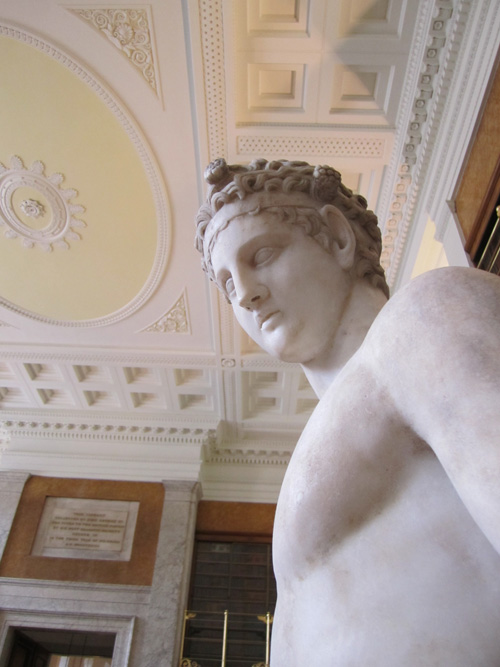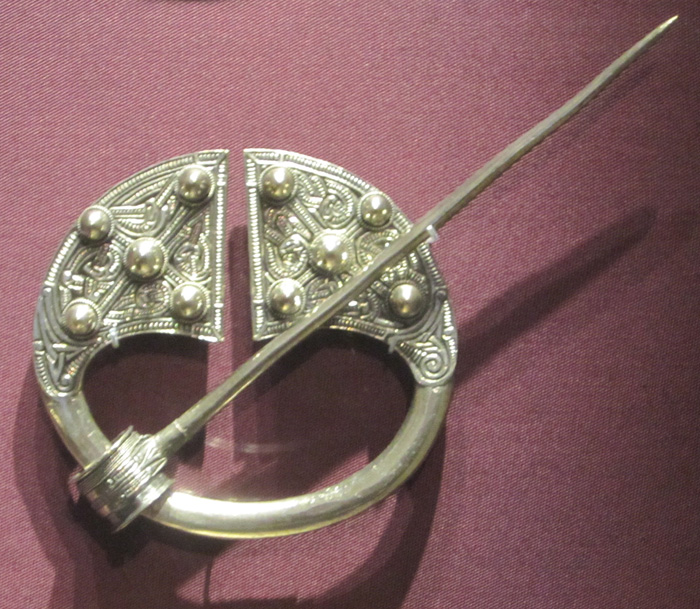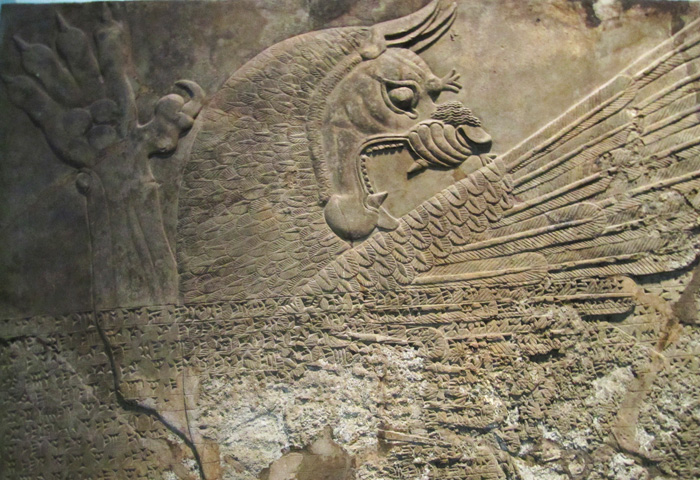 The museum uses the Rosetta Stone in most of its advertising, resulting in such a crowd that you can barely approach the thing.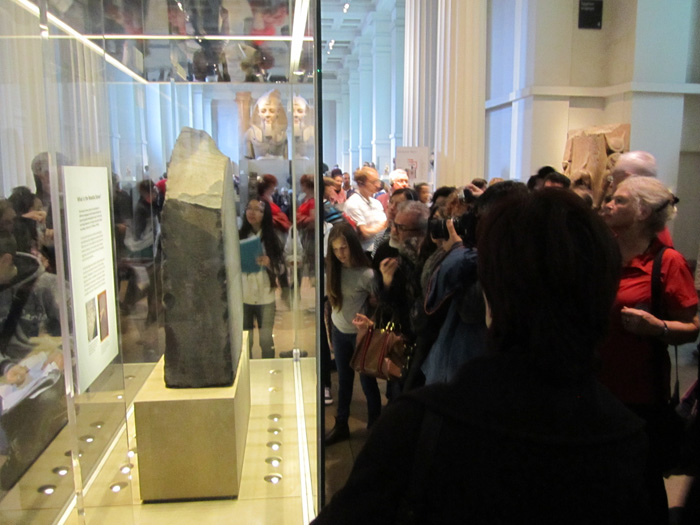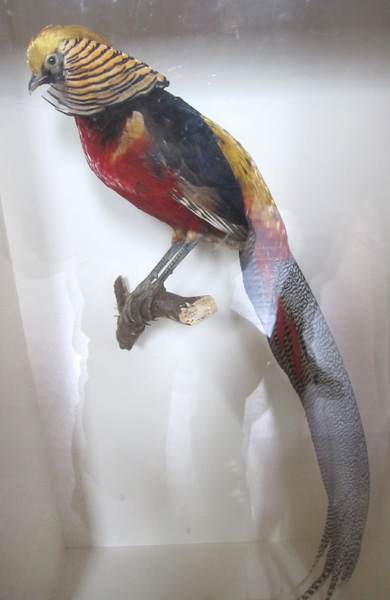 We trekked down the road, the charming neighborhoods givng way to more serious commercial districts, to Trafalgar Square. Unfortunately, the park was in the midst of being transformed into a stage to celebrate the Queen's Diamond Jubilee.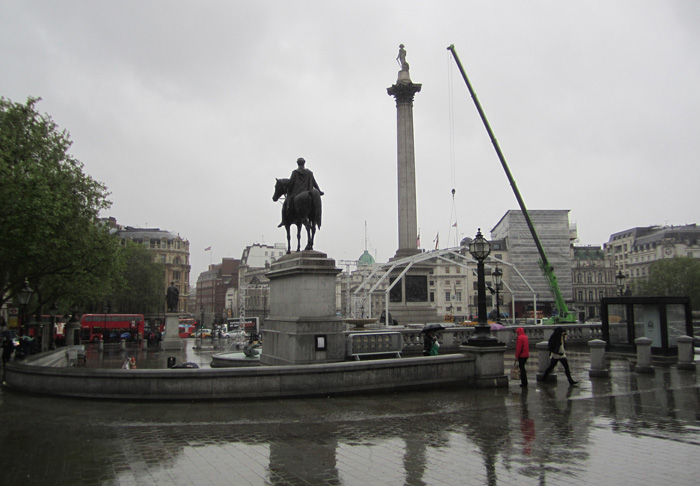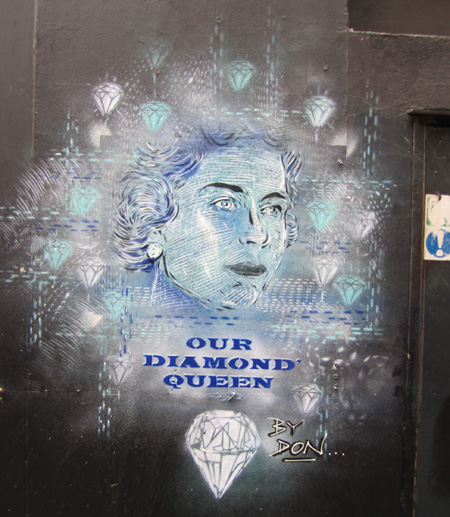 The queen was riding a wave of popularity and the town was abuzz in anticipation of the event. Even the graffiti artists were fans.
Between the preparation for the jubilee and Summer Olympics and the day-to-day-big-city construction, you couldn't walk a block without being detoured around scaffolding.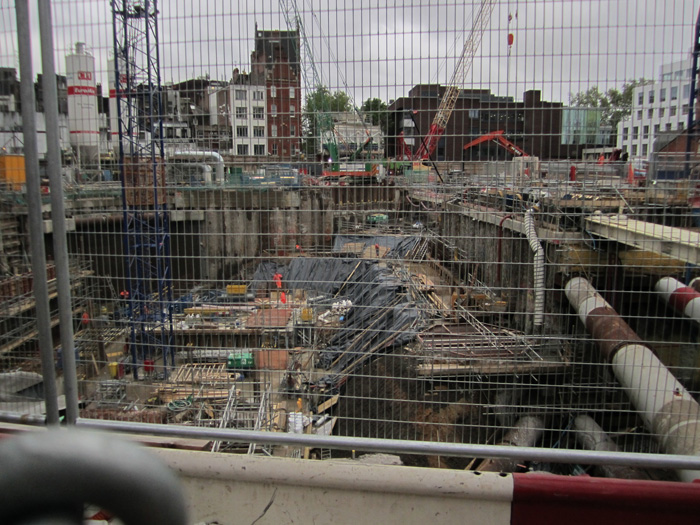 The skies dumped rain upon us, so we ducked into the National Gallery. Unfortunately, it, too, was suffering from Industrial Action.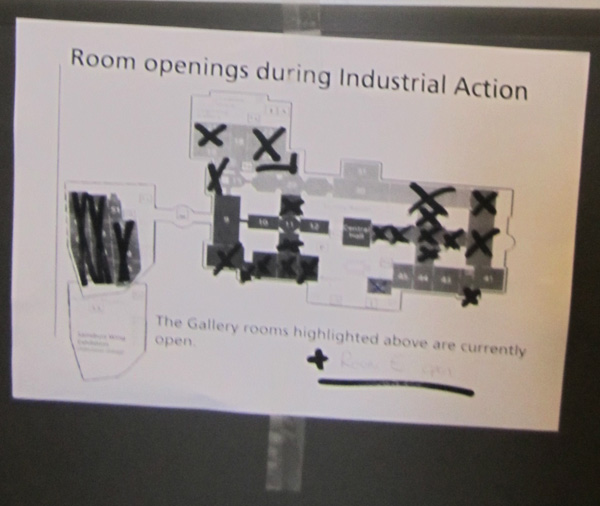 They also don't allow photos inside (the flash would damage the paintings, and be a distraction to other patrons) so you'll just have to imagine the amazing Van Gogh, Italian Renaissance and other paintings we got to see.
The next wave of run pushed us inside this pretty church, only to find a classical concert going on. You can't swing a meat pie in London without smacking it into some cultural event.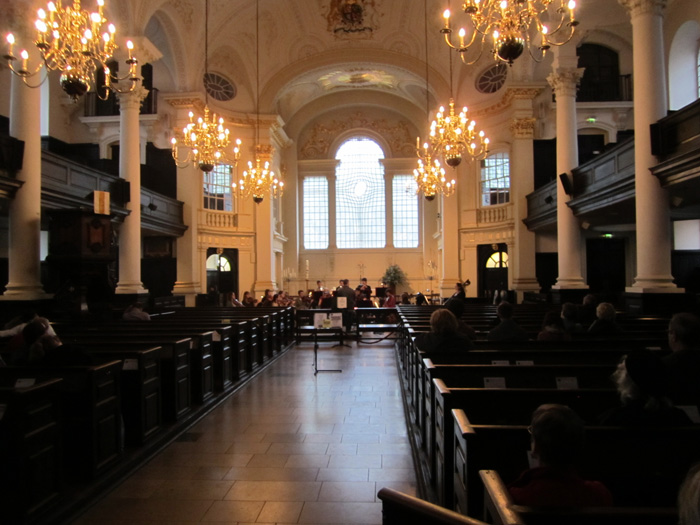 We hopped from pub to pub, stopping at some Frenchified place where the theatre crowd hangs out, then on to some Spanish place with a cozy basement bar where they perform flamenco late at night, on to some other pub and another – it's all a blur.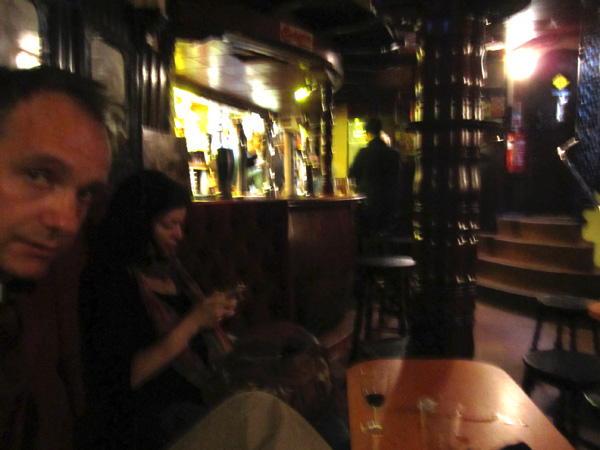 Eventually we made our way back to the flat and went out in search of dinner, landing at a Sardinian place around the corner. We had a terrific appetizer of cured meats, cheeses and olives, followed by a heaping plate of pasta and seafood.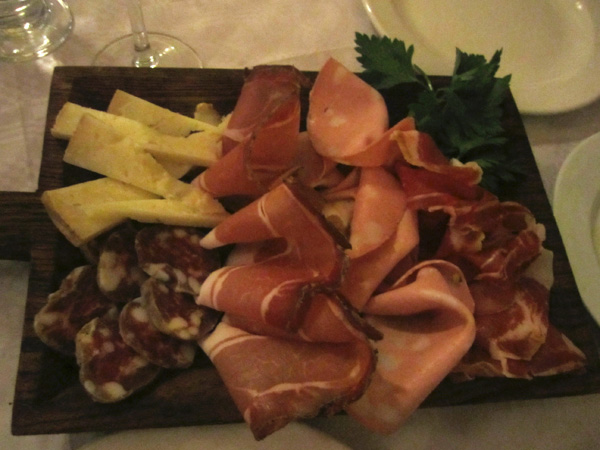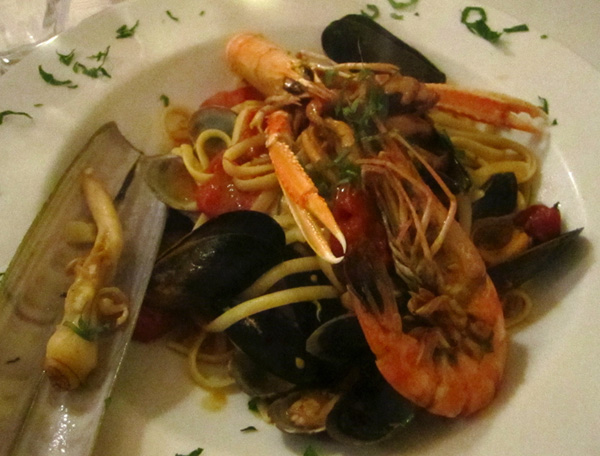 Wait, why wasn't London on the big To Do list?
We hopped pub to pub again, landing in Camden to find a row of retail stores sporting giant shoes or flying saucers for signs, a la L5P in Atlanta or Haight Ashbury in San Francisco, but all closed for the night. We wandered through Camden Stables Market, essentially an outdoor mall area packed with bars and clubs, each blaring techno music and promoting themselves with endless flyers handed out by minimum wage slaves.
The area felt as if it once was hip, artistic and cool but had become gentrified, cleaned up, marketed, Disneyfied – particularly the Stables.  Even if we had been interested in such a place, it was dead empty on a Thursday night.  We trekked up the block to a bar known for live music and had a pint but the sounds coming from the back room where the bands were playing didn't entice us into forking over the cover.
Instead, we walked a few blocks to The Crown and Goose, an wonderful little pub with vintage fixtures and fading paint, packed to the gills with London hipsters. It reminded me of The Earl here in Atlanta. Were it my local bar, I'd stop by nightly.
We didn't return to Camden by day to see the shops, or over the weekend for live music, so don't take my word for it. But that world would be "meh."
Still to come – "Look, kids. Parliament! Big Ben!" Kebabs, antiquing, and, of course, more pubs. Stay tuned.
More: