We got up at a reasonable hour and beat the crowds to Early Girl Eatery, a cute restaurant just off the park downtown. She Who Shall Not Be Named opted for shrimp and grits. I opted for "Piggy," a pile of pulled pork and scrambled eggs drowned in bacon gravy. The grits were probably the better of the two dishes. The bacon gravy sort of overpowered everything in Piggy.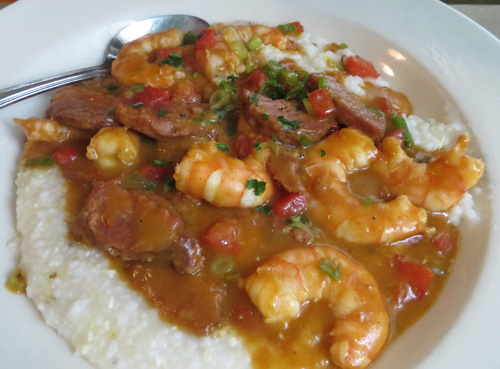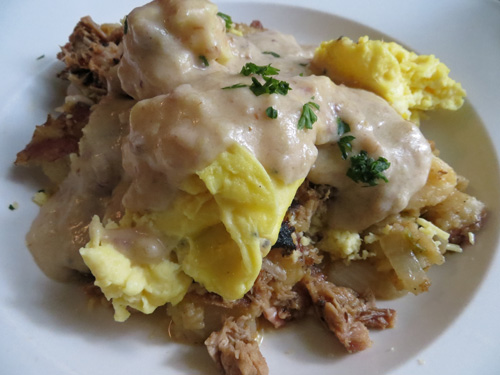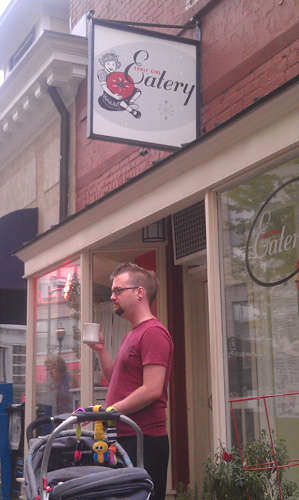 I'm not sure what farm the shrimp come from, but Early Girl claims to be one of those "farm to table" restaurants.  You'll see bumper stickers everywhere with "Asheville, shop local." The hot sauce on the tables in Early Girl was locally made. Just outside the store a man sold jelly and jam from his farm (a brand we'd find in all the local gift shops, including those in the National Park.) If you've seen the show Portlandia, or just been to Portland itself, you will get frequent sensations of déjà vu.
We wandered around town, gawking at buildings. I'll try not to gush, but I am a bit of an architecture-phile and Asheville has a smattering of just about everything. Take this amazing deco former cafeteria.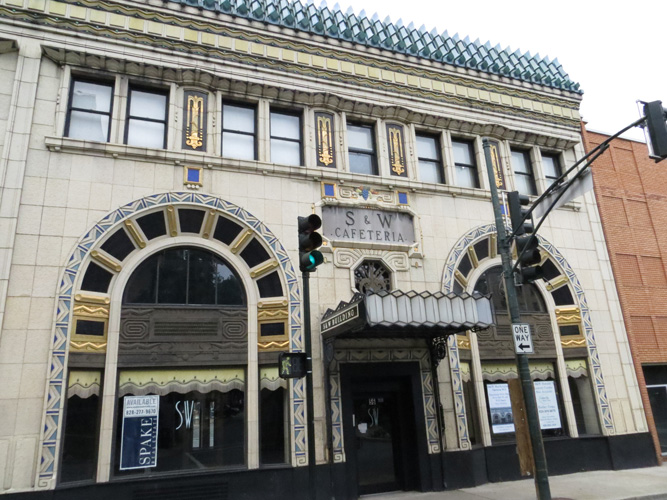 In fact, you can take part of it. The upper two floors are condos for sale. A mere $385k for the lower floor, $685 for the penthouse with a balcony behind those blue jaggy roofing tiles. You'd never get to sleep on a Friday night, as the building faces the park with the weekly drum orgy, but it is a gem of a building.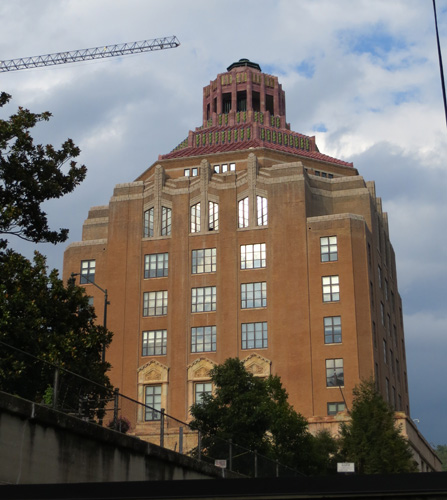 The town's city hall is a pretty pile of pink marble and tile with deco windows as well. Lovely.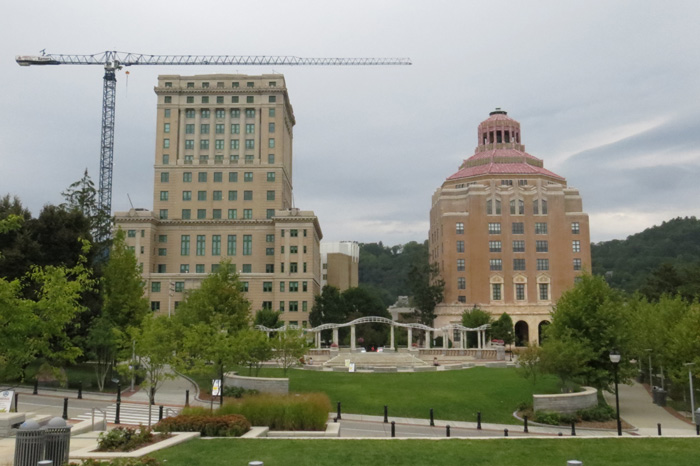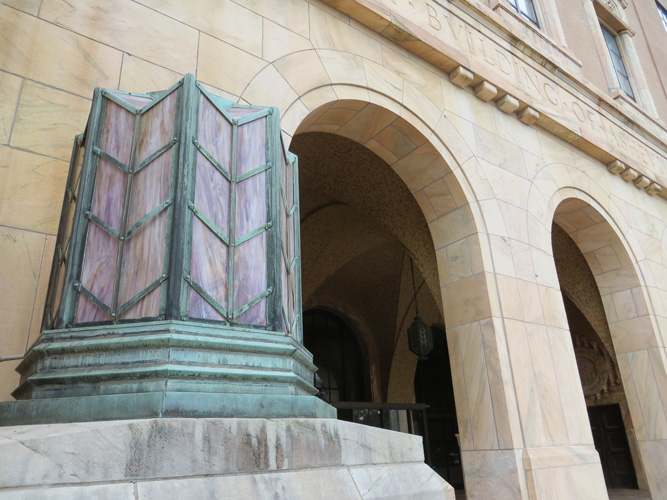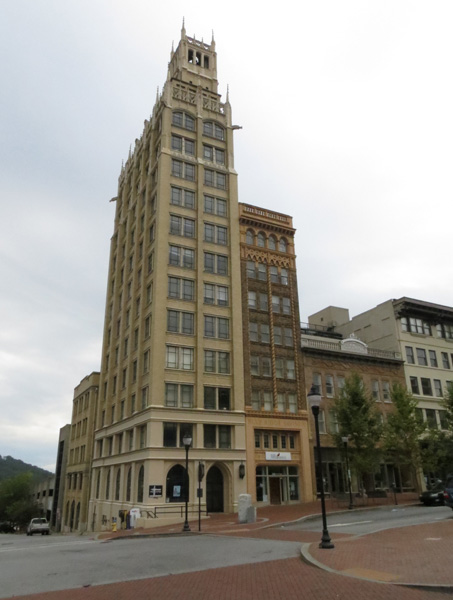 But there's more than deco in town. Just up the hill from City Hall is this Gothic influenced bank building, complete with gargoyles jutting from the top corners.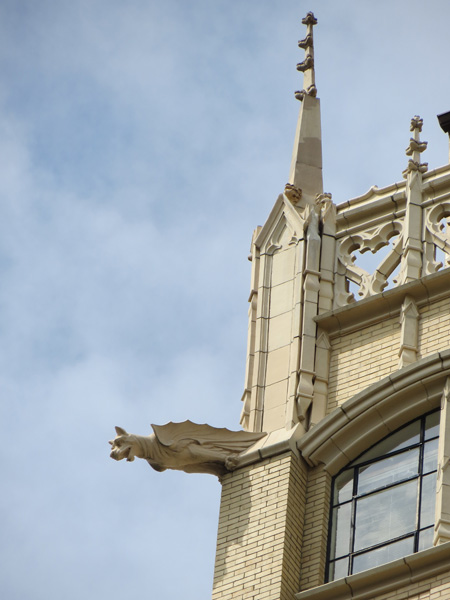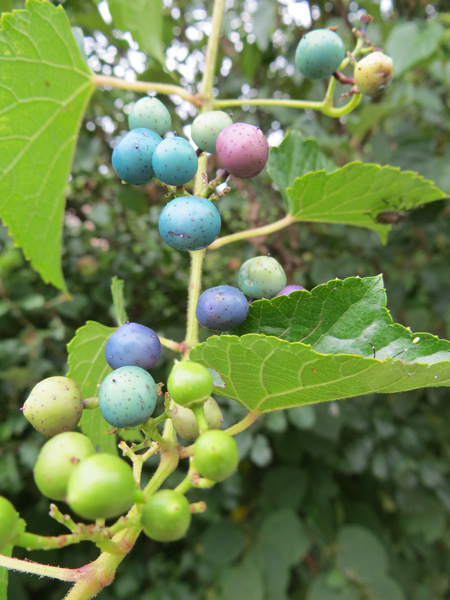 Walk behind city hall and over a pedestrian bridge and you'll find a cute little "edible park" full of figs, apples, berries and more. I'm not sure what these little beauties are but they match the colors of the city.
On the other end of town, we visited the Basilica of Saint Lawrence, a nice brick building with some lovely stained glass.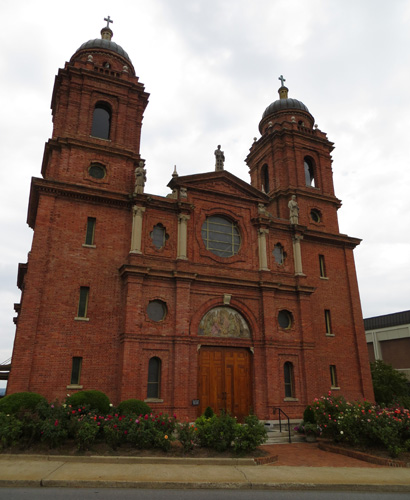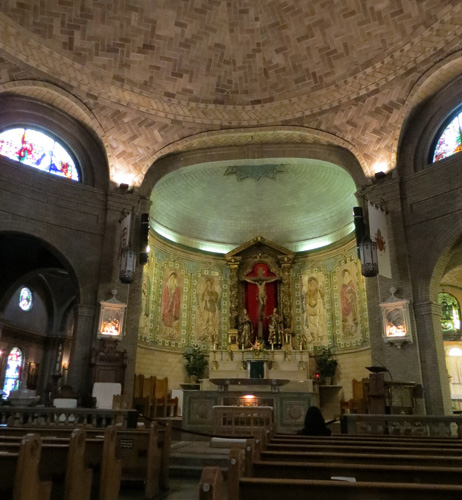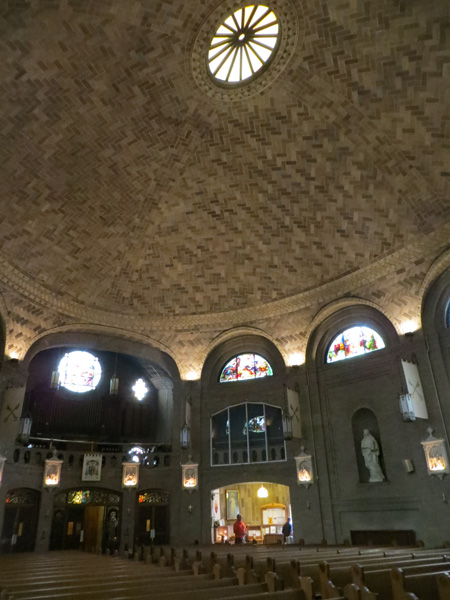 They have some arched side chapels, gilded statues, pink and blue saints done in ceramic tile, but it's the brick dome that will likely draw your eye. It reminded us of the North Carolina baskets, some of which you can see at the folk art museum just outside of town on the Blue Ridge parkway.
And no, this carved head supporting an arch isn't from the church. Even the local mall is interesting.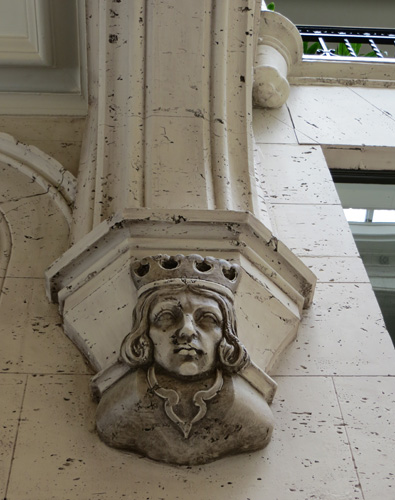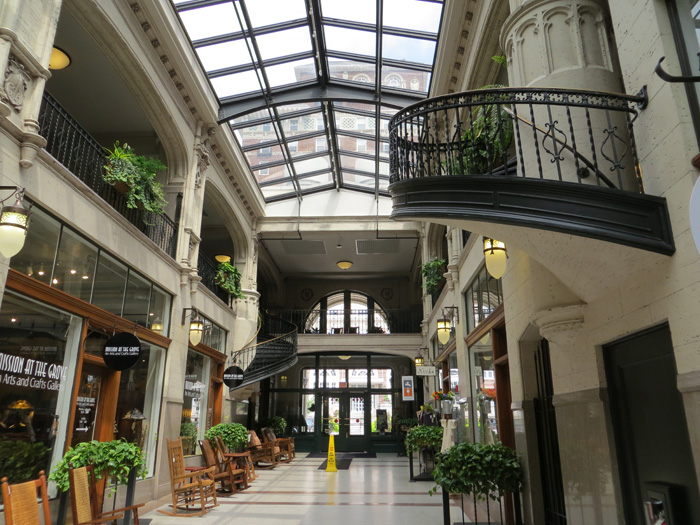 That's the Grove Arcade, a high end mall worth a look for its architecture but, unless you're rolling in the Benjamins, less so for its vendors. Asheville has sort of a split personality, simultaneously a granola hippie commune and expensive resort community. For those at neither end of the spectrum, the town can feel a bit limited. But thanks to the extensive building in the 1920′s followed by major economic depression, at least their architectural joys are still standing. The city didn't have the money to knock them down and build anew. As the town became a destination again, they restored rather than rebuilt.
Even if you aren't into Asheville's upscale establishments or anti-establishment elements, the city is nestled in some of the prettiest countryside anyone could hope for. Just a few miles out of town, the Blue Ridge Parkway winds through the oldest mountains on the planet. We opted for the northerly route on Saturday, since we'd be returning via the southern route a few days later.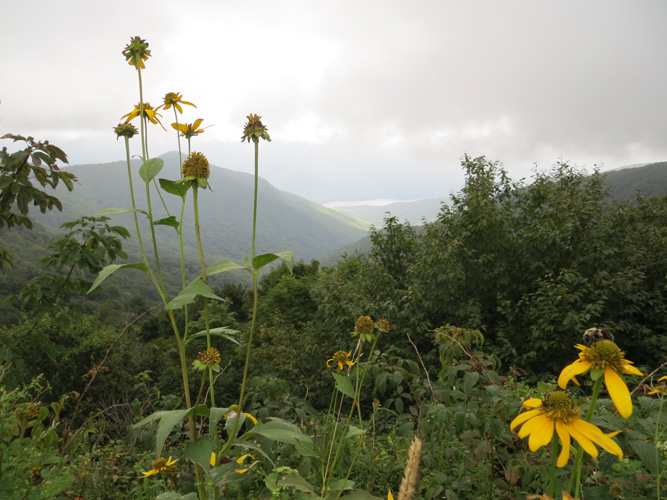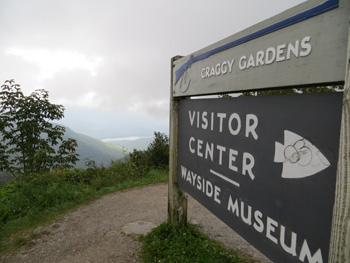 Rolling green hills dotted with wildflowers and waterfalls, butterflies at every turn, sweeping views – gorgeous. But you might want to look at the weather forecast before you go. Some days are clearer than others. We arrived at Craggy Gardens and admired the view of the lake in the valley below. These two photos were taken minutes apart.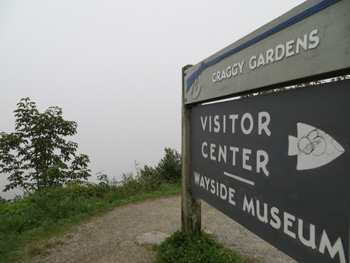 We trekked up Craggy Gardens to an overlook. This bank of clouds followed us up the ridge, randomly parting to reveal yet another breathtaking view (NOTE: some browsers automatically resize the image. Put your cursor over the picture to zoom in and enjoy the full panoramic spectacle.) Fortunately, even the rocks and plants underfoot were worth gawking at.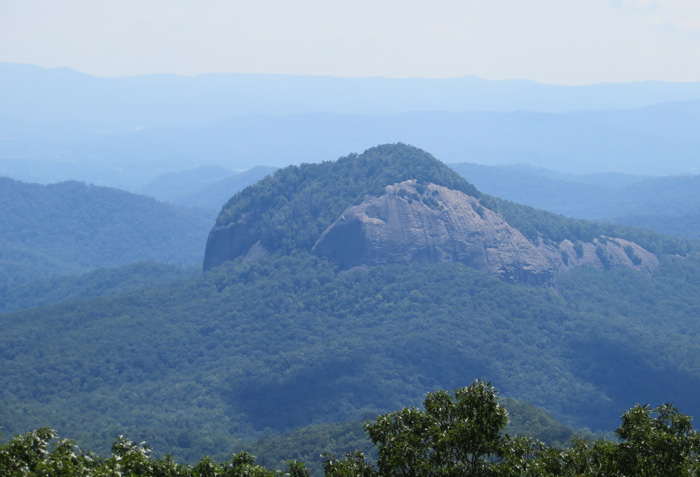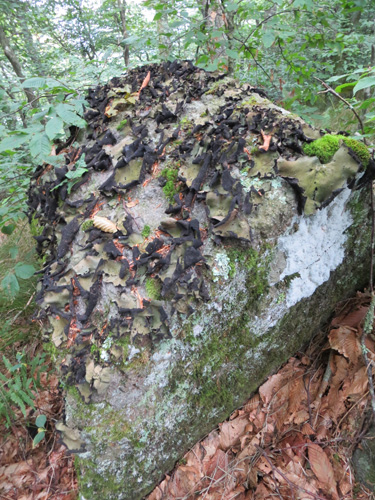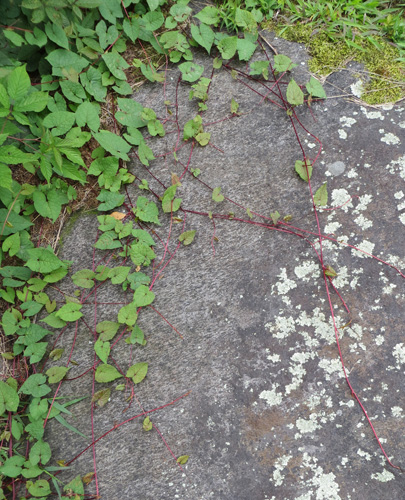 There are multiple trails along the Parkway, some easy and short and landing at pinnacles with amazing views. Others are long, steep, and lead nowhere unless you're on a long backpacking/camping trek. Fortunately the various museums and visitors centers can provide maps and there are countless guidebooks. You might want to pick up something in print because cell reception in the park is spotty at best.
We continued north, higher into the clouds until things got so dense we could barely see the road in front of us.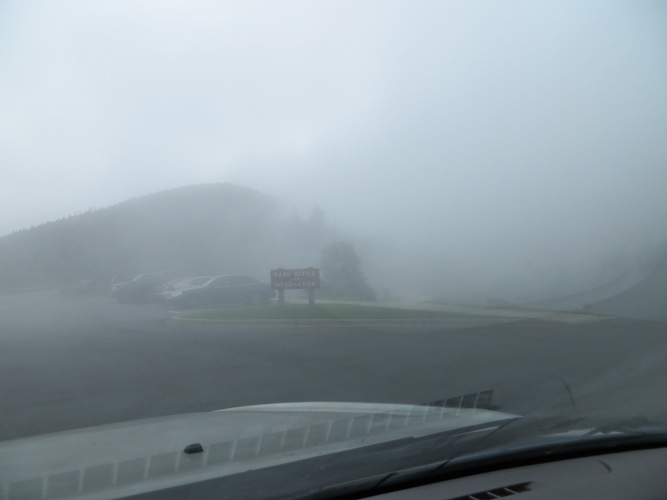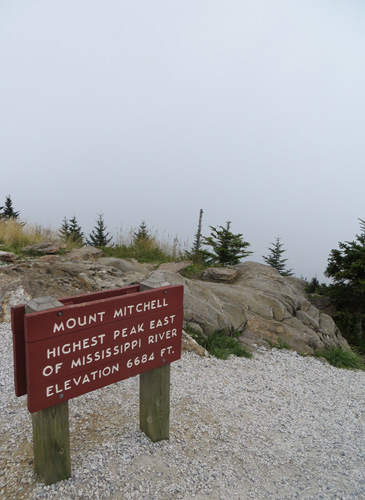 Our guidebook warned us that the weather at Mount Mitchell, the highest point east of the Mississippi, is famously fickle. We drove up to the park at the peak, then took the short walk to an observation deck, only to find ourselves a mile high in a sheetrock sky – nothing but gray as far as the eye could see, which wasn't very far at all. A woman next to us said, "I've been up here three times and it's been like this every time."
Photos in the neighboring visitor's center showed the view on a clear day but the clouds had gotten so dense and consistent we didn't even hope for a break.
Instead, we returned to Asheville for dinner.
We kicked things off at 5 Walnut Wine Bar, a cute little tapas joint with big open windows where you can sit and watch people pass by and hunger after your food. We opted for a smoked trout spread and a little bowl of olives. Pretty tasty.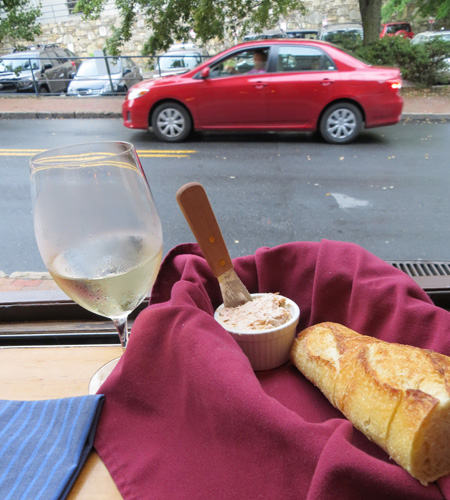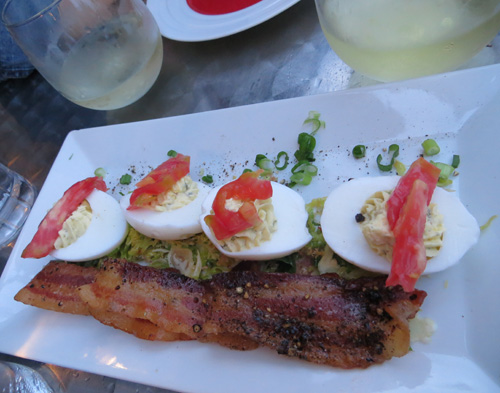 Across the parking lot is Sazerac, another cute restaurant/bar with a variety of small plates to chose from. We went with "bacon and eggs", a couple of deviled eggs with fancy ingredients and a couple slices of peppered bacon. Delicious.
A sign on their wall boasts of their "rooftop dining." Unfortunately, this deck is poorly designed, offering only a view of the sky above with a high wall blocking the view around and below. You can climb onto a fire escape for a slightly better view but this place doesn't hold a candle to the Flatiron experience.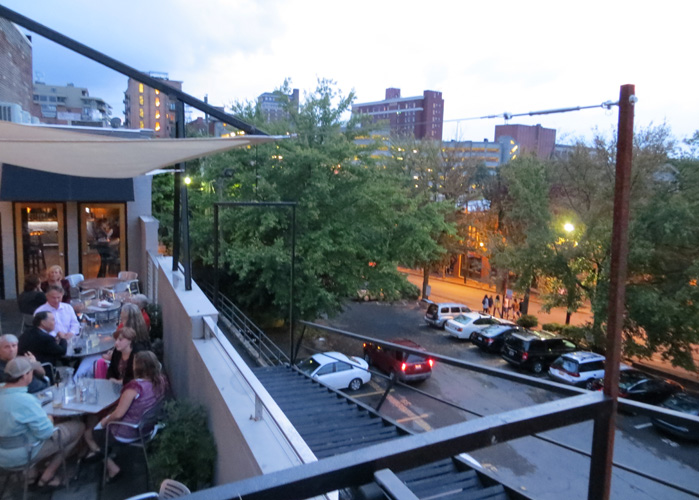 Next up, Southern, a restaurant and bar with a nice patio out front. Their drink prices are a bit steep, but they also run The Dirty South Lounge next door, a basement bar with a faux dive feel. Pool tables, Foosball, exposed rock walls, moody lighting – not bad, but the jukebox sucks. They could really use a creative DJ and/or live music.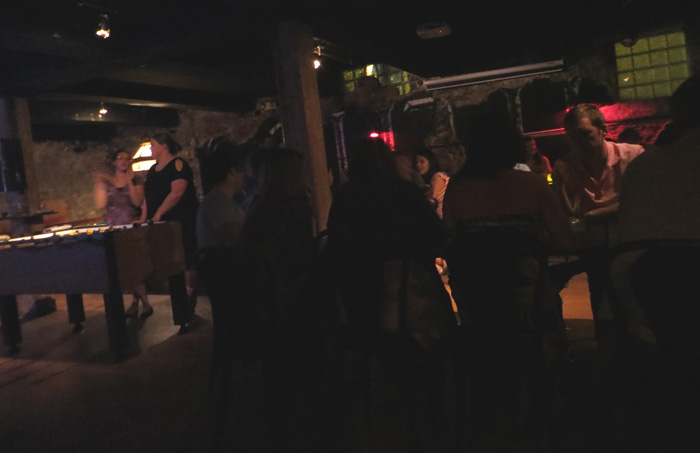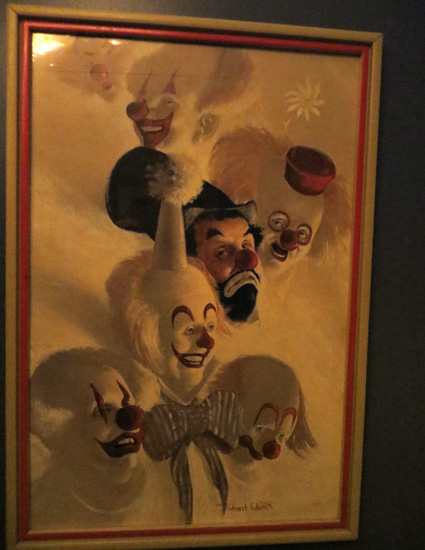 Tiger Mountain Thirst Parlour had featured a DJ playing pretty good music the night before so we trekked down the street to the parlour for a nightcap. Alas, no DJ on Saturday but I did spot this awesome clown painting in the men's room that reminded me of Greasepaint.
Next up, an art-filled Sunday in Asheville and the journey home via the southern end of Blue Ridge Parkway. Stay tuned.