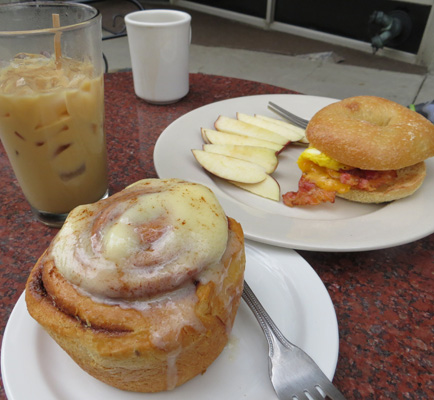 The Flatiron Building, mentioned in previous episodes, hosts a coffee shop on the ground floor which  lured us in with their massive cinnamon rolls. Yes, I likely gained a pound or two over the course of the weekend. Fortunately, we were walking almost non-stop and did several hikes along the Blue Ridge Parkway, so the scales weren't tipped too far out of balance.
Just down the block is a former Woolworths Department Store now turned into a very nice art shop with dozens of booths displaying paintings, jewelry, ceramics and more. There was some interesting work on display, which I"ll get to momentarily, but what sucked me in was their lunch counter.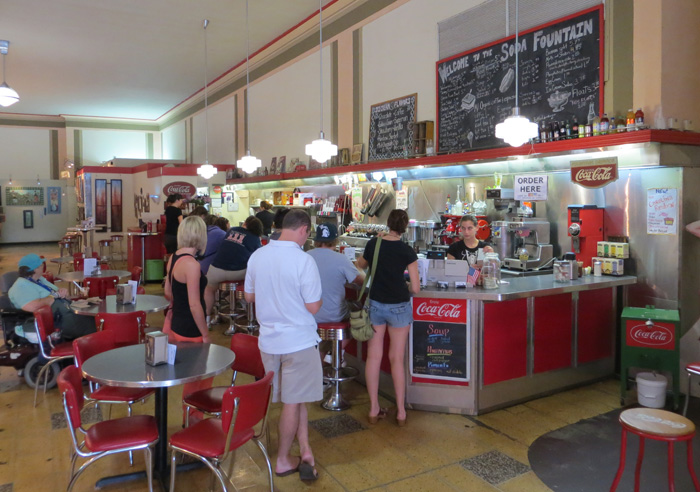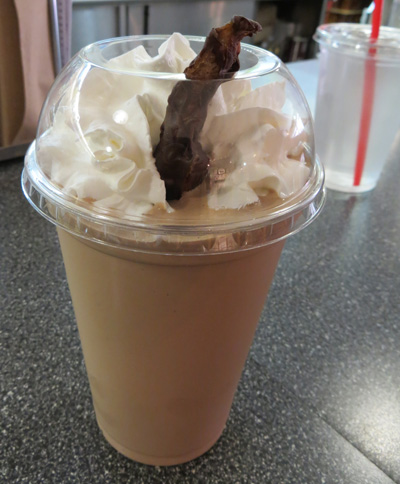 Later, I'd insist we return for lunch. They didn't have the crummy burgers I remember from the Woolworths at Ansley Mall, but they did offer some interesting twists on the expected fare. I ignored the veggie burger and other healthy alternatives for a bacon chocolate milkshake, complete with a dark chocolate covered piece of bacon, and a grilled cheese sandwich with tomato.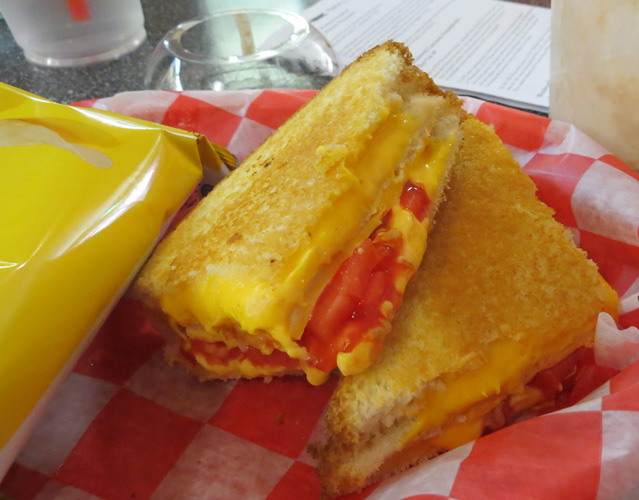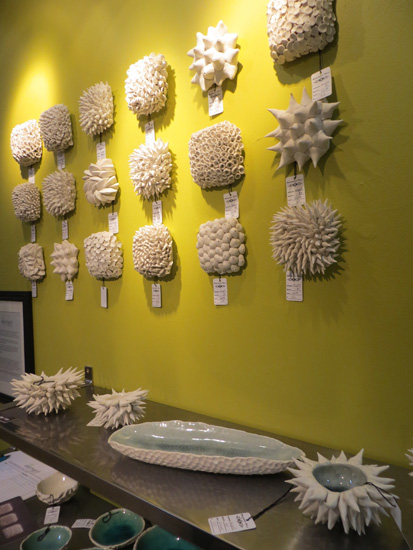 Ready to get your dose of art, and then some? You can start at Woolworths (after the shake, of course.) Probably the best things we saw were these pottery pieces in the shapes of sea creatures, and some clear-resin-encased wildflowers in the form of jewelry.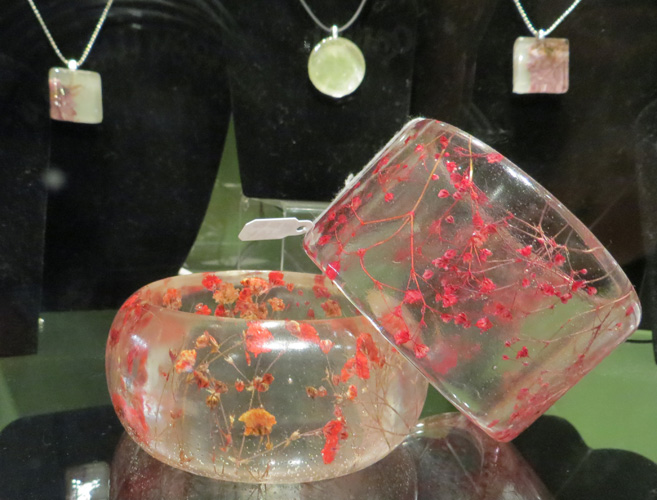 There are more artists in Asheville than I have seen anywhere. You can't go a block without stepping around some musician busking on the sidewalk or getting distracted by a guy blowing glass.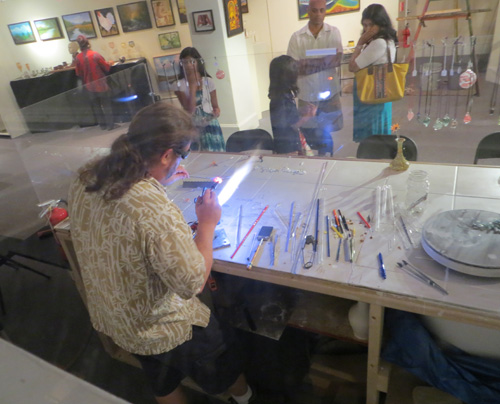 You can't possibly see it all. But you can see a lot of it in a few hours, particularly if you journey out to the River Arts District on the west end of town. You'll find more studio/galleries there than you can shake a paintbrush at (even if some of the art looks like that's exactly what you did.) Like most towns in the South, Asheville's industry is all but extinct so the often-gorgeous brick buildings are quickly being turned into studios, galleries, breweries, taco restaurants and more.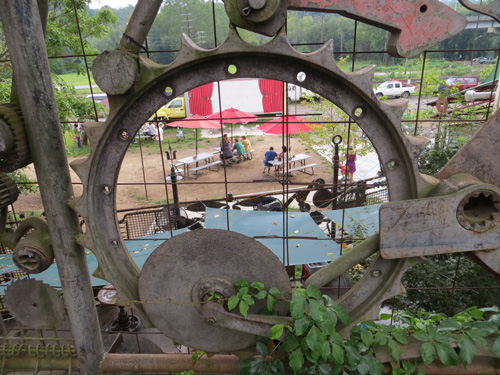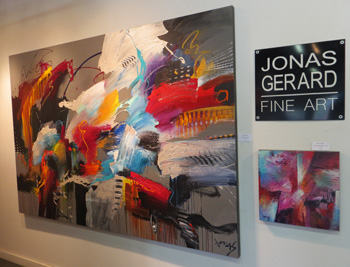 Jonas Gerard has an amazing gallery and studio space, DVD's for sale that show him working, a slideshow on a flatscreen showing examples of his work installed in homes and businesses, and people lounging on his patio drinking coffee from the cafe at the end of the block. But frankly, you can't tell the difference between his work and the splattered mess on his studio floor and walls. Pollock beat Jonus to the punch and, for me, delivered a knockout blow to abstraction.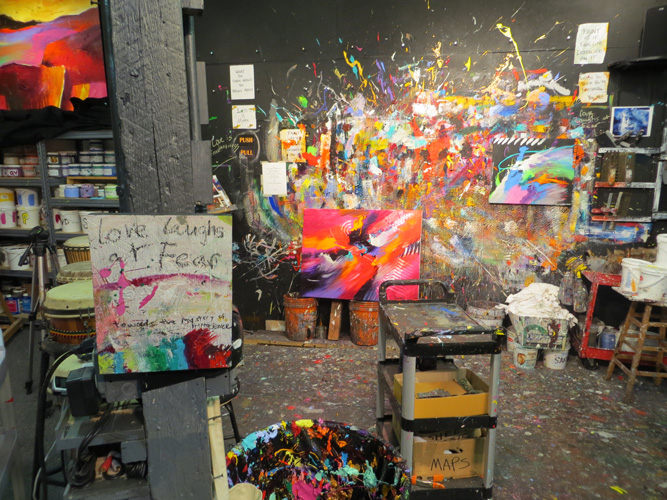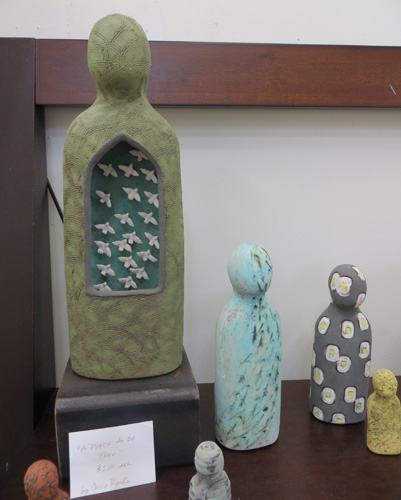 I didn't see a lot of painting in town that I liked. There is some good photography, some jewelry and other crafts worth a look, but the town's best creative works come in the form of pottery. The stuff is everywhere and often of amazing quality and/or interesting subject matter.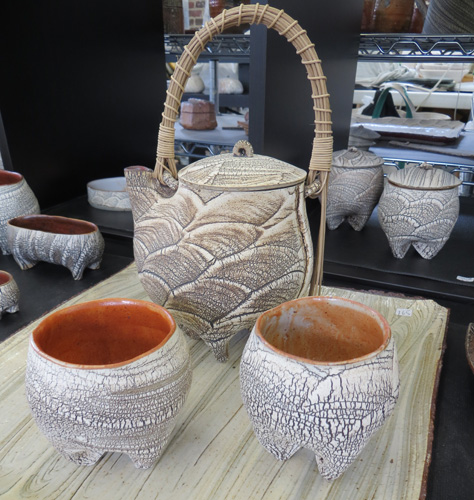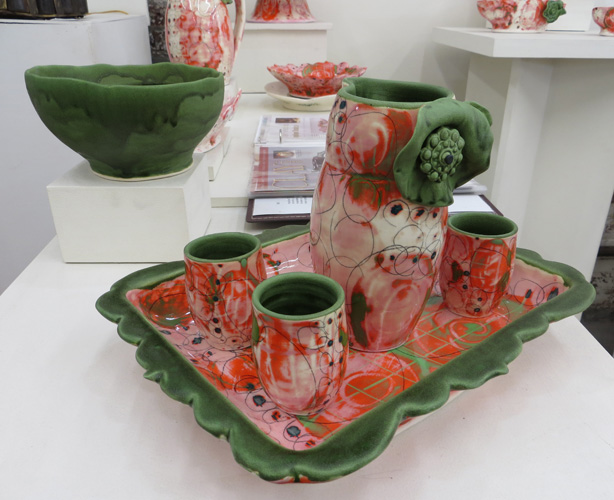 On the opposite end of the spectrum of the scrappy, funky arts district is, of course, The Biltmore Estate. We didn't go. Tickets hover around $50 per person, depending on how far in advance you buy and what day of the week you visit. I've seen palaces and castles and museums paid a lot less for the privilege so I didn't feel the need to fork over big money to see the place. Instead, we paid nothing to see Grove Park Inn, a hotel built to house rich and famous visitors to Asheville.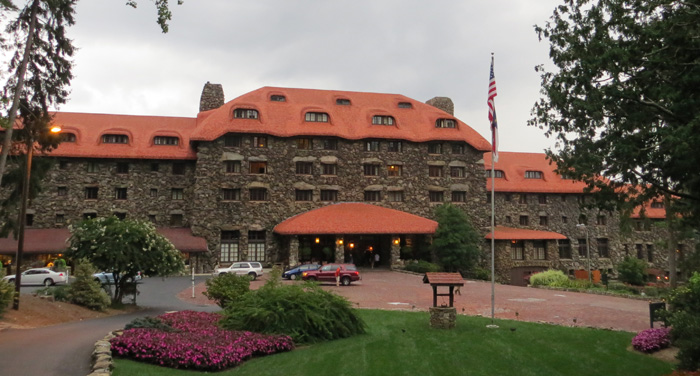 It has an interesting history you can read about on wikipedia or in the hotel's museum-like displays. The use of stone in this building was unlike anything before. The walls are built in opposition to the usual attempts to make a smooth surface. Some of these are massive, supporting large lanterns or engraved with famous quotations. It's an impressive heap of rock.
Unfortunately, the building has not been as lovingly maintained with respect to the original design as others in Asheville. I had read about this in a guidebook but it wasn't until I spotted this photo in one of the hotel wings that I realized just how much had been paneled over.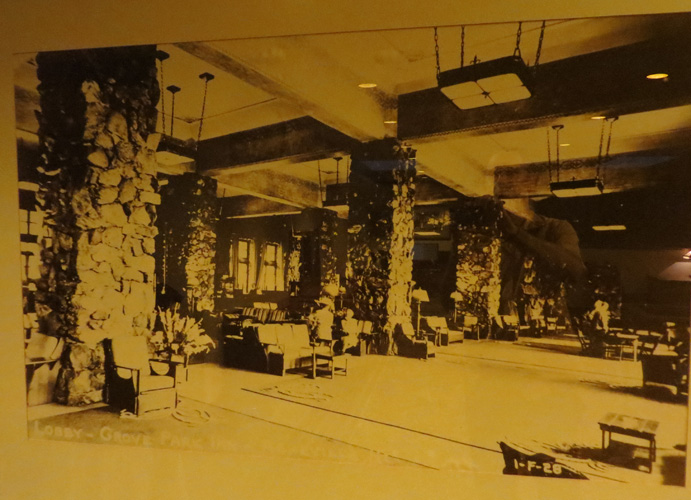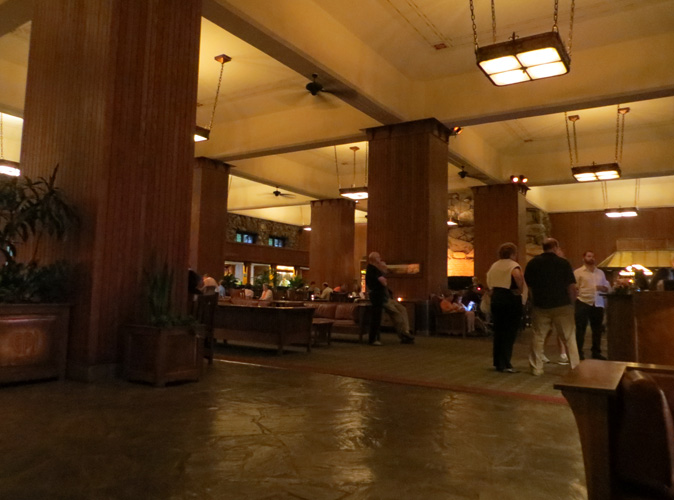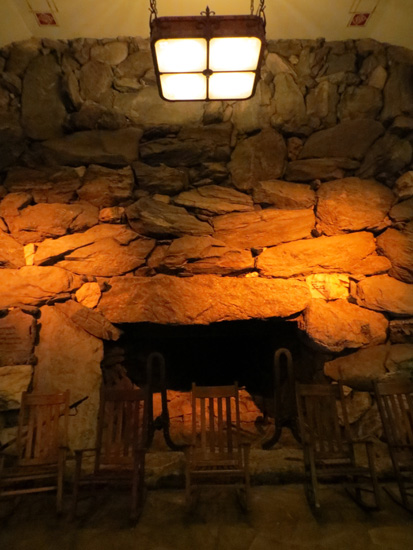 Worse, a couple of massive wings have been added with not so much a nod toward the original design as perhaps nodding off while looking at the original design. But the lobby still has these massive fireplaces, one of which is the facade in front of the hotel's original, tiny elevator.
There is a restaurant overlooking the valley out front but the prices are about what you'd expect to pay at an expensive hotel restaurant. Instead, get a drink at the bar and carry it outside to find a place to stand and admire the  impressive view (Note: some browsers automatically resize the image. Hover over the picture with your cursor to zoom in for the full panoramic effect.)
We returned to our comparatively affordable and less impressive Days Inn to change for dinner. Due to the rains, we weren't motivated to hop from place to place as we'd done the rest of the weekend. Instead, we went straight to Vincenzo's Ristorante & Piano Bar. I was hoping for a Nick the Night Club Singer sort of experience but instead the musician was tasteful and skilled at light jazz. When he came around to chat and asked if there was anything I wanted to hear, I was further disappointed when he didn't recognize the name of, much less know any songs by, Memphis Slim.
I should learn not to expect much from seafood hundreds of miles from the sea. Vincenzo's calamari looks better than it tastes.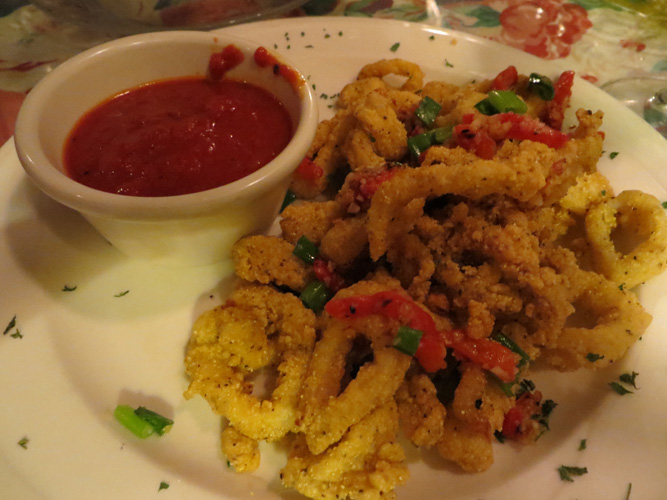 However, I'm not going to show you photos of the cannelloni She Who Shall Not Be Named had, nor my plate of veal. The photos don't look good, but the dishes were both excellent. Not cheap, however, so in the balance I wouldn't recommend the place.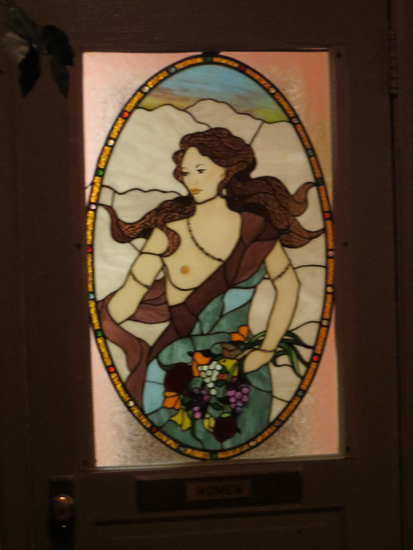 Even the bathrooms in Asheville get the creative touch. Vincenzo's come with stained glass doors.
Sunday night in Asheville is a bit sleepy, as you might expect from a not-that-big city in the South. After dinner, most of the places we drove by were closed for the night. Even our hotel was all but deserted. If it's night life you're after, make a weekend of it and head home on Sunday evening.
Next up, a drive through the southern end of the Blue Ridge Parkway and yet another gut-busting meal, courtesy of the Dillard House. Stay tuned.