I've seen a lot of good shows lately that I just haven't had time to review. The Coathangers did one of the best sets I've seen them do at 529 a while back. East Atlanta Village hosted the Strut last weekend with the usual art, food, and tons of local bands. There was an interesting drum circle style band called 10 Blocks Away at Elliott Street Pub, playing during an iron pour last week. Between Labor Day and Halloween there's always too much going on in Atlanta.
But when I only had time to write one review, I had an easy time deciding what to cover. Ruby Velle & the Soulphonics put on a two-night show at The Earl to celebrate their record release, taking the opening slot on Thursday for The Dynamites featuring Charles Walker.
The Soulphonics are a damn fine band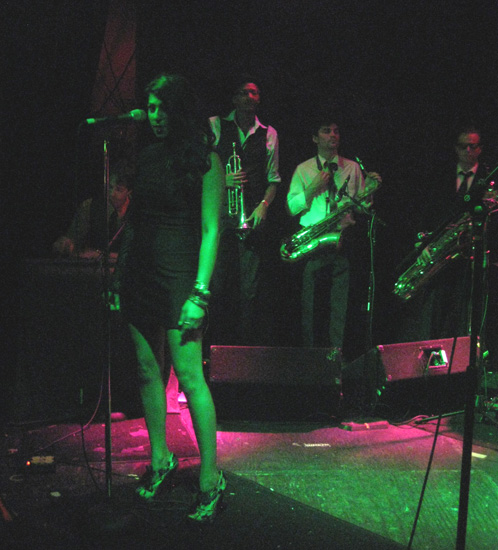 to begin with.  I could groove along with just them all day, and I get the feeling they could do it without repeating a single tune.  They're a well-oiled machine of old school soul/R&B. But then out comes Ruby Velle, looking fantastic as ever, and out comes that voice and… who needs to cry over the corpse of Amy Winehouse or grumble about how there isn't any "real" soul any more? Ain't no autotune in the Earl's sound system.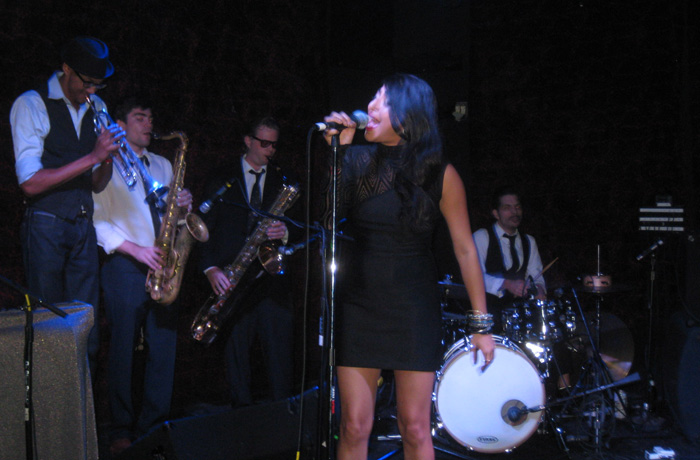 They did far fewer covers than previous sets I've seen, tossing in Sweet Soul Music to serve as a spotlight on the artists that made this sound as sweet as it is, but the vast majority of the set was original material. But kicking things off on a Thursday night may have been strategically unwise. The room took a while to warm up, probably in part due to those of us that had to work the next day and the fact that half the place was empty. But pretty soon I had to guard my drink against swaying bodies, including my own.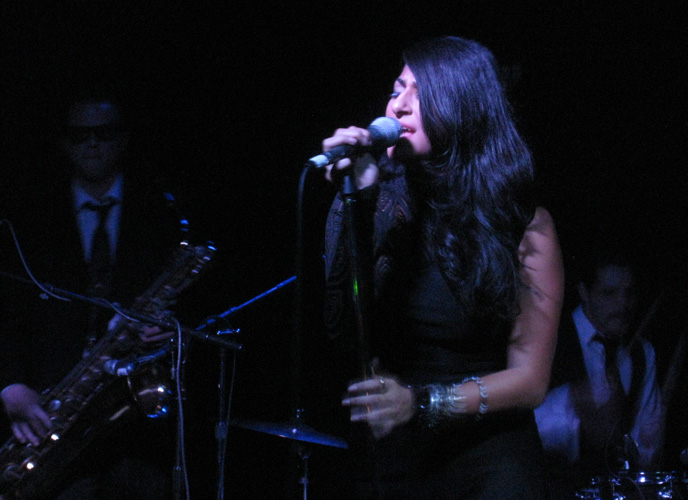 Only halfway through the set, degenerate CD and I agreed we'd already gotten $10 worth of entertainment.
The 10-song record contains all originals. The tunes fit in nicely with any classic soul/R&B collection.
Another reason I question the Thursday night gig – the room emptied out before The Dynamites came on. Yeah yeah, I had to work the next day too, but Charles Walker is worth a bit of weariness in the morning. You people missed a fucking amazing show. And with an early start time, it didn't even go that late. Your loss.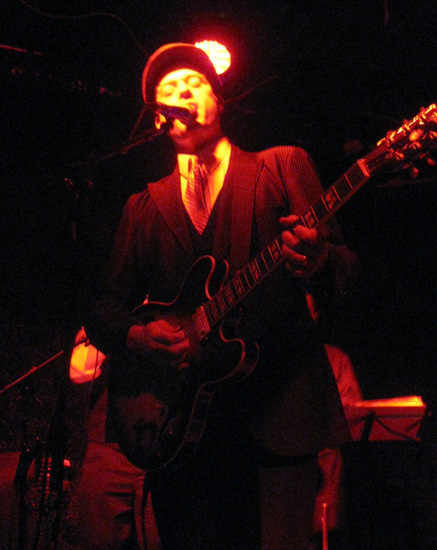 The Dynamites did a few tunes themselves to warm up the crowd. The guitarist, Leo Black, may be the funkiest white man alive. He can lay down a groove that will force you to move, and he's not a bad singer to boot.
Charles Walker appeared, looking sharp in a shiny black suit, and proceeded to turn the small crowd into a big bunch of believers. Funky soul and R&B from a man who knows how to belt out a tune with drawn out moans, low growls, high notes – a guy next to me just kept shaking his head in amazement.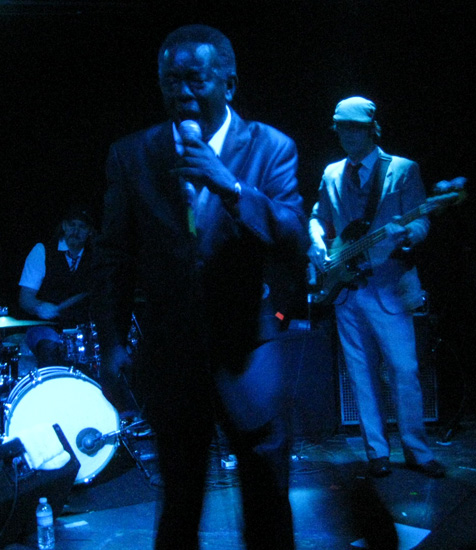 Soon Mr. Walker had to ditch the jacket (someone iron that man's shirt for him before the show next time) and wipe the his brow, which, I'm sure, was drenched in pure liquid soul.
I was tempted to use this three image sequence for the entire review.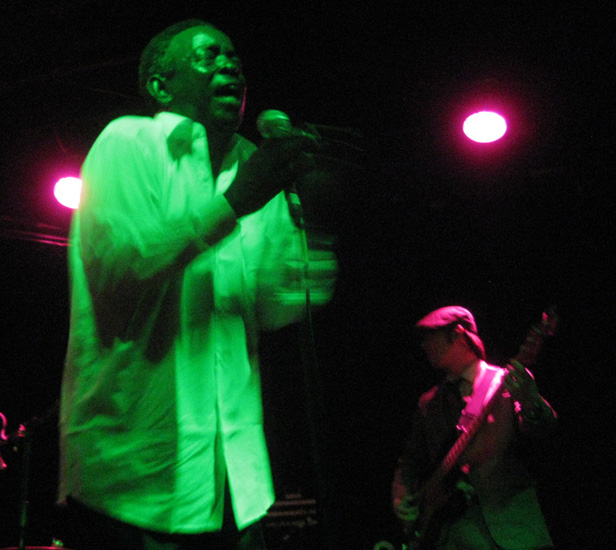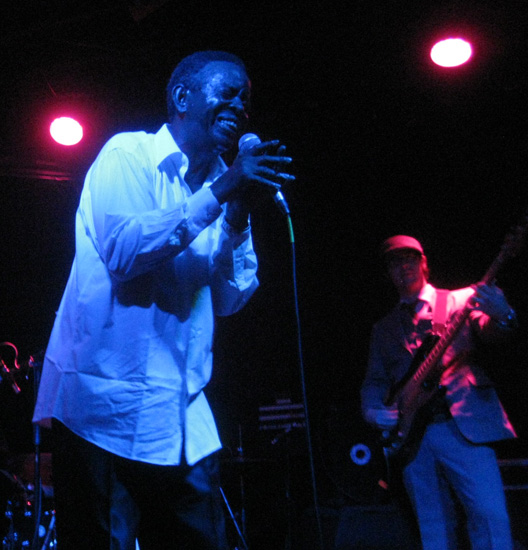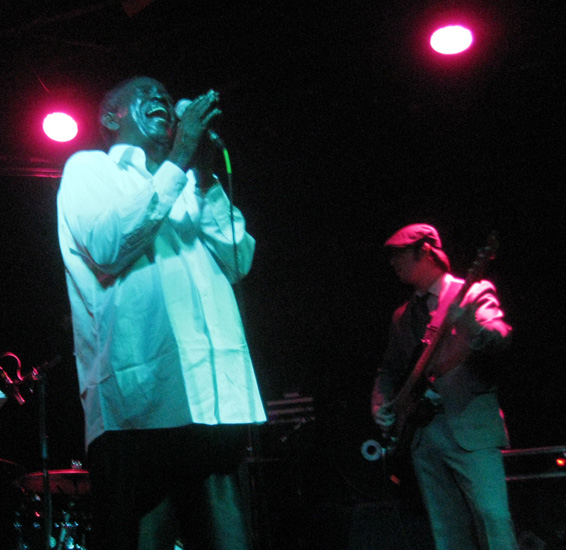 Charles does a fair number of covers but has plenty of his own tunes and Dynamite material to choose from as well. I walked out the door with every CD I could get my hands on.