We were sitting around the campfire a few months back when an old friend told us he'd been given a house in Nicaragua and invited us all down for a visit.
"How about New Year's Eve?" I asked.
"Oh YES!"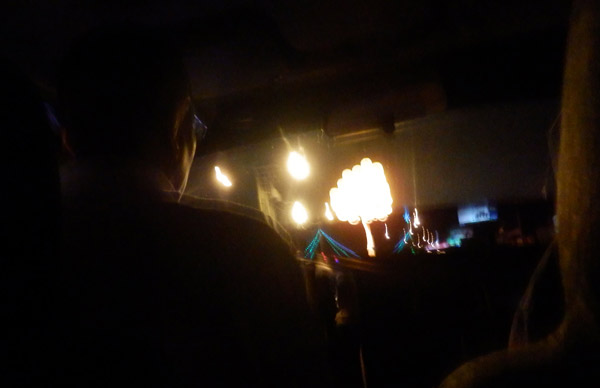 We arrived in Nicaragua's latest capital, Managua, after dark. The hotel had sent a "shuttle" in the form of a guy with a small, battered Toyota sedan. Later, we'd realize we probably paid about twice as much as we should've. Cabs in Managua are cheap. They'll take both U.S. dollars and the local currency, Cordobas, but always ask how much before getting in and, if you're a gringo, always haggle. Like a lot of folks in Nicaragua, the cabbies know you have money. They know you probably have little idea what anything should cost. They know you probably won't argue if you don't get change in return. The only problem you'll have spending U.S. bills are those with marks or tears. They don't trust any foreign bills that don't look like they came straight from the mint.
Managua looked rather festive, still done up for Christmas, as we sped through town to the hotel. We dropped our bags and asked for a nearby bar or restaurant in our terrible, broken Spanish. The staff mentioned McDonalds several blocks away, shaking their heads about how far it was.
"No, no McDonalds," I said, "We want something Nicaraguan, with beer and rum."
We had passed a bar just around the corner so we asked about it. Neither the woman who had checked us in nor the man guarding the door could or would tell us anything about the place. We had picked the hotel because of the relatively safe neighborhood, Bolonia. There were police every few blocks, guarding the neighboring presidential complex, so we strode out the gate and down the street.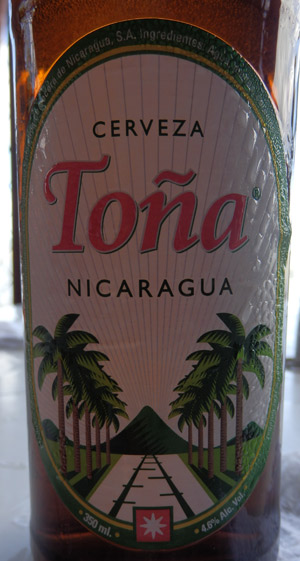 I didn't write down the name of the place (like most of Managua, nothing shows up on Google map and there are no street views of anything), but the bar we found catered to Nicaraguans from all over. One of the owner's friends or cousins greeted us, got us a table and helped us order. The man had recently returned from Cambodia where he worked for an organization doing ordinance disposal, digging up unexploded shells and old land mines. He had been all around the world doing the dangerous work, and had picked up just enough English to make a good conversationalist over a few dozen Toñas, one of the local brews.
Toña is a crisp, somewhat watery beer that has become the most popular beer in the country, surpassing the brewery's original flavor, Victoria. Victoria is a bit more flavorful, but neither are very interesting. They are perfect for a hot climate, however.
The other local drink of choice is Flor de Caña, a rum that is available in white or Gran Reserve in various ages (5, 7, 18 years.) The Gran Reserve very good and available almost anywhere in the 7 year variety. You can order individual drinks, or get a 375ml bottle for the table and the mixer of your choice.
The man who'd greeted us insisted we try the dance floor, so we poked our heads in and checked out the room. The place was so loud I couldn't hear myself think. Our pale faces stuck out like glow-in-the-dark sore thumbs and none of us had consumed enough Flor de Caña to brave dancing, so we opted to stick it out on the patio while our guide spun up tunes on the jukebox he thought we'd enjoy, such as Air Supply and Alan Jackson.
We polished off a couple of small bottles of Flor de Caña and called it an early night.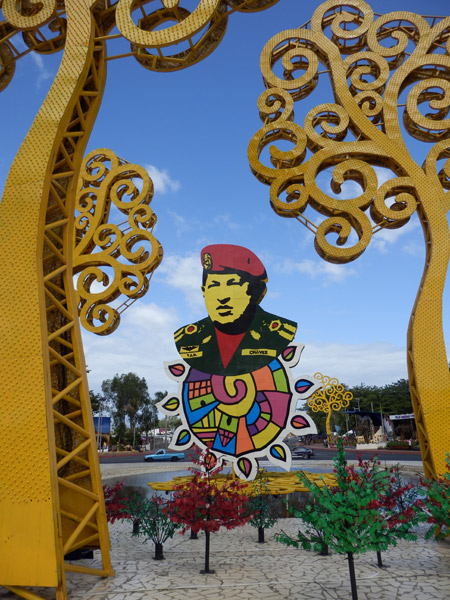 Managua is gradually rebounding from a couple of civil wars, a major earthquake, and the real estate bust. They've dressed up one of the main streets in what you might call downtown, adding giant yellow "trees of life" every few hundred yards. These sculptures are lit every night. An expat journalist pointed them out as one of the things that is wrong with Managua. You could justifiably ask, "They're spending money on this when people need housing, education, sanitation…?" and so on. But if Nicaragua could become the new Costa Rica, everyone would benefit. I'm sure the trees created a handful of jobs themselves as well.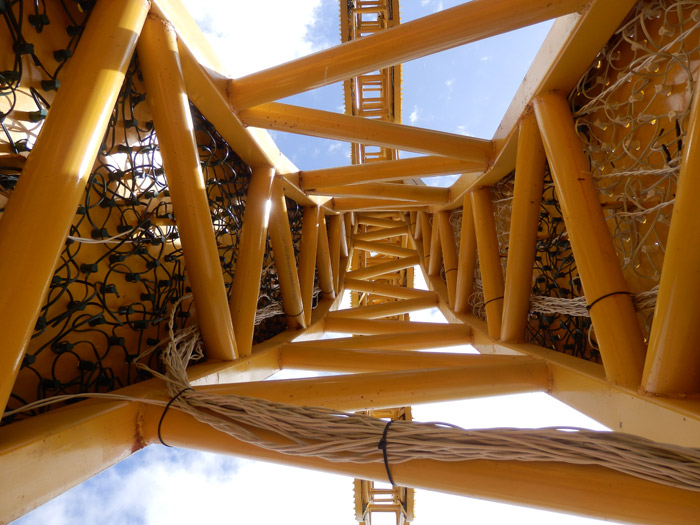 Admittedly, just off this main street are neighborhoods that would be labeled "ghettos" in wealthier nations. The vast majority of the city's streets are in need of major repairs. Trash and graffiti is so commonplace you stop noticing. Some homes and businesses would give hovels a bad name.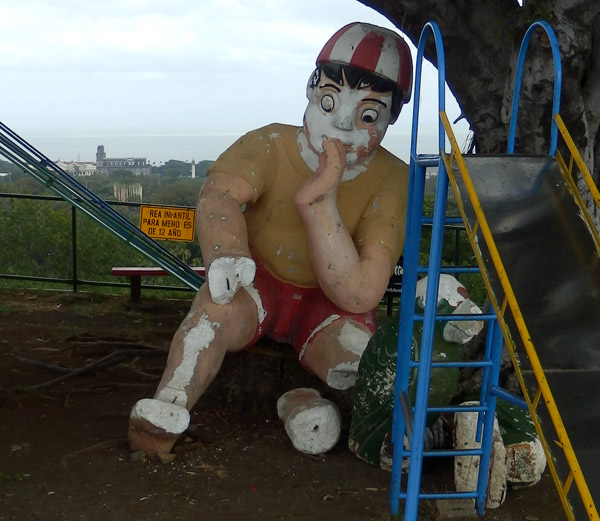 Yet the place feels vibrant, alive, at times even charming. There are beautiful parks, a few pretty buildings, and the people smile often. We walked through a run-down neighborhood, only to find a child's birthday party in progress where the locals stood in a ring, laughing and taking pictures of children batting away at piñata after piñata.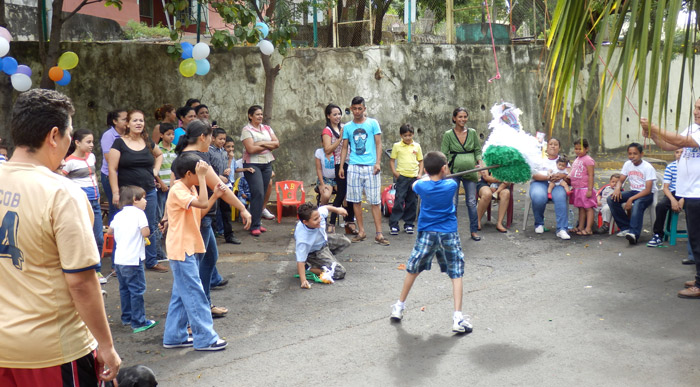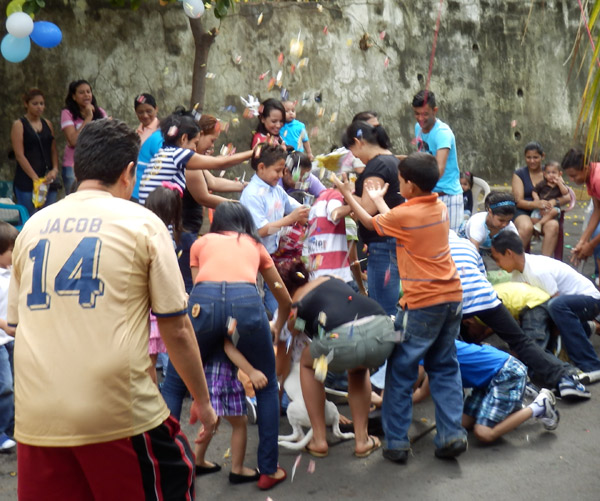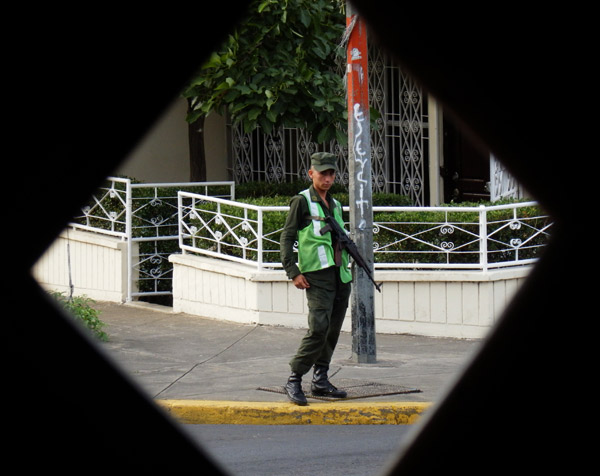 The city threatens to overwhelm all senses, awash in sorbet colors contrasting with rust and dust. Tropical birds chirp at dawn, only to be drowned out by morning rush hour. The exhaust fumes mingle in the humid air with the smell of manure from the many horse-drawn carts still used by locals, occasionally blown away by cool breezes off the lake.
As if the physical sensations weren't enough, you have constant reminders of the treacherous path the nation has followed to reach this moment. Memorials to revolutionary heroes, victims of assassination, and people who died in the earthquake are more common than beggars. Now it feels as if everyone has just agreed, "Well, that 500 years was fucked up. How about we just quiet down and try to earn a buck?"
By our last day in the city, we'd decided it didn't deserve the poor reputation it has among many foreigners. (Then again, we live in a neighborhood in Atlanta that some folks are hesitant to visit, so take this opinion with a grain of context.)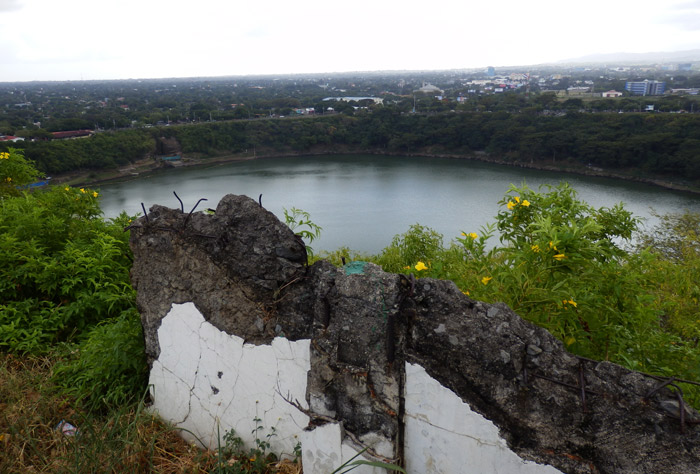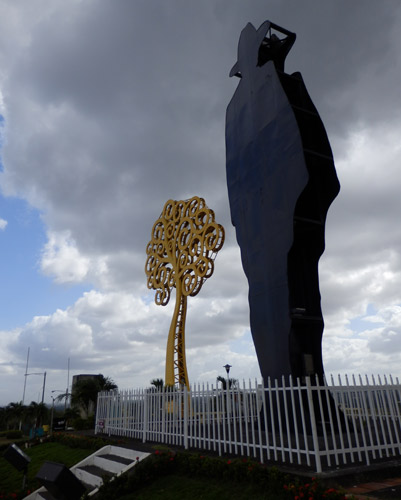 We trekked up the hill to see Laguna de Tiscapa, a beautiful volcanic peak, complete with a large lake, in the center of town. Much of the area is taken up by a large park, topped by another Tree of Life sculpture, along with a giant black silhouette of Augusto César Sandino. You'll see images of Sandino everywhere in Nicaragua, from building-sized murals to coffee mug designs.
They have placed these sculptures atop the ruins of the presidential palace built by the Somoza regime, now reduced to a couple of walls housing a permanent display of photos of the formerly beautiful home.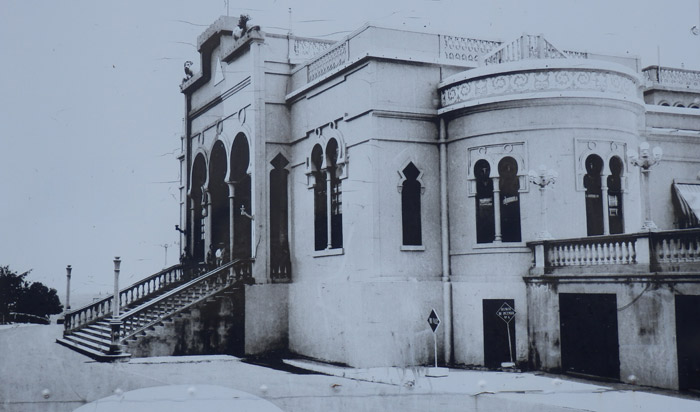 The place was destroyed in the earthquake of 1972 (more on that later.) Check out the torture museum in the former basement, read about the prison up the hill, or just google Anastasio "Tachito" Somoza DeBayle and you'll understand why there was a revolution to oust the regime.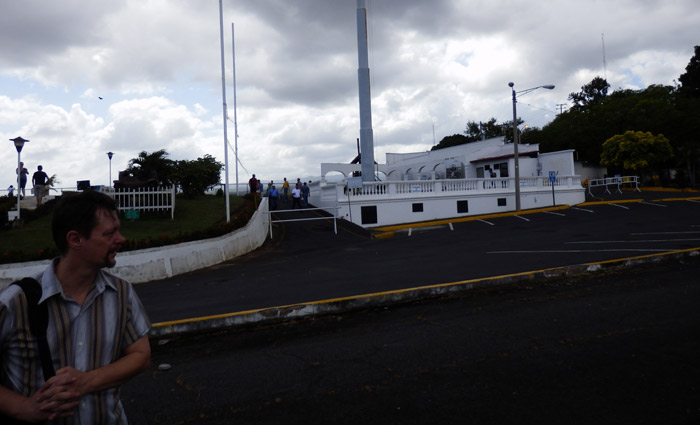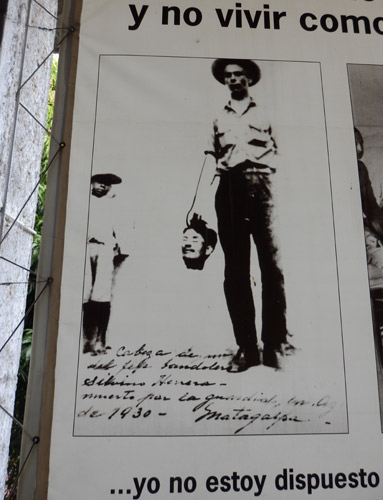 But then those same revolutionaries turned the lake, formerly a turquoise swimming hole for the locals, into a sewer. The USSR and Cuba-backed Sandinista National Liberation Front, FSLN, wasn't as friendly to U.S. business interests, so Ronald Reagan aided the Contra groups against the new Sandinista government. You can hear horrifying tales about almost any group involved in Nicaraguan history going back to the conquistadors. One local man we met had a stepfather marked for death by the Sandinistas, and a brother marked for death by the Contras. In this case, both survived, but it illustrates the confusing and bloody history the country has suffered.
These days, the park could be a metaphor for a LOT of Nicaragua. It is undergoing a cleaning effort, but still points to a dark past – something pretty, layered atop something ugly, set in an absolutely gorgeous, yet tectonically unstable country, with tourists zip-lining overhead.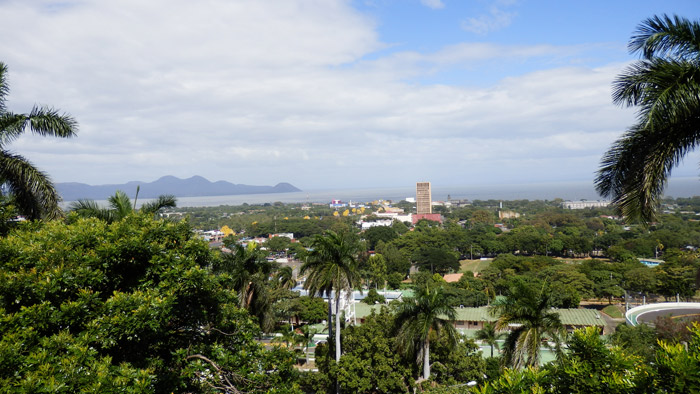 We trekked down Avenida Simon Bolivar, the aforementioned main street, to find massive nativity scenes lining the road, put together by various local organizations. Some of them were bizarre and surreal, others comical and cheap, others made ironic by the presence of models of military vehicles or by their locations under statues glorifying violent revolutionaries.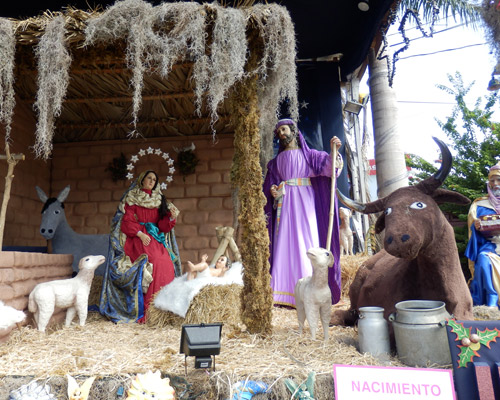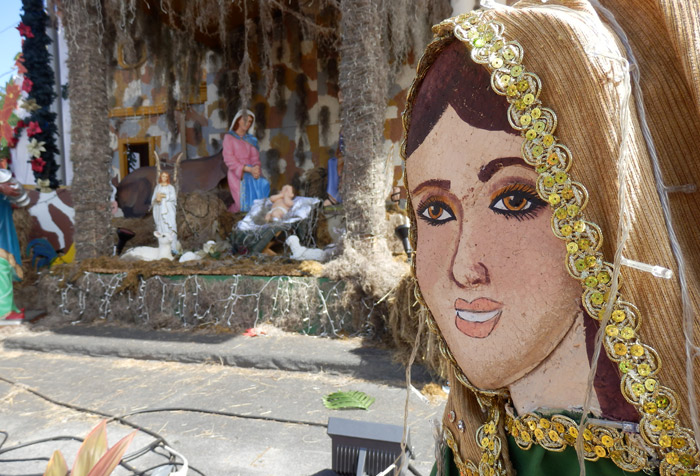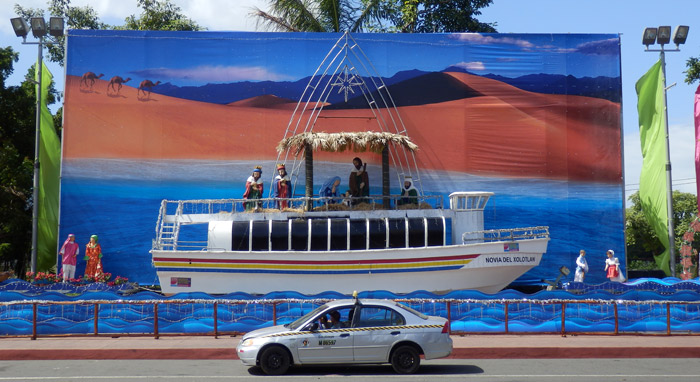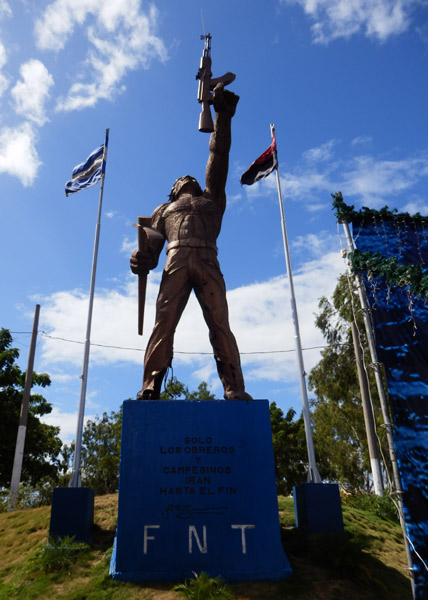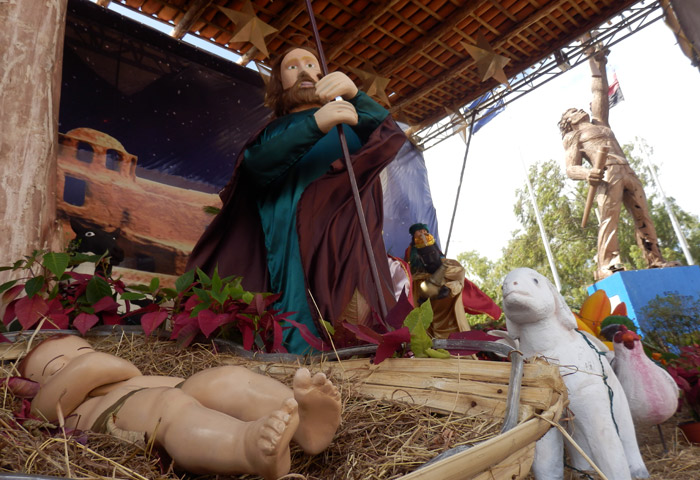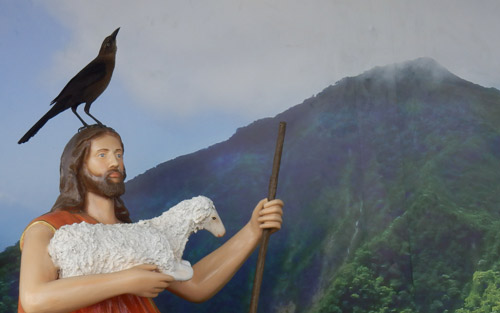 Just off the street was another park, this one featuring several nicely appointed basketball courts, as well as a baseball field. Later, I asked a local why basketball and baseball were so popular, yet I had spotted only a few soccer fields. He claimed it was a leftover from when the U.S. Marines were running the country. You'd think that the occupation, followed by U.S. support of assholes like Somoza – a man who bombed ghettos to get rid of the poor, dumped the bodies of various disappeared people into ravines, had journalists assassinated, and so on – followed by support of another wave of violent revolutionaries in the form of the Contras, would put the population at odds with the U.S. Yet Jimmy Carter was in country for a visit and the locals bragged about it. (Carter had stopped supporting the Somoza regime, and had influenced Israel to do the same, perhaps earning him some respect in local eyes.) El Hobbit was showing at the local theater, in English with Spanish subtitles (two tickets and a bottle of water for less than $10.) The U.S. dollar is accepted at just about every business, and I can't recall a single negative comment directed our way over a 10 day stay. (As mentioned, however, my Español is poor at best!)
We trekked through Parque Central where trees shaded lovers kissing on park benches, past a gazebo featuring relief sculptures illustrating Nicaragua's history, past the tombs of three revolutionaries adorned with eternal flames, to the vast stretch of pavement that is now Plaza de la Revolución. (You may have to scroll to see the whole panorama I stitched together.)

The square is bordered by the former cathedral, now a crumbling shell. There are only a few buildings in the city's old downtown that survived the 1972 earthquake and subsequent fire. The quake was also the beginning of the end for the Somoza regime. The president stole international relief and aid and sold it while his people starved. The other effect of the quake was to change Managua from a typical city with a dense downtown and a grid pattern of streets to the sprawling, disorganized creature you'll encounter today.
The square itself could use a centerpiece, but each administration tears down what the previous had put up. Unless there is a political rally, there is rarely even a person in the vast space. Sandinista member Daniel Ortega has returned to the presidency but has yet to put his mark on the square.
A guard ensures you don't enter the former Cathedral, which is unfortunate because the fading décor inside could be a strong memorial to the earthquake's victims. The clock tower on the right side of the church is frozen at the time of the quake, 12:39, though it doesn't tell you that this was AM on a Saturday night. An estimated 5,000 people were killed, 20,000 were injured and over 250,000 were left homeless.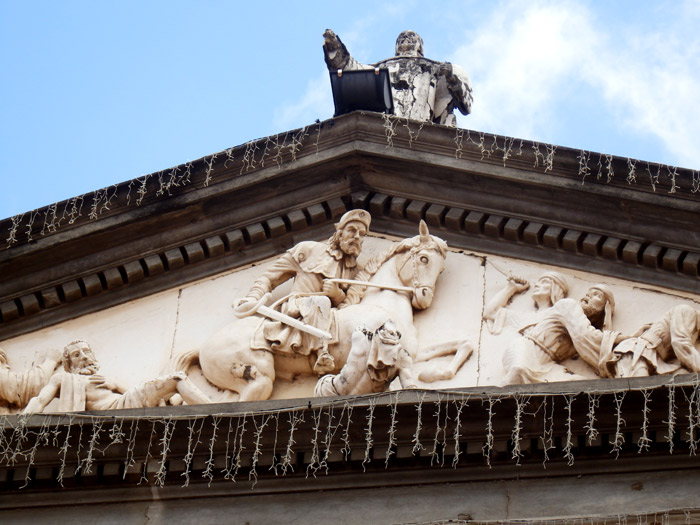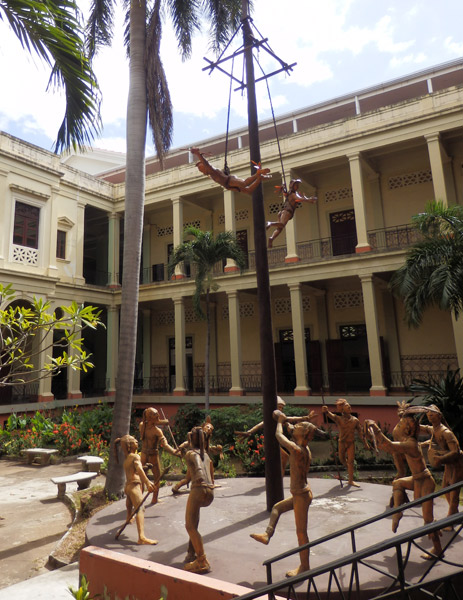 Next door is the Palacio Nacional, now a museum featuring pre-Columbian artifacts, modern art, murals dedicated to revolutionary figures and more.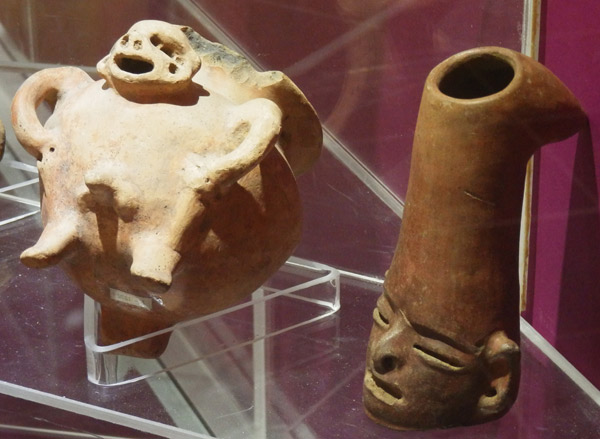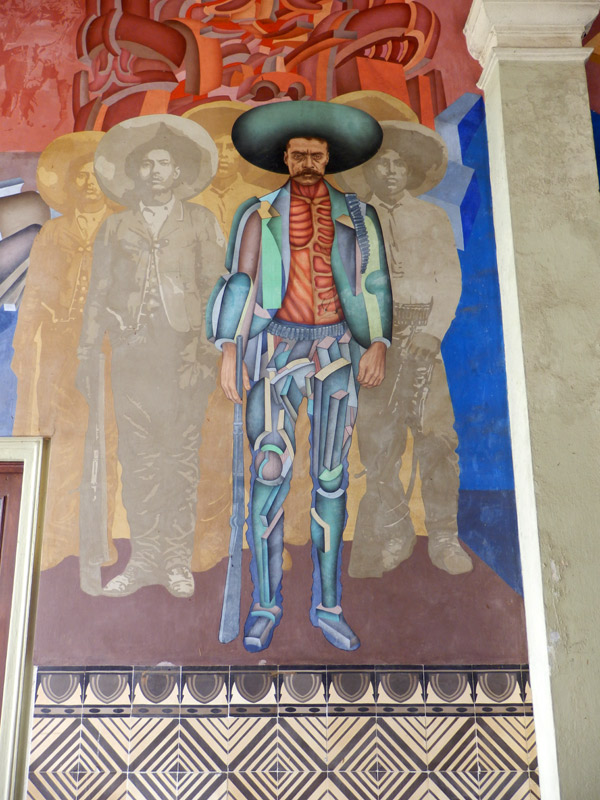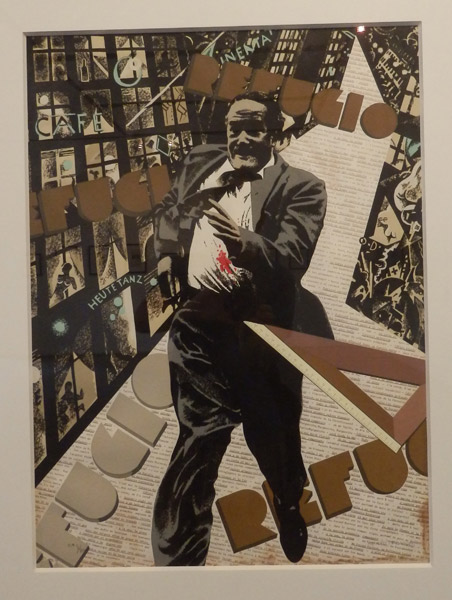 The Sandinistas held congress hostage here in exchange for freeing political prisoners.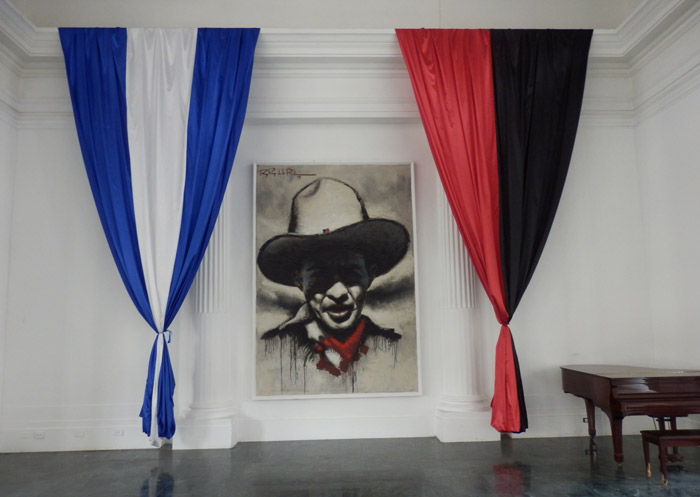 The building also houses some offices and studios on the third floor, which is off limits. One of our guidebooks recommended sneaking up anyway to see other parts of the former hotel. We did, and were rewarded with a nice view of the cathedral, as well as a peek into a painting studio before we were tracked down and escorted back downstairs.
The museum could use a gift shop, however. I would've loved a copy of some of the prints on display.
At the northern end of Avenida Simon Bolivar, where once was the heart of the city, is now "Plaza de la Fe" (Faith Square). Unless the square is hosting an event, you'll only find a large, empty field with a large, somewhat peculiar, clamshell auditorium in the form of a massive, white, concrete wave. A monolith in the center of the square honors of a visit by Pop John Paul II.
Just beyond is the picturesque Lago de Managua, ringed by green volcanic hills. There should be miles of waterfront hotels, upscale restaurants, and trendy clubs. Instead, there is Puerto Salvador Allende, an outdoor mall with a small admission fee. The mall houses a few bars and restaurants, as well as a few carnival rides, but we didn't have time to pay the place a visit.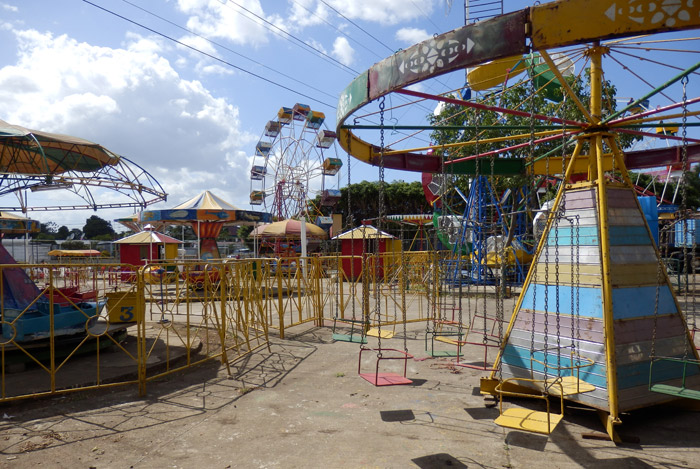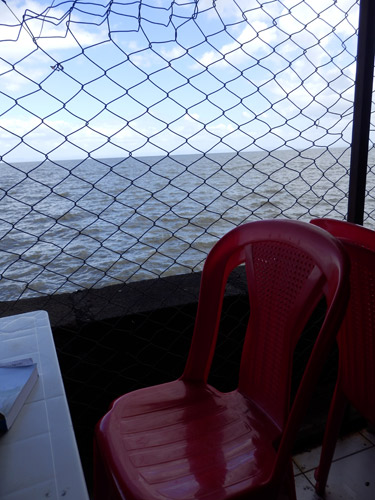 Instead, we sat next door in one of the somewhat crummy waterfront restaurants for a Toña, watching a few people dance to Latin music. There are other clubs nearby, but we didn't return at night to see the place in full swing. December may be the best month to visit Nicaragua in terms of weather. It's warm, but not the brutal heat that comes late January – April, and the rainy season has just ended so everything is still fresh and green. Despite looking through a rusty chain link fence, we enjoyed the view of the lake and the refreshing breeze.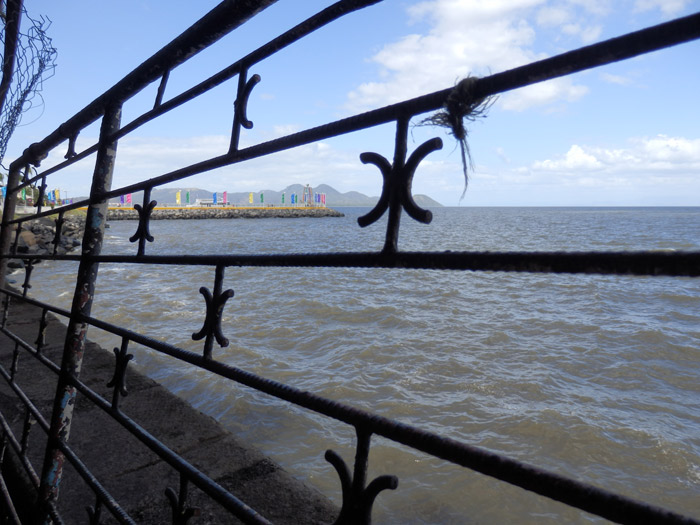 Across the street is one of the few large, downtown buildings to survive the earthquake, Teatro Nacional Ruben Dario. When we passed, workers were applying some fresh paint but we didn't notice what, if anything, was playing at the theatre. Googling the place upon my return, however, I regret not looking into it. They've got some fantastic photos of events and the theatre itself on their site.
We got a cab back to the hotel, but had to give the cabbie the hotel's business card for him to locate the place. Even so, we had to help him out when he got close. Our host/guide/fixer arrived an hour late to pick us up. He and a local had been driving around, trying to find the hotel with no luck. There are no standard street addresses in Managua. Every location is given in directions, "On X street, half a block north of Y, near Z." GPS is all but useless. When I tried to find the hotel on Google maps when I got home, I couldn't locate it, nor the bar around the corner.
Later, we'd return to Managua to stay at a hotel widely recommended as the best in town, Camino Real, a block from the airport and sharing a lot with the Pharaoh Casino. The rooms were nice, but the prices were not what you'd expect in Central America. $3 beers? What is this, Los Estados Unidos? We had dinner there (I recommend the typical Nicaraguan platter over their attempts at foreign cuisine – better and far cheaper) before slinking into the neighboring casino. Later, we'd meet a local who used to spend a lot of time in the Pharaoh and he said the place had gone downhill. We found the machines, the chips, even the cards to be worn down. Half the gaming tables were deserted, as were most of the slot machines. The drinks are cheaper than the hotel, but are no longer free as they once were. A couple of the guys in our gang lost a few cordobas before we beat a retreat.
Nicaragua:
Managua
San Juan del Sur
Ometepe, Rivas, Masaya
Granada