I've been to New York a couple of times but I'd never left Manhattan. Nick Cave went on tour this year but wasn't coming to Atlanta so we decided to use that as an excuse to visit Brooklyn. I doubt I'll stay in Manhattan again. The city proper is only a couple of subway stops away, but the outlying boroughs have more of a neighborhood feel than the concrete canyons of downtown. The food options in Brooklyn are fantastic, I didn't stop gawking at architecture for more than a minute, and the new parks they're putting in along the river offer sweeping views of Manhattan, bridges, and the Statue of Liberty in the distance. Food, architecture, museums, parks – the outlying boroughs have what you want in New York without having to deal with as much of what you don't like about New York.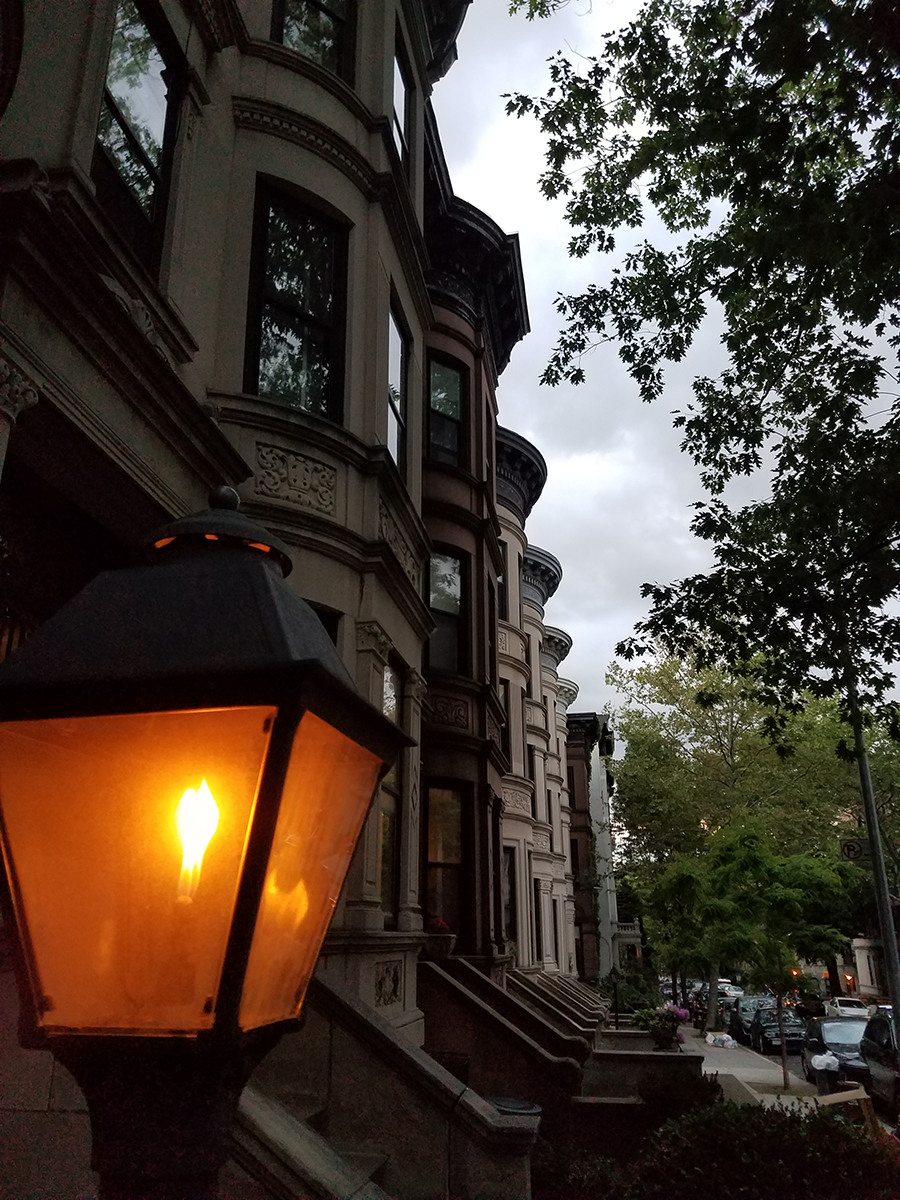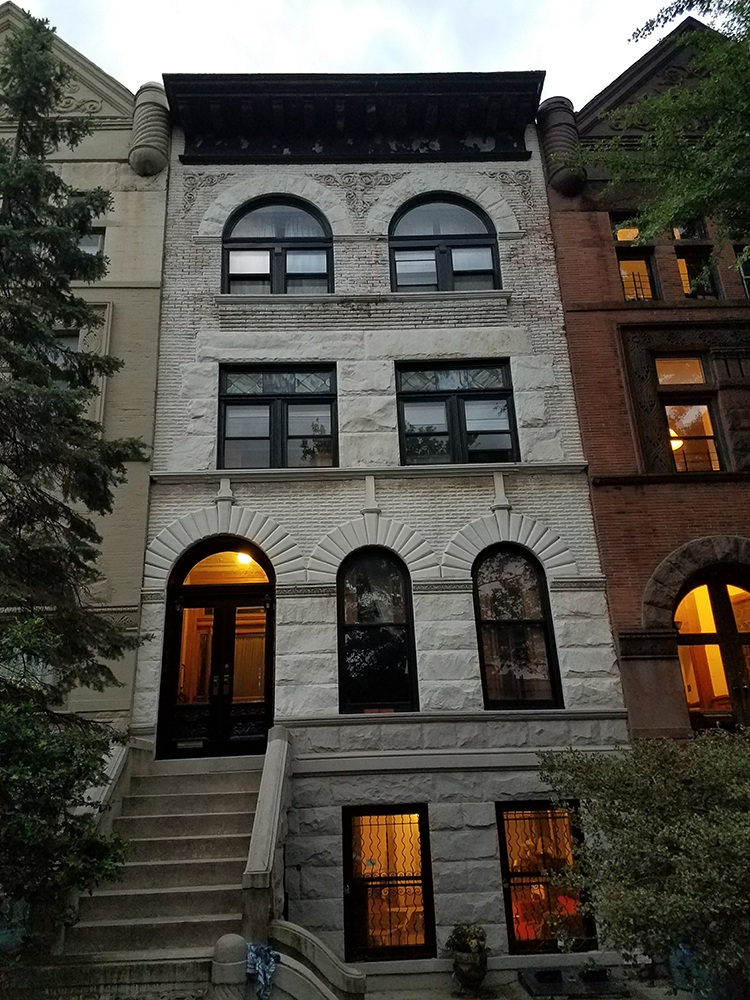 Nick Cave was a fantastic show at a gorgeous venue, Kings Theatre, a historic place done up in French Baroque style and recently renovated after sitting empty for decades. "One of the five 'Loew's Wonder Theatres' in the New York metropolitan area," says wikipedia.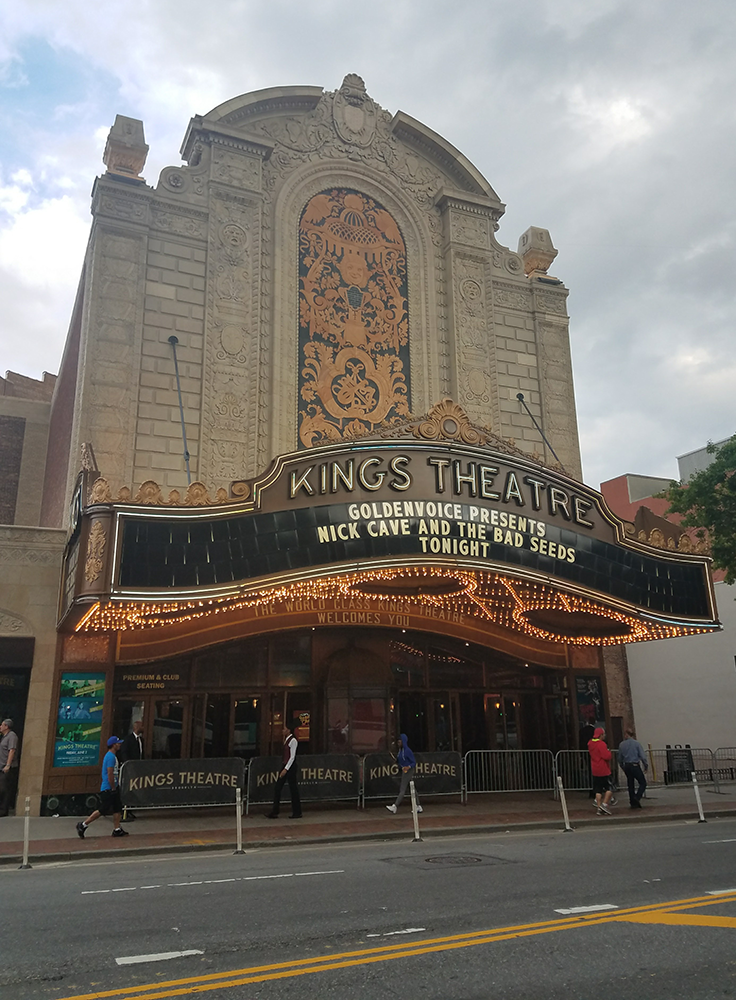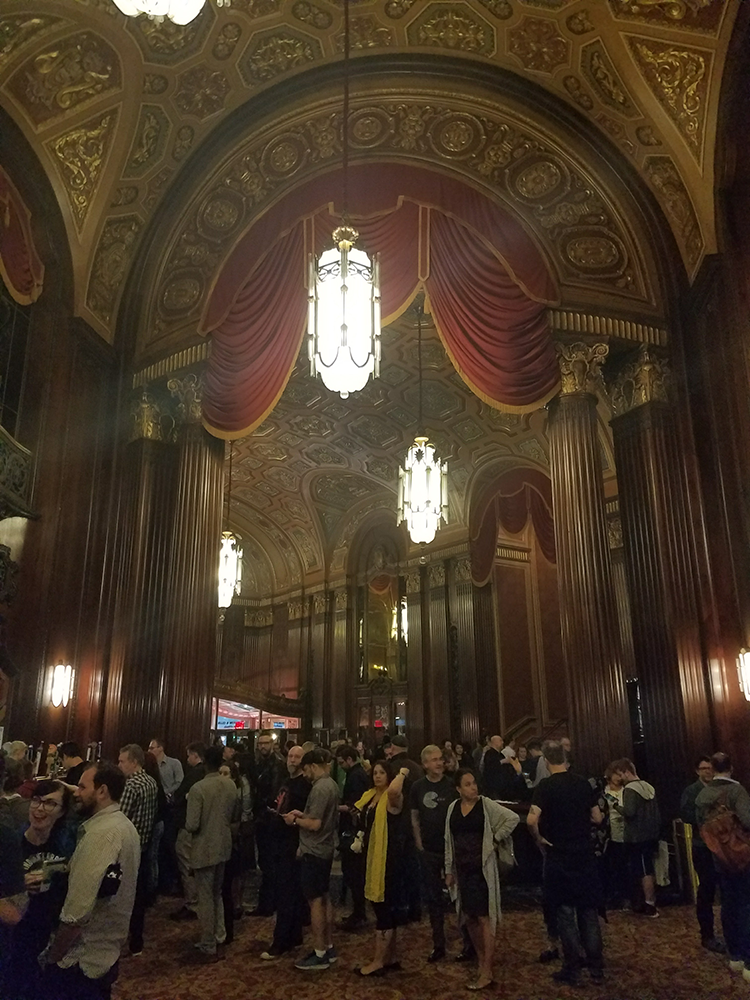 This particular tour was a bit more melancholy than previous performances that I've seen, but if you've seen the documentary One More Time With Feeling, about the loss of his child and his efforts to battle grief through work, you'll understand why. If you haven't seen that film you should. It's beautiful and intense, much like the man's music. (I didn't snap any photos of him this time, as I was focused more on the show than my phone – particularly with so many people around me live broadcasting the performance via their own phones.)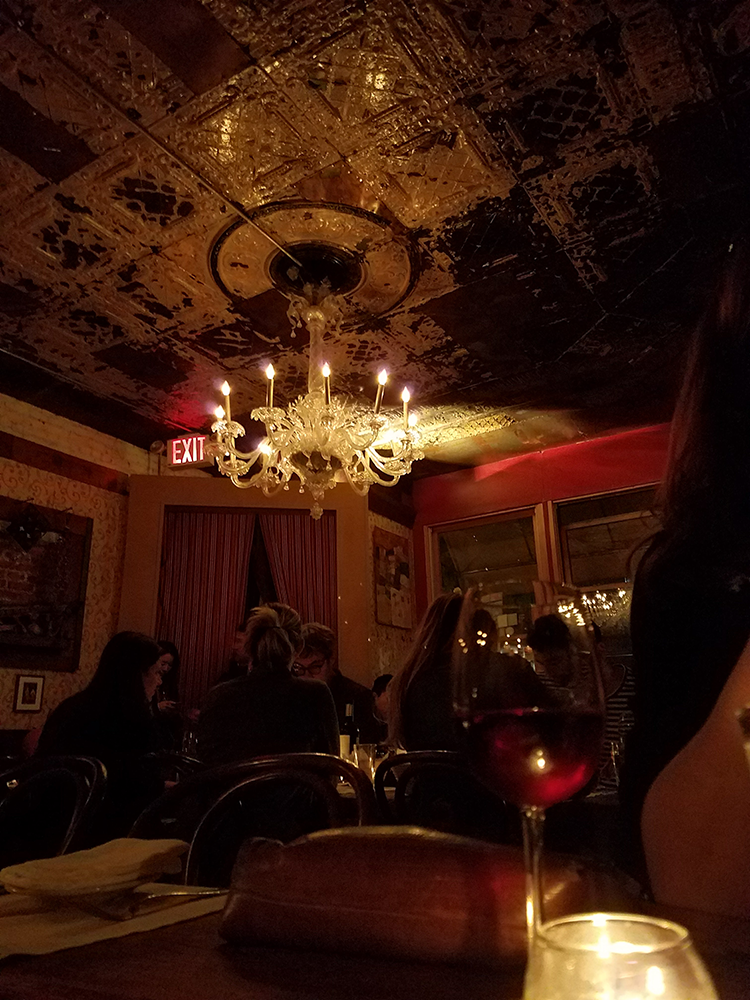 The best meal of the trip came courtesy of Al Di La, an Italian place in Brooklyn, a quaint little joint with big windows and romantic lighting. This lighting resulted in terrible food photos so you'll have to make do with a portion of the menu and my feeble efforts to convince you it is worth traveling to the city just for the food. If I recall correctly, we went with the rabbit, a phenomenal pasta dish, something beforehand and something after. Now I'm wishing I had photos so I could at least savor the memories.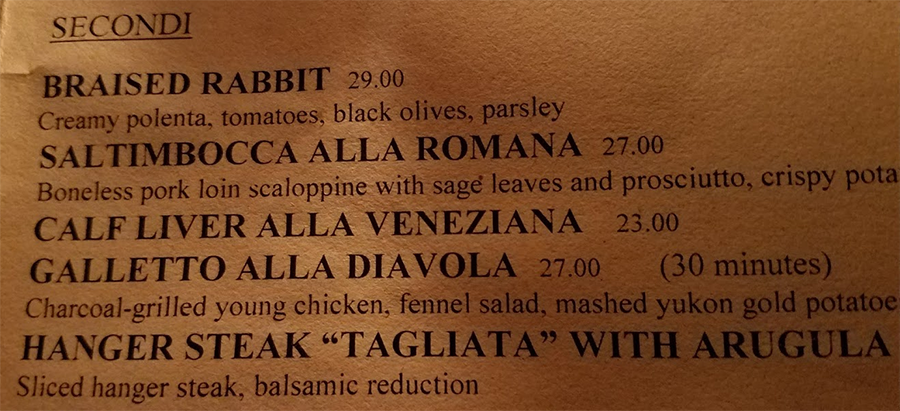 One thing I love about older cities, something sorely lacking in Atlanta, is the details. In past centuries, buildings were adorned with art – statues, gargoyles, decorative flourishes.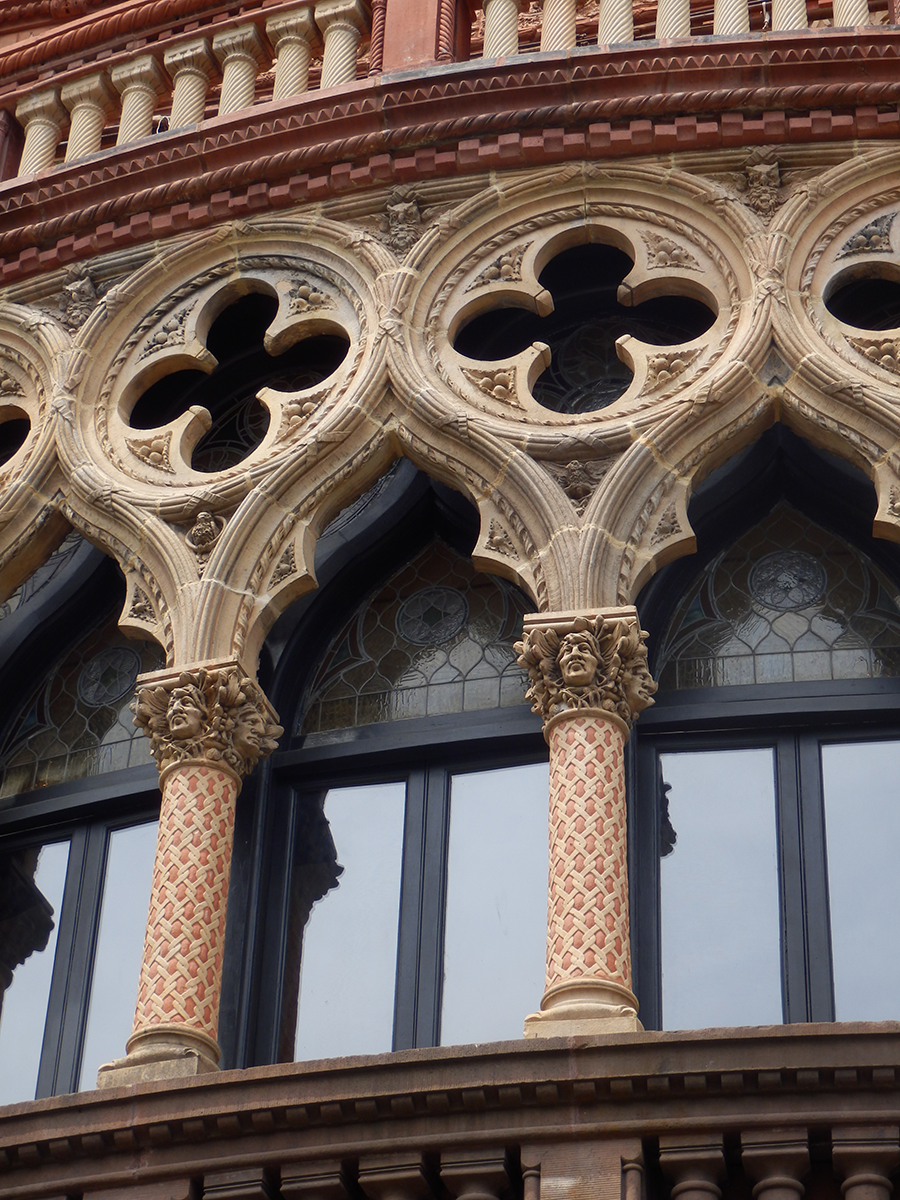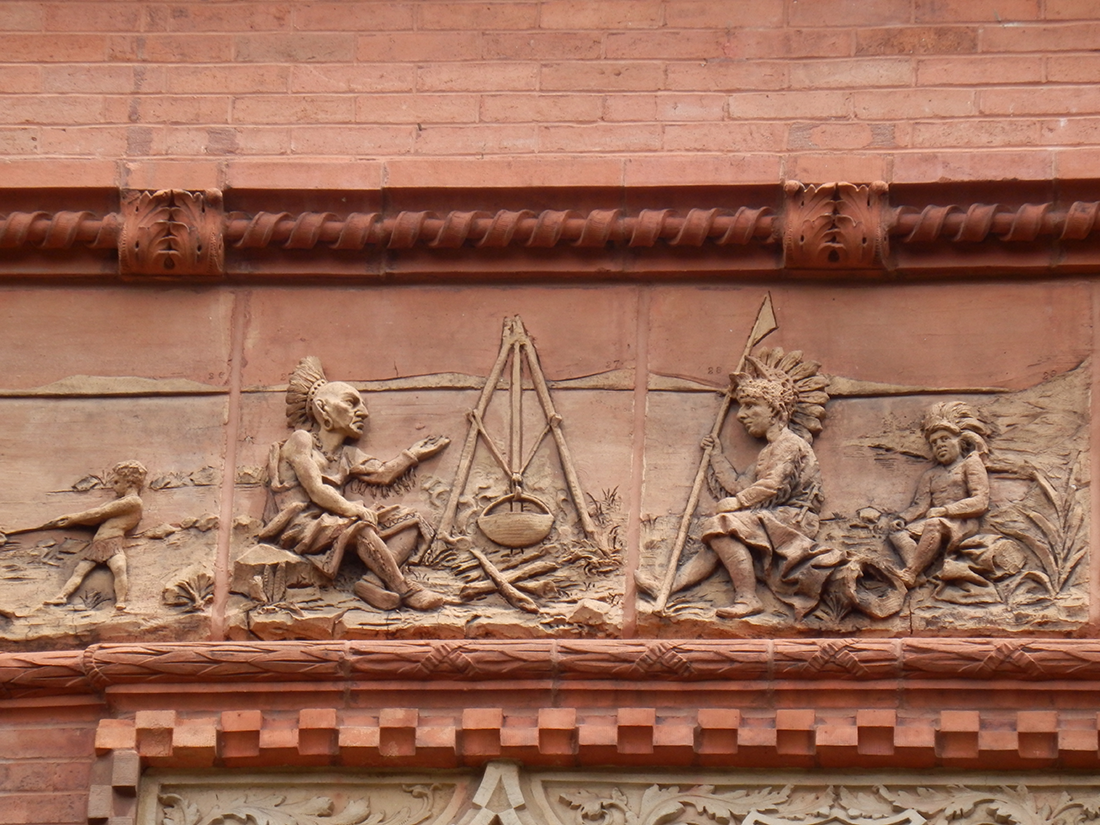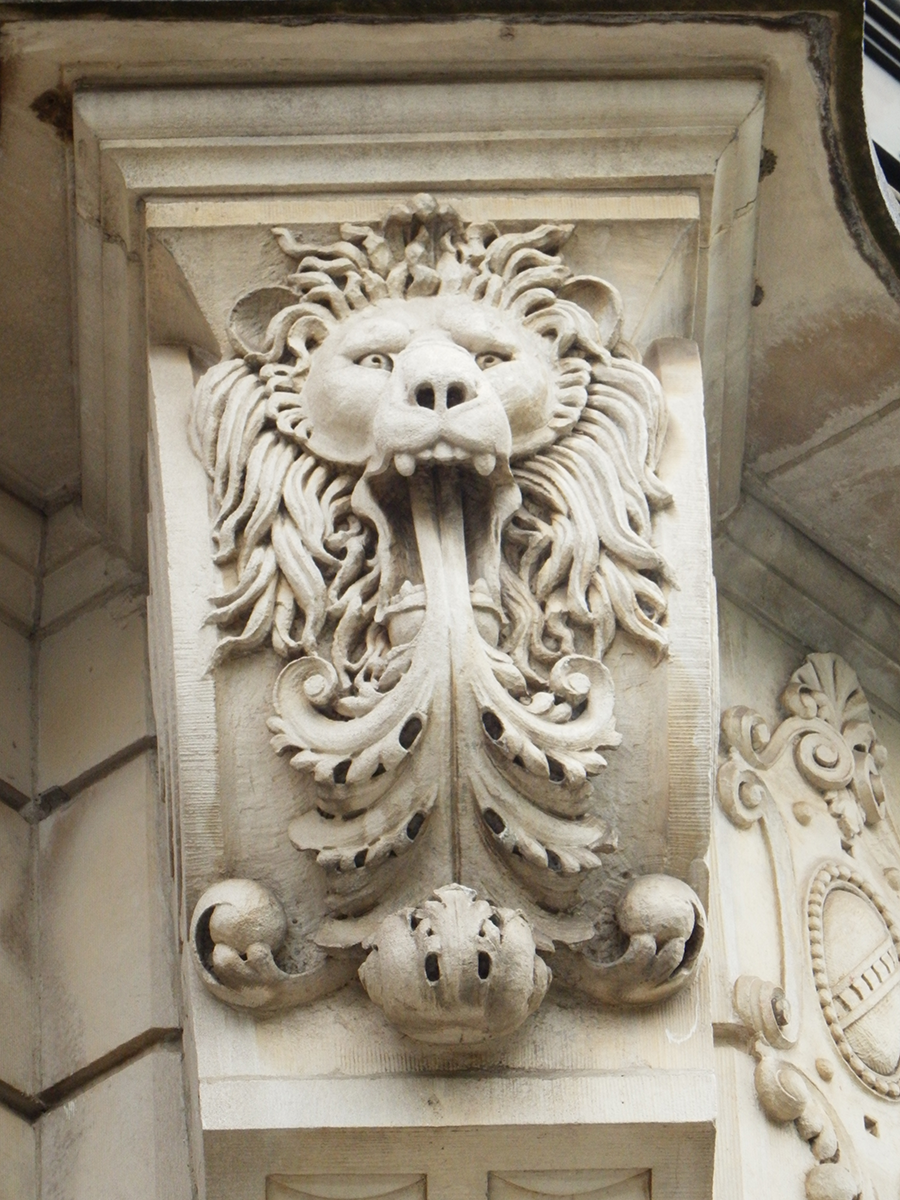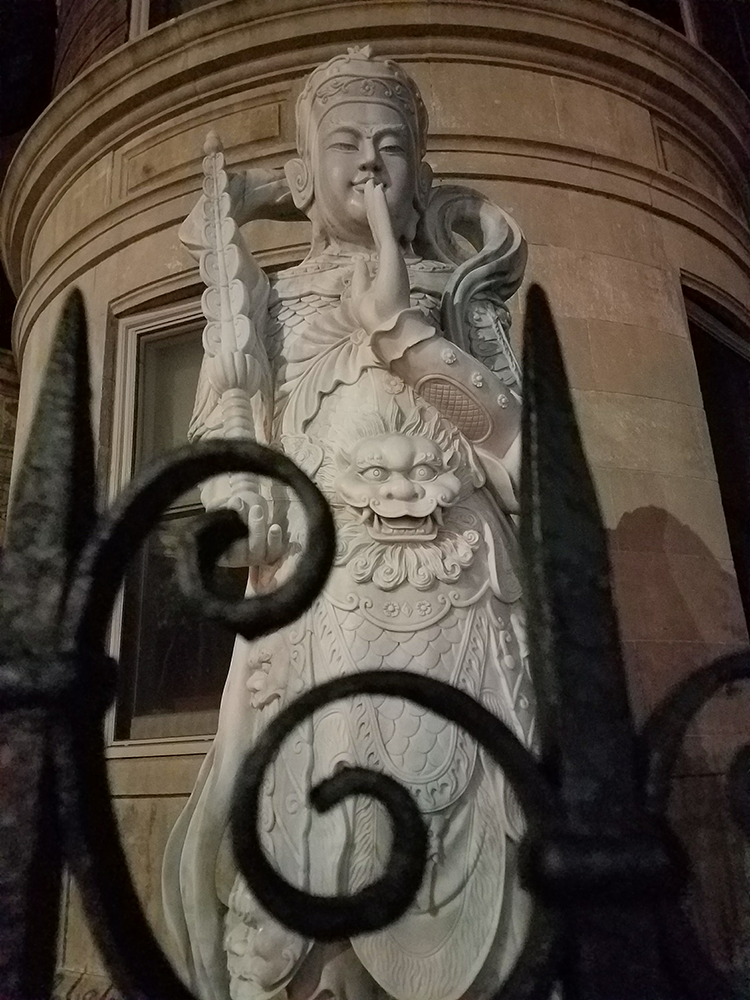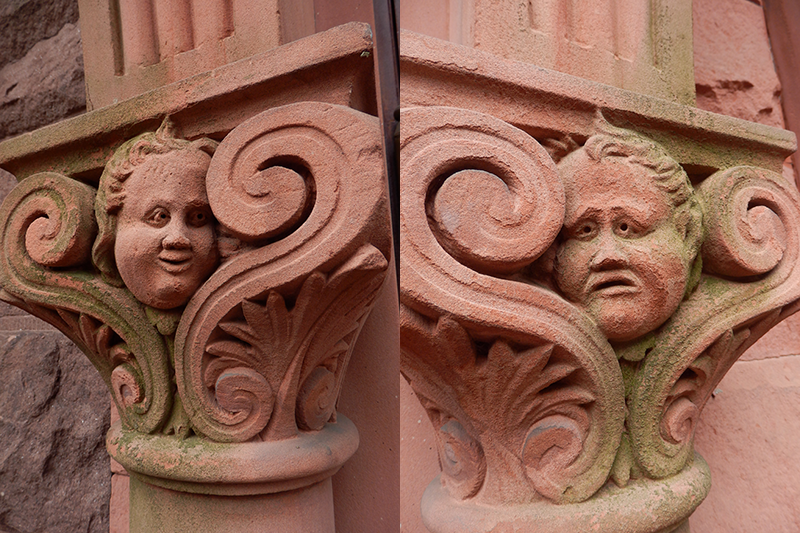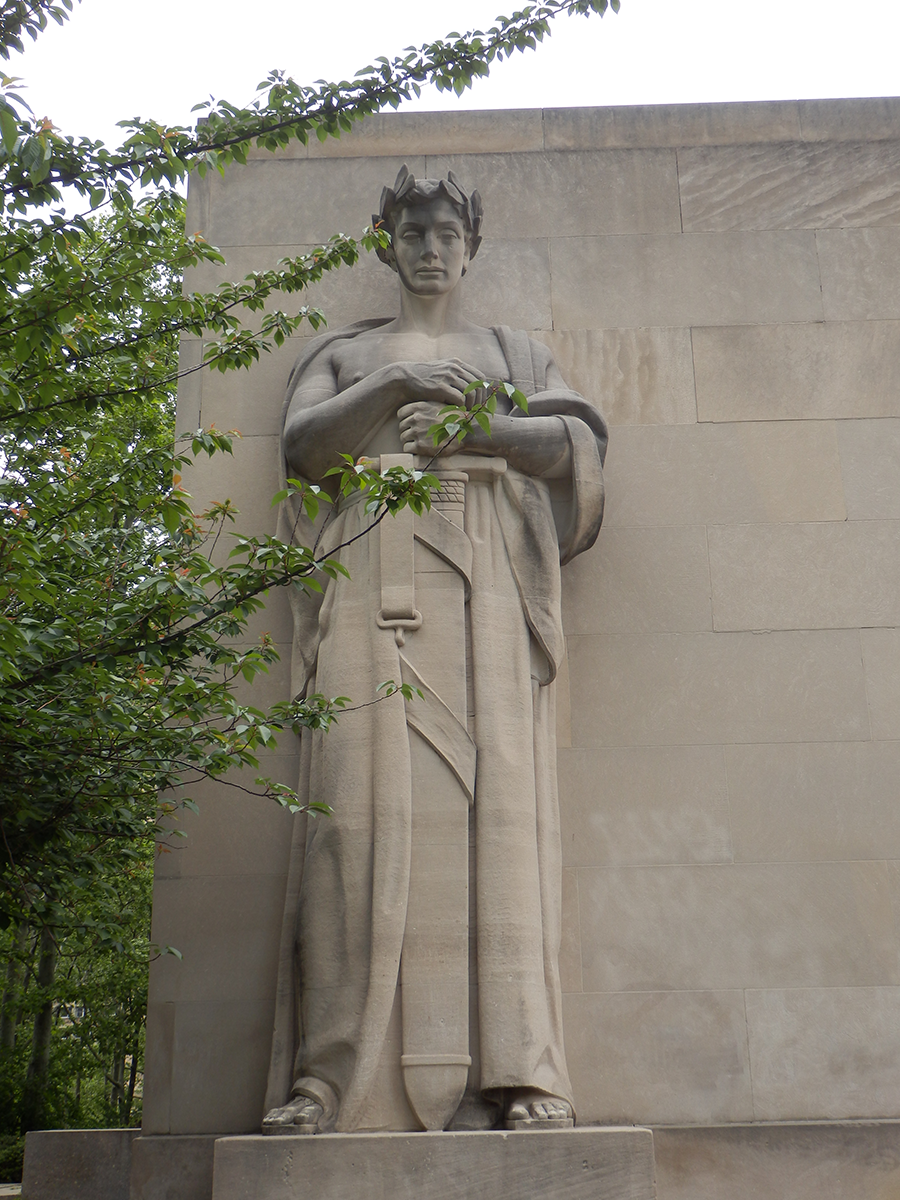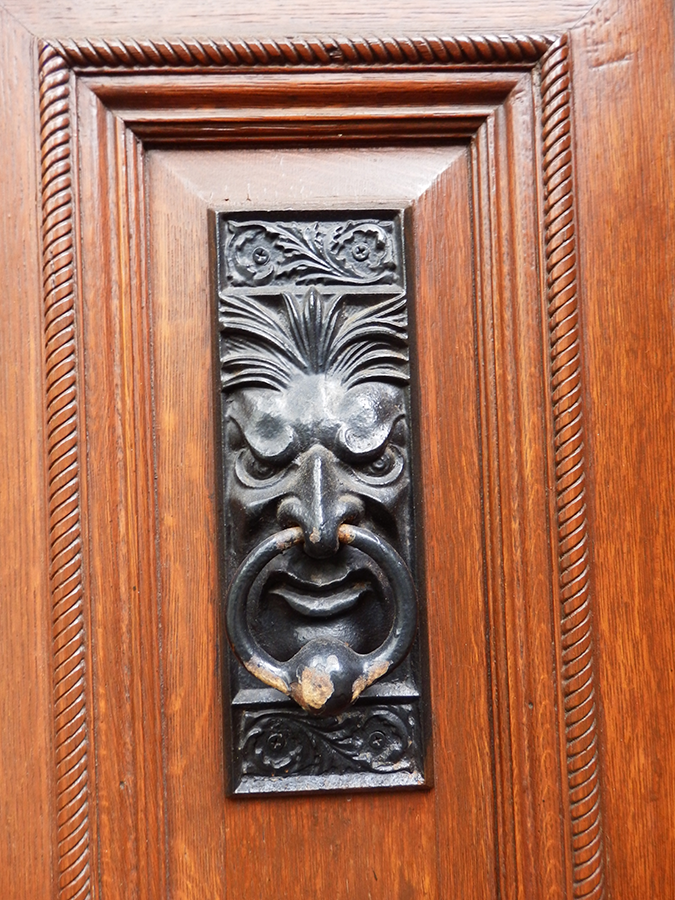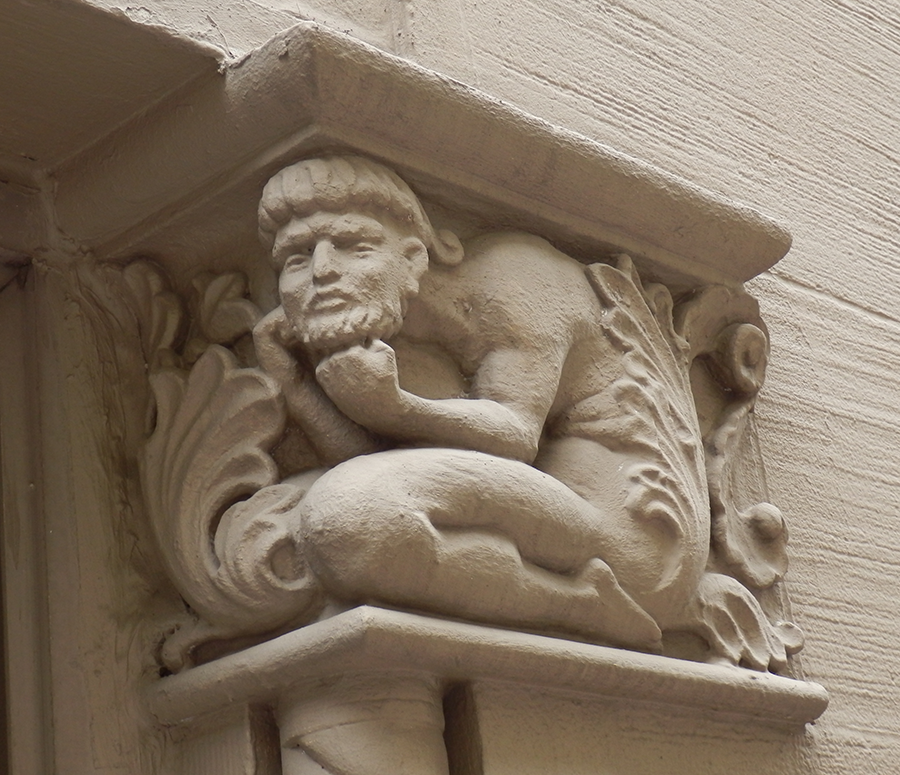 Even the subways have some beautiful mosaics, and they've added interesting modern art (I had to stitch this one together to get the details.)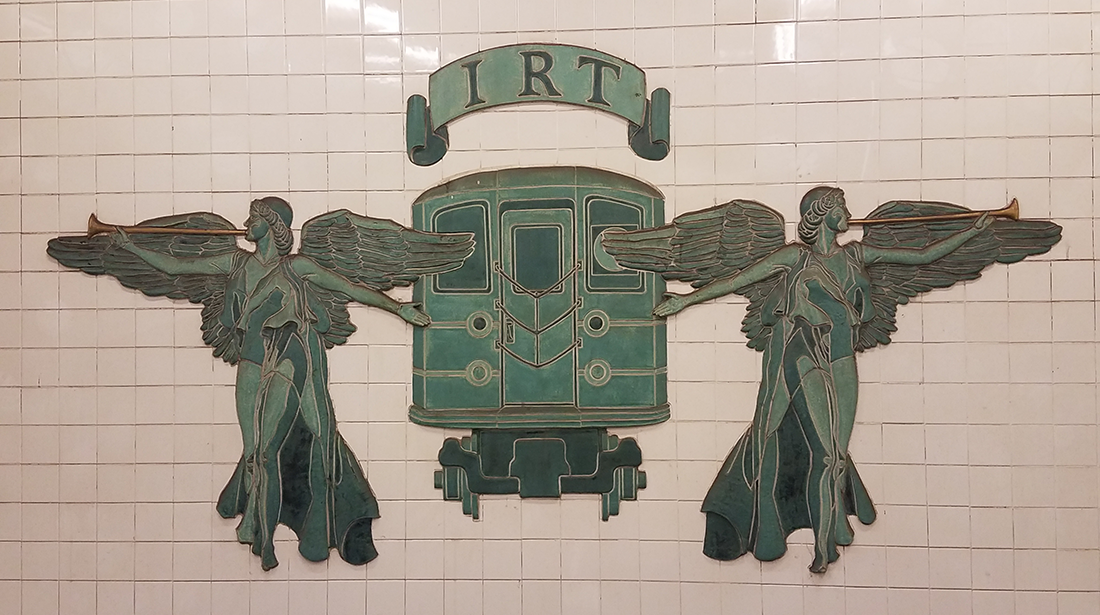 Brooklyn is dotted with parks, some huge, some small. We visited a lot of them as we wandered, checking out the monument to the soldiers who preserved the Union, Soldiers' and Sailors' Arch, complete with statues of Lincoln and Grant under the arch, sailors and soldiers on the face, and winged victory on top. It sits in Grand Army Plaza at the entrance to Prospect Park where you can also find the gorgeous library building, a zoo, botanic gardens and endless trails.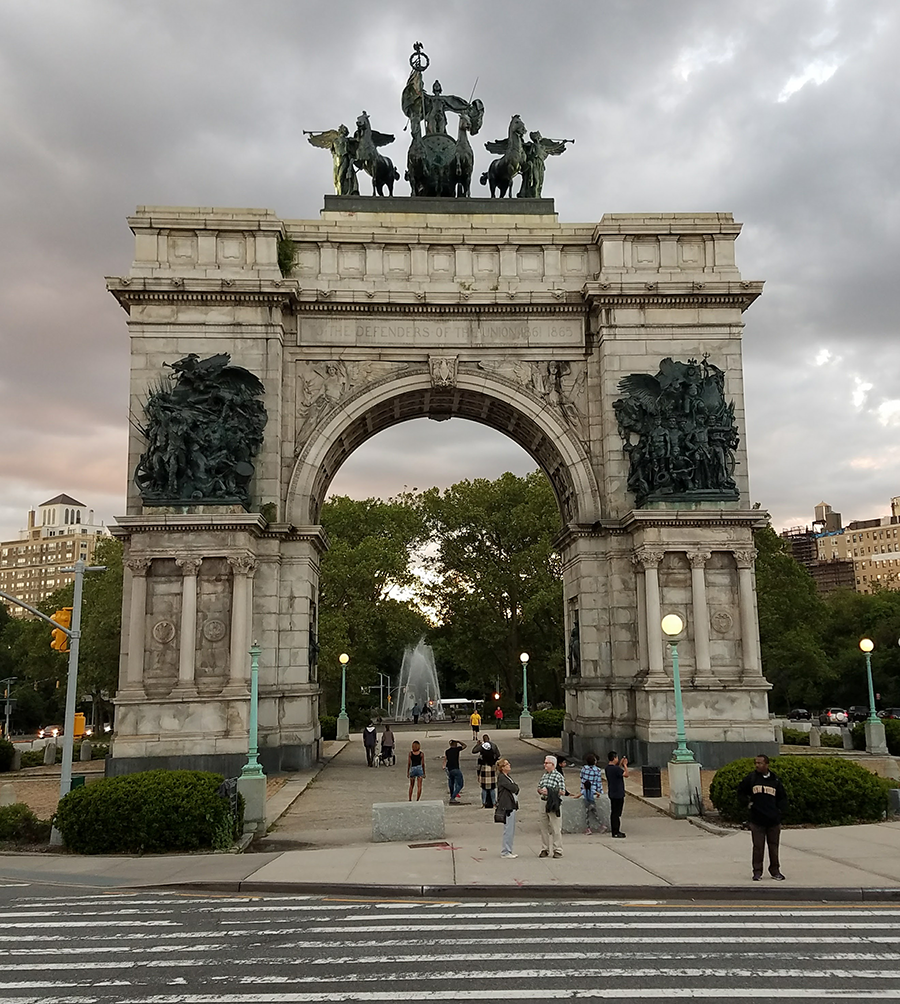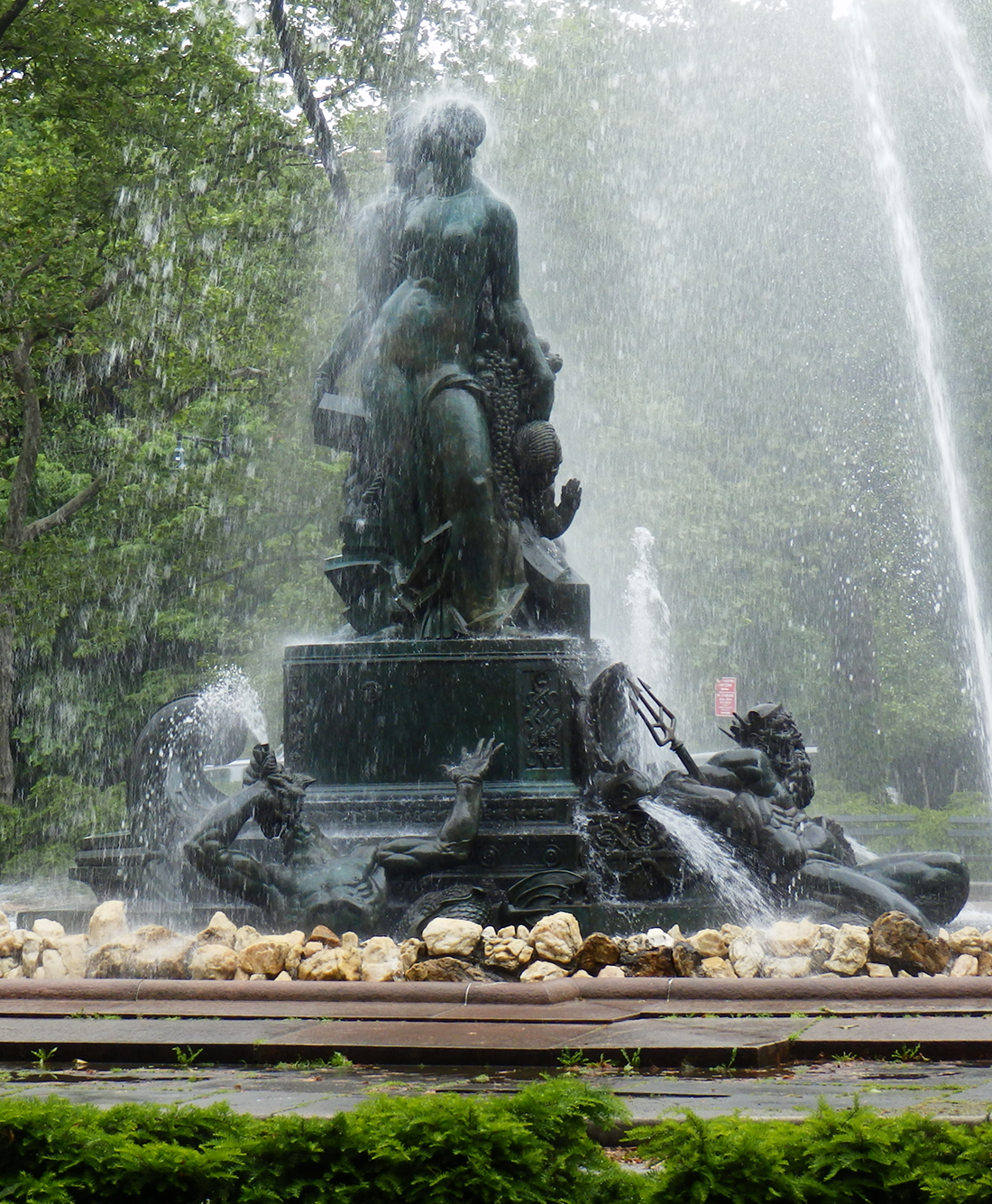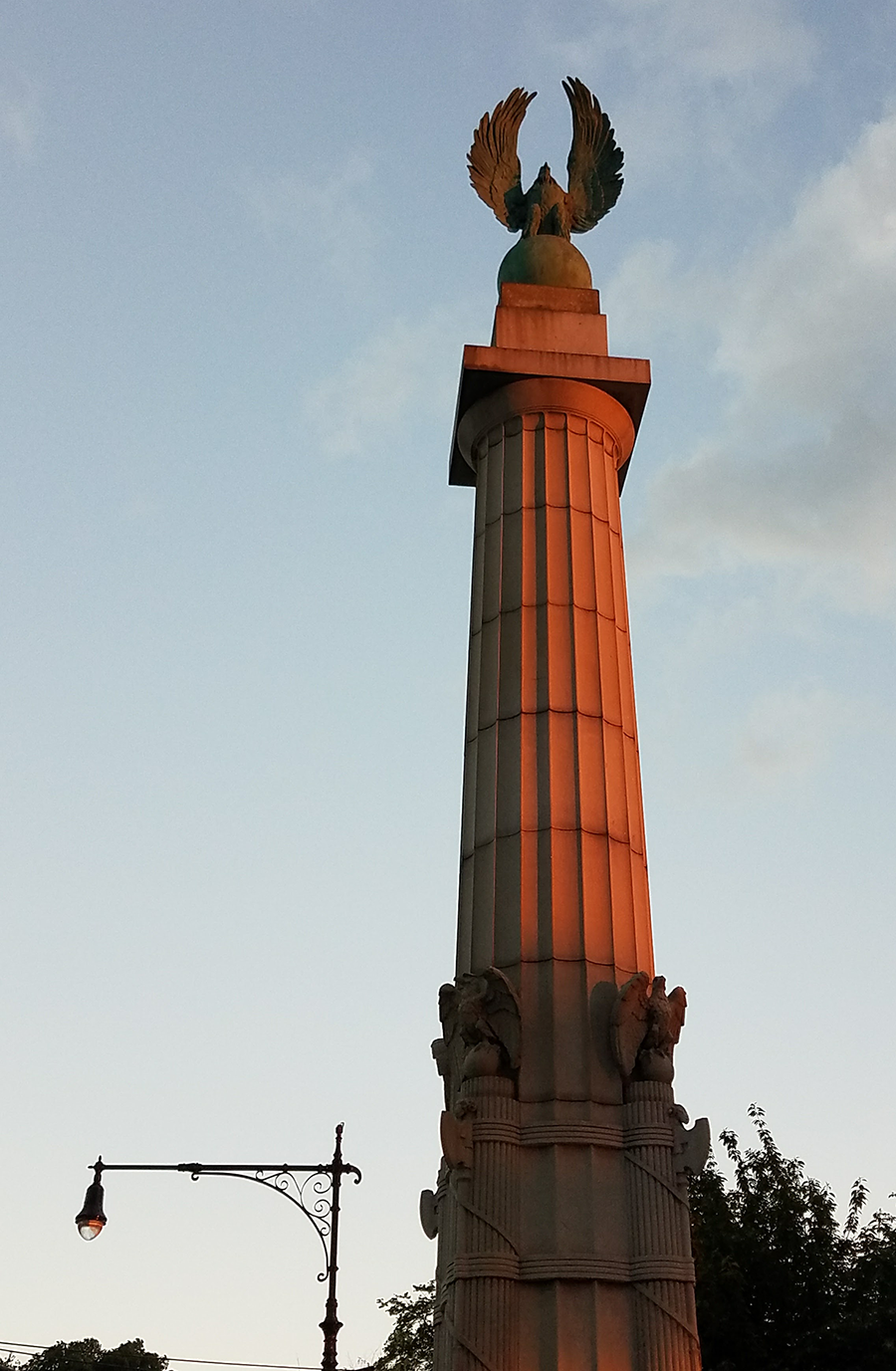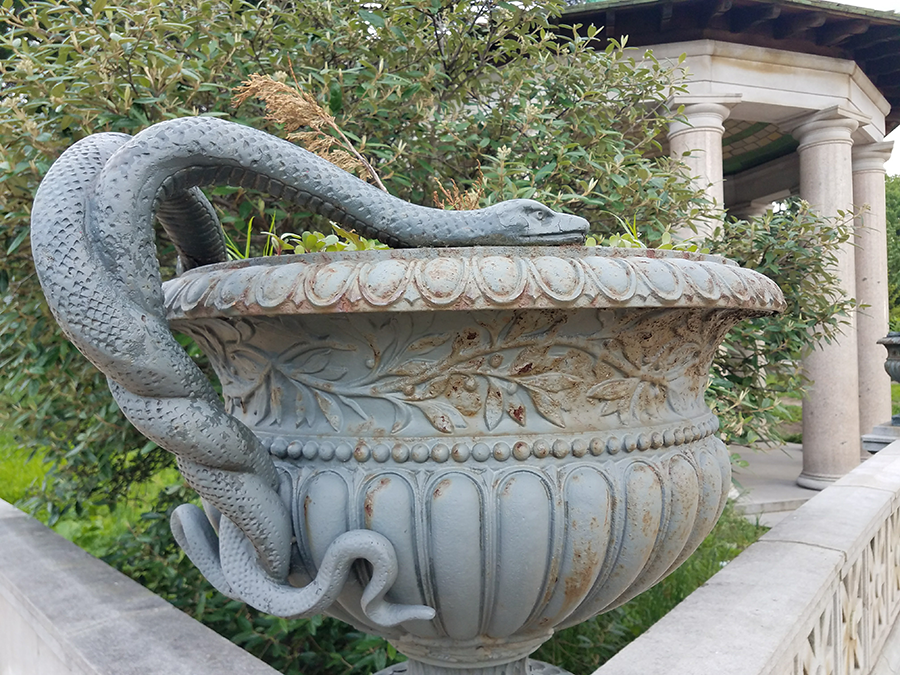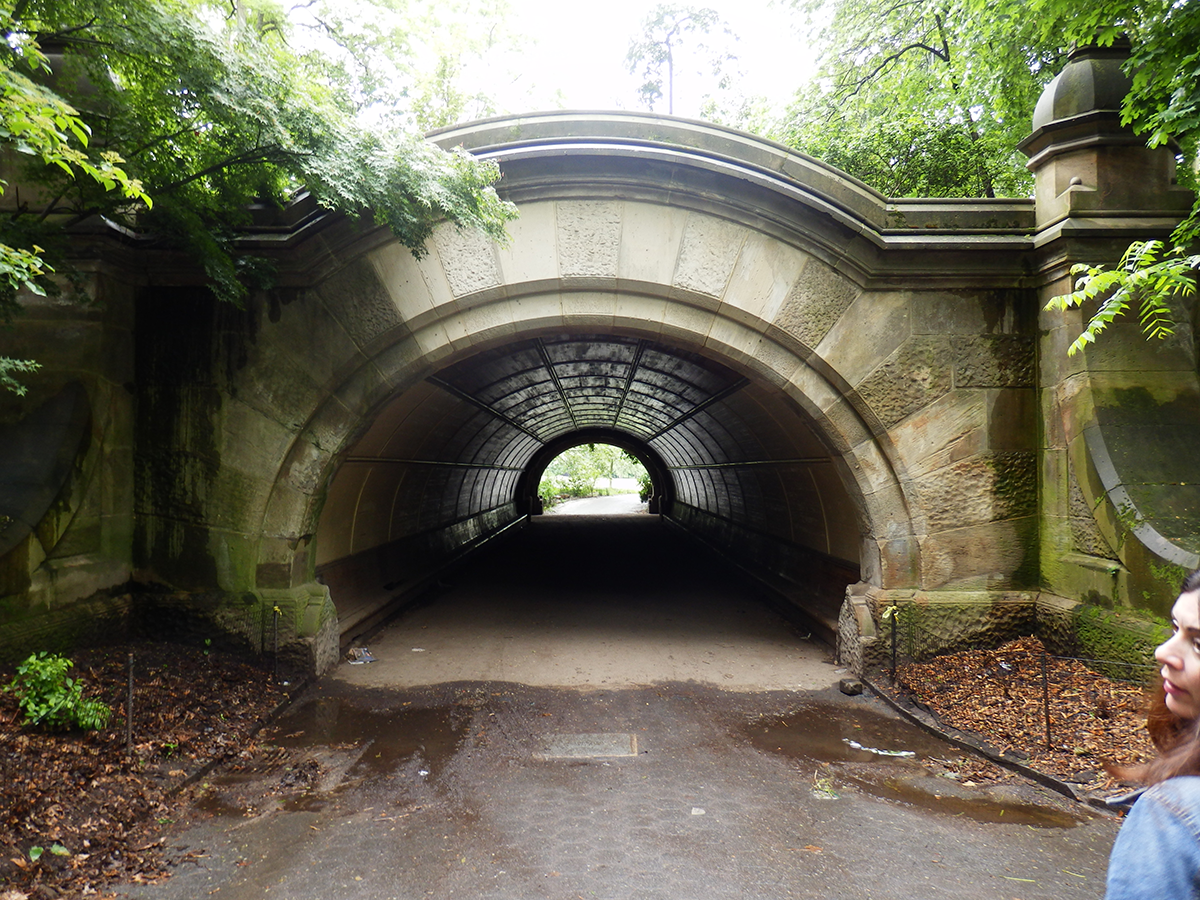 One morning we got bagels from one of the seemingly endless amazing bagel joints and plopped down at the nearest park to watch the kids run amok, then walked park to park until we hit the Brooklyn Bridge Greenway.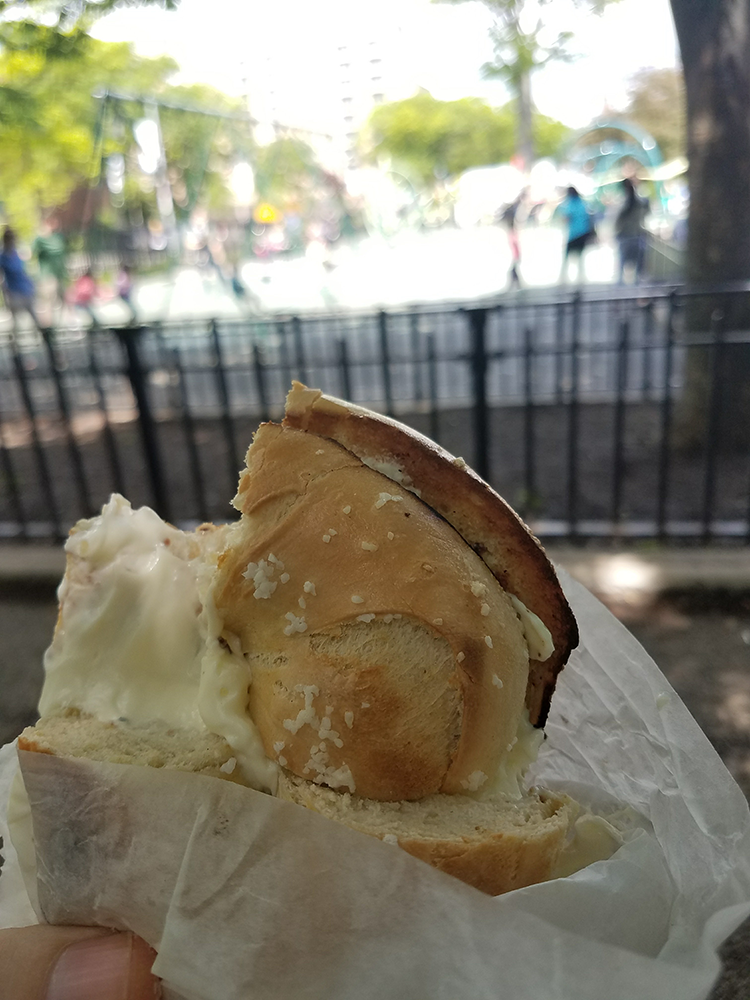 We spent the better part of a day along the river on the Greenway and Brooklyn Heights Promenade, just above the Greenway. The stretch of river used to be a dumping ground for bodies, but now you'll see families grilling out and people sunbathing. In addition to the shore-side paths, they've converted several piers into parks, gardens and sports facilities. You can ride a gorgeous old carousel, visit new museums, shop, eat, all while admiring the views of Brooklyn Bridge, Manhattan Bridge, and the city across the river. Check out this panorama, and this one.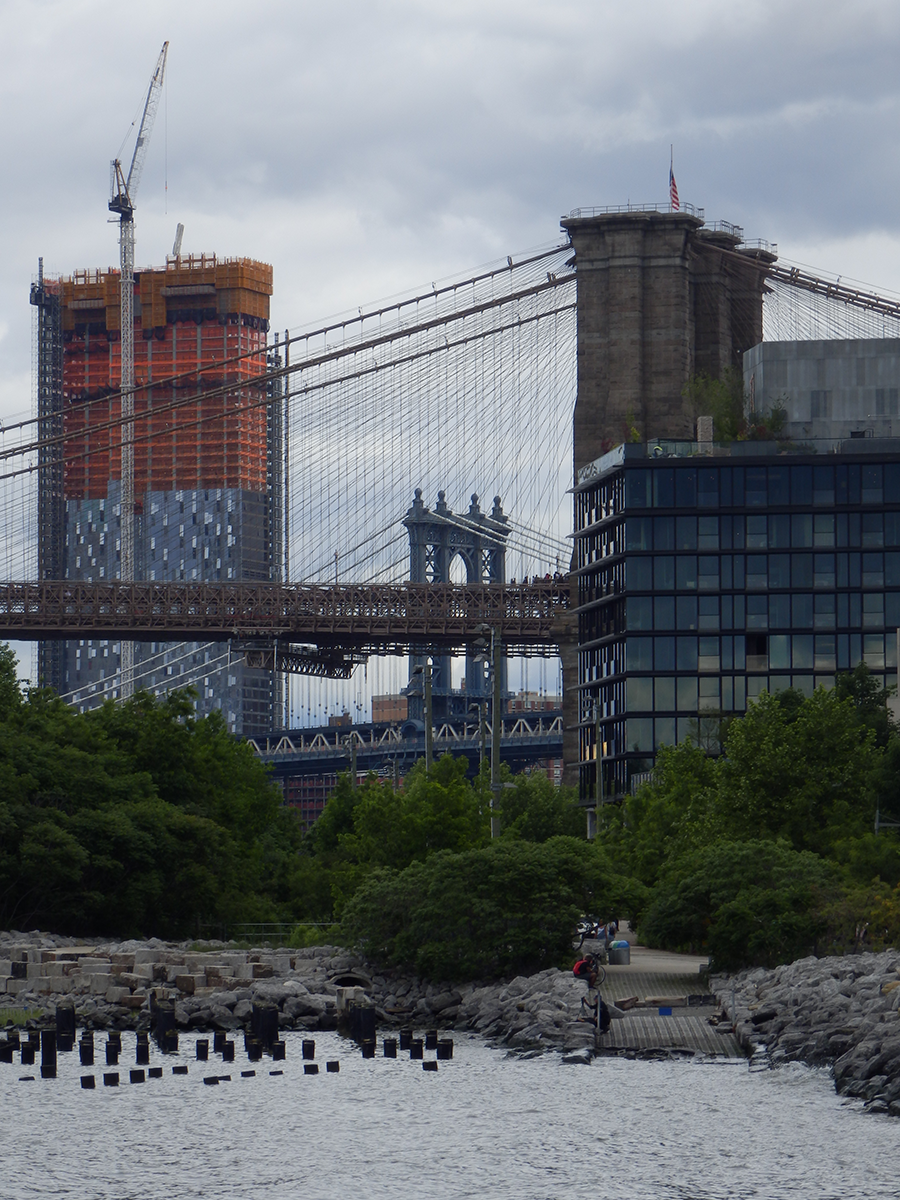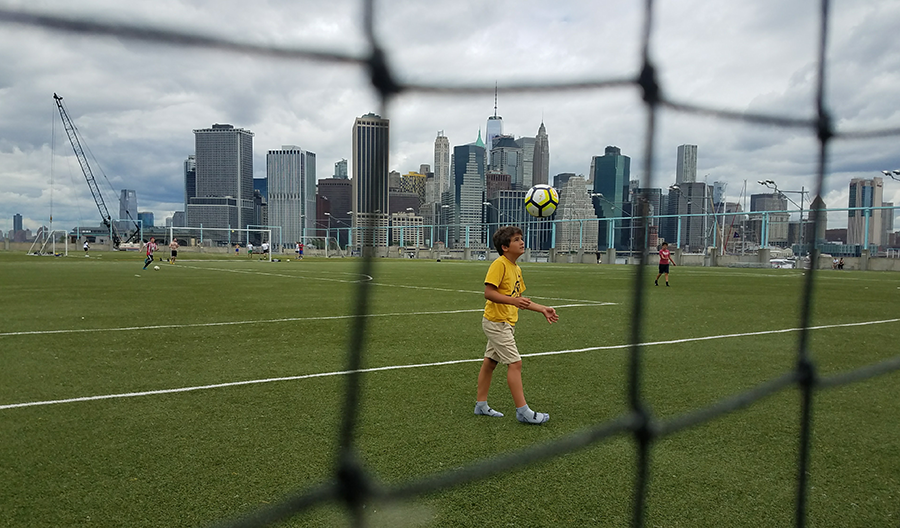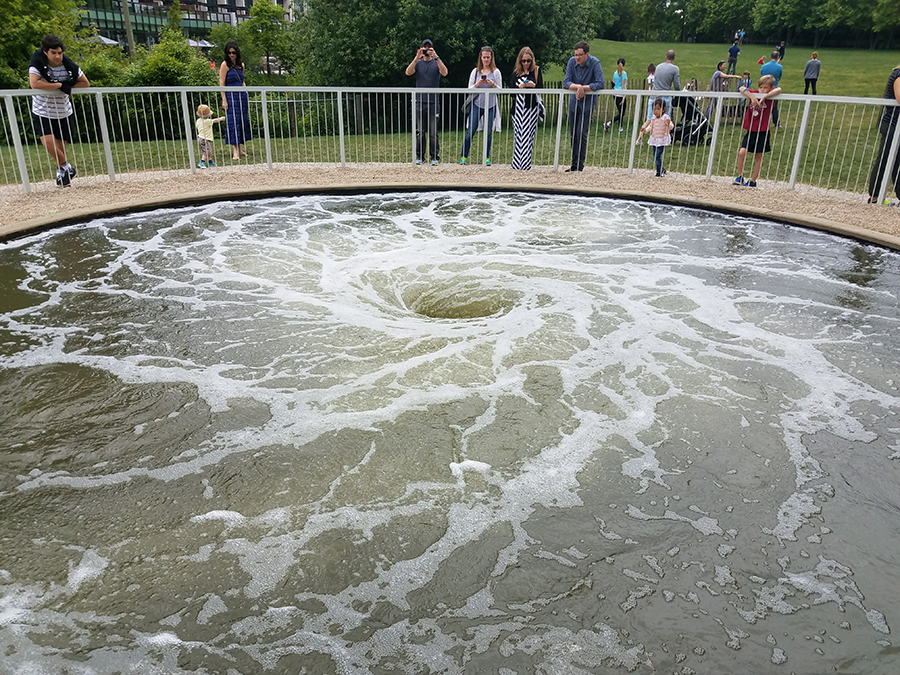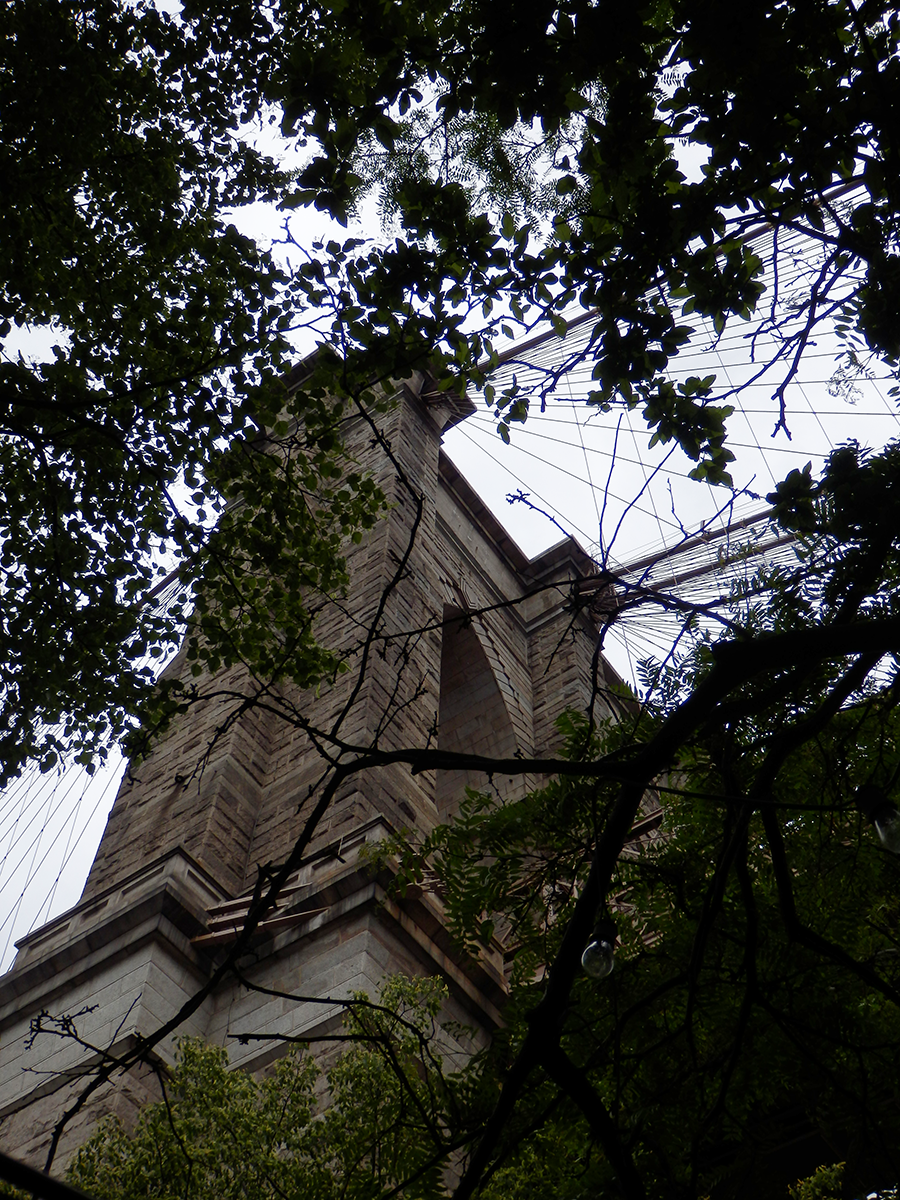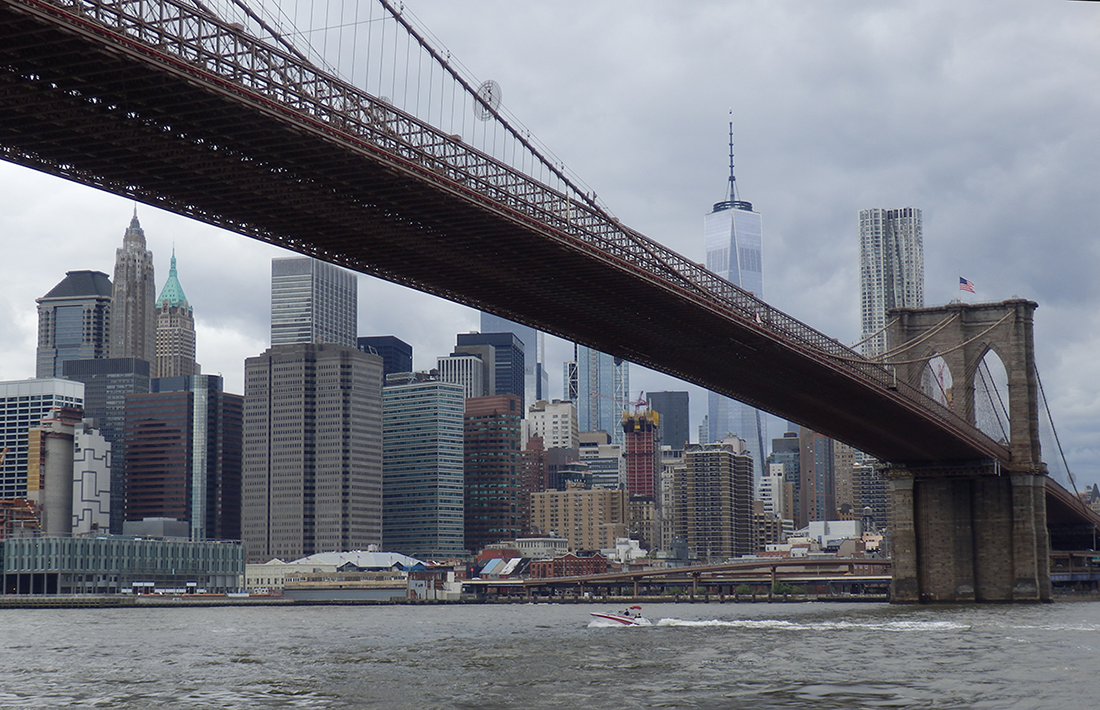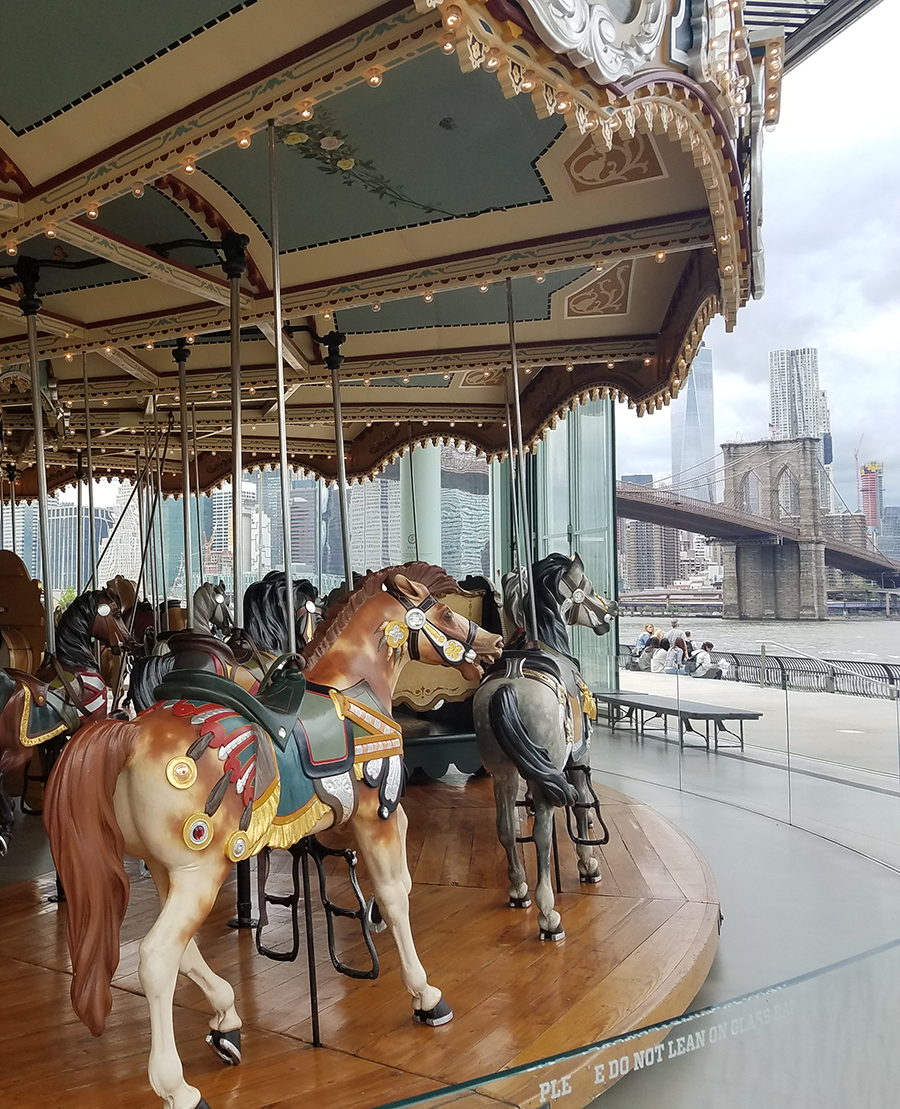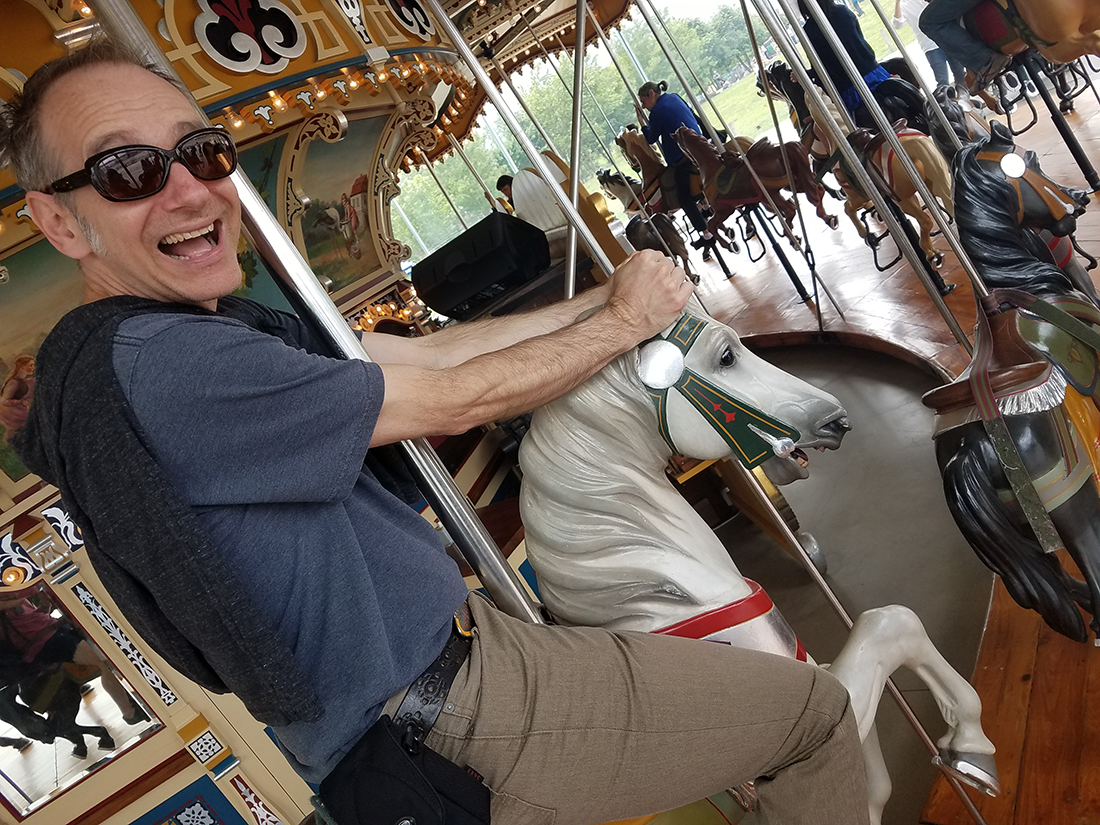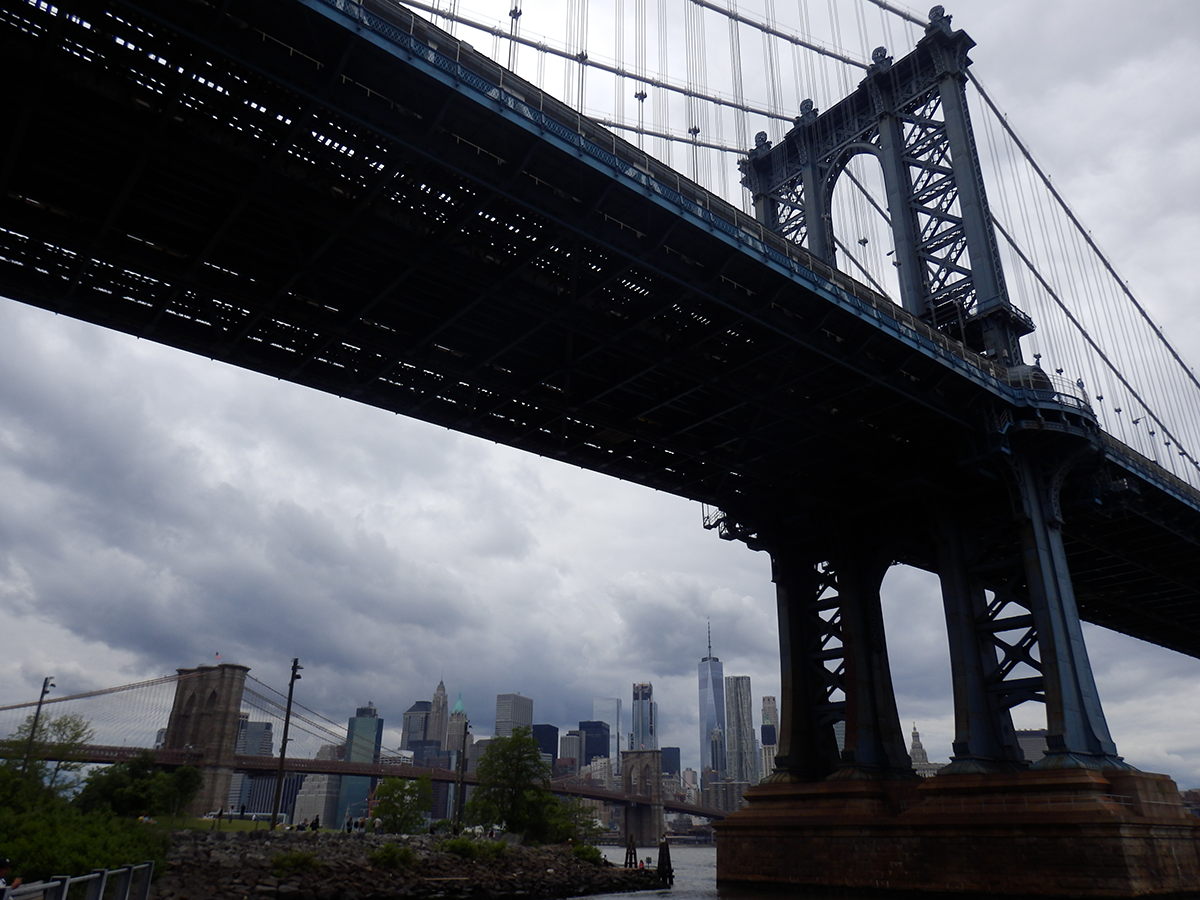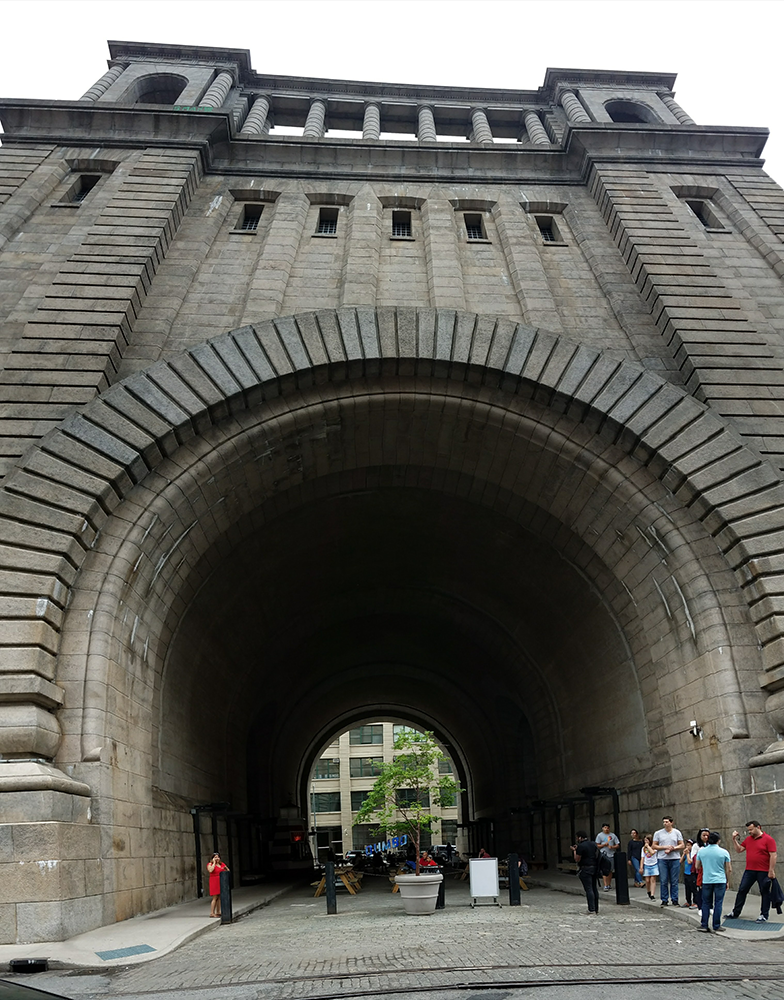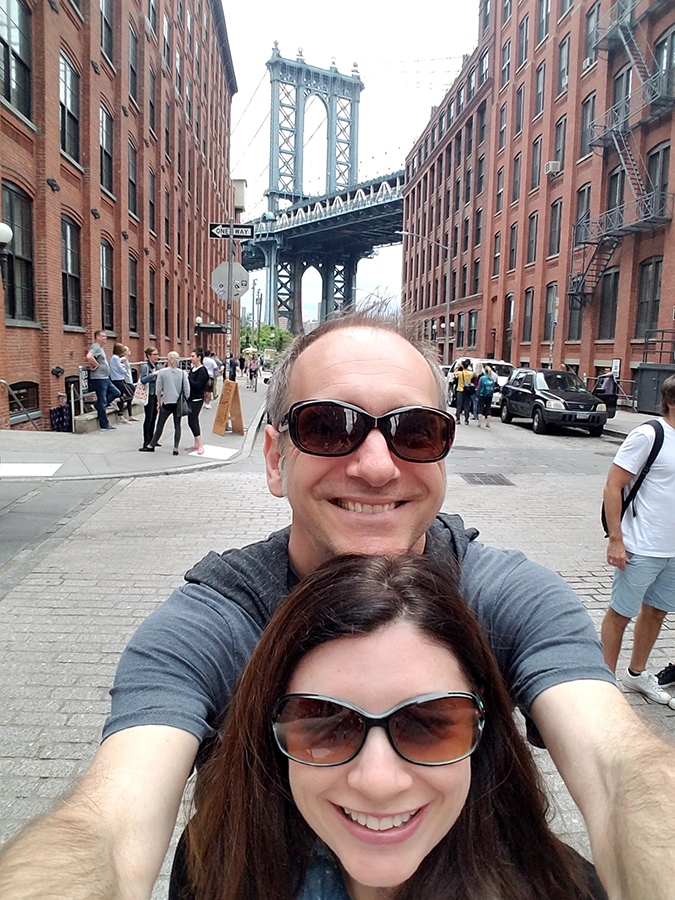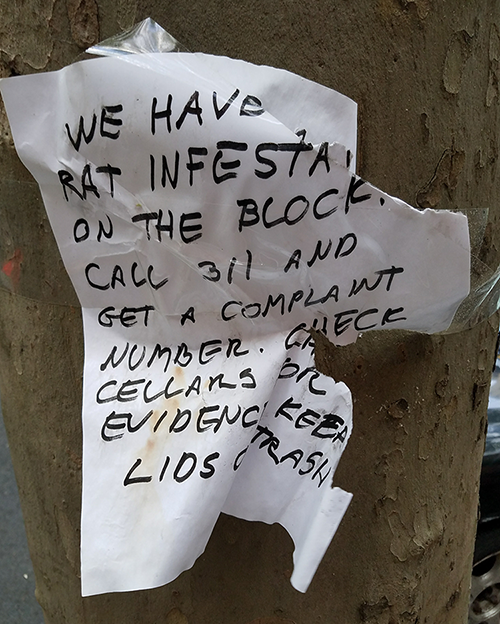 Of course, any large city is not without its difficulties. It's not cheap. Getting around NYC is always challenging due to random subway breakdowns, construction, etc. The parks are important because no matter how pretty the buildings can be you get tired of staring at concrete all day.
Speaking of, we headed over to Manhattan to hike High Line Park, a former train bridge turned into a walking path. It gets crowded on a nice weekend day but we were curious, particularly after following the progress of the Atlanta Beltline.
High Line features some very nice greenery, with the occasional little grassy oasis for dwellers of the extreme urban environment, as well as random art installations and great views of the Hudson and the skyscrapers on the west side of Manhattan.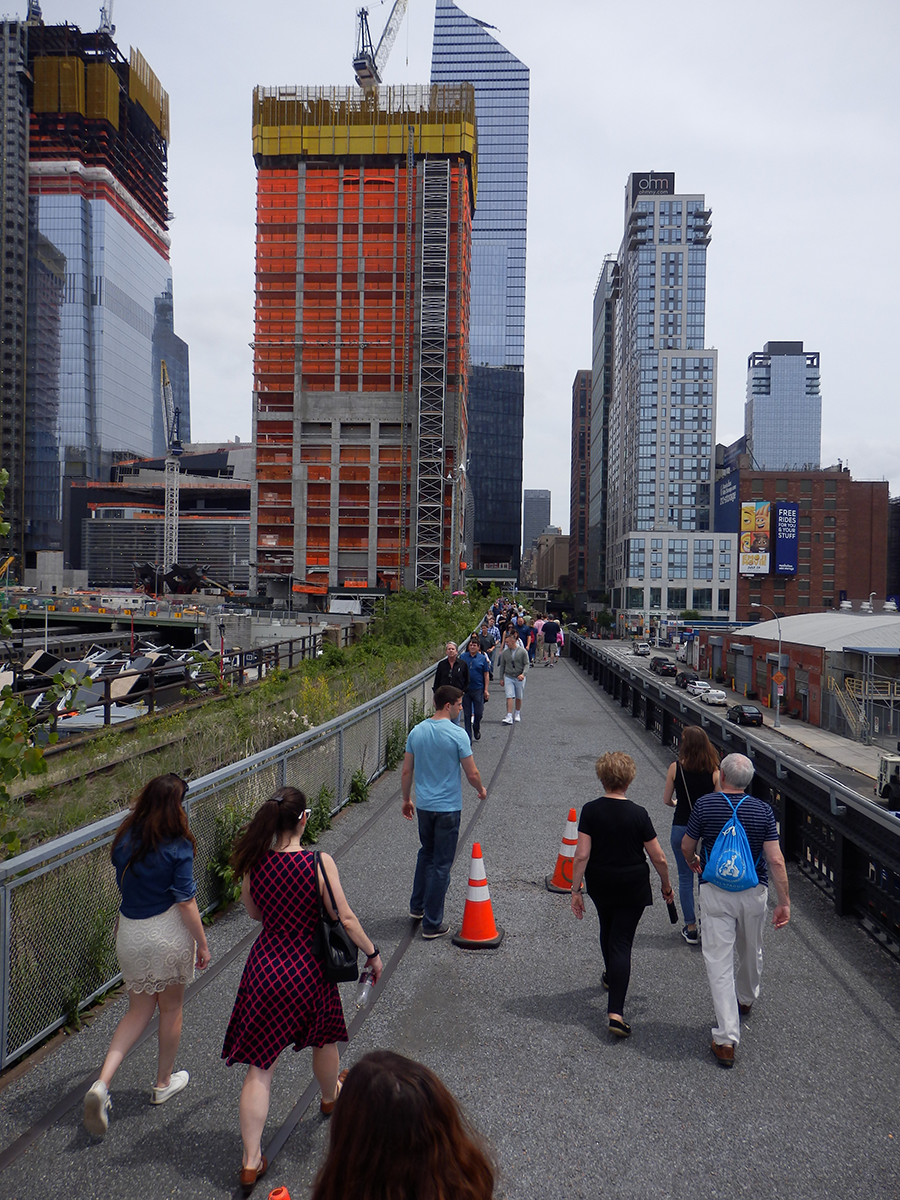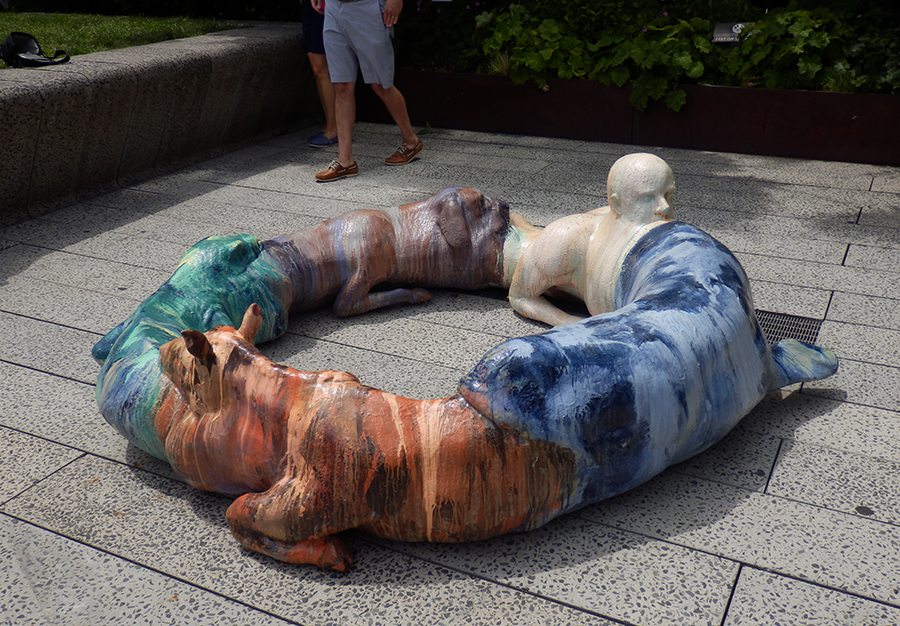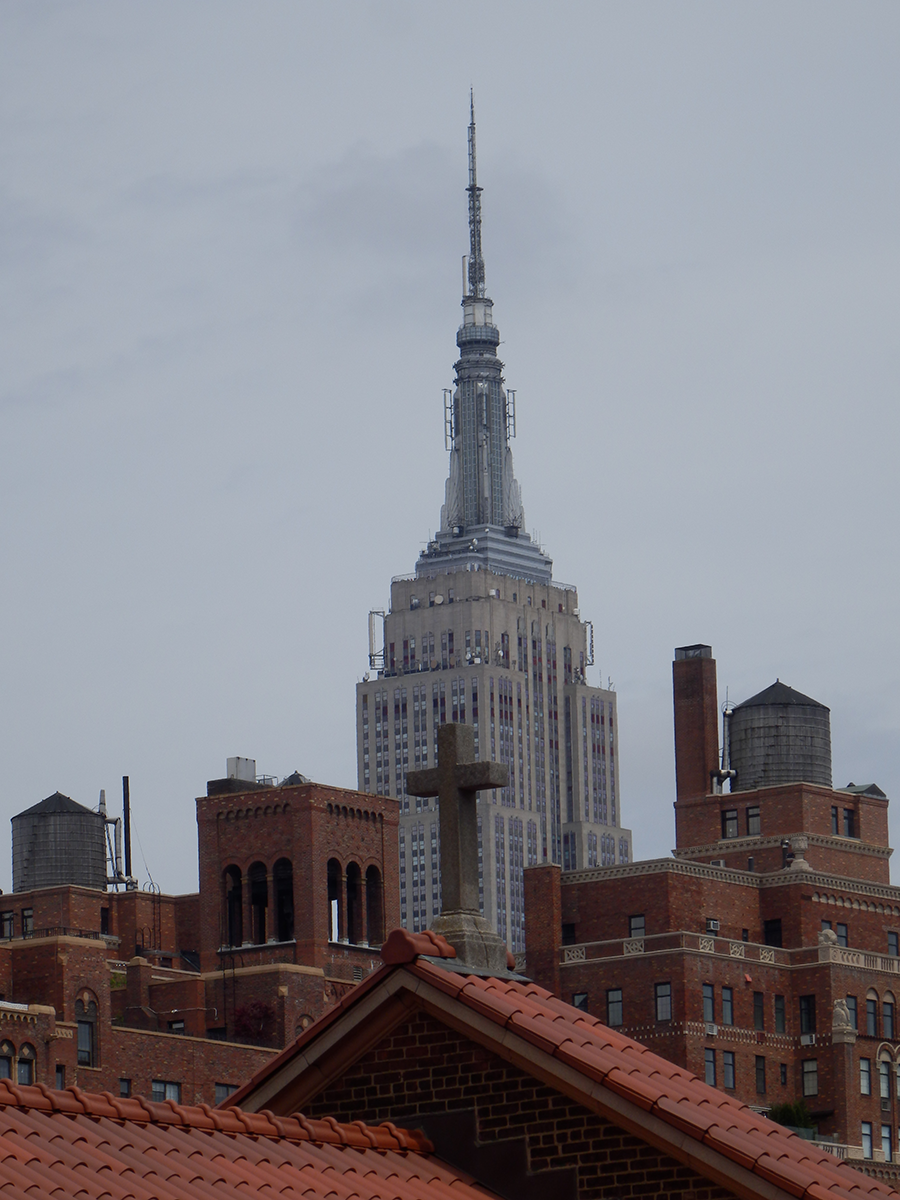 After the 1.5 mile trek, we headed south, stopping by the lovely National Archives building just to use their restroom, then by the famous bull and perhaps now more famous little girl on Wall Street, surrounded by so many tourists that you couldn't fit on the sidewalk.
We trekked on to to Battery Park at the  southern end of the island where we rode the absolutely magical Seaglass carousel, composed of glowing fish that rotate and bob to the sounds of trippy covers of psychedelic tunes. Magic even in daylight. Next time I'm going at night.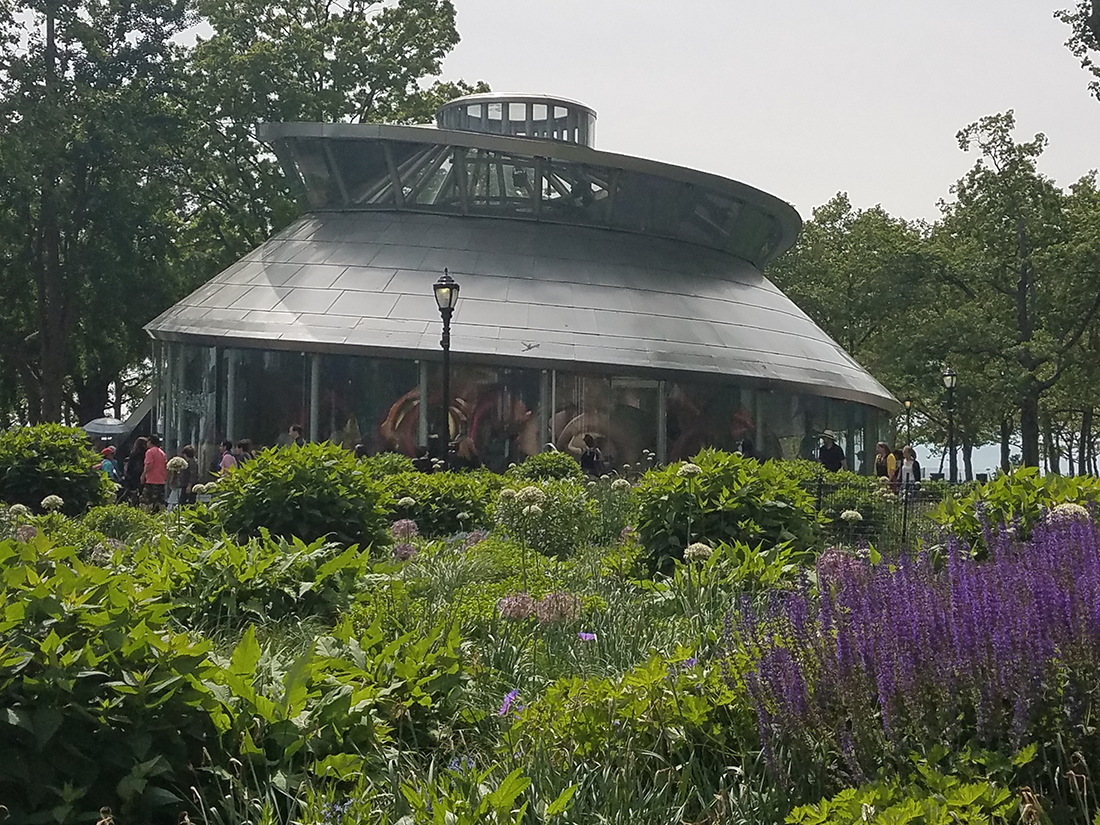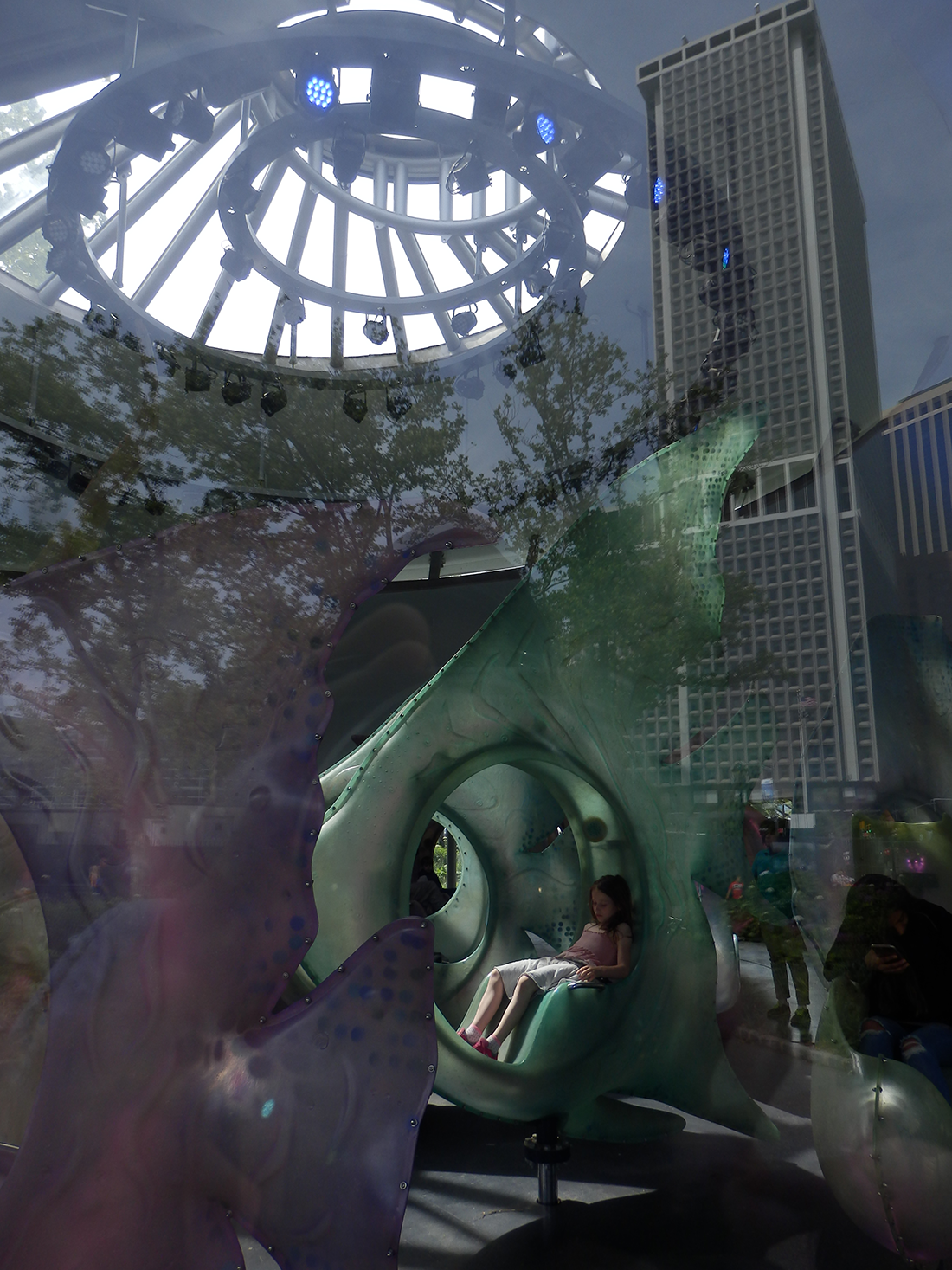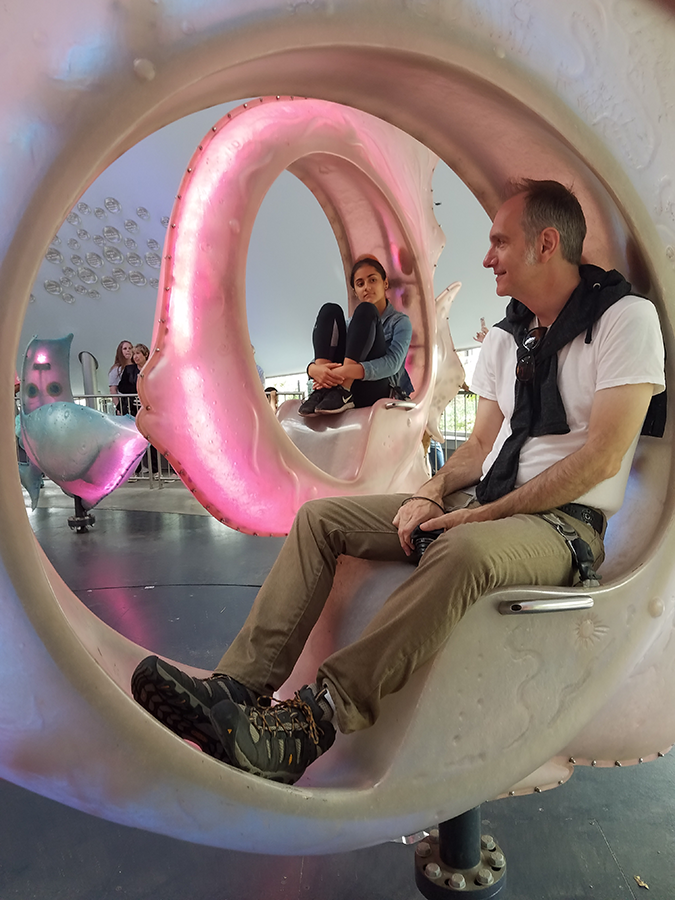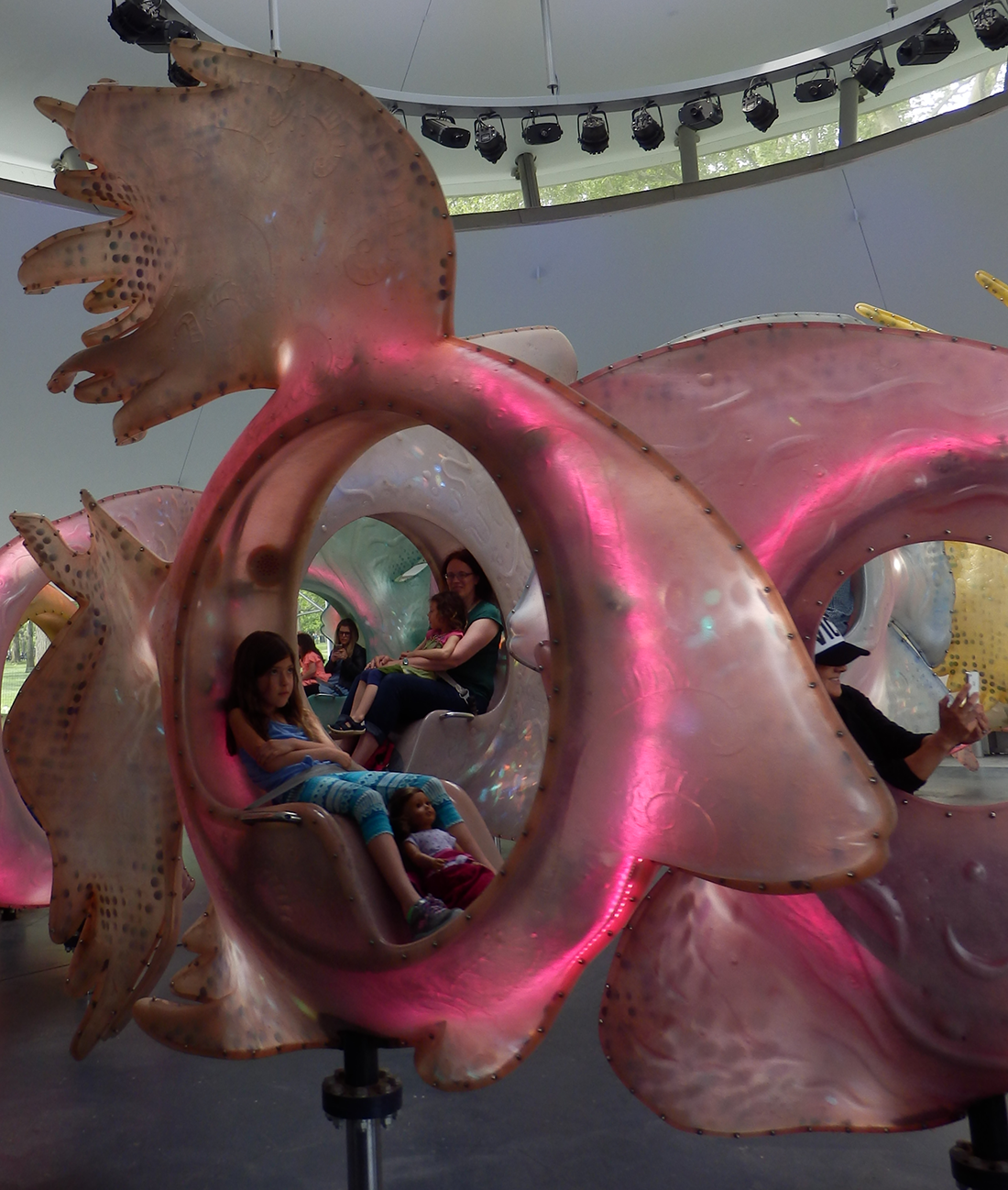 Battery Park offers great views of the rivers and the Statue of Liberty in the distance. Nearby is Manhattan's oldest building, Fraunces Tavern, a joint done up in Colonial style. When we stopped in, a band was doing music that wouldn't be out of place in a traditional Irish pub. Good beer and food, nice decor and atmosphere, definitely worth a visit.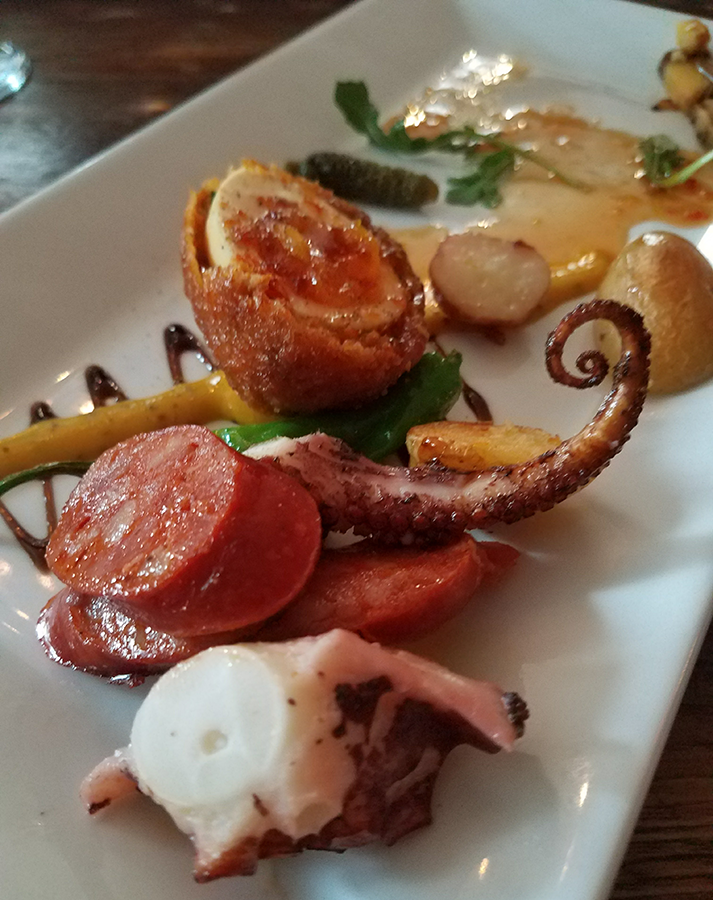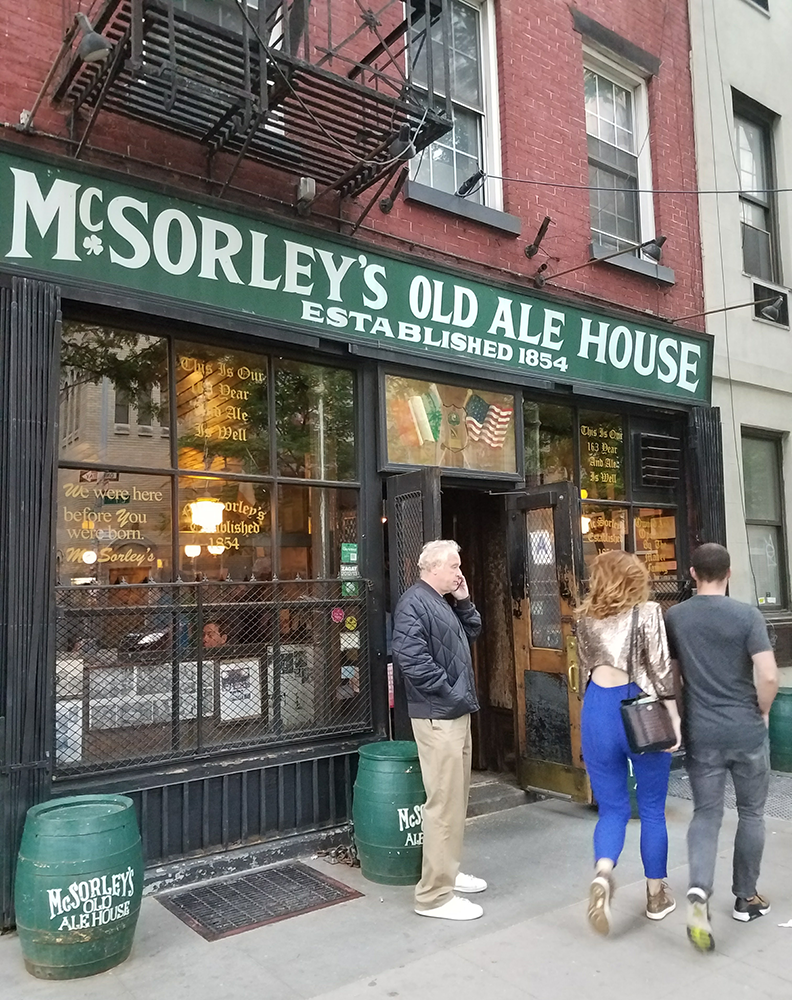 Fraunces is not far from my favorite bar/tourist trap, McSorley's. We got a couple of beers there but the joint was packed, in no small part due to Fleeet Week, so after only a few rounds and no food we beat a retreat, returning to an Italian restaurant in the East Village we'd enjoyed on our last visit. After A Di La, however, it was merely "good."
In the morning we'd have one last round of pastries from a fantastic bakery, Cousin John's, another walkabout, and then made the always-complicated mass transit jaunt back to the airport.