The high school I attended had an award-winning marching band, so back then I assumed the best marching bands did precise formations and marched in step to limp versions of Old Man River. I never bothered to attend the contests at which they won these awards, since it sounded like a snooze fest. But that was in North Georgia where teams had spirit, to be sure, but lacked flair.
When I moved to Atlanta, I got to see the local schools in various parades around town. Eventually I moved across the street from Grady High School. These bands were a different experience entirely. Dancing tuba players and drum majors that had little to do with leading the band and more to do with urging pumping up the crowd.
So when someone asked if I was interested in seeing Battle of the Bands, the showcase for the top 8 marching bands from historically black colleges, I was in.
Unfortunately, we made the decision to purchase tickets only a day or two in advance of the event so our seats weren't exactly front row…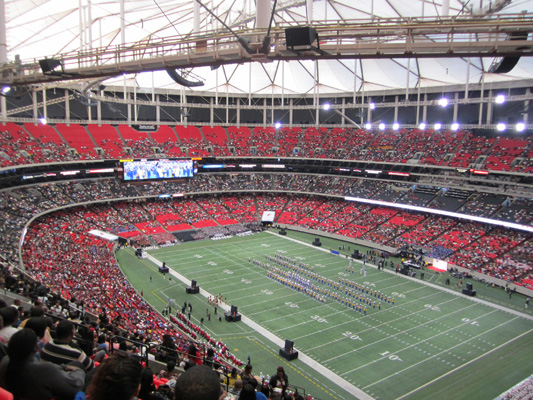 The only good thing about being up so high was the ability to see the picturesque formations some of the bands did.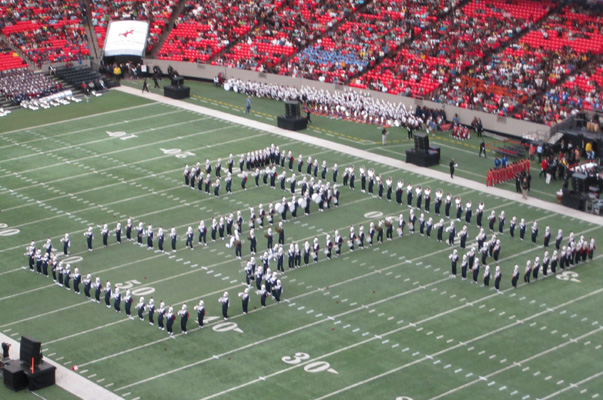 On the down side, the individual performances and dancing was impossible to see. To make matters worse, the camera work for the jumbotron was appalling. A band would have a troupe of dancing girls and the camera would be focused on the bass drum player's hat. The shots were almost always too close or too far. They missed countless opportunities for interesting shots, or even just the obvious focus of attention on the field. Next year – binoculars and better seats!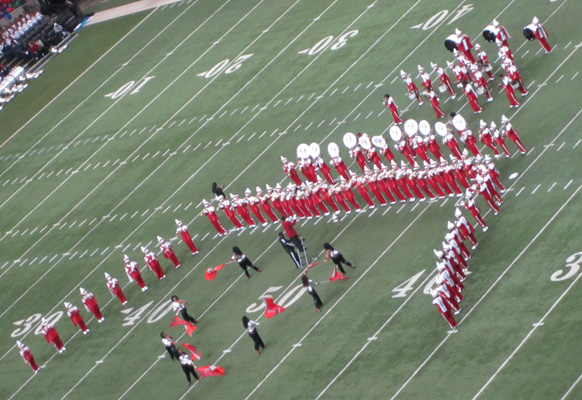 Though there were a couple of duds (Albany State, Clarke Atlanta, shown above), most of the bands really impressed me. And though there were a couple of songs that were repeated band to band (TLC's Push It,Cee-Lo's Fuck You), most of the songs were newer than the dusty classics once covered by the award winning Lumpkin County band of 1984-85. If you're old and white and you want to feel it, just check out Battle of the Bands. The 4-year-olds in the seats behind us sang the lyrics to every tune the bands played.
Jackson State University, from Mississippi, came on the field in short, dramatic steps, then formed their school initials and marched on to impress us with a variety of formations and dance moves and smokin' hot dancers.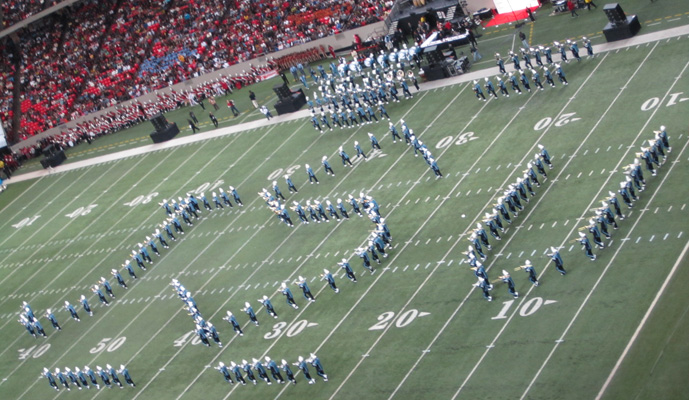 Also not seen from my high school or college marching bands - singers. More than one band brought a group of ladies out to cover En Vogue or other soulful R&B tunes.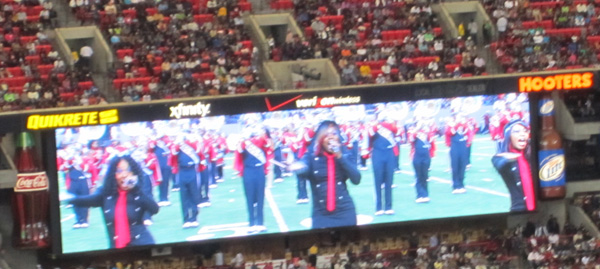 Another band brought out a few hip hop artists to rap atop the marching band's music. (Unfortunately for you, I didn't get a good shot of any of the dance troupes.) As if this weren't enough, we got a sort of halftime show with Bow Wow. Some of the younger female fans in the audience were in hysterics.
Tennesee State, Jackson State, South Carolina – band by band, we kept changing our rankings for who was ahead in the battle. Unfortunately, this isn't really a competition. They allow the crowd to vote via text message, but obviously the local schools favored over visitors regardless of on-field performance. So Degenrate Press is giving the Best Of to Bethune-Cookman University, BCU. No, I'd never heard of them either. But even after a couple of hours of bands, they impressed us.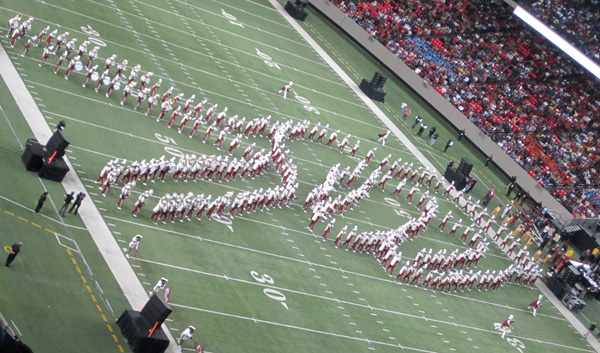 For more BCU, check out YouTube: http://www.youtube.com/watch?v=P4DEvnjR4LE
What didn't impress us, however, was the grande finale all-bands-at-once show.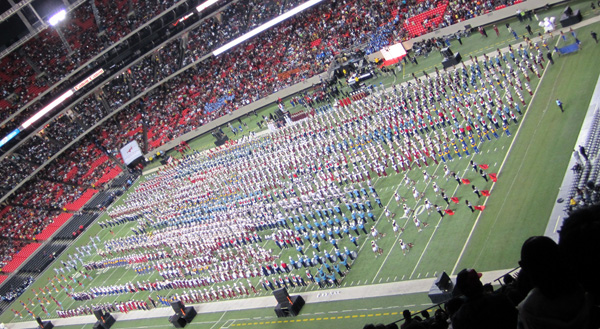 You think it's going to be amazing, but they chose to do a medley of Salute to Hollywood tunes – There's No Business Like Show Business/Hooray for Hollywood/etc. Dull.
Instead, they should've let the bands actually battle, as they attempted to after the official closing of teh show. Whole groups of tubas lined up to attempt to out-tuba each other as the MC frantically asked them to leave the field.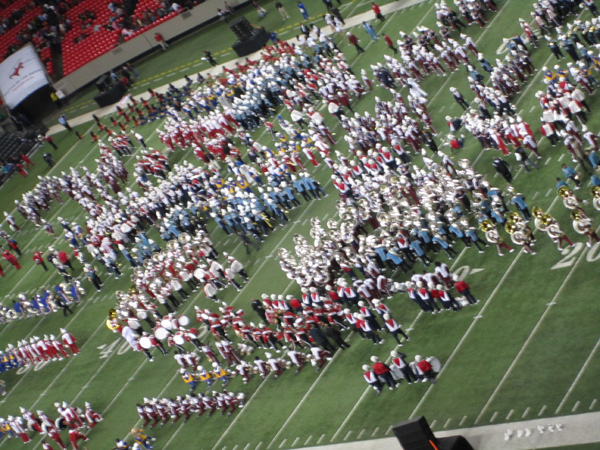 Eventually the bands were cajoled into streaming off the field as we joined the mass exodus.
So unless you were at Battle of the Bands, I bet I saw more live music this weekend than you did!