In the morning, we lounge in the back yard eating fruit and bagels and watching the cats chase bugs before saddling up and heading south.
As a child in the 1970′s, I grew up visiting Ripley's Believe It or Not museums and watching that show where Spock talks about mysteries like the Bermuda Triangle. Everyone believed in bigfoot and ESP. As such, I'd always been interested in Coral Castle, a massive sculpture garden in Homestead, FL., built by Latvian immigrant Edward Leedskalnin. I finally got a visit this time.
Unfortunately, admission prices have increased a bit since Ed's time. It's still worth the price of admission.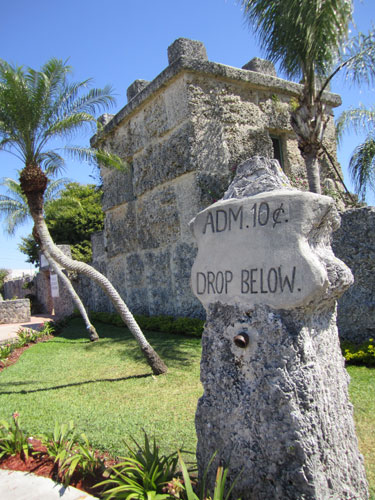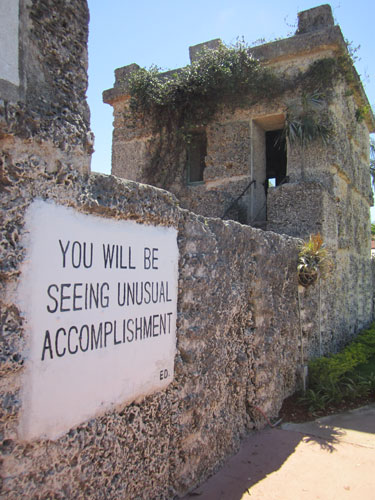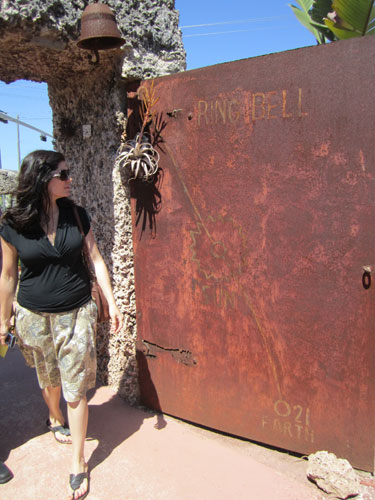 Ed used to give the tour himself. Ring the bell and he'd open the gate and show you around. Now there are tour guides that aren't nearly as interesting as Ed must've been. But we'll get to that.
I recommend skipping the recording of Ed they have at the park entrance and bypassing Ed's living quarters on the right, just as you walk through the gate, so you can see the man's work before you get to know Ed.
There is a 9-ton stone gate at the back that used to be so easy to open you could swivel it around with the touch of a finger. (These days, it's a bit of a chore even with fresh bearings.) There are tables and chairs and rocking chairs and beds and fountains and more, all carved from coral weighing… well, a lot. Not only did he carve and place these by himself, but he actually moved the entire garden from another town.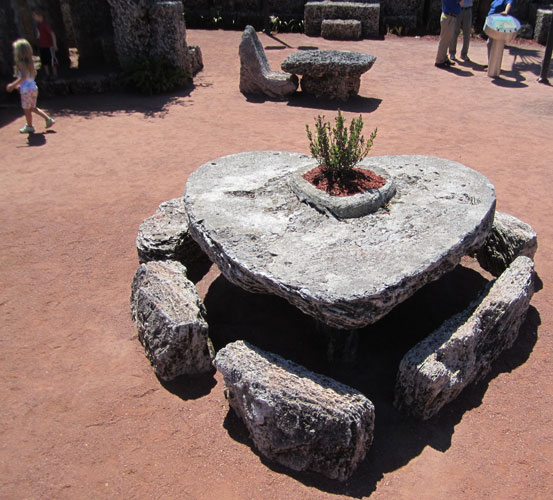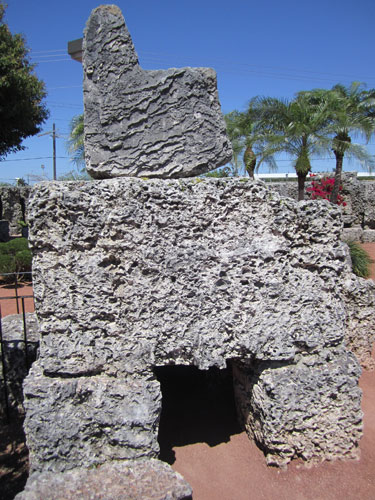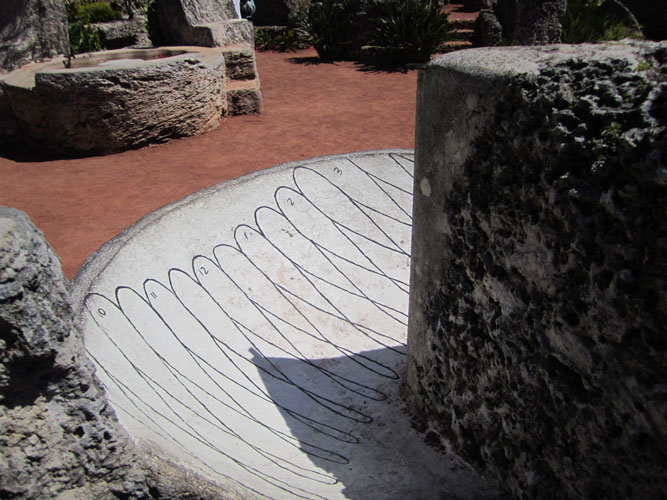 Ed's sundial is not adjusted for daylight savings.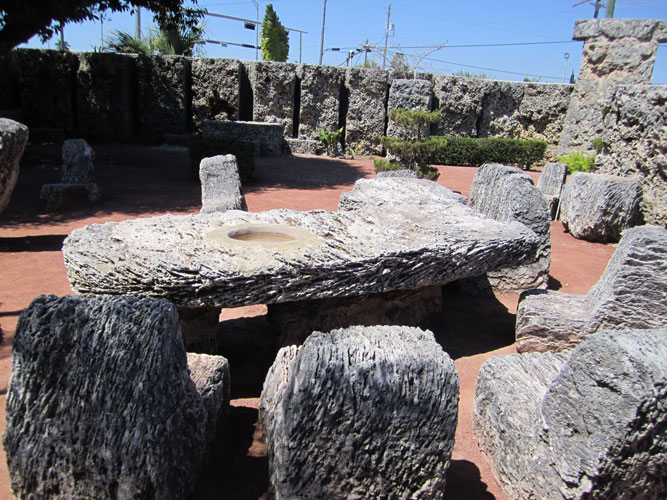 This massive table is in the shape of Florida, complete with a little Lake Okeechobee.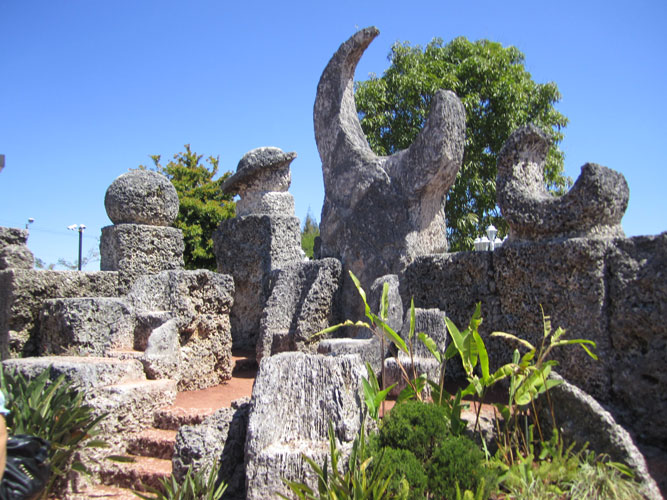 I'm not sure if Ed carved one throne and decided it wasn't good enough and keep carving more or if the whole ensemble is meant to hold an entire court.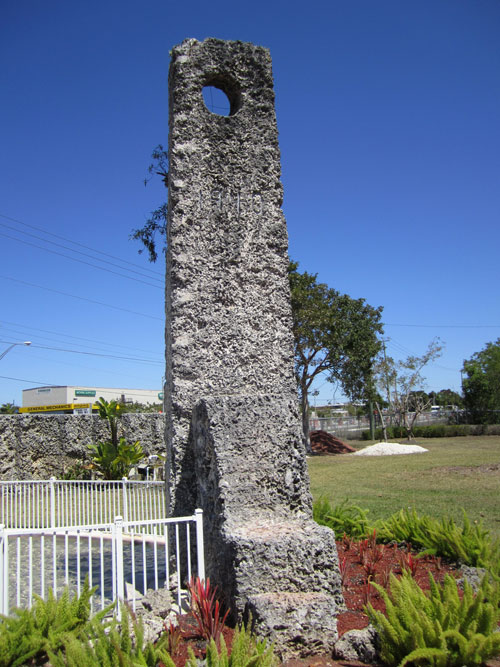 And here's a panoramic photo I stitched together. You may have to zoom in when you get there.
OK, so you've been blown away by what a man can do, right? But you know what kind of man it takes to to do something like this? Someone committed. Or someone that perhaps ought to be committed.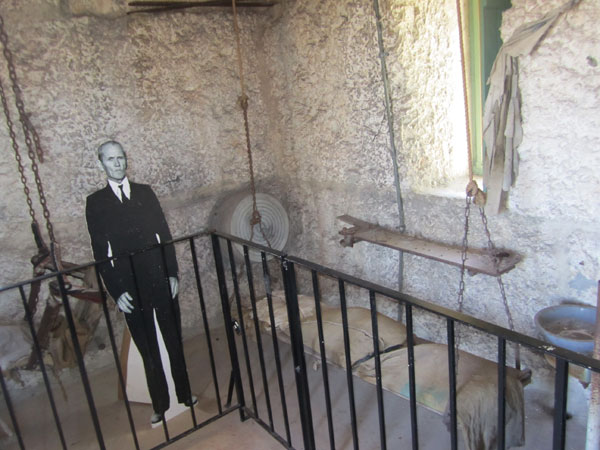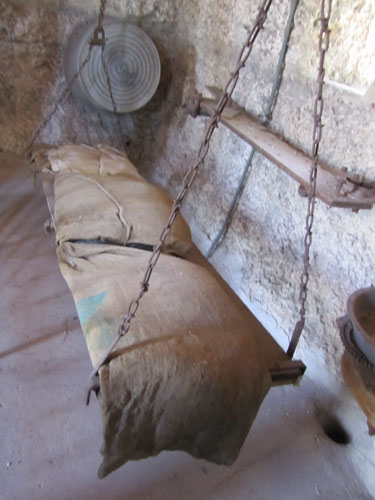 That's a life-size cutout of Ed above, all 5′ of him, standing in his bedroom. Ed was jilted by his 16-year-old bride to be, inspiring some of the visitors in my group to grumble, "That bitch!" until they saw this room. Suddenly her decision made sense. Fantastic sculptor, not so much an interior designer. Ed's writings on domestic issues and politics, available at the gift shop, are likely to reaffirm your feelings about the man after seeing this room.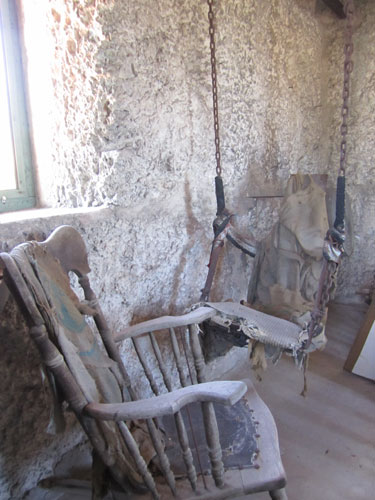 We continued on into the swamp to Everglades Alligator Farm where $23 gets you admission to a small zoo and an airboat ride. I do not recommend this particular attraction. The airboat ride was perhaps 15 minutes long and didn't really get you out there where you get a real feel for the swamp. There are plenty of other airboat tours with longer rides, and alligator farms with more to look at. So enjoy these photos, but go somewhere else if you're in the neighborhood.
The farm has alligators big and small, foreign and domestic.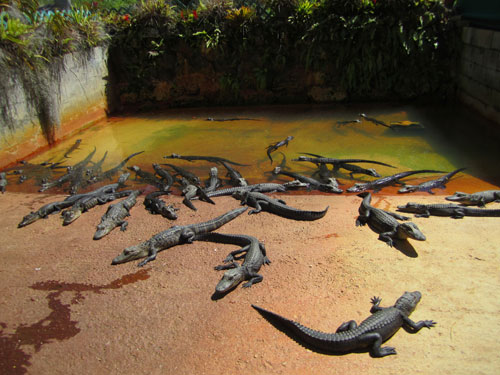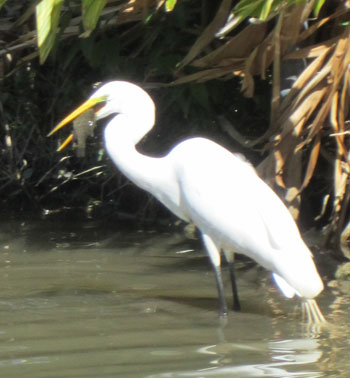 A bird caught a fish in the canal directly across from us while we waited to board the airboat. He swallowed it whole, head first.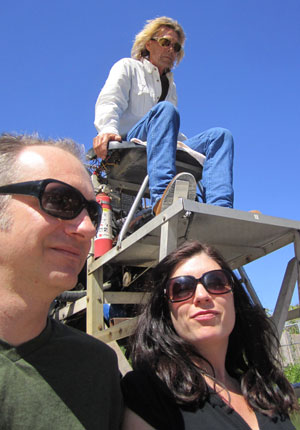 Then we boarded the airboat with about 20 people on board, plus the driver. He told us a bit about what we would do and see, then slowly piloted us down a channel. On the way out of the neighborhood, we saw a couple of smaller gators before we rounded the bend and sped out into the nothing.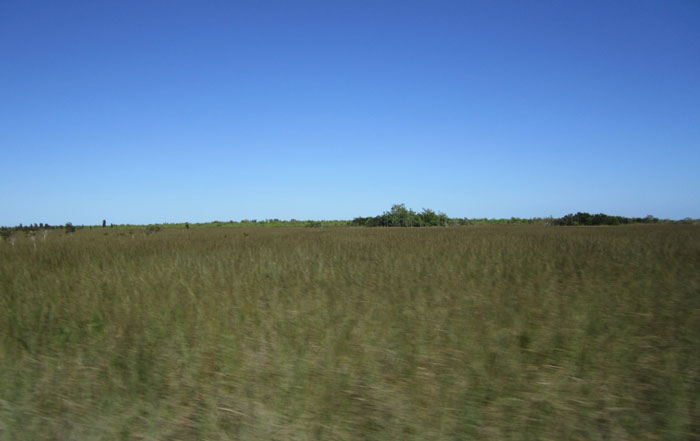 That's pretty much what it looks like from Miami to Tampa – tall grass in a few inches of water dotted by the occasional island of trees.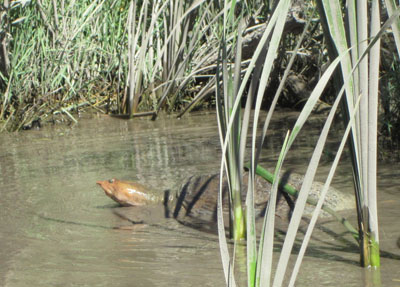 The pilot did a couple of spins with the boat, just to entertain us, but too soon we were back where we started, idling in the channel to return to the farm. We did see another gator or two, as well as a soft-shelled snapping turtle.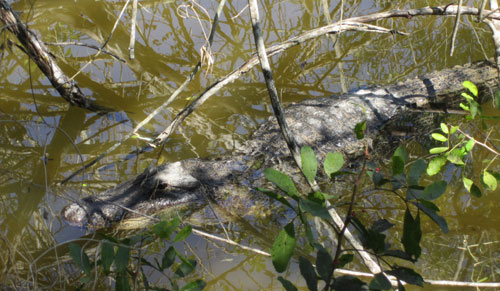 We walked around the farm, looking at alligators both inside and out. You can walk around Everglades National Park and not see a thing, so I suppose the farm provides an advantage in the critter department, but next time I'll find a boat ride with a longer duration.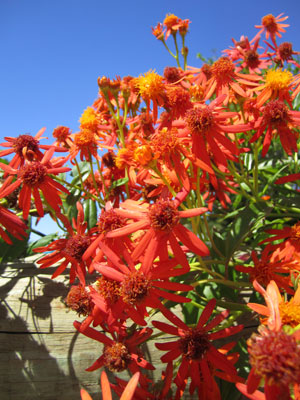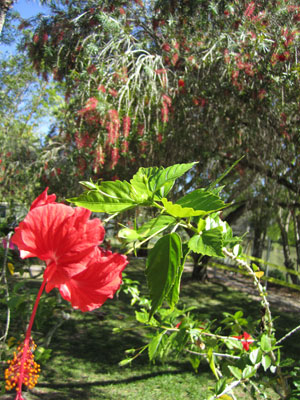 Florida is appropriately named, with flowers blooming everywhere you look!
We cruised back through the swamp, through rows of palm tree farms and other crops to reach Robert Is Here, a fruit stand that has become world famous.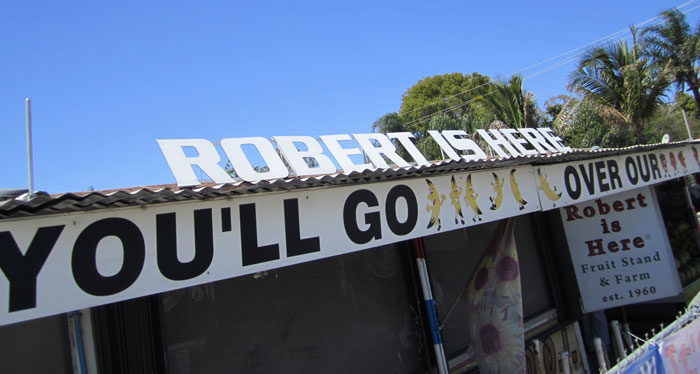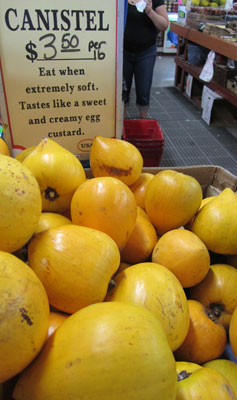 The sign claims you'll go bananas for their strawberry milkshakes, but the key lime was the crowd favorite. Tart and sweet and massive, a deal for $5, especially if you split it with someone. The selection of produce (and, therefore, milk shake flavors) is extensive, including fruits you've probably never heard of. Fortunately, there are signs explaining them and if that's not enough Robert himself will tell you what they are, if they're ripe or not, how to prepare them, etc. As if that's not enough, they have a variety of honeys and sauces and a collection of critters out back, such as goats and emu.
And yes, there is a funny story about the name of the place. You can read about it on his site.
We sped through more swamp, sucking down delicious milkshakes, to get to Alabama Jack's, a water-side bar/restaurant with some of the best fried fare you'll find.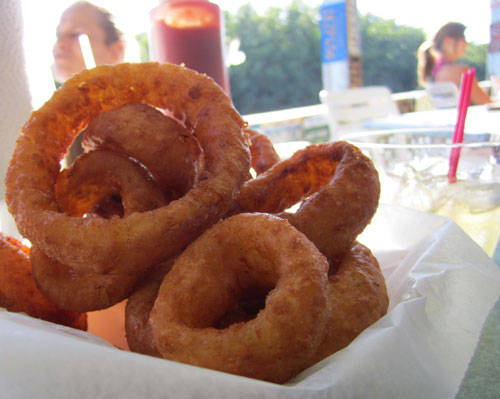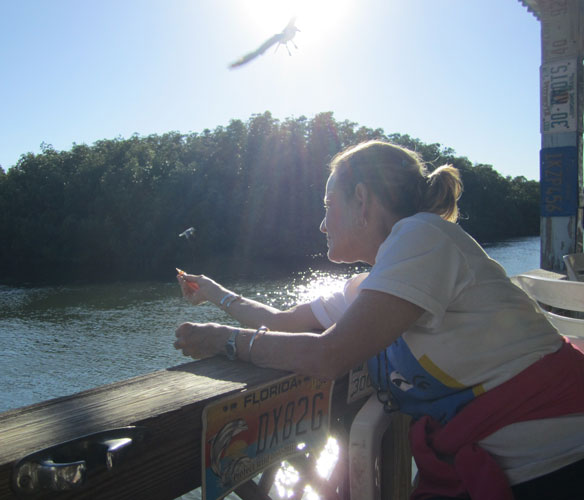 Unfortunately, we were too full from Robert's milkshakes to really enjoy it. Our guide insisted on getting onion rings, but even with four of us we couldn't finish them. The birds enjoyed a few, before we saw the sign forbidding us to feed them.
By the time we got back to town we were, yet again, too pooped to party and called it an early night.