There was some confusion about the "20″ in this year's Bubbapalooza title. Some used it as "20 years," others said that back at the beginning the event was held twice a year and we've still got 2 years to go before we can celebrate the 20th anniversary of the festival. It hardly matters. The most important things at the event are the old friends and old music. And sometimes new friends and new music.
Speaking of old, Ted Weldon introduced the bands, as usual, passing around a bottle of Boone's Farm and cracking wise. Different this year, no Slim Chance. Instead, The Wheelknockers kicked things off Friday night sometime around 8.30.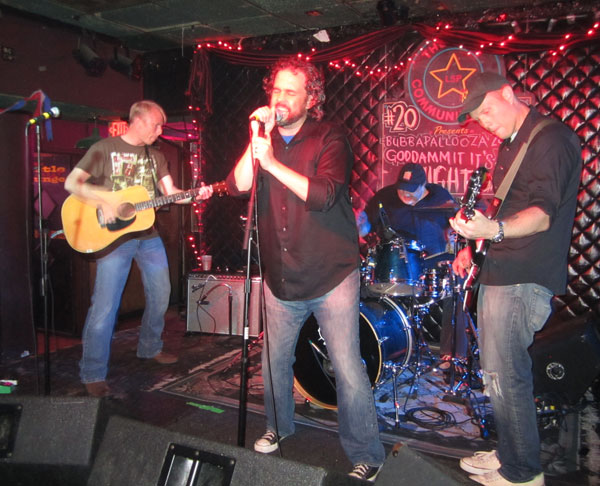 I've missed a few of their (admittedly rare) shows, but every time I see them they've gotten better. Honkytonk flavored rock, nothing surprising but definitely worth a listen.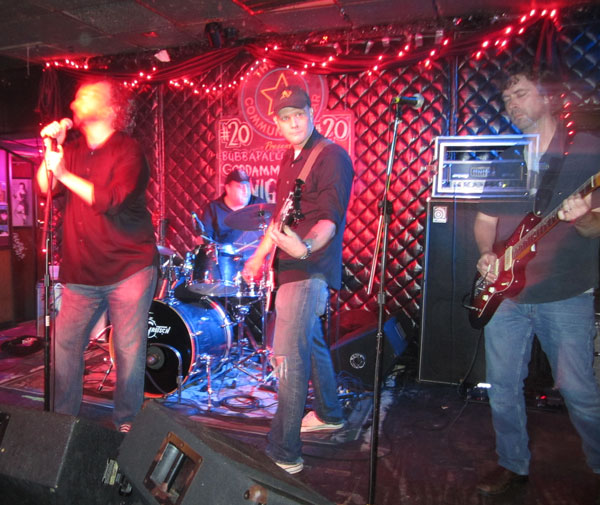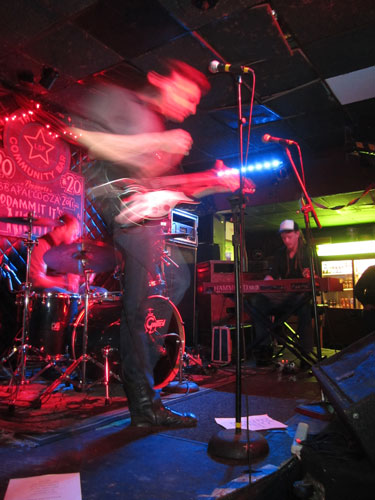 Rod Hamdallah followed, swinging things toward the electric blues end of the rock spectrum. But as more and more old regulars poured in the door, I skipped most of Rod's set to socialize in the basement.
At least until Midway Charmers cranked up in the basement, drowning out any chance at conversation.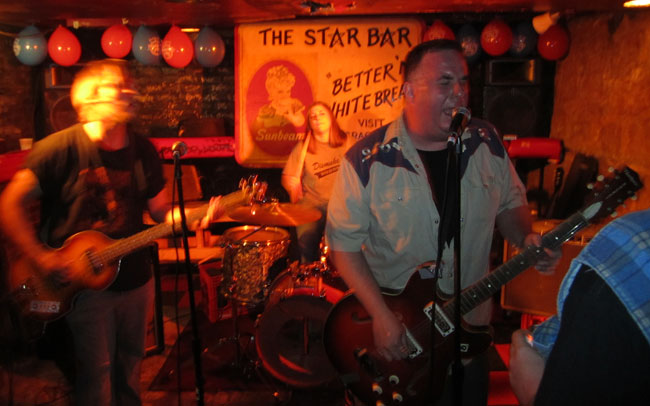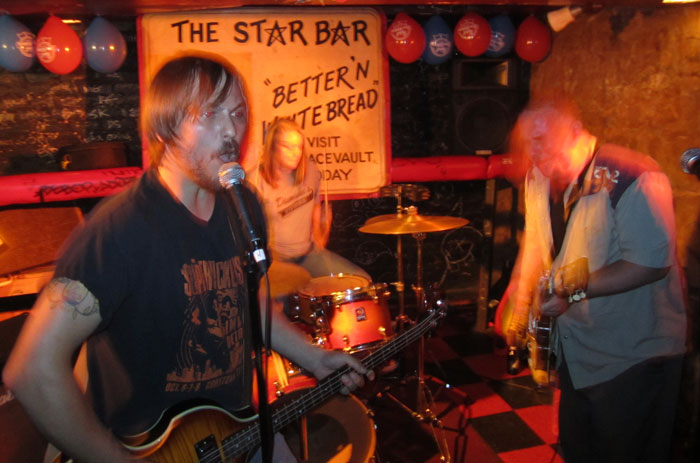 Jimmy, formerly of Jimmy & the Teasers, plays guitar with a Link-Wray-on-speed fury. Midway Charmers are a bit more garage and bit more comprehensible in the vocals than the Teasers used to be, which is a plus in my opinion. Halfway through the set Jimmy swapped instruments with the bassist but it didn't change the "rip it the fuck up" approach.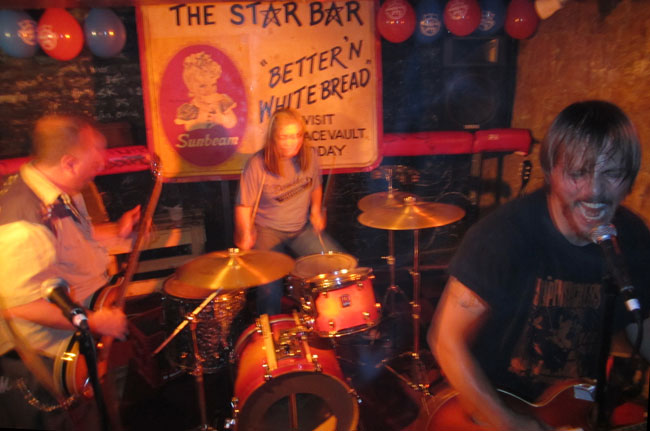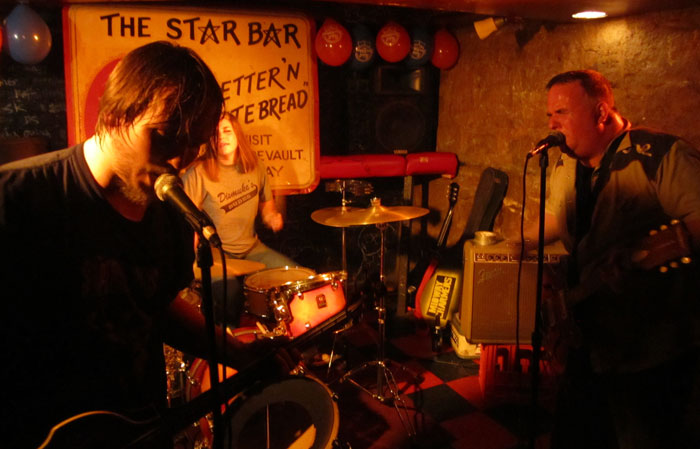 Bareknuckle Betties are the prettiest bluegrassy band in the land, and they don't sound too bad either. Unfortunately for you, I only caught the tail end of their set and failed to get a photo.
Anna Kramer & the Lost Cause played in there somewhere. Anna has a lovely voice and the band as a unit are fantastic. But lately their sets just simmer, whereas they used to boil over. I miss the more rockin' grande finales.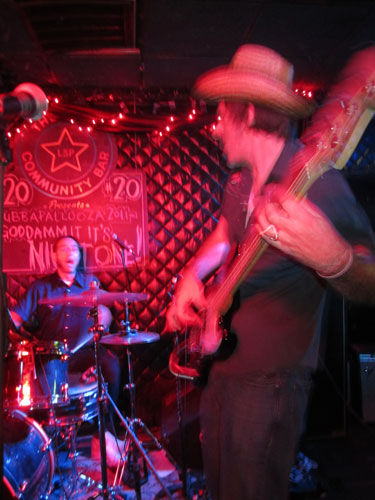 Downstairs, Atomic Rockets cranked up with Eric Lee filling in on vocals at the last minute, forcing him to karaoke his way through classic rockabilly tunes with the aid of lyrics taped to the A/C duct overhead.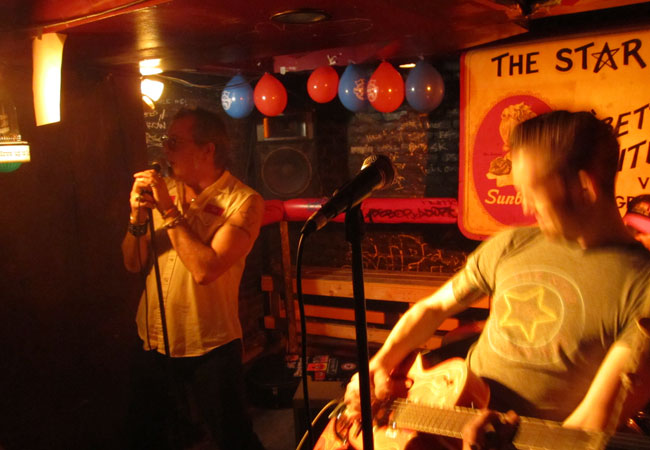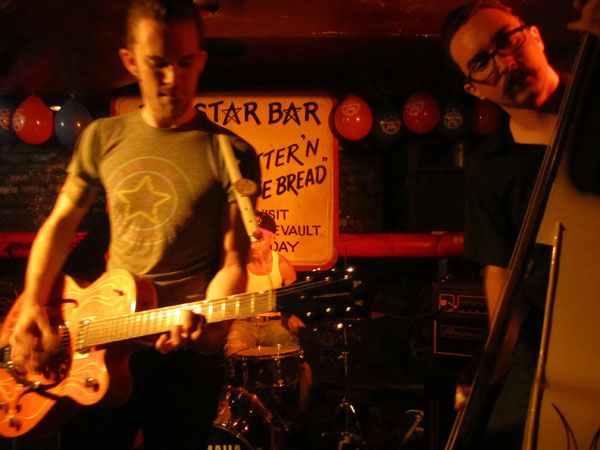 I couldn't have done better, but I suspect someone could have. He mangled a half dozen tunes or so before I slipped back out to the patio to socialize. Later he insisted the end of the set got better, but with so much going on there was plenty to distract me.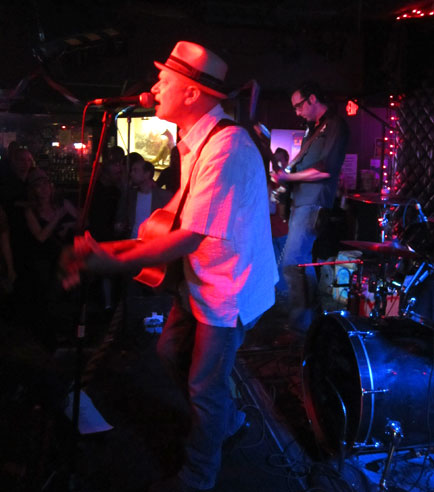 Back upstairs, Blacktop Rockets made rockabilly look easy. Perhaps too easy for Johnny McGowan, who wandered off into improvised flashy guitar territory from time to time. Usually it worked, but sometimes it didn't mesh with the sound the rest of the band was churning out with technical precision.  But the band inspired a few dancers to twirl about and for a few minutes there I was flashing back to the mid-90′s when The Star Bar was the center of the rockabilly/swing revival and the place was packed every weekend with greasers, the Betty Page Brigade, retrohipsters, and hordes of fad followers from Buckhead.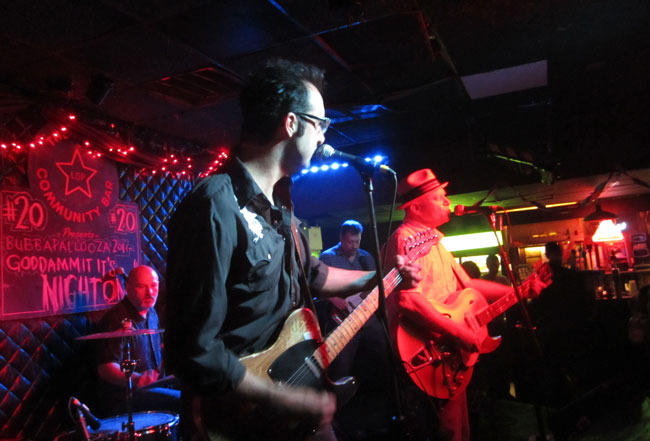 I hate it when a damn fine band is put last on the bill but their sound doesn't work at 1AM when everyone is drunk and just needs some sloppy, loud, party music. Ocha la Rocha is not sloppy, loud, party music. It's more on the melancholy country end of things, with pretty harmonies and interesting lyrics. But who cares about pretty and interesting after 6 hours of drinking? Regardless of talent or name recognition, Midway Charmers would've better suited the moment.  By that time I couldn't even get my camera to focus, much less my mind.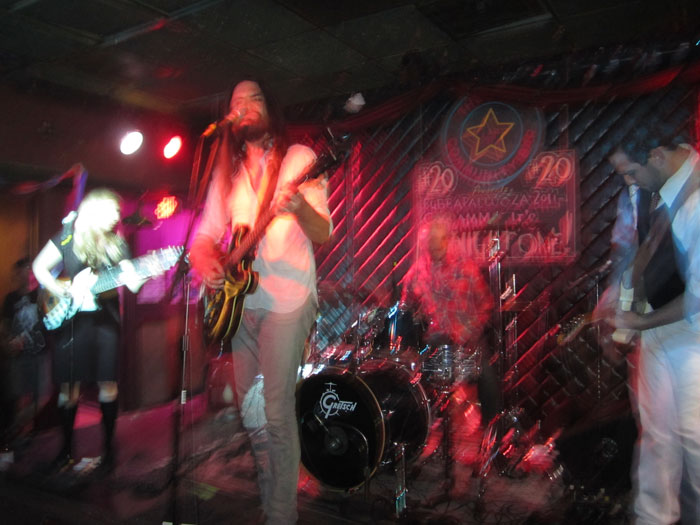 But hey, $10 for 6 hours of music? You'd better master the art and science of buzz maintenance, and wear comfy shoes, but there are worse ways to spend your night!