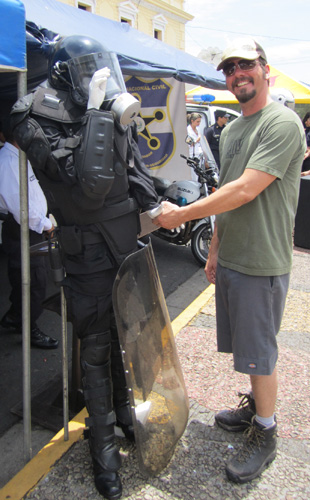 Up and at 'em for another day on the bus. Fortunately, after last night's festivities most of the family was comparatively quiet. Today, we circled around the San Salvador volcano, across fields of black lava rock and out into the jungle. Eventually we arrived at Santa Ana, a quaint town with Spanish colonial buildings we could barely see due to all the sidewalk booths set up by vendors hawking t-shirts, shoes, trinkets, electronics – you name it. The square is probably charming on most days, but there was some kind of fair going on, perhaps something to do with government jobs. Police, army, and various other government agencies had recruiting stations set up around the square.
The town's charm was nearly lost in the crowd. But on the plus side, we did get to see The Police in concert…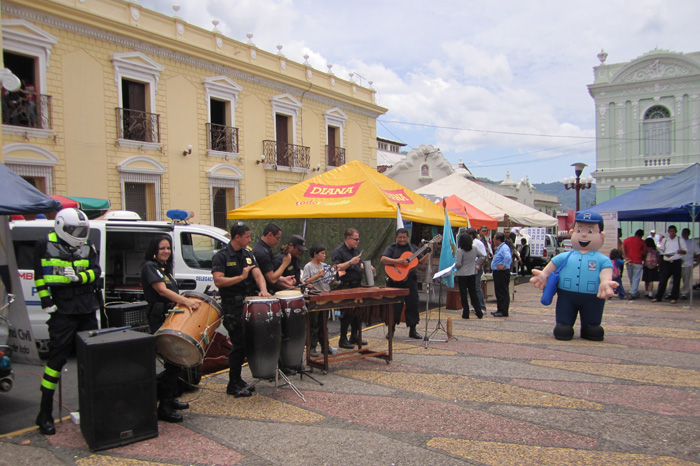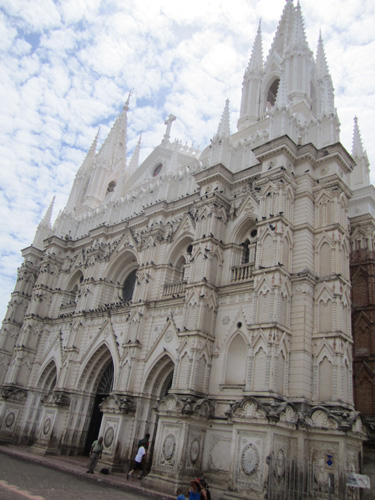 We checked out Santa Ana's cathedral, with it's a lovely white facade contrasted nicely by pigeons.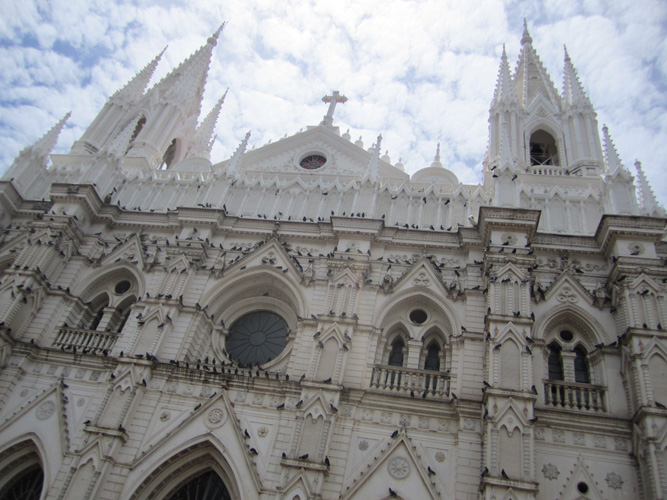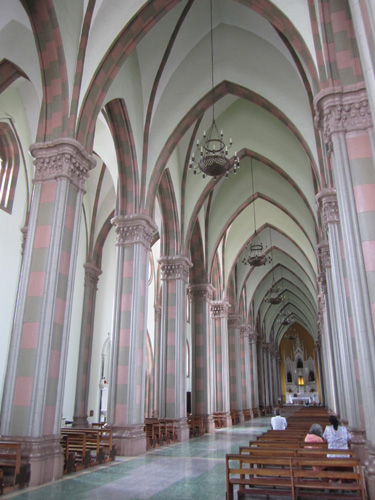 The interior is a lovely as well, with contrasting gray and pink accents. But look a little closer. That's not marble, just paint.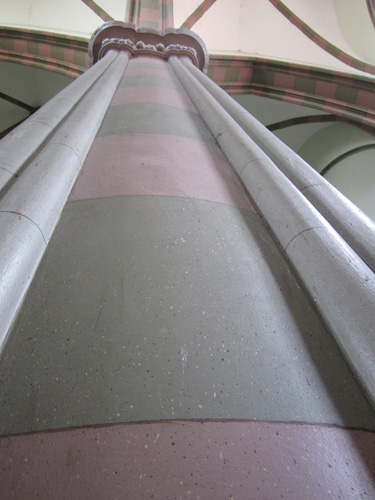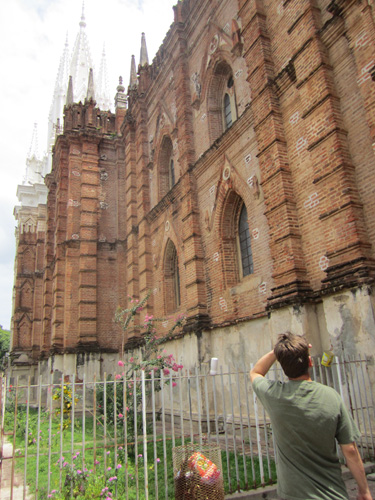 Go around the corner outside and you'll realize the facade is… well, just a facade, of course.
Also fake – this replica of the Shroud of Turin. That's OK, the orginal is also a fake.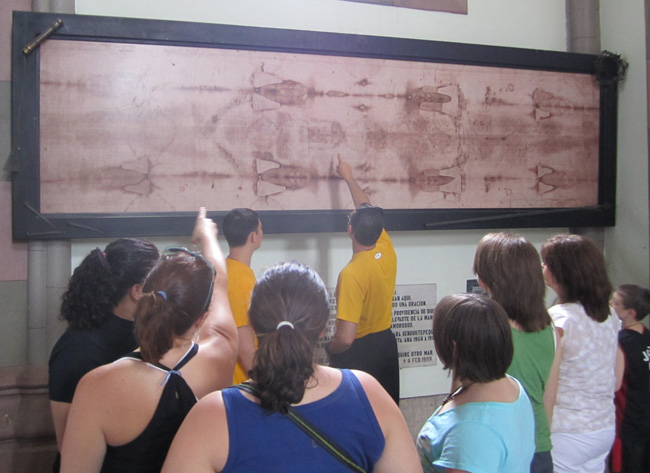 But not fake is the locals' devotion. Photographs adorn various statues around the church, perhaps seeking blessings from the saint whose image is carved in wood, marble or plaster.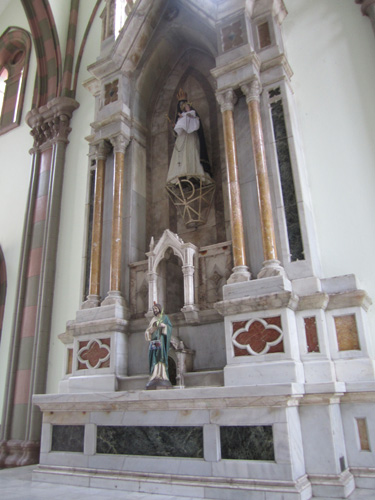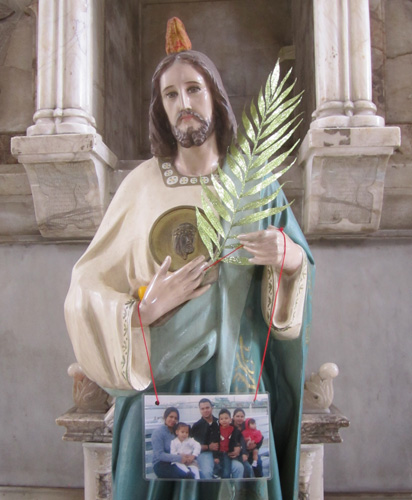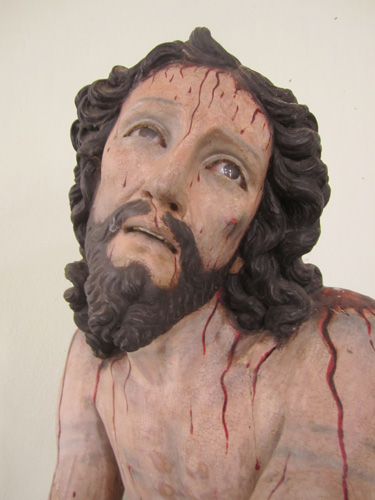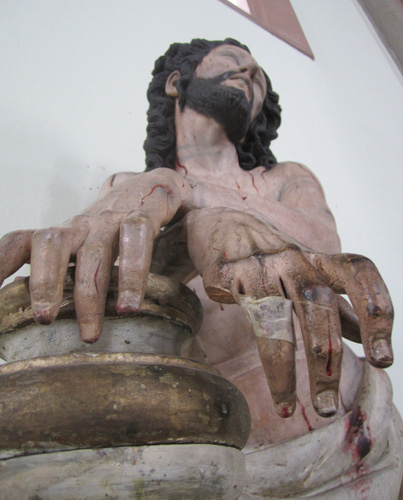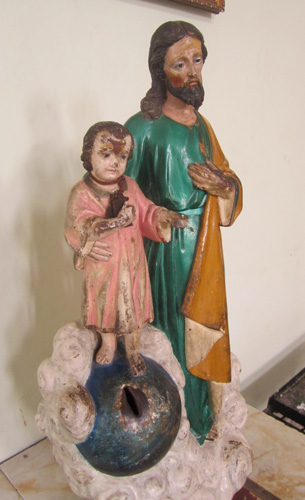 Perhaps asking for better luck at the bowling lanes…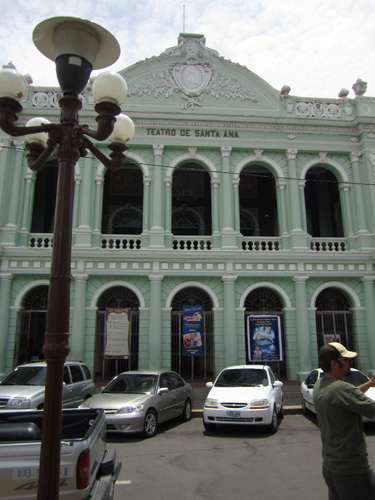 Across the square is the pistachio-colored Teatro De Santa Ana, a building that has undergone extensive rennovation in the last few years. My father visited a decade ago and said it was "a ruin." Now it is immaculate.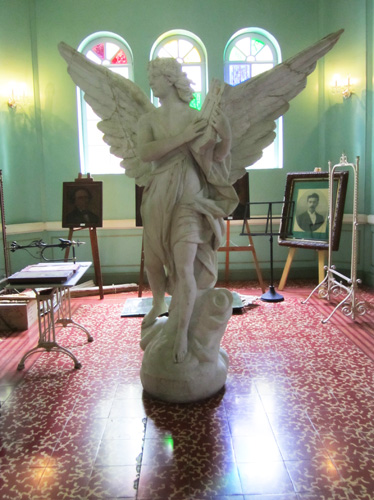 There were a few sculptures in side rooms undergoing restoration, or perhaps removed permanently from the facade. The flyer we were given is entirely in Spanish and I haven't bothered to translate enough of it to get the story.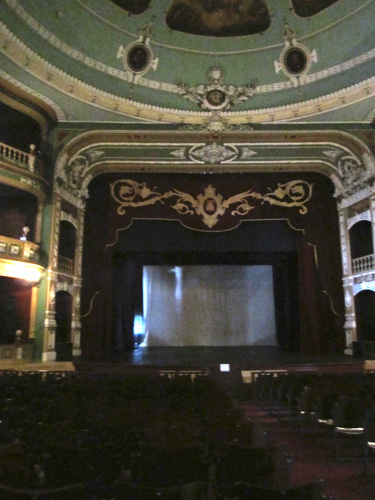 The auditorium is beautiful, with a circular ceiling and multiple balconies.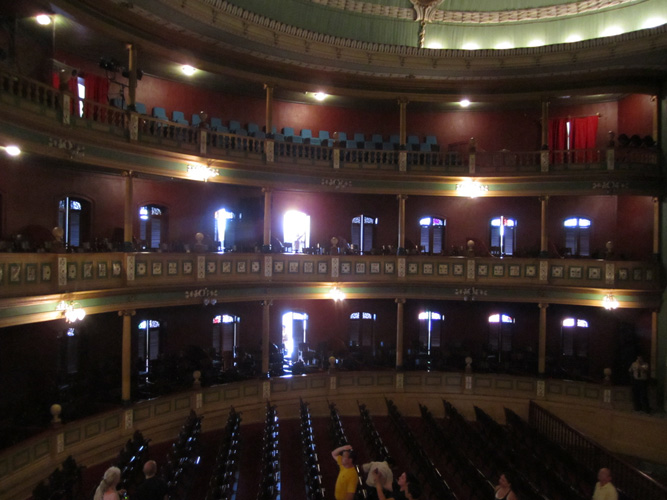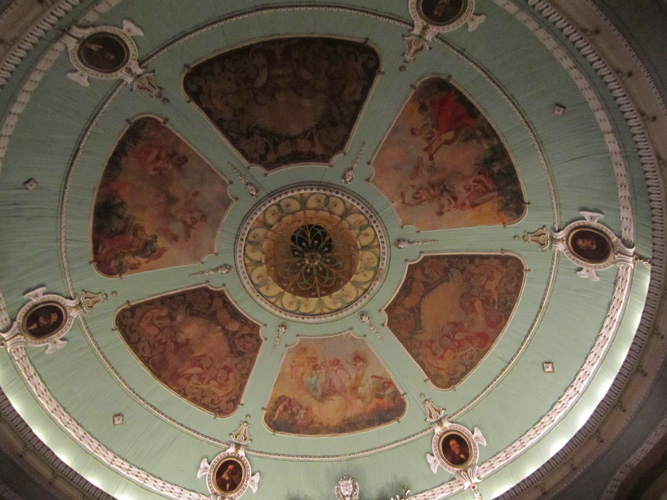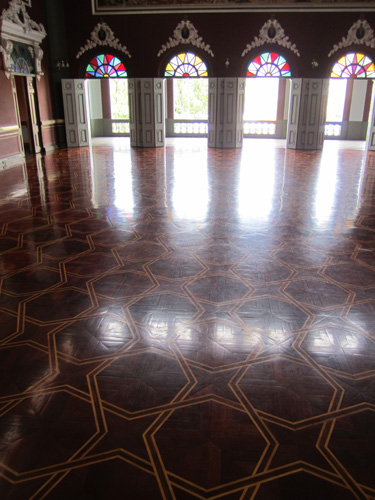 Upstairs is a ballroom with an absolutely gorgeous, intricate inlay wood floor. I couldn't stop gawking at it.
Some of the other family members, however, couldn't stop gawking at the painting on the ceiling, stopping to count how many exposed breasts they could find.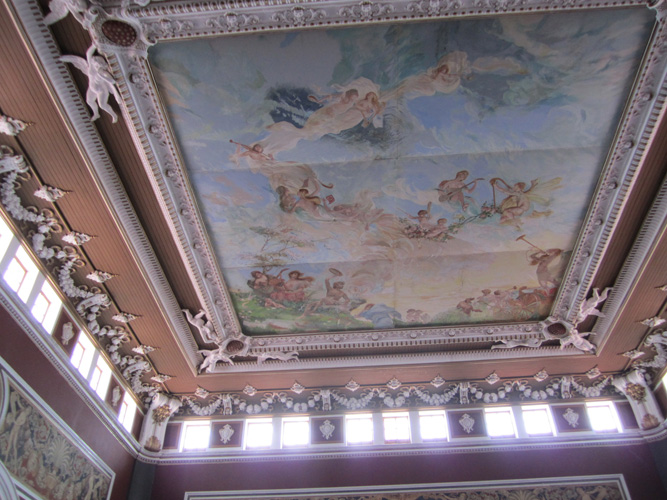 Chandeliers, tile floors, curved wooden staircases, guilded bits of trim – fantastic.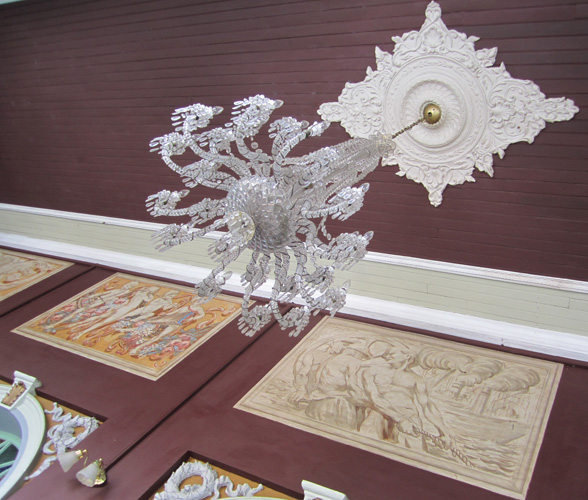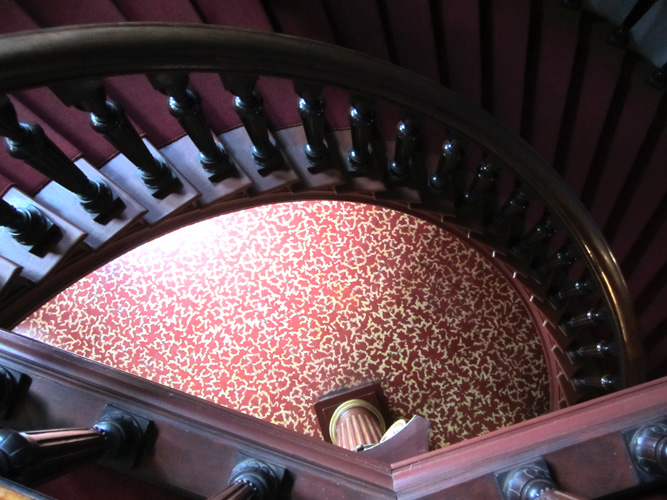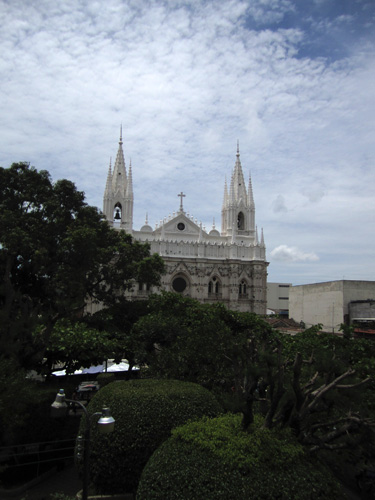 It also offers some nice views of the town square.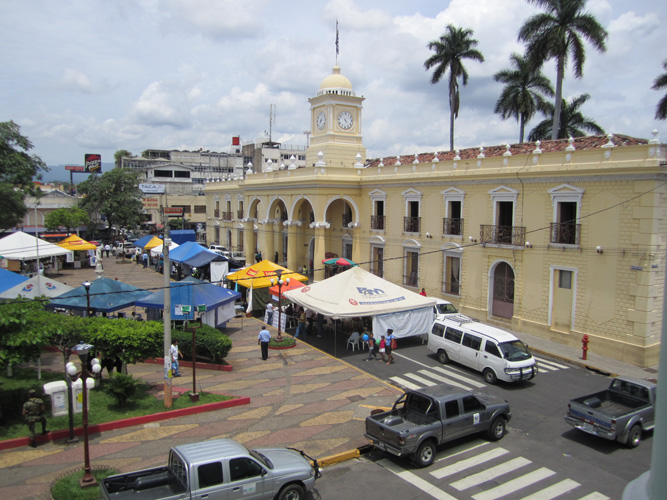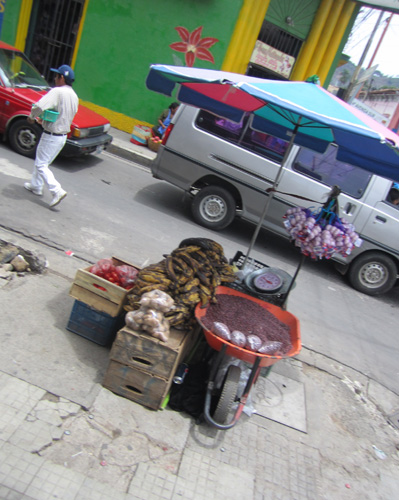 We walked around a bit, searching for soccer jerseys for the national team. We passed on the cheap knock-offs, but the hunt gave us a better look at the town and the aforementioned street vendors. But, too soon, it was time to get back on the bus. Some of us would've been happy to eat at almost any restaurant or street vendor we passed. Others were repelled by thought. With something like 20 people on the bus, our guides were hard pressed to please everyone.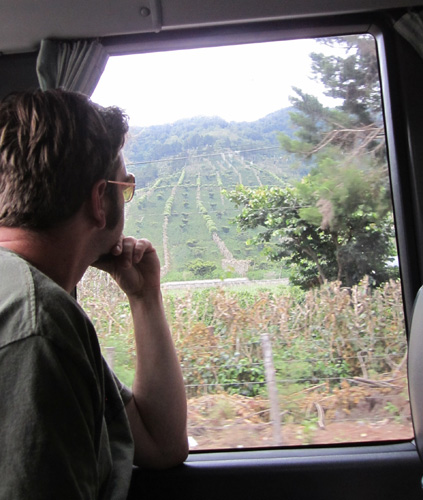 So back out into the countryside we went, through miles of coffee plantations and sugar cane fields. Again I wondered how a country to rich, agriculturally speaking, can be so poor.
We followed the Ruta de las Flores, a winding road that passes through cute town after cute town, walls adorned with murals and interesting booths of art, food and trinkets.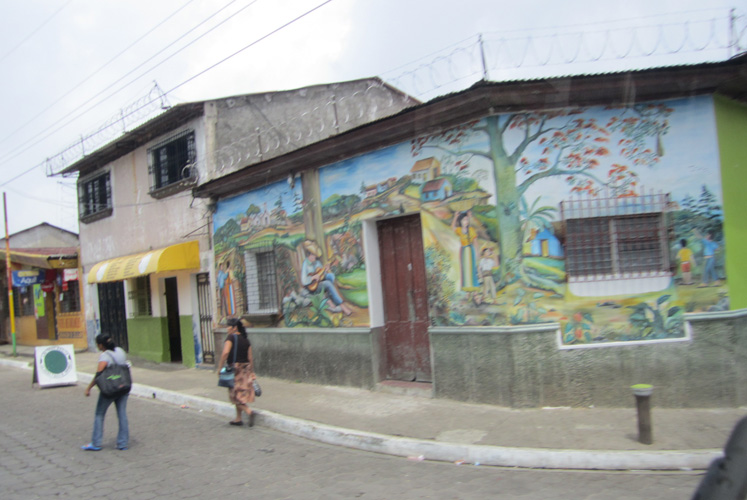 "Wait, I coud've eaten there!" I grumbled as we passed through each town. Alas, our guides had something else in mind.
Grudgingly, they let us off the bus to stretch our legs and check out the view. Note: some browsers automatically resize the image. Put your cursor over the picture to zoom in.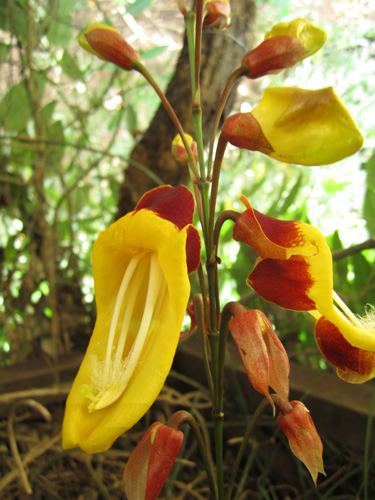 We landed at El Jardin de Celeste, a coffee plantation turned upscale eatery seemingly in the middle of nowhere. They had an impressive garden full of colorful flowers, as well as a little petting zoo with goats. My brother asked if the goats were for cheese. "No, for eating!" came the reply.
Mmmm, goat…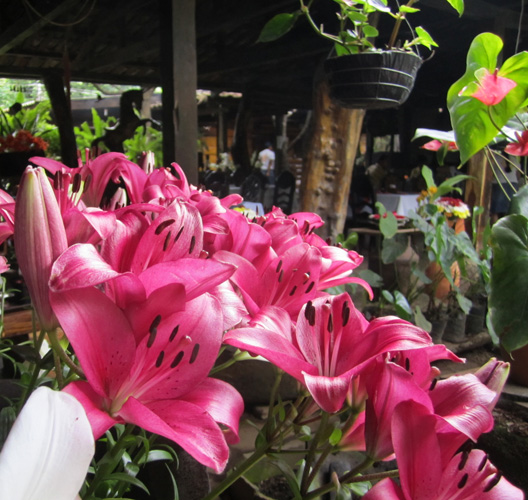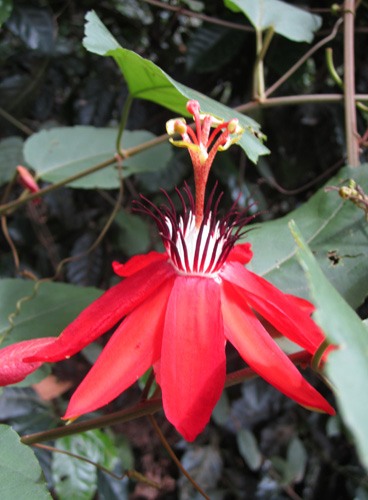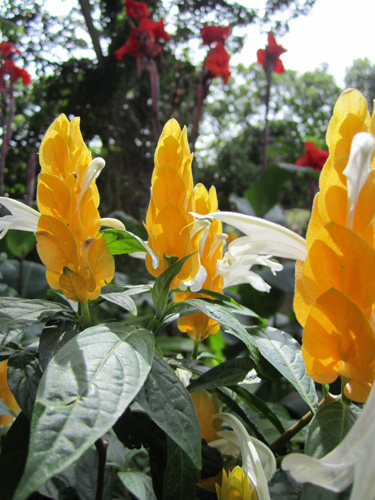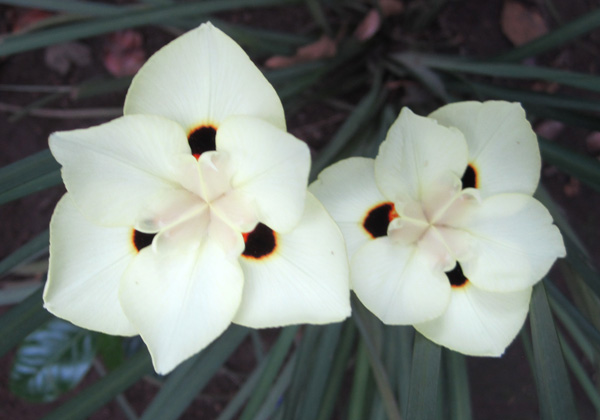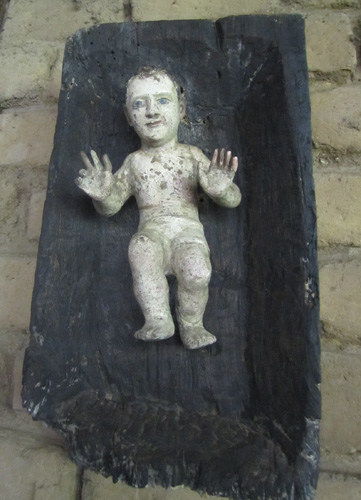 Interesting decor inside too, with somewhat folky carved saints everywhere you look.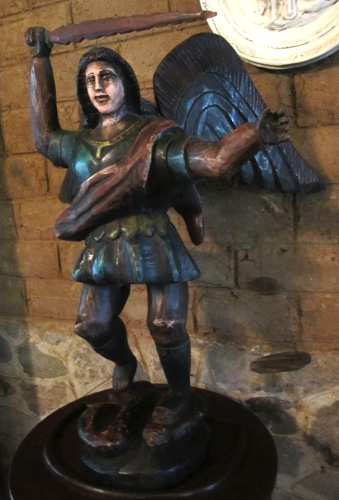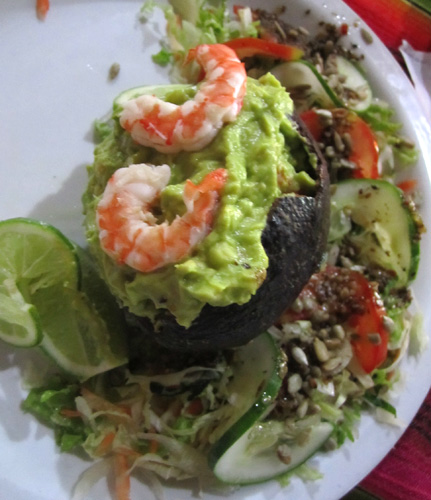 As pretty as the place is, the real deal is the food. We started off with an avocado stuffed with shrimp. The avocado was so fresh it was like getting kicked in the mouth by Avocado Soldier.
We followed that with a plate of various grilled meats – a slab of churasco, some interesting sausage balls, beans and rice. All delicious.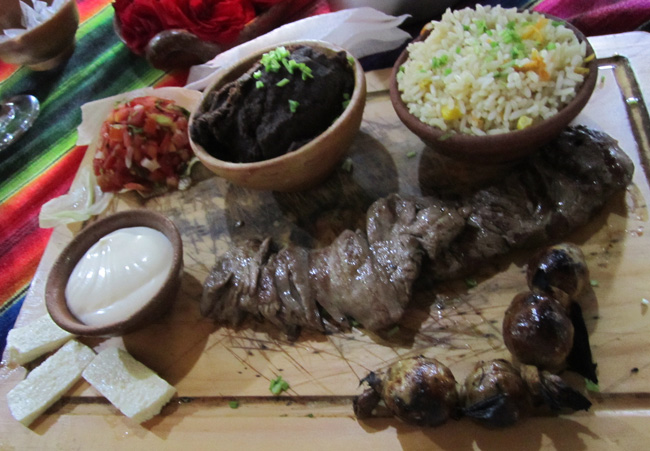 Then it's back to the bus to Ataco, one of the towns on the Ruta de las Flores. We stopped briefly at the church but you've had enough churchin' so I'll just give you a glimpse.
We walked down the block to a somewhat famous gallery/store/textile mill. The art on display was a bit on the cutesy side for me, matching the mural on the outside of the building. However, a couple of us gringos did find some amazing hats.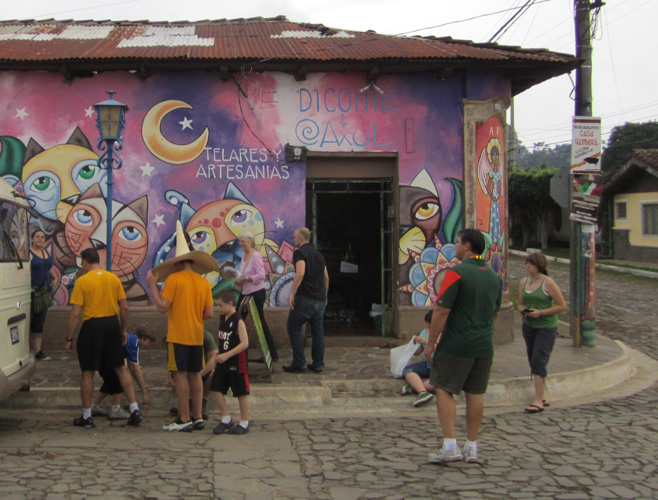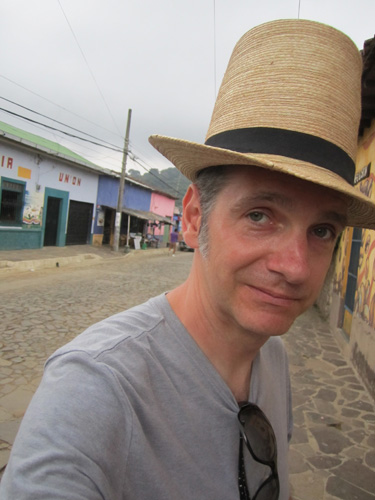 I could've wandered Ataco for half a day. Alas, we had yet another dinner party to attend and had to pile back onto the bus and speed back to San Salvador.
Another huge gathering, another amazing view of the city, another massive slab of meat – not a bad way to spend an evening.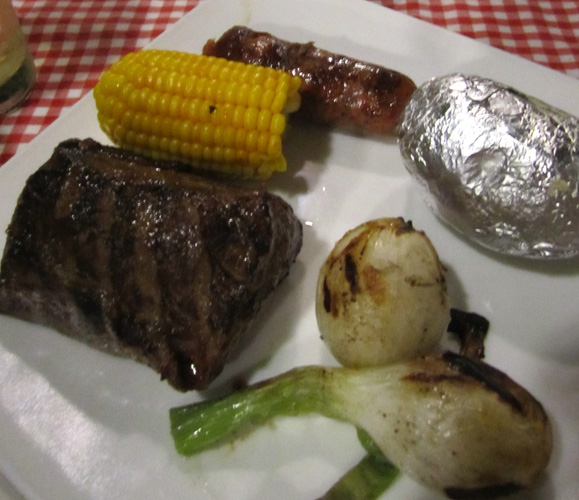 I think by the time we made it back to the hotel we were too pooped to party on.
Next episode – some degenerates skip the family outing to explore downtown San Salvador.