The family did a day at the beach while She Who Shall Not Be Named, degenerate JN and myself opted to stay in the city. The looks of horror we got when we told the Salvadorans we'd be visiting downtown were not reassuring. But we marked our maps in advance with everything we wanted to see, left our valuables stashed at the hotel and called a cab.
Needless to say, we were not kidnapped and our dismembered feet sent to our families with ransom notes for the rest of us. Sure, downtown San Salvador is crowded and dirty, but not much worse than Atlanta.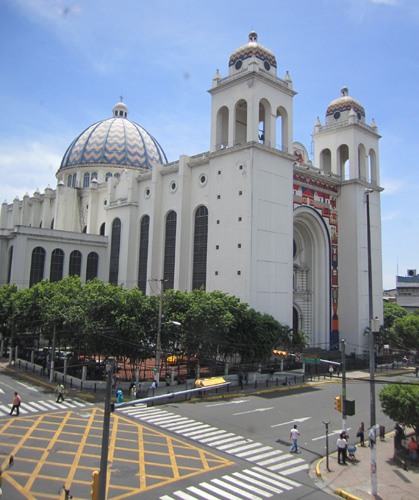 First stop, San Salvador's Cathedral. It's not the prettiest church I've seen, not even the prettiest in El Salvador, but we're not here for architecture alone.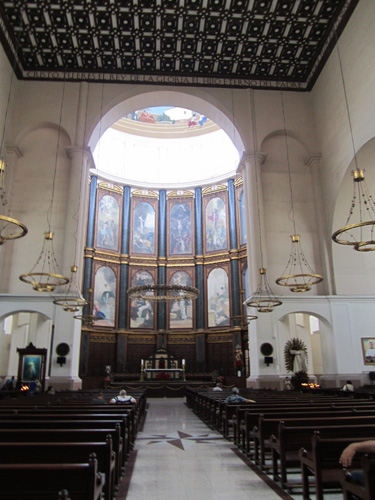 How about a little recent history? This church is famous thanks to the massacre of civilians attending the funeral of assassinated Archbiship Óscar Romero at this church  in 1980.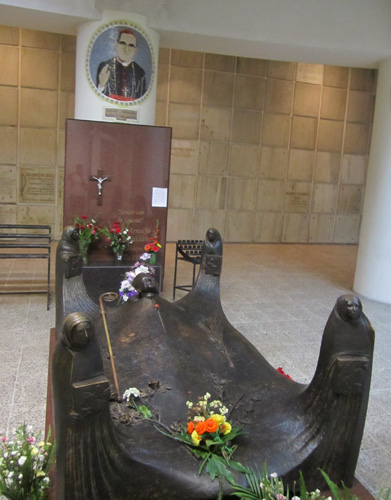 Romero is entombed in the basement under a modern and appropriately disturbing bronze casket with a reference to the single shot fired through his heart.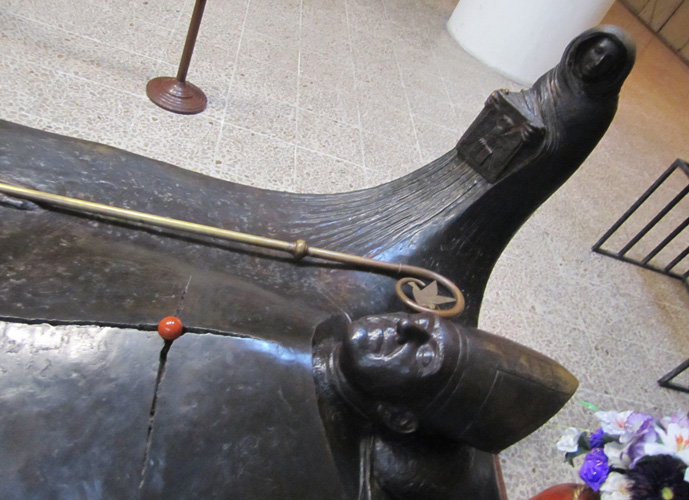 According to wikipedia, "It is believed that the assassins were members of a death squad trained and funded by the United States. This view was supported in 1993 by an official U.N. report, which identified the man who ordered the killing as former Major and School of the Americas graduate Roberto D'Aubuisson. He had also planned to overthrow the government in a coup. Later he founded the political party Nationalist Republican Alliance (ARENA), and organized death squads that systematically carried out politically-motivated assassinations and other human rights abuses in El Salvador."
ARENA is now the ruling party of the government. Hey, doesn't that make you want to chant "U S A!" over and over? Yeah? Well stay tuned. In a couple of days we'll visit another site where death squads killed women and children too. U S A! U S A!
The square and park outside the church are crowded with booths, some selling t-shirts with famous communists. Romero stands watch in the form of a bronze statue on the corner.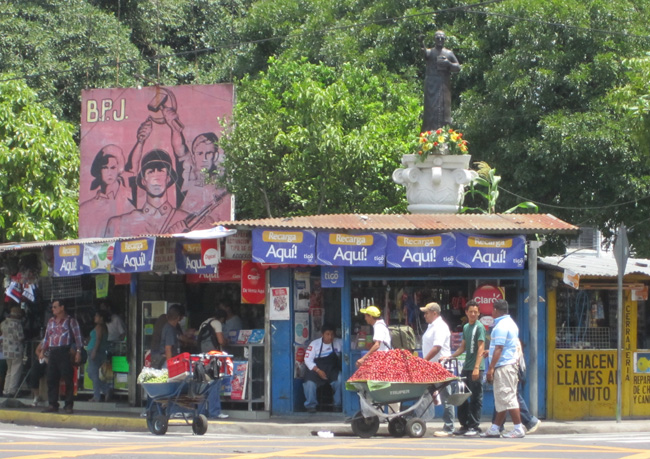 The government issued blanket pardons for attrocities committed by both sides of their bloody civil war, funded, in part, by the U.S. – to the tune of some $7 billion or more. With an estimated 70,000 people killed, that's a mere $100,000 per person. I wonder how that compares to how much we're spending per person we kill in Iraq? We may never know, since we stopped counting during the Bush years.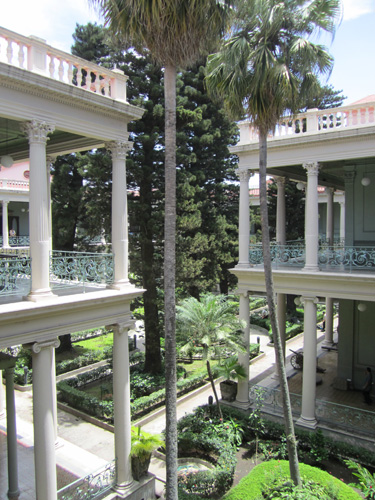 We found the National Theater on our map and headed toward the large building we assumed must be it, only to find ourselves in the National Palace instead. The thing wasn't even on our tourist map, which is a shame because it houses a lovely courtyard and has some beautiful design features – stained glass, stamped ceiling tiles, wrought iron, carved wooden gargoyles, cherubs holding up framed images of the country's famous persons, etc. Definitely worth a visit.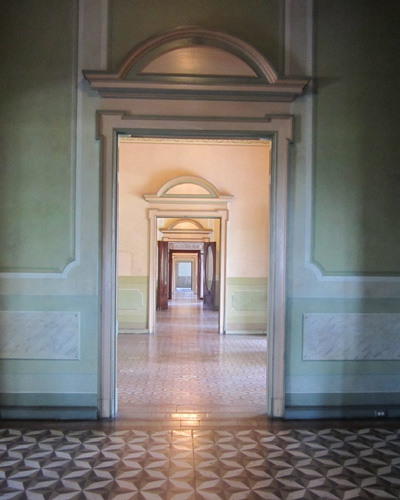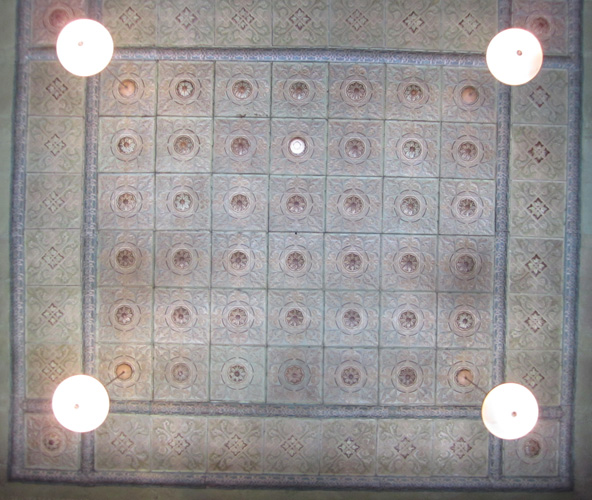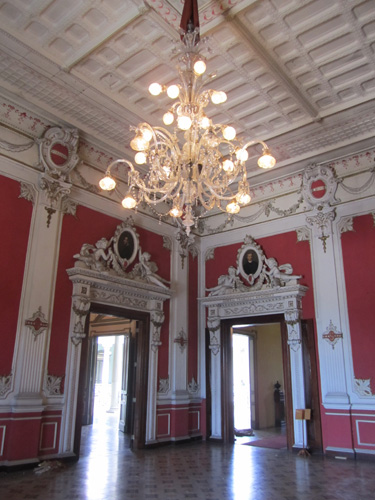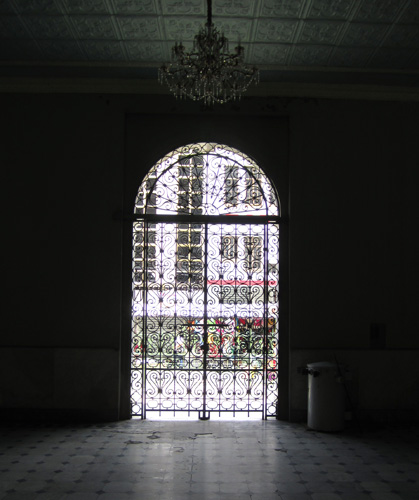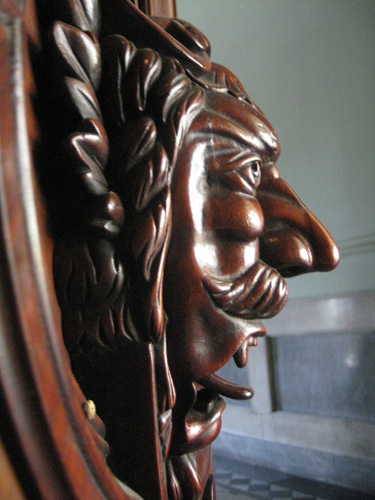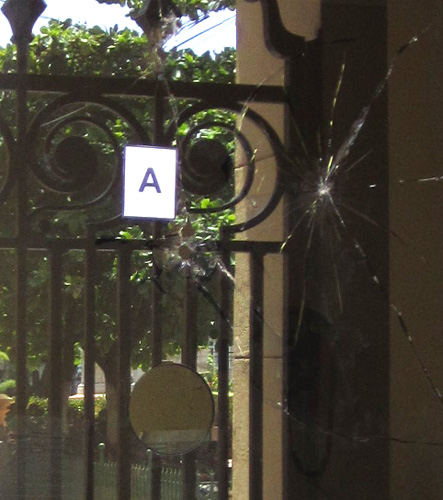 We walked around the block to find the National Theater but couldn't find an open door. Our most recent guidebook said it was underoing renovation and would reopen in 2010. If the bullet holes in the ticket booth window are any indication, the renovation isn't complete.
Instead, we  trekked a block or two off the main square to Iglesia El Rosario, by far the strangest church I have ever seen.
Outside, it looks like a decaying concrete bunker.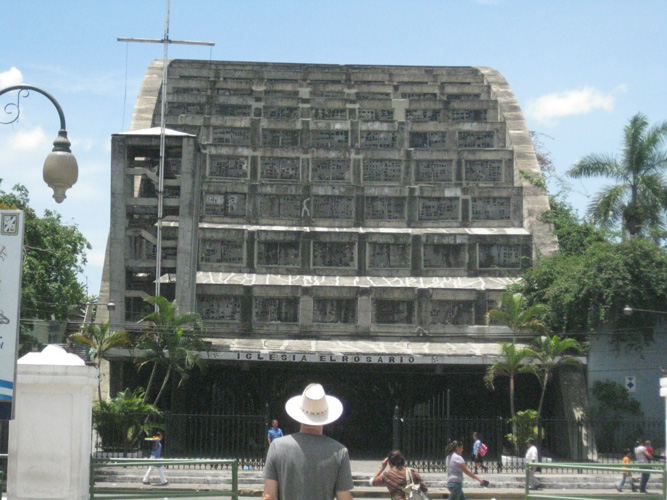 Not very welcoming! However, step inside…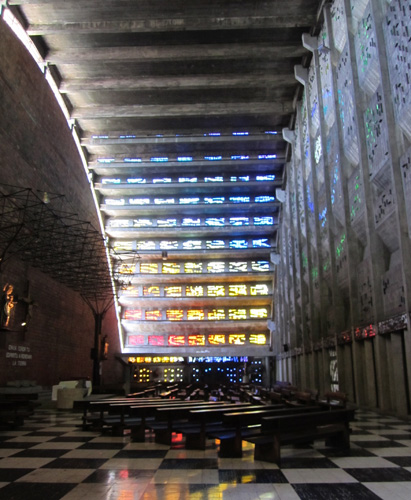 "Fucking cooooool…" was the universal reaction amongst us. Very sci-fi. The stepped arches that form the walls and ceilings are lined in abstract stained glass. Glass also pierces the back wall of the church, bringing in dots of colored light.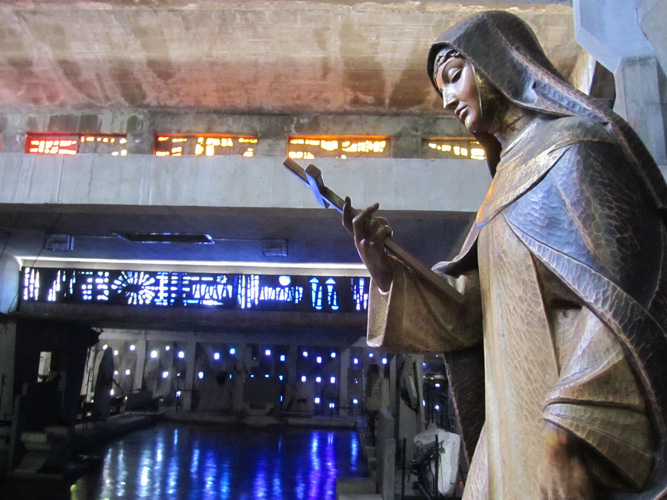 In the side chapel are very strange sculptures done in re-bar. These work with the overal theme of the building, unlike the more classical pieces scattered at random.
I call this one Terminator Christ.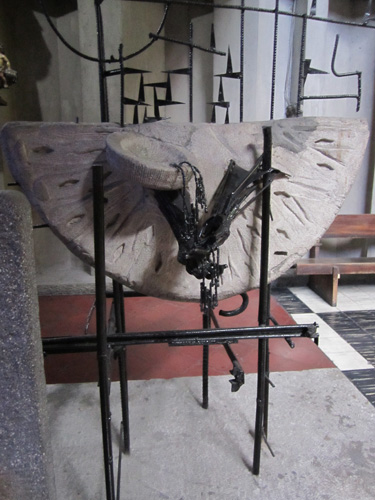 Even the reliquary is done in re-bar, though I wasn't sure if the shattered glass front was original to the work or a later modification.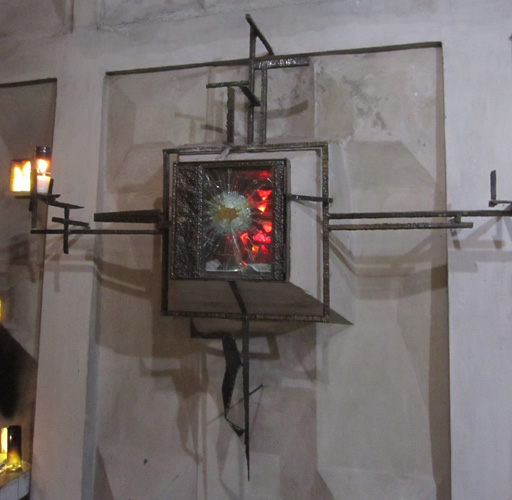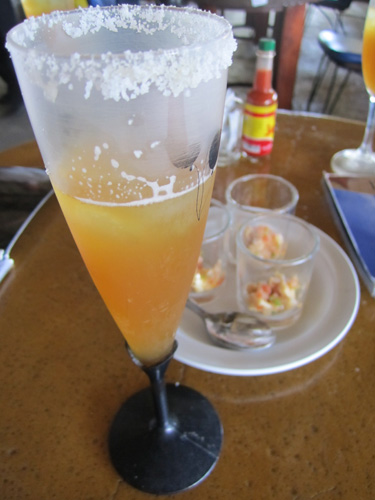 We hopped in a cab to head across town for another museum, only to stop en route at a restaurant recommended by our cabbie (which we later found recommended by our guide books), Las Holas.
Micheladas – a beer cocktail made with hot sauce, lemon or lime juice, sometimes with Worcheshire sauce or other flavors – arrived at our table unbidden, along with a few samples of their ceviche. Perfect for a hot afternoon.
We ordered up a round of ceviche, beers and fried delights.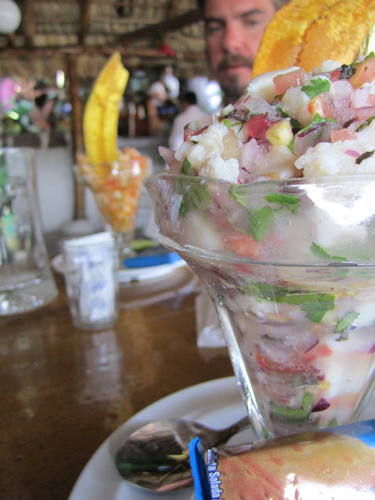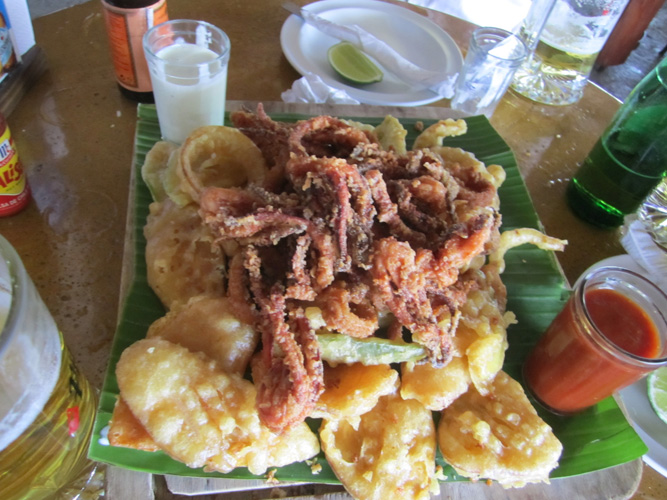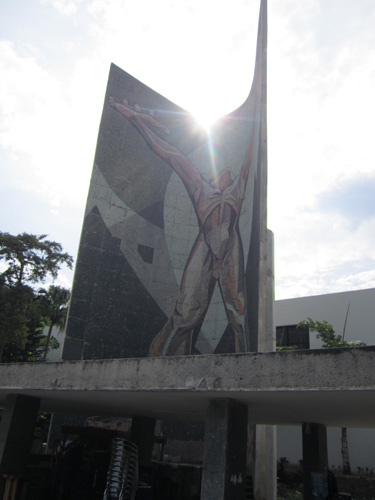 We walked a couple of blocks to the Museum of Modern Art.
The most interesting parts of their collection deal with the civil war, but even those only get a small room. But on a hot afternoon, the A/C alone was worth the stop.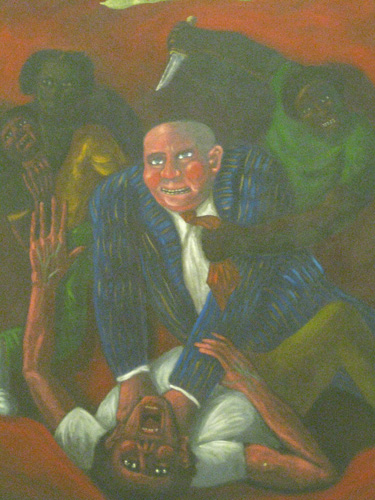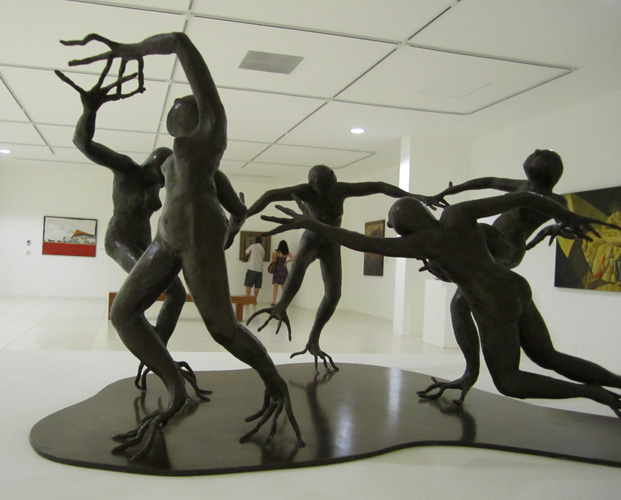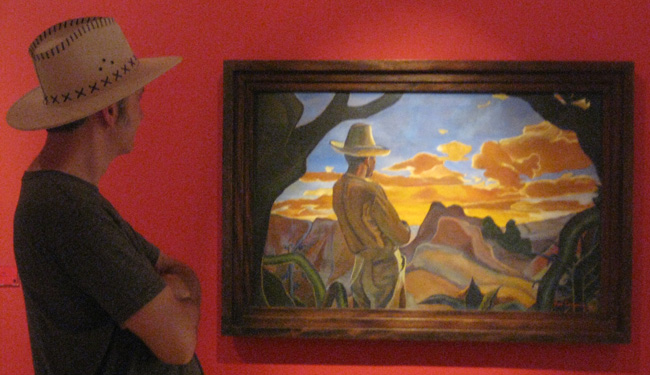 We'd planned to hit the mall in search of the elusive El Salvador soccer jerseys but none of us had the gusto to go on.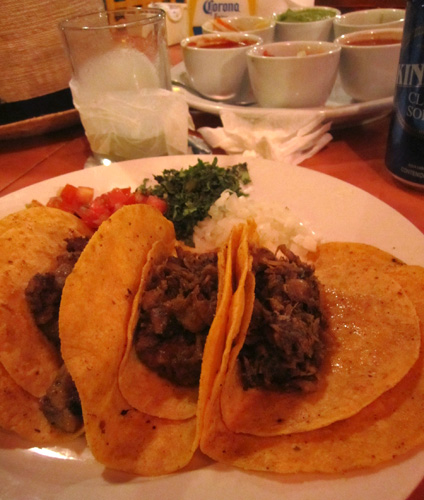 After a siesta, She Who Shall Not Be Named still didn't have the gusto. Various members of our entourage began suffering various ailments, from colds to stomach problems. She Who Shall Not Be Named was one of the first to go down. Meanwhile, degenerate JN and myself hit Azteca, a Mexcian restaurant around the corner from the hotel, for tacos and soccer games on TV.
JN stopped off at Bar 660 on the way home but I returned to the hotel to check on my significant other and didn't make it back out.
Next episode - back to the beach!