We'd been passing a place called the Biscuit Factory every time we'd walked around the neighborhood but with free breakfast at the hotel we'd never bothered to stop at the little bakery ("biscuit" in this sense being the British version, i.e. cookie/pastry.) But we were nearing the end of the trip and I think degenerate JN had slept through breakfast, so we stopped in and got him a few treats – meat pies, donuts, etc. Recommended if you're in the neighborhood!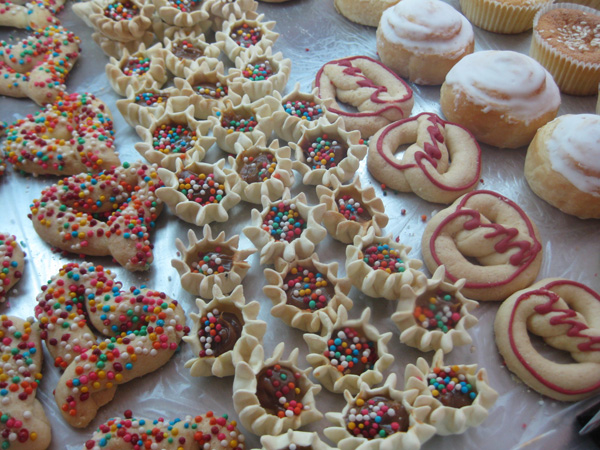 Again, we got looks of horror on the faces of the rest of the family when we said three of us were going to walk a few miles to see something. But we were in one fo the safer neighborhoods and we are experienced travellers, so a hike seemed like the thing to do. We followed our map and guidebook in search of the chapel where Archbishop Romero had been assassinated.
An hour later, we walked past the same car shop and Burger King for the 4th or 5th time, still looking for the place. We asked directions and slowly closed in. The neighborhood was walled in a way to cut down on cruising and traffic, resulting in a maze of dead-ends and streets you can't get to. We stopped at a convenience store to ask directions and a man covered in gang tattoos complete with a tear inked on his cheek, asked us where we were from.
"Atlanta," we answered, cautiously.
"Oh, I used to live in Georgia. I drove a truck here. What are you doing in Salvador?"
"Family."
"Ah. Yeah, this neighborhood is nice. But I don't go to ______," he said, naming some outlying neighborhood, "I mean, I'm covered up…" he paused to lift his shirt and show us his extensive tattoos, "but they're crazy out there."
"Hey, do you know where La Hospital Divina Povedincia is? The Romero museum?"
He didn't, but he asked another guy who rattled off some Spanish, which I caught perhaps 1/10th of. Fortunately, the gangster asked if we'd caught it all and translated it for us.
A few blocks later, we found the hospital complex.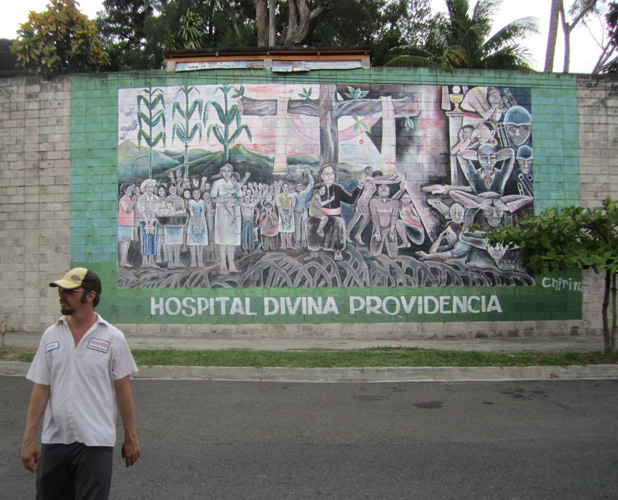 This hospital would be called a clinic at best in the States, so we weren't surprised we couldn't find it. We were surprised to find the home and church closed for the day. Our guidebooks did not have the correct hours listed.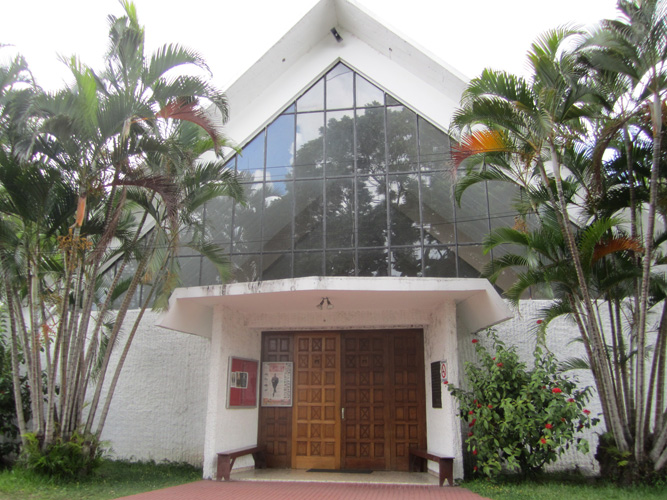 Around the side of the building, I found an open window and stuck my camera in for this shot.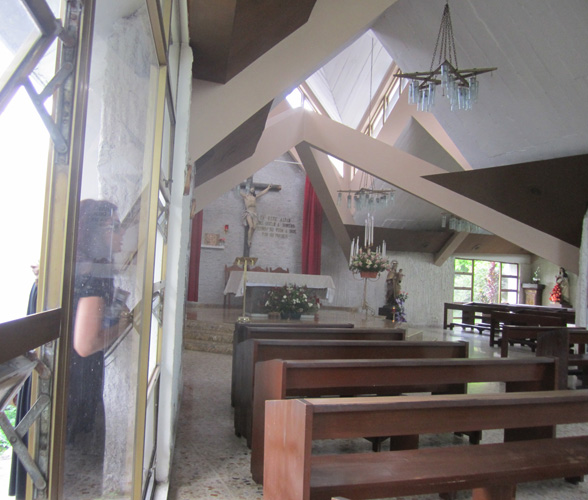 Romero was killed in front of the altar during the Eucharist . He'd given a sermon the day before, calling on the government to end it's violent crackdown on the people.
Down the block, I stuck the camera over the wall to get a photo of his small home, now a museum.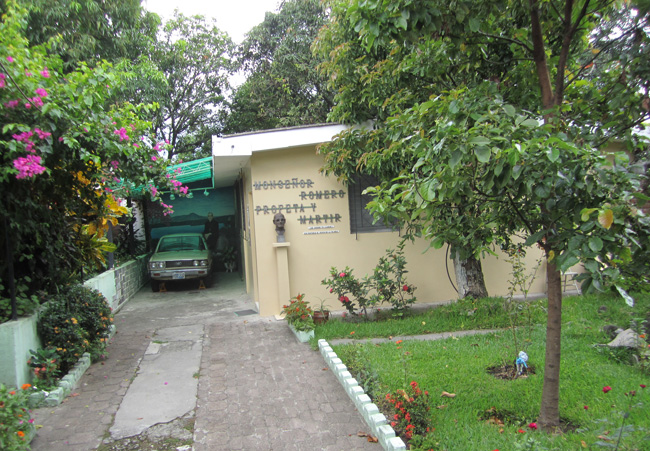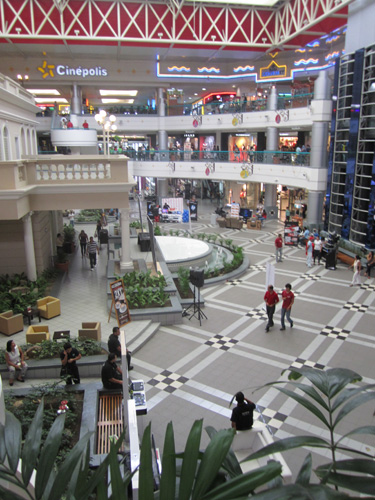 Tired after the long walk, we took a cab to the mall. Malls are huge in San Salvador, and I mean that as both a size and cultural reference.
We were in search of the genuine version of the El Salvador national soccer team jersey. The team had just made it to the next round in the Gold Cup, basically the Central and North American championships, and the shirts were in short supply. Sold out, in fact, at this mall.
We fled and had lunch at a little taqueria across the street. Mexican restaurants in El Salvador bring you several salsas to choose from – but only a handful of chips.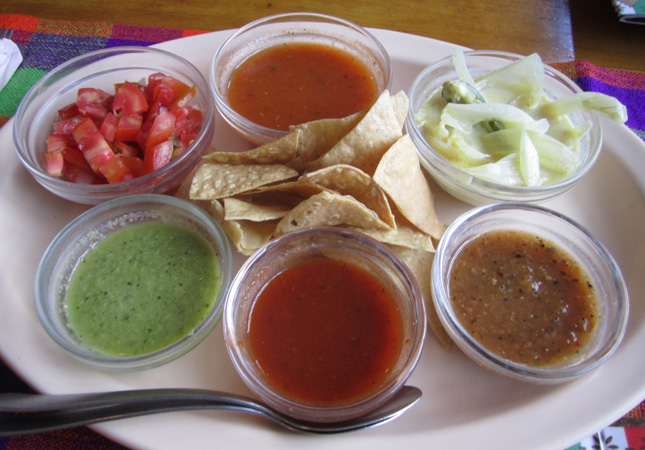 JN went with tongue tacos. She Who Shall Not Be Named got beef, I went with pork. None of us were terribly impressed.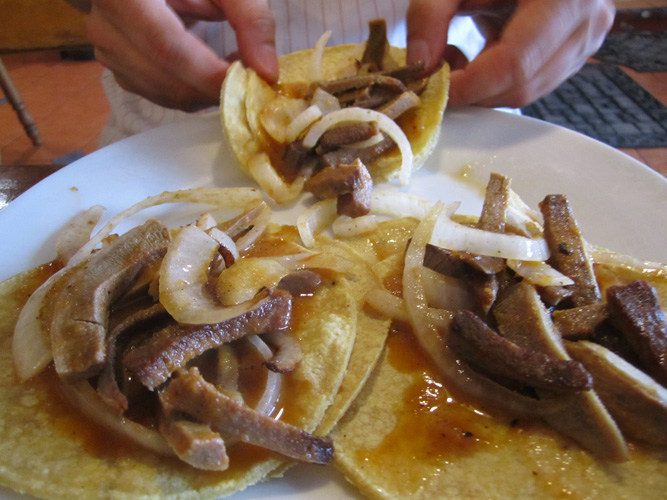 Then off to another mall in search of the elusive shirts. I spotted one in a window and went in to inquire, only to find the one on display was their last one. I bought if off the manequin. (Of course, El Salvador would be eliminated from the tournament that night.)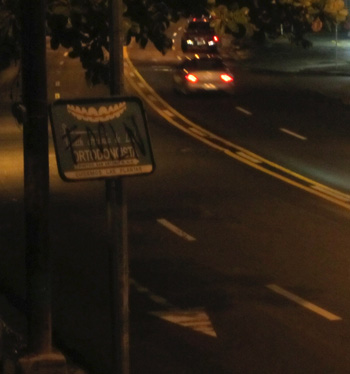 After the tiring day, we had a siesta before the night's festivities. We caught a cab to a neighborhood known for more hip, interesting bars and got dinner at the first place we spotted that looked interesting, Terraza Babu. From the balcony, I spotted the only FMLN tag we'd seen in town. GANA has apparently sucked up all the paint in the cities.
When you can find liquor drinks in El Salvador, they arrive in a mix-it-yourself format – a shot glass, a glass of ice, and a can or glass of whatever mixer your ordered, if any.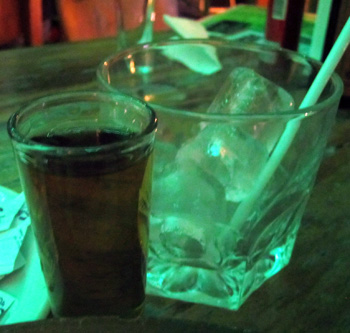 After a week of Salvadoran and, occasionally, Mexican food, I craved something different. Terraza Babu has a big pizza oven and papusas aren't that different than pizza crust, so I took a chance – not bad, not bad at all.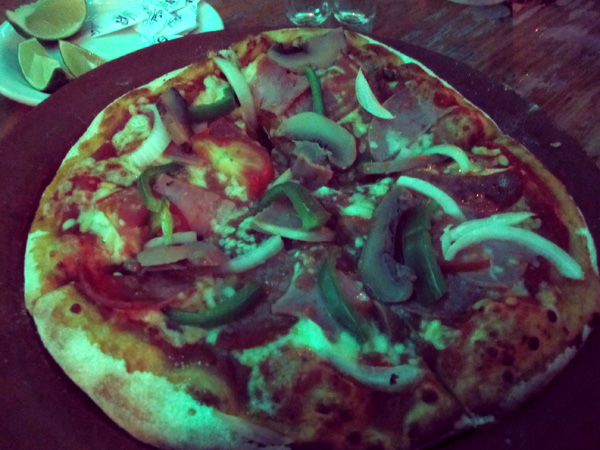 JN went with surf n turf, and devoured the whole plate.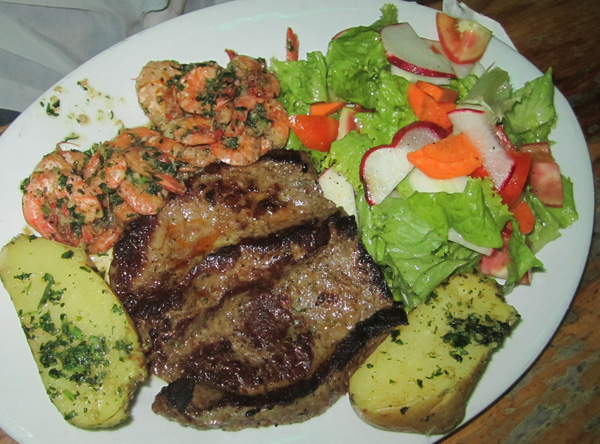 She Who Shall Not Be Named opted for pork ribs, slathered in a bit too much sauce for my taste but not bad.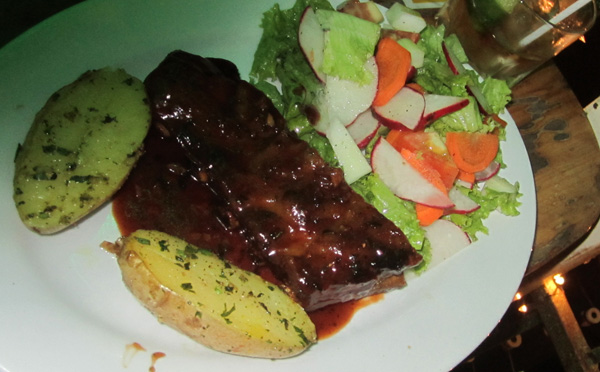 We went down the block to a bar that came recommended by our guidebook, Cafe de la T. Cute place, but Saturday is not their night. Other nights they show movies, have music, etc., but Saturay – dead. We had a couple of (very cheap) drinks but they were ready to close, at 10PM. 
We hopped a cab and hit the next stop, La Luna Casa Y Arte. We discovered it was only a couple of blocks but in a dark neighborhood similar to the maze we'd been lost in earlier in the day. And had the cabbie not pointed it out, I would've guessed we were in the wrong place – just another house in a crowded district. Inside, we found the place packed wall-to-wall with a mostly college age crowd, all singing along to a live band performing a technically precise Pearl Jam tune.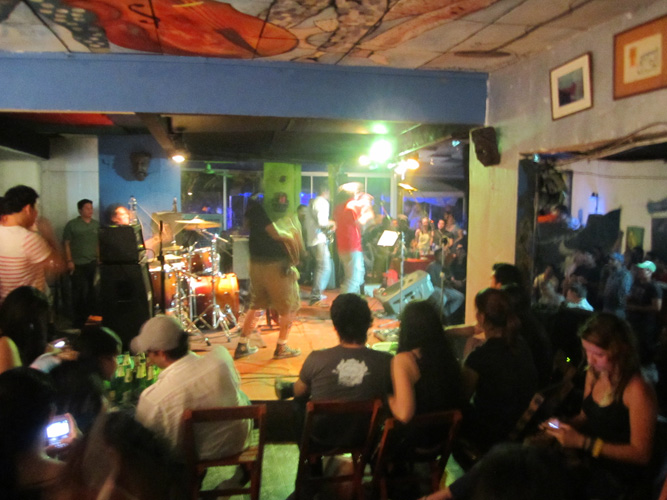 Followed by another, and another, and another. On their schedule for June was also a Rage Against the Machine tribute band, a tribute to Nirvana, and a Best of Grunge night. I theorized about why on earth Salvadorans would be into this music – perhaps their post-civil-war generation is equivalent to our post-Vietnam Generation X. (Later, someone at a party in the States theorized that perhaps this was the first music they heard after the civil war and it has positive associations.) There were other tribute acts that month of a less Gen X sort, from Deep Purple to No Doubt to Los Amigos Invisibles, but the way the crowd knew every word proved grunge means more to these people now than it had to me at their age.
We could only take so much Pearl Jam and cabbed it back to the hotel.
Next episode – lounging at a lakehouse for our last day in country.