Our hotel in Roma, Domus Pacis, had a very poor reputation amongst the experienced members of our gang, but I couldn't figure out why. The place is clean and roomy compared to Hotel Aequa. The only letdown was the lack of a pool. Aequa had spoiled us on that one factor. Nothing could have been more desirable after a day of tromping around Roma than a dip in a nice pool. But the only large pools in Roma are fountains and you're not allowed to play in those beautiful creations.
The program offered several choices - go with instructor A to get a 4 hour tour including X, Y, and Z. Go with instructor B for the 6 hour tour including W, X, Y and Z. Or go with instructor C for the full 8 hour whirlwind. But Heather had been to Roma before and I'd rather trust her judgment and pick our own pace and priorities.
As for tromping around Roma, it is highly recommended. With good shoes and a detailed map it could take two weeks to see everything I'd want to see. We had 3 days, mediocre shoes and a legible map. So we headed out almost as soon as the bus arrived, stopping only to throw the bags down and grab a bite to eat. It was dark by the time we got out, but that wasn't going to stop us.
The directions regarding how to get around in Roma given to us by the program administration were confusing at best but we found a bus stop and climbed aboard. On busses in Roma, and other parts of Italia, you board on the rear and are supposed to stamp your ticket in the ticket-stamping machine. If a roving inspector catches you without a ticket, an unstamped ticket or one that is more than 75 minutes old then you get fined. We never spotted one of these phantom inspectors in three days of bussing, nor did we ever spot a local who stamped their ticket. Another scam for the tourists. Even the locals told us not to bother.
I spotted St. Peters from the bus. Heather, having toured Roma extensively a year before, denied it was the famed church. I insisted it looked just like all the pictures I'd seen. She insisted it was not big enough. I told her I was getting off and she could stay on the bus until she found a St. Peters big enough for her. She gave in and leapt off with me.
It was dark and St. Pete just didn't inspire the awe I'd expected
Yet.

We walked down the street and stumbled into a book festival much like any artsy fest anywhere in the states. In fact, too much alike. Soon we were in search of something decidedly more Italiano, hopefully something with music, drinks and dancing. We wandered past Castel Sant Angelo, an impressive stack of bricks overlooking the Tever (Tiber River) and into another festival, this one with an 8000 lire admission fee.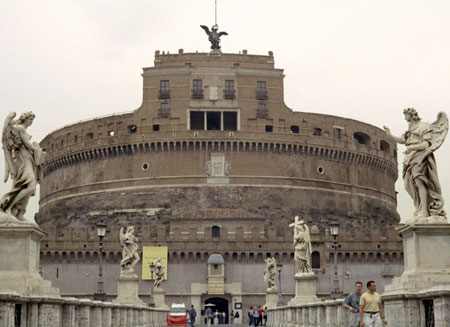 Here's Castel Sant Angelo by day. The site was once a mausoleum for Hadrian. Then the Pope made it into a castle in which he could hide when the barbarians would come to town. There's still a walkway running all the way from the papal apartments in the Vatican up the street to the fortress. Now it houses a museum.