IV. Vittoriano – locals call it "the typewriter" amongst less complementary titles. The most astounding structure I have ever seen. A monstrous pile of white marble topped with humongous green bronzes commemorating the first king of a united Italia, Vittorio Emanuele II, entombed in the structure. I was so struck by the thing that I lost Heather and instead of searching for her just stood and stared in awe. It's not necessarily pretty, but it is awesome.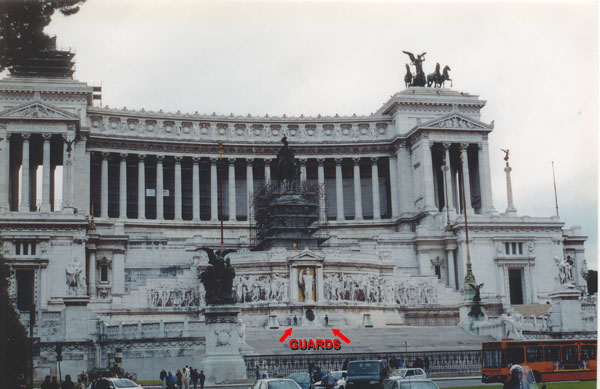 The only way to get an idea of the scale of the thing is to notice the guards standing on one level.
V. The Pantheon – Hadrian began renovations to this place in 119 and it's barely changed a bit since, except being taken over by Christians in 606 and renamed Church of Santa Maria and Martyres. But everyone still knows it as The Pantheon.
The ceiling was the largest freestanding dome for something like 1500 years. It's still the largest freestanding concrete dome, not bad for a 2000 year old building!
Raphael is tucked away here too. But it's the wonderful gracefulness of the place that gets you – there is a symmetrical beauty that does something instinctual to you. Marvelous. I just wish some pagans would rise up and pitch the Catholics out, ushering in a new era of sin and decadence, but then I wish that about a lot of places...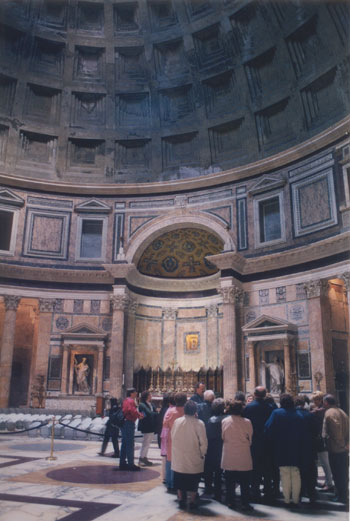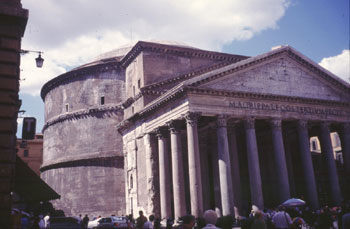 VI. Piazza di Spagna - the square containing the Spanish Steps, so named because the Spanish embassy used to be there. It's pretty but I think more people go there just so they can say they went there. By day there's little to see - it's just a big staircase, sometimes with potted flowers around it but usually not, and an only moderately interesting fountain at the bottom. It's surrounding by interesting, if spendy, shops, a McDonalds (some of our gang ate there, surprise surprise), and the AmEx office. The real reason to visit is at night. The place gets swarmed by whatever student groups are visiting at the time. They play guitars and sing, with bottles clinking on the steps for accidental percussion.
Mark Twain, my favorite U.S. author, if not my favorite author of them all, will get quoted often in this text. Why say what's already been said? Better to quote that to plagiarize:
"GRANDSON. First visit to Europe?
HARRIS. Mine? Yes.
G.S. (With a soft reminiscent sigh suggestive of bygone joys that may be tasted in their freshness but once.) Ah, I know what it is to you. A first visit!--ah, the romance of it! I wish I could feel it again.
H. Yes, I find it exceeds all my dreams. It is enchantment. I go...
G.S. (With a dainty gesture of the hand signifying "Spare me your callow enthusiasms, good friend.") Yes, _I_ know, I know; you go to cathedrals, and exclaim; and you drag through league-long picture-galleries and exclaim; and you stand here, and there, and yonder, upon historic ground, and continue to exclaim; and you are permeated with your first crude conceptions of Art, and are proud and happy. Ah, yes, proud and happy--that expresses it. Yes-yes, enjoy it--it is right--it is an innocent revel."
From A Tramp Abroad