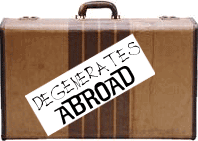 Austin, TX, 1999
Photographs coming soon.
This is an excerpt from our ezine Degeneration Excerpt, a semi-weekly and semi-weakly ezine on Atlanta's music scene, random travel tales, blasphemy and prophesy. If you want to subscribe to that broadcast just contact us!
We hit the road Friday headed southwest. Somewhere in Alabama we hit the Noble Truckstop (no, I don't know if it's a relative that runs the joint) for some fine fried chicken and sundry canned veggies. We stopped in Biloxi/Gulf Shores for the night and instead of hitting the lame casinos we fell asleep watching Cartoon Network's Mil-Looney-Um, some of Warner Bros.' funniest toons. Up early, we had breakfast on the beach before heading west. Just outside Lafayette, Louisiana we stopped in the heart of Cajun country for some fried seafood (not bad but not great.) On and on, into the setting sun and out of the swamps.
We hit Houston just around sunset, an ugly landscape with a glittering urban jewel in the midst of some incredible urban sprawl, surrounded by countless oil refineries. Fortunately the pilot just cruised on.
And on.
And on.
I don't care how many Mad Libs, books on tape and junk food you bring, eventually my ass just gets tired of the same seat. By the time we hit Austin I was more than ready to get out of that damn truck, but we made it without too many misadventures, just in time for a party at our hostess' home.
Drinks flowed, finger food, the usual. I was too beat to mention I'd rather be seeing El Vez up the street and hit the sack early instead.
Sunday I started my vacation diet of pure Tex Mex. We kicked things off at some place on the East Side, the Hispanic section of town, for huge breakfast burritos at absurdly low prices. Over the weekend we hit places like The Tamale House for incredibly cheap breakfast tacos (64 cents each and damn delicious), Guero's for a marvelous combo plate and a decent margarita, El Azteca (not related to the local chain as far as I could tell) for a good poblano pepper stuffed with spicy chicken, Salsitas's for a decent combo plate, and a couple of other places I can't even remember 'cause after a while it's just one spicy blur. The food in Austin is amazing, and cheap cheap cheap. Which makes up for the rent, which is absurd. It's a LOT like Atlanta in that it's growing faster than the infrastructure can take. There's plenty of sprawl and traffic and high rent and some very scary areas of town.
The other amazing thing in Austin is the shopping. There are tons of retro stores with some really super cool stuff. The prices aren't great, but they're good and the selection is incredible. The Goodwill is way overpriced with lousy selection but St. Vincent de Paul is well worth a visit.
The other fun thing in Austin is the Weird Bar Tour. No, it's not an official tour of any sort but with the right guide you can find places like:
La La's, a tiny little joint where it's Christmas all year round (my guide insisted you don't get the full effect until you go mid-July.) The joint is done out in full Christmas style, including elves dangling from the ceiling attached to wires linked to the bathroom doors so that every time anyone uses the can the elves dance.
The Texas Showdown, what could have been a great honkey tonk but is overrun by yupster-in-training students from across the road. My guide said the reason she goes to Dottie's is because it reminds her of the place.
Deep Eddy's Cabaret, a small club with no cabaret at all. Instead it's much like the Stein Club.
We didn't make it to the Poodledog Bar, rumored to be a serious redneck joint, or the Hole In The Wall, rumored to be, well, a hole in the wall, or any of the other countless places my guide knew about. There were just too many to get to in a 4 day weekend.
Sunday night we hit The Continental Club, rumored to be a local Star Bar, unlike the bar up the road actually named "Star Bar", which is some yuppie joint. The Continental has a similar feel to our local Star Bar but on the night we were there the music was more of a Red Light Cafe. Tosca opened, a group of strings and an accordion doing Tango music. A pair of couples danced and it was a fun, weird scene but I was hoping for something more electric. Alejandro Escovedo followed, kicking off with acoustic ballads done well, but forcing me to yawn. He turned it up a notch a little later and it was a good set but just not what I was looking for.
Tuesday we caught a few minutes of Kevin Fowler at Babe's on 6th, the Buckhead district of Austin. Typical old style country. In the same bar they have a back room with another stage, hosting Terroristic Youth that night, a typical new style rap rock a la Limp Bizkit. Neither held our attention so we headed to the next Weird Bar on the guide's list:
Ego's is in the basement of a parking deck, done out in archetypal Lounge style with red walls and stained glass windows. To add to the lounge feel The Recliners were on stage, every member in a smoking jacket and pajamas, doing lounge style covers of random tunes. We came in to the sounds of Prince done with a cheesy keyboard and very Sinatra-like vocals. They went from that to The Love Boat theme to random 70's ballads and other slop 40 hits. Very funny stuff. I had hoped to catch The Meat Purveyors on their home turf but they didn't have a gig while I was out there. When I got home I found the email announcing their break up. Their last show is New Year's Eve out there in Austin. They'll be missed.
On Monday we headed out on a wild goose chase in search of Dr. Mopar, a junk yard that specializes in MoPar vehicles, in search of parts for my car. After wandering around the stark, ugly, incredibly flat landscape that is the Texas "hill country" we got misdirections that eventually got us there. I have since found a better site online for parts (see the page about my car) but the drive around the countryside was very educational.
---
"These people could put us out of business!"
Photo Editor, Creative Loafing

There's no place like home... no place like home...

All content on this site is owned by Degenerate Press and cannot be used without our permission. We have lawyers for friends with nothing better to do than cause trouble (no kidding), so play nice. Copyright © 2002, All Rights Reserved