I had given up on making it out to Portland to see the Too Much Coffee Man opera. Airfare was hovering around $550 and I can get to Europe for that kind of dough. The day after I gave up, there was a sale. I rushed home and hopped on Travelocity and got round trip airfare and three nights in a downtown hotel for $440. My next door neighbor, degenerate EM, is an aspiring comic book artist and fellow TMCM fan so I offered to drag her along as company. She jumped at the chance.
So our departure date arrives and we hit the Atlanta airport at 6:30 AM to jump through the latest "security" hoops to get on the plane. A long trip with a layover in Minneapolis later, we landed in Portland in the midst of gray clouds spitting sporadic rain. Chilly, but not cold – archetypal Portland weather, from what I understand.
They don't feed you on planes like they used to. Air travel has become increasingly miserable between the cost cutting and security tightening. I used to prefer to fly anywhere beyond a few hours' drive but these days it takes so many hours to get through the fucking airport, only to arrive without a car, I now consider driving a viable option on many short trips. Let that be a lesson to you, airline industry!
So we arrived hungry and weary, but the mania of being on a new adventure propelled us out of the hotel and into the streets.
| | |
| --- | --- |
| Downtown Portland is lovely. The buildings are all 3-5 stories, stone and brick, many with decorative flourishes. It make the glass and concrete canyons of most major cities feel cold by comparison. | |
There is an open and friendly atmosphere about the place. The people were nice and helpful every time we even looked lost. They have a mass transit system that makes everything feel only a few blocks away and everywhere you look there are people out walking. Yes, walking. Coming from Atlanta, it's an odd sensation. Atlanta is nothing like Portland. We have sprawled out, and built up, and provided 16 lanes of highway to get you to the CVS and Target. There are countless developments in Atlanta you can't walk into without going through the parking deck.
Portland is more like an old Main Street or European town. If the skies were not cloudy all day, I could live there.
| | |
| --- | --- |
| As we wandered, we noticed roses painted or etched on signs, cabs, manhole covers - everywhere. | |
"Portland is known as "The City of Roses" or "Rose City" — its climate is ideal for their cultivation, and the city has many rose gardens, including the International Rose Test Garden in Washington Park. Other nicknames include "Stumptown" (due to early logging to clear land for development), "Bridgetown" (due to its numerous bridges), "Puddletown" (due to the rainy weather), "River City" (due to its proximity to the Willamette and Columbia), "PDX" (after the city's airport code), and "P-town"."
http://en.wikipedia.org/wiki/Portland,_Oregon
We got a bite at a little Thai restaurant, splitting a delicious red curry tofu, then wandered the streets.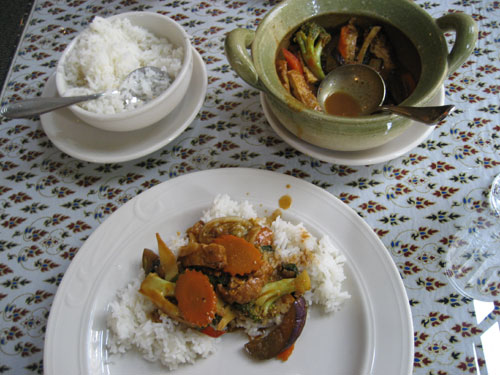 We landed at Powell's Books, an entire city block taken up by a bookstore.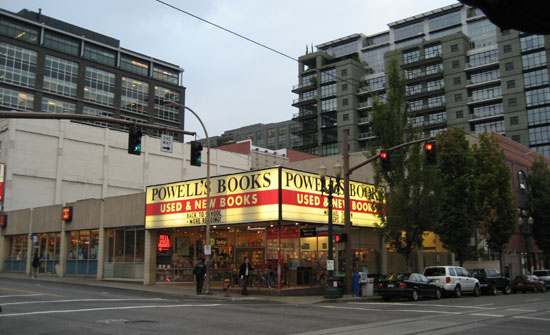 | | |
| --- | --- |
| While EM browsed their graphic novels, I had a coffee and pastry in their café then wandered the labyrinthine complex in search of books about pirates. (I hate it when my personal interests or fashions become trendy before I'm ready to move on.) | |
Powell's mixes their used books in with the new, all sorted by category and mapped out for relative ease of browsing, so if you find a book you want you might even find it cheap. The store is amazing and honestly a little overwhelming. I can easily imagine stopping by every few days if I lived in the neighborhood.
Purchases in hand, we wandered out to find another couple of bookstores, record store, consignment shops and more, all within a block radius. We stopped in at Boxxes, a nearby bar showing gay porn all day, along with movies and trivia on TV's above the bar. $1 well drinks at happy hour could've kept me there half a day, but the ban on smoking in this particular establishment chased away nicotine-and-tar junkie EM after only one drink.
We wandered the streets a bit, admiring the architecture, but after a long day of travel, and a three hour time difference, we were too pooped to party. We stopped by the hotel for a rest and didn't make it back out.
In the morning we got recommendations for breakfast from the hotel receptionist, a mistake as she was clearly paid to point us to upscale and/or chain restaurants.
| | |
| --- | --- |
| | Fortunately we stumbled across a parking lot full of trailers selling Mexican, Indian, Thai, barbecue, sandwiches and more (corner of SW Stark and 2nd or so, mostly a weekday kind of thing). We chowed down on massive breakfast burritos, fine fuel for another day of rambling. |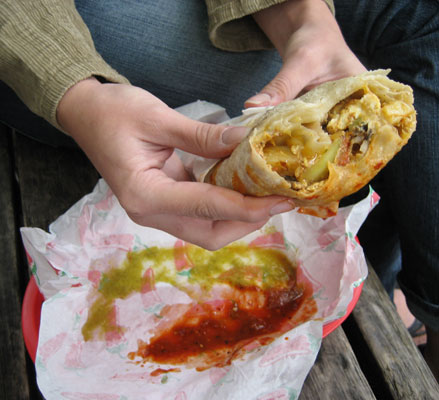 | | |
| --- | --- |
| Thursday's gray skies gave way to clear blue and cool breezes. You could even see Mt. Hood on the horizon. | |
We hit thrift stores and record shops and book stores and geez, I don't even remember it all because Portland is riddled with such distractions. We found our way to Portland's Chinatown with the idea of visiting the classical Chinese garden. But degenerates that we are, $7 admission prices turned us away in favor of beers a Dixie Tavern down the block. Dixie has a faux Western/redneck ambience, serving beers in cans from selections labeled "lowbrow" – PBR, Hamms, etc., to "highbrow", imports and microbrews. The bartender claimed the place would be hopping later, but in the early afternoon we had the room to ourselves.
We cruised through the park along the bank of the Willamette River, dodging countless cyclists and panhandlers, admiring a series of different bridges over the water.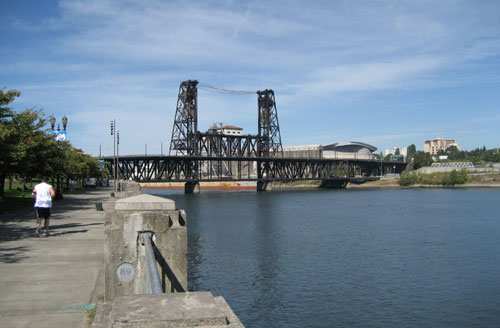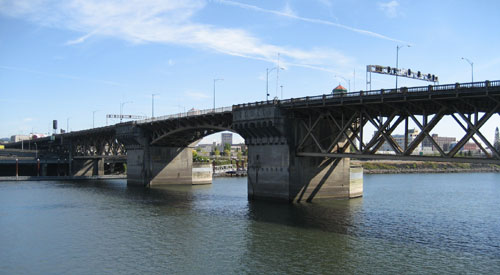 | | |
| --- | --- |
| | Speaking of, Portlanders bike so much, despite the northern clime, there are bike racks everywhere, many of them with fiberglass or stainless steel coverings. |
| | |
| --- | --- |
| | I was also impressed by the amount of sculpture and fountains adorning intersections and parks around town. |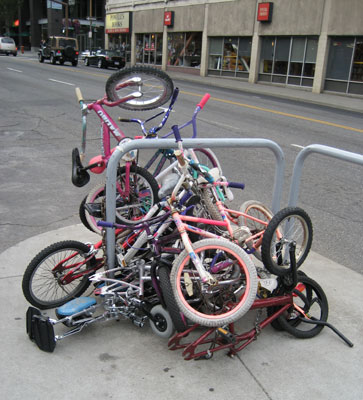 Sculpture, or horrific bike accident?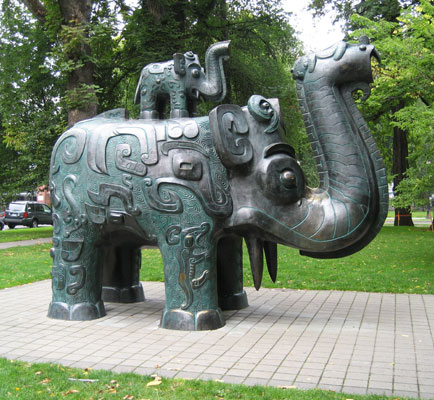 Drinking fountains decorate many street corners, but for some reason they run constantly rather than having any sort of lever for operation. I had to wonder how much treated water was wasted with such devices. Some of these fountains even have four continuously-flowing spigots.
Having done very little research in advance, we were challenged when it came time to eat. We meandered for miles before settling on Roma Ristorante for dinner. I started off with a plate of salami, cheese and olives.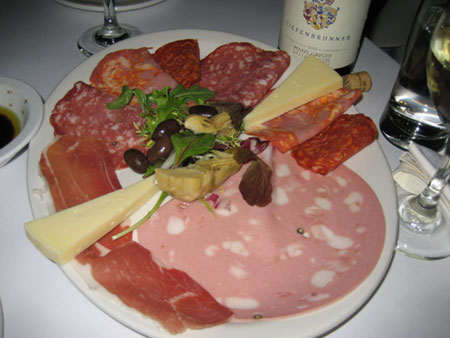 We split a bottle of Pinot Grigio and had a couple of fish dishes for the main course, good but not great.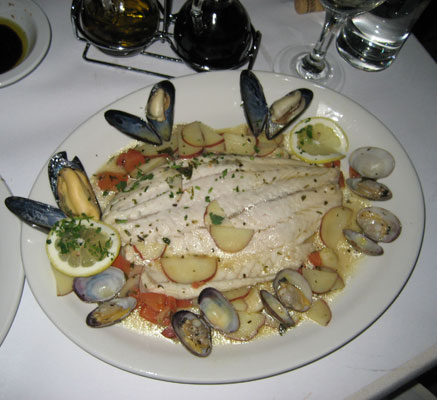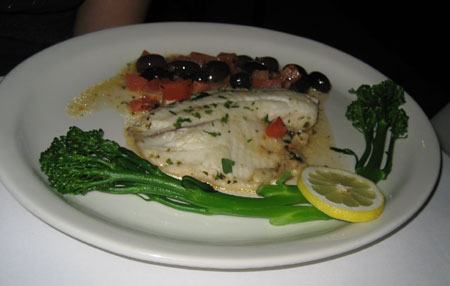 For desert their tiramisu is excellent, even with my high standards for this particular dish after a brush with divinity in Italia.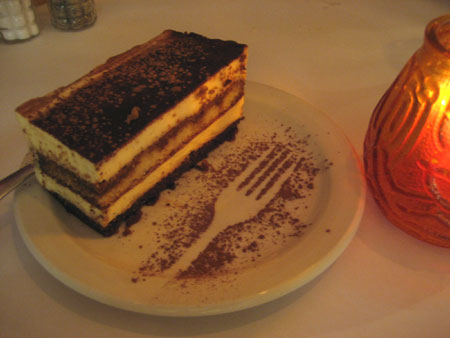 More ramblings led us to a little bar full of neon, motorcycles hanging from the ceiling as décor, a young white guy doing oddly bent acoustic blues to a room full of hipsters. I don't think I ever caught the name of the place, and even if I had I probably wouldn't have remembered it after half a bottle of wine followed by several rum and soda's. This is why I usually take tons of photos and write copious, illegible notes, but this trip I wasn't in the mood to obsessively document. My brief stint at the Loafing had me in need of a vacation from such efforts. The bar was a good find for the downtown area, which is a little mall-like in terms of stores and restaurants. But with the three hour time difference still lingering in our biological clocks, we ended up back at the hotel relatively early.

In search of breakfast, we stumbled across another impressive used record store on 2nd Ave. The stores have banded together and produced a map/guide to the indie record stores in the area, of which there are many, each specializing in some random niche. (2nd Ave. has an impressive selection of new and used vinyl in the various rock and R&B genres.) The clerk pointed us to Lorn and Dottie's, a fine breakfast restaurant across the street where I had a delicious "yeasted waffle." They add yeast to the batter so the waffle rises, sort of like a Belgian waffle, and becomes fluffy and light. Good stuff. Peppered bacon on the side made a good contrast. My accomplice had cinnamon roll French toast, incredibly dense, sweet stuff.
Perfect weather again. Were Portland like this more often, I'd be tempted to consider it as my next home, but no, it's so far north it might as well be Canada in my mind.
| | |
| --- | --- |
| Trekking around town in search of eveningwear for EM, we hopped from thrift store to thrift store. Well, rather consignment shop to consignment shop. Portland's population of hipsters has created a demand for second-hand that has sucked all the interesting clothing out of the real thrift shops, leaving nothing but business casual leftovers. There are tons of second-hand stores, ranging in prices from reasonable to you-have-got-to-be-kidding. | EM lights up. |
Thus we wandered far and wide in search of the perfect dress, really just an excuse to wander farther and wider, finally landing on the outskirts of town in Nob Hill, a neighborhood that resembles Atlanta's Virginia-Highlands, all boutique stores reeking of potpourri.


We spotted this sign on our wanderings. How, exactly, does one lose a tortoise?
"Careful coming in, the tortoise might slip out. Close the door! Ah, crap! Quick, catch him!"
Perfect dress acquired, we stopped at Blue Moon restaurant/microbrewery for some tasty beers and a plate of garlicky hummus.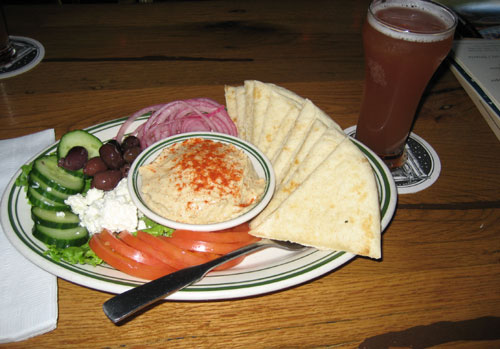 | | |
| --- | --- |
| We trekked back to the hotel just in time to get gussied up for a night at the opera. We strutted across town in our vintage fashions, getting compliments from strangers. After a quick slice at a sidewalk pizza stand, we were off to the Portland Center for Performing Arts, a massive complex featuring several auditoriums with different performances going on in each – Japanese drumming in one, Menopause the Musical in another, and Too Much Coffee Man the Opera in the smallest. | The neighboring symphony hall has a swell old sign. |
The room was set up with tables in the front half, bleachers in the back, making half the audience appear as extras in the café in which the show takes place. The illusion was added to by clear plastic cups of Too Much Coffee Man stout, caffeinated beer the color of coffee sold by the bar downstairs. Brilliant.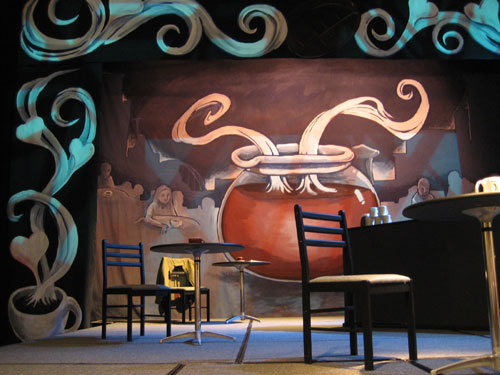 I began giggling even before the lights came up as the outline of the title character's costume came into view. The opening number was painfully funny and so well-acted I could've sworn the comic strip itself had come to life. The three characters were perfectly cast and did fantastic jobs with the material.
But when the barista character finally gets fed up with life behind the counter and flees, the show comes to an end a mere 45 minutes into it. I thought at first it was merely intermission, but no, there was no second act. Not only is it a too-short show, but the grande finale isn't quite grande enough. I longed for more resolution or closure that wasn't quite there. Just as you get to where you know and understand the characters, it ends. You long for something to happen with the characters now that they're established. I mentioned this to the creator, Shannon Wheeler, via his LiveJournal and he wrote back:
We actually want to do it as a trilogy. We just never thought it would get this far so we wrote it small so it would be do-able. Yep - we plan on making it longer eventually...

we were hedging our bets. if it sucked, then short would be better. I was nervous.

Yep... a trilogy.
(I'd be happy to return to Portland to catch an expanded version of the show.)
| | |
| --- | --- |
| So we found ourselves with no plans somewhat early on a Saturday night. Unfortunately we had to get up horrifically early on Sunday morning for our flight home, so rather than ramble far on tired feet and late into the night, we headed in the general direction of the hotel, hoping to find a bar to our liking. | |
I think it was called Yamhill Pub, an unexpected dive bar around the corner from our hotel, where we landed. Graffiti-covered walls, a decent selection of beers (by my standards. A paltry selection by Portland-beer-nazi standards.), attentive service and a boisterous crowd. We had a few, then stumbled back to the hotel relatively early.
Even still, the morning came too soon. We shivered in the pre-dawn chill, waiting on the Max train to haul us back to the airport where we sat and sipped coffee outside the security perimeter, making jokes about how anyone with a bottle of water was a terrorist.
| | |
| --- | --- |
| | I overheard one guy ask another at the café if the sandwich wraps were ok to get through security. The mayo on them is a liquid, after all, and that supposed chicken salad could be assembled on board, MacGyver-style, with the aid of plastic utensils and some of that blue goop from the toilet into a massive neutron bomb that would decimate life in the Western hemisphere! |
| | |
| --- | --- |
| | You'd think we had better things to worry about in this country... |
Coincidentally, the first thing I read when I got to work the next day was this:
"The government is partially lifting its ban against carrying liquids and gels onto airliners, instituted after a plot to bomb jets flying into the United States was foiled, officials said today. "We now know enough to say that a total ban is no longer needed from a security point of view," said Kip Hawley, head of the Transportation Security Administration."
http://www.cnn.com/2006/TRAVEL/09/25/airtravel.liquid.ap/index.html

I feel so much safer.
---
There's no place like home... no place like home...

All content on this site is owned by Degenerate Press and cannot be used without our permission. We have lawyers for friends with nothing better to do than cause trouble (no kidding), so play nice. Copyright © 2006, All Rights Reserved