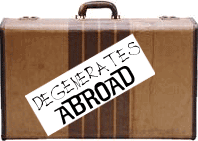 New Orleans, 1999
Photographs coming soon.
This is an excerpt from our ezine Degeneration Excerpt, a semi-weekly and semi-weakly ezine on Atlanta's music scene, random travel tales, blasphemy and prophesy. If you want to subscribe to that broadcast just contact us!
Thursday night we hopped a plane to New Orleans with the excuse of Exoticon (http://www.exoticon.net) for the weekend. I hit the hotel and found others who'd shown up a day early eating in the hotel restaurant.
Yes, eating hotel food in New Orleans.
I got a shower and badgered them into catching the shuttle down to the French Quarter. Steve, a con whore from way back, had lived there a couple of years before so he guided us from bar to bar in search of cheap drinks and cheap thrills. We kicked off with hurricanes, not recommended for those who suffer even mild hangovers, on Bourbon Street before seeking less touristy surroundings.
First up was The Dungeon. The place is a series of forgotten spaces between and on top of the wall-to-wall buildings of the Quarter. First you duck through a tiny door, slip down an alley barely wide enough for my shoulders, into a couryard the size of a twin bed, then into a long narrow room just barely big enough for a long bar. Up a set of stairs that reminded me of degenerate haunts back in the 80's and into an elevator-sized dance room, one wall covered entirely by a mirror in an attempt to make it appear less cramped. Duck through a dark doorway and you're in a small back room with another little bar. The joint was done out in metal style, all black with demonic paintings and silly Satanic themes. Pretentiously alternative, but there was a cute bartender serving up stiff drinks and a sleazy stripper-type woman on the dance floor admiring herself in the mirror as she slid against anyone that didn't get in the way of her view of herself.
The demonic paintings on the wall draped in fake cobwebs didn't scare me nearly as much as the creepy suburban conservative zombie older couple necking in front of them, but everyone has their own phobias I suppose. Degenerate DM (http://www.dawnmarie.org) let her ball and chain drag her away from the festivities while the rest of us partied on. We trekked across the Quarter, stopping by Cafe du Monde for beignets and a desparately needed bathroom break, and on in search of Steve's old haunt, The Red Dragon or something. It was closing for the night just as we got in the door so we hit my favorite New Orleans bar The Abbey. It's a little joint that reminds me of the backside of The Point in Atlanta with more interesting decor, a real Quentin-Tarintino-post-modern-retro style. Add to that the staff theme of the night, Really Cute Bartenders, as well as a hottie of a DJ spinning the most amazing ecclectic mix of old stuff, and 24/7 operating hours, AND some personal sentimental reasons for liking the joint and it's tough to pull myself out of there. But sometime after 3 AM we stumbled out to catch a cab.
Friday I pretty much spent the whole day in bed. Yeah, I WANTED to run amok in New Orleans but my stomach and head dictated otherwise. I crawled out around 4 PM and socialized with the rest of the con whores from way back, then went back to bed for another nap. Degenerate SW arrived and we changed into appropriate attire and hit the town. There were a couple of lame parties at the con but why suffer with an inferior con when Bourbon Street is just a bus ride away?
Plenty of water and coffee later I'm almost ready for festivities again but I opt for beer instead of the harder stuff so I can maintain consciousness, and keep the contents of my stomach. We grabbed some po' boys, red beans and rice and more liquid before hitting the streets in search of entertainment.
We hit The Dungeon to ogle the same bartender as the night before. A couple of the con folks wandered in, including Tom Savini and his groupies, but they didn't seem to be interested in hanging out with true degenerates. We got pointed to another bar by a local and hit the Shim Sham Club, the local equivalent, if not equal, of the Star Bar. Yet another super cute waitress served up $1.50 PBRs and smiles, then we're off again back to The Abbey for a last round.
Saturday we skipped out of the con daytime activities to wander town. We ate at Mother's to kick things off (I had the big combo platter, degenerate SW had the Ferdi Special po' boy - a damn fine sammich) then just walked around like tourists.
Back at the hotel we arrived just in time to catch Dawn Marie's entry as Queen of Exoticon, then got into costume for the Electric Psycadelic Swinging Pussycat Lounge party put on by the Reverand (of Jonestown After Dark fame.) The music was hot, but the temperature was hotter in the stuffy little suite. I had to abandon my amazing green velvet smoking jacket and stick with the hiddeous orange, green, yellow and brown shirt and scarf (it was a mod 60's Austin Powers style party.) We were the only ones brave enough to go with the theme in costume though, so we sucked down a few drinks and wandered the con in search of fun. But there wasn't a lot to be had. Exoticon is a tiny little convention that doesn't have nearly the degenerate contingent of Fantasm (http://www.fantasm.org) or MOC in it's heyday (http://www.negia.net/~moc). But as mentioned, it was just the excuse used to get me to New Orleans.
The next day we wandered the town again, had a last fabulous meal at some random tavern a couple of blocks off Bourbon St., and hit the airport to return with throbbing feet and tired livers.
---
"These people could put us out of business!"
Photo Editor, Creative Loafing

There's no place like home... no place like home...

All content on this site is owned by Degenerate Press and cannot be used without our permission. We have lawyers for friends with nothing better to do than cause trouble (no kidding), so play nice. Copyright © 2002, All Rights Reserved