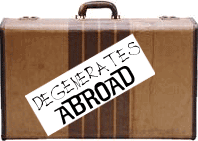 St. Augustine, Florida, 2000
Photographs coming soon.
This is an excerpt from our ezine Degeneration Excerpt, a semi-weekly and semi-weakly ezine on Atlanta's music scene, random travel tales, blasphemy and prophesy. If you want to subscribe to that broadcast just contact us!
Friday night , February 18, 2000, we hopped in the car and headed south. We hit the Florida line shortly after midnight and started looking for a place to stay. After being turned away at half a dozen hotels we finally asked why there were no vacancies. Apparently everyone was on their way to some race, the Daytona 500, perhaps you've heard of it? Anyway, we ended up having to get way, way off the highway to find a place in Starke, a crossroads not far from the state pen. The two chain hotels were full so we hit the "Mo Vacancy." At least that's what the few remaining lit letters on their crumbling sign read. I woke up the manager, an old woman in her nightie, and got us a room. I've stayed in worse places, once.
We hit St. Augustine before noon and got breakfast before searching for a hotel. I used to stay at this perfect place right on the beach next door to Marineland, a run-down pre-Disney tourist trap just south of St. Augustine Beach. The hotel was completely unknown and always near empty whenever I stayed there. Apparently it never got any more business 'cause it was gone, bulldozed and in it's place a sparkly new condo high rise. Dejected, we headed back toward town, stopping at every hotel on the way and eying their "no vacancy" signs. Eventually we found the A1A Court, a quaint roadside motel nowhere near the beach but with a couple of vacancies and convenient to St. Augustine. We dropped our gear and hit the beach.
It was a perfect 80 degrees and a nice breeze was kicking up some waves for the countless surfer wannabe's and the weekend crowd. We lounged for a couple of hours ogling bikini girls and surfer boys and generally soaking up the sun.
That night we dug through our web-generated research looking for some food. After asking the motel manager we ended up at Angie's Italian, a pizza and pasta joint for a table-load of food. Then we hit St. George, a pedestrian street full of touristy shops, and St. George Tavern for a couple of adult beverages.
Up at a reasonable hour we got croissants and coffee at some snooty French place. It was cold so we hit the Lightner Museum, located in the former Alcazar Hotel. It's packed full of American "gilded age" stuff like Tiffany lamps and lots of statuettes and such. Definitely worth checking out, particularly if you're tired of hearing the town's catchphrase "America's Oldest ________."
We wandered the amazing Flagler College, formerly the immaculate Ponce de Leon Hotel, and the Spanish section of town before heading out to the St. Augustine Alligator Farm. I've always loved the place but in winter it's pretty slow. The swamp was drained to barely a puddle and few gators were moving around much in the chill. Gomek passed away a while back but they've stuffed him and placed him in a hut that feels like some kind of tribal altar. So you can go by and gawk, but he just doesn't have the same impact as when they used to get him out of the water stretched up on his front legs to snap at food they'd dangle above him.
Our tired feet demanded a rest so we caught The Simpsons back at the hotel before heading out in search of dinner. We ended up at Marty's Seafood for typical deep-fried fare, nothing special.
Monday we hit Potter's Wax Museum, not the best Wax Museum or the largest, or even the oldest, but not bad. They change out their features often enough to keep it interesting for return visitors. If you want a laugh, suffer through their slide show "movie."
We wandered a bit then headed up A1A for the scenic route out of town. Do NOT take this route from St. Augustine to Jacksonville, there's very very little scenery and it takes an eternity! Eventually we got to Jacksonville and got utterly lost in all the construction and bridges and poor signage in an attempt to find some food. By the time we found a mall and got a bite it was late in the day so we hit the highway and ran the gauntlet of policemen out enhancing the state's budget all the way home.
---
"These people could put us out of business!"
Photo Editor, Creative Loafing

There's no place like home... no place like home...

All content on this site is owned by Degenerate Press and cannot be used without our permission. We have lawyers for friends with nothing better to do than cause trouble (no kidding), so play nice. Copyright © 2002, All Rights Reserved