Degenerate Press
Welcome to Degenerate Press' feature article. If this isn't enough you can always subscribe to Electric Degeneration, our semi-weekly and semi-weakly ezine, or surf the vaults.
---
Bubbapalooza 13
May 2004
I had other social engagements, so I missed the first couple of acts of Night 2, such as Gravyboat. But I'd seen them a few times before so I hoped to show up in time for Red Skulls. Turns out they had cancelled, so I arrived just in time to catch the last few seconds of Stateside, good stuff from the 1/4 a song or so that I heard. I caught their set last year at Bubba and enjoyed 'em. They're from 'Bama somewhere so you can probably catch them yourself.
The first act I saw in it's entirety was Jimmy and the Teasers, a couple of cute girls backing up the guitar attack of Jimmy. He really loves guitar, as is evident by the epileptic fit it gives him when he plays it. I wasn't quite alcoholically brave enough to stand close and get a good shot, but I have other pictures in The Vaults so poke around and you'll see plenty.

The sound is tough to describe. It's high energy, basic, often packed with perverse lyrics, but it's the guitar racket that gets your attention. RAWK is probably the only word for it.
| | |
| --- | --- |
| | Just when you think the guy is off his rocker, he sits down and plays a comparatively delicate slide. But of course, it's still cranked up to 11 and the lyrics aren't exactly bubblegum pop... |
I enjoyed every act I saw, but one I had been looking forward to for weeks reigned above all others - Truckadelic. Resurrected tunes from The Diggers and Gregory Dean Smalley were behind this act back when they started up, what, 10 years ago? Country punk with references only backwoods Southerners would get. Often sloppy but always a hell of a show, I was crushed when they broke up.

But Bubba brought the boys back together for a full on reunion show, complete with original drummer Joe Hamm.
| | |
| --- | --- |
| I don't think the guys had ever played this tight. Maybe the early hour had something to do with it, but I was impressed that they could pull it off after a couple of years since their last reunion gig, and several years since steady play. | |
| | |
| --- | --- |
| But they still had the full-on energy of their heyday! For some of us old Truckadelic fans, there were moments of intense deja vu. Memories of dozens of shows like this through the years flooding back in one long blurry vision. | |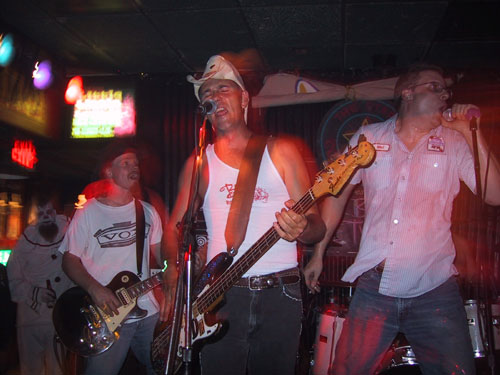 | | |
| --- | --- |
| While the guitars built up full on fury on one side of the stage... | |
Ted had to take a break on the other side.

OK, maybe it's not 100% of the energy they used to bring. But then again, Ted played MC for the entire three days, selling Diggers CD's, Bubbapalooza Vol. 2 CD's, announcing every act, and generally playing social chairman. Hell, I didn't even watch every act, much less perform, and I needed frequent breaks...
---