Degenerate Press
Welcome to Degenerate Press' feature article. If this isn't enough you can always subscribe to Electric Degeneration, our semi-weekly and semi-weakly ezine, or surf the Electric Degeneration archive.
---
Tiki Torch Night
Memorial Day Weekend 2005
Saturday we met the Brits at Daddy D'z to get them to sample Atlanta's finest barbecue. We swung by Lenny's for a drink, showing them one of Atlanta's finest dive bars, where the place was packed with local cyclists doing a bike pub crawl. After they left we had the place to ourselves, early on a holiday weekend Saturday evening. After some discussion we decided to haul them over to Trader Vic's for Tiki Torch Night, since we wanted to show them something new and something they wouldn't get in England.
The Surge were already pumping out waves of instrumental surf when we arrived. Fine stuff, but it made me miss Scott and The Penetrators.

The place wasn't nearly the sardine can as it had been the month before. They hadn't advertised as heavily and the holiday weekend had lots of folks out of town. You could actually walk around, get service at the bar, and even find a seat if you looked hard enough. Much more pleasant an experience!
| | |
| --- | --- |
| | Tongo Hiti and Monkey Zuma were up to their usual antics. |
| | |
| --- | --- |
| | They even dragged the Brits up in front of everyone for a hula dance. |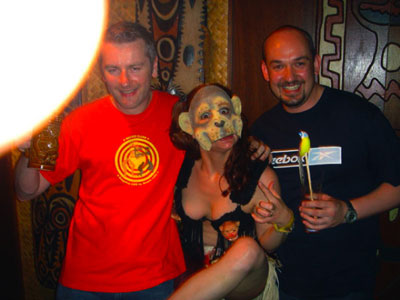 I borrowed this, and the following shots from Alexis' site about their trip across the southeast. Check it out at www.t2lek.co.uk
We tried to get to some new bar in Midtown degenerate CD wanted to try, only to get caught in the Saturday night Peachtree traffic - almost total gridlock. So we circled back and ended up at the Independent.

We sat around there chatting it up until closing. Degenerate JH & LH took the boys back to their hotel, then socialized there until sometime after dawn. They guys packed their bags and hopped on a plane, a bit weary after a long weekend with degenerates, dancing monkeys, singing Stormtroopers, and strippers who crush cans with their breasts.
For more Memorial Day Weekend Mayhem, see Bubbapalooza review.
---