Degenerate Press
Welcome to Degenerate Press' feature article. If this isn't enough you can always subscribe to Electric Degeneration, our semi-weekly and semi-weakly ezine, or surf the Electric Degeneration archive.
---
Bubbapalooza - Saturday
The Star Bar
May 2007
I took a break after Thursday's rock marathon, skipped Friday and resurrected myself in time to catch the first act on Saturday, Cletis and his City Cousins. I hadn't downloaded my pictures so I didn't realize I needed to turn up the exposure a bit, so again the photos are 15% more arty than I'd prefer. But I've reviewed pretty much every one of these acts before so if you need visuals browse the vaults.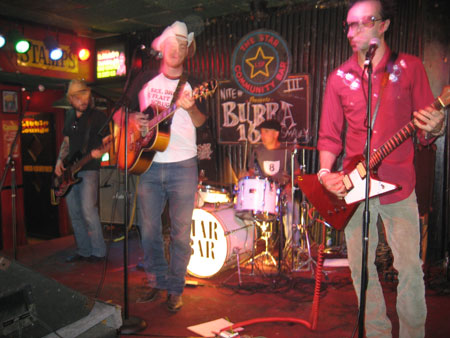 Cletis and company did their usual country-fried tunes about truckin' and wimmin', including a hilarious tune about sending your wife to the landlord to trade certain favors for rent. Only a dozen or so fans were smart enough to get there early to enjoy it and the set was as close to a Gregory Dean Smalley moment as Bubba had to offer.
| | |
| --- | --- |
| Sweet Velvet C, AKA Chet formerly of Immortal Lee County Killers and Quadrajets, set up a boombox and cranked that played some bass-heavy rap as a lead-in to his dirty delta blues. | |
| | |
| --- | --- |
| He worked himself up into a foot-stomping frenzy, providing percussion through a tambourine and a microphone taped to a board under foot, along with random songs backed by a drum machine pumped through the boom box, creating a strange one-man-band sound. Good stuff, but I've always liked Chet. | |
| | |
| --- | --- |
| I hadn't seen Brass Castle in a while so it was refreshing to hear their hard/heavy-rock-moments-jammed-together-back-to-back tunes again. | |
| | |
| --- | --- |
| As usual, they switched places halfway through the set to mix things up. I think the first time I saw them was at Bubbapalooza a few years back. I didn't like them at first but Joel, then the sound man, told me they'd grow on me. And they did. I think you have to be a little jaded to appreciate it. All the musicians in the room get the same "Wow, can you believe they did that?" grin on their faces watching these guys tear it up, while others flee in confusion and terror. If I ever take another car out with the specific intent of wrecking it, Brass Castle will be at full volume en route. | |
| | |
| --- | --- |
| I took about 8 pictures of The House Harkonnen but they all came out exactly like this - blurs of hair. They started off with typical metal that I wasn't in the mood for, so I fled downstairs to eat more Slope's Barbecue and chat with the girlfriend. But I could hear through the ceiling a set that varied, including a Thin Lizzy cover, and when I wandered up during their last number or two I was impressed and degenerate CD nodded appreciatively. | |
Late during Immortal Lee County Killers' career the duo expanded to a three-piece, adding a new guy on keys. I didn't think it added anything. Chet's guitar work filled the space with the drummer playing counter-point. The keyboard got lost in the roar.

But when John Wesley Myers cranked up the keys for Black Diamond Heavies I was immediately impressed at his ability to make the instrument sound like a distorted slide guitar, then they charged into loud, rambling blues-based racket that degenerate CD and I really enjoyed, but sent EM back to the basement, grumbling, "It's fucking Blues Hammer."
But she missed the second half of the set, which included a Nina Simone cover and other more varied sounds. Her loss.

Myers got all worked up in a Joe Cocker kind of way, eventually pulling off the shirt and whipping sweat all over the place.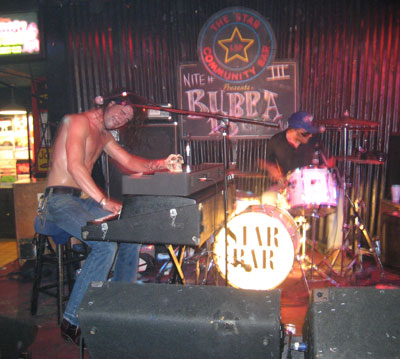 | | |
| --- | --- |
| As the Heavies played a roadie was setting up guitar after guitar after guitar. After the break, The Needles came on and though I doubt they used every one of them, they definitely went through a few strings. | |
| | |
| --- | --- |
| Unfortunately for you, I was having too much fun to bother with taking photos. Not to mention I'd been there almost 6 hours... | |
| | |
| --- | --- |
| I wrote in my notebook, "Sure, it's cock rock. But I have a cock, and it rocks it, dammit!" | |
Afterwards, Momma Smalley was pulled on stage for the traditional singing of She's Breaking My Heart (While I'm Drinking Her Beer.) Then me and my crew beat a retreat. There were two more acts to come, but I had to get up early to get out of town. I spent a couple of days camped out in the North Georgia mountains, hopping in the river, drinking and eating meat cooked over a fire. Life is hard sometimes...
---