Degenerate Press
Welcome to Degenerate Press' feature article. If this isn't enough you can always subscribe to Electric Degeneration, our semi-weekly and semi-weakly ezine, or peruse the vaults.
---
Corndogorama
The Earl
June 2005
| | |
| --- | --- |
| Saturday the parking lot hosted carnival games like a dunk tank and the corndog eating contest we'd missed when we had to spend all day rescuing the Thunderbird. | |
| | |
| --- | --- |
| I walked inside as Sudden Rays did their final song, sort of sweeping rock I enjoyed for all 90 seconds I caught. | |
| | |
| --- | --- |
| | Up front, Cadillac Jones is laying it DOWN. I can't stomach much extended jamming or grooving, but it made for a perfect funk/jazz soundtrack for sitting on the front porch and ogling girls or chatting. |
Meanwhile, there's motorcycle tricks going on in the side parking lot, complete with half naked men, ramps, minibikes, minitrikes, and more. Lots of fun. Apparently I missed the guy in the jockstrap jumping the ramp on a threewheeler wearing not much more than the jockstrap.

We skipped a couple of acts inside to socialize outside and enjoy Cadillac Jones' second set.
Out front I spotted these contrasting styles of low-riding pants. One pair made the wearer look like he had midget legs. The other pair made the wearer look like she had no ass, but in sort of a sexy way.
| | |
| --- | --- |
| | Then we snuck through the back door, since the front room was impassible, to catch Day Mars Ray, led by Corndogorama organizer Dave Railey. |
| | |
| --- | --- |
| | I didn't write down any notes about their sound but I remember enjoying it. Ironic that the organizer's band gets the weakest review effort on my part. Sorry, Dave! |
| | |
| --- | --- |
| | They brought up Bill Taft for a tune or two as well. |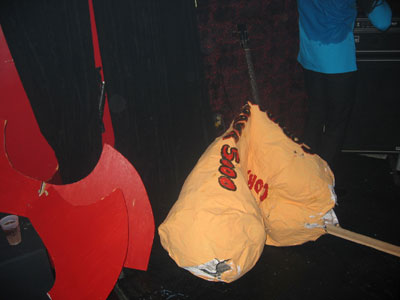 Somewhere in there someone crushed one of the corndogs.
Next on the main stage, Jet By Day. Again I was reminded of The Cure and other 80's sounds, but with far more guitar punctuated by screams. Really good stuff, but I had a tough time enjoying it as much as I could've 'cause the joint had gotten a bit too crowded for comfort by that point. I didn't even get any decent photos. Jet By Day built up the intensity over their short set with some badass harmonic guitar work, even throwing in a Misfits cover.

All this for $5?? Fuck yeah!
| | |
| --- | --- |
| | The Woggles did the usual - 60's style garage rock that begs for go-go dancing and chanting along with the chorus, banging tambourines and fuzzy guitars. |
| | |
| --- | --- |
| | Tough to go wrong with that combination, especially with Manfred up front connecting with the crowd like some cranked up tent revival preacher, then leading the band off the stage to dance through the crowd, leaving the drummer behind to keep the beat. |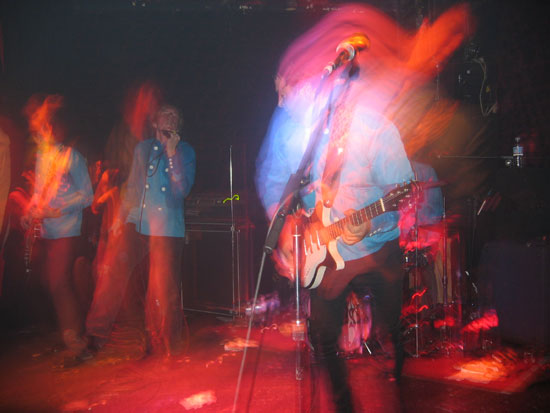 My favorite ghostly, motion-blurred photo of the weekend.
| | |
| --- | --- |
| Saturday's grande finale came in the form of the Forty Fives delivering more garage get up and go-go, fantastic stuff and put on at the right time - at the end of the night when you're a little tired and buzzed and you're wondering if you shouldn't just go home and call it a night. | |
| | |
| --- | --- |
| But no, you stick around just to see how the last band is going to be and the Forty Fives come on and blow the roof off the joint and next thing you know it's 2 AM and you're still not ready to go home. | |
Gimme another corndog and another band and I'm here for another hour!

Wait, whaddya mean the Atlanta City Council says I can't?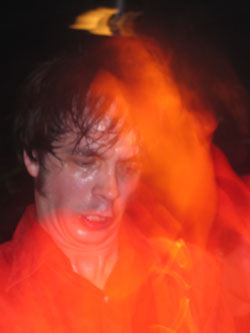 Another nice motion-blurred photo,
making it look like he's on fire.
I had planned on attending Sunday but I just couldn't take it. Maybe if I'd had Monday off, or hadn't started on Thursday, I would've returned but I didn't have the gusto for more. Ah well. At least I know Amanda Corndog will be at Drive Invasion in September!
---