Degenerate Press
Welcome to Degenerate Press' feature article. If this isn't enough you can always subscribe to Electric Degeneration, our semi-weekly and semi-weakly ezine, or surf the Electric Degeneration archive.
---
Starlight Drive Invasion 2002 - Saturday
We arrived at Starlight Drive In just after the gates opened and got a prime spot on the second row. The front row was packed with folks who'd come fully prepared – grills going, couches, tikki torches, the works. We'd meant to come with such preparations, but with the car chaos and other issues to deal with during the week, the weekend showed up suddenly and it was all we could do to have a cooler full of beverages and lawn chairs.
But that was enough. A couple of barbecue vendors appeared just as we got hungry and the only thing we lacked on Saturday were sweaters. When the sun went down it was actually chilly out. But I'm jumping ahead.
Gargantua kicked off the live entertainment with their bass-heavy balls-out heavy metal sound. Good stuff for the weekend's sci-fi/horror b-movie theme!
| | |
| --- | --- |
| The Young Antiques followed. I've said it before and I'll say it again – I don't see what the other critics in town see in these guys. Rocky pop, or poppy rock, done well, but it doesn't get me, or I don't get it, or something. Everyone else seems to love it, but I was content to ogle the lovely ladies operating the bikini car wash. Holy crap, half naked girls, a belly full of barbecue, classic cars, b-movies, live music – you'd think I organized this myself. I couldn't have done a better job if I'd tried, and most of you know I have! | |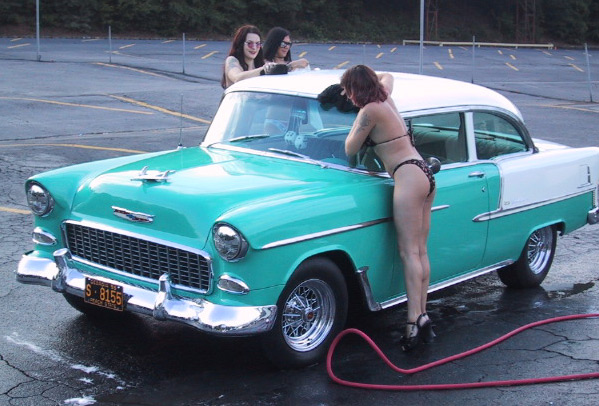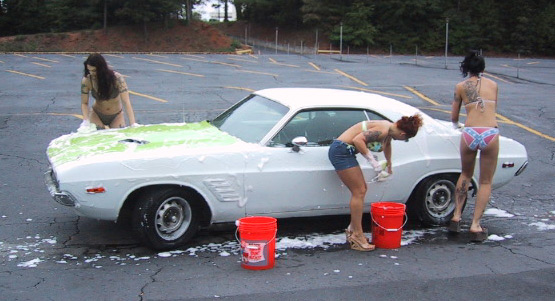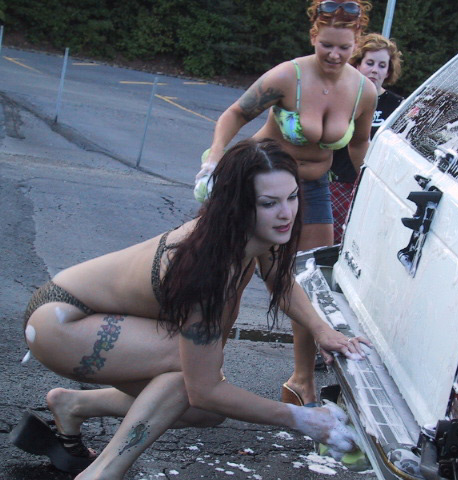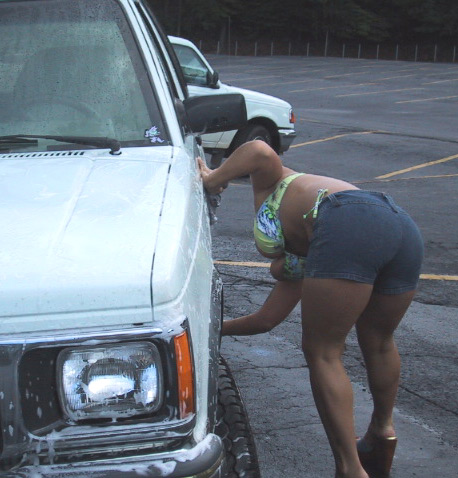 The Forty Fives stepped up on stage next, cranking out Cavern Club era garage fuzzy, grungy rock with gusto. They keep getting better every time I see them. Excellent stuff that had everyone's head bopping.
| | |
| --- | --- |
| | |
It was already getting dark when headliners The Fleshtones got on stage. They look like they're old enough to remember the origins of garage rock back in the 60's, if not have originated some of it themselves, but they still manage to play it with plenty of energy. But by that time our crowd was ready to settle in for the movies so we listened to The Fleshtones' set while getting set up in front of the big screen.
A collection of incredible trailers started off the night's film presentation, some excellent stuff that is probably better as a trailer than a feature, but put back-to-back with dozens of other trailers it made for half an hour of gripping entertainment with everything you expect of a drive in movie – car crashes, gore, naked flesh, explosions, bad acting, and fantastic titles.
Then it was time for the feature film, The Girl Can't Help It, with the architectural wonder that is Jayne Mansfield. Lots of cameos by rock legends and the "talents" of costar Tom Ewell were mere distractions to the ample… uh… "talents" of Mansfield. An excellent selection for the weekend.
After a break came a couple of cartoons. I have to compliment the organizers on their selection of classic cartoons I hadn't seen since childhood. Though I love Cartoon Network, I frequently curse their politically correct bullshit attitude they have taken. Classic WB toons I enjoyed as a kid have now been edited to the point of nonsense, and others are completely missing. But at the drive in Speedy Gonzales lives again and the hillbillies take a shotgun blast to the face and spit out the buckshot to everyone's delight. Fantastic.
But that was followed by the film Hey, Let's Twist!
Hey, let's not.
Hey, let's take a nap instead because this movie is a stone drag, daddy-o, a real square yawn fest. Combine that with a lack of sleep the night before and I couldn't make it to the final picture, one I really wanted to see, Wild in the Streets. I hope they save the sleepy slow ones for last next year!
---