Degenerate Press
Welcome to Degenerate Press' feature article. If this isn't enough you can always subscribe to Electric Degeneration, our semi-weekly and semi-weakly ezine, or surf the Electric Degeneration archive.
---
Starlight Drive Invasion 2002 - Monday
Monday I had to suck down an extra cup of coffee to get motivated to make it for the third day in a row. I'd never made it all three days on the previous years. It's a bit much, frankly, and I didn't think the previous two days could be topped.
Boy, was I wrong.
| | |
| --- | --- |
| Things kicked off with The Neanderthals, a band done up in Fred Flintstone fake furs doing campy 50's rockabilly pop stuff that just couldn't hold our attention. But with so many cool cars to ogle and old friends to chat with it didn't matter if the act on stage failed to amaze. | |
| | |
| --- | --- |
| | Lust added a keyboard player to their lineup for the weekend. They do a different theme every time I've seen them, complete with costumes and props, and Monday was no exception. The keyboardist wore an Evel Knievel jumpsuit and the ladies on guitar wore skintight pit crew outfits. Their music is a modern garage sound that's pretty good, but the real deal is the presentation. |
Monday's performance climaxed with a motorcycle jump over a flaming barricade! OK, so maybe it was a moped jump over a pile of flaming popcorn boxes, but if you can top that at the mall multiplex I'd like to hear about it.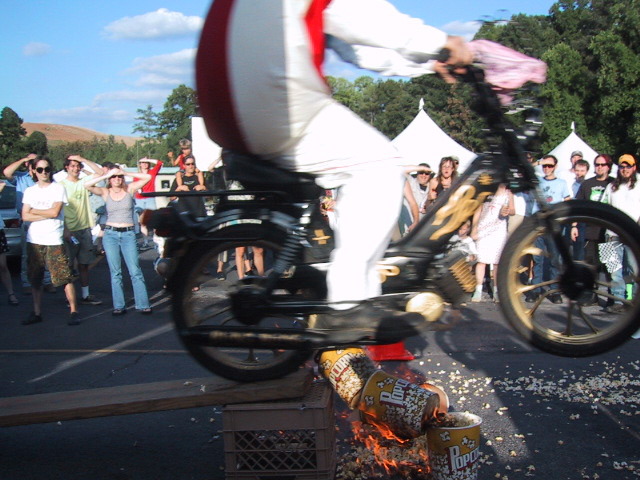 | | |
| --- | --- |
| | Billy Joe Winghead hauled their gear, including a theremin, all the way from Oklahoma for the event. |
| | |
| --- | --- |
| I'd hoped they'd do a whole theremin set for the sci-fi/horror themed weekend, but they stuck to their usual set of strange rock with a vaguely surrealist southern feel, ending their set with a bloody chainsaw incident involving a bologna. You kinda had to be there, and even then you probably would've been confused. | |
Los Straightjackets

appeared on stage in all black, save for the Mexican wrestler masks, and whipped up a storm of instrumental surf.

Los Straightjackets have fans young and old.
| | |
| --- | --- |
| Their music and show alone would have been enough, but halfway through their set they were joined on stage by The World Famous Pontani Sisters, a trio of go-go dancing ladies. I'd caught their act in New Orleans at Tease-O-Rama 2001 and been amazed at their imagination in creating an Elvis-themed show. At the Drive Invasion they went with tiny Mexican hats, matching shorts and bikini tops covered in tiny pom-poms to go with the vaguely Mexican theme Los Straightjackets had created. | |
Again I was amazed, though this time it was at their physical talents, not just at their dancing skills but at their endurance. They must've shaken, shimmied and rolled for a full hour in the humid heat of the waning summer day.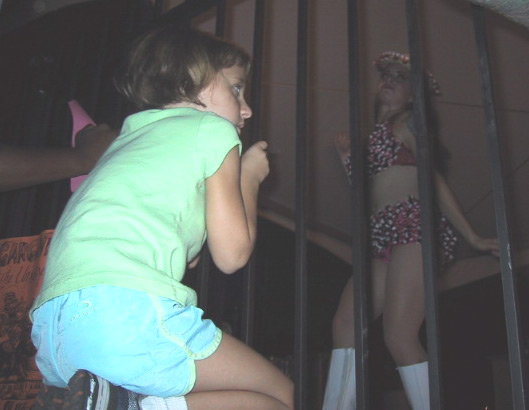 Daddy, when I grow up can I be a go-go dancer?
Some degenerates launched off fireworks to complete my checklist of things I want in a perfect weekend.
More classic trailers painted the big screen, followed by the comparatively big-budget monster movie Them, a tale of giant ants and the soldiers who kill them. I'd seen pieces of the movie before, but now that I've seen it all the way through I have to say Aliens stole much of the movie some 40 years later.
After the break we caught another couple of classic cartoons but had to beat a retreat before X, The Man With X-Ray Eyes due to the work life.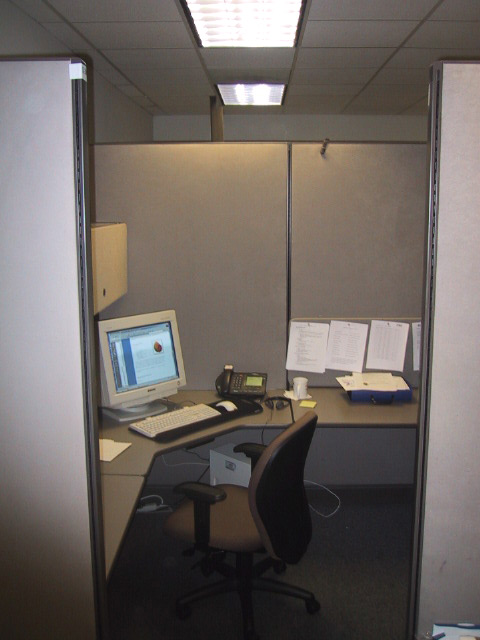 Sweating pork grease through the sunburned skin covering my intoxicated head, I was reminded of the many similar events I'd thrown myself. I didn't get to throw the Summertime Blast this year due to a lack of money and location, but thanks to the hard work of Scott Rogers and the owners of Starlight Drive In, I can at least say I got a lot of what I want out the summer season.
What? Drag On was the same weekend? Oh yeah, I forgot…
---