Degenerate Press
Welcome to Degenerate Press' feature article. If this isn't enough you can always subscribe to Electric Degeneration, our semi-weekly and semi-weakly ezine, or surf the Electric Degeneration archive.
---
Drive Invasion
Starlight Drive In
September 2005
Traditionally my Drive Invasion reviews have kicked off with a short review of Drag On Con. But the Labor Day weekend kind of crept up on me by surprise this year. Drag On just wasn't on my mind. So I neglected to hustle a press pass. I made a few last minute online plans to meet up with some friends on Thursday at Trader Vic's before the con got going.
Fuck it. I've been to that con every year (except for '96 when I was in Italy.) It ain't like I was going to see something new. And I decided this spring the final Fantasm might have been my final convention.

So I went down to Trader Vic's on Thursday to hook up with a few geeky degenerates I only see once or twice a year at cons.
Tongo Hiti was playing their usual set of Polynesian flavored post-modernism as a mix of business travelers and con whores sucked down $4.50 maitais.

"Best Drag On Con ever," I joked.
I spent Friday running errands and preparing for the weekend ahead. Sure, I could've hustled and gotten back to the con, or even to the Drive Invasion kick-off party at the Earl, but I decided I'd rather save the money and the endurance for the long weekend.
Saturday morning I picked up degenerate CD, finished cleaning the Thunderbird, and headed to the Starlight. We met some traffic going through East Atlanta so I turned around in the Earl's parking lot, only to swap paint with a little red Toyota. My Detroit steel carved a small dent in her fender, her fender mangled a piece of my aluminum trim. I was in the process of leaving her a note when she arrived. She was flustered, but nice about the whole thing and she didn't want to wait on the police to write up an accident report any more than I did. So we swapped insurance info and I went on my merry way to the drive in.
We arrived a bit after noon. Other hardcore invaders I'd talked to on Thursday said they were going to do some tailgating even before the gates opened. But when we arrived an hour early the gates were already open and the front row was nearly full. We set up in our usual spot in the middle of the second row, had drinks and ogled some hotrods before things were even supposed to get going.
The lot slowly filled with vintage rides, campers, and more mundane vehicles, each unloading tents, lawn chairs, coolers, kids, etc. Soon things were officially underway, kicking off with JJ and the Hustlers.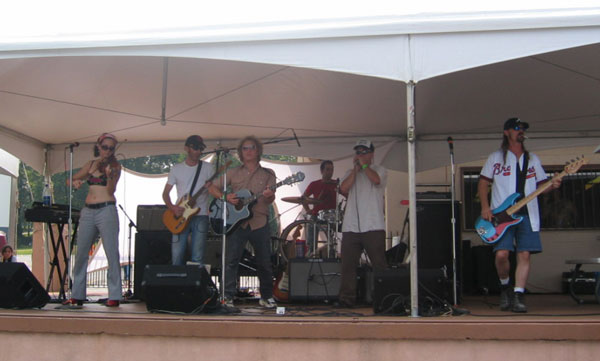 I failed to get a decent picture of the band, otherwise you might recognize a few faces. The lead singer used to front the El Caminos, but the Hustlers don't have the heavy metallic sound of that group. Instead, it's straight up honky tonk music with a fat sound thanks to the addition of harmonica and fiddle. Good stuff I'd like to see again.
| | |
| --- | --- |
| | Next up, The Butchers, complete with bloody aprons and blood-smeared faces. They fit in with the horror theme of many of the weekend's films. Several degenerates said they were appropriately named because of the way they butchered the 60's garage rock they play. |
Maybe it was too early for them, or maybe they were already too drunk, or maybe it's because they don't have a bass player, or maybe it was intentional, but for whatever reason these guys just couldn't keep time. They had plenty of energy and could play the notes, just not in time with the drummer.
But the great thing about Drive Invasion is there's plenty of stuff going on. Even if you don't like the band that's on at the moment, wait half an hour and it's someone new. Don't like that music either? Take a break and wander the lot, admiring hotrods and classic cars.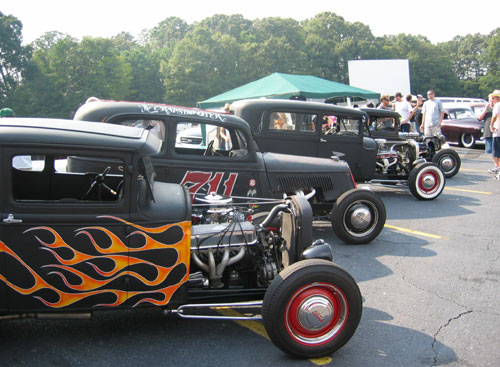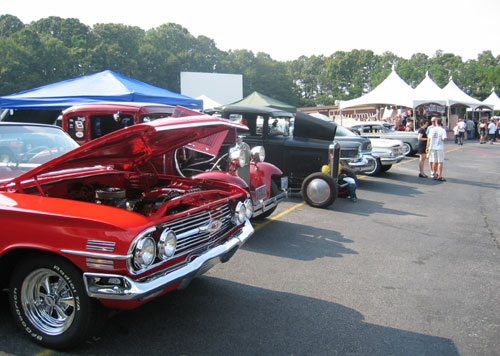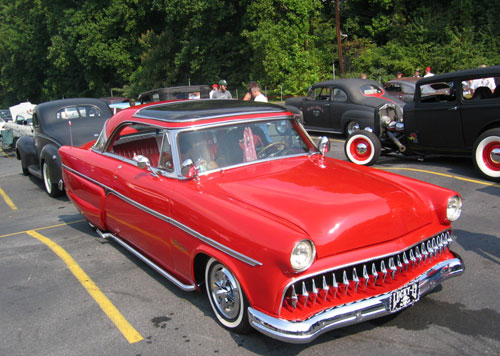 Don't have a car fetish? Kick back in your lawn chair and socialize over drinks and barbecue and/or corndogs. Forgot to bring drinks? Johnny Knox built a little tiki hut and bar, Trailer Vic's, complete with shaded seating. Forgot food? Amanda Corndog was there frying up the world's best corndogs, The Earl was serving up barbecue pork sandwiches, and the snack bar had the usual popcorn, candy, nachos, etc. It's like the world's biggest backyard barbecue - with movies! Don't like the movies? Heck, they're more fun to make fun of than they are to actually watch.
Next on stage, Hillbilly Werewolf. The costume was appropriately disturbing but I felt sorry for him in the heat, even before he said, "Start making bets now as to how long it'll take for me to sweat this mask off my face."

Musically there wasn't much to it. The same two chords banged out in the same rhythm for every single song, sort of psychobilly horror music stuff. But hey, anything that gets Calu to shake her fantastic ass is alright with me...
Next on stage, The Infernals. Shane Morton has played almost every Drive Invasion, as well as the Monster Bash, and is probably the most enthusiastic supporter of the event. Not to mention it was his birthday on Sunday.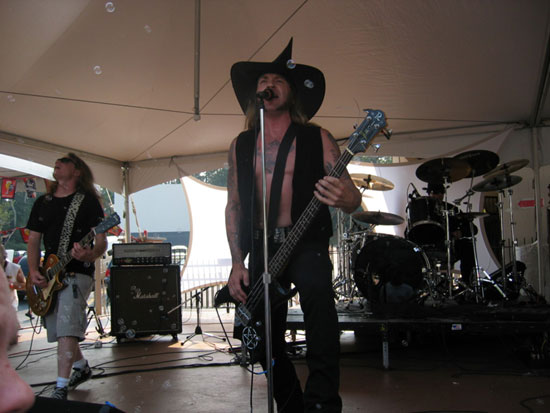 The Infernals aren't too far removed from Gargantua, or even Super X-13, two of his previous bands. Heavy metallic sounds with good hooks and enough tongue-in-cheekiness to make it palatable to some folks who wouldn't normally go for the hard stuff. It doesn't hurt that Shane has a good voice you can understand, unlike the vast majority of musicians in this genre, and the band is super tight.
When the bubble machine started blowing I couldn't help but think of the scene from the Osbournes when Ozzie gets a look at his newest stage set and sees the bubble machines going.

"Bubbles? Sharon, I'm Ozzie Osbourne, the Prince of fuckin' Darkness. I can't have bubbles!")
| | |
| --- | --- |
| Meanwhile, behind the scenes, Barb from Lust is busily preparing her drummer's makeup. | |
The ladies of Lust appeared as Polynesian princesses with the drummer wearing a tiki god mask. Suzanne, on the left, soon had a wardrobe malfunction with her coconut bikini and said the only thing holding it on was sweat. The camera geeks in the audience all leaned in, myself included, but I think it held together for the rest of the set. If not, I missed it. Hey, you should'a been there yourself, dammit.

Lust appear in a different costume every show, usually adding an interesting cover to match. It adds some (sometimes needed) variation to their garage rock sound. This time it was Two Tickets to Paradise, a personal cheesy fave.
The afternoon sun had heated things up to "hot as Georgia asphalt." But somehow that didn't stop The Forty Fives from coming on strong!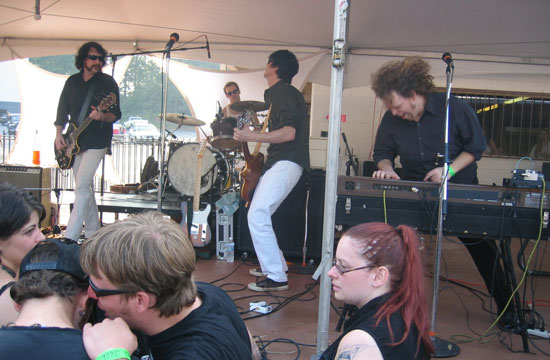 They've got some new faces in the band, adding a second guitarist on lead and Shane Thacker on drums. They covered some new tunes as well, getting degenerates JH and LH shakin' around.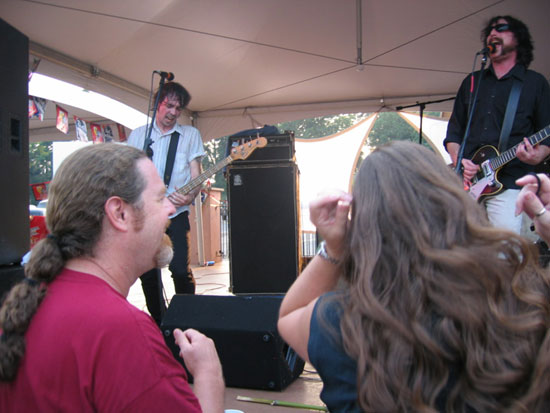 | | |
| --- | --- |
| The sun set slowly behind the tent, shooting beams across the sky. Everyone was thankful for the shade provided close to the stage as the Forty Fives rocked on. They did a particularly spirited cover of a Chuck Berry tune, reminding me that the man is truly the father of modern electric guitar driven rock and roll. The stuff still holds up as some of the most badass rock around, some 50 years later. | |
Next on stage, The Woggles played as if the heat weren't an issue. I don't know how Manfred does it, but he didn't slow down for a moment. The guy should lead aerobics classes.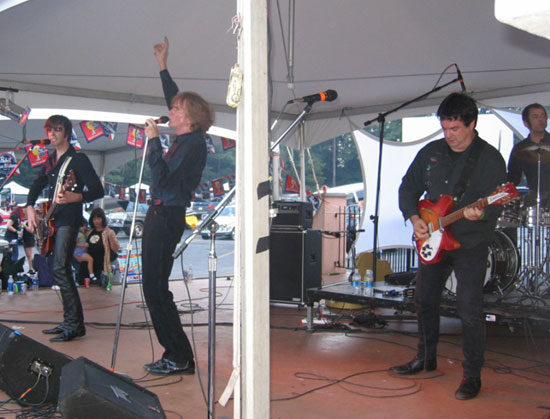 | | |
| --- | --- |
| He hopped out into the crowd and tried to get the hot, sweaty, already-drunk folks to get in the groove. It worked on some, while others stood like zombies. | |
| | |
| --- | --- |
| | Speaking of the dead, this guy was already passed out by 6 PM, right in front of the stage. Some folks just don't know how to build and maintain a good buzz. |
That would not include Big Sandy, musically speaking. As the sun sank behind the trees, Big Sandy stepped up to provide super smooth retrobilly sounds.

And speaking of stepping up, their lead guitarist missed his flight out of L.A. so who volunteered to fill in?
| | |
| --- | --- |
| Local guitar god Johnny Knox. With no rehearsal time in advance, he missed a transition or two in there, but the man knows rockabilly and can improvise. I thought it was more exciting than the previous Big Sandy show I saw with his regular guitarist - good stuff! | |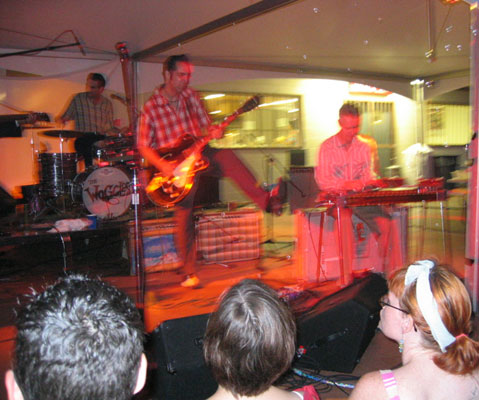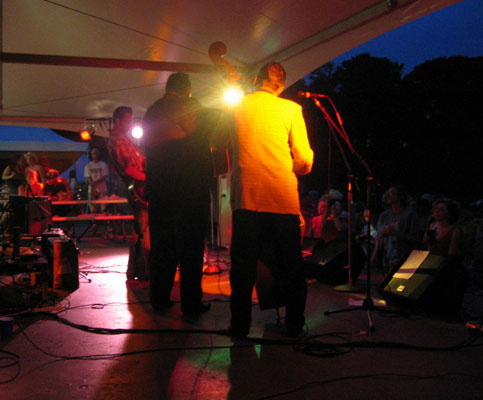 And about the time I was ready to give in and relax for the rest of the night, Big Sandy called it quits. Actor Sid Haig and director Jack Hill were both there in person signing things, answering questions, telling tales of the movies we'd be watching over the course of the evening. Then the movies flickered to life.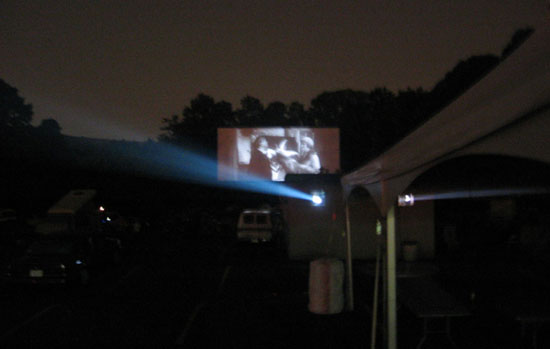 First up, The Big Doll House, a babes behind bars movie with plenty of hot girls mud wrestling, partial nudity, Pam Grier, gunplay and it ended with an explosion. Crap, the only things missing were zombies, aliens, or giant monsters. Fantastic.
Next up, Spider Baby, an old black and white creepshow where an insane family kills and eats visitors to their Victorian home, maintained by Lon Chaney Jr. as a butler. One of the girls likes spiders, thus the title of the film. It was a bit slow so I took the time to build up a better buzz and construct my sleeping arrangements, so I can't really say much about the film.

Foxy Brown followed, a much more interesting tale featuring Pam Grier in the title role. Holy cow, Pam is hot. Hot hot hot. Goddamn. Hot.
Blood Bath was the final feature of the night. By that point it would've had to be a gripping tale to keep me interested. Blood Bath's grip is weak. Not non-existent, just weak. It's the tale of a painter who turns into a vampire when he does his portraits, resulting in gruesome paintings that are selling well as his models disappear. But by the time it came on there were only a couple of my group still around to see it so halfway through I gave in and climbed into the tarpathedral and watched the confusing ending of Blood Bath.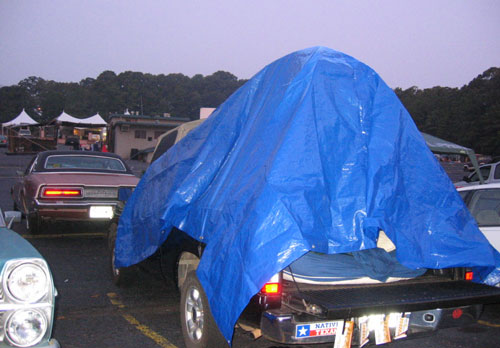 The tarpathedral, circa 6 AM.
Maybe I wouldn't have been confused if I hadn't been drinking in the sun all day and making more jokes than actually paying attention to the dialogue!
Over the course of 4 films directed by Jack Hill, we realized Jack must have directed some porn under another name. Every one of these films had scenes that would've seamlessly transitioned into hardcore sex. Sure, the acting, lighting, camera work and direction were (usually) better but despite the wide range of genres covered, they all felt like cable versions of XXX porn - they were just missing the money shots.
It took me a while to fall asleep. I probably should've parked the truck far away from the creatures of the night chatting away in the front row.
---