Degenerate Press
Welcome to Degenerate Press' feature article. If this isn't enough you can always subscribe to Electric Degeneration, our semi-weekly and semi-weakly ezine, or surf the Electric Degeneration archive.
---
Drive Invasion
Starlight Drive In
September 2005
Some of the creatures of the night that had kept me up late also woke me up early. I rolled out of the tarpathedral to take a leak in the pre-dawn twilight to find the front row party animals still drinking PBR as if it were 6 PM rather than AM.

I crawled back in bed and buried my head, hoping to get a few more hours rest before the long weekend began anew. I snoozed for another hour or so.

The sun rose over the screen and others around our camp began cleaning and preparing breakfast. I had to conceded defeat - I was awake.
Of course "breakfast" is defined differently for different folks. For degenerate TS, it's the the "infamous 'Schaefer Bloody Morning Mary' (my father's personal recipe)." He also grilled himself a burger.

Then he sat down and took a sip of the clamato bloody mary and decided he wasn't his father. Fortunately others in his camp enjoyed clam juice, tomato juice and vodka. I'd rather suck on a battery, but that's me.

So I countered his efforts with my own high octane lemonade.
"What's in it?" TS asked.
"I don't know, I haven't started making it yet."

It turned out to be a whole lemon, some Newman's Own lemonade, soda water, and lots of bourbon. The tartness of the lemon played interference with the alcohol burn, making it seem less strong than they actually were. Dangerous stuff!
| | |
| --- | --- |
| I did a short stroll around the lot to survey the wreckage. Yesterday's jokes about how we were like the Katrina victims in New Orleans seemed even more apt. | |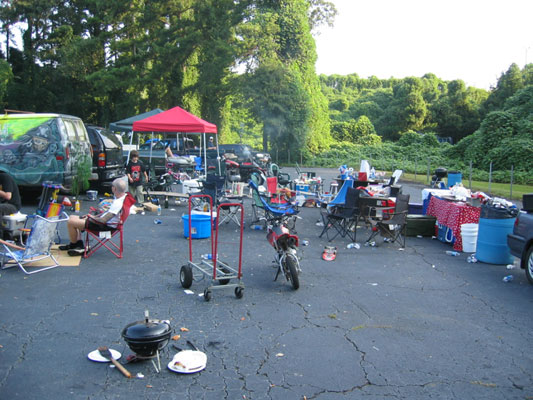 | | |
| --- | --- |
| We had our own fires to deal with as well, thanks to someone chucking their smoldering coals into the full dumpster. We probably could've handled it with a 5 gallon bucket of water, rather than calling the fire department, but I didn't even know about it until the fire truck arrived. | |
The organizers had built this handy shower complete with warm water. I washed off the layer of corndog grease, sweat, bug spray, sunscreen, spilled barbecue sauce and spilled drinks and came out refreshed and ready for another day.

The Earl had their booth open, serving a tasty egg fritata, donuts, fruit and coffee all for $5.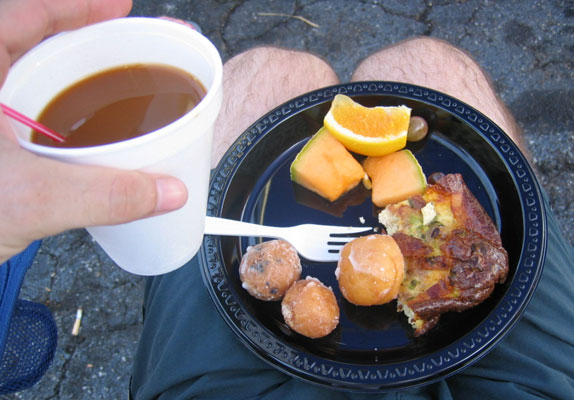 Soon those who hadn't camped overnight began to return, along with new folks, and the lot began to fill with classic cars.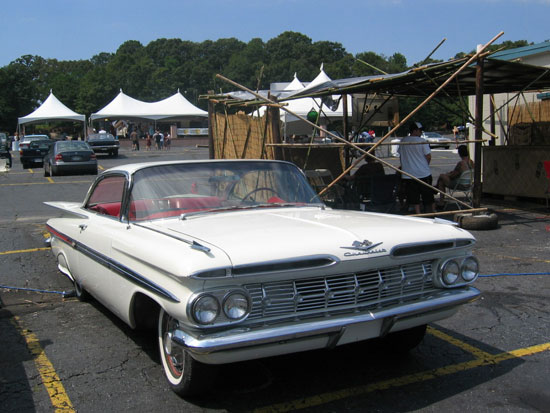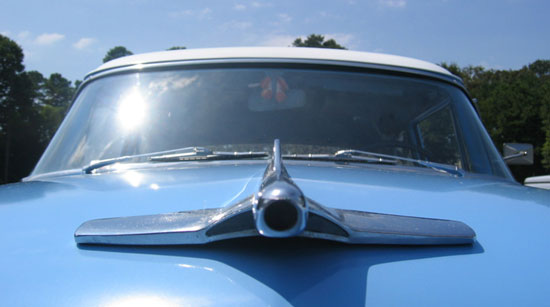 | | |
| --- | --- |
| | Not every car was a classic, nor were they all in pristine condition. There were a few "rat rods" there, cars that look like junkers but with absurd engines hiding within. Others looked like works in progress, like this beast showing off welding and cutting scars in the midst of a modification. |
You could even get your ride customized on site, thanks to the pin-striping artistry of Top Hat.

Of course you don't have to have a vintage ride or a motorcycle to go for the pin-stripes...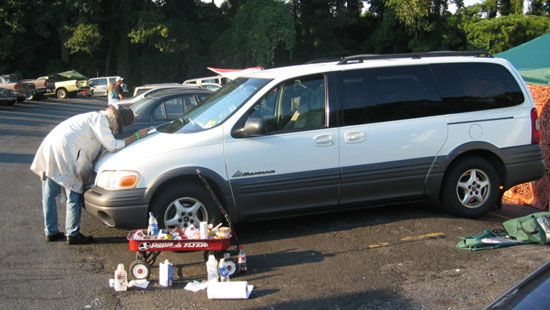 ---