Degenerate Press
Welcome to Degenerate Press' feature article. If this isn't enough you can always subscribe to Electric Degeneration, our semi-weekly and semi-weakly ezine, or surf the Electric Degeneration archive.
---
Drive Invasion
Starlight Drive In
August 2008
I crawled into the tent after a couple of movies. Sure, I wanted to stay up and watch them all, able... not so much. I was one of the folks disappointed by this year's selections, mostly because I'd seen them so many times before, some of them at the drive in.
In the morning I got a look at other peoples' sleeping arrangements, from the elaborate and high tech: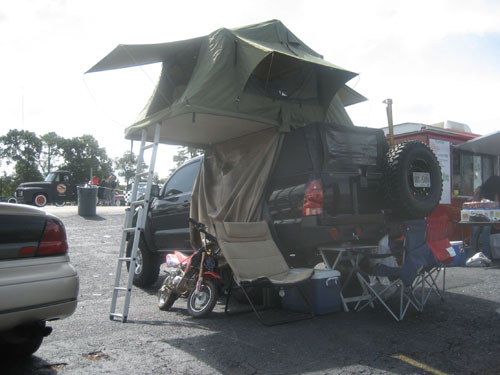 to the simpler approach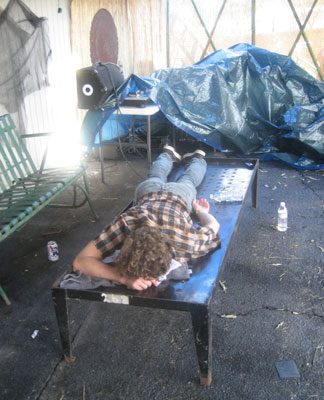 For breakfast, it's bagels and cream cheese, bloody mary's or bourbon and lemonade. Then it's back to slacking for many folks.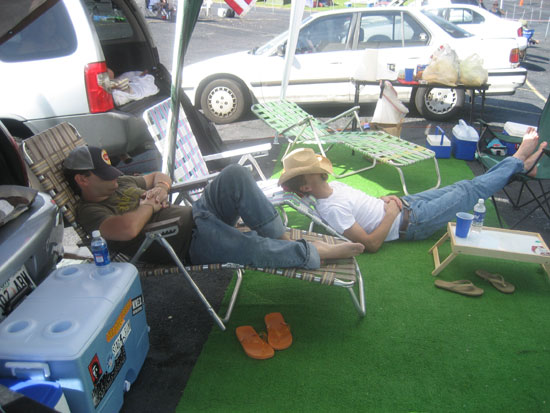 Eventually things get going again. I took it easy on Sunday, entirely skipping about half the bands in favor of lounging, socializing, drinking and eating.
| | |
| --- | --- |
| With a name like "Red Rocket Deluxe" I expected rockabilly, but got Southern hard/heavy stuff that wasn't bad but couldn't hold my attention. | |
Fortunately, as always, there was plenty to do. Different cars had arrived, like Prick Magazine editor Chuck Brank's sweet Cadillac.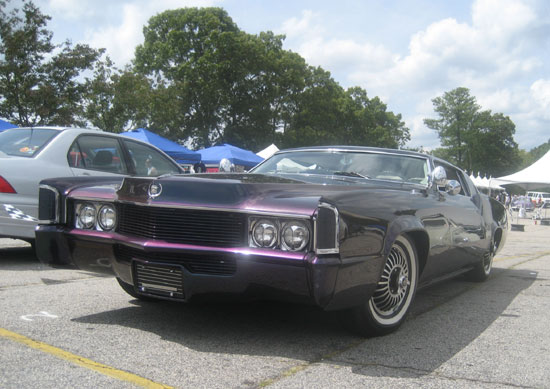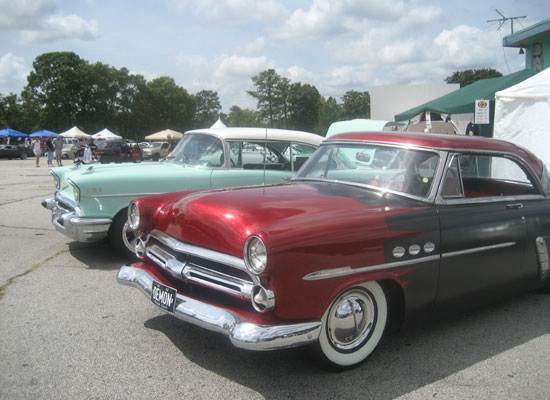 Eat, drink, rock, drink, ogle cars, relax, drink, rock, ogle tattoos, play games, drink, rock, rinse, repeat. The Forty Fives put on a surprise second appearance, in Trailer Vic's more intimate, shaded setting between acts on the main stage, then overlapping the act on the main stage.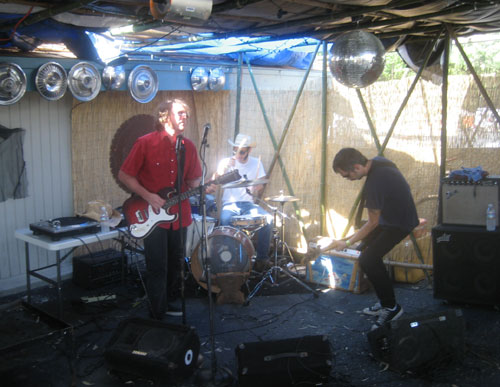 I skipped out on the end of their set, since I'd seen them once already this weekend, so I could catch the next act, Grinder Nova.

Seemingly a dozen members on stage all in red jumpsuits and mustaches cranked out some upbeat lounge instrumentals before being joined by "Mr. Grinder Nova himself," the lead singer, the same guy who'd been passed out on the coffee table in Trailer Vic's only a few hours before.

A few ladies from Dames Aflame joined them at random to dance along to the strange collection of tunes, including a fantastic cover of Jaan Pehechaan Ho which you may remember from Ghost World.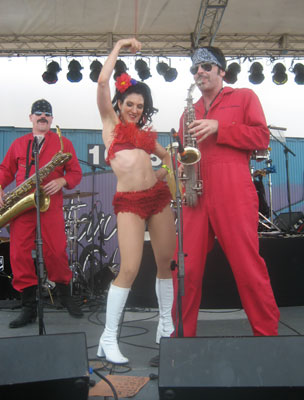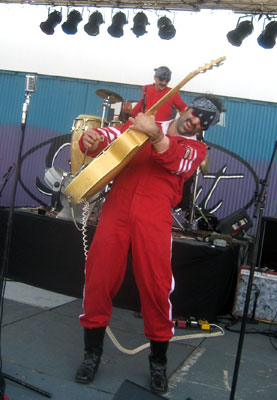 | | |
| --- | --- |
| As if that weren't enough, they had a barista at the rear of the stage brewing coffee for the band and any fan that wanted it. It made for a multi-sensory experience with the smell and taste of coffee combined with the sights and sounds on stage. | |
Speaking of smells and tastes, I skipped a couple of bands in favor of consuming mass quantities of Barbecue Steve's amazing pork butt, again with no sauce, just smoke and delicious pork fat. Hallelujah.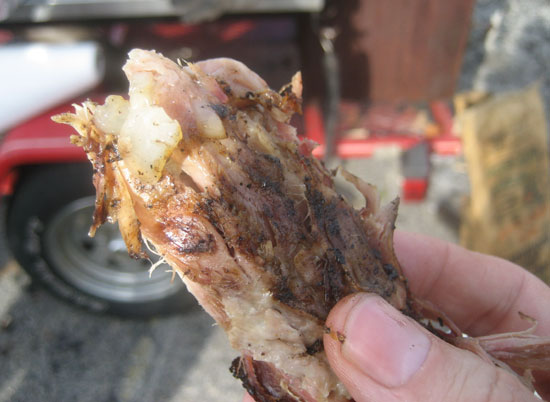 The headline act on Sunday, Legendary Shack Shakers, was one of my favorite live acts. Several degenerates asked me what they were like before they came on. "Imagine growing up in a trailer park and listening to a lot of rockabilly, doing a lot of crank and having a schizophrenic episode," I replied.
They just looked at me confused.
"OK, imagine Jello Biafra fronting Rocket 350."
That was before I read their myspace page, "Described as '...the last great Rock and Roll frontman' by Jello Biafra (of the Dead Kennedys), Shack Shakers front man J.D. Wilkes began yelpin the blues through a ham radio microphone at his boyhood home of Paducah, Kentucky."
Apparently I wasn't their only fan. The guy in the cap in the front row had his hands up, worshipping Wilkes the entire set.

Then someone in the crowd got the bright idea to toss their empty beer can on the stage. Within minutes it was practically raining empty PBR cans.

This only seemed to crank up Wilkes' raging performance another notch.
| | |
| --- | --- |
| | The bassist and guitarist were comparatively sedate, almost ignoring the chaos around them. |
| | |
| --- | --- |
| | While Wilkes challenged the crowd to make a martyr of him, in between belting out blistering psychobilly. |
They put on a fantastic set, but I think somewhere in there Wilkes got tired of the crowd's abuse, no matter how good-humored it was. He joked about how the event was a white trash festival, but that only got cheers from the white trash crowd. He mocked some fans in the front row, but maybe it was part of the song, part of the performance, part of his shtick. It was hard to tell for a while - until he violently hurled the mike into the crowd.

People cleared a path and I thought he'd done it in preparation to leap onto the parking lot, but instead he retrieved the mike and swung it, overhand, into the crowd again, narrowly missing the head of the girl in front of me. I pushed her aside, still assuming he was trying to clear a path, but then the mike narrowly missed my head.
"OK, that's enough, I'm moving," I said, joining the fleeing fans.
Wilkes finished the song, hurled the mike stand into the crowd and stomped off stage. The crowd yelled for an encore but MC for the weekend Jet appeared and said Wilkes had had enough, he'd been cut on the forehead and wouldn't be back.
Hey, what's a Drive Invasion without a moment of lunacy?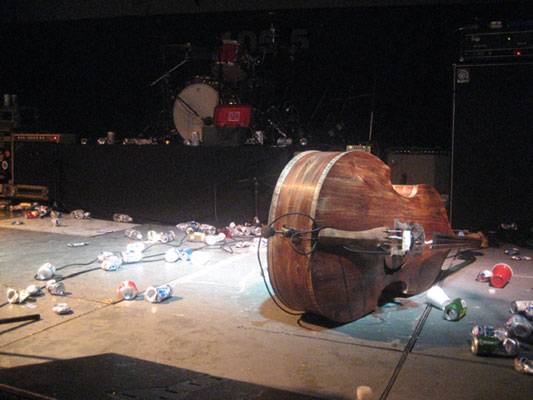 Back to our forward command post for another block of movies, another round of drinks, another handful of food any dietician would tell you to avoid.

Sunburned, drunk, and a belly full of pork - life does not get any better than this.
In the morning the parking lot looks like the set from Dead End Drive In, a post-apocalyptic 80's film in which a drive in is used as a prison for wayward youth. Empty cans rattle as they run across the parking lot in front of a breeze, cars sit with their hoods open awaiting a jump and/or repair, zombies stumble about in search of a way out - or maybe a way to stay.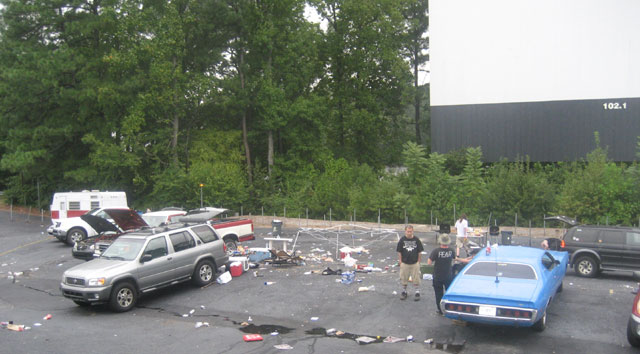 I guess it would be less special if it happened more often, but I can't believe I have to wait a whole 'nother year for Drive Invasion. Next year will be the 10 anniversary and rumor has it they're going to expand it yet again, since this year they had to park the overflow in the neighboring lots. Only 51 weeks 'till Drive Invasion 2009!
---