The Archives
Excerpts from Electric Degeneration, Degenerate Press' semi-weekly e-zine, free and ad-free. A full episode contains sections for music reviews, upcoming events, blasphemy, classifieds, and anything else we feel like saying. If you'd like to subscribe just contact us.
You can surf the Electric Degeneraion archive.
---
As promised, here's the full review of Fantasm 2001. This is not for the faint of heart. You must be this tall to ride this ride. Rated R - no one under 17 admited without adult supervision. Keep away from eyes and face. Parental Advisory - contains explicit lyrics. Don't go into the swamp.
You have been warned.
Thursday we headed Crowne Plaza and Fantasm early to get the scoop about where we needed to be and when. It turns out we didn't have to be anywhere until Saturday so we settled into the pajama party.

Stephen was mixing drinks for the early crowd with what little he had.


The Degenerate Press editor, done up as Hugh Hefner, with the fantastic degenerate SW on his arm as a bunny.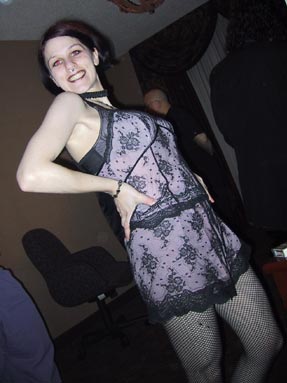 Here's the lovely and talented Ms. Fantasm 2000, Meghan, at the pajama party. You can see more of her at http://www.nudeworks.com
| | |
| --- | --- |
| Aubry had everyone's attention for much of the night | for good reason... (Aubry, if you read this please email us!) |
We mingled with the con whores, those of us who've been attending these things for eons, and friends we only see at such events, and cruised the halls in search of the best mullets of fandom. We scored in both quantity and quality!
| | |
| --- | --- |
| | Here's a couple of fine mullets licking chocolate off the human buffet at one of the parties. |
| | |
| --- | --- |
| Honorable mention in our Mullets of Fandom competition goes to this man, who was flashing his penis to any interested female. No, this bunny wasn't interested... | |
| | |
| --- | --- |
| | Third place goes to this gentleman, who reminded me of Kevin off Kids In The Hall. |
| | |
| --- | --- |
| Second place goes to this guy, with a classic mullet - business in the front, party in the back! | |
| | |
| --- | --- |
| | And in first place is this god-like mullet, complete with mustache and "playboy" shirt - badass! |
Friday we slept in, got a bite, and packed before arriving early enough to beat the crowds who had to work. We got checked in and registered, then gussied up in early evening attire to continue running amok at the con. We'd missed an event or two I'd wanted to see, but the concoction contest washed all those worries away in a flood of Kool-Aid and Everclear. You'd think someone would put a little effort into a drink mixing contest, but instead everyone seemed to go for frat-party-style hunch punch and some of it was just plain AWFUL. There were few exceptions, but with some 13 or 14 to sample it became a challenge just to continue down the line to the next sample.
| | |
| --- | --- |
| Here's Dawn Marie in her Dalmation outfit taking a picture of me while I take a picture of her taking a picture of me. We agreed that the nastiest concoction in the contest was unfortunately also the first drink in the line. The losers didn't even hang around to get their punishment after the ballots were tallied. | |
| | |
| --- | --- |
| | A drag review followed, with several faux ladies from Athens doing their best lip sych and snappy banter routines. Very fun stuff, and the few tips they made went to some AIDS foundation. They hyped the Boybutante Ball in Athens (April 20 -21, 2001, http://www.boybutante.org/) |
| | |
| --- | --- |
| | Sofia Low-Rent did some spectacular dancing. |
| | |
| --- | --- |
| | I tipped the mistress of ceremonies, Sasha. |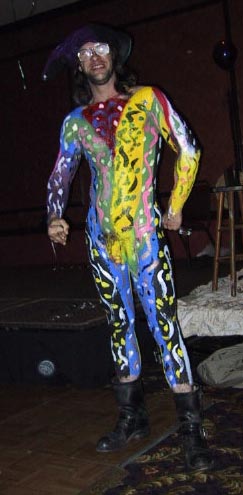 While the queens performed the drag show, Lake Sirmon lurked backstage doing body painting for a small fee. Here's degenerate JM a few minutes before completion. Unfortunately since the con didn't fill the hotel there were a few non-members, AKA mundanes, wandering around so JM had to cover himself when he walked through the common areas. I'd have paid good money to see the looks on the faces of the girls behind the hotel registration counter if he'd been allowed to walk through the lobby.
On the other hand, some of the paintings weren't as terrifying...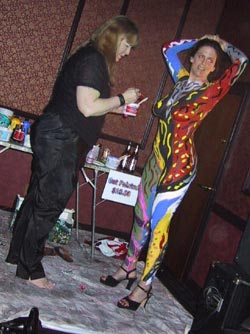 ---