Degenerate Press
Welcome to Degenerate Press' feature article. If this isn't enough you can always subscribe to Electric Degeneration, our semi-weekly and semi-weakly ezine, or surf the Electric Degeneration archive.
---
King Johnson at Northside Tavern,
Dixie Rockabilly Rumble at The Star Bar
February 2004
Friday I hopped in the car and headed around the block to Northside Tavern to meet up with other degenerates celebrating LH's birthday. Aside from my usual complaints about yuppy scum taking over the place, the other problem with Northside is the arrangement of tables and chairs close to the stage, right inside the door. For most weekend shows, the tables get in the way of valuable dancing/standing space. Then the packed crowd up close to the stage blocks admission to the rest of the room. They have another entrance that comes into their deck area, but they don't use it and I don't know why.
After we had a drink or three, King Johnson assembled on stage. Immediately a gaggle of girls crowded up close to the stage and as soon as the band started up the girls started dancing. So no matter what they played, it can't be all bad!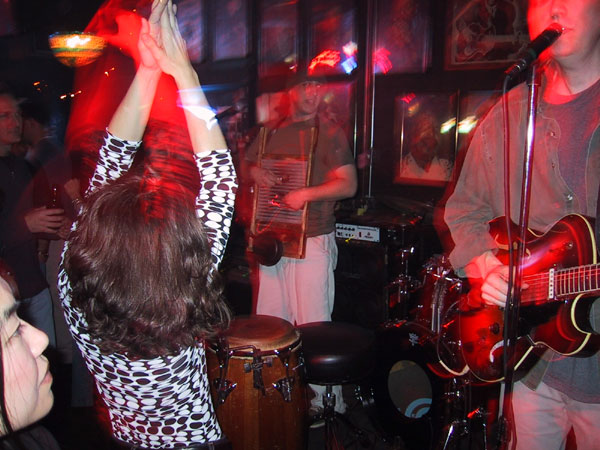 King Johnson stirs up a stew with chunks of southern rock, cajun and zydeco, jammy groove rock and other bluesy moments, but all with an up-tempo beat that gets the neo-hippies moving.
| | |
| --- | --- |
| They have a pretty loyal fan base who know a lot of the songs by heart and yell out requests. The two-piece horn section adds a fat, soulsy sound lacking from most dive bar blues. | |
| | |
| --- | --- |
| The horn section switches instruments to vary the sound a bit. | |
| | |
| --- | --- |
| LH thinks the sax player is hot. He ain't my type, but any non-jazz band with a horn section is good by me. | |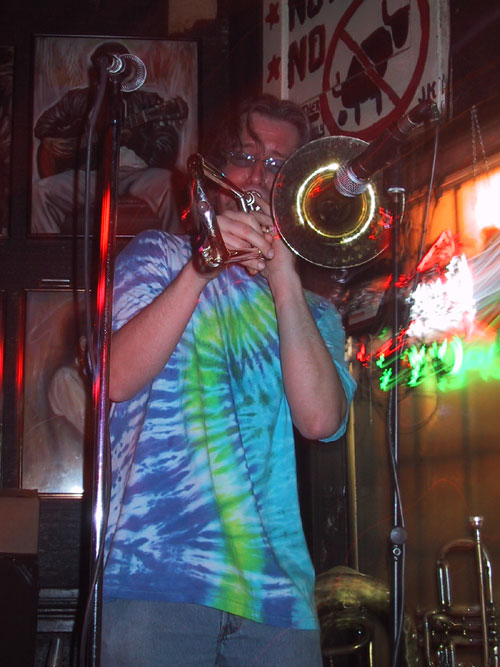 | | |
| --- | --- |
| Occasionally the percussionist, Chris, also in Mudcat, does a white boy rap. The band still does a jammy groove rock sound, so it almost works together. | |
| | |
| --- | --- |
| With all the cute girls dancing about, it's tough to get annoyed, even with the Georgia Tech weenies and yuppy bastards that pack the place to capacity these days. | |
---