Degenerate Press
Welcome to Degenerate Press' feature article. If this isn't enough you can always subscribe to Electric Degeneration, our semi-weekly and semi-weakly ezine, or surf the Electric Degeneration archive.
---
King Johnson at Northside Tavern,
Dixie Rockabilly Rumble at The Star Bar
February 2004
Sometime around Midnight King Johnson took a break so I decided to head across town to the Star Bar and the Dixie Rockabilly Rumble, an annual even that usually benefits AIDS charities or something, but this year it was a benefit for local guitar hero Johnny Knox.
| | |
| --- | --- |
| | I'd missed several acts when I arrived, but Blacktop Rockets came on soon after and did their usual super smooth retro rockabilly. |
| | |
| --- | --- |
| | Johnny Knox joined them on stage for a number or two. |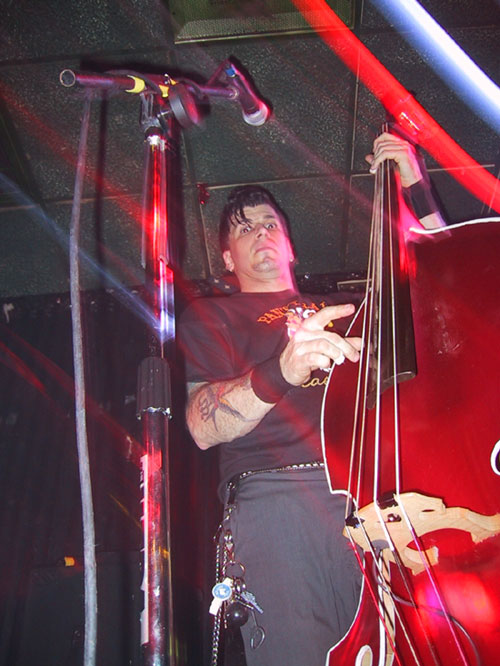 | | |
| --- | --- |
| After a short break, Rocket 350 took the stage by storm. | |
| | |
| --- | --- |
| The bass player is the real visual treat in this high-octane pshcyobilly trio. | |
| | |
| --- | --- |
| He's constantly in motion, climbing the bass, jumping around, falling all over the floor, and hardly missing a beat. | |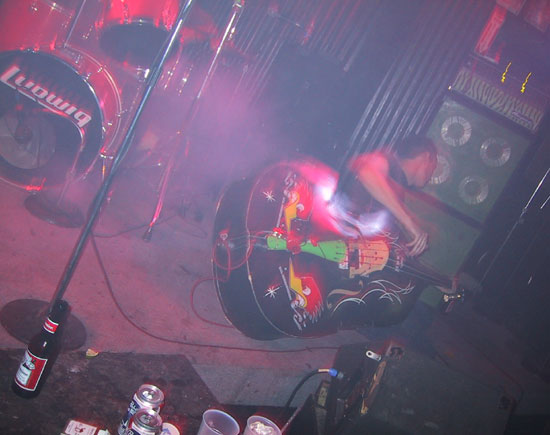 The band plays super fast super hard rockabilly. The psychobilly punks hear something in rockabilly I have to strain to get, something Joe Strummer heard, something Elvis did, something sexual, hard, fast, mean, something that scared the parents and got teenage girls wet. This is why the pill was invented a few short years later. This is why the FBI tried to kill rock and roll. And this is why they failed. You can't put the genie back in the bottle. Just grin and enjoy it while the kids twist it up to 11 and when it gets too loud pass ordinances that send the kids home way too early.
Goddamn Atlanta city council.
I headed out of the Star Bar early enough to swing by Northside on the way home, just before closing time. The joint was still swinging with King Johnson.

Some of the Techies and yupsters couldn't handle the evening of non-stop partying, even with the early closing hours in effect in Atlanta these days.

Wimps.
---