Degenerate Press
Welcome to Degenerate Press' feature article. If this isn't enough you can always subscribe to Electric Degeneration, our semi-weekly and semi-weakly ezine, or surf the Electric Degeneration archive.
---
Professor Jo Boobs & Torchy Taboo's Traveling Charm School
The Earl
September 2005
I couldn't justify the expense of trekking across the continent to Tease-O-Rama this year. I really enjoyed it the first three times but I've seen most of what I wanted to see in San Fran and my San Fran friends moved out to Berkley, Oregon and other places not so convenient to the convention. So I was happy to see a similar event in Atlanta, billed as Professor Jo Boobs & Torchys Traveling Charm School, a full weekend of burlesque with live music from: Sophisticats & Sophistikittens (from New Orleans), and performances from the one & only Jo Boobs (from NYC), Panty Raid (from Nashville), Atlanta's own Doll Squad. Plus the debut of Atlanta's hottest newest bevy of beauties, The Steam Heat Dancers, and the hometown favorite herself, Torchy Taboo, the Human Heat Wave.

I missed Friday's events at Eyedrum and the classes earlier on Saturday afternoon, saving my money and time for the big show at The Earl.

I was happy to see former local boy Stuart as MC for the event, as DJ Lonesome, down from Nashville to spin killer rockabilly and introduce the ladies.
He got a few people in the crowd moving, but more importantly he kept things moving on stage. When you bring in acts from different cities things can be a bit disorganized.

Speaking of, The Sophisticats couldn't make it because their home town, New Orleans, was under water (again.) Apparently they are struggling to get their lives back together again.
| | |
| --- | --- |
| The camera geeks scurried to the edge of the stage, readying their high dollar gear for pristine photos. (If it's crystal clarity you're looking for in your coverage you're on the wrong site.) | |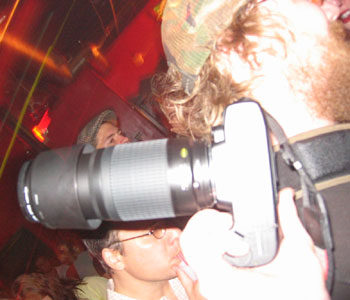 "Mine is bigger than yours."
| | |
| --- | --- |
| | After half an hour of swingin' rockabilly tunes, things got under way with Panty Raid, DJ Lonesome's traveling companions from Nashville. |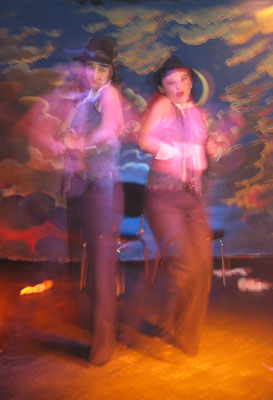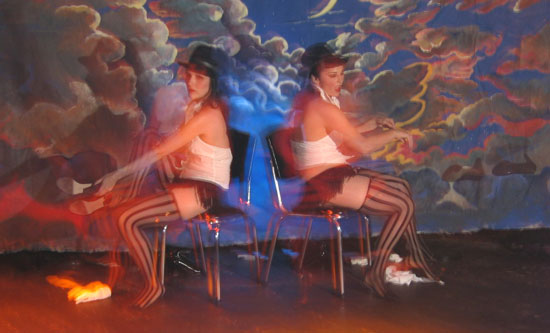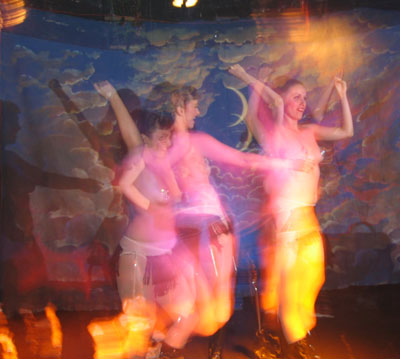 Next up, either a long-lost member of Man or Astroman? or a NASA astronaut.

Unfortunately, I'd slipped off to the bar and lost my place closer to the stage so my photos for this act are even more indiscernible. But like I always say - you should'a been there.
| | |
| --- | --- |
| Once the helmet came off it was obviously she was far too hot to have been in either organization. | |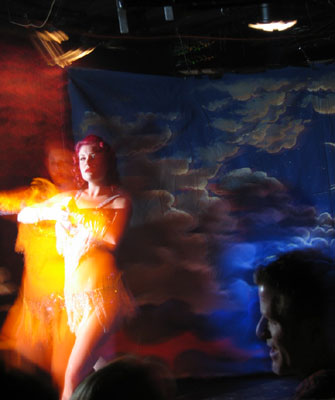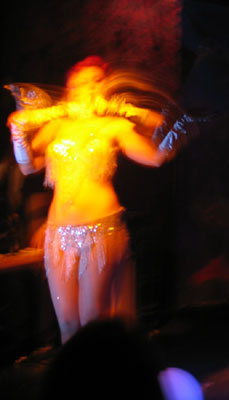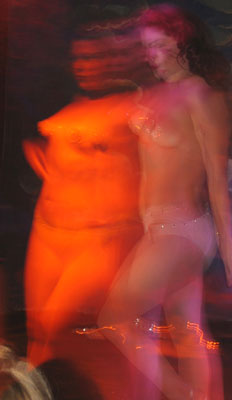 | | |
| --- | --- |
| | Then a girl appeared done up like the creepy aunt that lived in the trailer park you never liked to visit because the place always smelled like an ashtray. She handed out PBR's before stripping down, layer by layer. |
| | |
| --- | --- |
| | One layer got caught in the rigging above the stage. Then she reached into her panties and pulled out a small bottle of Jack Daniels. She took a swig then passed it out into the crowd where it was consumed in a matter of seconds. |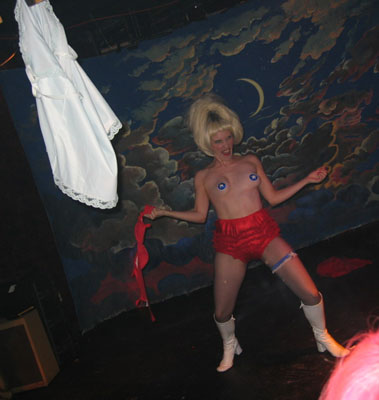 | | |
| --- | --- |
| The Queen of England appeared, passing out roses to the adoring fans. | |
| | |
| --- | --- |
| But soon she tossed aside the cape to the sounds of Anarchy in the UK and began cutting holes in her stockings. | |
| | |
| --- | --- |
| The Queen is a lot more voluptuous than I remember, and has a lot more attitude! | |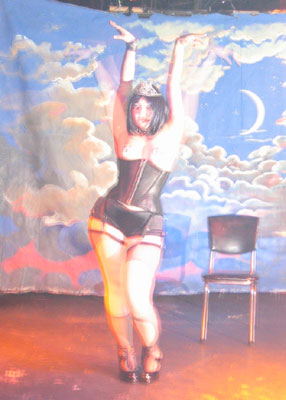 Headliner Jo Boobs appeared in full on fringed cowgirl attire. She used to dance at the Gold Club here in town and gave us some insight into that portion of her life during intermission, answering the questions she always got.
"Are they real? Real expensive!" she quipped.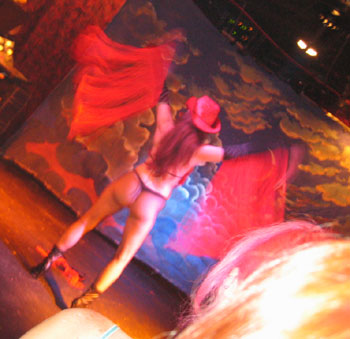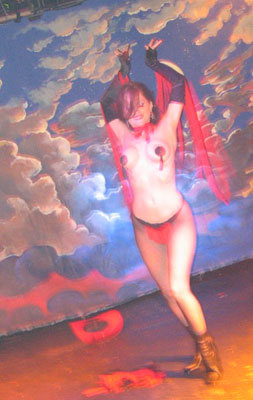 ---