I don't know Billy personally but I've seen him at various shows from time to time. What got me to The Earl for the second night in a row was the impressive lineup of bands for a mere $10. On the down side, the show was the same night as Those Darlin's and The Black Lips, so the crowd was thinner than I expected. Though I doubt any benefit show is going to put a serious dent in his medical bills, every little bit helps.

First on stage, Pink Pompeii, featuring Rob Gal, guitarist in several local bands and producer of many more, as well as his lovely wife, Courtney King, also a familiar face on the local music scene.
They play pretty tunes covering such cheerful topids as Jeffrey Dahmer and Bladerunner.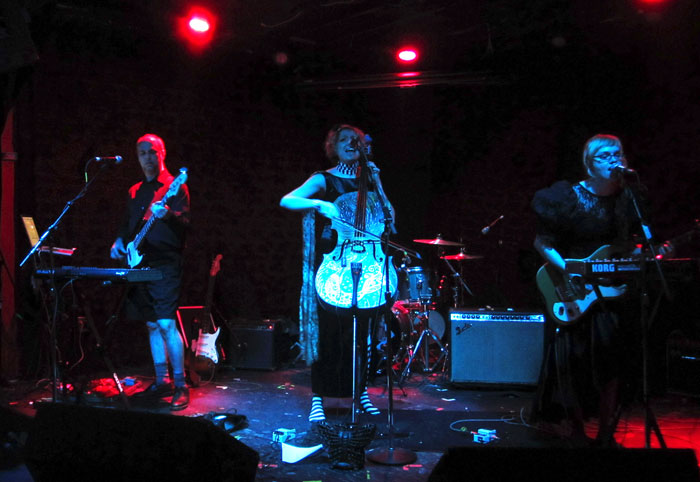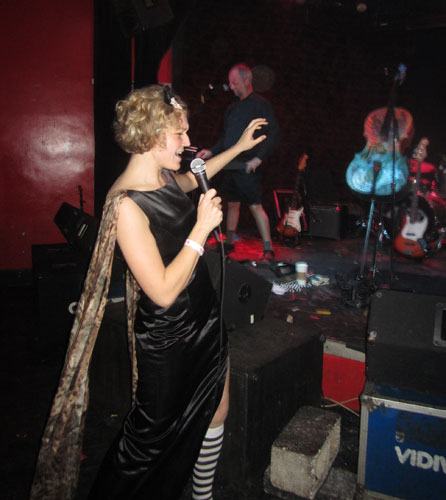 It's odd stuff, Dick, and I can't dance to it. But it's interesting and would make a good soundtrack to certain road trips or quirky films.
Next up, Seventh Ring of Saturn. As they set up, as I noticed the keyboardist had an effects pedal beneath each foot and the bassist was barefoot, spawning an argument between degenerate CD and I whether we were about to hear space rock or stoner rock. Within a few notes of their opening number, degenerate CD won the debate – stoner rock. Either I wasn't under the influence of the right drugs, or their sound is a bit too sludgey for me.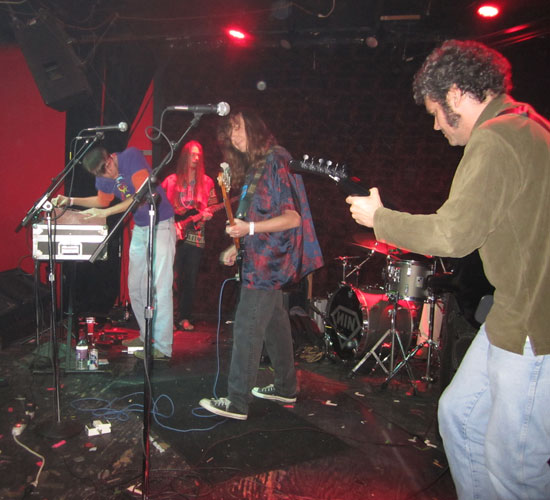 They couldn't hold my interest and eventually I wandered out to socialize with bar patrons.
AM Gold followed. I haven't seen Kenny Rogers on stage in a while but he's looking pretty good. I guess it's all the plastic surgery.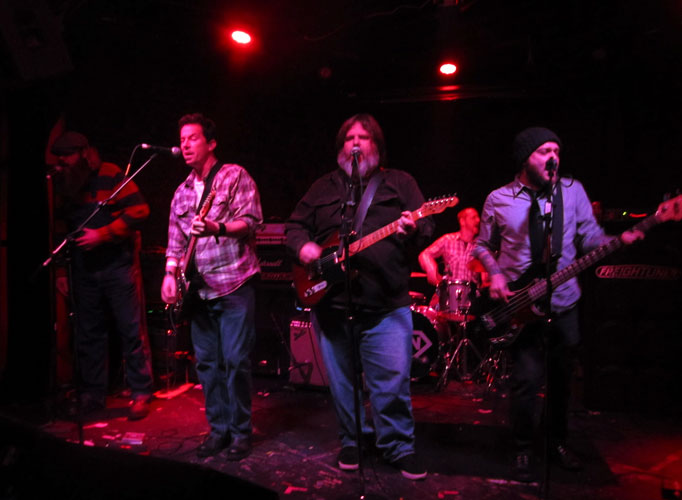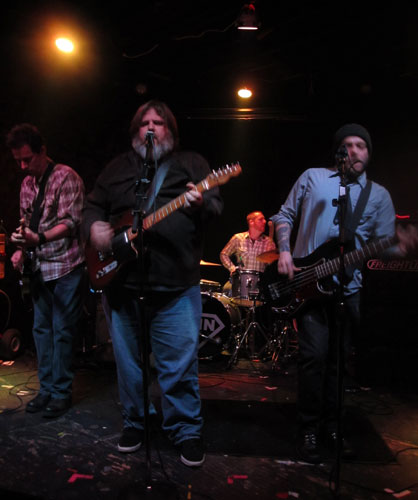 I joke. That's not Kenny Rogers, it's Santa taking a quick break before the holidays to give Billy an early Christmas present.
(Actually, there are two Santas on stage but you can't see Jim Stacy, AKA Really Big Santa, in most of the photos due to poor lighting and a lazy photographer.)
AM Gold bring impressive vocal harmonies to classic rock sounds for songs that tell stories of wasted days and triumphant love – really good music. Just writing the review has a few of the tunes playing in my head, and I don't even have a recoring of them yet.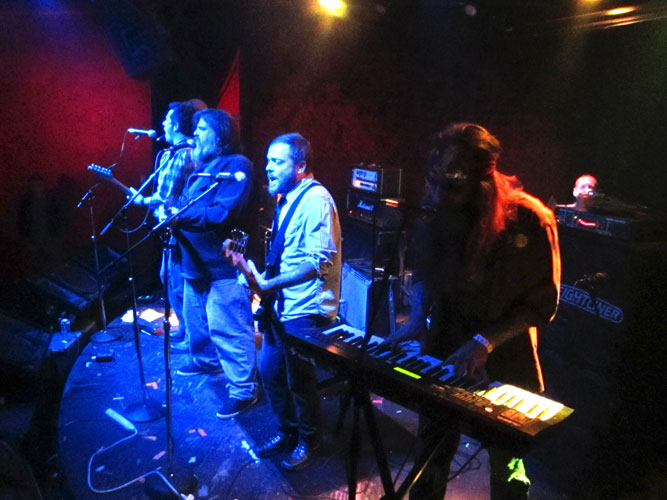 Tiger! Tiger! never fail to impress. Their music is punchy and percussive with Buffy's voice wrapping it in sensual tones, even when the lyrics express anger or annoyance.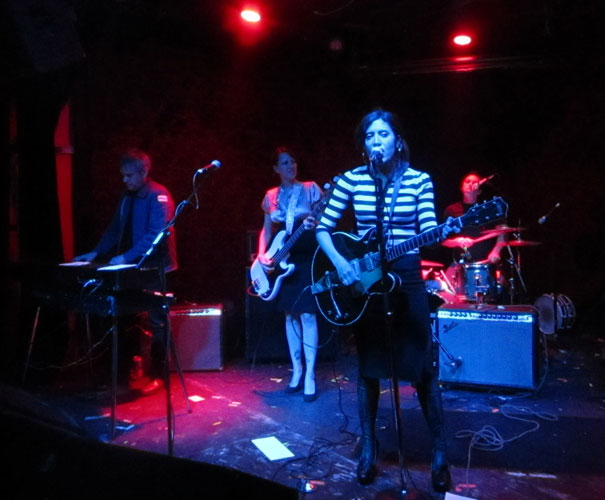 Like AM Gold, the individual members of Tiger! Tiger! have been around a while and really know their stuff. There is rarely a sloppy moment, yet there is energy behind their precision. And they mix things up a bit with one of the guys taking the lead vocals or switching to saxophone.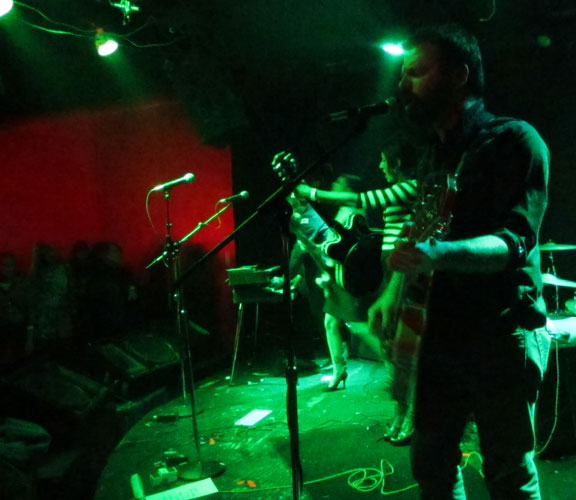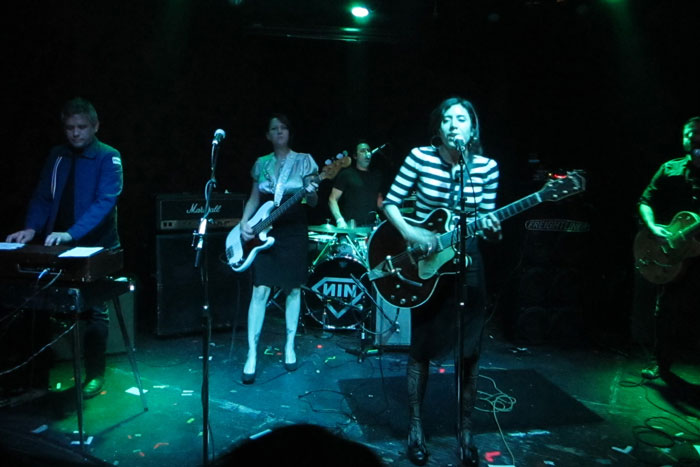 I didn't have the gusto to make it through El Caminos so I split.
One holiday down, two to go. Anyone got any grand ideas for New Year's?